Easy spring cleaning hacks you need to try
Take a look at these genius spring cleaning hacks for keeping your home in tip-top shape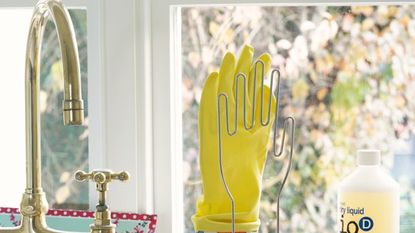 (Image credit: TBC)
It's that time of year when you probably have a long list of cleaning jobs for your home so, whether your house needs a deep clean or you have a spare five minutes for a quick refresh, use these spring cleaning hacks to make your home sparkle and and shine.
1. Disinfect sponges in the microwave

Sponges can easily become dirty and germ ridden, so give them a bit of a refresh by sprinkling over a small amount of lemon juice and then popping them in the microwave for two minutes. The heat will nuke germs and you'll be left with a fantastically fresh-smelling sponge. Do make sure your sponge is metal-free.
2. Make your home fragrant with cinnamon
Cinnamon has a heavenly scent that will make your home feel super homely and welcoming. And this trick is just so easy. Sprinkle a small amount of cinnamon on a small area of carpet or a rug, then hoover it up. Simple!
3. Scrub your bathtub with grapefruit
Now this is one environmentally friendly way to clean your bath. Cut a grapefruit in half, sprinkle it with some salt and rub it around the bath. No harsh chemicals or strong-smelling products needed.
4. Use vinegar as an all-purpose cleaner
Vinegar is a good all-rounder and is excellent for everything from shifting limescale to cleaning windows or your fridge. To use it as a cleaner, mix it with equal parts of water. Don't use your best balsamic, though. White vinegar will do the job perfectly.
5. Love your lemons!
Lemons are a hero in the world of DIY cleaning products. The acid in them helps to remove dirt, limescale and rust, leaving everything pristine. Try lemon juice on taps and around their edges, where dirt builds up and can be hard to remove. Lemons will also tackle stains on chopping boards - leave the juice for a while, then rinse. Another trick is to add lemon when steam cleaning a microwave. Fill a bowl with water and slices of lemon and cook in the microwave for five minutes. You'll be able to wipe away any built-in grease with ease afterwards.
6. Embrace bicarbonate of soda
Bicarbonate of soda is super versatile and will clean almost anything. It works a treat on rust and is also great for cleaning your oven and fridge. A small bowl of it placed in the fridge will remove odours, too.
Fed up of a stinky bin? Sprinkle in some bi-carb to eliminate odours - add a couple of sheets of newspaper as well, as this will soak up any leftover moisture.
Another great use is freshening up mattresses. Often neglected when it comes to cleaning, mattresses will also benefit from bicarbonate of soda. Simply sprinkle on, leave for at least an hour, then vacuum to reveal a super-clean bed.
7. The power of salt
Salt is great whenever you need to create a scrub. You can also mix it with hot water and pour it down the sink to keep things fragrant and flowing smoothly.
8. Bake off!
Cornflour is most commonly used for baking, but it will also clean your carpet if you spill something oily or greasy. Cover the stain for 20 minutes, then run the hoover over it. Get your silverware super bright, too, by using a mixture of cornflour and water.
9. Oil it up
Paint stuck on your hands? Use vegetable oil mixed with a little salt to gently scrub it off. Vegetable oil can also be used to polish wooden furniture - just mix two parts oil to one part lemon juice and buff with a cloth. Avoid your best antiques, though.
10. Organise your bed linen

Tired of searching for a matching set of bed linen? Make life easy for yourself by storing each set inside one of the pillowcases from that set. Everything will be so much easier to spot and it'll save you lots of time.
11. Clean with cola
If you're out of bleach or are looking for a non-toxic trick to clean your loo, take a look in the drinks section of your supermarket! Cola has a mild acidity that will lift mineral marks and stains from your toilet bowl and pipes. A standard size should be enough to pour around the rim and into the bowl. Make sure everything is coated by giving it a wipe around with a cloth and then wait approximately an hour for the cola to work. Finish with a couple of flushes to wash everything away.
12. Keep tidy with cling film
This is an amazing little trick for keeping your fridge nice and clean. Line each shelf with a layer of sticky cling film and every week replace it with a new one. Any crumbs or spillages will be lifted and thrown away with the plastic. You can do the same with your grill pan and oven, using silver foil.
13. Work out what to give away
If part of your spring cleaning includes a bit of a declutter of your wardrobe, you might like to try this neat idea. Hang all your clothes with the hangers facing the wrong way round. When you wear something, turn the hanger the right way around. If you remember to do this each time, you'll know what you are and aren't wearing and what you can give to charity at the end of a certain time frame - say, a year.
14. Remember your dishwasher!
Dishwashers don't have to be restricted to cleaning just dishes! You've got a ready-made and easy-to-use sterilising machine under your nose in your kitchen, which can clean a multitude of household objects. Fridge draws, kids' grubby bath toys, oven shelves, microwave plates, dirty dustpans and brushes - even your summer flip-flops will get a deep clean in your dishwasher. However, use your common sense and don't try to clean anything too delicate that might melt or disfigure. If you're washing anything metal, be sure to dry it thoroughly to prevent rusting.
15. Let bread be brilliant
We've all accidentally smashed a glass in the kitchen - mistakes happen. But did you know a handy slice of bread will pick up any tiny shards of glass from the floor that you may have missed with the dustpan and brush? Simply use it like a sponge and the bread will act like a magnet and pick up the glass, then you could always wrap it in newspaper to safely discard it in the bin.
Get the Ideal Home Newsletter
Sign up to our newsletter for style and decor inspiration, house makeovers, project advice and more.