Stone flooring ideas – inspiring styles, how to choose and how to clean
Pretty and practical, stone flooring is the perfect choice for the hardest working rooms of your home. Here's all you need to know before you buy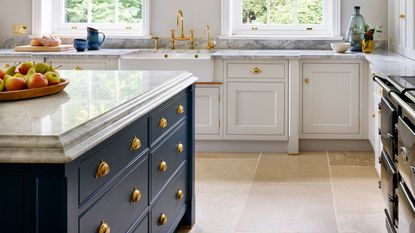 (Image credit: Martin Moore Stone)
There is no underestimating the beauty of stone flooring. However, these versatile floor coverings offer so much more than just aesthetics. Stone is praised for its durability – it is able to withstand high traffic, water and heat – while also adding value to your home.
While stone is most commonly used in kitchens, bathrooms, hallways and conservatories, there is no reason why you should not choose stone for a bedroom or for your living room flooring, too.
To help you choose the right fit for your space, we've asked interior experts for their take on the best stone flooring ideas and how to make them work in each room of your home.
Stone flooring ideas
As one of the oldest flooring ideas, stone has stood the test of time as a favourite and for good reason.
'Natural stone flooring can be one of the most forgiving floor coverings if the right stone and finish are chosen. Naturally, some stones will be denser than others which provides more durability, however, all natural stones will be subject to a little wear and tear over the years – it only adds to the character and charm,' explains Isabel Fernandez, director at Quorn Stone.
1. Opt for limestone for timeless look
A popular choice in homes of all ages, limestone is available in a range of colours, from light creams through to deep black, and looks, including veined, striated or even featuring embedded fossilised shells. It's no surprise that it's one of our favourite kitchen flooring ideas.
'Limestone is porous so it does need to be sealed but once installed, requires very little maintenance and is ideal to use with underfloor heating,' explains John Forde from Beswick Stone.
2. Add farmhouse charm with flagstones
Exceptionally hard-wearing, there is a reason that flagstones can still be found on the floors of some of our country's oldest properties.
Flagstone flooring is inherently characterful and the large slabs, with tumbled, antiqued edges and a honed finish, add rustic warmth. That being said, you don't have to have a farmhouse-style kitchen to incorporate these beautiful stone flooring types into your kitchen. Here, this flagstone flooring from Martin Moore Stone pays homage to the home's Georgian heritage without letting it dominate the space.
Due to their durability and rustic appearance, flagstones are a great floorcovering for pairing with country kitchens ideas or rustic kitchen ideas.
3. Choose slate to pair with underfloor heating
Everyone knows the iconic slate flooring, with its beautiful laminate structure. However, if you're hoping to combine a stone floor with underfloor heating, then you might be surprised to learn that slate also has highly conductive properties, making it quick to heat up and transfer heat, helping to reduce your underfloor heating costs.
Only adding to its multitude of benefits, slate is highly durable making it ideal for bathroom flooring as well as kitchens and hallways – all spaces which would benefit from efficient underfloor heating.
4. Protect original flooring
Original floors are a prized part of any period home and as such must be protected.
'Original floors are beautiful and increasingly rare so should not be disturbed without good reason; a craftsperson should do any work that is needed with appropriate knowledge. Where a building is listed, listed building consent may be required before undertaking work,' explains renovation expert Roger Hunt. 'Also avoid over-cleaning as this can strip away the patina of years of use.'
5. Get the look of stone on an upper storey with tiles
Due to its weight, stone flooring is rarely installed upstairs. However, if you want to get the look of stone on a higher storey of your home, for example, an upstairs bathroom, then stone-look porcelain floor tiles are a more realistic option, such as this from Claybook.
Nearly indistinguishable from traditional stone, this bathroom tile idea features the same veining and undulations of the authentic material but at a lighter weight. It is also a more cost-effective way to get the look of high-end stone.
6. Try a characterful laying pattern
Once you've selected your stone, your next choice is the laying pattern. Some popular options include: the classic opus pattern which sees four different tile sizes laid in a repeating pattern; the increasingly popular free lengths, these tiles all have the same width but varying lengths; the self-explanatory brick or metro; or even a herringbone pattern.
'Herringbone started out as a huge trend in timber flooring but it's now evolved into a must-have for wall and floor tiles too. It helps to add visual interest to a space and really lends itself to a natural material like limestone and terracotta,' explains Grazzie Wilson, head of creative, Ca' Pietra.
7. Add authentic character with reclaimed stone floors
Reclaimed stone floors are a great and affordable way to bring heritage and patina into your home. It is also a great choice of eco-friendly flooring since you are reusing rather than buying new.
'Once upon a time, you might have worried about maintaining a reclaimed stone floor, especially a pale one, but this has totally changed. Hi-tech sealants now offer as much as 15 years guarantee, rendering even the palest stones phenomenally hardy even in the most high-traffic areas in the home. When any stone floor is properly sealed, daily maintenance is simple; sweeping/vacuuming or washing as needed,' explains Jason Cherrington, director at Lapicida.
8. For subtle differences look for sandstone
Sandstone is a beautiful flooring choice with a tactile and durable finish.
'As with any stone, sandstones differ in their composition and density, so it is worth sourcing from a reputable tile company. It is essential to seal sandstone upon installation, which acts as a protective barrier against water and stains, and then to use a pH neutral floor cleaner and avoid acidic cleaners as this can damage the floor,' explains experts from Quorn Stone.
Featured are its Abbey timeworn sandstone tiles which feature a painterly palette of white, ivory and beige hues with occasional copper flecks for a beautiful base to this kitchen scheme.
9. Bring depth to a small space with stone mosaic
Dating back to the 3rd millennium BC, mosaics have been a consistent part of our interior schemes. While there are many mosaic-look porcelain tiles, you can't beat the authentic style of stone mosaics. In the classic basketweave pattern, this marble flooring adds a luxe edge to this small bathroom. Available on mesh backing, it is also easy to install on a DIY basis – unlike the majority of other stone flooring options. Once in place, it will need sealing with a water-based sealant.
10. Create a rustic space with rough finish stone flooring
Highly textured, travertine is characterised by its honeycomb structure and visible surface pitting which brings a rustic feel to any space. These voids can either be filled with matching resin or left to be filled during the grouting process.
'Although filling of the voids gives a smoother surface, through general usage, some small areas of fill may dislodge or previously unexposed holes may become visible. This is not unusual and the holes should be re-filled with a suitable resin or grout,' says experts from Mandarin Stone.
11. Add rustic charm to a country kitchen
Stone flooring lends itself well to a country kitchen. If you've got a light and bright space, why not tie in your floor with smooth limestone tiles in a flagstone design. Limestone will look incredible paired with exposed stonework, cream kitchen units and plenty of natural finishes and accessories.
12. Subtle ripple effect bathroom flooring
If you want a more seamless look, team modern Scandi decorating ideas with a light coloured stone flooring. Opt for large format tiles in limestone cut lengthways to reveal an interesting, wood-like appearance. This bathroom has lots of textural interest and the floor only adds to the look
13. Opt for white marble for your bathroom floor
Complement Mid-century modern bathroom ideas with a touch of luxury in the form of white marble floor tiles. Not only will it look sophisticated but it will also keep the room bright and more spacious looking.
14. Terracotta stone flooring in a boot room
If love the lived-in, shabby chic style aesthetic, an unfinished terracotta tile is the perfect rustic addition to any space in your home. In this boot room, the floor tiles are paired with distressed furniture, wicker baskets and lots of natural looking accessories for the perfect country farmhouse look.
15. Create a pattern with a range of stone types
Stone flooring doesn't have to come in large flagstones or slabs. Create a bespoke pattern using smaller stone floor tiles like this Art Deco inspired formation using three different tones of marble to complement the large marble sink.
16. Large format stone floor tiles in a hallway
Light-coloured stone with subtle darker flecks are an elegant choice of hallway flooring. A square format and light base colour keep the space looking spacious and bright. The dark flecks will also be fairly forgiving in busy hubs like hallways and kitchens which get a lot of footfall.
17. Sleek finished natural stone floor tiles
Keep things sleek with matt stone tiles in a tumbled and brushed finish, that'll go with pretty much any home or area in your home. You could add this to more than one room and in the hallway for seamless continuity.
18. Create seamless flow indoors and out
There is a growing trend to have the same stone laid throughout the ground floor and seamlessly to a terrace to create a wonderful sense of space both indoors and out. If using your stone flooring outside, be sure to opt for a stone with a high slip-resistance, at least R11 rating.
19. Blend a marble herringbone pattern in a wet room
If you love the contemporary look of herringbone, you can create the look with stone tiling. Why not add even more interest by combining two types of stone. In this instance marble, to create a seamless blend between floor and wall.
20. Stone herringbone tiles in a bedroom
Adding stone floors to a bedroom might seem a little strange but stone is actually a lot more comfortable underfoot than you'd think. It's worth noting that it's best to lay stone tiles in a bedroom on the ground floor as the floor is less likely to shift and settle, inevitably leading to cracking.
21. Opt for polished granite to brighten a hallway
For something a little more opulent, try polished granite tiles in a diamond pattern, like this period home's white hallway. The natural variation in the granite's appearance adds extra interest to the otherwise simple scheme. The polished surface will also reflect light, ideal for brightening a darker space such as a hallway.
22. Add depth with a chequered formation
Marble tiles are perfect for creating a traditional chequer board floor. This antique, tumbled edge finish of these two contrasting marbles from Mandarin Stone creates a beautiful, vintage appearance in this boho inspired bathroom.
23. Create a moody backdrop with worn black slate tiles
Give interior or exterior spaces instant impact with a rich, dark natural stone like slate that oozes dramatic appeal. This large format tile features veining and characteristics that'll look amazing in both classic or contemporary rooms. Accent with lighter stones and brass accessories to really make a bold statement. You could also add extra wow factor by using slate in your outdoor living room.
What to consider when choosing stone flooring
While colour, pattern and finish may be at the forefront of your mind when choosing stone, do consider the practical questions first.
Does your home have timber floor joists and are they capable of withstanding the extra weight
Does your budget stretch to underfloor heating, as stone can feel cold?
Do you have small children or pets who might find the surface hard and unrelenting?
A stone floor is a large investment, so think it through. One complaint about stone flooring in kitchens and dining rooms is that glass and chinaware will break if dropped, while bathrooms can become slippery.
Virtually indestructible, it is easy to clean if sealed properly, allergy-friendly, and a good choice for wet areas as it withstands dampness and flooding.
Experts at Artisans of Devizes explain, 'Natural stone is very versatile, it works so well in so many areas but we see it mostly in hallways, on staircases, in kitchens and living spaces, bathrooms, wine rooms, basements, pool surrounds and terraces.'
'When choosing a natural stone it's always important to think about how the space is going to be used. Is it a high-traffic commercial space, a slick apartment or a country home? Who will be using the space? And what is the lifestyle of the user?'
'Sometimes a very clean and minimalistic look is required for a contemporary space and a very clean, consistent colour stone will be required. However, if it's a family home with lots of socialising, entertaining, sports, and pets, then a more characterful floor with fossil content, texture and tonal variation will withstand the most active of lifestyles.'
Stone floors must be properly installed. A professional fitter can advise you on sealants, adhesives, grouts and the preparation of the substrate to avoid movement.
What are the pros and cons of stone flooring?
Pros:
Durable
A vast choice of colours and finishes
Adds character to a space
Can last for over 100 years
Compatible with underfloor heating
Keeps the room cool in summer
Can be used in kitchens, bathrooms and hallways
Cons:
Can feel cold
Sealing is essential
Requires regular maintenance
More expensive than other flooring materials
May be too heavy for upstairs
Cannot be installed DIY
What colour stone flooring should you choose?
Stone is a natural material that comes in a vast choice of colours and finishes, from pale marbles to black slates. Plus a surprisingly lively colour palette in between with yellows, blues, greens and pinks created by mineral content.
Natural variations add interest – look for grain, veining and even fossils – and you can alter the character of any stone with a finish such as a high-sheen polish, an understated matt or even a weathered effect.
Although neutrals are popular, consider more unusual shades such as pinks and greens. We recommend viewing as many different stones as possible and looking out for interesting patterns.
How long does stone flooring last?
Stone flooring is exceptionally durable and, with the right care, will last over 100 years. 'Natural stone is an investment, but it will last a lifetime and get better with age,' explains John Forde from Beswick Stone.
Many Tudor properties still feature their original stone floors, standing as a testament to their durability.
Can I have underfloor heating with natural stone?
Yes, you can have underflooring heating with a natural stone floor. 'Stone is a great conductor of heat and outstrips other floor finishes due to its very low tog value.' explain experts at Artisans of Devizes. However, some stone floors are better than others. The thinner the stone, the more quickly it will heat up – a thick flagstone will be less efficient than a thin slate.
'When heating a floor you are creating a large space of radiant heat. Therefore you're only raising the temperature somewhere between 4-6 degrees centigrade. On your thermostat, this would be 19 – 25 degrees which creates a low ambient heat.'
Do stone floors make the room cold?
Stone floors will make the room colder than an insulating layer of carpet with thick underlay. However, Stone is a great insulator – it keeps cool in summer and retains ambient heat in winter. You can also increase the warmth of a stone floor by pairing it with rugs or underflooring heating.
Despite its reputation for being cold underfoot, It is also worth noting that a cold room is not always a bad thing. In the heat of summer, the cold stone floor will be a welcome addition.
How to look after stone flooring
A huge consideration is how you'll clean your stone and marble flooring. Experts at Artisans of Devizes fill us in:
'Stone is an alkaline, which means it's above 7 on the Ph scale. Therefore you need to use a Ph neutral cleaner as anything below which is acid will potentially and overtime damage the stone.
'There are some really good antibacterial stone cleaners on the market for your regular upkeep. Maintenance at whatever frequency you choose or time permits but it is really important to keep away from bleach.'
'Remember the stone needs to be sealed well. This is mostly in the form of an impregnator which fills the pores in the stone to make it impermeable to stronger colours penetrating the stone.'
Charlie Smallbone of Ledbury Studios adds, 'A big misconception is that limestone floors stain or discolour with use. But modern seals preserve even the palest stone.'
How to clean stone flooring
Stone will often have been treated before it left the factory. If not, it will stain easily so it's important to seal it with a proprietary sealant or, for terracotta and slate, use linseed oil.
Once sealed, clean it with a mix of mild detergent and water. However, it will need re-sealing at regular intervals to keep it looking its best.
Immediately wipe away any acidic spills.
Reconstituted stone needs to be sealed with a stain inhibitor then impregnated with a top coat of water-based sealant. It'll need re-sealing every two years. Ask your manufacturer or suppler for specific care advice and suitable products.
How to clean flagstone, limestone and slate flooring
Damp-mop flagstone or slate floors using either clear water, an all-purpose cleaning solution in warm water, or water to which fabric softener has been added.
Wring the mop until it doesn't drip, and apply it to the floor in slow, even strokes. Ask the manufacturer for recommend the appropriate cleaning product.
Wipe up spills on unglazed floors immediately or they might cause a stain.
Remove stubborn marks with white spirit, but always do a spot test first.
Get the Ideal Home Newsletter
Sign up to our newsletter for style and decor inspiration, house makeovers, project advice and more.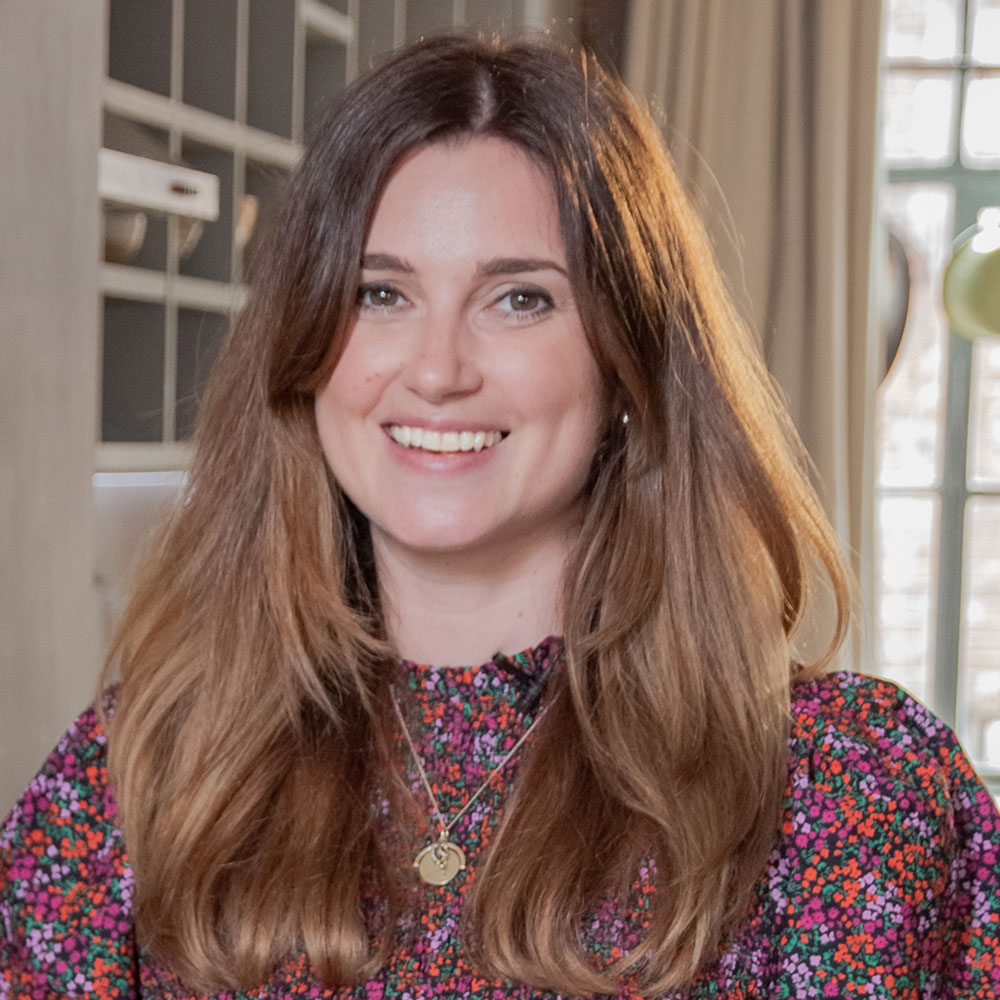 Jenny is Senior Digital Editor and joined the team in 2021, working across Ideal Home, Real Homes, Homes & Gardens, Livingetc and Gardeningetc. Since getting on the property market, her passion for interior design and gardening has taken on a new lease of life. She loves collecting and salvaging unique items (much to her other half's despair) but sniffing out stylish home bargains is her one true love. When she has a spare minute, she loves to do a spot of crafting, having studied textiles at university – although she hardly gets the chance with her daughters keeping her permanently on her toes.