Living room flooring ideas to help you choose the perfect finish for this surface
From practical materials to on-trend designs, follow this expert-led advice on choosing the best flooring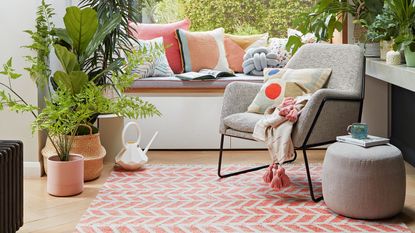 (Image credit: Future PLC/Tim Young)
A living room is one of the most-used rooms in a home, and where your furniture will wear over time, so will your flooring. Choosing the best living room flooring ideas to match your interior tastes and withstand daily footfall will be key in creating a room that works for you. Not only does it act as the backdrop to spillages and heavy furniture, but it will also act as the foundation for the overall design of your living room.
When picking the type of flooring for your living room, there are a few considerations to take into account. Firstly, how you use the space. Do you often eat and drink in the room? What is the existing colour scheme? Does the room need added warmth, maybe through a rug? Your choice will also depend on the type of living room ideas that you have gone for, as the right flooring will tie the whole look together.
'When choosing a floor, always make sure to consider the space and its function,' agrees Sarah Escott, Design Manager, Amtico. 'The great thing about a living room is there really are endless options to create a space that is warm and welcoming, or modern and sophisticated, and incorporate more striking designs.'
Living room flooring ideas
'Choosing a floor can be as straightforward as adding a plain foundation; pale wood in neutral tones perhaps,' says Sarah from Amtico. 'It can act as the canvas that wallpaper, paint colours, furnishings and accessories can be added to.'
'Or it can be decoration in its own right, particularly so in the case of living room flooring ideas. Personal style can be expressed through colour and pattern, in a floor that is functional as much as it is creatively laid.'
1. Fix up your floorboards
Making use of what you have got is one of the easier living room flooring ideas to incorporate into your home. In many older properties, you're likely to find real wood floorboards under newer tiles or carpet, and with just a little bit of work you can revamp them for your space.
Whether you choose to paint them or stain them, you can easily tap into a boho living room scheme, vintage living room aesthetic or even Scandi style.
'Scandinavian homes use natural materials in light and bright shades. To max out on this interiors trend, take advantage of one of the largest surface areas in your home - the floor - by laying a light wood flooring; a staple in Scandi homes that gives a warm feel and brings a room together,' says Catharina Björkman, Scandi interiors expert at Contura.
'Traditionally, Scandi flooring is made up of wide long boards, which can elongate and elevate the overall feeling of the room. Oak is a great choice for floors in a house with a lot of activity, and can be whitewashed so that it reflects any light coming in. Bleached pine wood is another option to create that light and breezy effect. Sanded and oiled reclaimed boards are the ideal and most sustainable option if you are able to lay these over existing joists.'
2. Make it monochrome
If you're looking to curate a minimalist living room, then sticking to monochrome might be the best bet for your floors.
You can bring monochrome into a living room in a number of different ways, whether through a pared-back Berber style rug or even bold tiles that will make a statement. The beauty of black and white flooring is that it offers flexibility when it comes to decorating the rest of the room, and won't go out of fashion.
'Black and white flooring has classic and timeless appeal. Its simplicity and clean lines add a dose of elegance and sophistication to any space,' says Alex Heslop, Trend Expert at Flooring Superstore. 'As monochrome flooring is often made from ceramic or vinyl tiles, it is also a highly durable and easy to maintain flooring, making it a perfect choice for families and high traffic areas.'
3. Go retro
If you're a lover of bold prints and mid-century living rooms (maybe you're a fan of sourcing it secondhand), then choosing retro flooring will complete a design.
Maximalism shows no signs of slowing down, and if you want an easy way to make a statement then consider positioning a pattern on your floors. As the largest surface in a room, you can then decide whether to keep your furniture simplistic or contrast with different colours on your walls.
'Why not inject some colour into your flooring choices to really make a bold statement and showcase your personality? As well as being the focal point of a room, a bright pop of colour can provide added warmth and set a tone for the overall look and feel of a space,' says Alex.
There are also many ways of opting for a daring retro scheme, such as through art-deco inspired tiles, funky area rugs or even maxing out on print with a full carpeted look.
4. Pick herringbone for an on-trend approach
Herringbone hit the mainstream a few years back and has shown no signs of slowing down. It's a popular choice for open plan living room as it adds dimension to a large space while also being easy to style.
'Herringbone has become extremely popular over the last few years,' explains Simon Myatt, Brand Ambassador, Havwoods. 'We will see this trend continue, especially in living spaces as it pairs so well with both modern living room ideas and traditional interiors.'
'It is important to marry the function of the space with the right flooring choice,' advises Simon. 'In general, lighter coloured floors will require more upkeep than darker or more varied colours in a higher traffic area, so living room flooring ideas would be better suited to a dark colour palette.'
5. Work with width
Looking for a way to make your small living room feel larger? This Kelly Hoppen-approved tip involves focussing on the direction of your wooden floor panels to create the illusion of more space.
When choosing a wood or wood effect flooring, opt for long panels that will elongate the look of your floors. And when they're being laid, work from left to right as opposed to from front to back. This way, the room will feel subtly larger without gaining any surface area.
6. Use a rug to add impact to a neutral space
'You can add texture to a hard floor with a feature rug,' says Michele Rodriguez-Wise, Co-Founder of Interior Design Consultancy, L'una Design. 'When it comes to choosing the best rug, look for one which can become the centrepiece of a space. Rugs can transform a room like any other wall mounted art would.'
In a neutral space, adding a colourful patterned rug to your living room flooring ideas will make sure it's the star of the show, while providing a new and enlivening focal point. It's also an easy way of having a dramatic moment in small living room ideas - just make sure to choose a large repeat or abstract design over a busy pattern which can make the space seem smaller.
7. Create pattern with shapely choices
The right living room flooring ideas can do so much more than just be a base for everything else. When working out how to design a living room, choose the shape of your rugs to co-ordinate with existing furniture.
For example, a large rectangular rug underneath a similarly shaped coffee table will make the latter appear larger and more dramatic. The same goes for round rugs encircling curved pieces.
8. Co-ordinate with your soft furnishings
In neutral living room ideas, flooring is an ideal way to add colour and pattern. Amp this up further to create a cohesive thread of subtle colour by pairing your living room flooring ideas with your soft furnishings. Think cushions, throws and lampshades in tonal colours to a statement rug.
9. Seek sustainable designs
Seek sustainable flooring options to make your home more conscious. 'Homeowners are increasingly considering their impact on the environment and there have been recent advancements in sustainable flooring' explains Punam Chada, Buyer at Carpetright.
Sustainable doesn't mean you have to compromise on style, just look for planet-friendly and locally sourced materials.
10. Opt for a wool base
'Your carpet is the perfect place to start when creating a cosy living room,' advises Lisa Conway, Marketing Manager, Brintons. 'The texture of wool underfoot makes it the perfect base upon which to shape a comfortable and inviting interior scheme. A soft woven wool carpet will work to soften the overall look.'
'Not only is wool on trend right now, but it comes more benefits. It insulates your home, is easily recyclable and biodegradable, plus shearing sheep is essential for their welfare. Thanks to wool's hypoallergenic and antibacterial properties, using it on the floor helps to make the air we breathe cleaner.'
11. Insulate with plush carpet
Carpet can be as practical as it is pretty. 'As well as being tactile and comforting, investing in good quality flooring offers other more subtle but nevertheless important benefits for your home,' says Charles Annable, Managing Director, Brockway. 'A well fitted carpet will help to keep your floors draft free adding another layer of insulation to your home' explains
When it comes to carpets underlay is important on many levels. 'It reduces wear of the flooring, making it more resilient' explains Jemma Dayman, Buyer, Carpetright. 'And, more importantly, it offers a softer and more luxurious feel.'
'Opting for a thicker underlay will boost the longevity of your flooring. A good underlay can make a big difference to a value carpet, helping to make it feel plusher underfoot'. And of course, a good underlay offers better heat insulation.
12. Add texture with natural carpet
Carpets don't always have to be plush, materials such as seagrass, coir and sisal boucle have become increasing popular in recent years. This is as we strive to create a more natural, artisan feel for our homes, whether working with rustic living room ideas or not. Due to the natural state of these materials often the colour palette is neutral, showing the texture even more so.
'Using neutral tones in a room can help make the most of natural light, ensuring the room feels bright, airy and spacious,' explains Jemma from Carpetright.
13. Protect carpets with rugs
Layers can work wonders when it comes to protecting lighter carpets. So don't be put off opting for a neutral carpet because of your current lifestyle, for instance having young children, because a rug can preserve the lifespan of carpets.
Even if that's not the case you might still be dubious choosing lighter carpets incase of stains. A rug can go a long way to add reassurance in certain areas – such as under a coffee table, where spills are more likely to occur. Plus, by using home furnishing discount codes you don't have to invest too much in these additions.
'Consider the placement of your rug carefully,' advises Suzy McMahon, Buying Director, Sofology. 'Being so versatile rugs can be moved to another area or indeed room should you change your mind.'
'Not only do rugs add comfort and warmth underfoot, ideal for cooler early mornings and chilly evenings, they bring a luxurious layer to a scheme. Additionally a carefully selected rug can add character to a space whilst emphasising an accent colour or chair.'
14. Embrace wooden flooring
'Wood floors are one of the most traditional and natural types of flooring, coming in a variety of species and finishes,' says Robert Walsh, Founder and Owner, Ted Todd Floors. 'Good quality wood flooring will last for decades to come, and with minimal maintenance, will age gracefully. When it comes to choosing and buying a wood floor, it's important to choose something that you really love as it is a big investment, and one that will last you a lifetime.'
'Choosing the right surface finish is crucial as wooden flooring truly is an investment and is something that will last a lifetime with the right care.'
'Satin and matt lacquers or oil finishes are both great options as they are really hard wearing,' explains Robert. 'Oil finished floors, however, are easier to repair if they get scratched and can be easily fixed even with the right floor care cleaner, whereas a satin or matt surface may need resealing.'
15. Choose engineered wood for a smart finish
'An option that is becoming increasingly popular is engineered wood. A quality alternative to solid wood flooring,' explains Richard Cullen, head of hard flooring, Carpetright. 'Each plank is finished with a layer of natural wood to create an authentic look that will last. It's also the perfect solution for keeping costs down without compromising on style.'
'Hard wearing and durable, it's ideal for high traffic areas that would benefit from being easy to clean,' continues Richard. 'Advances in flooring technology have led to innovations in creating realistic wood finishes at a fraction of the price. Easy to install and low maintenance, it provides a wealth of styles to choose from.'
'If you're looking to include underfloor heating, then we would recommend choosing a sustainably sourced, engineered wood floor as they are designed to work with heated floor systems,' adds Robert from Ted Todd Floors.
16. Fake floorboards with affordable vinyl
Doing it yourself is a sure way to save some money, to make the project more affordable. Just be sure to throughly read the manufacturers advice and watch tutorial videos as it's not necessarily one of the easy DIY projects if you're a novice.
'Many luxury vinyl styles are available as planks with an inventive click system; meaning there are incredibly easy to install with no need for glue,' notes Richard from Carpetright. 'Each plank clicks together to create a seamless floating floor with a smooth, authentic finish.'
17. Add tile style
Tiles aren't often thought to be a viable option for living room flooring ideas, but they are easy to maintain, hard-wearing and have a chicly sleek finish. Plus they work really well for open-plan living room ideas as they can lead in from the kitchen and dining areas. You can opt for simple, neutral tones for a modern finish, or use this as an opportunity to add colour and pattern.
'The desire to bring more personality and unique design into homes has also led to an uptake in patterned tiles for living spaces,' notes Amada Telford, Marketing Manager, CTD Tiles. 'Eye-catching and colourful, patterned encaustic-inspired tiles are popular for their eclectic look as well as their hardwearing properties.'
18. Choose a shade to suit the space
'The shade of wood is one of the most important factors to consider,' says Richard from Carpetright. 'Would your room suit a deep, dark, luxurious walnut or is an understated oak or beech more appropriate?'
'For small rooms, a light wood finish with a single plank design will help create the perception of space. Alternatively, in larger rooms you could consider a chevron pattern, to add an element of grandeur and texture. '
A darker floor choice can help to anchor the space. Especially with white ceilings the use of a darker flooring – whether carpet, wood or tile, can help to give a sense of purpose.
19. Make it modern with contemporary concrete-effect
The polished concrete look has become more and more popular in recent years.
Polished concrete flooring ideas don't have to cost the earth. The look can be easily achieve now thanks to a luxury vinyl, to save on the expense of having your flooring professional tailored.
Modern day vinyl tiles can offer stone, slate and concrete effects that look just like the real thing. This is a great flooring choice for open-plan living room spaces if you want your flooring to be a continuation through from the kitchen area. Zoning with rugs can help to separate the areas and also add warmth – because all of these modern finished can sometimes feel a bit cold.
20. Add personality with patterned carpets
If your style is bold and brace then a patterned carpet is a great choice. Stripes help to add a uniformed pattern, that feels bold without overpowering – such as that of a floral or heavy geometric pattern.
'People are going bolder with pattern and colour for carpets,' says Joanna Ramsden, creative director at Grosvenor Wilton. 'In the same way that homeowners have been throwing caution to the wind with bold paint and living room wallpaper ideas, this 'bolder the better' outlook has trickled down to flooring.'
'We attribute part of the reason for this to developments in manufacturing capabilities. New technologies mean creating intricate designs in multiple colours and textures for carpets is far more achievable than ever before, meaning colourful and patterned quality carpets can be produced affordably and easily adopted into the home.'
How to choose the best living room flooring
When it comes to selecting the best living room flooring, you'll need to consider more than just what looks good. Living room flooring is a big investment, whether you're committed to tiles, wood, carpet or a wood-alternative. With the cost comes serious deliberation over what is going to be practical for everyday use, what will wear well, and also what will match your interior.
'Durability should also be a key factor when choosing your flooring', says Catharina. Above all else, you want your flooring to last and withstand any spillages, mud, or accidents that might occur. Think about how often you use your living room, and what you use it for to determine how hard-wearing you will need the flooring to be.
Also consider your own interiors taste and whether it might change in the future. Bold patterns are great for those who know their own style, but if you're unsure whether you'll still be a fan in 5 years time then maybe dabble in a trend through a rug.
What is the best flooring for a living room?
In terms of best type, there are a number of different qualities that might determine 'the best' for your home. If you live in a busy household with young children and pets for instance, carpet might not be the most practical option for your living room flooring ideas. Best in this case might be a wooden or tiled flooring option that is more susceptible for frequent cleaning to prevent germs.
If you don't have to take these factors into consideration a carpet might prove best, to add texture and warmth to the room. Also take into consideration the noise quality, in a flat for instance. Carpet or a vinyl flooring will prove quieter underfoot, a plus for both you and your neighbours.
Is your space open-plan and therefore attached to your kitchen? In which case you may consider a flooring type such as tiles or concrete that acts as a continuation from the kitchen area. Take a look below to see how zoning the spaces can be easily achieved, if this is your desired look.
What is the most popular flooring in homes today?
'Carpet has never really gone out of fashion for living room flooring ideas and is only increasing in popularity because of its soft feel, warmth and the vast array of colours, textures and patterns,' explains Charles from Brockway.
'Nothing feels as luxurious as a plush, deep pile carpet and the majority of consumers wouldn't dream of using anything else in cosy areas of the home such as bedrooms and lounge rooms. There's no substitute for settling down for the evening and feeling the deep pile of a natural wool carpet under foot'.
What is the cheapest flooring for a living room?
'There are many affordable options for living room flooring ideas but its worth ensuring the budget option doesn't compromise on comfort levels,' advises Punam from Carpetright. 'If you're looking for a value carpet consider pairing with a quality underlay as this will offer a softer and more luxurious feel whilst boosting the longevity of your choice.'
'Opting for a cheap and low quality option may mean the floor will need replacing more frequently and therefore cost more overtime. The best way to test quality is to either order samples or visit a store so that you can feel the difference and be sure you're happy with your decision before ordering.'
Get the Ideal Home Newsletter
Sign up to our newsletter for style and decor inspiration, house makeovers, project advice and more.
Tamara was Ideal Home's Digital Editor before joining the Woman & Home team in 2022. She has spent the last 15 years working with the style teams at Country Homes & Interiors and Ideal Home, both now at Future PLC. It's with these award wining interiors teams that she's honed her skills and passion for shopping, styling and writing. Tamara is always ahead of the curve when it comes to interiors trends – and is great at seeking out designer dupes on the high street.