Hallway flooring ideas - 24 pretty and practical flooring solutions
Form a practical and stylish foundation for your entryway with these hallway flooring ideas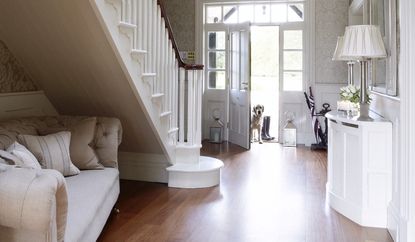 (Image credit: Future / Brent Darby)
Hallways are the most well-trodden path in any home, and likely one of the first areas you see when mooching downstairs in the morning or returning home after a long day. This means you want hallway flooring ideas that are stylish, but also practical, to withstand daily footfall.
Whether you have a small or large space that doubles as a room in its own right, there are some simple hallway ideas you can use to create the illusion of a larger space, while adding to a design.
It's also best to top for a hardwearing floor that's easy to clean and maintain. It can be tempting to go for the most on-trend option, but if it won't withstand wear and tear, then it will only need replacing sooner. So, with fashion, functionality, and space all to consider, here are some hallway flooring ideas to inspire your entranceway.
Hallway flooring ideas for all homes
First of all consider the age and style of your property. Traditional materials such as wood and tiles are ideal choices for a period home, while polished concrete or painted floors are better suited to more contemporary properties.
Flagstones and old bricks look lovely in quaint country cottages, but for a more upmarket elegant feel a black and white chequerboard tile design is the perfect choice in a classic townhouse.
The colour of your choice of flooring is also important dependant on the size of your hallway. Dark polished wooden floors or deep red terracotta tiles will make a small hall appear smaller, while stripped lighter wood or neutral coloured tiles are better suited to small hallway ideas because they will help to enhance the feeling of space when combined with a white or cream decorating scheme.
Bear in mind that there are lots of different materials to choose from, so if you have set your heart on a wooden floor but need something that is easier to keep clean there are porcelain tiles available that mimic the effect of wooden planks in a variety of colours and finishes.
1. Focus on floor direction
Hallways are typically narrow, dark spaces where physical room comes at a price. Therefore, you might have to turn to optical illusions to make the entryway look as spacious as possible.
By paying careful attention to the direction of your flooring, you can make a narrow hallway look wider, without gaining any space. Laying tiles or planks horizontally draws the eye outwards making the corridor feel expansive, as opposed to long and slim.
'Go for a lighter finish of wood for an inviting and contemporary feel and for smaller spaces – choose wide planks to help to create a sense of space,' echoes Alex Heslop, Trend Expert, at FlooringSuperstore.
2. Bigger is better
Whether you're into a minimalist or maximalist scheme, going for the extra-large look will work for you. Giant tiles will help to make a small hallway feel spacious and more airy, placing the focus on the top half of the room instead of drawing attention to the floor.
If you want to keep your interior pared-back, neutral large tiles will create the ultimate simple scheme, whereas patterned large tiles are great for those who want to make a statement and perhaps have a larger entryway to play with.
'For smaller spaces where light is at a premium, choose lighter flooring and accessories to help create a calming area that also makes the space feel bigger and brighter. Try pairing it with lighter walls too, aiming for a low contrast between the floor and wall colour, which will make the space feel larger,' says Paul Hambidge, managing director at Factory Direct Flooring.
3. Choose herringbone
Opting for patterned hallway flooring is an easy way to add interest to an entryway without needing to add accessories or furniture. Including additional decor in a narrow hallway can be a challenge as you don't want to overwhelm the space, so a herringbone floor will act as a sophisticated compromise.
Herringbone is also an on-trend wood flooring idea, so if you're looking to achieve a modern hallway idea then picking this format will instantly upgrade the area.
4. Make it monochrome
A hallway is the entry point to the rest of your home, and whether you have an open-plan living space or it leads off to multiple different doorways, you want the scheme to be complementary.
Monochrome is a clever way to achieve this, as the black and white scheme means you can choose to keep the palette neutral or add a pop of colour - the beauty is that anything goes! It also adds plenty of personality, so if you're looking for a characterful hallway aesthetic without committing to a bright colour scheme, then monochrome is the way forward.
5. Turn to terracotta
Terracotta tiles have an enduring appeal and are an inexpensive option for hallway flooring. This humble material looks gorgeous offsetting a dramatic staircase and stairway carpet, like this beautiful Roger Oates runner.
Most terracotta tiles can be used with underfloor heating and are frost-resistant too. So work well for those who like an indoor-outdoor feel in their home. It's easy to mop clean but it's wise to have an anti-clip coating applied to glazed tiles. Look for reclaimed terracotta tiles for an eco choice and to add character.
6. Add impact with a striped runner
Give your hallway floor some design love with a bold runner to greet you and welcome guests.
'The entrance hall is often an overlooked or forgotten area,' says Jane Armstrong, Head of Sales at Roger Oates Design. 'It's the first space that visitors see and because you simply pass through it is a great opportunity to be adventurous and make a statement.
'To get a true runner look, we recommend that there is a minimum of 5cm and up to 15 cm of subfloor exposed on either side of your runner.'
7. Strip back original boards
Many Victorian or older homes have wooden floorboards. And as this makes up much of the housing stock in the UK, (especially in big cities) there's a chance you may have original floorboards.
Often they're hidden under lino, laminate or carpet. So if you're replacing any of these floor coverings, check whether you have original timber boards underneath.
If you do, hire a floor sander, or find a professional to strip any top layers of paint, varnish or dirt. Then seal with oil, lime wash or clear varnish. Stripping back to the floorboards is a great way to add character to narrow hallway ideas when space is at a premium.
8. Get creative with paint effects
If you do have original boards but prefer a more finished style than bare timber, consider eye-catching paint ideas.
Paint is one of the most inexpensive ways to transform a room and painting a pattern will add interest. To create a similar diamond effect, sand the surface and apply two coats of the base colour.
Once it's fully dry, measure and draw or stencil the shapes you want to paint and mask with frog tape. Then fill in the shapes with two coats of the second colour. Check the manufacturer's instructions, as to whether the floor paint requires sealing.
9. Luxe it up with marble
Marble is associated with luxury but that doesn't rule it out for the floor. Marble or marble-effect tiles can make a statement in the hallway. Real marble is porous so may not be suited to a hallway in a busy home with kids and pets as it could get damaged.
However, marble-effect porcelain tiles can be a great alternative. Offering the style of marble, with the hard-wearing qualities of porcelain.
'When times are hard, we often find homeowners are more likely to invest in bold décor to boost positivity in the home,' says Abbas Youssefi, director, Porcelain Superstore. Marble could be the tonic your home needs at the moment.
10. Go for a modern motif
Whether you're opting for LVT (luxury vinyl tiles), porcelain, encaustic or ceramic tiles, consider a modern motif. There's a tendency when choosing hallway tiles to go for a traditional style (which looks gorgeous obviously) or a simpler one that mimics timber or stone.
Yet simple modern prints can make a fabulous feature in an entrance hall and feel instantly welcoming. They are an especially good way to jazz up plain white hallway ideas.
11. Shape shift with geometrics
Geometric wall tiles laid with irregular borders and edges are a popular look in bathrooms. Yet hexagonal shapes laid like this can look just as good on a hallway floor too.
Instead of tiling part of the area and finishing the rest with paint, as you would on a wall. Mix white hexagonal tiles with timber-effect tiles or LVT for a fresh Scandinavian feel.
12. Opt for hard wearing plant fibres
Made from the fibres of coconut husks, which are soaked, spun and woven into this rustic-style matting, coir is ideal for hallways.
It's softer and warmer than timber or tiles and it's hard wearing and durable, so requires less maintenance than carpet or a runner. Plus it's resistant to moth damage, as the natural oils in the fibres repel insects.
'For heavily used areas such as hallways and stairs it is a good idea to choose a textured flooring or even striped carpet which will not show dirt as much as a plain, flat single colour flooring,' says Jon Flannigan, Product Manager at Kersaint Cobb. 'Make sure the flooring you chose is suitable for the location: plant fibre natural floorings such as coir are great for hallway areas.'
13. Combine plain and patterned tiles
Tiling your entire hallway with a beautiful patterned tile looks gorgeous but it can be a pricey project. One way to bring the cost down, while still achieving an attractive entrance to your home is to mix patterned tiles with cheaper plain ones.
Work out how you want to arrange the tiles before you lay them. Choosing a design like the one above is an effective way to frame a striking pattern.
14. Unite the space with concrete
If you're considering concrete kitchen floor ideas, why not take it through to the hallway and other rooms on the ground floor too? A single material used throughout unites a space, as it flows more and feels less 'carved up'.
'Concrete is poured and pumped in on site, so this needs to be done before the walls are plastered,' explains Ben Young, manager at Lazenby. 'We also have thin concrete-effect flooring and concrete tiles that are suitable for other situations.
Alternatively, if you're just changing the flooring rather than a larger refurb, consider concrete-effect LVT, it's softer and warmer underfoot than the real thing.
'LVT has a high TOG rating, which means it provides insulation between the (cold) subfloor and your room,' says Inga Morris-Blincoe, manager at Lifestyle Floors. 'This can lead to a more comfortable space, as well as reduced heating costs.'
15. Lighten the hall with limestone
Keep a hallway light and airy with a neutral colour stone flooring. 'Natural stone flooring can be one of the most forgiving floor coverings if the right stone and finish are chosen' advises Isabel Fernandez, Director at Quorn Stone.
'Naturally some stones will be denser than others which provides more durability, however all natural stone will be subject to a little wear and tear over the years. A tumbled finish provides an aged look, its worn edges, textured surface and natural markings makes it extremely forgiving with day to day dirt.'
With a light coloured stone you can any dirt, so it's easy to keep on top of keeping it clean.
16. Choose hardwearing carpet
Don't be fooled into thinking carpet is not suitable for a busy hallway space, it's all about choosing the right design to suit. Jodie Hatton, a Residential Designer at Brintons, explains, 'carpet is a fantastic option for high traffic areas like hallways and stairways, due to its ability to withstand natural wear and tear.'
'The type of carpet that is preferred is down to personal taste and the usage of that particular room, but cut pile woven carpets are the most hardwearing.'
Ask your carpet provider for the most suitable styles and designs to suit the high traffic area. And we recommend rugs and door mats to add a layer of protection from muddy boots and shoes.

17. Add patterned carpet to distract from dirt
Still not convinced how practical carpets are for hallways? The carpet experts say adding pattern will help to make the material even more suitable by cleverly distracting from any possible dirt and dust.
'Patterns are perfect for high-traffic areas like hallways and staircases, where dust and dirt are repeatedly trodden into the carpet' advises Jodie Hatton, on behalf of Brintons. Explaining, 'We use an Axminster construction for our patterned carpets as this creates superior definition and creates a longer-lasting carpet.'
18. Lay hardwearing laminate
Laminate flooring is ideal for those who want the look of wood but want a more practical option. Plus laminates come in variety of colours, meaning you can tailor the look to suit your hallway colour scheme – rather than having to stick to warm wooden tones.
19. Go bold with practical patterned vinyl tiles
Vinyl tiles in a graphic pattern look fresh and contemporary, adding instant impact to a landing, corridor or hallway. Available in a wide variety of colour combinations, these practical flooring tiles create an on-trend look with a traditional feel and provide the wow factor before visitors have even taken their coats off.
20. Mix and match materials
Inject texture and pattern to your welcoming space with a tonal patchwork rug over bare floorboards. You can get these for bargain prices using home decor discount codes, and you'll instantly be adding a new dimension to this space.
Replacing a solid dividing wall with windows will allow light to flood into your landing or entrance hall and create a bright and airy feel. The addition of a striped stair runner, meanwhile, will generate a subtle eclectic look.
21. Work with a vinyl laminate
Opting for a vibrant stripe design ensures a bright welcome and helps to lead the eye to the other rooms in the home. The eye-catching woven vinyl that is shown here adds a practical element for a high-traffic space such as a hallway, landing or corridor and is an easy-care option too.
22. Go for rugged good looks
An aged flagstone floor works particularly well when teamed with rustic, tactile pieces and antique furniture. Add a richly coloured stair runner to personalise the space and give it an injection of individuality. Natural wicker baskets and wood tones combine to create a warm and welcoming hallway.
23. Lay parquet for a timeless look
This classic wood-black flooring adds smart elegance to traditional or modern settings. Oak is a classic choice for parquet, but dark wood (such as walnut) will add depth, and bamboo is a more eco-friendly option that offers a lighter shade for modern homes.
24. Preserve characterful tiles
Characterful Victorian-style patterned tiles are ideal for both traditional and contemporary homes looking for a floor with personality. Making use of what you have is also a great way to save money on a home renovation.
With antique furniture and decor having a resurgence, finding original tiles in your home is a real treat, so make the most of them! They'll often be hardwearing too, which is what you need for a high-traffic area.
What flooring is best for a hallway?
A hallway is where you start and end virtually every day. It deals with the footfall when walking downstairs, as well as when entering and leaving the house. With this in mind, hallway flooring must be hardwearing and easy to clean.
Especially if you have children or pets, mud can easily be traipsed through a hallway into the rest of your home, so you want to be able to mop and scrub the floor if necessary. This puts porous materials at the bottom of the list, like some natural stones.
'Porcelain tiles are non-porous so they are extremely easy to clean and are stain-resistant,' says Abbas Youssefi, director of Porcelain Superstore.
'Patterned floor tiles are great for busy spaces and will really add design and character without going too over the top.'
Get the Ideal Home Newsletter
Sign up to our newsletter for style and decor inspiration, house makeovers, project advice and more.
Jennifer is the Deputy Editor (Digital) for Homes & Gardens online. Prior to her current position, she completed various short courses a KLC Design School, and wrote across sister brands Ideal Home, LivingEtc, 25 Beautiful Homes, Country Homes & Interiors, and Style at Home.