28 rustic kitchen ideas – how to get that rural charm and character wherever you live
Create a charming eatery with these rustic kitchen ideas, no matter what type of property you live in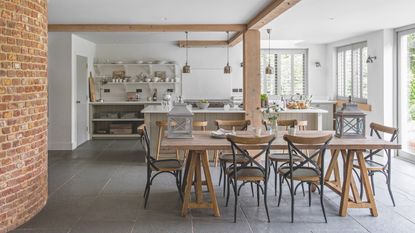 (Image credit: Future PLC)
A kitchen is the heart of every home, so creating a comforting space that makes you feel instantly welcomed will encourage the whole family to gather around. One of the most authentic ways you can achieve this is through rustic kitchen ideas that make a cooking space feel stylishly lived in. Whether you're looking for a full room revamp or just want to add a few rural touches, this style will add ample appeal to your space.
Rustic kitchen ideas work equally as well in a more modern property as they do in a countryside abode. While the most traditional rustic kitchens will include range cookers, Belfast sinks and a solid farmhouse table, there are contemporary colour palettes and features that contribute to the look, too. For example, sleek Shakers-style cabinetry, industrial finishes, pendant lighting and bar stools can all bring a fresh feel to a rustic kitchen.
'Country-style has experienced a revival, perhaps in part due to the emergence of cottagecore and the stylish rural properties that continue to feature on our Instagram feeds,' says Alex Main, director of interiors brand The Main Company. 'This desire for a country-inspired interior has evolved slightly, with a softer colour palette and more modern approach to this timeless trend.'
Rustic kitchen ideas to swoon over
'Rustic kitchen style is all about beautiful handmade super stylish, simple designs, and what makes it so appealing is that it is not a mass-produced generic look anymore,' says Helen Parker, creative director of kitchen company DeVOL.
'It has become about carefully considered, beautifully and thoughtfully made furniture, by people with skill and vision for design and a desire to create something with providence and soul.'
From materials and textures to colours and accessories, these are our favourite ways to work rustic kitchen ideas into your home.
1. Go for green
Green kitchens are undoubtedly on-trend, but despite the modern revival, the tone works well in a rustic design. Opting for a warmer toned green creates an inviting feel, while also reflecting the colours of the countryside.
It's a versatile shade that can easily be styled with different metals and worktop materials depending on how much you want to commit to a traditional aesthetic. You can also combine darker green wall units with a sage green island for a tonal look that exudes depth.
2. Use reclaimed wood for your ceiling
The more textural layers you can get into your rustic kitchen the better – and that means your ceiling too. Reclaimed boards are the ideal choice and they give a wonderful tactile element that offsets any smoother materials you may use like marble and glass.
The reclaimed nature of the boards will also add colour, albeit subtle, but that's the key with this look, it's about the details and authenticity of the materials you choose.
3. Choose muted shades of olive and cream
Splashback ideas offer a great opportunity for adding colour and texture, why not turn them on their heads so to speak and run them vertically instead of horizontally? Olive and cream are good rustic shades and a slight sheen on tiles will contrast beautifully with wooden bowls and marble countertops.
'Olive is an ideal shade for rustic kitchens, bringing the outdoors in, and working beautifully as a backdrop to natural materials such as stone, wood and vintage metallics,' says Colin Roby-Welford, design director, Fired Earth.
Pairing olive shades with cream-toned whites rather than really crisp, bright whites is a clever way of keeping walls looking clean and fresh – which is important for kitchens – while creating a timeless and relaxed rustic feel.'
4. Pick handcrafted wooden pieces
Using wood as a key material has to be one of the main rustic kitchen ideas to utilise. Warm and welcoming, it gives a cosy feel whatever the size of the kitchen.
'When it comes to the kitchen island, there are endless alternatives to the traditional island,' says Al Bruce, founder, Olive & Barr. 'A harvest table is a great option for those who are tight on space and can be easily painted to add warmth and contrast.'
Another great way of adding a unique twist is by using reclaimed wood, whether a bespoke kitchen island, floating shelf or small cabinet, it gives an instant lived-in and relaxed feel while making a great conversation starter
5. Create an inviting aura with a lamp
Rustic kitchens are at their best with layers of soft materials and warm light inviting the whole family to spend time in the space. Adding a table lamp to a kitchen worktop is an easy way to achieve a cosy cooking environment, and it will provide essential illumination for intricate tasks.
A table lamp can also be customised to suit your exact colour scheme. For a truly rustic look, consider opting for a fabric shade in a small floral print or a micro-stripe.
6. Showcase spices
More is more with a rustic kitchen scheme. While pantry ideas are growing in popularity as they can keep spices and dried goods out of sight, keeping them on show on a spice rack creates a lived-in look.
You can easily find spice racks secondhand too, and either keep them in a natural wood tone or use chalk paint to update the colour. This way your kitchen storage looks well-loved, well-used and effortlessly rustic.
7. Go for the artisanal look
Accessories are a huge part of the rustic kitchen style, think earthenware pieces handcrafted by independent makers, handblown glassware and dried flowers in vases or hanging from beams. This can sounds expensive, but clever use of home decor discount codes will help keep things in budget.
'The rustic look allows you to be really creative with your decorating options, branches on beams, natural decorations and collections of subtly coloured and simple ceramics would give such a calm and understated theme that would feel less opulent and more elegant,' adds Helen from DeVol.
8. Don't forget art
When adding art to your home, living room art ideas might be one of the first spaces that spring to mind. However, adding art to the walls in a kitchen will create a homely feel.
Large-scale pieces will complete an open-plan kitchen with a dining spot, whereas small antique-esque paintings can easily be added to small gaps above a sink or next to a cupboard. Mix-and-match frames will also create an eclectic aesthetic ideal for a country home.
9. Add pattern with stripes and florals
It's not all about the textures – you can incorporate a touch of print and pattern too for added interest. French style stripe cushions, floral tea towels, a rustic linen tablecloth teamed with coloured enamelware will all add that wonderful character that's needed for that personal touch to a rustic scheme.
10. Layer natural materials
Regardless of whether you've been using a basket to cart in veggies from the garden, or just as a prop, it's a simple way to achieve the rustic look. The weave of rattan will add texture to a kitchen space and pairs perfectly with other wood features such as a worktop.
Plus, it's practical. Use as a fruit bowl, for transporting cutlery to the table, or even for prepping fresh stems. The opportunities are endless, and you can source them easily secondhand too.
11. Paint tongue and groove in a classic blue
Tongue and groove is such a versatile kitchen wall feature to consider – it gives that wonderful cabin style feel and it looks great painted.
'A rustic kitchen is most easily achieved by your choice of materials and colours,' says Hege Lundh of Lundhs Real Stone. 'For a classic, country rustic feel, light blues and whites will coordinate beautifully with warmer brown tones, which can be brought in through natural materials such as reclaimed wood or even a natural stone worktop.'
'A more modern approach to a rustic kitchen can see a more monochromatic scheme being used, with contemporary dark cabinetry against a white backdrop and light wood flooring. The key to maintaining the rustic feel is to not go glossy, a rustic kitchen will always have a sense of tactility through the colour palette and materials – think rough woods, matte surfaces and natural textures.'
12. Accessorise with hooks
Dreaming of a traditional Victorian kitchen? Hooks are the fastest route to achieving the look, and it's a small update to make.
Adding a bar and hooks on a wall or above a hob means that you can hang pots, pans and utensils for easy access when cooking, while also adding a decorative element to a kitchen design. Opting for antique copper pans will take the look one step further too, reminiscent of classic French interiors.
13. White is ideal for a modern rustic look
There's an on-going trend called 'modern rustic' which takes all the textural elements of a classical rustic scheme but with a contemporary edge.
White kitchen ideas are the main ingredient that adds this by giving a smooth element that contrasts with the standard wood. Incorporate every other aspect like bare beams, muted tones and artisanal pieces, but let the white shine through.
14. Source vintage cabinetry
One-off finds from antique markets and vintage stores will give you a fabulous starting point for your rustic kitchen. A large cabinet can be adapted to take a sink and if it has shelving underneath then all the better.
A classic Belfast sink teamed with brass taps will finish the look perfectly and you'll know that your rustic kitchen has unique aspects that you won't see anywhere else.
15. Paint your kitchen island in a rustic shade
Low beams can go hand in hand with a rustic kitchen which means the space can feel dark. In this case keep the walls light with a pale cream – white will be too harsh and consider painting your kitchen island a darker tone for contrast.
Aubergine is a good choice, it's warming yet earthy and will give your rustic kitchen a subtle focal point.
16. Use pops of green and blue
This look can have colour, simply mix it with the textural layers too for cohesion. Keep the scheme considered though, bright reds and pinks for example, will be too intense for this characterful look.
'Kitchens are an area of the home where hard materials such as stone and marble tend to prevail, creating an architectural and aesthetically seamless finish that is hard wearing and practical, but if not carefully considered can feel rather cold,' warns Felix Milns from kitchen specialists HUX London.
'To introduce a rustic feeling to a kitchen, look to introducing colours from nature as painted finishes across the walls, cabinets and woodwork. Shades of green and blues are an ideal choice, adding a softness to the more utilitarian harder surfaces that are typical within a kitchen, as well as a natural aesthetic link to the natural world.'
17. Open up your shelving
'The almost-defining trait of a farmhouse kitchen is that dreamy pared down feel with closed lower cabinets and lots of open shelving,' says kitchen expert Al from Olive & Barr. 'They give you a chance to display those unique bits n' bobs that create a rustic farmhouse feel: decorative plates, cast iron pots, mason jars filled with dried, your rustic wooden bowls and utensils, anything and everything.'
'Not only will the addition of open shelving make your space feel lighter and brighter, but you'll also have more opportunities to bring your personality to the forefront.' It's also one of the core small kitchen ideas to give the illusion of more space.
Making use of kitchen organisers is a great idea, and more often than not it makes seeing what's on your shelves a lot easier when opting for glass options. Even inside cupboards, it looks ten times nicer to decant your dried foods into jars and storage containers.
18. Add industrial touches
The industrial trend is intrinsically linked to rustic kitchen ideas. Feature brick walls, metal detailing and exposed pipeworks all give that rural-with-an-edge vibe.
To keep it on the rustic end of industrial, make sure to mix in with plenty of woods and warm colourways. Rustic kitchens should feel welcoming, so steer away from the ultra monochromatic modern kitchen ideas look.
19. Create a homey scheme
At their heart, rustic kitchen ideas should be full of inviting personality. Use this space to showcase your favourite colours and objects. A touch of eclecticism is very welcome, so include rag rugs, patterned tiles and mismatched crockery.
In terms of colour, warm neutrals, blues and yellows are most associated with rustic country kitchen ideas. Stick to one for a more pared back approach, or layer up for a quirkier finish.
20. Consider your flooring
When choosing rustic kitchen flooring ideas, natural materials are a must, and if you can go for large flagstone tiles, then all the better. 'For centuries, estates and country homes have used flagstone flooring, thanks to their hardwearing characteristics and classic appearance that have stood the test of time,' says Isabel Fernandez, Director of Quorn Stone.
'Now more than ever, people are wanting to create this timeless look in their kitchens by choosing large format flagstones. Most commonly, the 'free length' or 'random length' tile size is opted for, by which the widths are fixed (usually 500mm or 600mm) and then lengths are a random selection ranging upwards to 1000mm. This free length flagstone has the ability to work in all sized kitchens and gives maximum focus on the beauty of each tile.'
21. Add unexpected pattern
Patterned wallpaper isn't always on trend for kitchens, but it most certainly is one of the heartland rustic kitchen ideas. If you're nervous about wallpapering the walls, or simply want to limit pattern, then think laterally.
Paper the backs of glass-fronted cabinets and inside drawers for joyful bursts of colour and pattern without your overall scheme being overwhelmed. Plus, this take on kitchen wallpaper ideas is easier and more affordable to change should you get tired of your choice of design.
22. Choose Shaker style cabinetry
'Regardless of whether you live in a modern renovation or rural cottage, traditional Shaker kitchen ideas and cabinetry is perfect for creating a welcoming, lived-in look,' says kitchen expert Tom Howley.
'Charming cottages and period homes almost always have challenging features such as chimney breasts, sloping ceilings, quaint proportions, quirky nooks and uneven floors. Choosing a bespoke shaker design allows you to preserve and work around these original features, enhancing your space's look and individuality.'
23. Add interest with panelling
Panelling is a simple and chic way of integrating rustic kitchen ideas into your space. These sleek lines on your cabinetry will add interest and the subtlest suggestion of pattern. For a more full-on approach, take your panelling up onto your kitchen splashback too.
24. Think about your lighting
'Of all the ways to add a pinch of rustic charm to your kitchen, getting creative with your kitchen lighting ideas is probably the quickest, easiest and most-effective,' says Al from Olive & Barr.
'The lights you opt for a great way of adding a touch of country charm to your kitchen. From adding filament bulbs to your industrial-style fixtures to hanging Mason jar pendant lights above your island, to illuminating your prep space with a reclaimed patina light shade that matches the materials used in the rest of your space.'
25. Add a cupboard skirt
Cupboard or sink skirts are a very traditional way of bringing warm farmhouse kitchen ideas into your space. 'Instantly softening, a sink skirt is also a great way to inject colour and pattern into your kitchen or pantry,' says Karla Patterson, designer at British Standard. 'Affordable and stylish, it's also a clever way to conceal any unsightly storage and kitchen sink ideas.'
Choose a contrasting colour to your cabinetry to make a statement, or use pattern to pick up on it if you prefer a more toned-down finish.
26. Mix and match materials
Avoid allowing your space to feel too 'done' if you want to achieve rustic kitchen ideas. One way to make sure it has a lived in feel is to mix and match materials, colours and textures.
You're nearly looking for the kitchen to feel as if it has evolved over time. Sticking to natural materials and a tonal palette is a useful way of guiding your choices so everything still sits together peacefully.
27. Use warm neutrals
'Pale greys, white, cream and black with wooden accents tie things all together into a wonderfully rustic space that looks as perfect in the depths of winter as it does when the summer sun pours through the windows,' says Al from Olive & Barr. 'That's what a neutral colour scheme does for a space.'
Remember that the key to rustic kitchens is an inviting sense of warmth, so tie in joyful bursts of nature-inspired blues and green kitchen ideas.
28. Use touches of burnished metals
Brass can add a new dimension to rustic kitchen ideas, taking a hint of glam from shabby chic kitchens. 'Burnished brass and matt gold handles add a whole new dimension to kitchens,' says Tom Howley. 'Brushed or aged finishes can enhance the brightness of white paint finishes. They also echo harmoniously with the ever-popular greys and dramatic dark palettes.'
How can I make my kitchen look rustic?
Showcase natural materials, colours and textures to achieve authentic rustic kitchen ideas. Think warm woods, stone floors and tactile surfaces. They should also feel lived in, a rustic kitchen isn't a show home.
'Kitchens tend to have very hard surfaces and straight lines as they are primarily functional spaces, and it is key to consider how to work with these materials in order to create a sense of depth and avoid the kitchen from feeling stark,' says Felix from HUX London. 'To introduce a rustic appeal, introduce items that can be layered within the space to counterbalance the rigid framework.'
'Quirky vintage pieces that through time may not have such perfect straight lines, such as a vintage dresser or cupboard, are great to add to the mix, bringing a patina which evokes a cosy feeling and sense of history. Soften the angles of window frames with curtains or blinds; opting for a smaller-scale print will immediately bring a rustic, cottage feel.'
What are the best rustic colours for the kitchen?
The rustic kitchen does need to be painted in a more subtle kitchen colour scheme that will complement the tactile materials in the rest of the scheme.
'Opt for colours that you find in nature, such as greens and blues, browns and taupes to evoke the feeling of the countryside and nature, bringing a sense of warmth as well as combining beautifully with natural materials,' adds kitchen expert Felix.
'A country-style kitchen dresser or sideboard painted in a nature-inspired colour will make any space feel inviting and homely,' says Adam Brown, director, The Painted Furniture Company. 'Warm, earth-toned colours such as moss green, tan, or even beige or grey, will complement a rustic décor scheme perfectly.'
'To give the piece more character opt for a solid wood top such as dark oak to add extra instant cosiness to the room. A round farmhouse-style table would look great in a rustic-style kitchen, or depending upon space, you could opt for a rectangular dining table with a mix of chairs and a bench for seating.'
How do you make a small kitchen look rustic?
'Painted cupboard doors will bring an instant rustic feel, combine with natural textures such as wood and rattan across the floor and surfaces, and opt for warmer metals in place or chrome, such as brass and copper,' says Felix from HUX London.
'A brilliant addition to a smaller kitchen is a pantry cupboard, which can incorporate shelving within, as well as inside the doors offering maximum storage space, in addition combining storage with decorative detailing can be very effective for a smaller rustic kitchen, such as adding hanging rails above the stove for pot, pans and utensils.'
How do you make a rustic kitchen more modern?
Rustic kitchen ideas can be modernised rather easily. One of the most popular ways of achieving this is through using touches of industrial chic. 'We're seeing many more homeowners experimenting with materials, creating a contrast between the classic and contemporary to create truly innovative and unique kitchen designs,' says Alex from The Main Company.
'Exposed beams and distressed brickwork continue to remain popular, but these are cleverly off-set by metallic accents, high-specification appliances and eye-catching lighting.'
Get the Ideal Home Newsletter
Sign up to our newsletter for style and decor inspiration, house makeovers, project advice and more.