Garden paint ideas - 19 ways to give your outdoor space a splash of colour
Transform your garden and make it as visually appealing as your interior with these inspiring yet simple tricks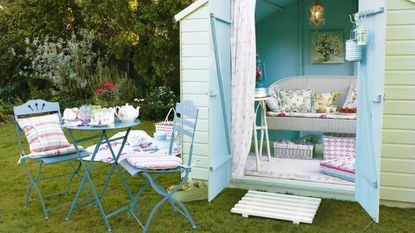 (Image credit: Studio/Future Publishing Ltd)
Garden paint ideas are one of the quickest ways to transform your garden. Unlike many other garden ideas, you don't need a green thumb to make this work, a tin of paint and paint brush are all you need to add a dose of wow-factor.
It takes the biscuit as potentially the easiest garden idea you can do, as long as you have the correct outdoor-friendly paint that is. You can start small by sprucing up some old garden seating ideas with a fresh coat of paint, or be inspired by the Mediterranean and give your garden walls a fresh whitewash or terracotta colour revamp.
Paint ideas for your garden aren't that different to how you use them inside your home, with a little thought they can help make a space look bigger, cosier, brighter or evoke holiday getaways. We asked the experts their top tips for making the most out of a tin of paint in your garden.
Garden paint ideas
When it comes to choosing paint colours to use in the garden, choose colours that will enhance the work of mother nature. Just remember that whichever hue you choose will 'tend to look lighter outside than it would inside,' says Anna Hill, brand director at Fenwick & Tilbrook.
To that end, always make sure you view the proposed colour outside before buying. 'Order a sample pot and paint a large board to hang outdoors in a position that will help you better understand how it will look in situ,' suggests Anna.
And so, with that caveat firmly in place, here's our selection of must-try garden paint ideas...
1. Make an impact with a black fence
Using a painted garden fence idea is a great way to embrace exterior paint in a major way. The colour will surround the entire garden and therefore makes maximum impact. Dark shades of black and slate grey are trending right now, the perfect accent for lush greenery.
'Black might seem like a bold and daunting choice,' says Marianne Shillingford, colour expert and creative director at Cuprinol.
'However, if you have a modern landscape garden filled with pots and foliage plants, why not try to frame it with a fence painted in a classic black? It will add a distinct graphic quality to the space and make everything in it pop!'
'A black-painted rendered wall behind battens provides maximum visual impact', says Carol Wittingham, reflecting on her own recent garden transformation.
Be sure to contrast those dark paint shades with striking planting, but take care not to overindulge and limit your palette to three or four complementary shades. Try purple penstemons and salvias, with yellow dahlias, against a backdrop of dark-leaved foliage plants, such as Physocarpus opulifolius 'Diablo'.
2. Go metallic
It might sound counterintuitive, but high-shine finishes will definitely make your garden pop.
'Metallic finishes have come back into outdoor furniture with a vengeance, providing a more luxe look to these spaces,' says Aaron Markwell, colour curator at Coat Paints
'When it comes to painting other furniture around these statement pieces, go for subtle neutrals which will complement either brass or chrome.'
3. Work with your existing colour scheme
When it comes to figuring out how to plan a garden, it pays to pay attention to your existing colour scheme.
'In the same way you would pair paint colours alongside fabrics and furnishings in your interior, consider the architectural elements of your exterior,' says Ruth Mottershead, creative director at Little Greene.
'Do you have red or yellow tone bricks, limestone or granite walls, or what colour are your roof tiles? Build these into your design scheme to ensure your paint choices are complementary, or add personality.'
4. Keep it pretty with pastels
It seems that The Devil Wears Prada and Miranda Priestley have been wrong for a very long time: pastel paints are always ground-breaking, no matter the season.
'In a south facing garden, using bright white paint can be almost blinding, so paler, softer colours are more restful,' says Mandy Rippon, product manager at Frenchic.
'There are some great pastel shades available, like pale pinks, blues, yellows, and greens, which work perfectly alone or paired together. If you want more drama, team these tones with a backdrop of a super dark grey or black on a fence.'
5. Create a feature wall
Add a signature wall to create an alfresco lounge: this rich mustard tone works well in both the sun or the shade. A great weekend project, reviving hard landscaping such as walls, fences and decking is an ideal place to start.
These elements are the backbone of a garden scheme, so give them a fresh coat of paint in a vibrant shade to take your outdoor space up a level and inject new life into tired surfaces.
6. Update wooden containers
If you'd like to use a bold shade, but are nervous about using it on a large area like a fence, restrict it to smaller surfaces, such as furniture, planters and garden accessories. This way you can enjoy your chosen colour on a scale that suits you.
To update a container, use contemporary shades of grey, such as charcoal, slate and graphite. This will give simple wooden furniture and plain planters the standout factor in your garden, not to mention create the perfect background to contrast with colourful flowers. Pick up some affordable items to paint using garden discount codes so you're not. lowing your budget on things you're planning on changing.
We recommend adding a few painted containers to your list of front garden ideas. Because, as Tash Bradley, interior designer and colour psychologist at Lick, says: 'The front exterior of your property is the first thing that welcomes you home. It's an opportunity to express your personality and transform an otherwise overlooked part of your home into something truly joyful.'
7. Give an old table a new lease of life
Create a herb garden with a difference. Here, we've transformed an old table (with its top flipped upside down), with just a lick of paint. Start by prepping the surfaces by giving the whole thing a good sanding, to remove any varnish or stain.
You might also need to give it a coat of primer first too, but check the manufacturer guidelines of your chosen paint colour. Once painted and dry, fill it with compost then plant it up with the herbs you use most often.
8. Perk up a garden chair
Just one piece of colourful furniture can enliven your space- this wicker armchair has been transformed with a vibrant orange hue, making it pop in a lush, green garden. Make sure you use an appropriate sealant on furniture that will be left outdoors to help it withstand the elements.
9. Refresh a garden gate
Buy now: Orange Aurora Intelligent Exterior Eggshell, £38 for 1ltr, Little Greene
Create a warm welcome and give your garden as much love as the front door. Whether it's wood or metal, sand it down to create a smooth finish.
Start with a primer on untreated surfaces, or for those previously painted, an undercoat. For a matt look, choose exterior eggshell, or gloss for a lacquered result.
Bring the whole thing up to date by replacing hinges and handles, or giving them a lick or paint too.
10. Welcome pops of bright colour
Always centre stage, vibrant, neon colours shout 'Look at me' so use them sparingly, to add dramatic touches to modern designs. Try painting a feature wall in hot pink or sunshine yellow – both colours combine surprisingly well with a wide range of plants. Liven things up with neon planters, and dress tables with vibrant table linen and lime green glassware.
You can go either way with your planting; either tone down the heat with cool green foliage, or add to the thrill with flowers that bolster your zingy shades. Bright pink Geranium psilostemon makes an eye-catching partner for the lime-green flowers of euphorbias, while orange red hot pokers dazzle against magenta.
'Maximise colour opportunity in summer with insect-friendly bedding plants, grasses, and edibles like strawberries, herbs and salads', says Carol Wittingham. 'For winter colour, mix pansies, violas and hellebores with evergreens. Plant in rows or blocks for a contemporary effect, or try natural-looking diagonal drifts.'
11. Paint walls to create a contemporary space
'Coloured walls create exciting effects and bring a contemporary element to a design; the trick is to use strong colours in moderation do they don't overpower the space,' says garden designer Catherine Heatherington.
Fellow garden designer Patrick Wynniatt-Husey, of Wynniatt-Husey Clarke Garden Design, explains that a painted surface will draw the eye to an area or feature, adding: 'In our designs, we also use coloured walls to create a sense of depth or foreshorten a space, and as a foil to planting.'
Alternatively, create a colourful living wall with plants instead. 'We created a living wall consisting of horizontal rows of planters fixed onto wall-mounted wooden battens', says Carol Wittingham. 'Bedding plants, herbs or foliage can be planted up in any combination of lines or clusters.'
12. Emulate a holiday destination with familiar colour
There are certain colours that instantly transports you to another time and place. Such is the case with this pinky terracotta wall, which makes you thinking of warmer climates and holidaying in Morocco. Add contrasting bright blue furniture and accessories to enhance a Moroccan theme.
Choose your garden paint shade to reflect a place you've visited, to create a holiday haven in your own backyard.
13. Use muted colour in traditional gardens
'Subtle shades of green work well in traditional settings, or try pale lilac or terracotta,' says Kathryn Hibberd, designer and member of Crown Paints Colour Influences Panel.
Kathryn adds: 'You have to use colour carefully in a period garden but I've contrasted a dark purple wall with a brick wall to great effect, linking a contemporary garden with the traditional surroundings.'
14. Spruce up an old furniture set
Rather than throw out the flaking paint, past-it garden furniture set why not make it an upcycling idea for the garden? Because you'd be surprised what a thorough rub down and a fresh coat of specialist paint can do.
This specialist paint by Annie Sloan requires no priming, 'you can simply pop open the tin, roll up your sleeves, dip in your brush and apply paint to furniture. Works on wood, metal, laminate, concrete, indoors, outdoors and beyond,' promises the paint brand.
15. Give a summerhouse character with colour
Your garden building is there to serve a purpose, so make it stand out. Whether you use the space as a summerhouse retreat, or a garden office idea as a serene workspace away from the house, give the structure a splash of colour.
Of course, the purpose will determine the colour you decide on, but either way adding a decorative colour makes the building feel like more of an extension of the indoor space.
16. Liven up walls with a vibrant shade
Give warmth to brick walls, either exterior walls or those in a brick framed outhouse or sunroom. Adding a splash of colour to brick walls helps to create a solid wall of colour, where you don't notice the pointing – ideal in small garden spaces where you may feel overwhelmed from the 'busy 'look projected from a brick wall.
For added style credentials paint any shelving in a contrasting accent colour, preferably another bright shade to add to the vibrancy.
17. Choose calming colour for exterior walls
Use soft, subtle shades to create a sense of quiet and calm, a place that is restful, a million miles away from the hectic pace of daily life.
Available in preservative as well as emulsion paints, apply powdery hues to timber and masonry surfaces and furnish simply with pale hued garden furniture with lean lines and matt surfaces. Lift the look with touches of mirrored and watery-coloured glassware.
18. Introduce jewel tones
Alternatively, sumptuous shades of peacock green, purple, dark red and egg yolk yellow add rich, deep tones that complement foliage plants and pale-hued flowers. Like sparkling jewels, these colours draw the eye and are best used as focal points.
19. Add a splash of sky blue
Use a soothing shade of sky blue to lighting up an outdoor space – making fences appear to stretch up into the sky. 'Try a pale blue to highlight a darker blue,' says Patrick; we suggest Echo with Deep Space Blue, both by Little Greene.
'We also like to use vibrant oranges with natural wood.' Catherine uses lush planting in her designs, so colours have to work with green. 'Try off-white walls with a panel of mauve, or dark grey slate floors with pale pink walls.'
'Off-white rendered walls blend with paving, but add extra texture', Carol Wittingham says.
FAQs
What paint should you use outdoors?
'Buy good quality exterior masonry paint that's easy to clean once it is on the wall' Kathryn advises. 'Remove dust and dirt from all the surfaces before you start to paint.;
Patrick adds, 'Use test pots to trial colours, but not on obvious surfaces as the colour patches can alter the texture of the wall or ground, and may show through even after you've applied the final coats.
'Also, make a note of the code of special mixes so that you can buy the correct colour when needed, and make a point of repairing any cracks before you start painting as coloured paint will highlight any defects. Finally, never apply masonry paint when the temperature is lower than 10°C or it won't dry.'
Which garden walls should you paint?
There are no rules. 'We would paint the house if circumstances called for it and the clients agreed' says Patrick. 'But take care when painting walls in eye-catching shades as they can create eyesores, and try to link them with the walls inside the house. For example, we used an orange wall in a small garden that could be seen from a kitchen which was decorated with tiles of the same colour; the finished effect was fantastic.'
What is the best type of paint to use on garden walls?
Choosing the best paint for the look you want can be a bit of an art, so we've broken it down into the different types you can use.
One of the most beautiful finishes for external walls is limewash, which is made from lime and water, and comes in a range of pastel shades. It's ideal for porous surfaces such as brick, stone, plaster or roughcast, and needs renewing about every five years.
Masonry paint is great for refreshing render and this too comes in a good range of colours. Opt for a textured finish if you need to disguise surface cracks. The downside is that this paint is not breathable in the way that limewash is, although manufacturers are working to make it a more environmentally friendly options.
For exterior woodwork there is wide range of paint available, with most manufacturers producing a wood gloss or eggshell suitable for exterior use. Make sure you prep the wood properly first with an appropriate primer to ensure a professional-looking result.
Metal paint is a hard-wearing product as it is used to protect railings, gates guttering and furniture. Exterior eggshells are often suitable, but the sheen of a gloss can look smarter. Metal usually requires priming first, but some brands, such as Hammerite, can be applied directly to the surface.
Chalk paint is an easy way to freshen up tired garden furniture, brickwork or window boxes. Just remember to apply a coat of water-resistant UV protective chalk paint lacquer to finish the job.
How can I update my garden with paint?
Charlotte Radford, Senior Product Manager Emulsion at Valspar says, 'Refreshing your wooden or metal furniture is easy and affordable, giving you a brand-new looking garden piece. Remove any flaking paint, sand then clean the whole surface, paying special attention to any carved and decorated areas. For a smooth finish and to protect your metal furniture from rusting, apply a primer before painting. When it comes to priming and painting, use different size brushes to perfectly cover every part of your item of furniture – starting with long horizontal strokes for backs and seats of chairs/benches, then tackling the rest bit by bit by joining every element in the middle.'
'If you want to introduce pops of sunny yellow or red in your garden, try using the colour in small doses on furniture, doors and flowerpots to brighten up any outdoor corners.'
What garden paint colours work best in British light conditions?
Subtle colours work well in the low light levels that we enjoy in the spring. But in summer, when the sun is stronger, try bolder colours, like aubergine, purples, and pinks, but make sure you choose hues with some warmth; cool colours such as icy blues can look rather too stark.
Additional words: Sarah Wilson
Get the Ideal Home Newsletter
Sign up to our newsletter for style and decor inspiration, house makeovers, project advice and more.
Tamara was Ideal Home's Digital Editor before joining the Woman & Home team in 2022. She has spent the last 15 years working with the style teams at Country Homes & Interiors and Ideal Home, both now at Future PLC. It's with these award wining interiors teams that she's honed her skills and passion for shopping, styling and writing. Tamara is always ahead of the curve when it comes to interiors trends – and is great at seeking out designer dupes on the high street.