How to create an outdoor cinema to host the ultimate Eurovision party
Celebrate Europe's favourite signing contest by throwing an outdoor cinema party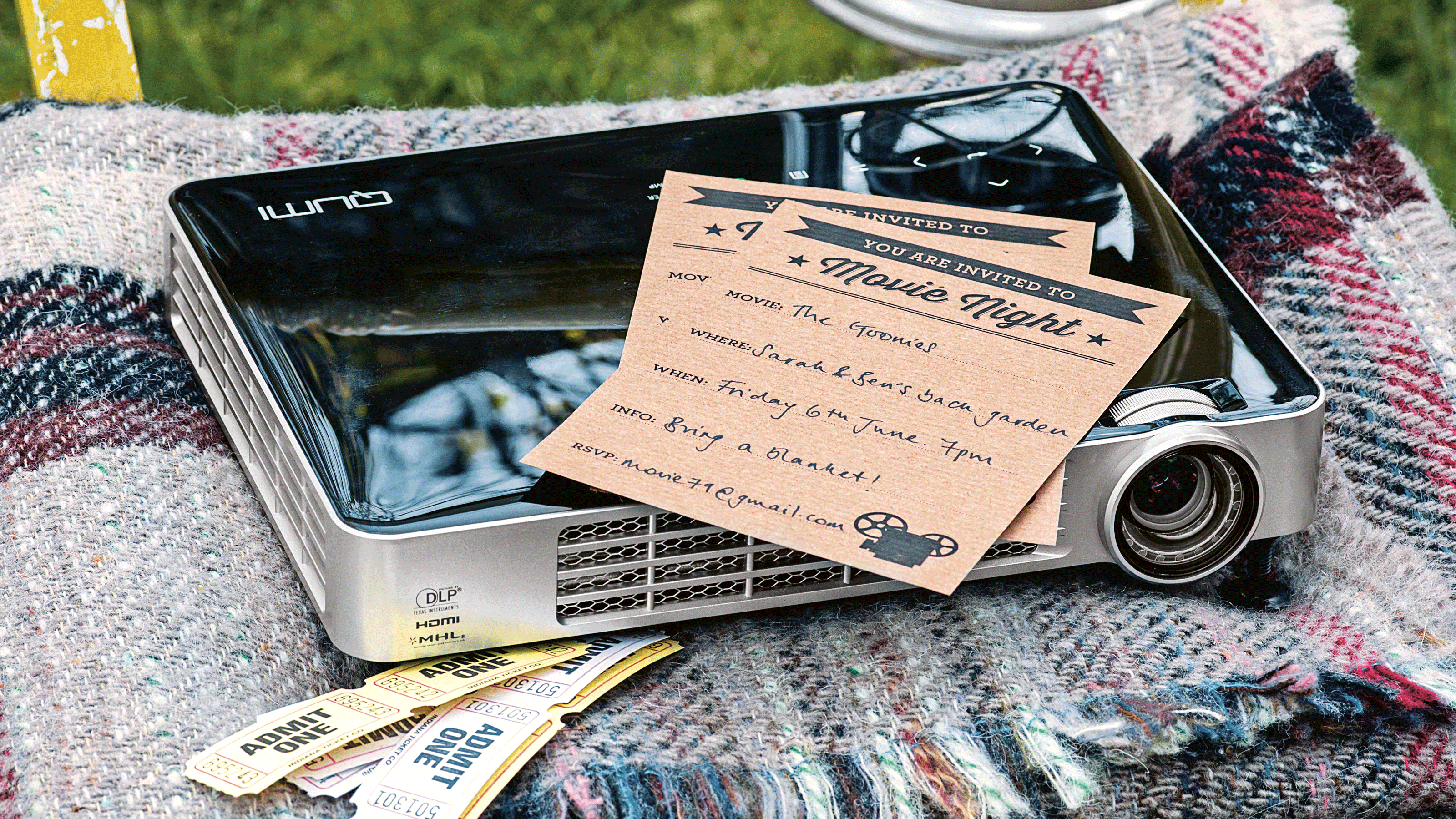 (Image credit: Future PLC / Polly Eltes)
Creating an outdoor cinema is the ultimate way to host a Eurovision party in style. Friends and family can gather round to watch the singing contest on the big screen, all within the comfort of your own garden - it's a guaranteed night of fun that all your guests will remember.
Outdoor cinemas can be the perfect way to enjoy your garden while it's warm, and thanks to the wonders of Bluetooth, you don't need to be a tech whizz to set one up. All you need is a projector, a screen, and access to BBC iPlayer, and voila, you and all your guests can gather around to watch the Eurovision, making this a great idea for small garden ideas too.
'Extending your living area outdoors is the perfect way to create a social space as the weather begins to warm up,' says Rachel Binks, Style Coordinator, Hillarys. 'Utilise your garden to celebrate events like Eurovision by including a range of comfy seating and setting up an outdoor cinema to watch the big event.'
So you can set up your outdoor cinema properly and enjoy the show without any hiccups, we've put together this essential guide. All you need to do is follow the steps and get ready to sing along!
How to make an outdoor cinema for a Eurovision party
Our guide will show you how to set up an outdoor cinema to watch the Eurovision, throwing in a couple of tips on how to keep the space around you on theme. The best garden party ideas will keep all your guests comfortable, relaxed and entertained - and take the heat off you so you can enjoy your evening as well.
1. Find the right location
Whether you're setting up your outdoor cinema at the bottom of the garden or on a balcony or roof terrace, make sure you have a piece of ground that's dry and sheltered from the wind.
You could use fairy light ideas to decorate the space, but make sure you turn any lighting off before the show starts to they don't affect the picture. Also, try to avoid pitching up in a spot where streetlights or bright indoor lights might reflect against the screen.
A flat surface such as a wall or fence is a great place to set up, just make sure there is enough space in front for sitting. You might also want to think about being close enough to a power outlet (and the loo too!)
2. Invest in a projector
It used to be the case that decent projectors were hugely expensive and could only be used in blackout situations – something hard to achieve in a living room, let alone in your garden. However, the latest models are bright enough to use with the lights on and have plummeted in price. They're also quieter and more compact, so you needn't worry that an annoying whirr will spoil any of the songs.
'You can get a small, low-cost projector that will do the job for watching the Eurovision – or you can splash out on a 4K HDR projector with built-in speakers and lots of other features,' say the experts at Checkatrade. 'Overall, you can expect to pay anywhere between £140 – £2,200 for a projector for your outdoor cinema.'
When you're shopping for a projector for your outdoor cinema, you'll see each one has a lumen measurement. More lumens make it easier to see the projected image in bright conditions. In a garden after dark, we recommend at least 3000 lumens for a movie-theatre experience - you want to be able to see the singers while they sing, after all.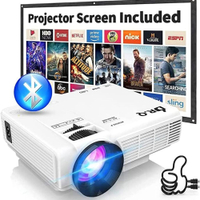 Mini Projector with Bluetooth and Projector Screen, £79.99 at Amazon
These portable projector has built-in speakers, and is Bluetooth compatible with HDMI, VGA, USB, AV, Laptop, Smartphone, so it will be really easy to stream the Eurovision. The screen is included, which has a lux of 6500, so you'll have no problem watching the show after dark.
3. Connect a streaming source
Depending on the projector you purchase, you may need to connect to a streaming source so you can watch the Eurovision on the big screen. Many projectors use Bluetooth, so it could be as simple as opening up the BBC iPlayer app on your phone and connecting to the projector on there. Other projectors will need a HDMI cable connecting to a laptop.
If you want great sound, you can connect a speaker through your projector's 3.5 mm jack, or look for a model with built-in speakers. Bluetooth models will allow you to to connect wirelessly to a one of the best soundbars or speaker, so the Eurovision songs can be heard loud and clear. Or if it's late and you're watching alone, you can connect a pair of Bluetooth headphones so you won't disturb the neighbours.
4. Create your cinema screen
Many projectors come with a screen included, but you can make your own if not. The easiest and cheapest way to do this is to peg a white sheet to your washing line, or string it up between two trees. You may want to weigh it down at the bottom so that it doesn't move around in the breeze.
You could also make your own screen by sewing together pieces of blackout lining, which you can buy by the metre. Tack lengths of timber to the top and bottom and attach screw hooks to the top, then hang it over a row of nails on a wall or garden fence.
If money is no object, you could buy or hire an inflatable screen from a company like Inflatable Products.
5. Make sure your guests are comfortable and cosy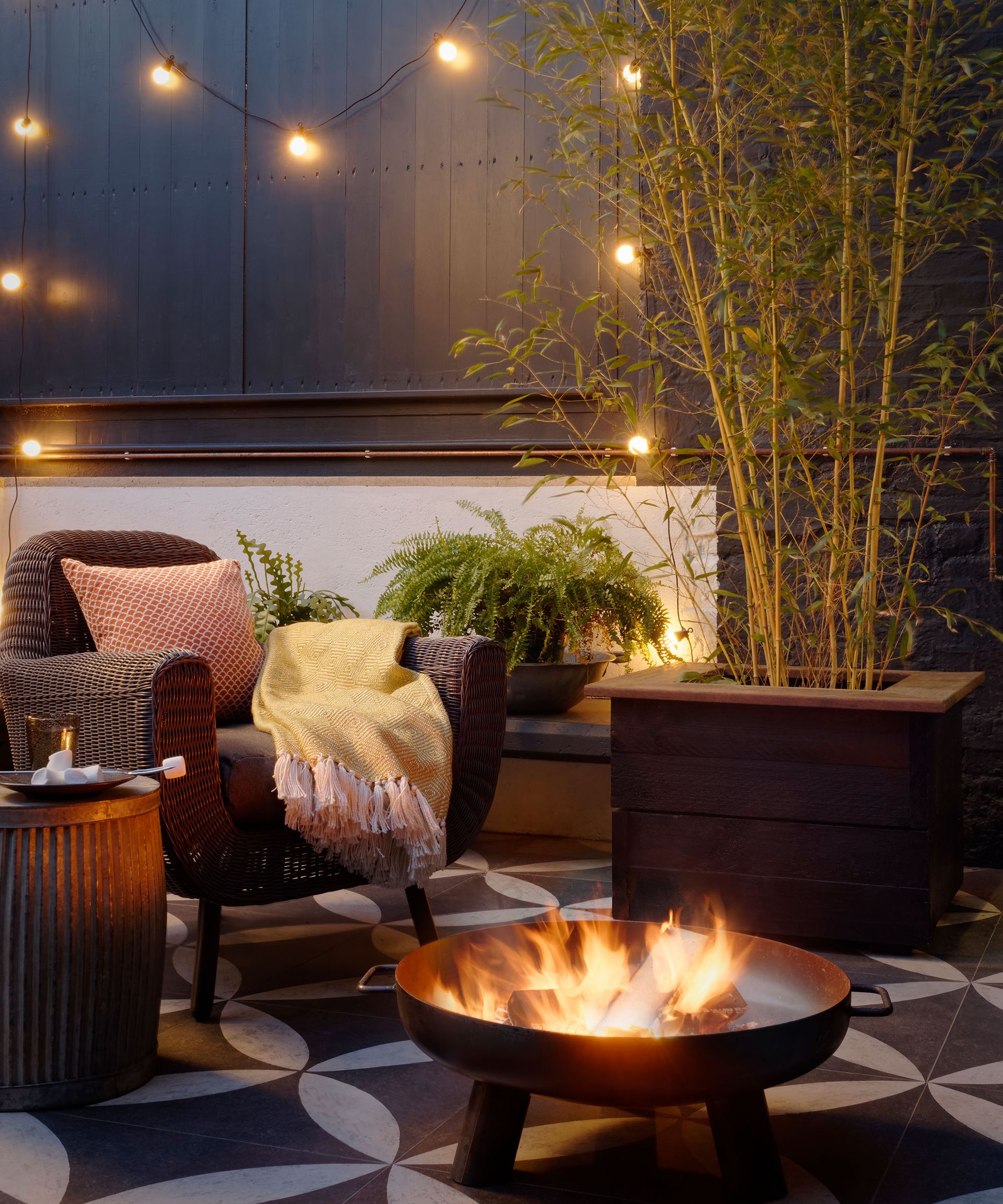 If the best spot is on the lawn, lay a groundsheet on the grass to protect against any moisture or bottom-troubling rocks and stones, then layer blankets, cushions and beanbags to up the comfort factor. You could make your pop-up outdoor cinema more sophisticated by throwing down a few rugs, and setting out chairs, benches or even hammocks to relax on.
Just make sure everyone has a good view, and keep a few blankets aside or perhaps light a fire pit in case it gets colder later on. Obviously, it goes without saying to keep the firepit a safe distance away from your sheet 'screen', as you don't want your Eurovision party to go up in flames!
6. Prepare a Eurovision themed table
To make your outdoor cinema set up fit for the occasion, create a Eurovision-themed table to house snacks and drinks for your guests. Rejig your garden table ideas by adding some blue, white, and red elements - you could incorporate flags from all the different countries competing, or stick to the Union Jack if you're feeling patriotic.
'For a Eurovision themed event, choose blues, reds and yellows for the ultimate colour scheme and to create cohesion between your dining room and any other Eurovision decorations around the home,' says Rachel from Hillarys.
You may prefer to have a casual tablescape which guests can hover around, or create individual place settings and host more of a sit-down meal before the show starts. If you're doing the latter, use Eurovision-themed decor to separate each person's place. 'For larger tables like those used in Eurovision parties it's said you should allow 24 inches between each place setting and for smaller spaces, use delicate items like tea lights,' says Rachel.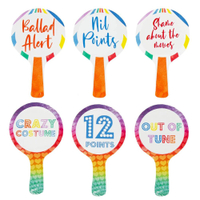 Eurovision Song Contest Scoring Paddles, £10 at Talking Tables
These scoring paddles are the perfect addition to any Eurovision party, and they're an interactive way of getting everyone involved with the show. There's also some trivia cards included, which will keep everyone entertained if the show starts to lull.
7. Prepare a feast
This could be as easy as pouring popcorn into bowls, filling a bucket with ice and stocking it with bottled drinks, so all you have to do is reach down for a refill. For something more substantial, light up the barbecue or invest in an outdoor pizza oven and host a pizza party.
You could also have a go at making your own lemonade. Simply mix the zest and juice from 6 lemons and 2 limes with 200g of caster sugar, and 1.5ltrs of just-boiled water. Leave the mixture to cool and then chill it in the fridge. We love the trick of using fairy cake cases to identify everyone's drinks while keeping insects at bay. Simply pop a straw in each drink, then thread on a cake case upside down with each person's name on it.
Whatever you decide to serve, don't forget to light some citronella candles to ward off annoying mossies.
FAQs
Where can I watch the Eurovision song contest 2023?
The best place to watch the Eurovision song contest is on BBC iPlayer, which is the show's official hosting platform. You can also watch it on YouTube, where there is an official Eurovision channel.
This makes it super easy to watch Eurovision once you've set up your home's outdoor cinema. We recommend opting for a projector with Bluetooth, so you can connect to it via your phone or laptop without the need for any messy cables. If your projector is HDMI, that's not a drama - simply connect your laptop to the projector then open up BBC iPlayer on your browser.
How do I set up an outdoor cinema?
First, pick a spot that will lend itself to a comfortable evening viewing. You'll need a flat surface to project your movie onto, whether this is a wall or fence, or simply a sheet strung up between two trees. Make sure you can sit far enough back from the screen for it to be comfortable. You don't want to get a neck ache from staring upwards all evening.
Most projectors are wireless but if your model needs to be plugged in, work out how you'll safely get power to your garden. Do a test run of your equipment before any guests arrive and check the weather forecast ahead of time too.
What do you need for an outdoor movie night?
Aside from a screen, a projector and your chosen movie, you might want to think about creating a cosy seating area for yourself and your friends to chill out in. Cosy blankets and cushions will go down a treat, especially as the evening gets cooler. Snacks and refreshments are a must-have too, so grab a cooler box or set up a barbecue nearby for interval snacks a-plenty.
You might also want to consider letting neighbours know your movie plans in advance too. A late-night box-set marathon could disturb the peace, but if they've had a fair warning (or even an invite) you shouldn't rock the boat too much.
Does it need to be dark for an outdoor cinema?
This depends on the quality of your projector. The very best models don't need a pitch-black night to work successfully, but no matter what model you choose, you're always going to struggle if it's a very bright, sunny day. It needs to be at least getting dark before you try to air your chosen film or show, but check with your projector manual for the best advice.
We recommend a lumens of at least 3000 to be able to watch the show in good quality. Most projectors will come with this or higher - the higher the lumens, the higher the price tag is likely to be.
Get the Ideal Home Newsletter
Sign up to our newsletter for style and decor inspiration, house makeovers, project advice and more.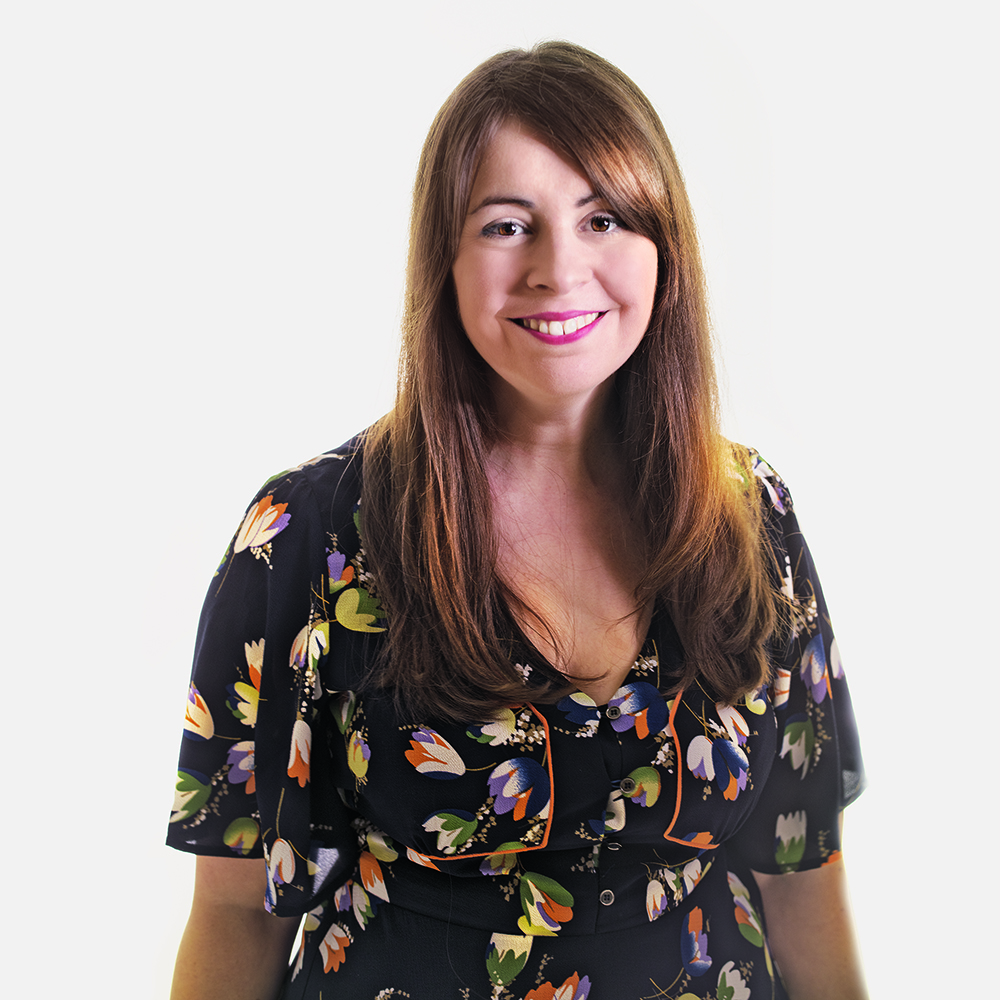 Amy Cutmore is an experienced interiors editor and writer, who has worked on titles including Ideal Home, Homes & Gardens, LivingEtc, Real Homes, GardeningEtc, Top Ten Reviews and Country Life. And she's a winner of the PPA's Digital Content Leader of the Year. A homes journalist for two decades, she has a strong background in technology and appliances, and has a small portfolio of rental properties, so can offer advice to renters and rentees, alike.