38 garden party ideas to set the scene for outdoor celebrations
Our curated garden party ideas will give you inspiration for the coming summer months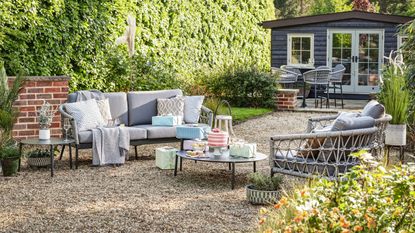 (Image credit: Bridgman)
Get ready to welcome guests into a beautifully styled space with our garden party ideas. Elevating your garden into a party playground for everyone to enjoy can be as big a job, or involve as few touches as you desire.
Choose a garden party theme or colour to add decorative touches, maybe echo the colours of surrounding flowering shrubs and plants. Adding tablecloths, seat cushions and napkins are all great garden party ideas and they'll help to reflect your chosen colour palette and unify your outdoor space. Draped fabric looks pretty for summer garden ideas for parties and will give extra protection from the sun if the weather is too hot to handle.
Extend your theme into other areas by stringing up large brightly coloured paper pompoms or other garden party decorations such as bunting. Flowers in the same shade add well-thought-out detail.
'Our gardens and outdoor spaces have increasingly become the preferred destination for gathering with family and friends, so make sure your setting is ready to host,' advises Emmie Brookman, Creative Director, Silver Mushroom. 'It doesn't have to be as extravagant as a pergola, but comfortable furniture and a good BBQ should be at the top of your list.'
Garden party ideas, tips and advice
Get set with our garden party ideas that will help you celebrate the warmer months this summer.
'For a romantic, bohemian vibe, add lanterns, twinkly lights, and blankets,' suggests Patrick Bridge, chief operations officer, Harbour Lifestyle. 'Sources of heat, such as firepits, heaters and tabletop fires allow you to enjoy your garden comfortably when the temperature outside is less than appealing.
'Plus, installing these impressive displays enhances the aesthetic of your garden, and also provides lighting for those evenings when you just don't want to go back inside yet.'
1. Decorate your table with flowers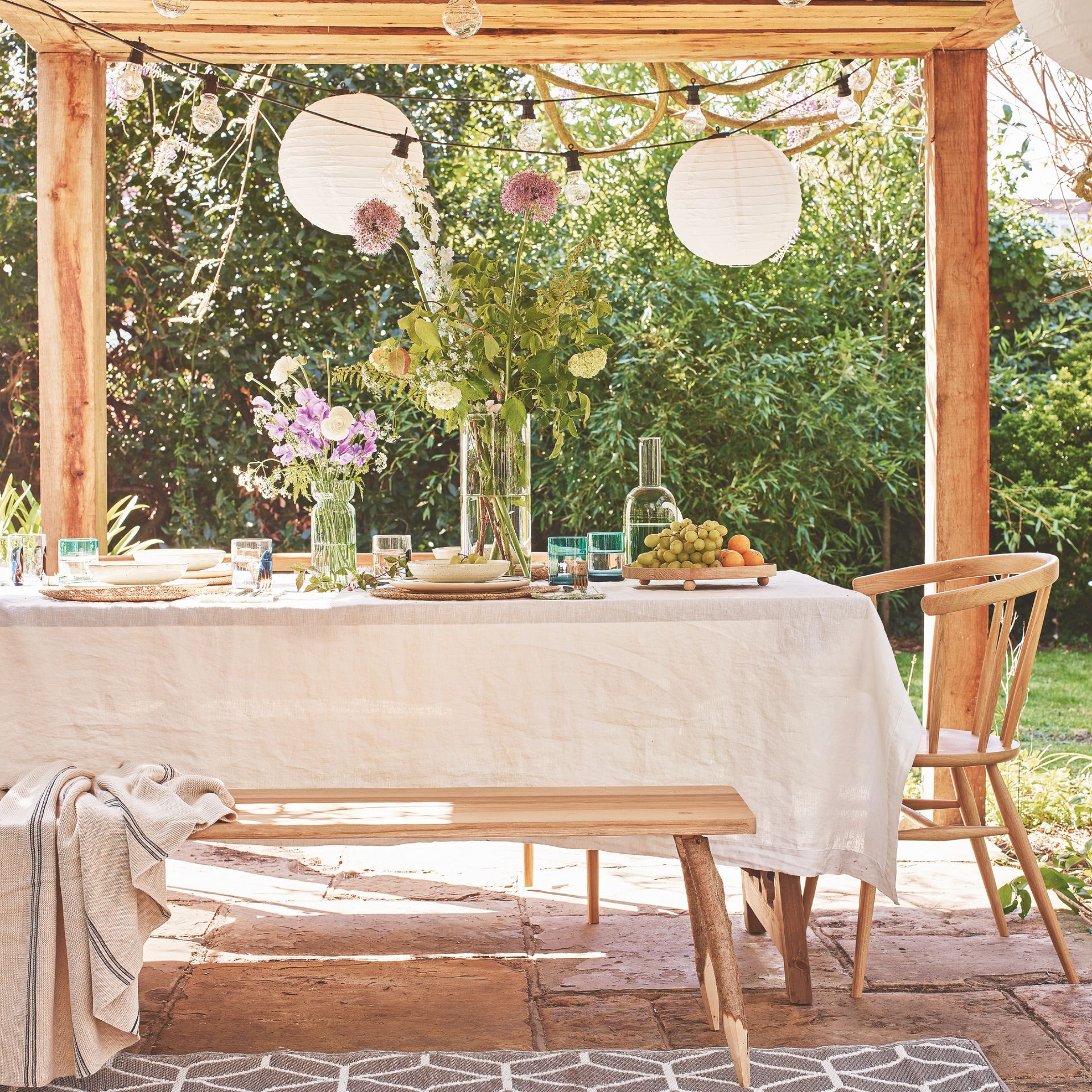 You've got your linen tablecloth, beautifully folded napkins, lighting in situ and nibbles at the ready. It's time to add colour and life to your table setting.
Even if your table is small it's worth placing a vase or two on the table, if there's not much room then opt for narrow and tall, it will take up less space but still give your table a colourful lift. And if you have flowers growing in your garden then cut them especially.
2. Opt for a Moroccan theme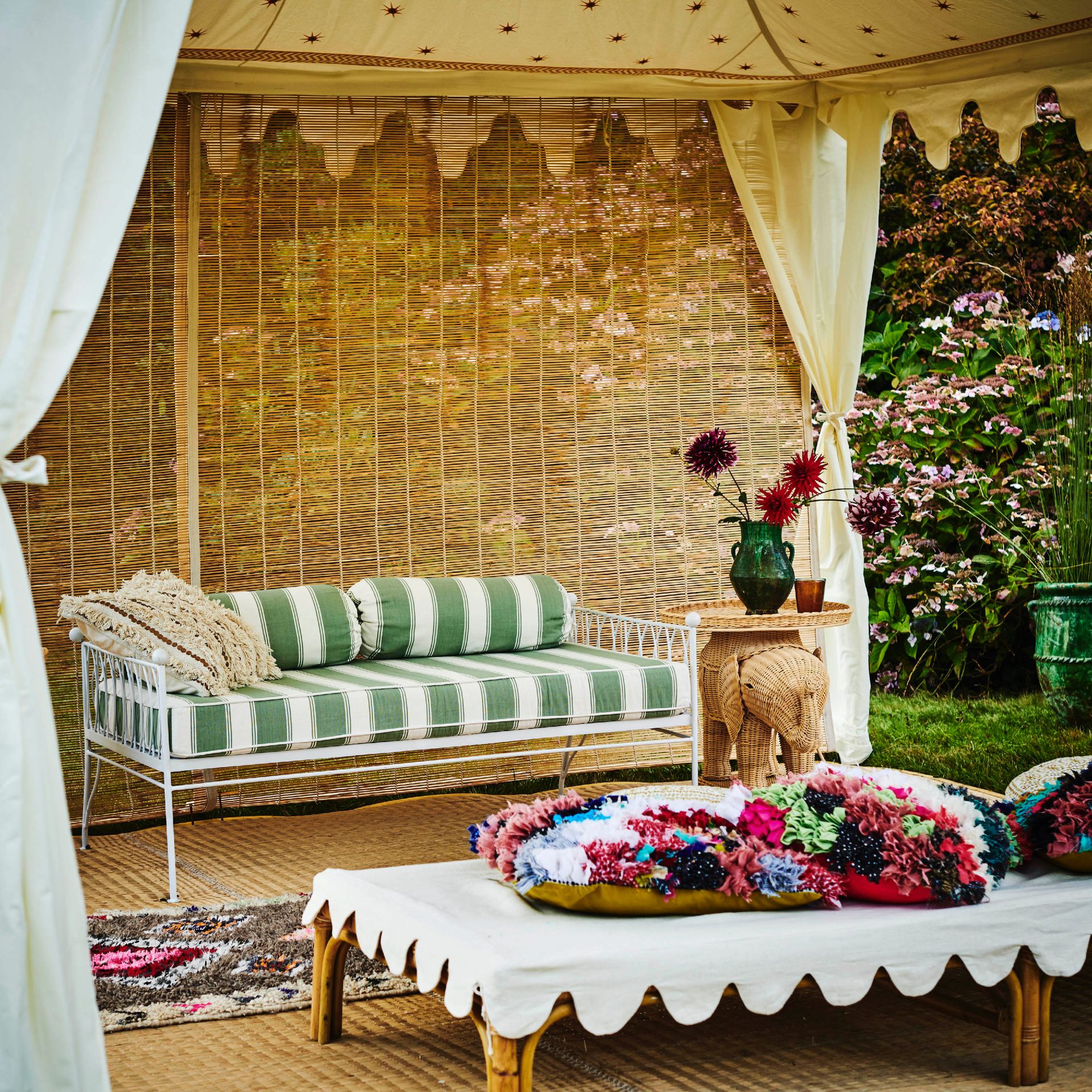 Create a central focal point with a themed tent. Weather permitting, you can keep it up for most of the summer and even sleep out during the warmer evenings.
'A decorative tent is a practical yet elegant way to create a multi-purpose outdoor living space that can be left up throughout the warmer months,' says Nicky Marks, founder, Raj Tent Club.
'From a sumptuous shaded lounging area to a dramatic setting for drinks or dining, personalise the look and feel using draped fabrics, garlands, lanterns, tea lights and layers of cushions for comfort. Hang pictures or mirrors from the tent frame, and use indoor furniture, be it vintage or modern, to put your stamp on the space.'
3. Embrace table settings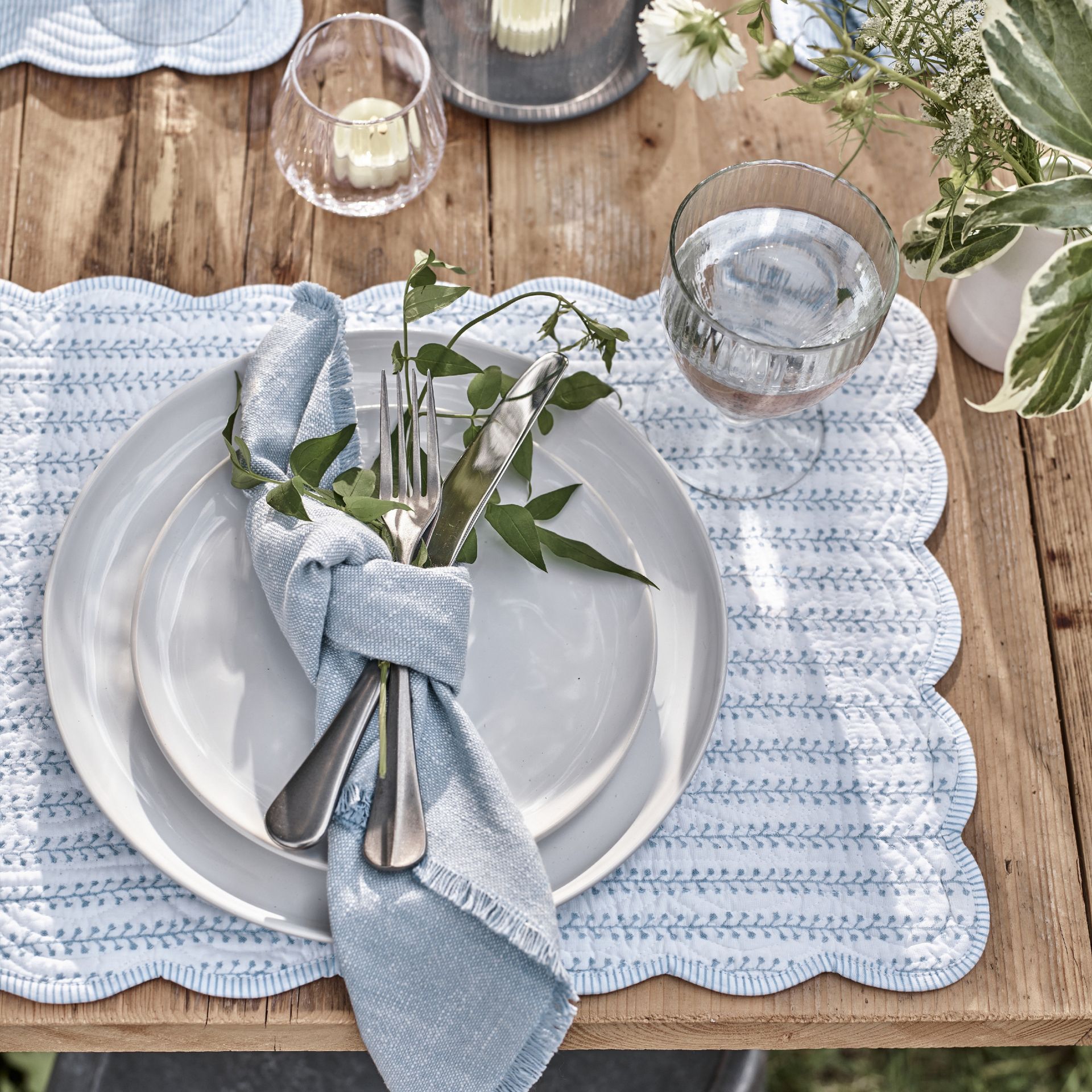 Often, it's the small details that mean the most, and adding a styled touch like a beautifully folded napkin for a touch of foliage will make your guests feel special.
'It's a small thing, but a lovely napkin just makes a table and adds a sense of occasion. You can keep the table informal and fun, I love to add in a piece of seasonal greenery and if it's a special evening tie on a named place card,' says Chrissie Rucker OBE, founder, The White Company.
Chrissie Rucker OBE, started The White Company in 1994, when, unable to find well-designed, beautiful quality white bedlinen that were affordable. Today, it's one of the UK's fastest-growing multi-channel retailers and trusted lifestyle brand.
4. Choose rechargeable table lights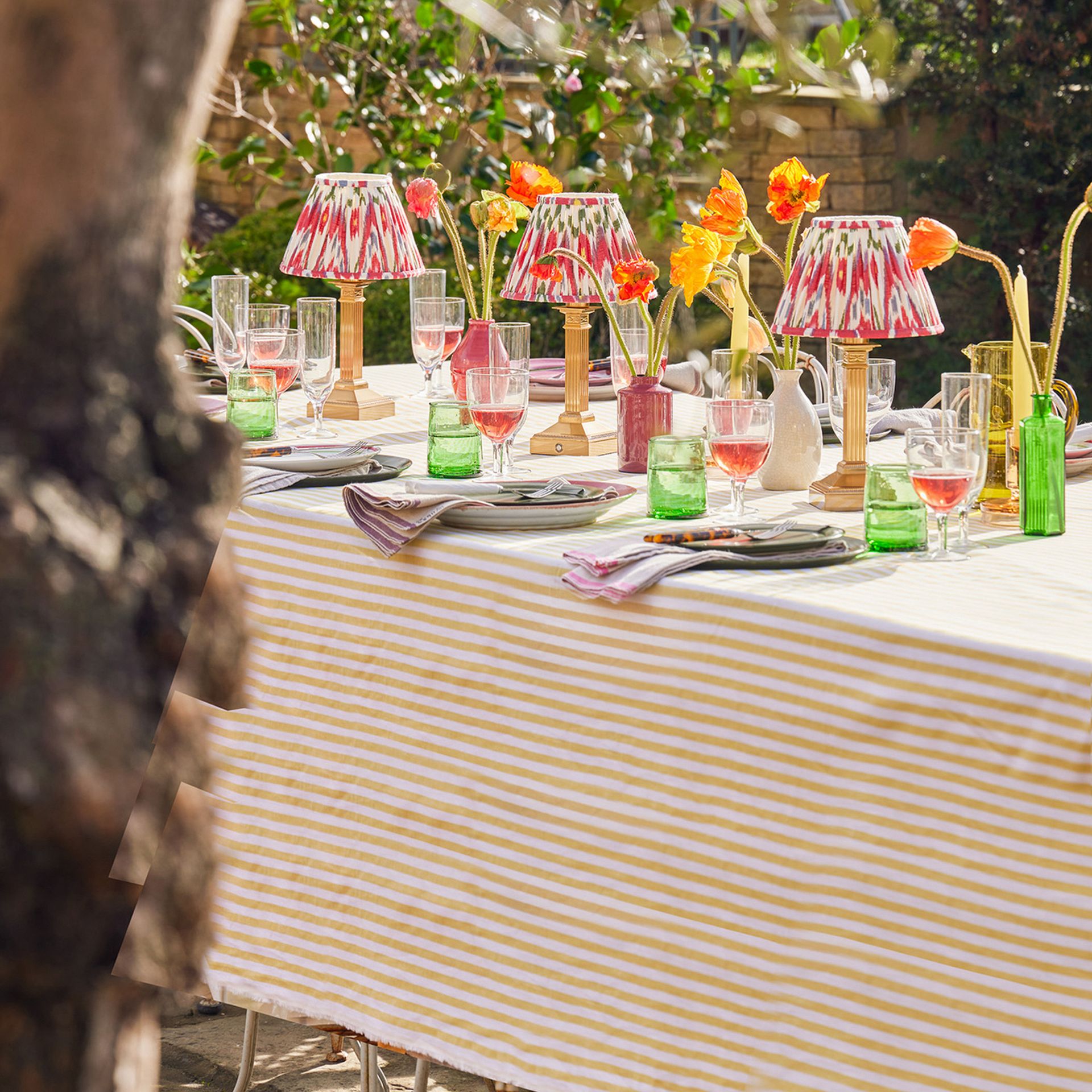 We all love candles and tealights, but for a more bourjois elegant look consider table lamps that are rechargeable – and super stylish to boot.
'Our Freya portable lamps which are ideal for taking outdoors when the occasion calls. A little piece of lighting that will bring a warm twinkle to your patio and pergola areas once restrained by lack of power outlets or cord lengths. With 10 hours of glow time, our portables can be taken anywhere, particularly helpful as evenings draw in or to your garden to bring the party outside,' suggests Jo Plant, dead of design, Pooky.
5. A perfect rain solution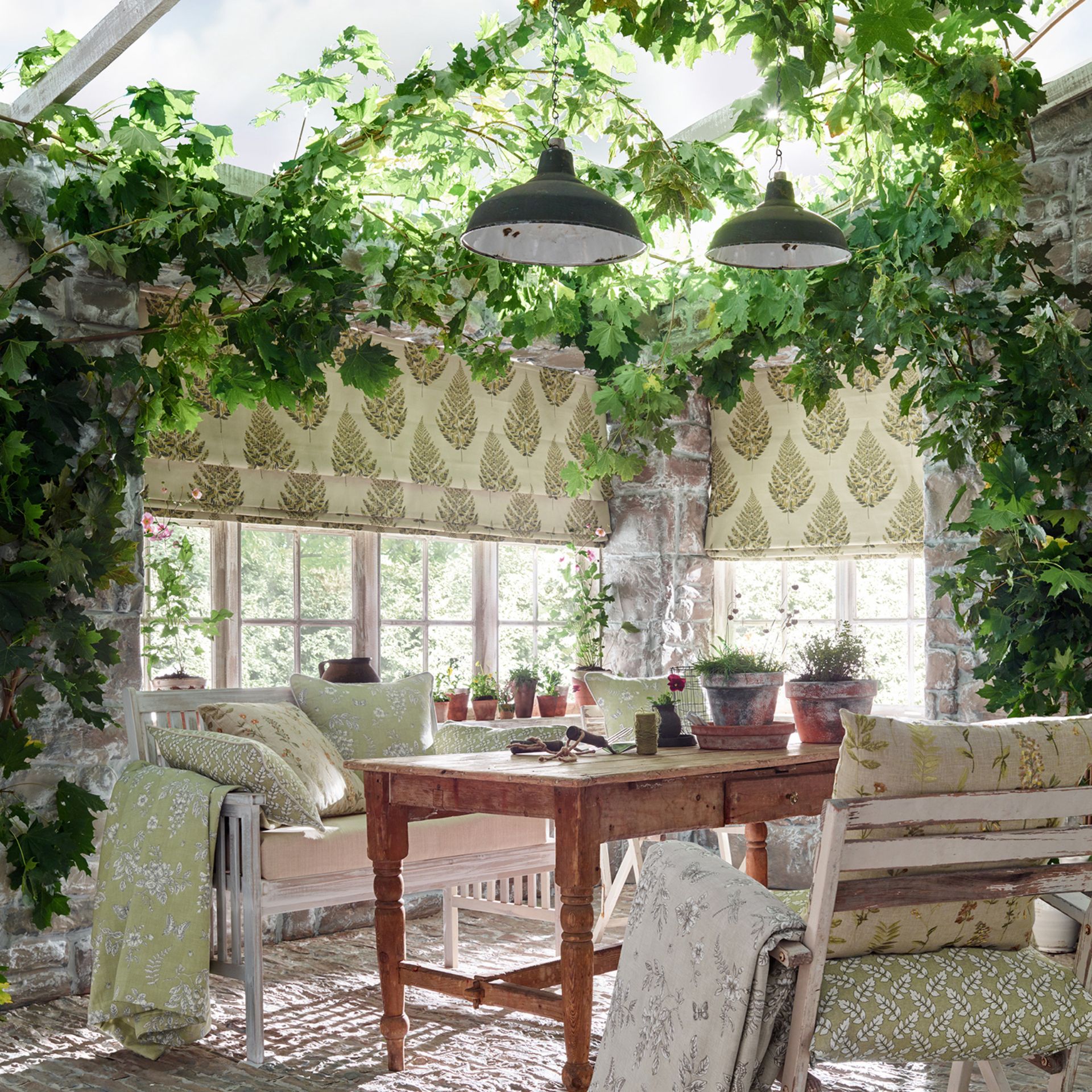 If the weather forecast is hit and miss then a Plan B is always worth having. Spruce up your garden room ideas with a wild garden theme. Forage branches and weave stems in and around where you can for an authentic feel.
'Add a table and some chairs along with some soft furnishings to give the space a welcoming feel, it will have a significant impact on the overall feel of any space and will help an area feel inviting – add layers of textiles, such as throws, cushions and curtains to create a comfortable space that guests can enjoy into the evening,' suggests Debbie Leigh, design manager, ILIV.
'Botanical designs work well in any garden setting, try combining leafy prints and pretty botanicals in soft greens and pastel tones for a relaxed, informal vibe.'
6. Take an eco-approach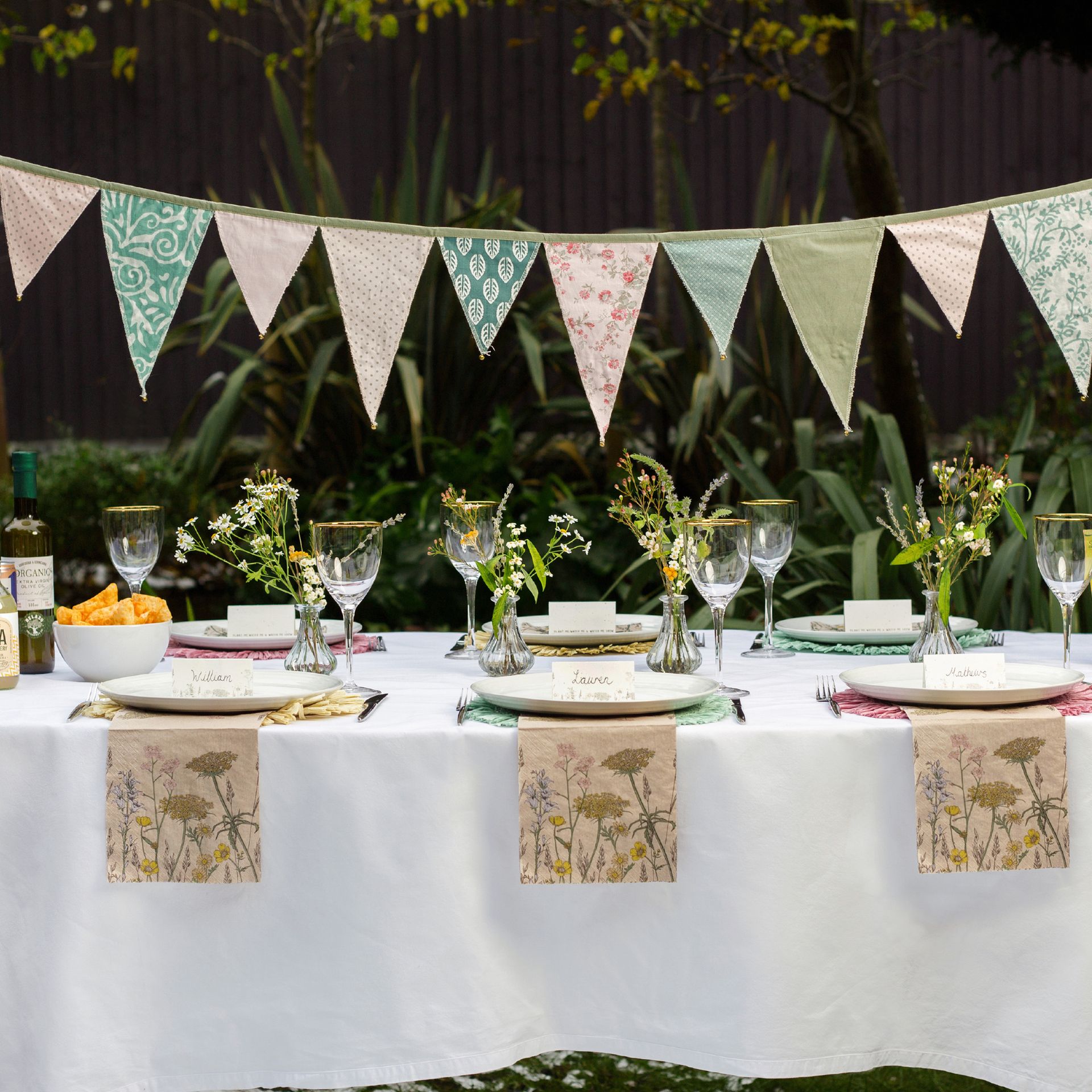 With sustainability at the forefront of our minds, it's good to source pieces that support this key aspect.
Talking Tables have a range that features upcycled fabric, plantable seed paper place cards and napkins and plates made from recycled paper. The beauty of this is that you can gift guests the place cards to plant after the event.
7. Choose benches if space is tight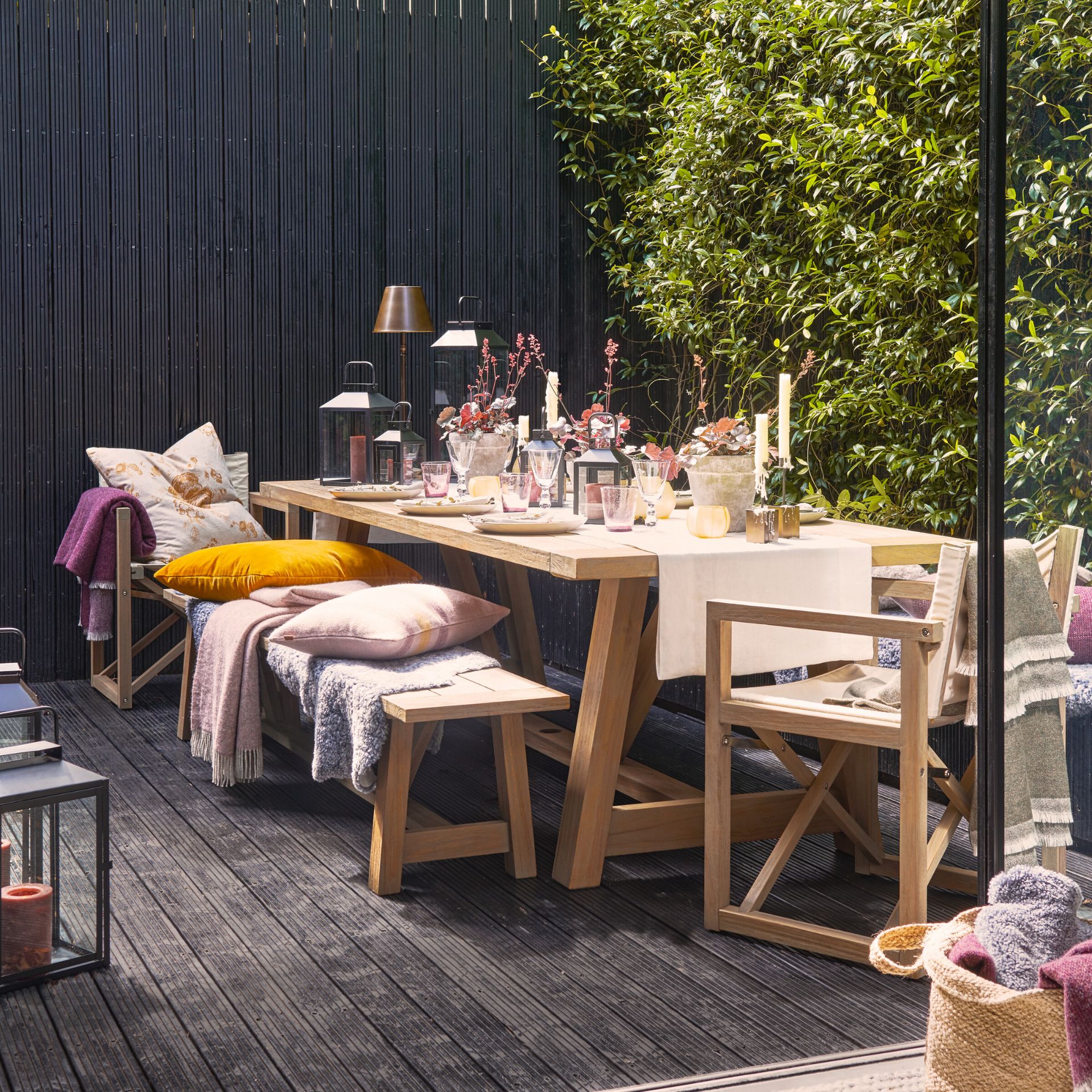 Small gardens can be challenging when it comes to garden party ideas, but there is one seating solution that you can adopt – benches.
They take the bulk away and allow more people to sit down than trying to squash chairs in. Use them each side of the table with chairs at each end, make them cosy with seat cushions in pastel shades.
8. Illuminate from dusk to midnight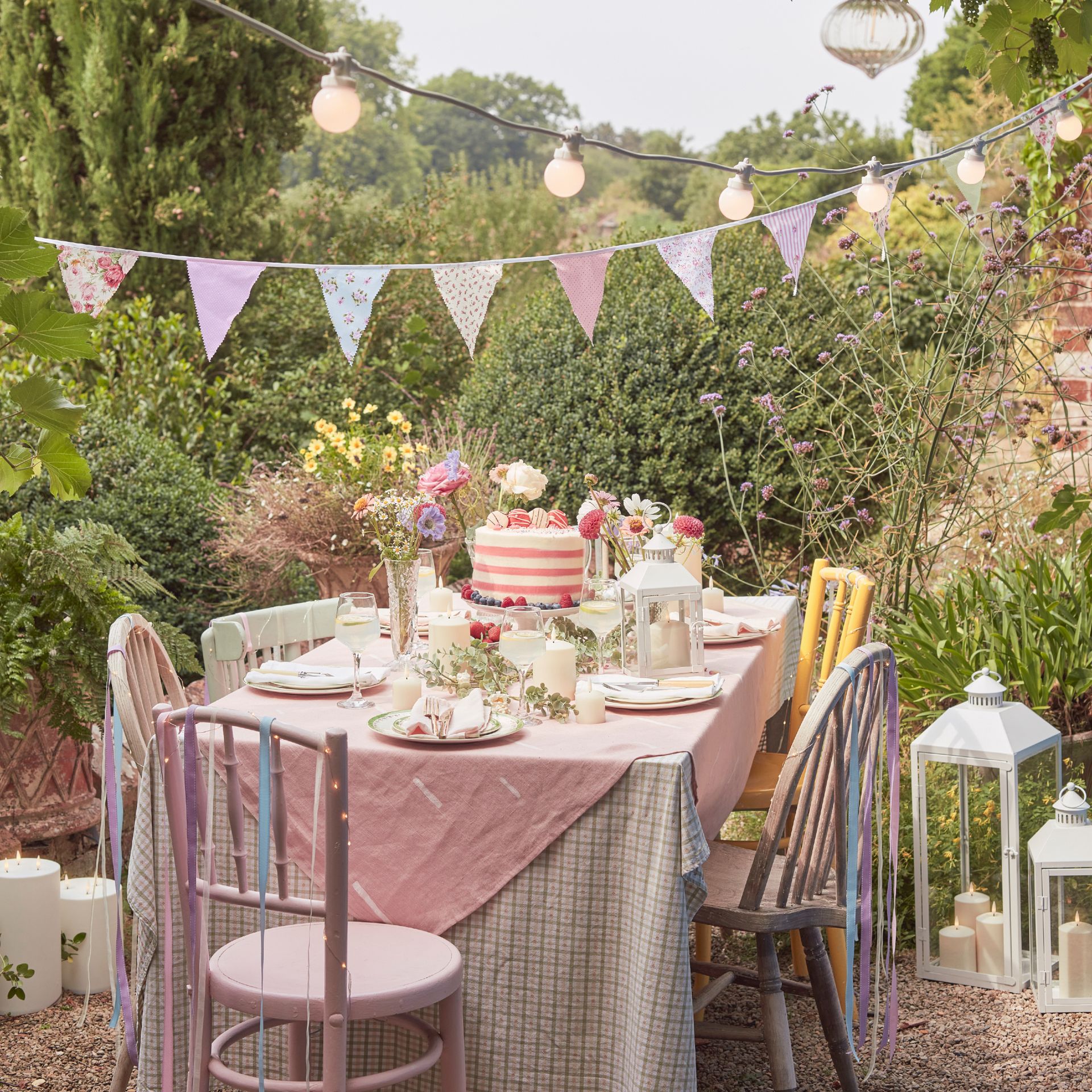 Garden lighting ideas, aren't just functional but can be beautiful too. 'Weave an enchanting atmosphere throughout your garden party with the classic warmth of traditional festoon lights. Choose from battery, plug in or solar powered options to brighten your outdoor space as you come together and celebrate long into the evening,' says Lucy Kirk, creative & photography manager, Lights4Fun.
'Simply swag each string of festoons up above, adorning trees, summerhouses or garden fences, and affix with fishing wire or discreet cable ties to bring an ambient glow to your get-togethers. Complete with colourful solar lanterns hung on surrounding tree branches to add a playful touch, creating the perfect setting for entertaining at home.'
Lucy Kirk is the creative & photography manager at Lights4fun, the UK's leading decorative lighting retailer. Lucy's mission is to inspire people to create their own moments of magic through beautiful lighting and imaginative styling that spans all seasons.
9. Keep your grass spick and span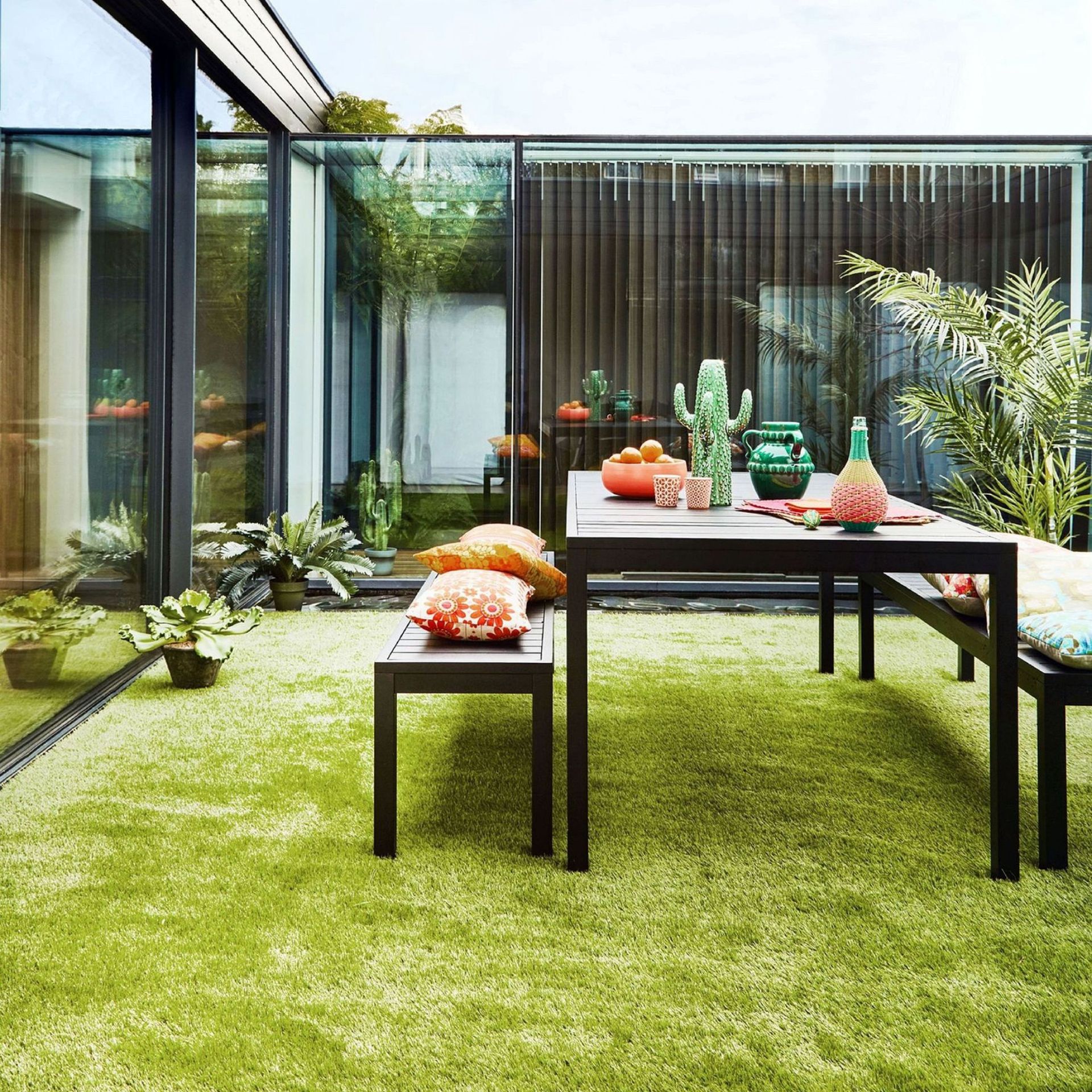 If you've got an abundance of garden parties planned but don't want guests squelching in mud, then opt for artificial grass instead.
'Whether you have a small patio or a large garden, artificial grass and its natural, vibrant and life-like appearance allows homeowners to enjoy their outside space, without the hassle of continually maintaining it,' says Sarah Hooper, grass buyer, Carpetright.
'From casual entertaining to formal dining, artificial grass works for the whole family for every occasion – it is even pet friendly so your four-legged friends can enjoy this versatile covering. It is also hygienic and easy to clean so if you have any accidental spills while hosting, they can simply be washed away with water.'
10. Organise your furniture layout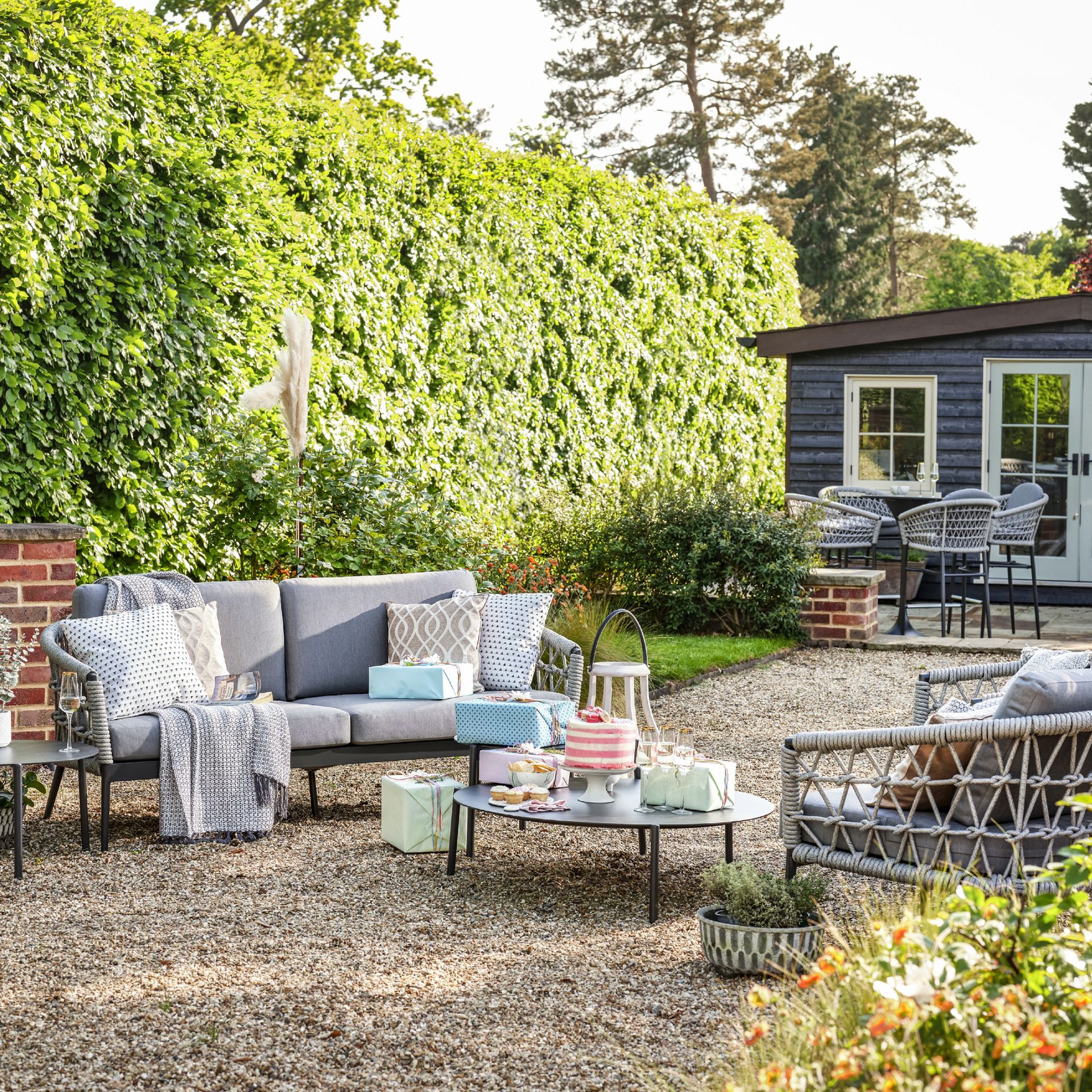 Use a variety of seating arrangements if you're planning on having a large garden party.
'For small gardens and patio areas, opt for multi-functional and practical furniture. A small modular sofa set allows you to dine and relax in one place, while bistro sets and stacking chairs can be easily put away when not in use. Footstools also offer the option of both a place to put your feet up or extra seating that doesn't take up too much space,' advises Francesca Hadland, interiors expert, Bridgman.
Francesca Hadland is the Interiors Expert for Bridgman. Since graduating in 2020, she has immersed herself in all things home and garden, working across home staging, luxury furniture and garden design, as well as attending Interior Styling courses at the University of the Arts London. She keeps her pulse on emerging trends to help her in her role as interiors expert and content manager at Bridgman. She is currently transforming her first house just outside of London.
11. Set a theme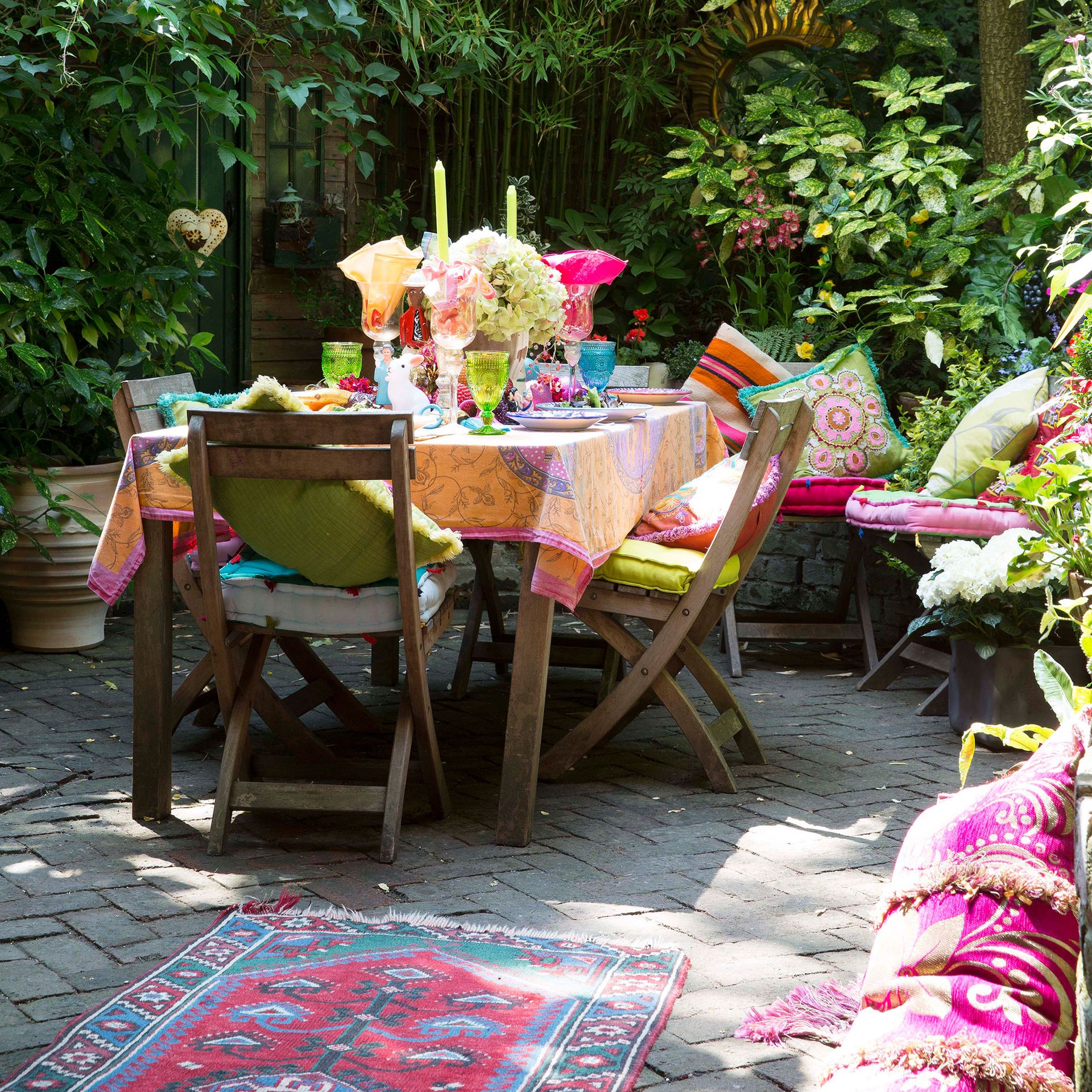 Rather than simply decorating your table, or wherever the focus of your party is, look to your space as a whole. Once you've decorated the main event, pull out the main colours, textures and patterns, and replicate these elsewhere. Think outdoor rugs, cushions on other seating zones, and other decorative elements.
'Don't let attention to detail go amiss, the same principles apply externally as they do an interior project,' says Emmie from Silver Mushroom. 'Your outdoor space should be an extension of your home, so make it comfortable and accessorise the same way you would indoors. Introduce cushions, throws, candles and bowls, after all you can always take them back inside if the weather turns.'
For a true cohesion, match your colour scheme to a statement bloom in your garden.
12. Hang bags of snacks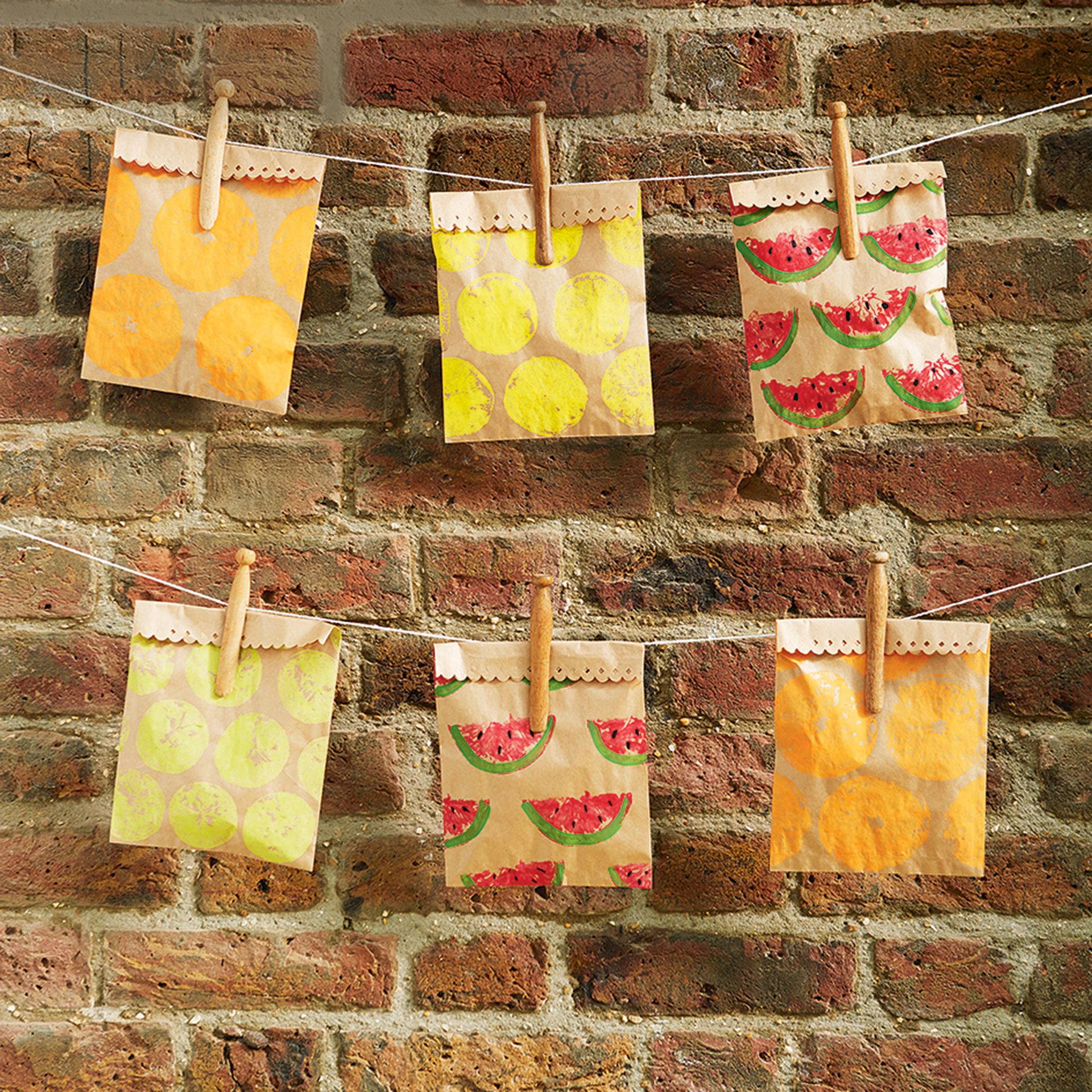 Garden party ideas are all about having a bit of fun. Turn simple snacks into a pretty display with little time or effort needed.
Block print paper bags with summery fruit or floral motifs. Fill with snacks - look to the lighter side, so pretzels, popcorn and so on. Use clothes pegs to hang to string or wire against a wall and you're done! A sign won't go amiss, either, so everyone knows to get stuck in. You could also write on allergens, to keep things super safe.
13. Turn your shed into a bar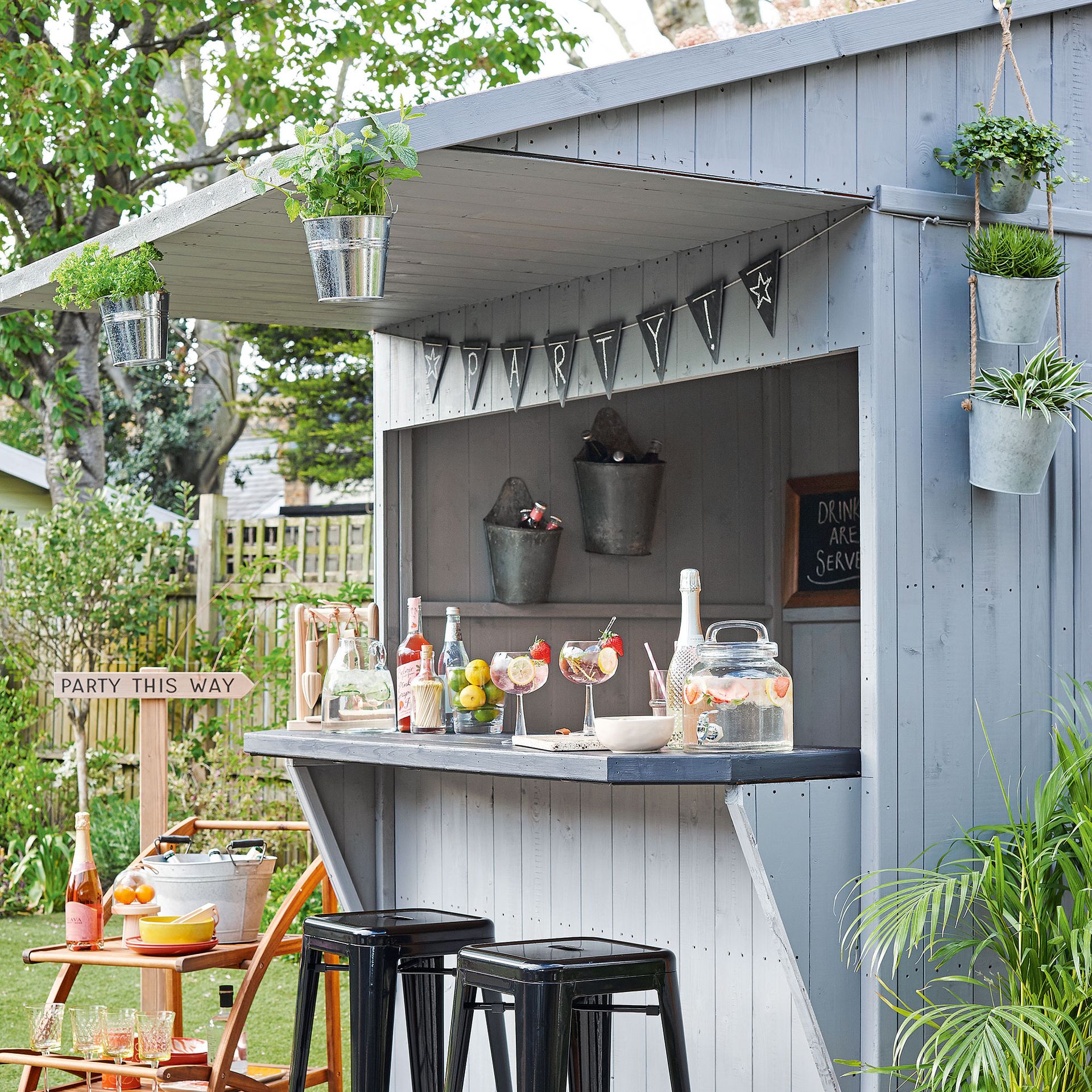 These days, garden sheds are more multi-purpose than ever before. Make yours work harder by upgrading it into an at-home bar.
Create garden bar ideas by cutting in a serving hatch and creating a bar top. This way you can serve drinks from one side, while guests can sit on weatherproof bar stools on the other. Keep the shed a neutral colour and switch up your bar and glasswear to match the theme of the event at hand.
14. Add atmospheric lighting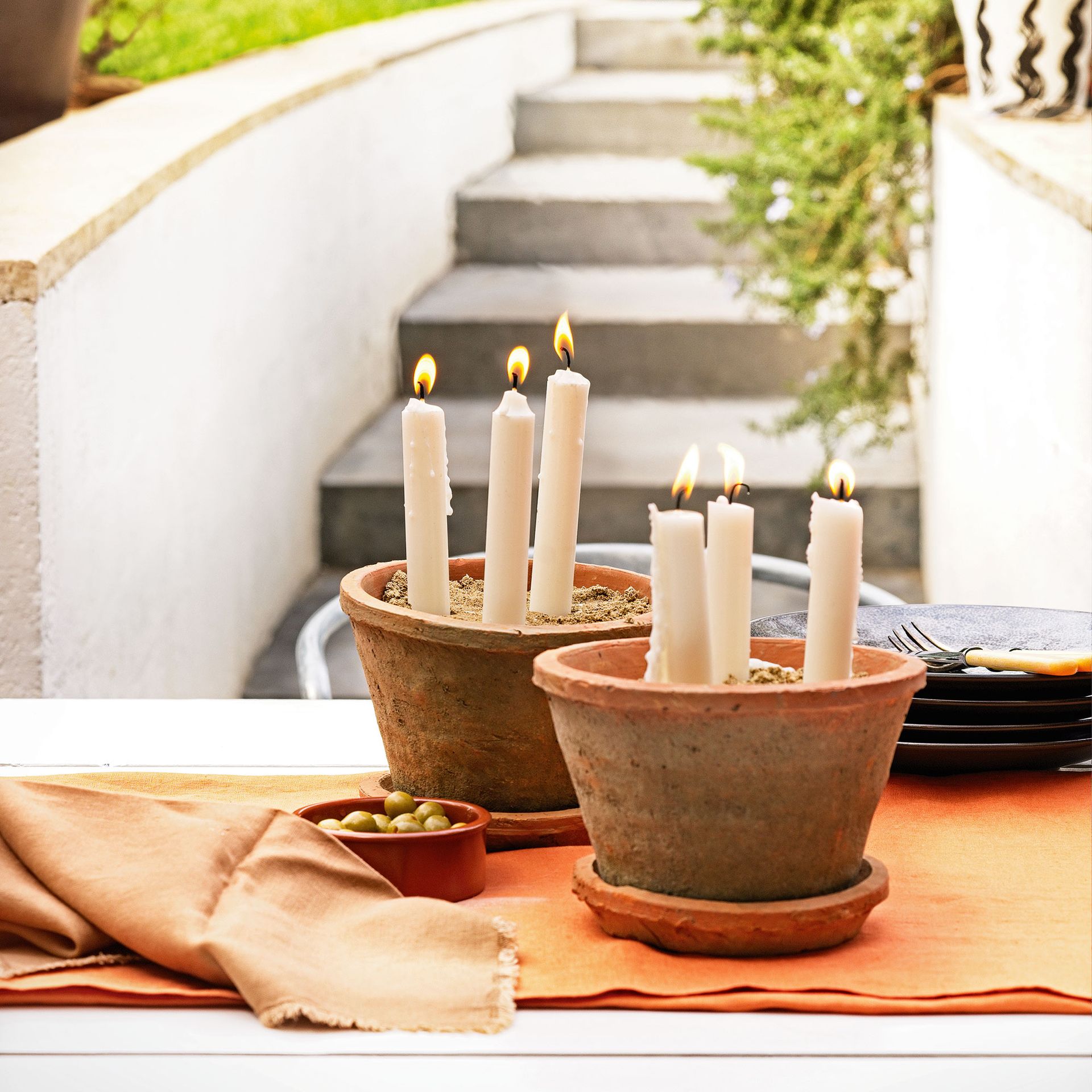 Instead of electric lighting embrace the flicker of a candle when the sun starts going down. Stick to your garden theme by using terracotta plant pots to hold candles.
Fill the pots with sand or soil and dig in holes for simple tapered candles. It's not only a pretty and appropriate centrepiece, but it's a comparatively safe way to enjoy to candlelight thanks to the materials used.
15. Prepare cooling cocktails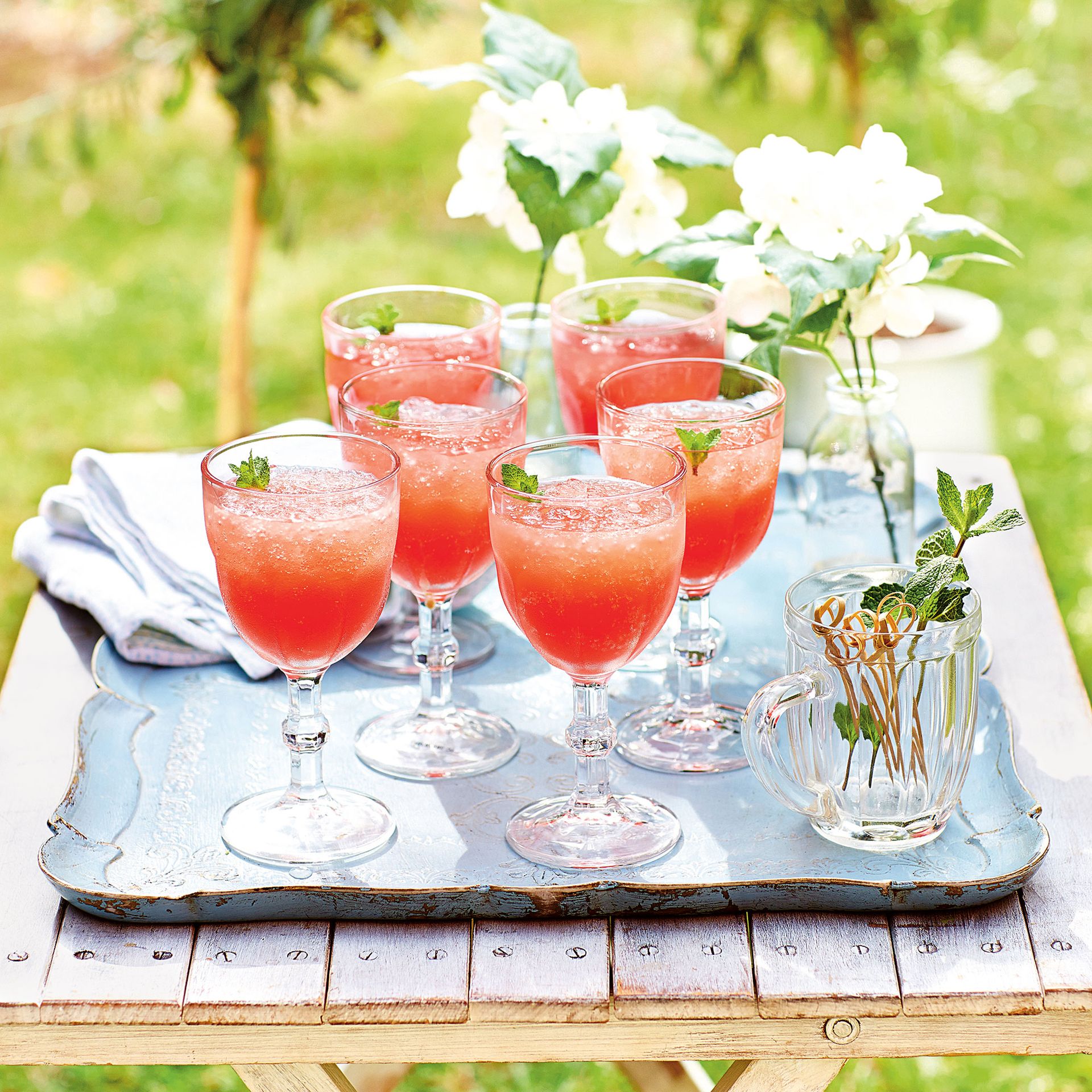 What's a garden party without a signature cocktail? Choose your favourite mixed tipple and arrange on a rustic tray to offer guests upon arrival. Use seasonal garnishes, like mint or edible flowers, for added impact.
For non-alcohol drinkers, making a mocktail in either the same colour or glass will help them feel included. Don't do both or things could get confusing!
16. Pretty up your patio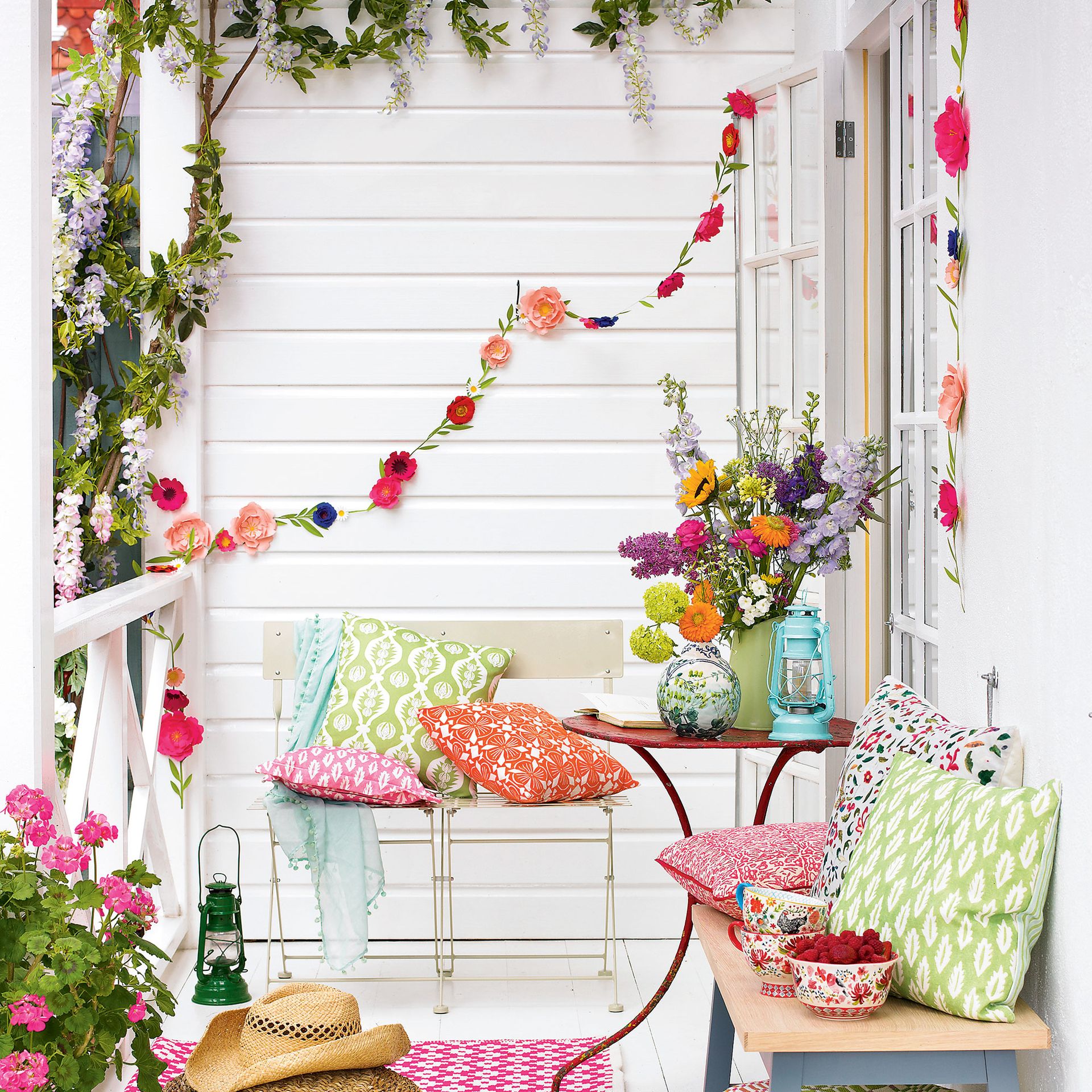 Whether all you have is a petite patio, or if you have one leading out onto a lawn, this space can be utilised for garden party ideas. If the latter, think of it as being the entranceway into your party, so you really want to try and set the scene for what's to come.
Either way, layer up bunting, other wall hung decor, your prettiest cushions and outdoors rugs. If it's the entrance space, include your welcome drinks at this point. If it's your whole outdoor space, choose slimline outdoor seating ideas so a few guests can rest their feet without using up too much square footage.
17. Get labelling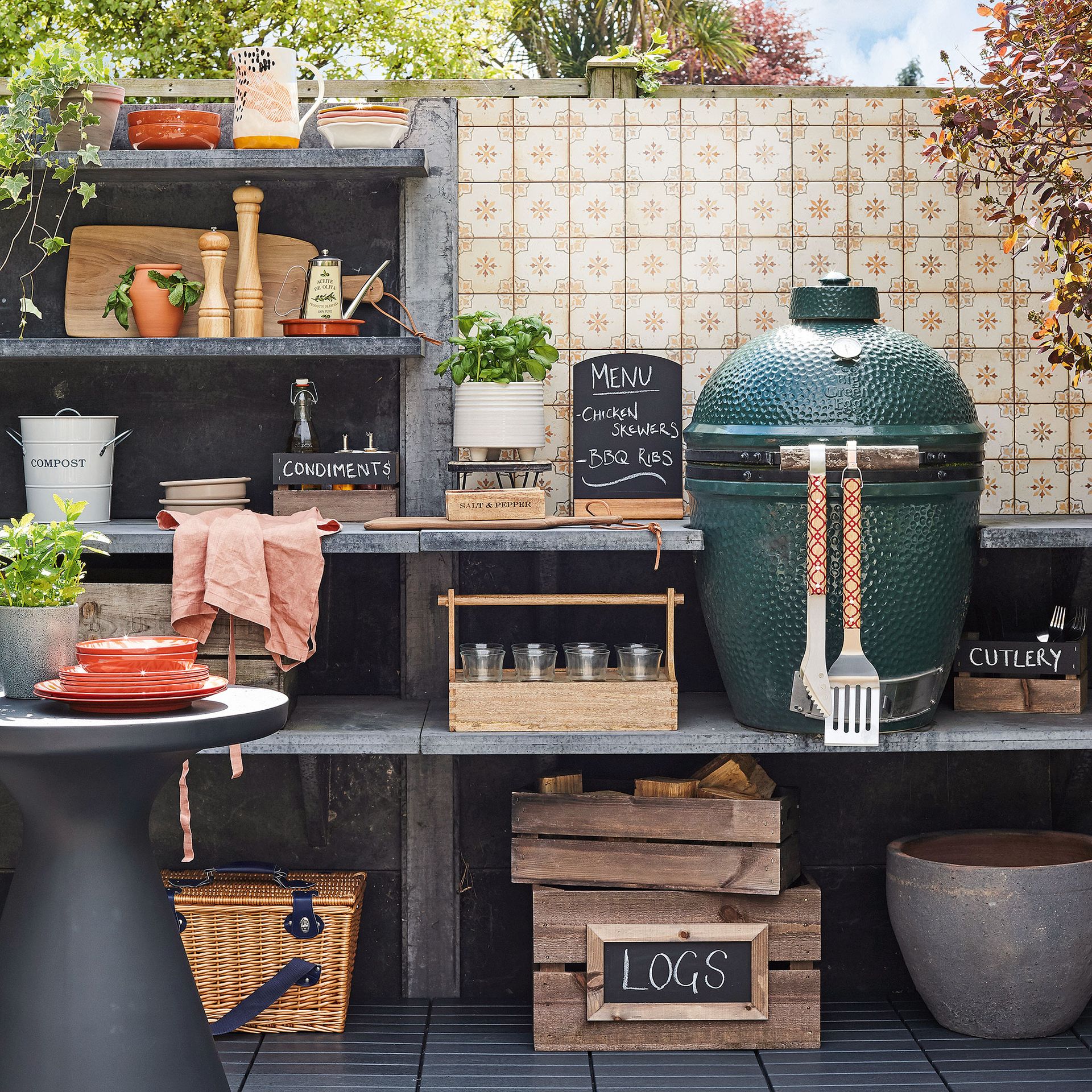 If you're hosting a meal at your party, there are a lot more variables to take into account. Prevent constantly having to answer questions by making sure everything in your outdoor kitchen or BBQ area is clearly labelled.
Think about what people would most likely be looking for. Cutlery, condiments, glassware and napkins are all prime example. Logs for stocking up the firepit, or ice buckets for cooling drinks are also helpful to signpost.
18. Set up smaller seating areas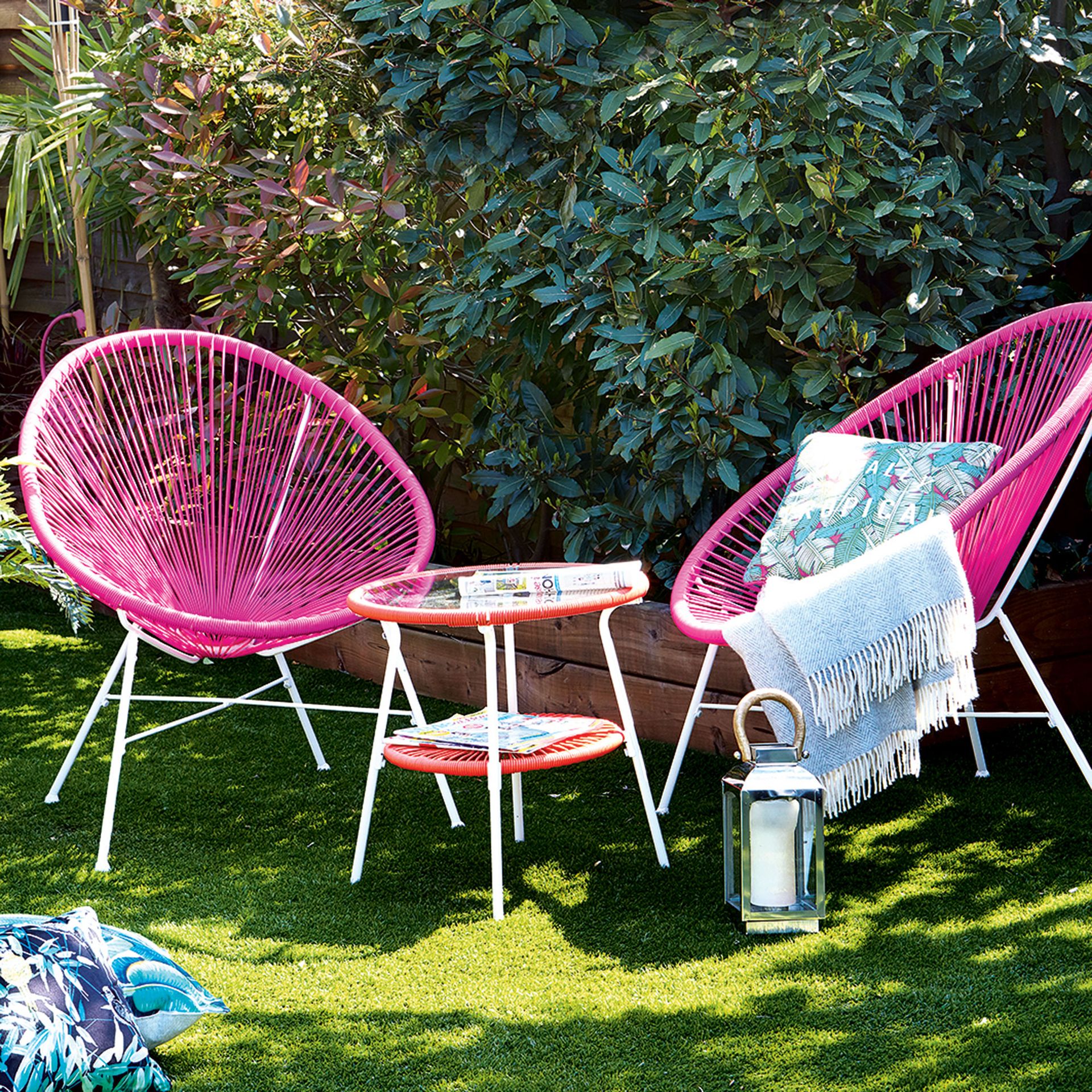 In every party – indoors or out – it's a lovely idea to make sure you're as set up for private conversations as you are group chats. A couple of sets of smaller seating zones provide the opportunity for guests to sit together and talk or flirt the day away.
19. Hang an overhead display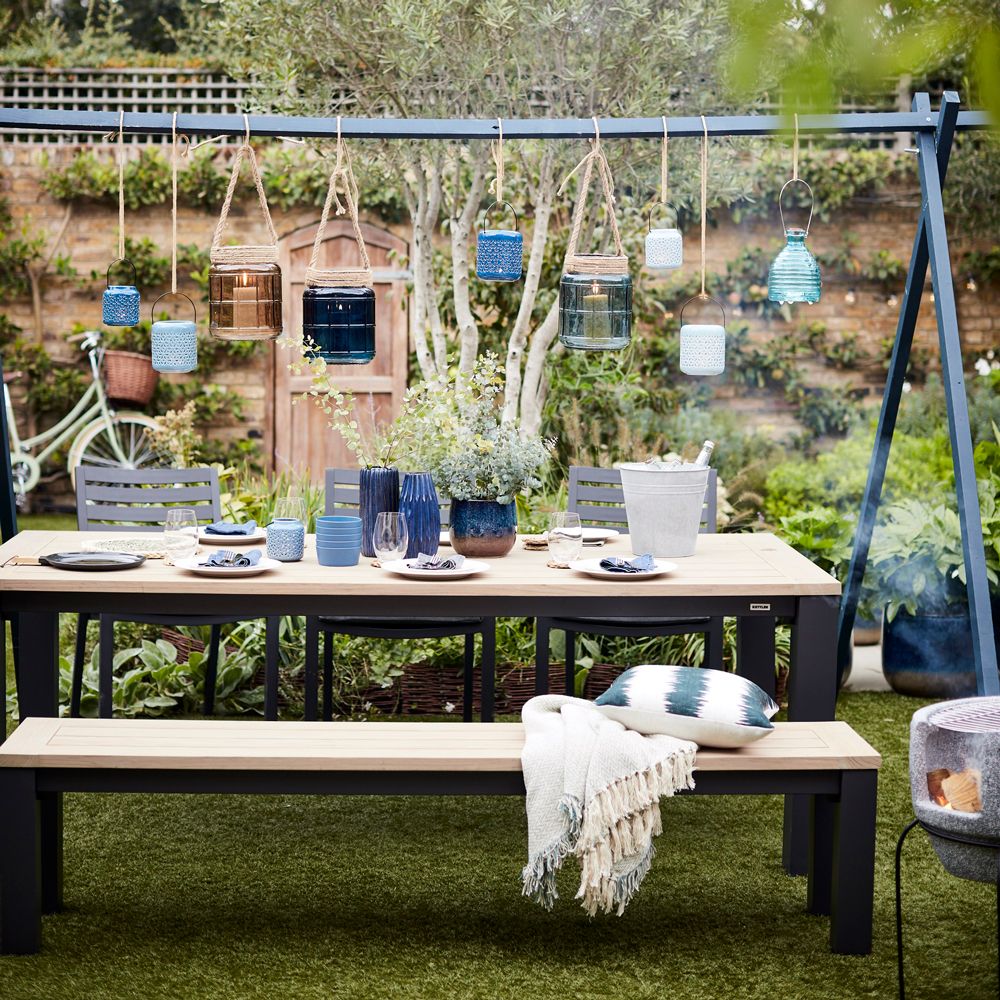 Suspended flower displays have become the go-to trend for dinner parties and festive gatherings, and now that trend is going outdoors. Fashion a simply wooden frame over your alfresco dining table to hang an array of votives or even potted plants to add a decorative touch to the setting. Tie the lanterns and pots onto the frame using garden twine, to keep the look understated and rustic.
20. Pile up comfy cushions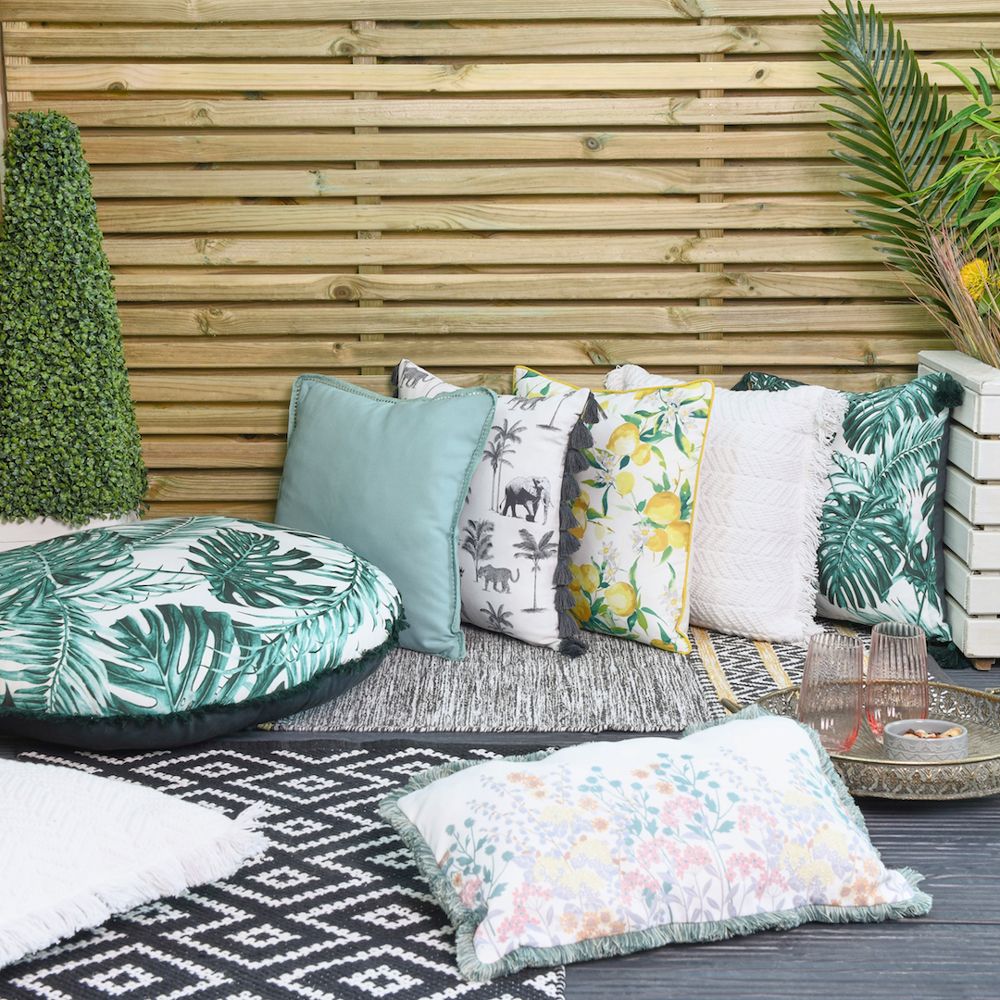 When entertaining in the garden one of the most important things to consider is the comfort of you and your guests. Because unlike when you have people over indoors, the garden doesn't always offer a squidgy sofe to nestle on. You therefore can't go wrong with a pile of comfy cushions to make any area a comfy seating solution.
Preferably choose cushions in outdoor fabrics to make them weatherproof – or simply be alert to take them all indoors should it rain.
21. Create a cosy grouping around the coffee table
Moving your outdoor furniture to mirror a living room layout goes a long way to set the scene for a more intimate soiree. Centring your garden sofa and chairs around a coffee table creates an informal laidback feel that will make your guest feel very at home, in an unfamiliar yet familiar setting.
22. Extend a warm welcome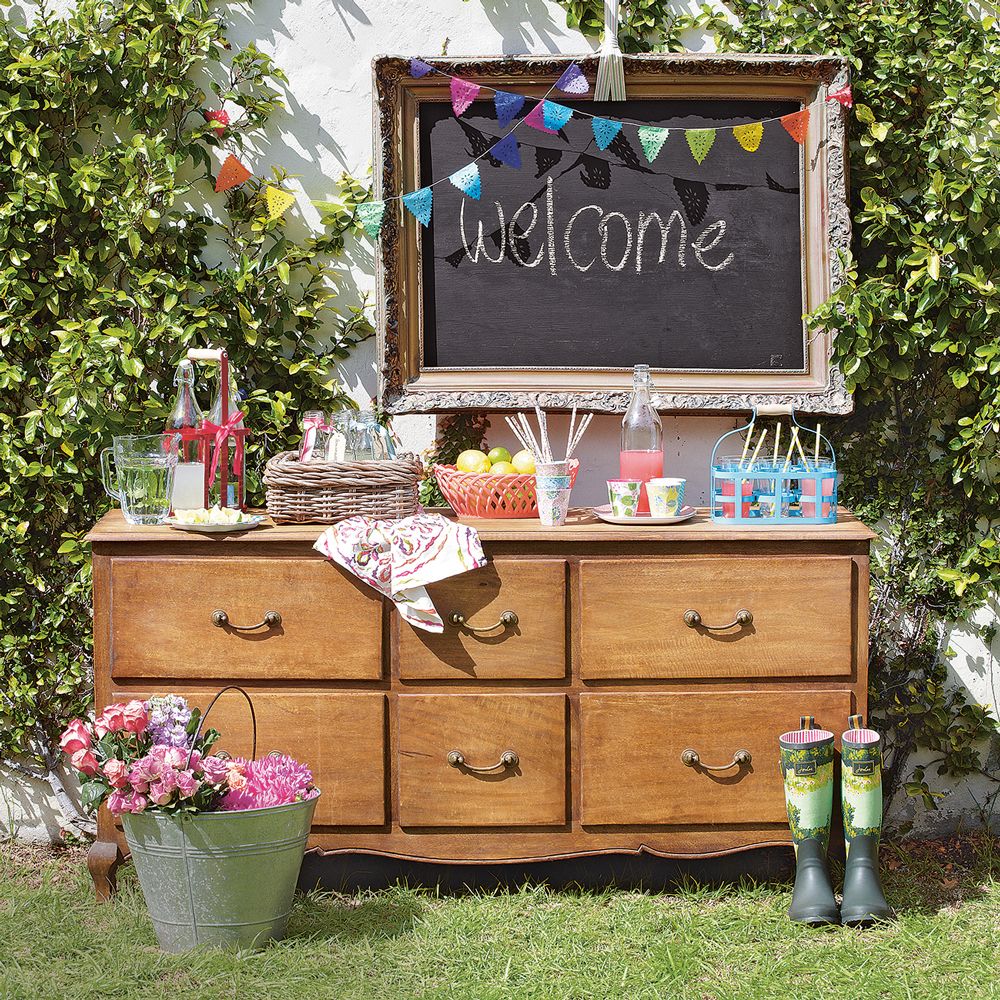 We've waited long enough, charm garden-party guests at the door with an all-singing, all-dancing display. Make them feel instantly welcomed and ready to party with a jolly greeting on arrival.
More than just a great way to say welcome, a message board is ideal to highlight if you're celebrating an occasion. Write a happy greeting message or declaration of love for all to see, to set the tone for the garden party. You can transform any surface into a message board with a simple coat of chalkboard paint.
23. Play lawn games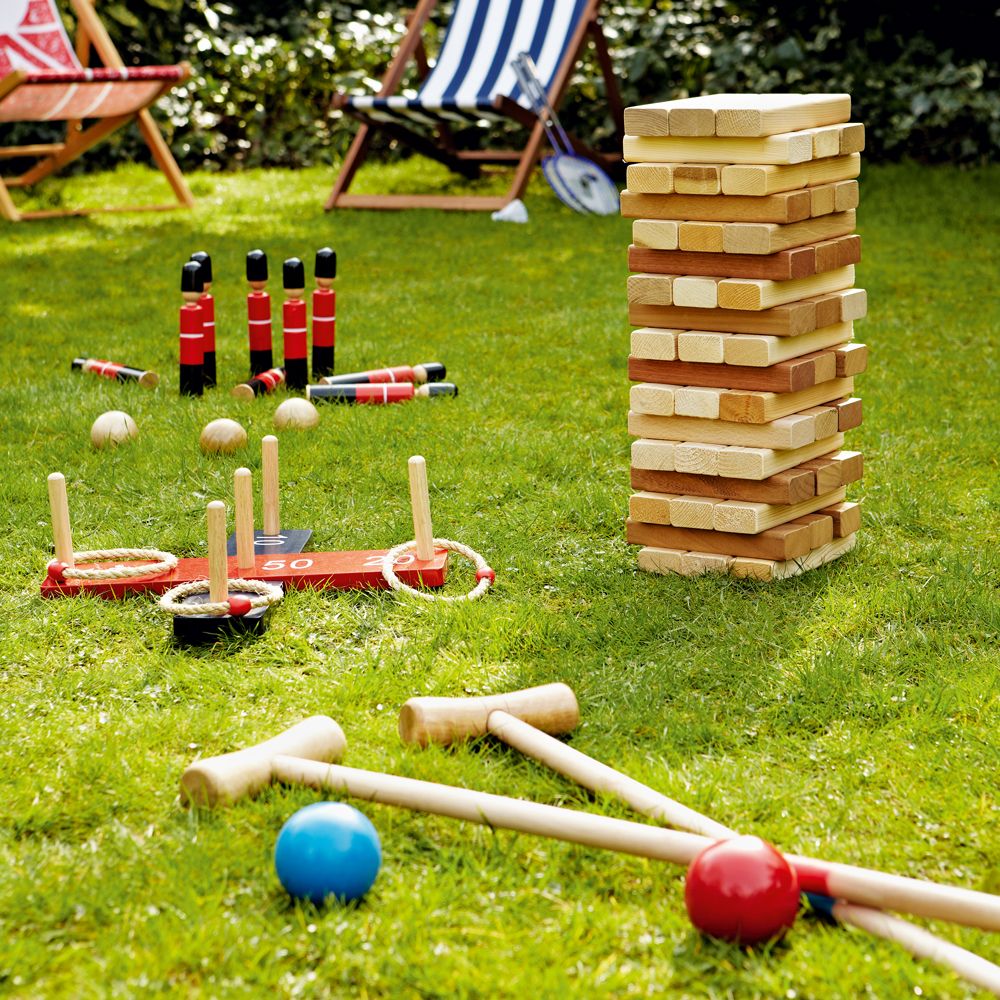 Garden party games are a fantastic ice breaker and will be a huge hit with guests of all ages. Stick to the classics such as hoopla and skittles and invest in good-quality wooden sets (no-one likes to see bits of lurid plastic dotted about the garden!).
Classic wooden garden party games will look more sophisticated and will last for years to come. Croquet is an absolute garden party must, though the giant tumble tower looks pretty inviting too. Set out comfy deckchairs for spectators.
24. Craft a café style menu board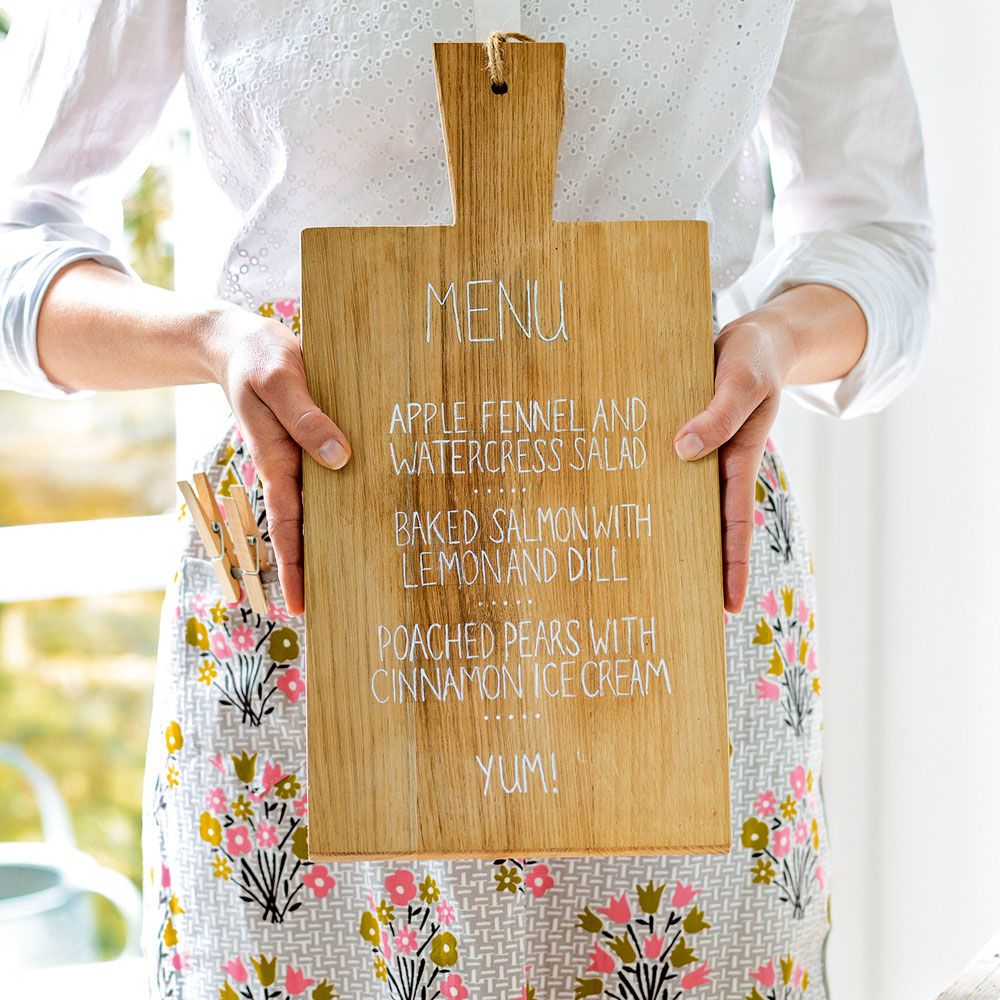 For evening soirées in the garden, put an old chopping board to a new use - as a chic menu board. Use a chalk marker to carefully write out your menu. Unlike on black boards, these pens can't be wiped off a porous material such as wood, so use a faint pencil mark to give yourself guide lines before you start.
If you would rather not write on the wood, use string to attach a card menu to the board, tying the string around the handle and stand it up for guests to see.
25. Create an instant party vibe with balloons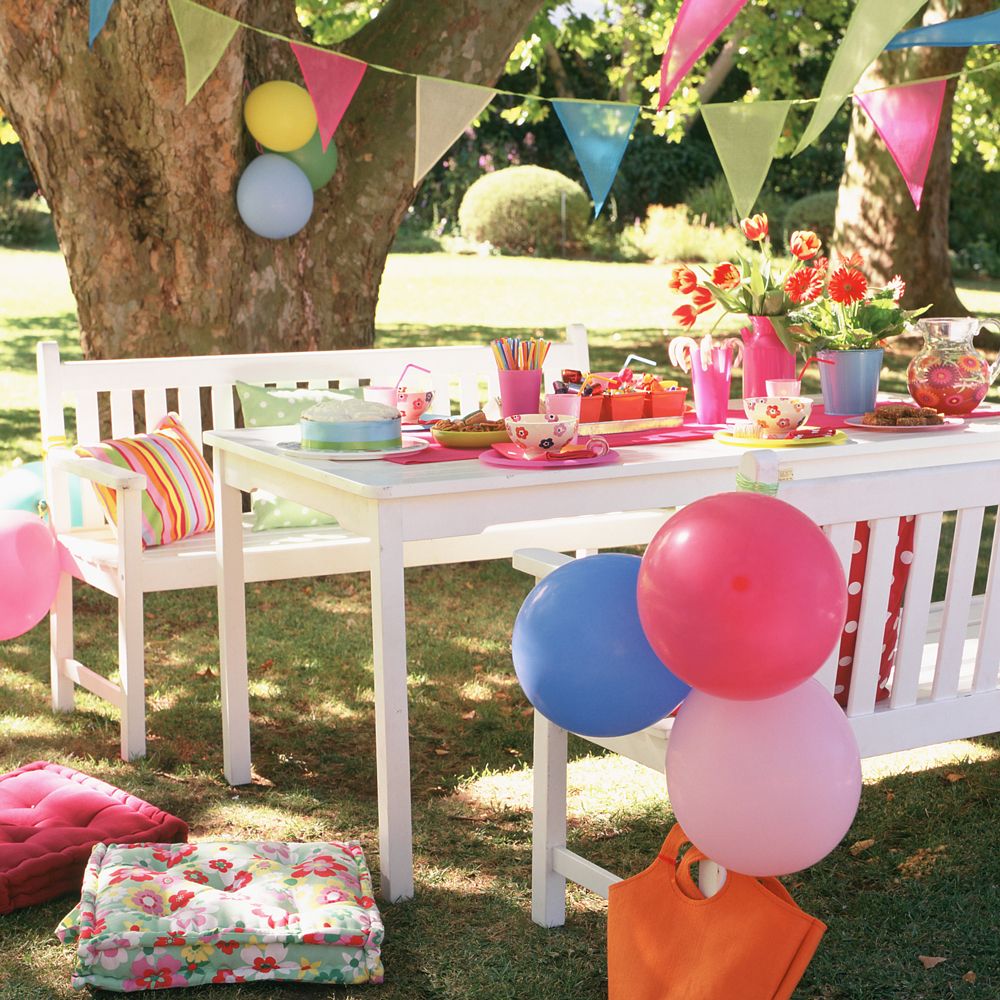 Nothing says there's a party quite like simple balloons and bunting! Add a splash of colour to your garden party table by decorating with striking colours. Hang bold bunting and balloons to instantly brightening the occasion. You can even make your own paper bunting, giving you total control over the colour scheme.
26. Stage a play area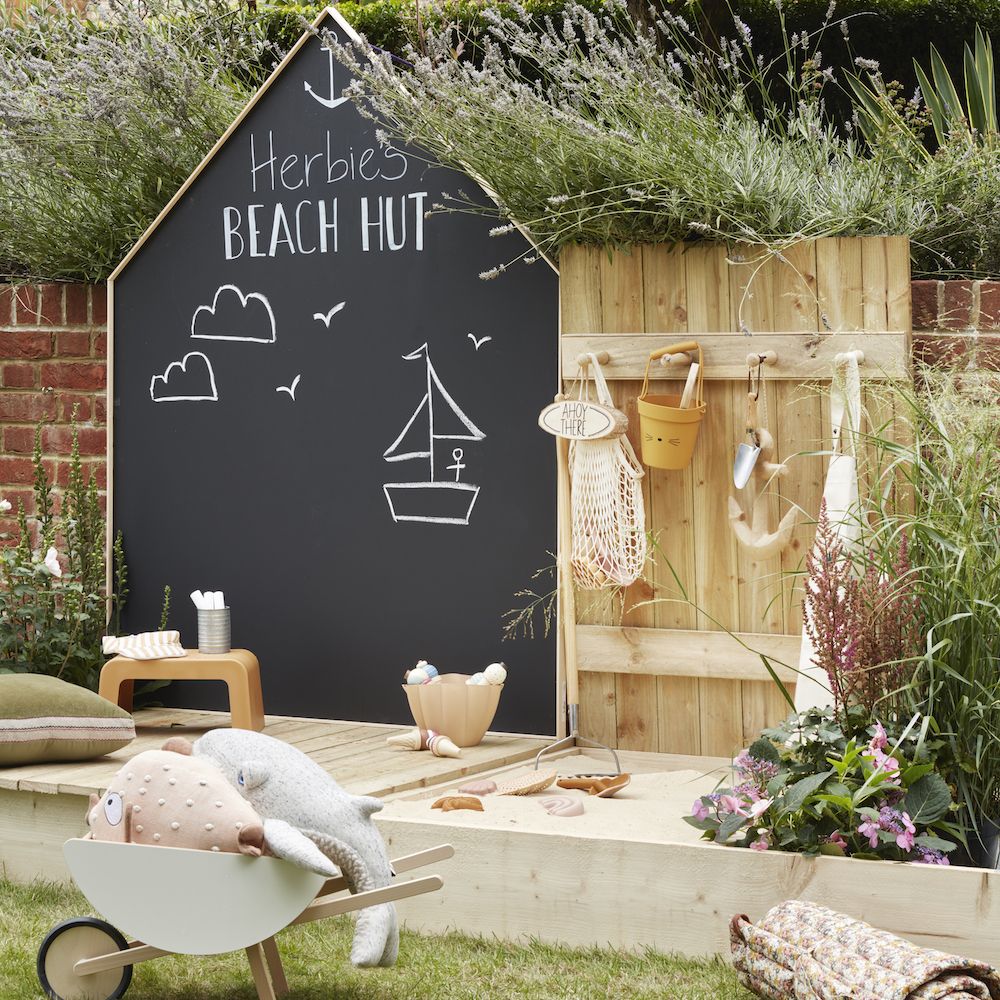 Up the fun factor for the kids by staging a dedicated play area. Place the sandpit, slides and any other kids entertainment in one zone within the garden, so it zones a play area especially for them to enjoy while the adults relax on the outdoor sofas. Add a chalkboard for added fun, even writing a personalised message to welcome play for little ones.
For safety place this area a safe distance from any outdoor cooking areas, but in clear sight of the seating area so parents can keep a watchful eye while they play.
27. Add colour with paper pom poms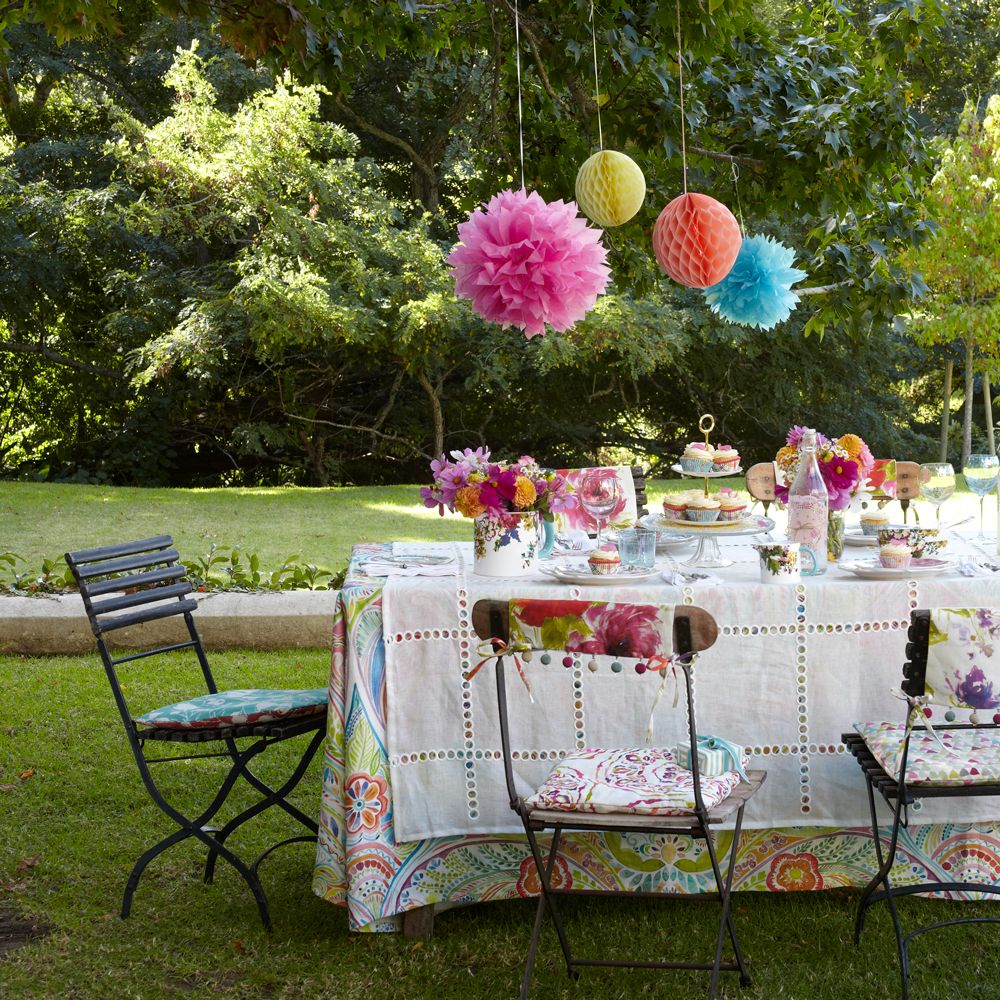 Deck out your garden party with paper pom pom decorations if you're bored of bunting. Hang them from trees, beams, washing lines and window frames to create an instant and fuss-free party vibe. You can get crafty and make your own party decorations or buy them if you're pushed for time. We love these pastel paper honeycomb decorations from Talking Tables.
And if you're making your own, use patterned paper to add a vibrant touch, go monochromatic for serious sophistication, or all white or all black for a striking display.
28. Get the party started with a pinata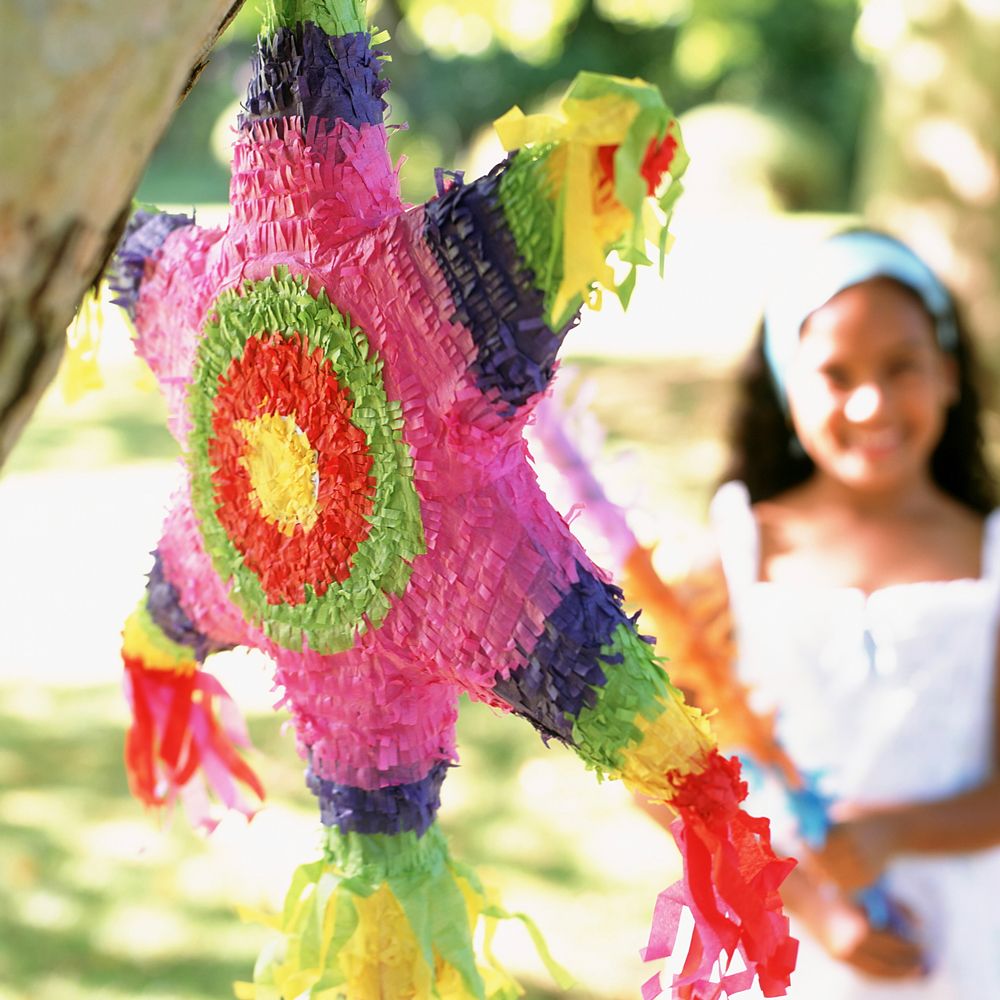 Children - not to mention adults - love to play this fun garden party game. Fill the pinata with sweets and hang from a branch for all ages to take part and enjoy. Assign different areas of your outdoor space to different activities. Create lounging areas for grown ups interspersed with games-themed points for younger party goers and everyone will be happy.
29. Fashion a balloon arch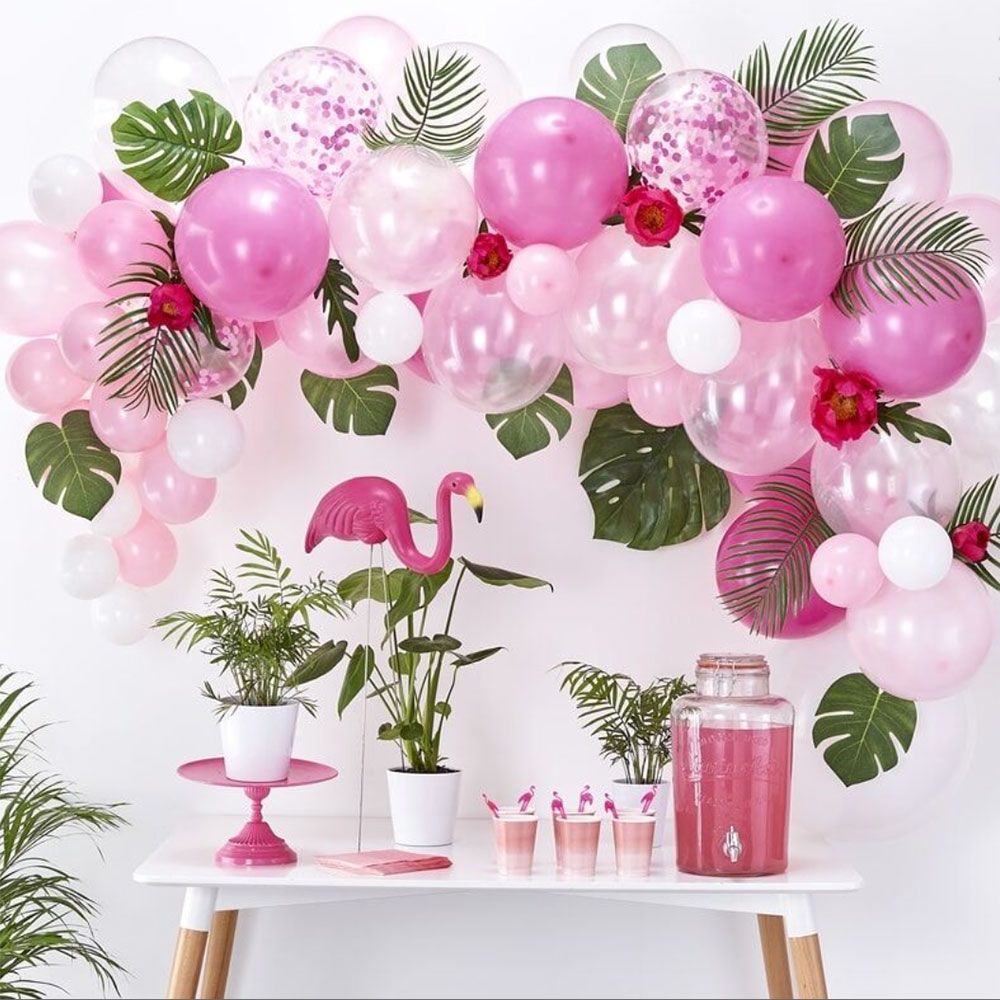 Throw a party like a celeb with the addition of a fashionable balloon arch. Whether framing your feating table to used over a garden fence a balloon arch is just the thing to make a big statement for your garden party. Just be sure to keep it out of direct sunlight, because balloons are likely to start bursting under the heat.
Follow our easy steps on How to make a balloon arch to make a blow-up party backdrop that's sure to impress your guests.
30. Make quirky plant pot party servers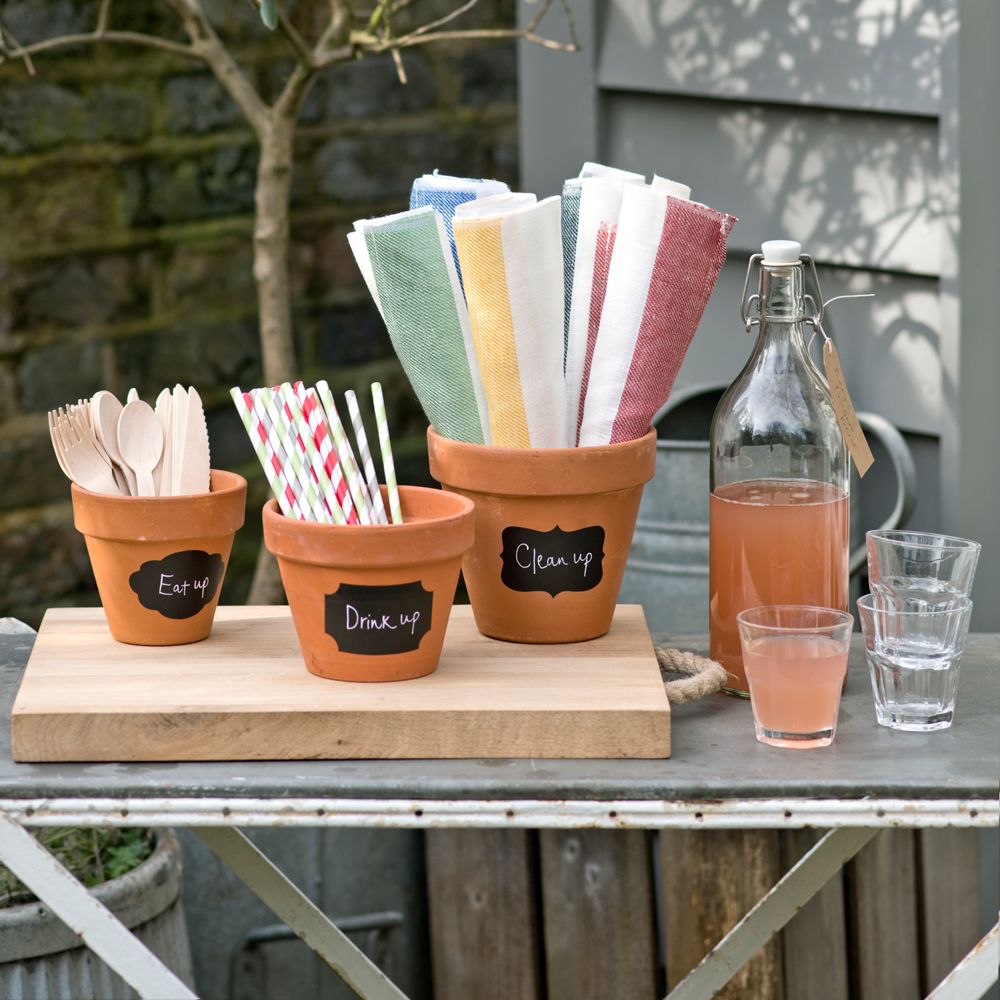 Since you're already in the garden, you might as well make use of the supplies at hand. Plant pots are a quirky but practical way to display garden party cutlery, napkins, straws and more - particularly when you choose dining accessories in complementary colours.
Either use brand new ones or give your existing pots a good scrub and clean - you could even line them with a smaller drinking glass - then add chalkboard sticky labels with charming Alice in Wonderland-style directions.
31. Set out a Bake Off-style cake table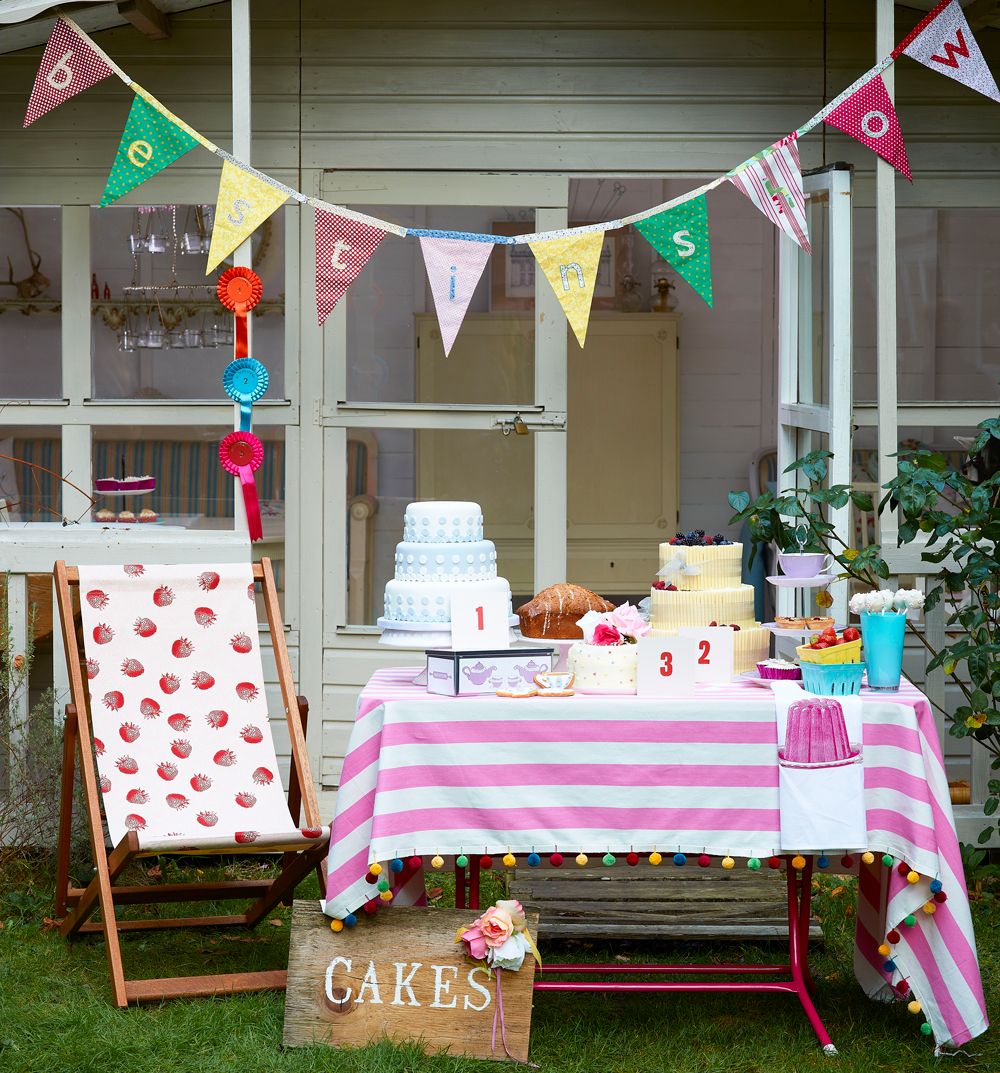 Set up a table of sweet treats. This tempting garden party cake display looks (almost) too good to eat, while the bold colours and mismatched prints create a fun, vintage feel. To add a competitive edge to your garden party, why not invite your guests to take part in your very own bake-off?
Just ensure you get a list of entries in advance as you don't want to end up with three Victoria sponges and no lemon roulade! And don't forget the rosettes, which will look as pretty pinned to the wall as they will on the winners' lapels.
The Cotton Bunting Company have a fabulous selection of bunting for all occasions.
32. Create a fun filled photo booth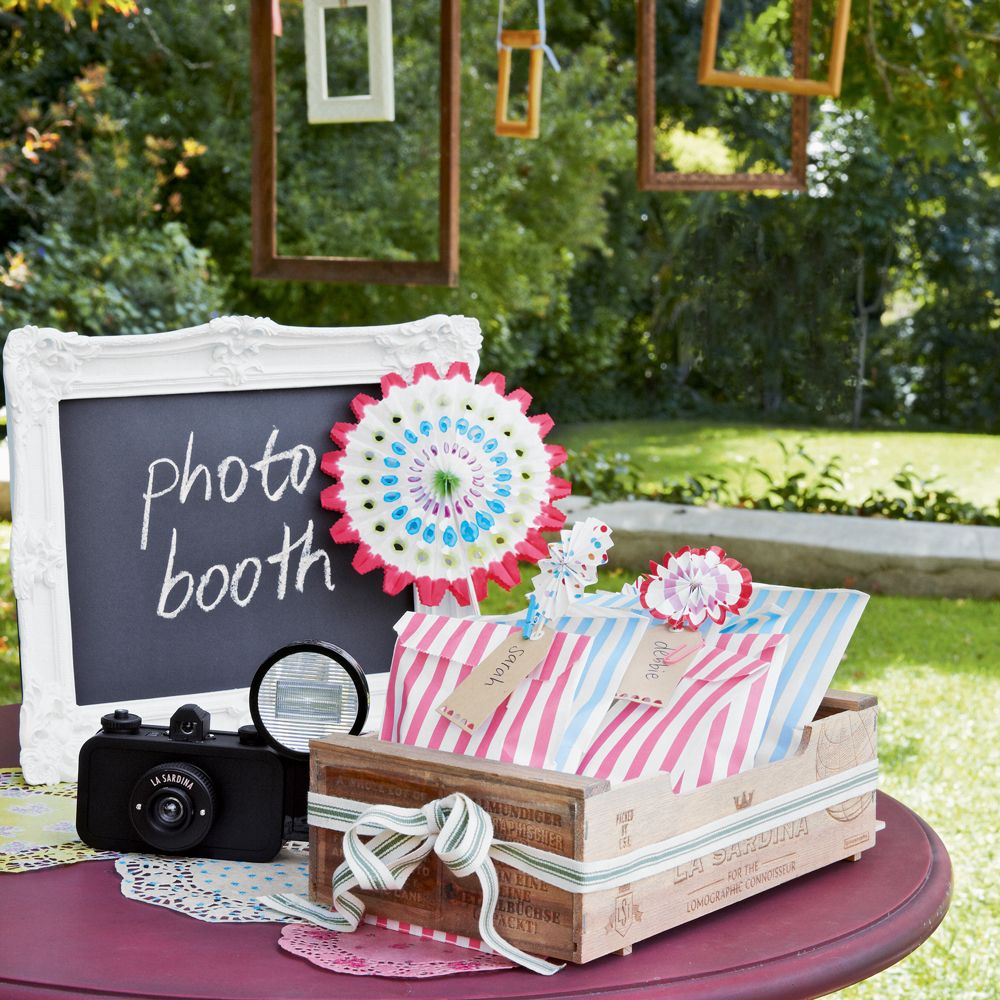 No party is complete without a photo booth! Capture the fun times perfectly but a homemade booth, leave a camera out and some fun props to encourage guests to snap away. The garden provides the ideal backdrop to ensure beautiful photos.
Go one further and create your very own DIY photo backdrop idea to take the even more memorable snaps.
33. Set up shade during peak hours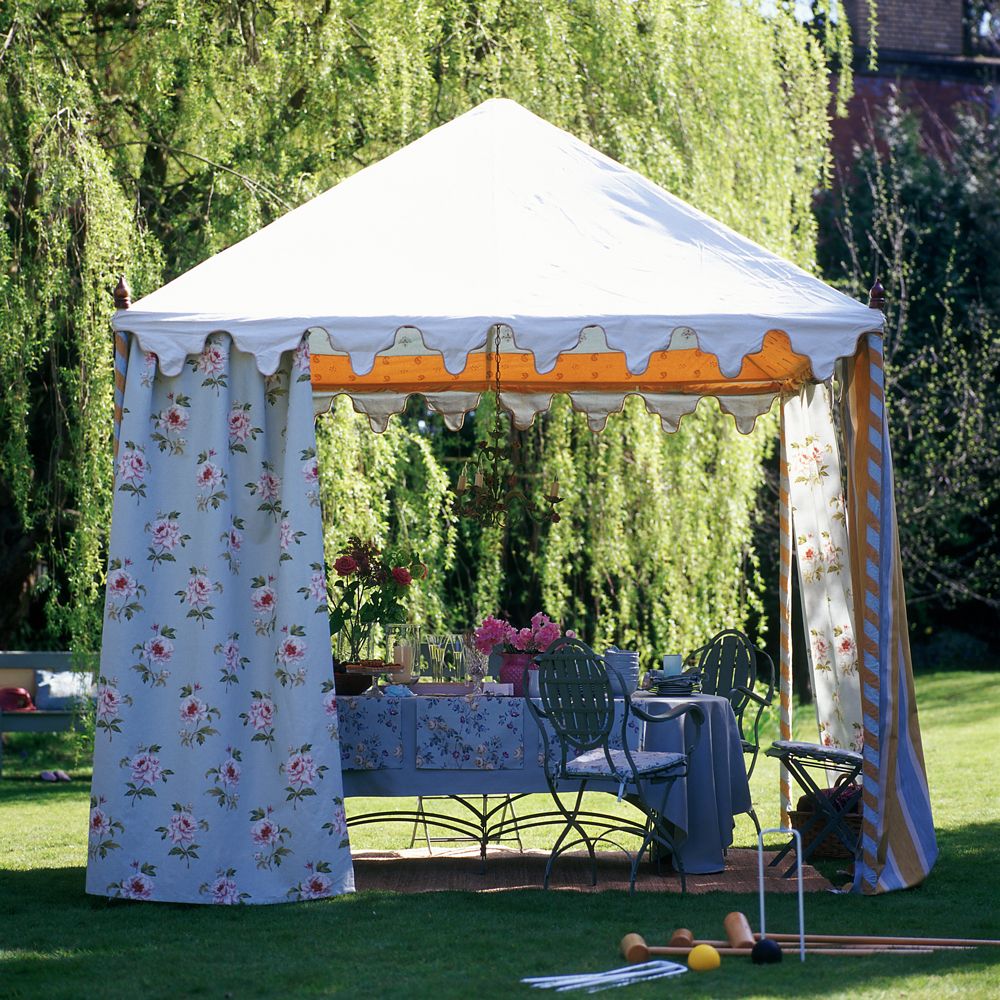 Provide seating in shady areas so there is always somewhere for guests to sit back and people watch. Choose spots with pretty views out across the garden and use matching slip covers and co-ordinating cushions on mismatching chairs. Plus a garden party gazebo means the celebrations can go on even if it starts to drizzle.
Seek garden shade ideas to ensure your guests are safe from the sun at the hottest parts of the day, between 12 and 2p.m.
34. Stage a makeshift bar area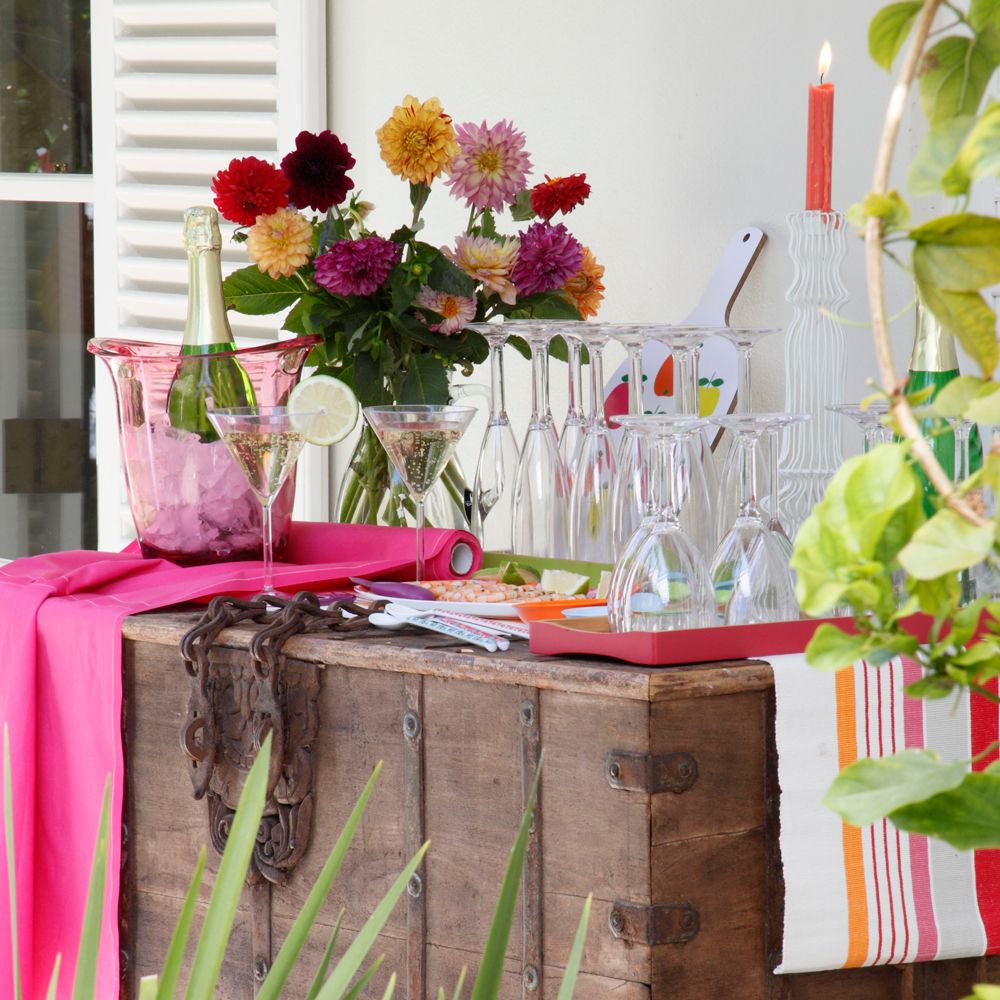 Buy garden-party glasses or move glassware and drinks into the garden so guests don't have to keep returning to the house to refresh their glasses. Include 'drinks stations' like this one and dot them around your garden. It will mean guests can help themselves, leaving the host free to mingle to her heart's content.
This trunk is pretty in pink table linen and has been used as a perch for champagne, an ice bucket and glassware. Choose stylish pink and clear plastic over glass to avoid breakages on the terrace.
Try John Lewis's Ripple plastic wine glasses in various colours.
35. Make it personal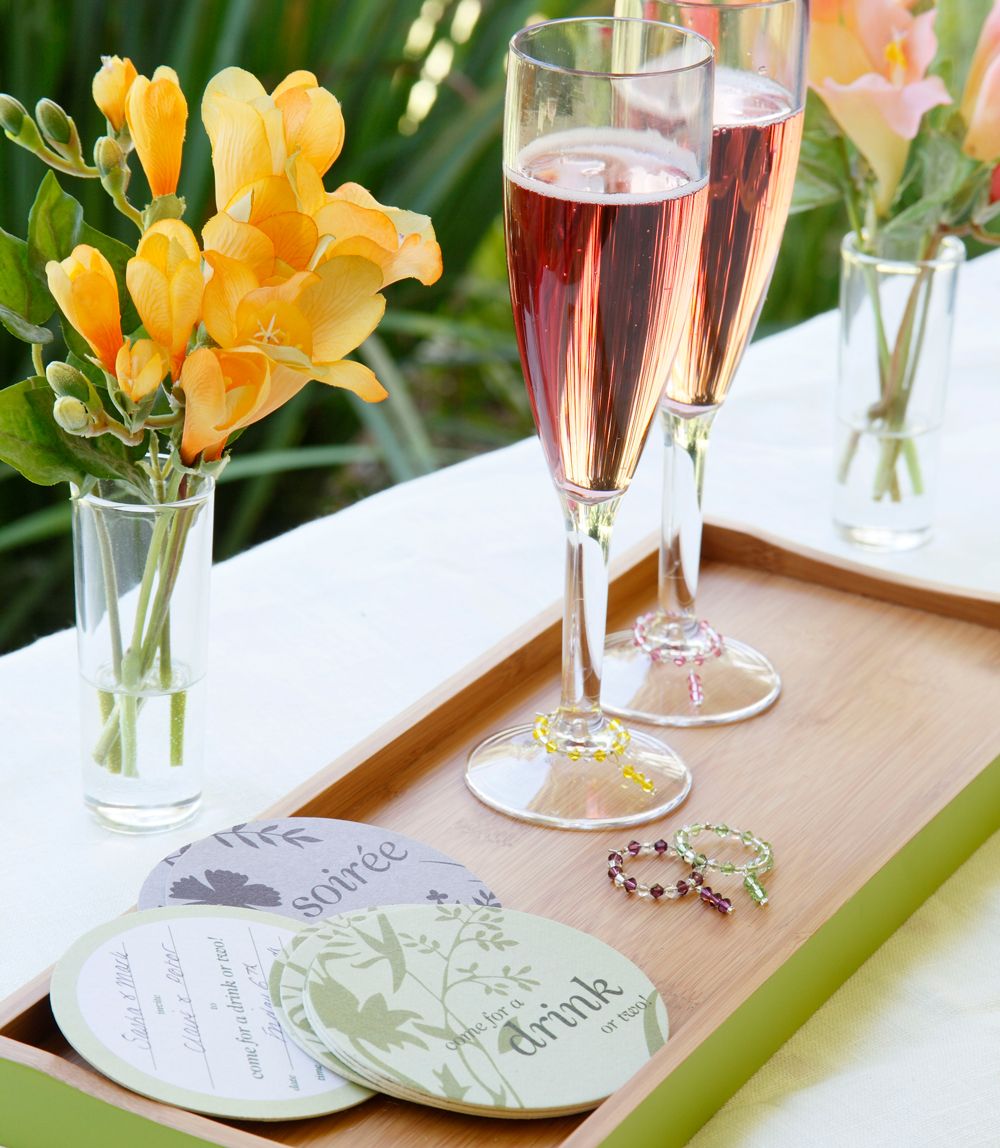 Never misplace your glass again – and as we navigate our way out of the current rules and regulations, not mixing glasses has never been so important. Keep tabl