32 garden party ideas to set the scene for outdoor entertaining
Be the host with the most with these tips and ideas
Ideal Home Newsletter
The Home Of Great Ideas For More Than 100 Years
Thank you for signing up to . You will receive a verification email shortly.
There was a problem. Please refresh the page and try again.
Who can resist dining outdoors on a glorious summer's day? Garden party ideas will help you make the most of your space this summer.
From outdoor kitchen ideas to bar set ups, schemes and decor, with a few steps you can welcome guests into a beautifully styled space. Elevating your garden into a party playground for everyone to enjoy can be as big a job, or involve as few touches as you desire.
'Our gardens and outdoor spaces have increasingly become the preferred destination for gathering with family and friends, so make sure your setting is ready to host,' advises Emmie Brookman, Creative Director, Silver Mushroom (opens in new tab). 'It doesn't have to be as extravagant as a pergola, but comfortable furniture and a good BBQ should be at the top of your list.
Choose a garden party theme or colour to add decorative touches, maybe echo the colours of surrounding flowering shrubs and plants. Add tablecloths, seat cushions and napkins to reflect your chosen colour palette to unify your outdoor space. Draped fabric looks pretty for summer garden ideas for parties and will give extra protection from the sun if the weather is too hot to handle.
Extend your theme into other areas by stringing up large brightly coloured paper pompoms or other garden party decorations such as bunting. Flowers in the same shade add well thought out detail.
A formal arrangement adds a sophisticated touch to a garden party, but less structured arrangements of simple blooms in containers such as jugs or jars will create an understated feel more in sympathy with the surroundings.
'For a romantic, bohemian vibe, add lanterns, twinkly lights, and blankets,' suggests Patrick Bridge, Chief Operations Officer, Harbour Lifestyle (opens in new tab). 'Sources of heat, such as firepits, heaters and tabletop fires allow you to enjoy your garden comfortably when the temperature outside is less than appealing. Plus, installing these impressive displays enhances the aesthetic of your garden, and also provides lighting for those evenings when you just don't want to go back inside yet.'
Garden party ideas
Make your event all the more special with these clever entertaining ideas.
1. Set a scheme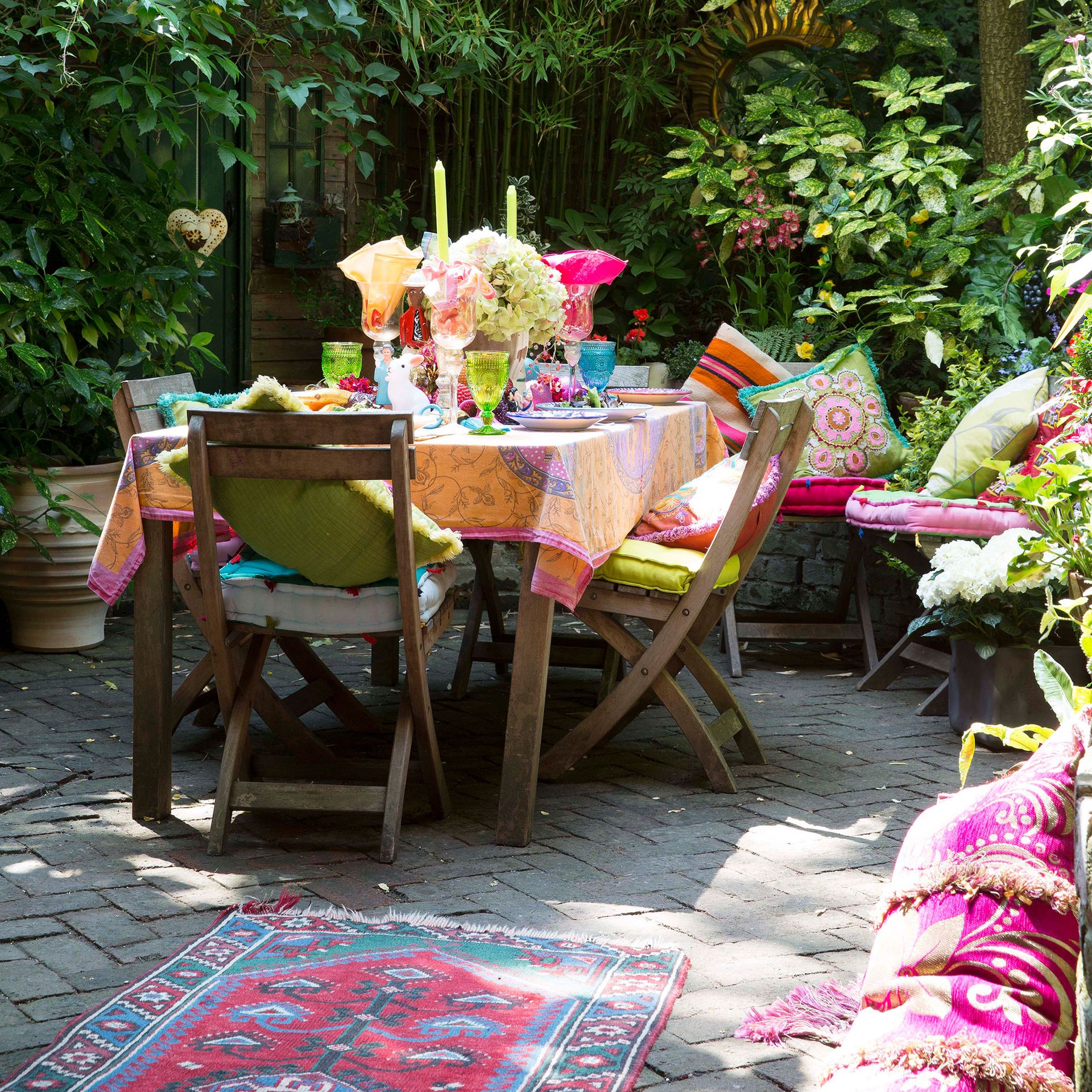 Rather than simply decorating your table, or wherever the focus of your party is, look to your space as a whole. Once you've decorated the main event, pull out the main colours, textures and patterns, and replicate these elsewhere. Think outdoor rugs, cushions on other seating zones, and other decorative elements.
'Don't let attention to detail go amiss, the same principles apply externally as they do an interior project,' says Emmie from Silver Mushroom. 'Your outdoor space should be an extension of your home, so make it comfortable and accessorise the same way you would indoors. Introduce cushions, throws, candles and bowls, after all you can always take them back inside if the weather turns.'
For a true cohesion, match your colour scheme to a statement bloom in your garden.
2. Hang bags of snacks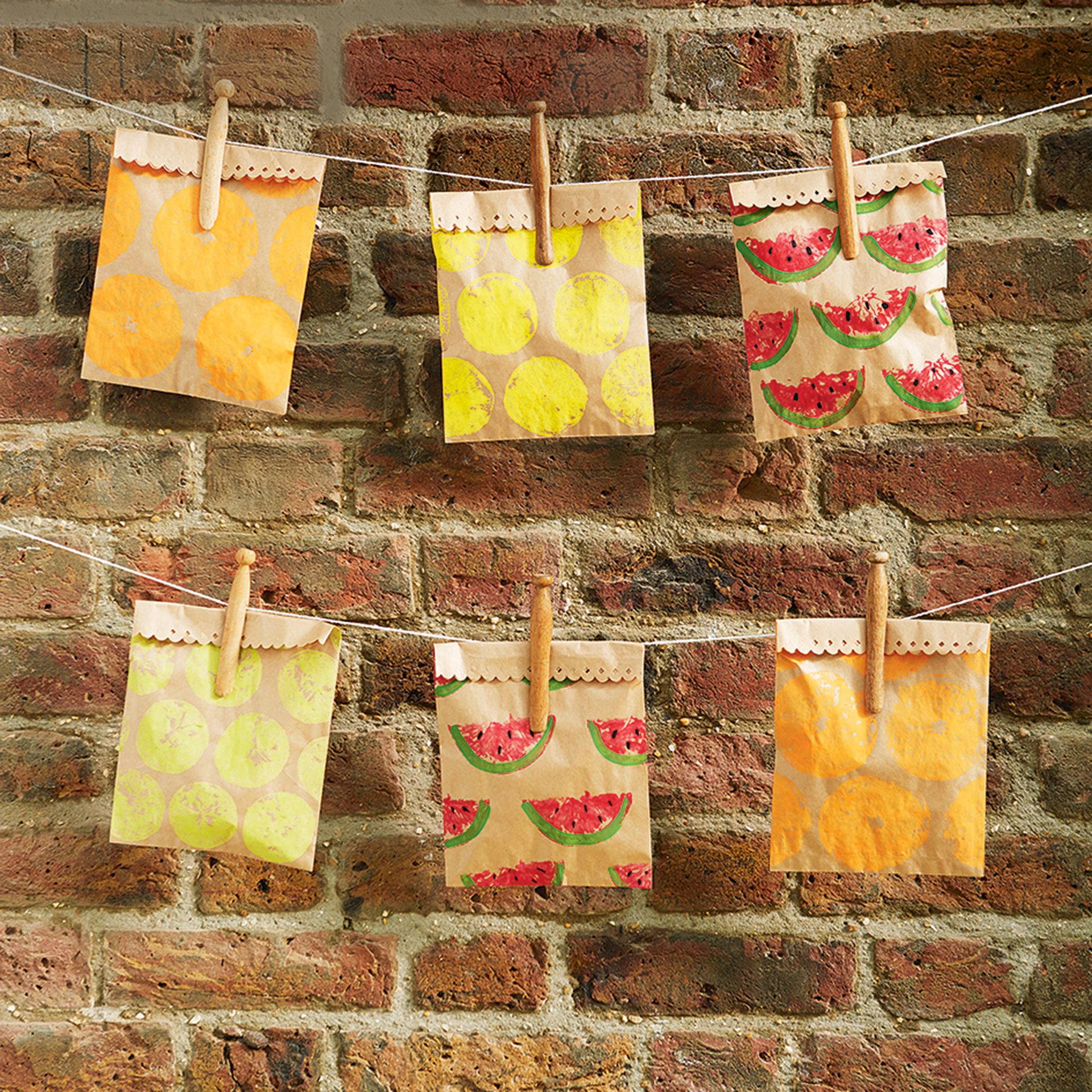 Garden party ideas are all about having a bit of fun. Turn simple snacks into a pretty display with little time or effort needed.
Block print paper bags with summery fruit or floral motifs. Fill with snacks - look to the lighter side, so pretzels, popcorn and so on. Use clothes pegs to hang to string or wire against a wall and you're done! A sign won't go amiss, either, so everyone knows to get stuck in. You could also write on allergens, to keep things super safe.
3. Turn your shed into a bar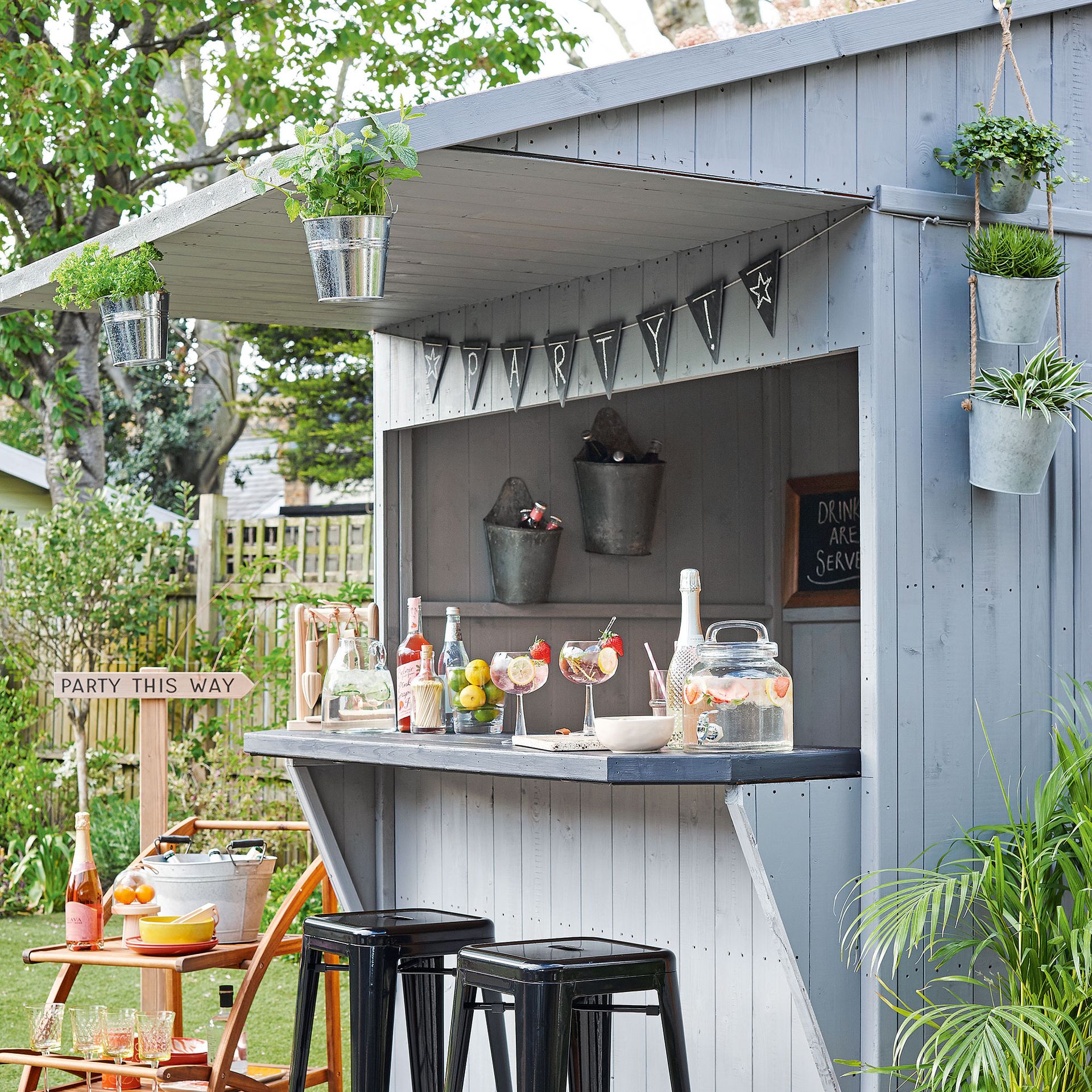 These days, garden sheds are more multi-purpose than ever before. Make yours work harder by upgrading it into an at-home bar.
Create garden bar ideas by cutting in a serving hatch and creating a bar top. This way you can serve drinks from one side, while guests can sit on weatherproof bar stools on the other. Keep the shed a neutral colour and switch up your bar and glasswear to match the theme of the event at hand.
4. Add atmospheric lighting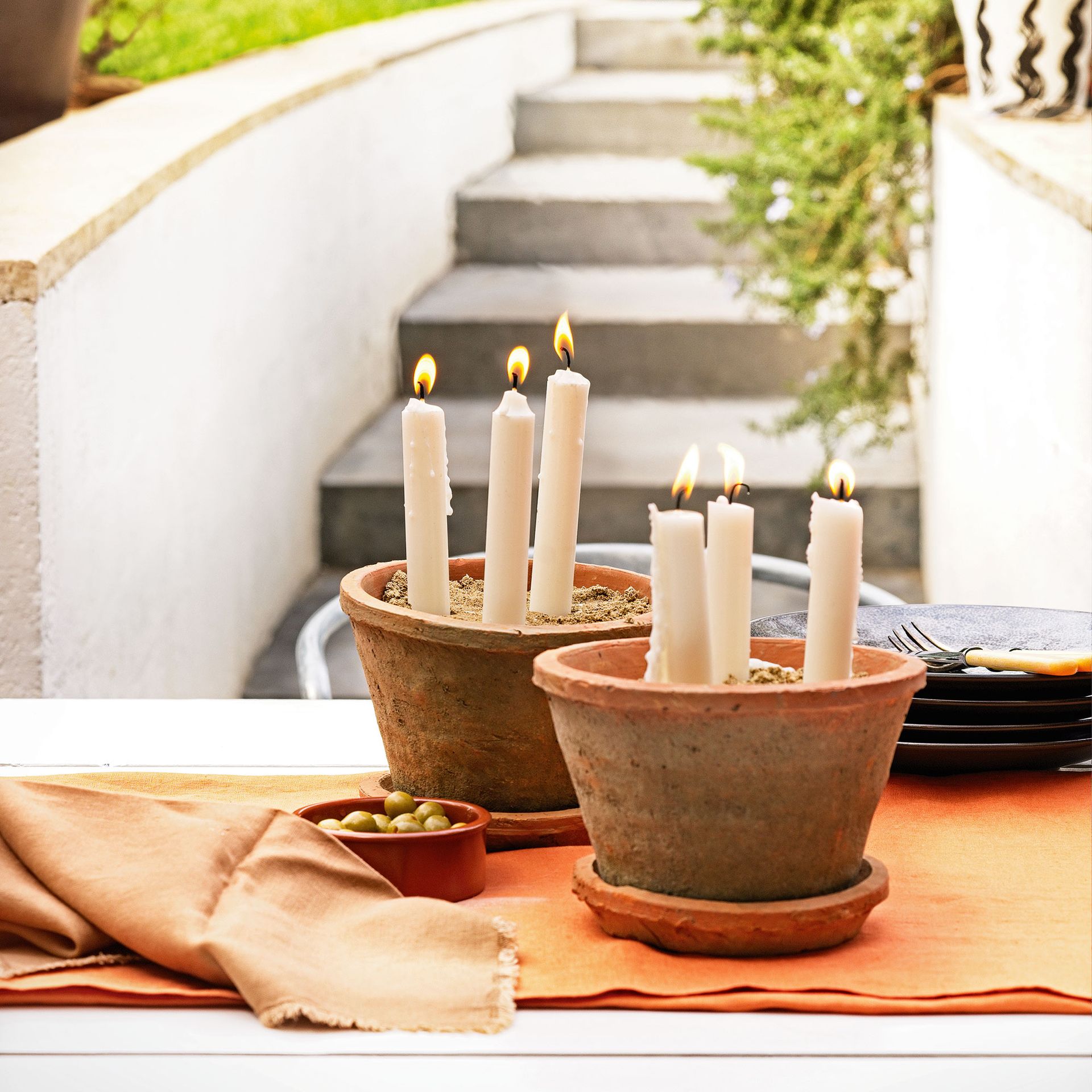 Garden lighting ideas are important to consider when the sun starts going down. Stick to your garden theme by using terracotta plant pots to hold candles.
Fill the pots with sand or soil and dig in holes for simple tapered candles. It's not only a pretty and appropriate centrepiece, but it's a comparatively safe way to enjoy to candlelight thanks to the materials used.
5. Prepare cooling cocktails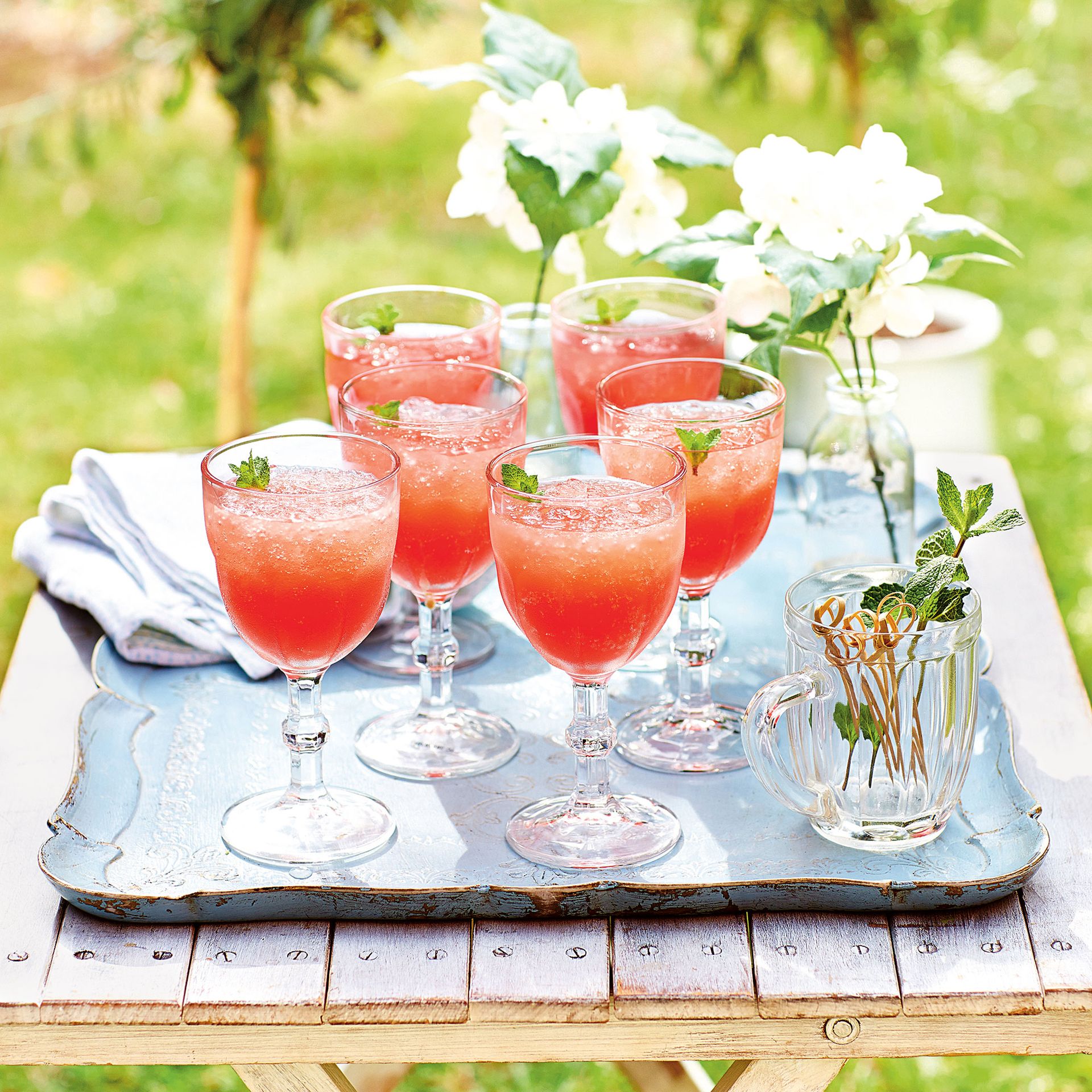 What's a garden party without a signature cocktail? Choose your favourite mixed tipple and arrange on a rustic tray to offer guests upon arrival. Use seasonal garnishes, like mint or edible flowers, for added impact.
For non-alcohol drinkers, making a mocktail in either the same colour or glass will help them feel included. Don't do both or things could get confusing!
6. Pretty up your patio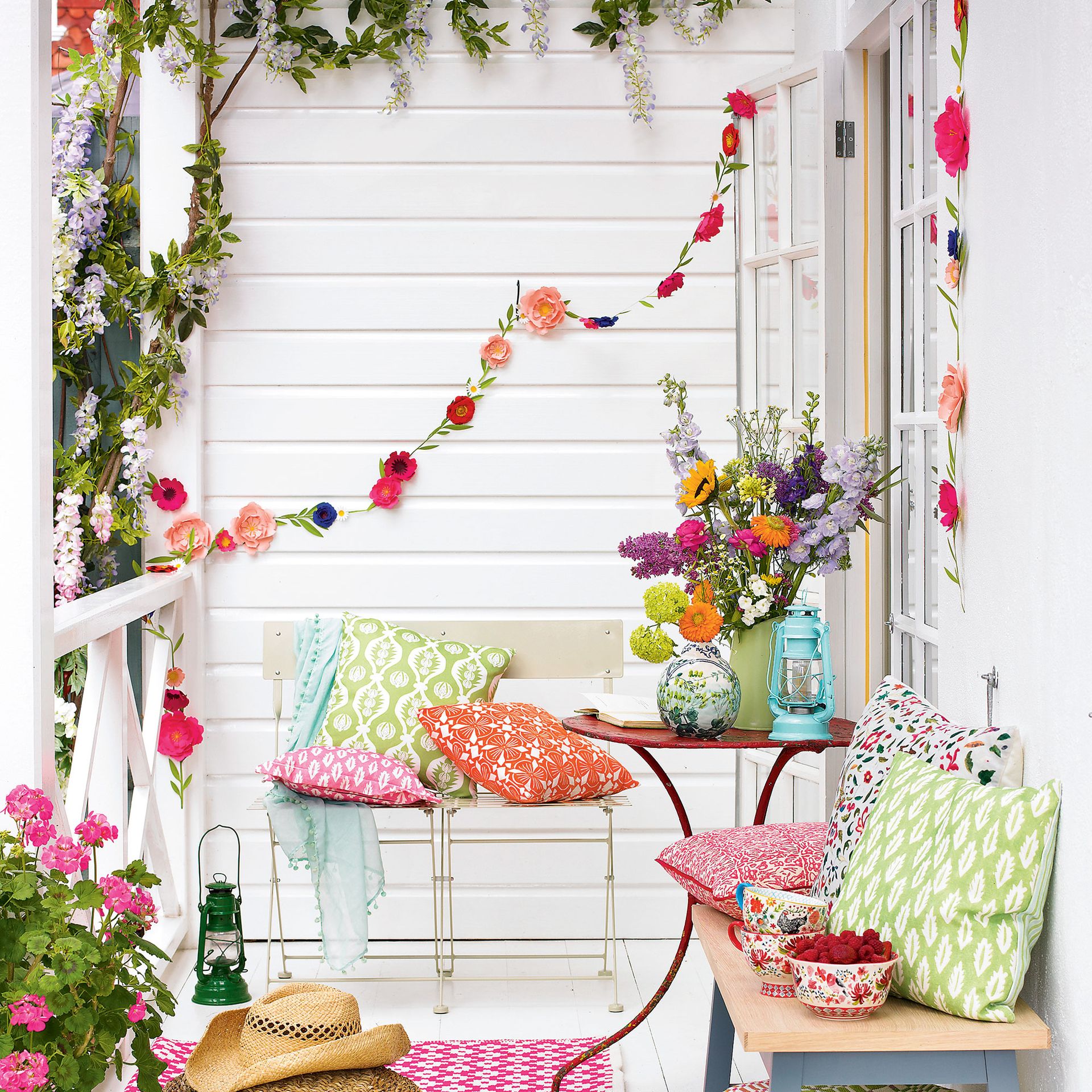 Whether all you have is a petite patio, or if you have one leading out onto a lawn, this space can be utilised for garden party ideas. If the latter, think of it as being the entranceway into your party, so you really want to try and set the scene for what's to come.
Either way, layer up bunting, other wall hung decor, your prettiest cushions and outdoors rugs. If it's the entrance space, include your welcome drinks at this point. If it's your whole outdoor space, choose slimline outdoor seating ideas so a few guests can rest their feet without using up too much square footage.
7. Get labelling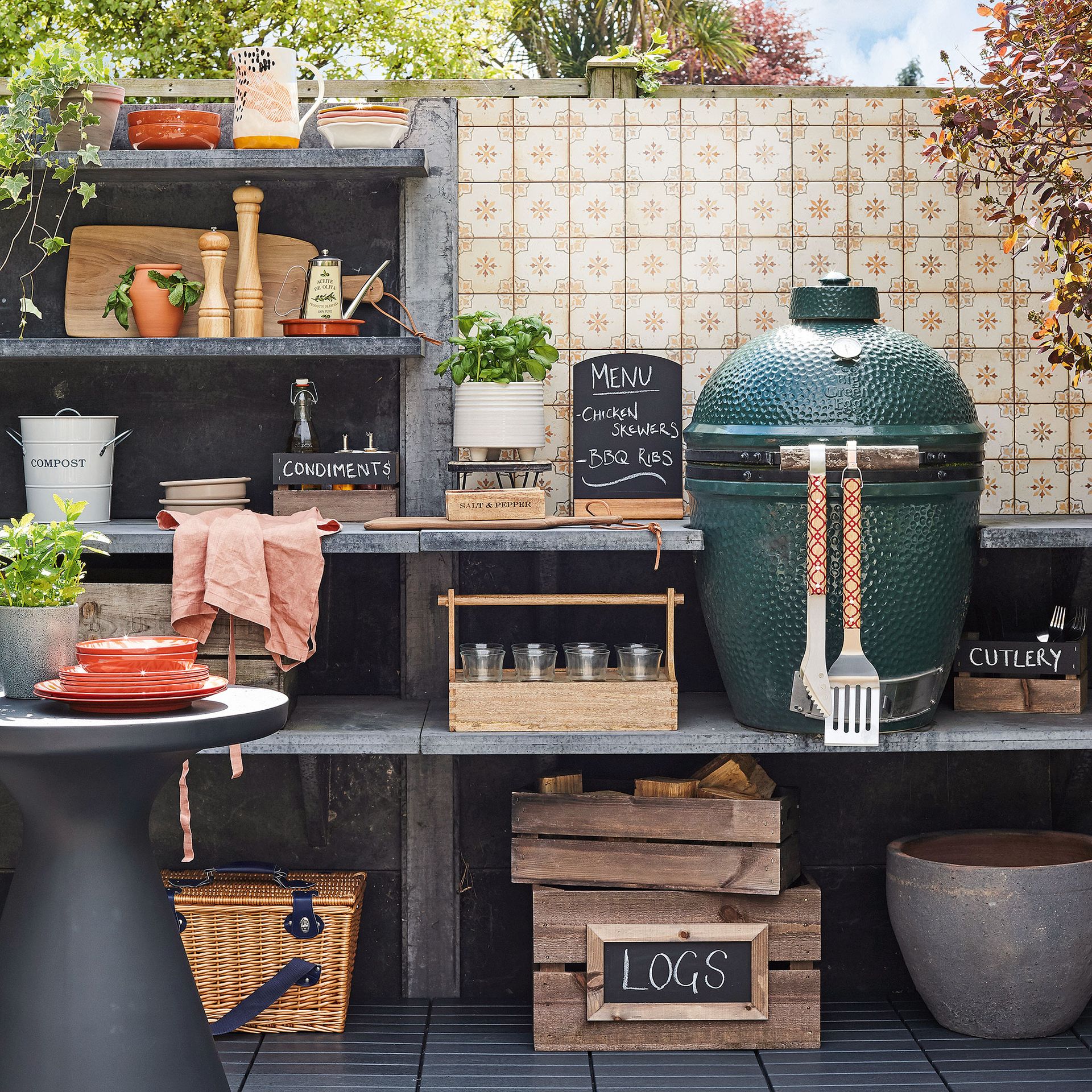 If you're hosting a meal at your party, there are a lot more variables to take into account. Prevent constantly having to answer questions by making sure everything in your outdoor kitchen or BBQ area is clearly labelled.
Think about what people would most likely be looking for. Cutlery, condiments, glassware and napkins are all prime example. Logs for stocking up the firepit, or ice buckets for cooling drinks are also helpful to signpost.
8. Set up smaller seating areas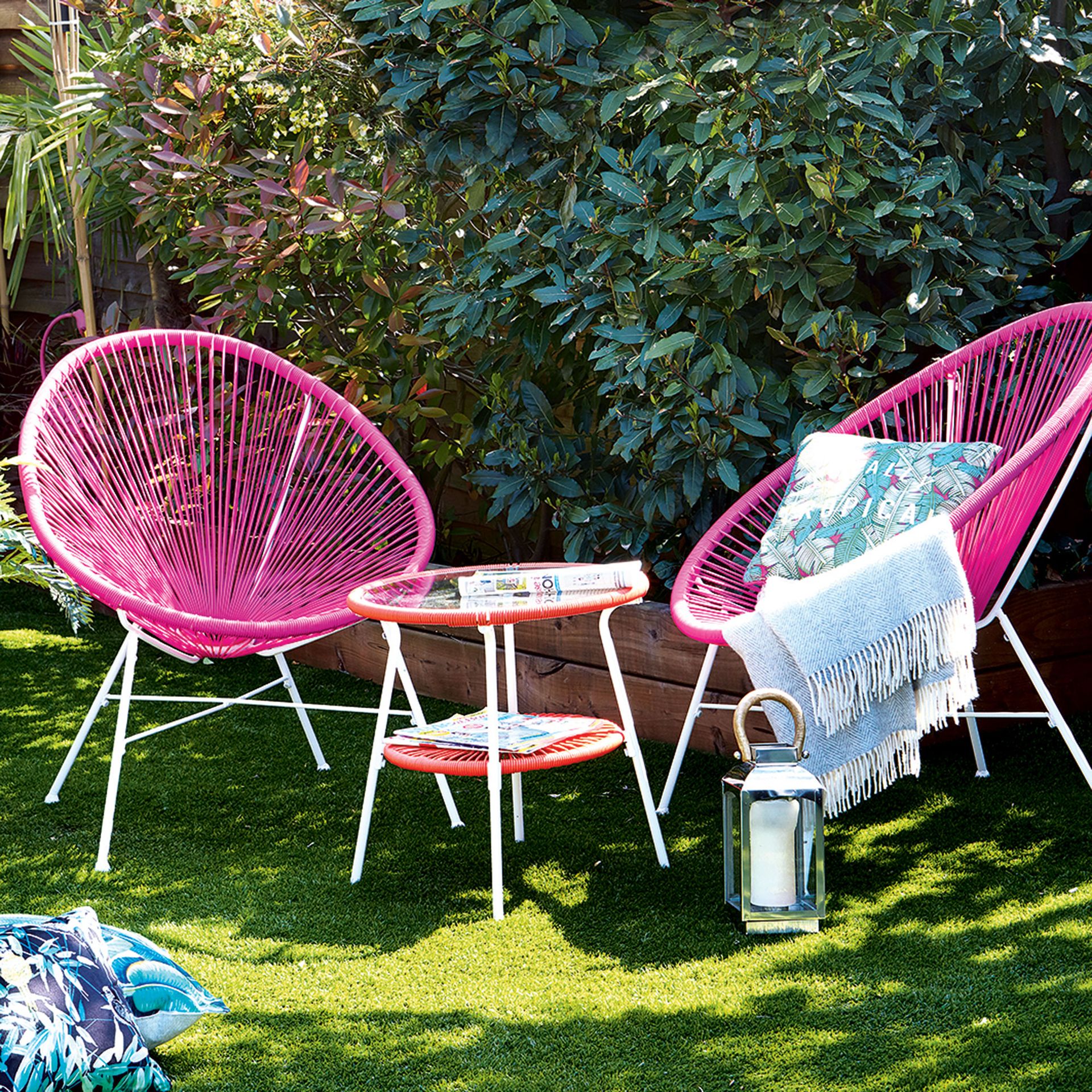 In every party - indoors or out - it's a lovely idea to make sure you're as set up for private conversations as you are group chats. A couple of sets of smaller seating zones provide the opportunity for guests to sit together and talk or flirt the day away.
9. Display seasonal flowers
When adding decor to your outdoor party one thing you should absolutely include are seasonal flowers. If you have flowers in your garden, go around and snip cuttings for bud vases or larger arrangements, depending on the size and numbers of the blooms.
As well as looking and smelling wonderful, this will make sure your tablescaping ties in seamlessly with the surrounding nature.
10. Hang an overhead display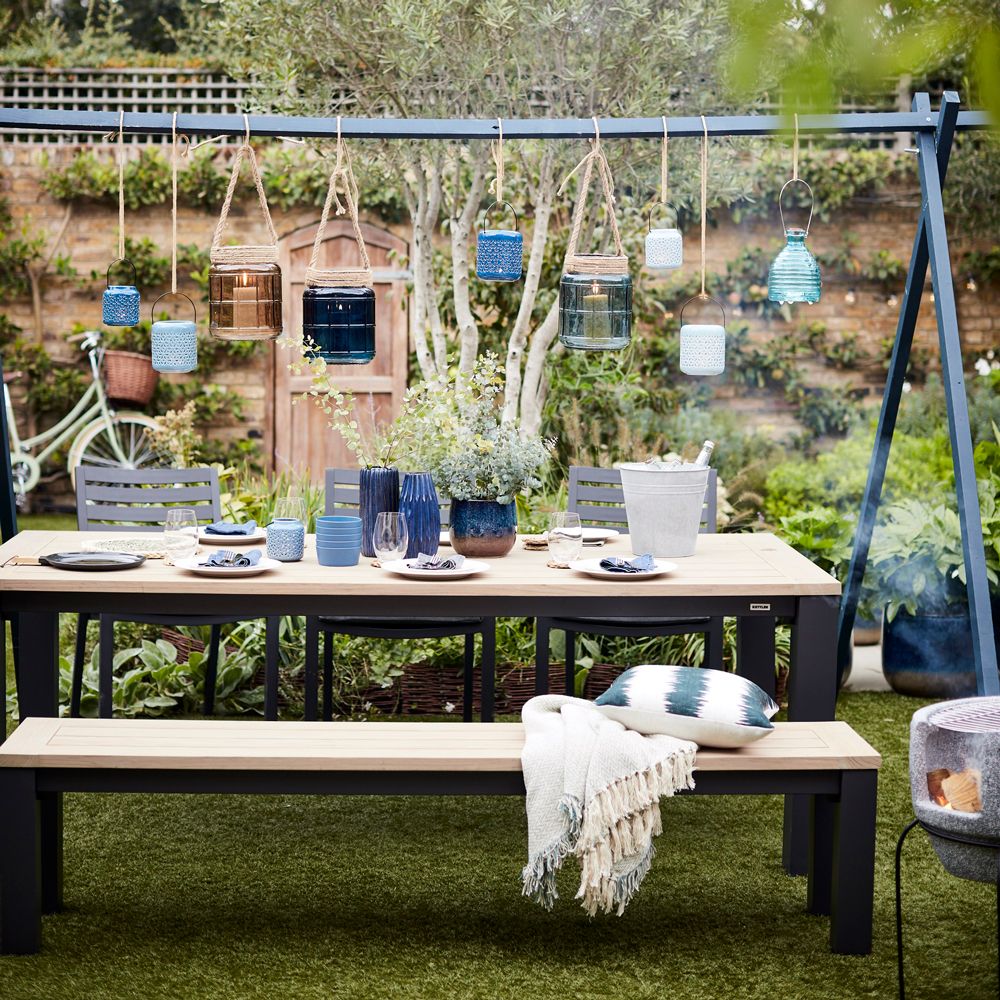 Suspended flower displays have become the go-to trend for dinner parties and festive gatherings, and now that trend is going outdoors. Fashion a simply wooden frame over your alfresco dining table to hang an array of votives or even potted plants to add a decorative touch to the setting. Tie the lanterns and pots onto the frame using garden twine, to keep the look understated and rustic.
11. Pile up comfy cushions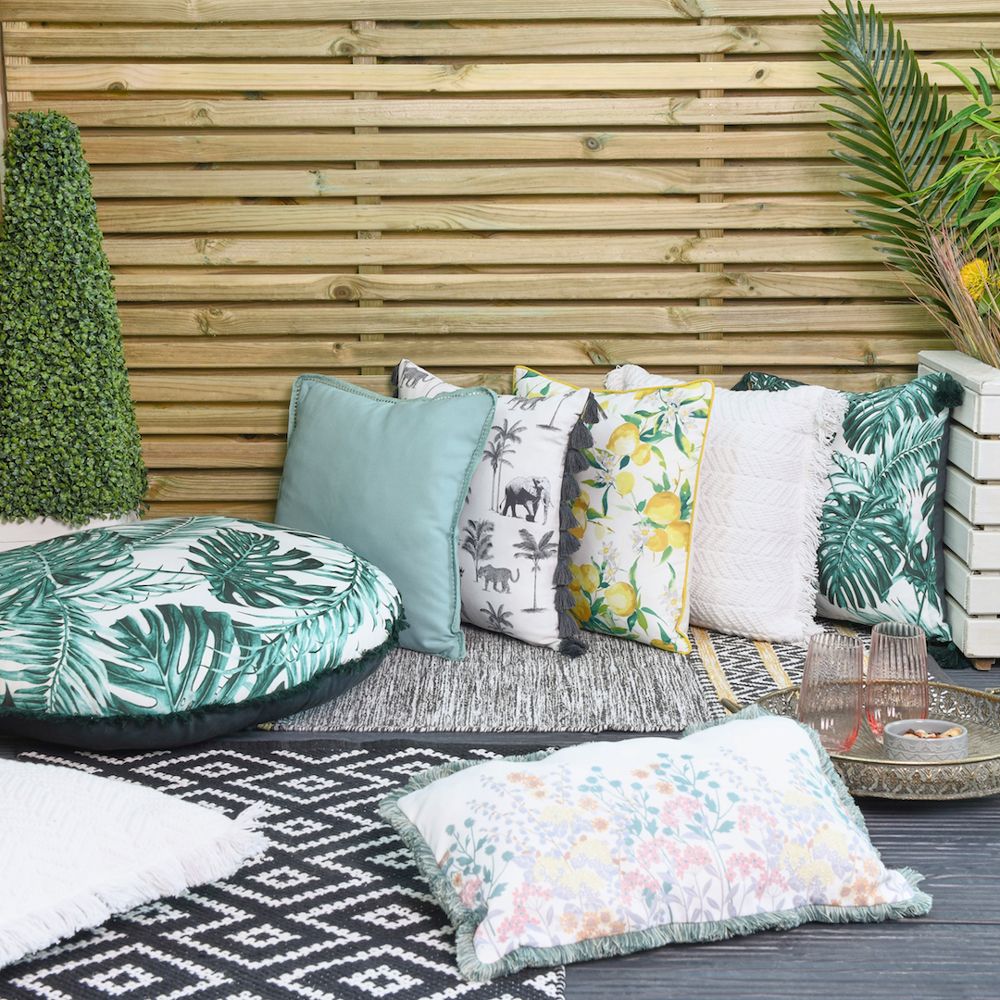 When entertaining in the garden one of the most important things to consider is the comfort of you and your guests. Because unlike when you have people over indoors, the garden doesn't always offer a squidgy sofe to nestle on. You therefore can't go wrong with a pile of comfy cushions to make any area a comfy seating solution. Preferably choose cushions in outdoor fabrics to make them weatherproof – or simply be alert to take them all indoors should it rain.
These cushions from the Range summer collection are designed for outdoor use, these cushions are weather resistant and will add stylish comfort to your patio set or sun lounger.
12. Rearrange the furniture
Moving your outdoor furniture to mirror a living room layout goes a long way to set the scene for a more intimate soiree. Centring your garden sofa and chairs around a coffee table creates an informal laidback feel that will make your guest feel very at home, in an unfamiliar yet familiar setting.
13. Extend a warm welcome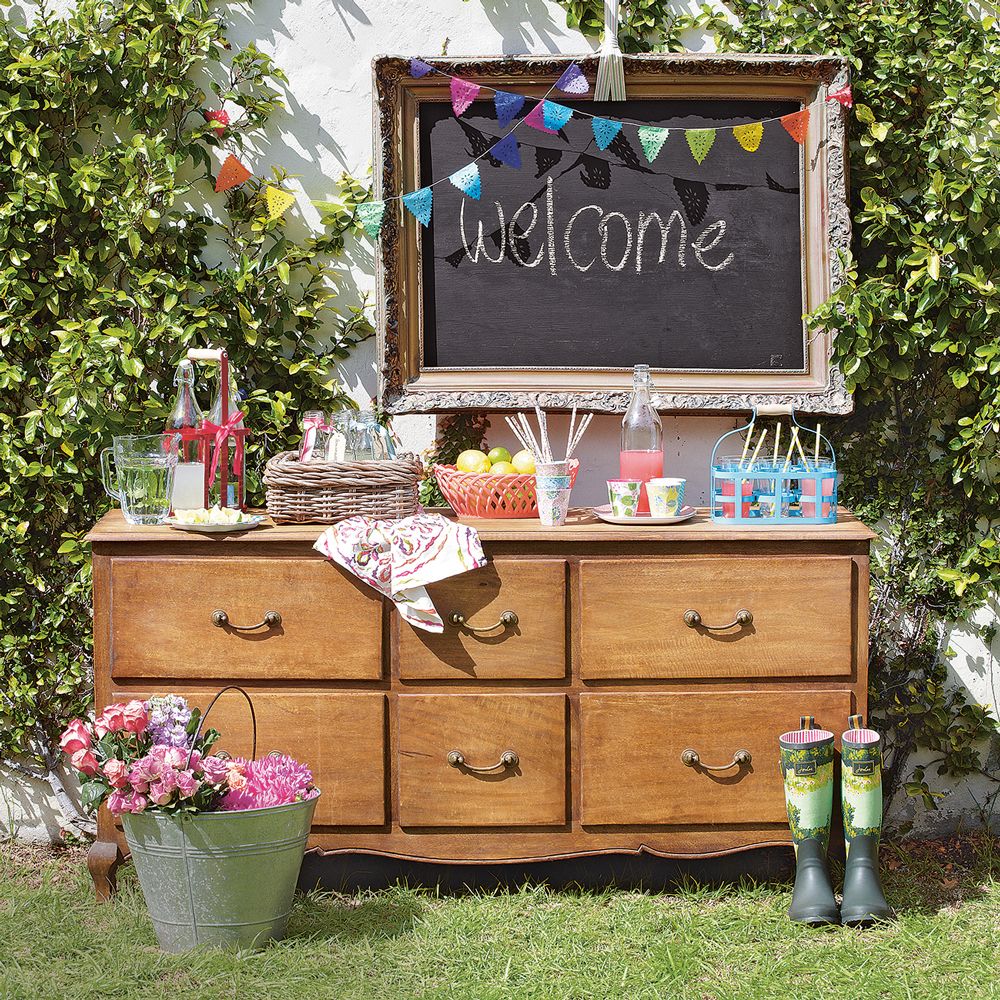 We've waited long enough, charm garden-party guests at the door with an all-singing, all-dancing display. Make them feel instantly welcomed and ready to party with a jolly greeting on arrival. More than just a great way to say welcome, a message board is ideal to highlight if you're celebrating an occasion. Write a happy greeting message or declaration of love for all to see, to set the tone for the garden party. You can transform any surface into a message board with a simple coat of chalkboard paint.
14. Play lawn games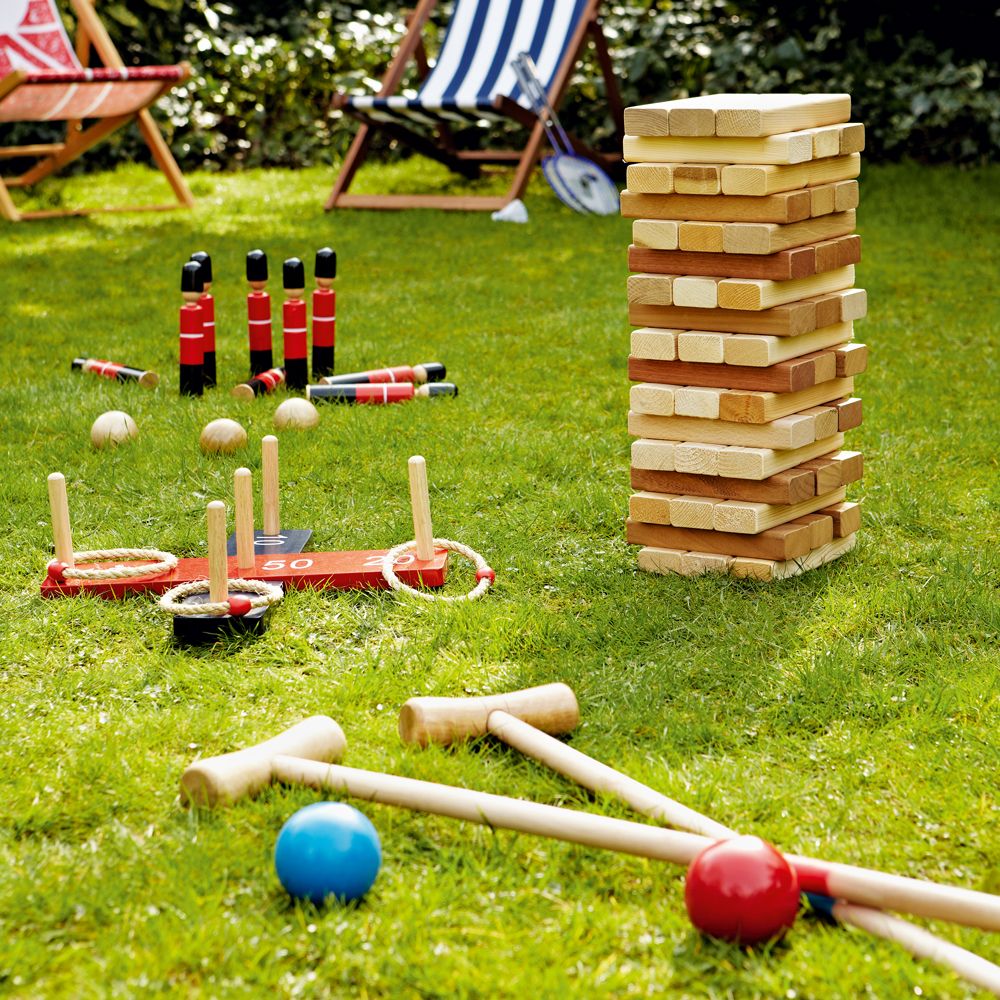 Garden party games are a fantastic ice breaker and will be a huge hit with guests of all ages. Stick to the classics such as hoopla and skittles and invest in good-quality wooden sets (no-one likes to see bits of lurid plastic dotted about the garden!).
Classic wooden garden party games will look more sophisticated and will last for years to come. Croquet is an absolute garden party must, though the giant tumble tower looks pretty inviting too. Set out comfy deckchairs for spectators.
15. Sip cocktails in style with a tropical Tiki bar
Tiki bars are the ultimate garden accessory right now, alongside hanging chairs and hot tubs! This fun furniture piece clearly defines where the drinks are served. Stocked with the latest fashionable gin, a jug of Pimms and various tropical print melamine tumblers and wine glasses a Tiki bar is one to leave open for garden parties all summer.
16. Craft a café style menu board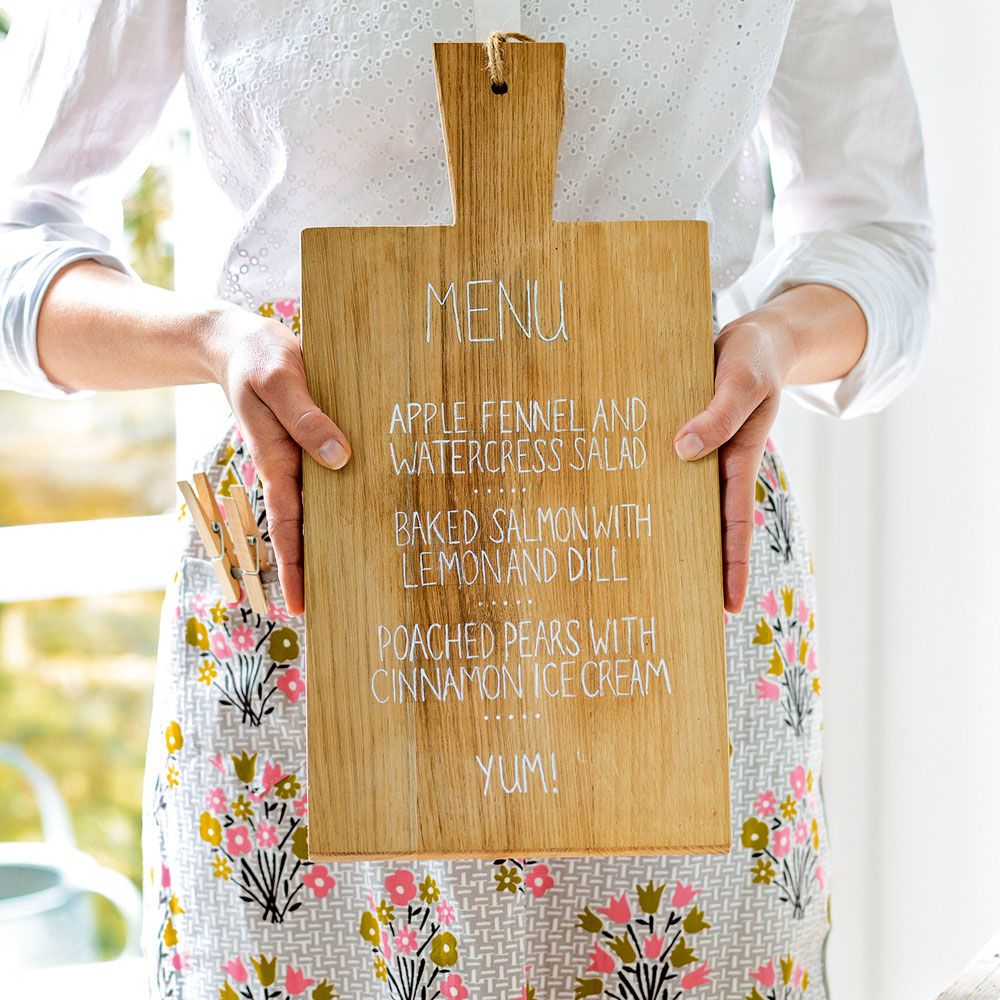 For evening soirées in the garden, put an old chopping board to a new use - as a chic menu board. Use a chalk marker to carefully write out your menu. Unlike on black boards, these pens can't be wiped off a porous material such as wood, so use a faint pencil mark to give yourself guide lines before you start.
If you would rather not write on the wood, use string to attach a card menu to the board, tying the string around the handle and stand it up for guests to see.
17. Create an instant party vibe with balloons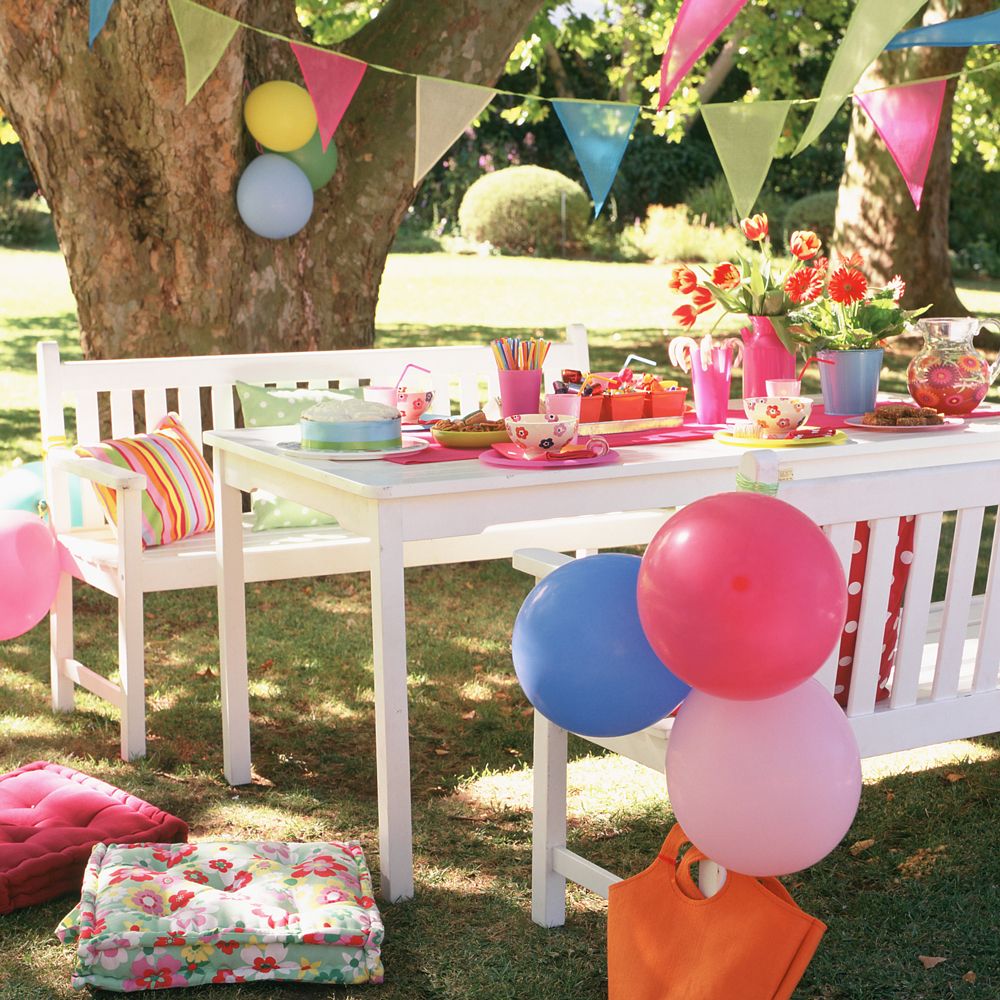 Nothing says there's a party quite like simple balloons and bunting! Add a splash of colour to your garden party table by decorating with striking colours. Hang bold bunting and balloons to instantly brightening the occasion. You can even make your own paper bunting, giving you total control over the colour scheme.
18. Stage a play area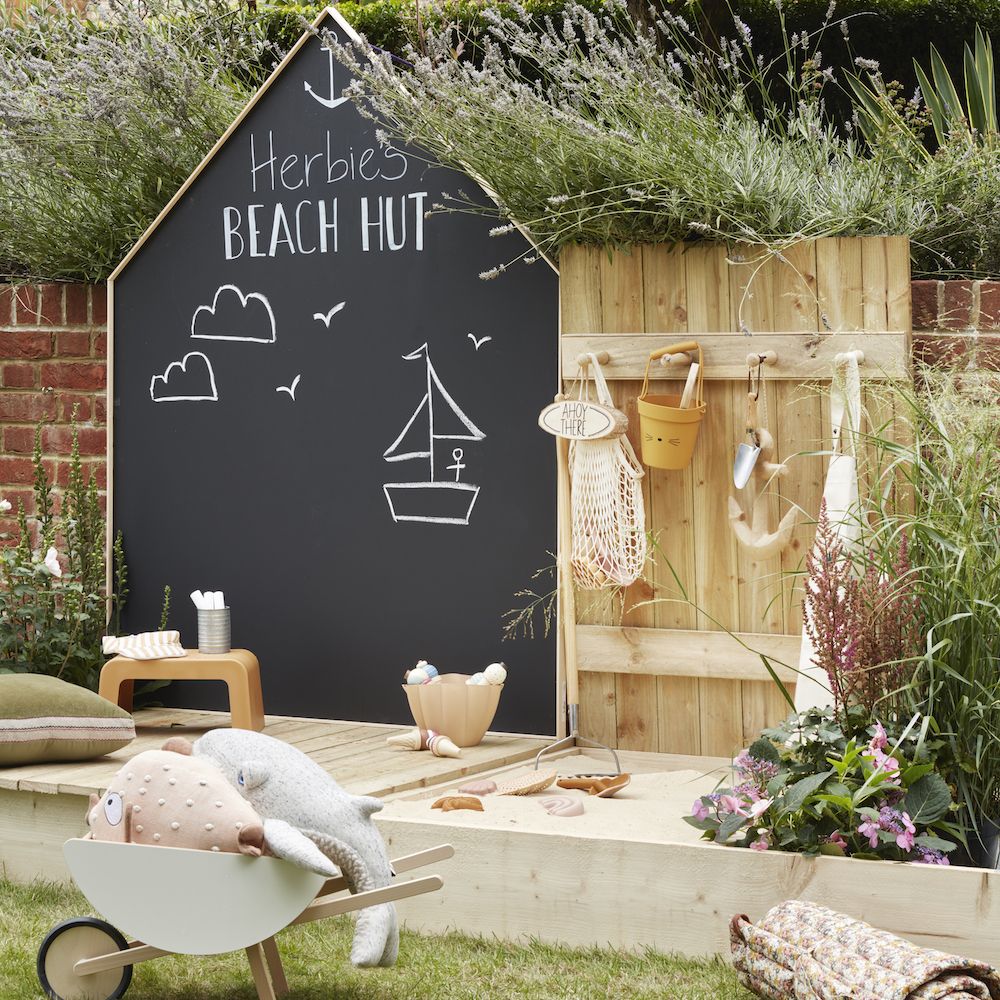 Up the fun factor for the kids by staging a dedicated play area. Place the sandpit, slides and any other kids entertainment in one zone within the garden, so it zones a play area especially for them to enjoy while the adults relax on the outdoor sofas. Add a chalkboard for added fun, even writing a personalised message to welcome play for little ones.
For safety place this area a safe distance from any outdoor cooking areas, but in clear sight of the seating area so parents can keep a watchful eye while they play.
19. Add colour with paper pom poms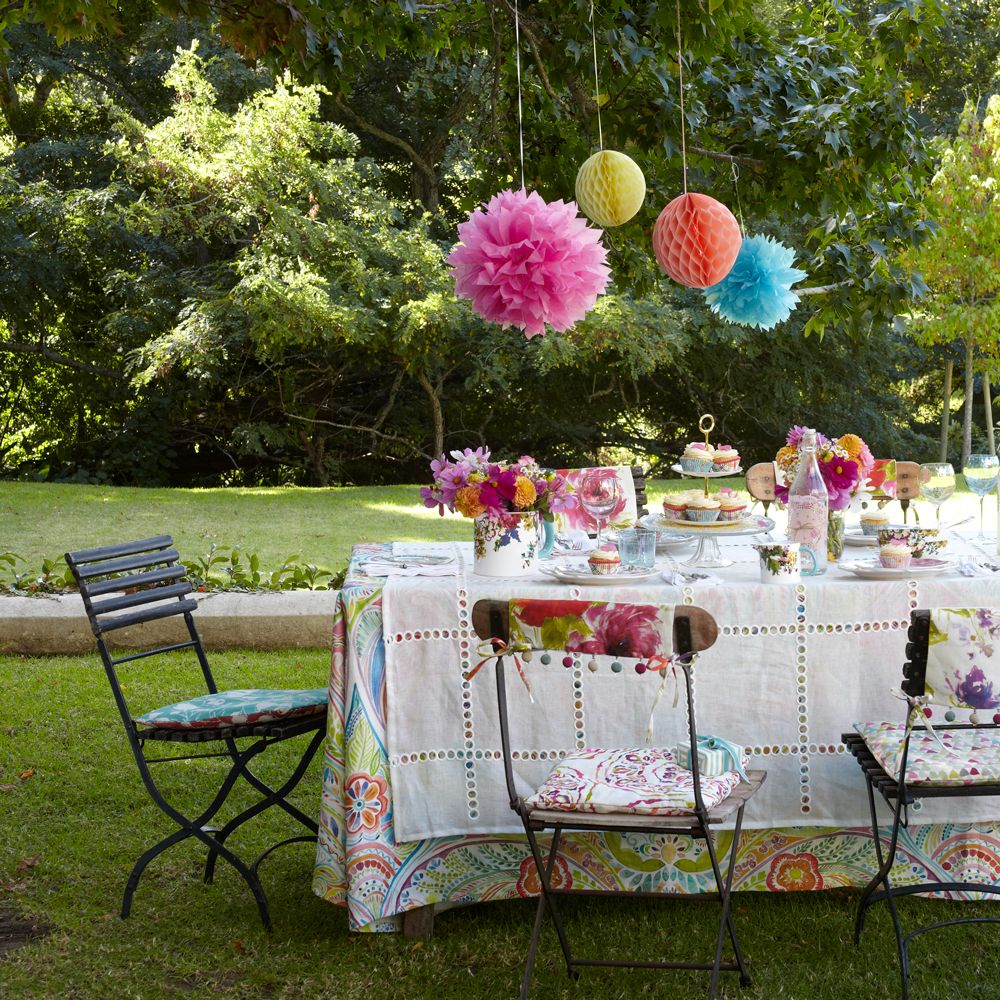 Deck out your garden party with paper pom pom decorations if you're bored of bunting. Hang them from trees, beams, washing lines and window frames to create an instant and fuss-free party vibe. You can get crafty and make your own party decorations or buy them if you're pushed for time. And if you're making your own, use patterned paper to add a vibrant touch, go monochromatic for serious sophistication, or all white or all black for a striking display.
20. Set the table in style
If you're looking to create a more formal garden party feel set the table as if you were hosting indoors. No need to be sparing on the attention to detail, dress the table with all the trimmings. Lay individual place settings with napkins and cutlery. Add a statement floral centrepiece or dot jam jars filled with flowers down the length of the table to add a more boho vibe.
21. Get the party started with a pinata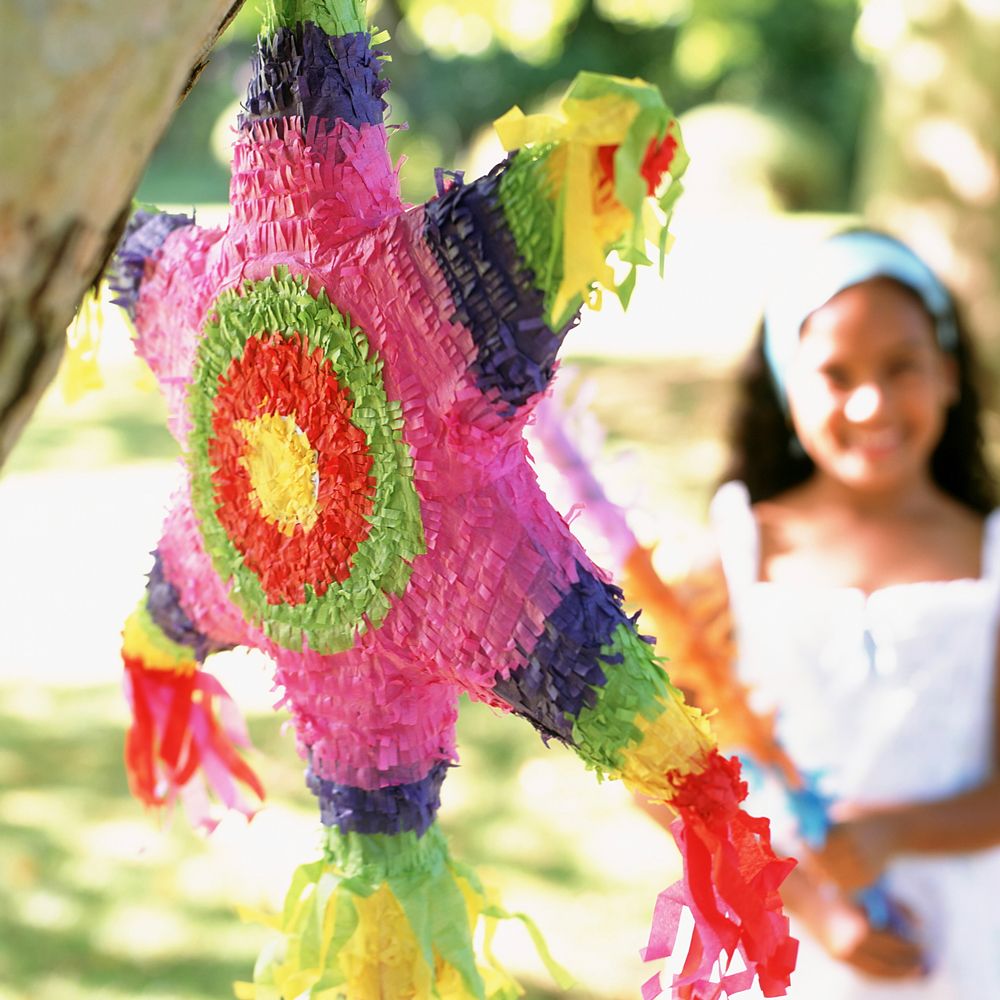 Children - not to mention adults - love to play this fun garden party game. Fill the pinata with sweets and hang from a branch for all ages to take part and enjoy. Assign different areas of your outdoor space to different activities. Create lounging areas for grown ups interspersed with games-themed points for younger party goers and everyone will be happy.
22. Fashion a balloon arch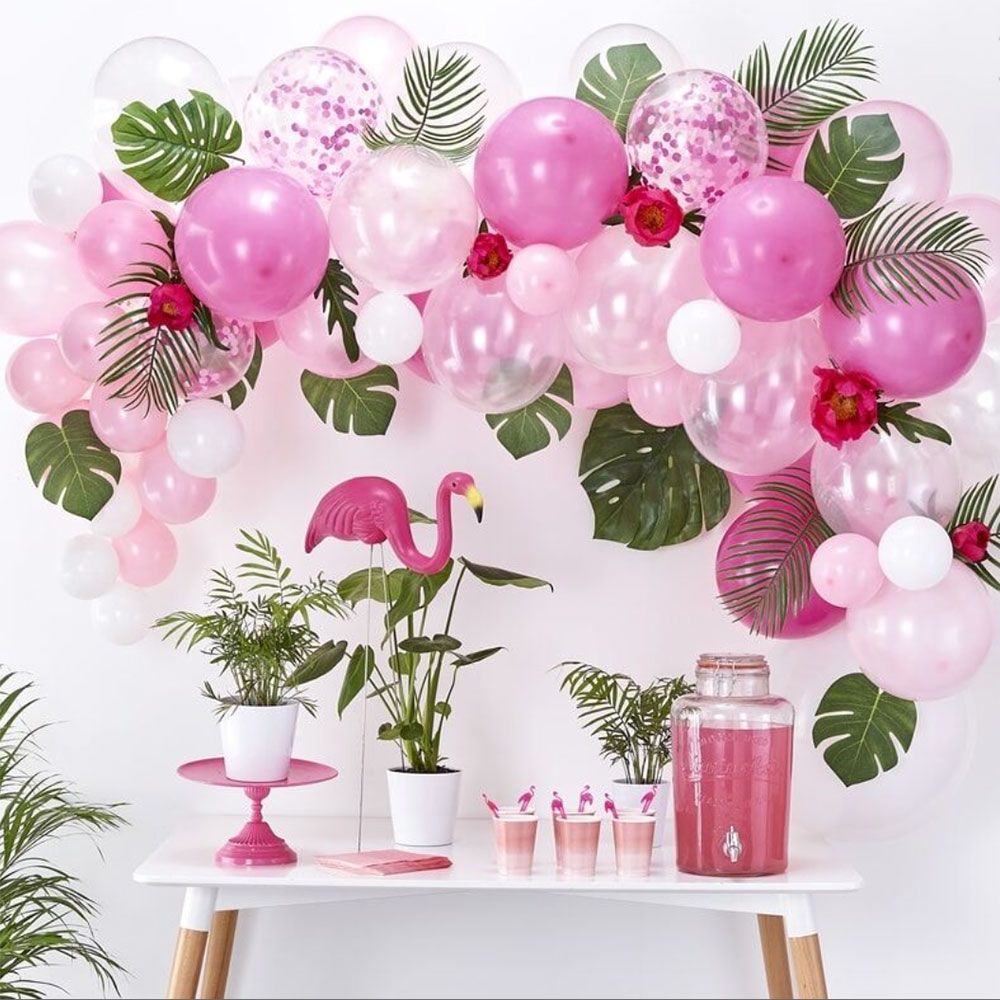 Throw a party like a celeb with the addition of a fashionable balloon arch. Whether framing your feating table to used over a garden fence a balloon arch is just the thing to make a big statement for your garden party. Just be sure to keep it out of direct sunlight, because balloons are likely to start bursting under the heat.
Follow our easy steps on How to make a balloon arch to make a blow-up party backdrop that's sure to impress your guests.
23. Make quirky plant pot party servers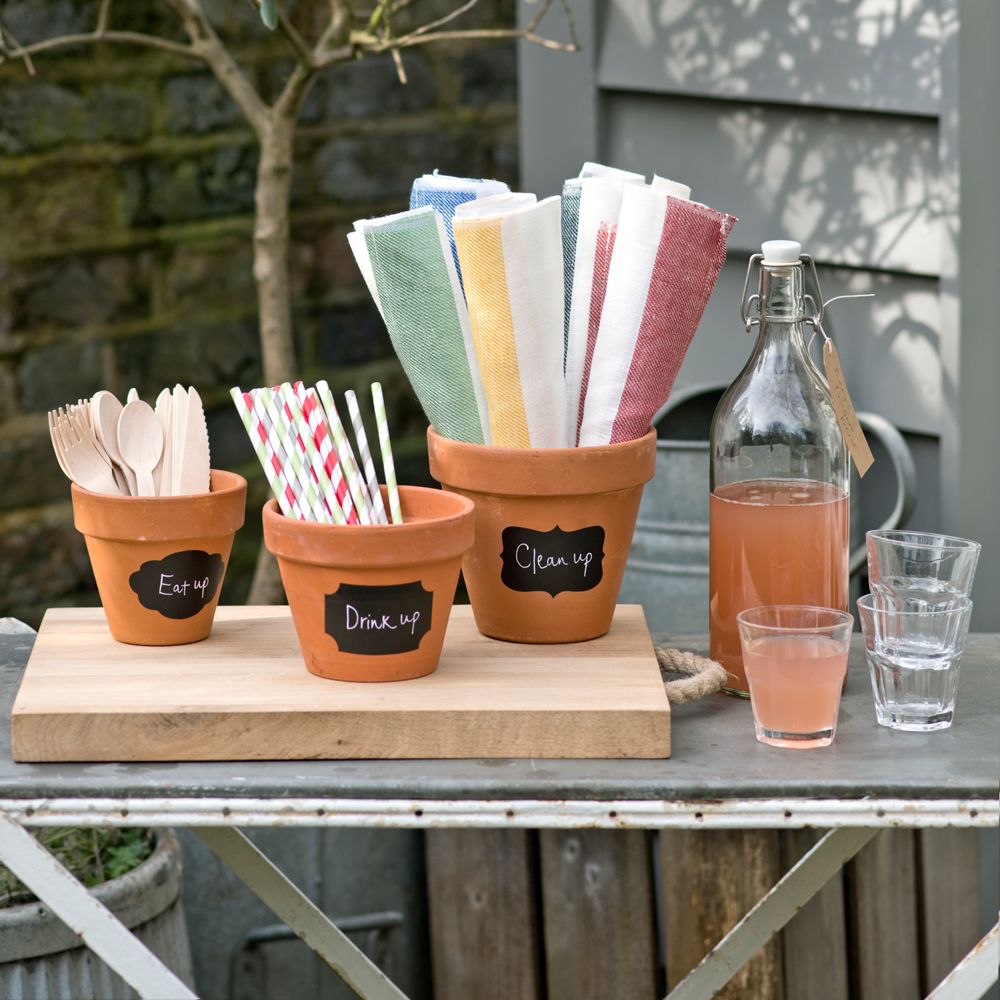 Since you're already in the garden, you might as well make use of the supplies at hand. Plant pots are a quirky but practical way to display garden party cutlery, napkins, straws and more - particularly when you choose dining accessories in complementary colours.
Either use brand new ones or give your existing pots a good scrub and clean - you could even line them with a smaller drinking glass - then add chalkboard sticky labels with charming Alice in Wonderland-style directions.
24. Set out a Bake Off-style cake table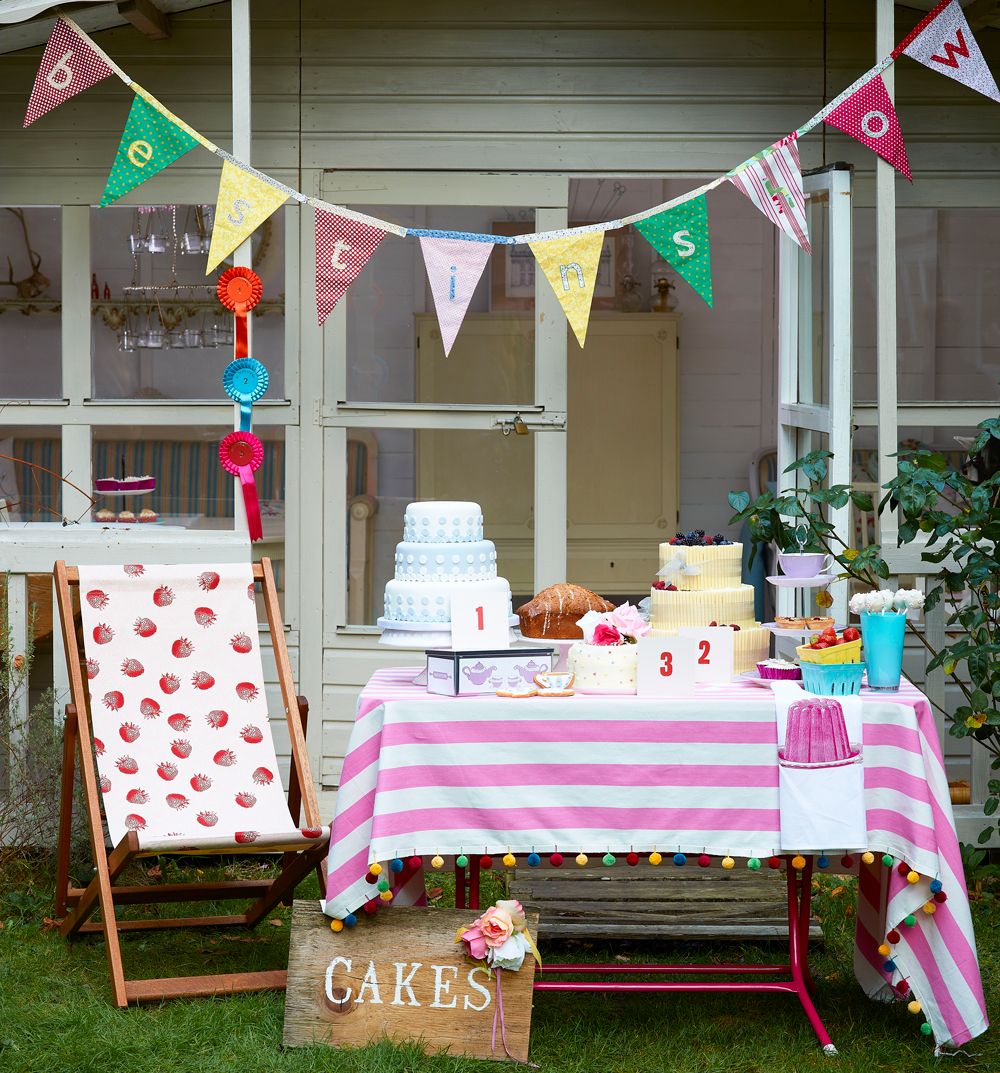 Set up a table of sweet treats. This tempting garden party cake display looks (almost) too good to eat, while the bold colours and mismatched prints create a fun, vintage feel. To add a competitive edge to your garden party, why not invite your guests to take part in your very own bake-off?
Just ensure you get a list of entries in advance as you don't want to end up with three Victoria sponges and no lemon roulade! And don't forget the rosettes, which will look as pretty pinned to the wall as they will on the winners' lapels.
25. Create a fun filled photo booth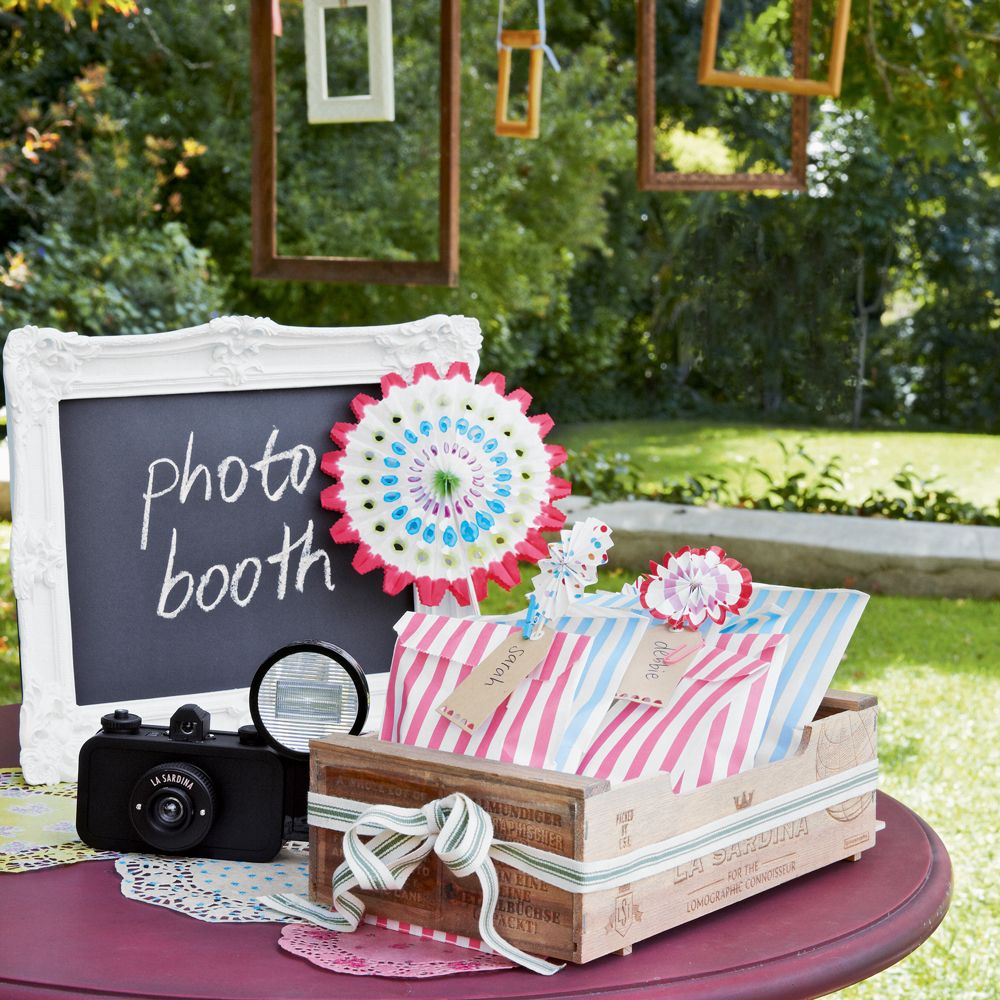 No party is complete without a photo booth! Capture the fun times perfectly but a homemade booth, leave a camera out and some fun props to encourage guests to snap away. The garden provides the ideal backdrop to ensure beautiful photos.
Go one further and create your very own DIY photo backdrop idea to take the even more memorable snaps.
26. Set up shade during peak hours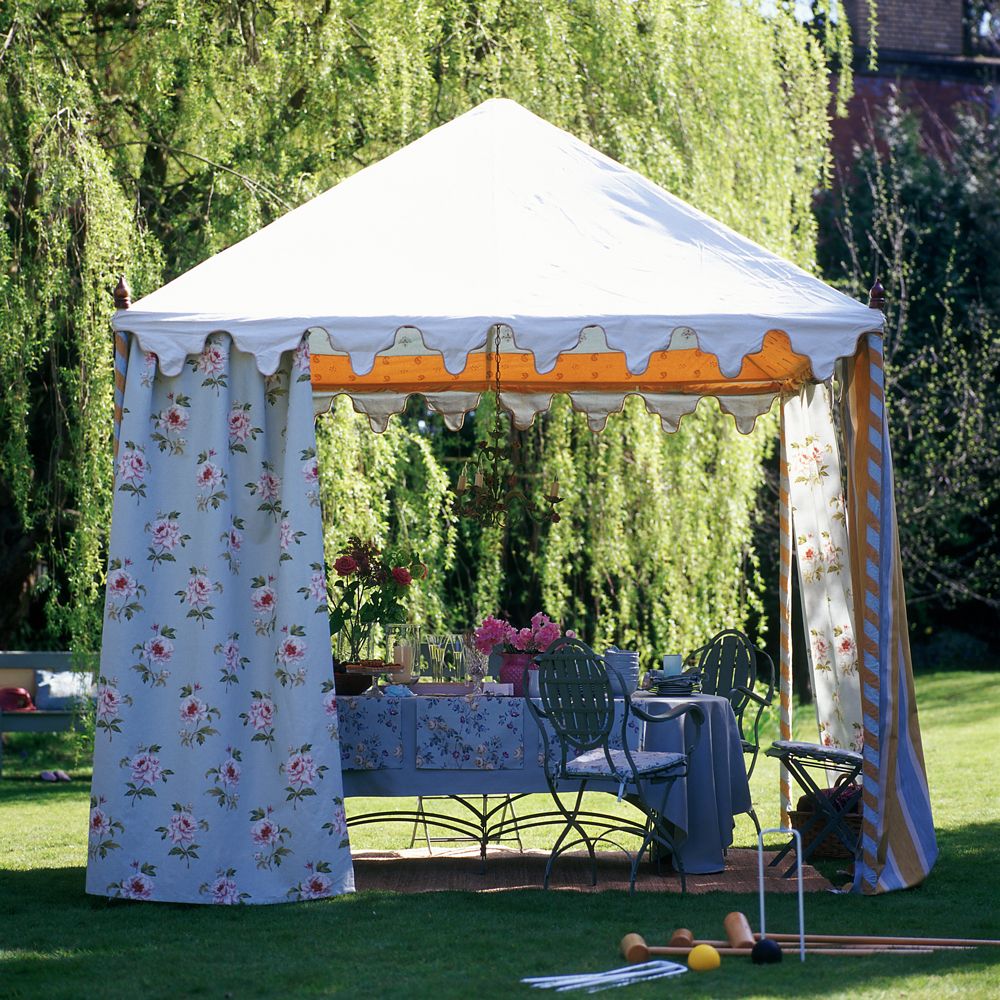 Provide seating in shady areas so there is always somewhere for guests to sit back and people watch. Choose spots with pretty views out across the garden and use matching slip covers and co-ordinating cushions on mismatching chairs. Plus a garden party gazebo means the celebrations can go on even if it starts to drizzle.
Seek garden shade ideas to ensure your guests are safe from the sun at the hottest parts of the day, between 12 and 2p.m.
27. Stage a makeshift bar area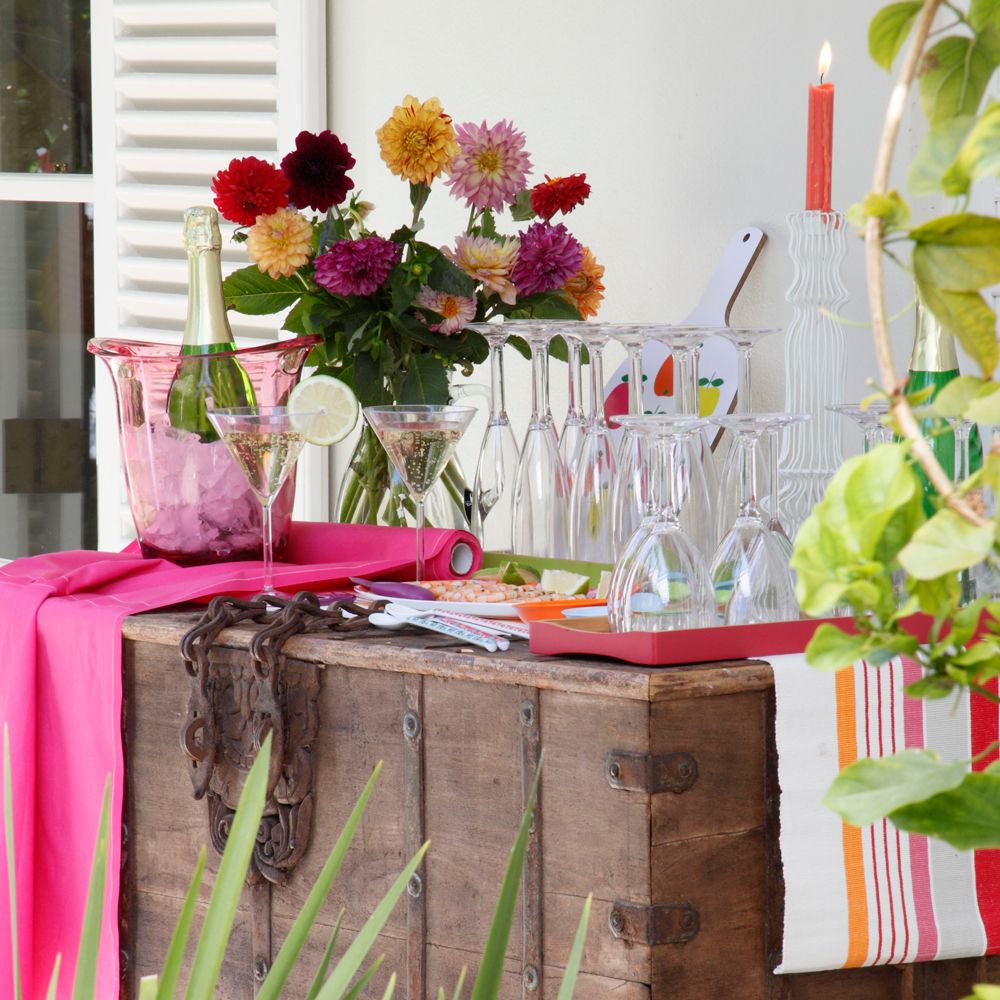 Buy garden-party glasses or move glassware and drinks into the garden so guests don't have to keep returning to the house to refresh their glasses. Include 'drinks stations' like this one and dot them around your garden. It will mean guests can help themselves, leaving the host free to mingle to her heart's content.
This trunk is pretty in pink table linen and has been used as a perch for champagne, an ice bucket and glassware. Choose stylish pink and clear plastic over glass to avoid breakages on the terrace.
28. Make it personal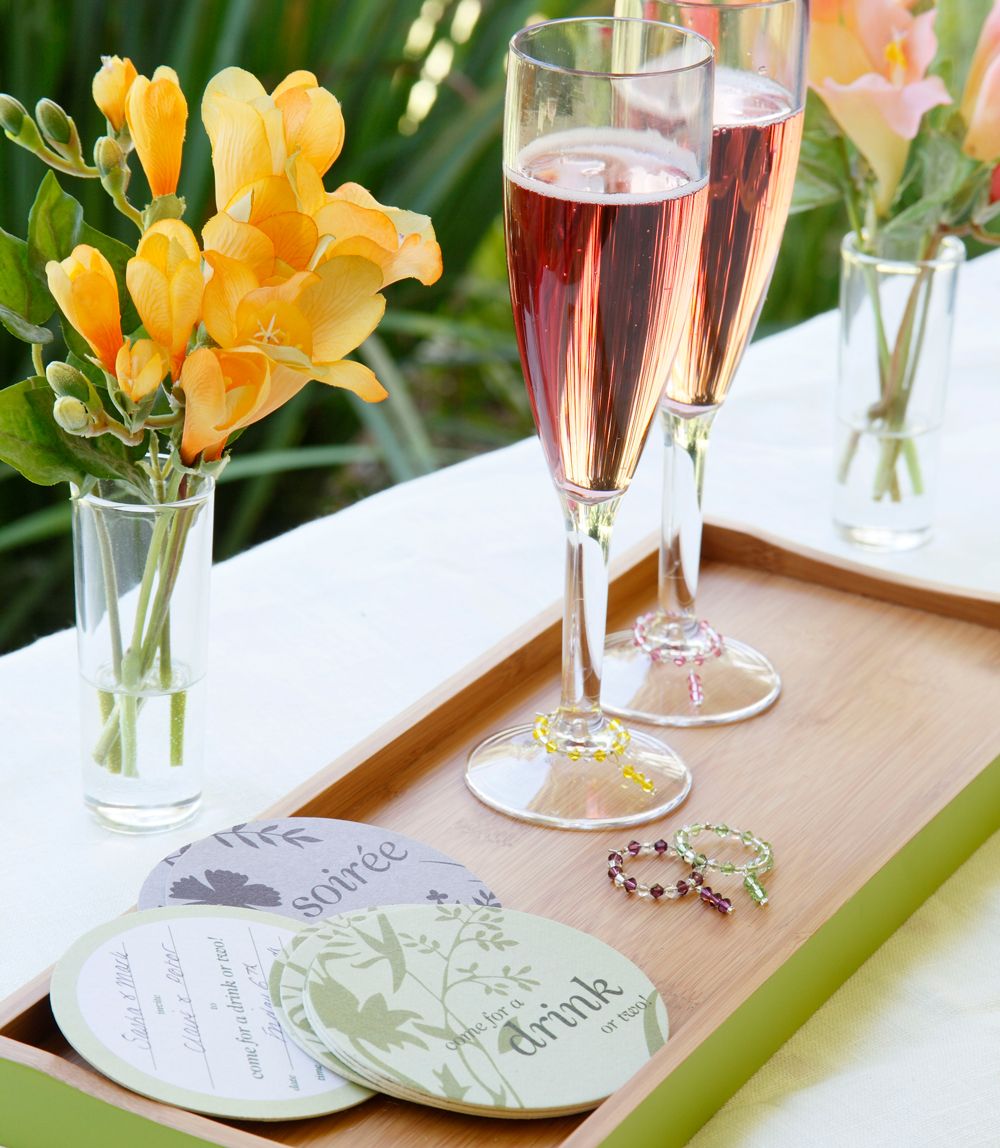 Never misplace your glass again – and as we navigate our way out of the current rules and regulations, not mixing glasses has never been so important. Keep tables smart and organised by giving out charms that will help guests keep track of their drinks - fix the charms around glass stems.
You could also send out invites that can double up as pretty drinks coasters on the night - ask your guests to bring them along to use at the party.
29. Jazz up summer drinks with style ice cubes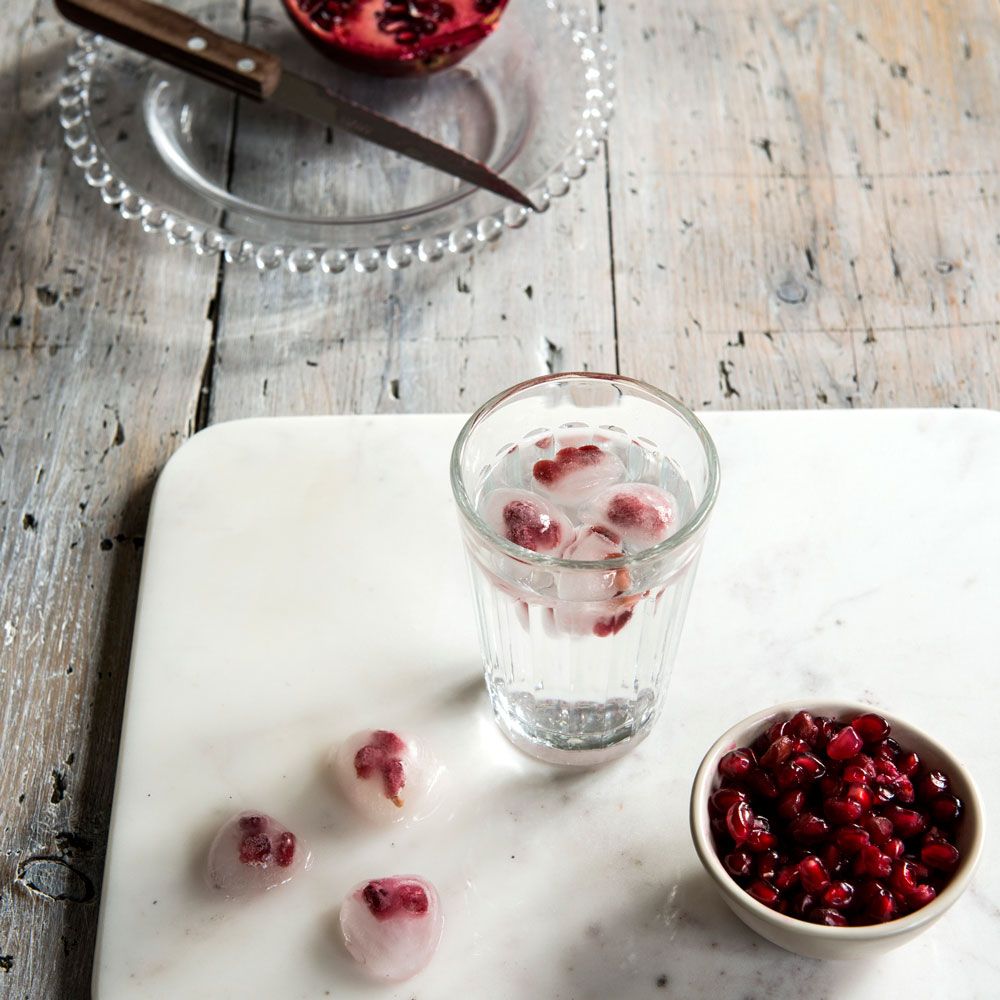 Serve cooling drinks with a little something extra, with thanks to styled ice cubes. Choose your ice cube tray, shaped ones are more fun e.g stars or hearts. Place a few fresh pomegranate seeds in the bottom of each and simply fill to the top with water and sit carefully in a freezer drawer. Make sure you do this the night before you want to use them.
These fruity pops of ice are a cinch to make and will take your party drinks from standard to standout delish!
30. Light up the garden
Outdoor lanterns and lights are a must if you want to keep the garden party going once the sun goes down. Combining a selection of different styles creates a magical atmosphere reminiscent of the entrance to CS Lewis's Narnia. If you don't have a lawn for your lanterns, you can produce a similar effect by 'planting' them in large and sturdy pots on your patio or balcony.
Opt for solar-powered lights so you won't have to scrabble around for extension cables or batteries.
31. Illuminate pathways for guests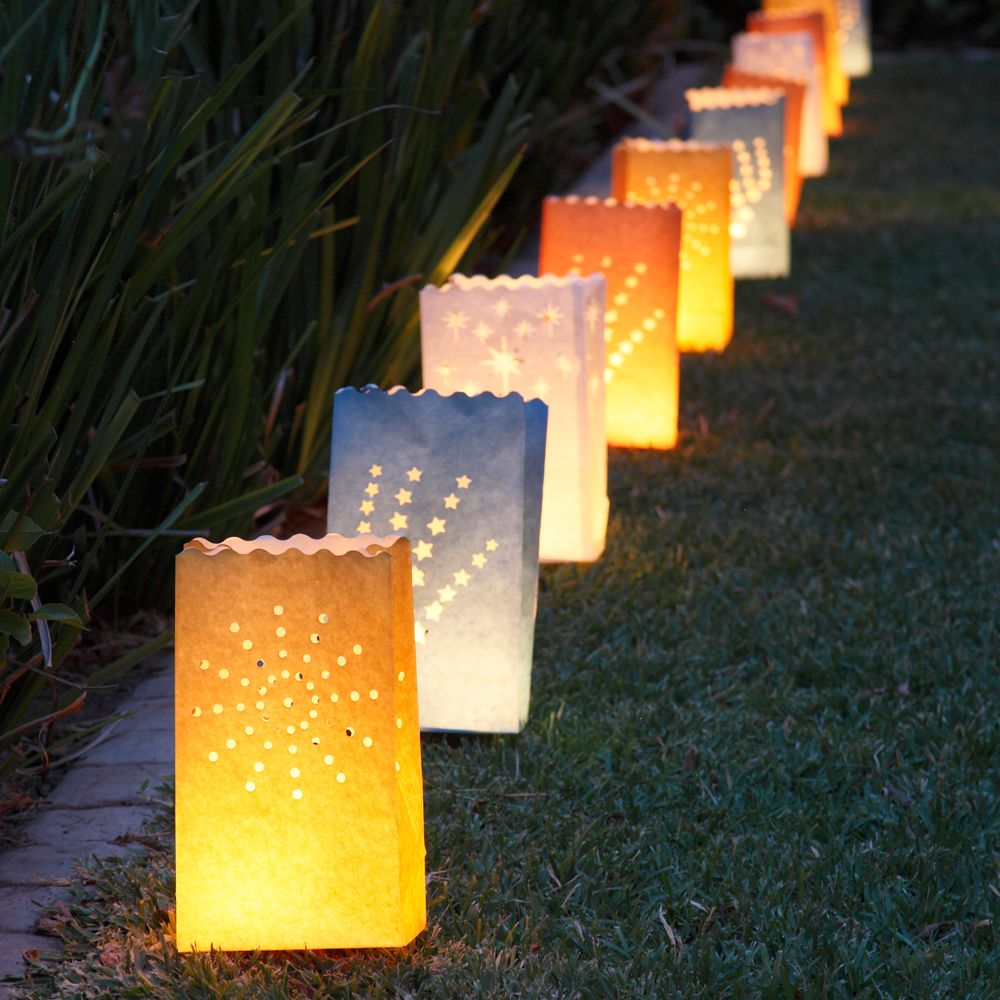 If you are lucky enough to have a large garden, it pays to signpost walkways so you can guide guests to different areas. Lines of paper-bag lanterns will help illuminate any uneven surfaces or steps and look pretty as a picture into the bargain. Use battery-powered lights rather than tealights inside the bags so you can leave them unattended. Pop a weight, such as a stone, inside each bag if conditions get breezy.
32. Make individual serving pouches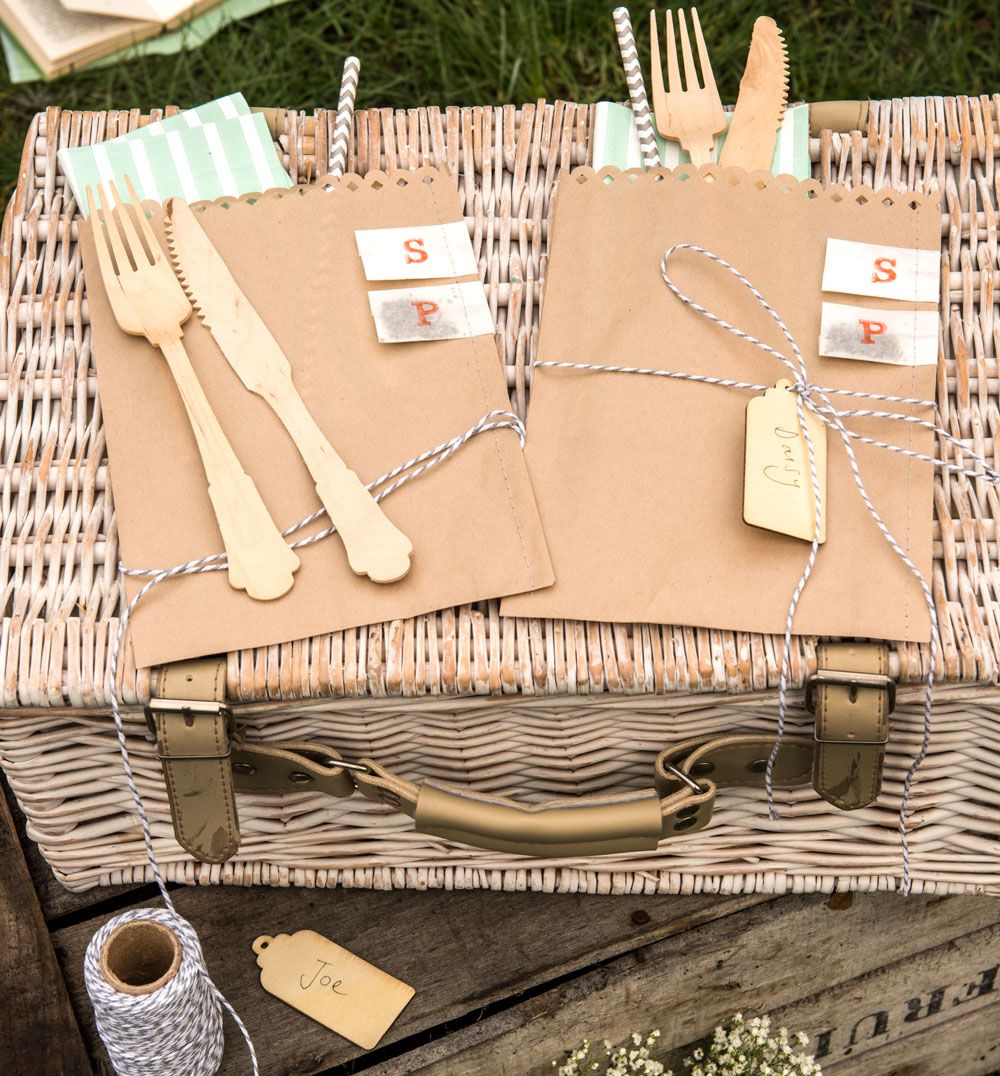 Make packing the essentials for outdoor eating easy with these hand-made picnic pouches. Fold an A4 piece of brown paper in half. With a sewing machine, use a long stitch to create a pouch. As you run the stitches up the last long side, neatly slip a little sachet each of salt and pepper under the machine foot, so they become attached to the pouch, too.
Finish the pouch with a piece of decorative string or ribbon and attach a personalised label.
All your garden party needs now is a hearty dose of summer sunshine.
What can I do for garden party?
There are endless ways to make your garden set up for an outdoor party. The first two things to bear in mind are what space you're working with, and what theme or style you wish to portray. The former will dictate how many guests you should look at accommodating, as well as how you will lay out your space. In a smaller area you might have to sacrifice seating, or a large table spread, in order to fit everyone in comfortably. Once your theme is in mind you can start planning decor and accessories. After all, it doesn't make sense in having a white party when your garden is filled with pink roses and all your tableware is bright yellow!
How do I make my garden look like a festival?
For a festival theme to your garden party there are a few things you'll want to include. Get creative with decorations - pretty bunting, flower arrangements and hanging paper decs from trees all look great. Comfy seating is a must - the lower to the ground, the more of a festival vibe you'll achieve. Think pouffes, bean bags and outdoor rugs. Lighting is also key, so layer up fairy and festoon lights, along with atmospheric candles and firepits.
Tamara was Ideal Home's Digital Editor before joining the Woman & Home team in 2022. She has spent the last 15 years working with the style teams at Country Homes & Interiors and Ideal Home, both now at Future PLC. It's with these award wining interiors teams that she's honed her skills and passion for shopping, styling and writing. Tamara is always ahead of the curve when it comes to interiors trends – and is great at seeking out designer dupes on the high street.