Colours you should never paint a home office, according to colour experts
Looking for a productive colour for your home office? These are the shades to avoid according to experts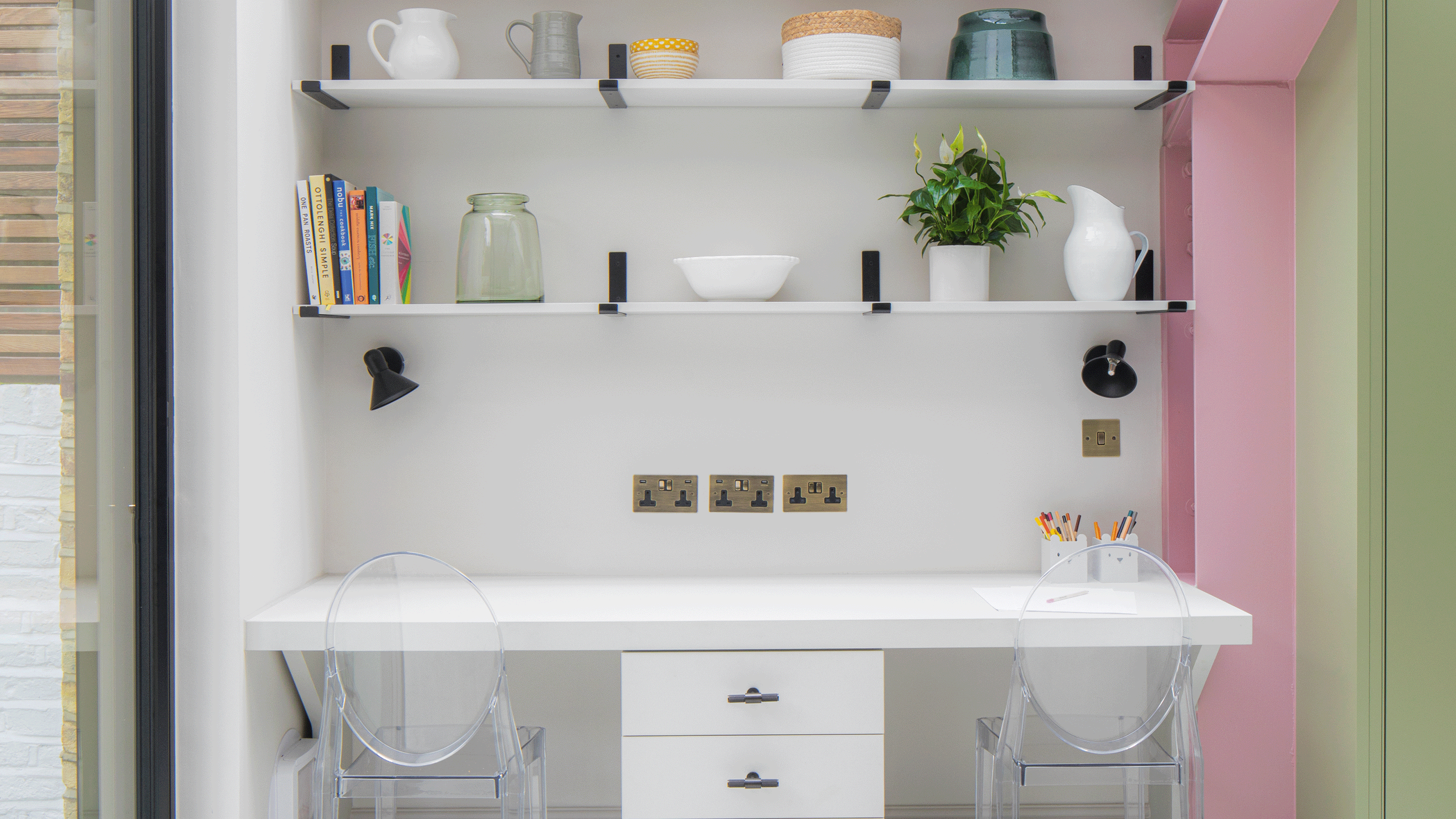 (Image credit: Future PLC / James French)
Your home office paint choice is more important than you might think as it will have a major impact on your creativity, inspiration and productivity when working from home.
Your home office colour scheme should be carefully considered, as it will not only affect the room decor theme, but also your work ethic and well-being. It deserves as much focus as you would give to choosing the best colour for a kitchen or selecting the most calming colours for a bedroom.
Of course, room colour is down to personal choice, but according to experts, there is a selection of colours you should never paint a home office or you may end up with a distracting environment and an idle mindset, after all that hard paint work.
We've asked some of our favourite colour councillors what home office shades they think we should avoid if we want to 'work it like a boss' from home.
Colours you should never paint a home office
If you work from home, your home office ideas (whether it's a dedicated room or a desk in your living room) will need a lot of attention as it's where you'll spend your 9-5 which is a huge bulk of the working week.
Plus in today's era of Zoom and Team meetings, your home office is likely to be your window to the working world, so it pays to choose a paint colour that reflects a sense of professionalism as well as personality.
'It's vital that home offices are still as classy and professional as in-person offices. This is due to the rise in video calls, which allow your client/colleague to see inside your home office,' says, James Mackie, office expert from BestBuy Office Chairs.
'An unprofessional background sets a negative tone and will influence anyone into thinking you're unserious and unprepared for your working life.'
Here are the colours to avoid painting your home office if you are looking to boost your productivity at home.
1. All white
An interior designer or decorator's rule of thumb is to never paint walls bright white, no matter what room you are painting as it can look cold, stark and sterile.
'A fully white office space is unlikely to be a destination that you'd like to work in all day on a freezing day in winter, which will dampen your productivity levels and have a profound effect on your work,' continues James Mackie.
Instead, choose an off-white or neutral shade. You'll notice that when you go to the hardware store (unless it's for wood or ceilings) the best white paint colours will have an undertone colour and be assigned an adjective. For example Crown Paint's popular 'Sail White' offers a whisper of grey. And, Farrow & Ball's 'Wimborne White' has a creamy undertone of warm yellow.
The ultimate neutral can work wonders when given a Scandi twist using pops of colour.
Catharina Björkman from Contura, explains. 'Scandi design uses neutral colours, which enhance feelings of calm and create a zen-like environment. Choose soothing colours sticking to the most natural tones and hues. If you like bright colours add them as accents through accessories such as your chair cushion or pen pot. Inspirational artwork is also a great way to add a pop of colour and personality to a workspace.'
2. Black
Have you ever seen a communal office painted black? There is a reason this might be.
'Too much black on the walls can promote a sense of gloominess and dread, and the darkness will help diminish any natural lighting which leads to a sombre atmosphere. This discourages productivity when there is work to be done, meaning it should always be avoided in a home office,' explains James Mackie
But, before you head for the light, when balanced proportionately a shot of black can add masculine and industrial character when teamed with warm wood and textured brickwork as shown above. Remember it's all about the balance.
3. Red
Red can be a tricky colour to work with in the home, and although the red colour trend is staging a comeback it's best to use it with caution in a home office.
Working with House of Fraser, Style psychologist, Dr. Dion Terrelonge explains why red is a colour you should never paint a home office. 'Studies have found that the colour red and visually complex environments excite the brain and cause overload, therefore we may want to avoid this colour for harmonious living.'
Sam Jenkinson from Garden Office manufacturer, Tiger, agrees, 'Red is a stimulating colour that can be energising, but it can also be distracting and overwhelming. It's also been found to evoke hunger. Red isn't the best choice for a home office where you need to focus and concentrate.'
If you really are keen to get a nugget of red into your home office, then keep it like that 'a nugget'. Use it as accent splashes to add a little vibrancy to a room, but avoid letting it overwhelm the space.
4. Grey
It's no secret that a few years ago grey was the go-to neutral tone for all. But as warm neutrals have taken over the trend, grey can now feel a little out-of-date and drab.
As we've already discussed with using black in a home office, too much dark grey can leave your study feeling gloomy and can discourage productivity.
Instead, reach for lighter and more uplifting tones. 'Not only is (light) grey an easy colour to work with, but it helps give a great overall sense of calmness and tranquillity, all while being classy and professional,' explains James Mackie.
FAQ
What's the best colour to paint a home office?
Following the trend for a slower pace of living, grounded and neutral tones work well in the home office when enhanced with more colourful accessories such as desk lamps, wall art and stationery.
'These colours may help us to feel grounded thanks to their connection with nature and include terracotta, warm blues, greens, and gentle yellows. When combining colours, think complimentary, rather than contrasting tones,' explains, Dr Dion Terrelonge.
What is the most productive colour to paint a home office?
The colour you choose to paint your home office and have a profound effect on your home working productivity is blue. 'Blue is a calming and refreshing colour and has been found to improve focus and concentration,' explains Sam Jenkinson. 'It is also associated with creativity and productivity so is a great colour for your home office.'
What is a creative colour to paint a home office?
Lee Chambers a psychologist, told Myjobquote.com that yellow is the best colour to give your artistry a boost. 'Yellow is seen as the colour of creativity and is often used in innovation labs and creative spaces,' comments Lee. 'It can also help with information retention as a bonus.'
Get the Ideal Home Newsletter
Sign up to our newsletter for style and decor inspiration, house makeovers, project advice and more.
Rachel Homer has been in the interiors publishing industry for over 15 years. Starting as a Style Assistant on Inspirations Magazine, she has since worked for some of the UK's leading interiors magazines and websites. After starting a family, she moved from being a content editor at Idealhome.co.uk to be a digital freelancer and hasn't looked back.