Paint trends 2023 – We reveal the key colours and effects to update your home this year
Looking to give your home a colourful makeover? Check out what the industry experts have to say about all the key paint trends for the year ahead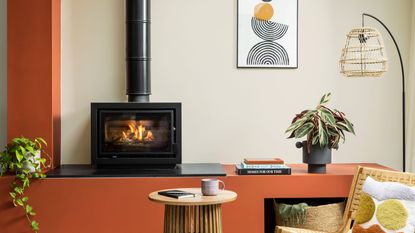 (Image credit: YesColours)
With the arrival of a new year, what better way to kick things off then updating your home with colour and we've got all the latest paint ideas you'll need.
Whether you just want to refresh woodwork and skirtings, fancy changing up your ceiling shade or are after an entirely new look for your interior, knowing what the key paint trends for the year ahead are, will guide you to making the most up-to-date choice.
A simple paint shade can have an immense affect on our emotions, happiness and well-being. Getting the colour scheme right has never been more key for creating a contented happy home. Our homes are our own personal sanctuary, a space where we want to feel safe, comforted and – above all else – happy.
These are the trending colours to embrace for any DIY and decorating projects for the year ahead. As well as the latest colours, our colour and paint experts explore the latest trends in how to use paint within our living spaces too.
Paint trends 2023
Decorating and paint trends for 2023 are looking like they are split into two camps - going bold and bright, or keeping things neutral.
When it comes to bold colour, it's all about luxe greens, inky blues, berry reds and burnt oranges, giving rooms a touch of drama alongside warmth and cosiness. The art of using two or more contrasting tones, 'Colour-blocking', remains a popular choice to create eye-catching interiors.
And of course nature continues to be an inspiration when it comes to a more neutral palette. Colours found in the great outdoors, like mushroom, dried grass, cloud and seafoam - these hues will definitely be taking us through the next year of decorating.
Follow our guide below to get clued up on all the key paint trends for 2023.
1. Dramatic inky blues
The popularity for Navy doesn't seem to be going anywhere, but this year we see dark blues tipping over into richer, more regal shades. Think deep oceanic tones and try using them in a tonally immersive way, by matching the colour on furniture and fabrics too.
Alternatively, blue hues sit particularly well together and can offer great scope for pattern mixing, so in a living room try combining plain Inky blue walls with indigo striped curtains and cobalt patterned cushions.
Blue is one of the most popular colors for living rooms – and really successful at creating a calm, elegant finish in an often busy space. Helen Shaw, UK Director for Benjamin Moore paint, points out that, 'Starry Night Blue is our radiant blue that is akin to the deep indigo of dusk. The touch of violet in its undertone makes it feel sophisticated but there is also a playful side to this colour, particularly in a higher sheen such as this Satin finish. This has a similar effect when used on cabinetry as a fresh alternative to navy'.
2. Primary pairings
Take inspiration from colour-blocking, still found to be popular in the fashion world, and think about dressing your kitchen like you would pull an outfit together! One colour for the top and another for the bottom, with a little injection of colour for accessories - like this pop of yellow.
Joa Studholme, Colour Curator at Farrow & Ball explains how to achieve this, 'The biggest overall paint trend in 2023 will be about how we use colour as much as the colour itself. The use of stronger, simpler colours is extremely popular. Eclectic mixes evoke the warmth and harmony of a more innocent age'.
She goes on to say, 'this can be achieved by using two colours on one wall – easy if you have panelling or a dado rail, but if not then arm yourself with masking tape and just paint the bottom third of the wall in one colour and the top in another. The blue tones of Selvedge are made to feel all the more upbeat when combined with deeply saturated green Beverly and this look sums up this growing trend of using a friendly combination of block colours'.
3. Rich neutrals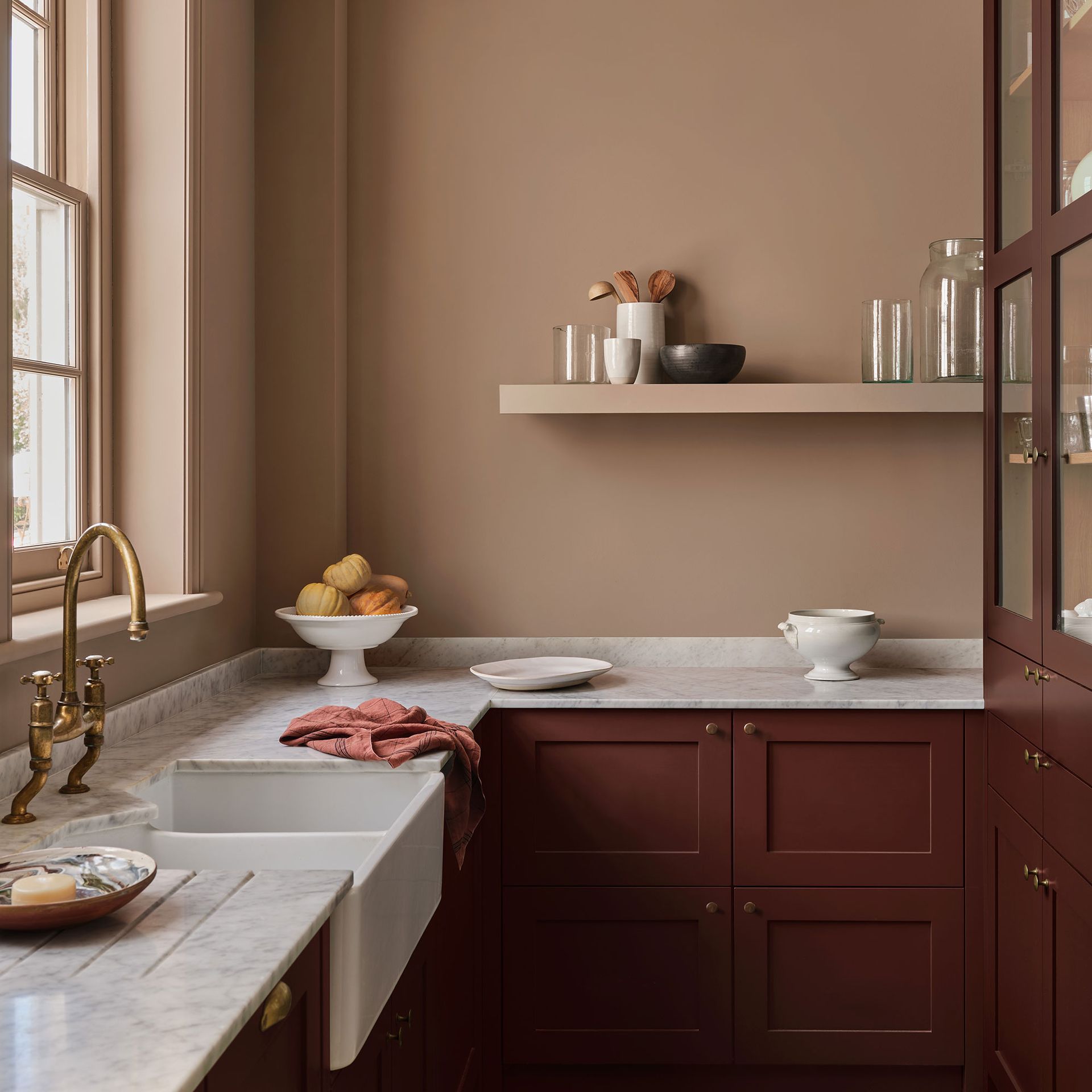 There's nothing more inviting and cocooning than wrapping your hands around a mug of hot chocolate, or a caramel latte. So it's no surprise that these colours are being seen more and more within the popular neutral palette. You certainly can't scroll through Instagram without seeing hundreds of living rooms in these rich neutrals and now these tones are moving into kitchens and bathrooms too.
Andy Greenall, Creative Director at Paint & Paper Library says, 'Moving away from impersonal and stark bright whites, kitchen design schemes are becoming more considered, with schemes reflecting the wider interior aesthetic of a home. Richer, mood-setting colours are being used to great effect in combination across woodwork, cabinetry and walls.'
'Mink' is a wonderfully versatile, warm, pink-based neutral that adds depth and warmth to kitchen walls. Pair with the enigmatic, deep red-brown 'Scarlet 'n' Rust' for a sophisticated, timeless scheme.'
4. Hand painted murals
Individuality and creativity are key to making our homes feel personal to us and alongside our need for sustainability we will be seeing more upcycling and more make-do-and-mend than ever. And what better way to create an inexpensive focal point, than to paint your very own mural, that is sure to be a talking point for visitors.
Using pastel hues can help fill the room with uplifting energy and help boost and invigorate a space. To stop the scheme looking too saccharin, choose soft pinks, mustard yellows and dusky teals, in place of purer more white based shades. The beauty of pastels is that they are a great middle-ground between dark paint colors and subtle neutrals.
'Creating simple free flowing shapes across a wall is a quick and effective way to really lift a space on a budget', advises Anna Hill, Brand Director at Fenwick & Tilbrook, 'Making a statement that can tie colours together in the room or add colour where the rest of the space is more neutral'.
5. Mixing matt and gloss
A wonderful way to create depth and interest on a flat wall is to mix matt and gloss paints in the same colour. Try a checkerboard pattern, alternate stripes or like in this image, zoning an area. The change in paint finish means that light will bounce off them in varying amounts, creating interest to an otherwise plain wall.
Take this hallway idea as an example, Andy Greenall, Creative Director at Paint & Paper Library says, 'Paint finishes, from high gloss to chalky matt, have a profound effect on colour. Our new versatile and self-priming formulations give designers permission to play with finish, to be creative in their choices and confident that the finishes are durable enough to withstand any situation.'
'I love to see finishes used in surprising ways; the same colour set side by side in contrasting finishes will create a contemporary moment in a traditional space. Consider juxtaposing the chalky matt Architects' Matt with our high sheen Architects' Gloss.'
6. Stylish heights
The trend for painted ceilings has been made popular by interior designers such as Abigail Aherne and the trend seems to be continuing into 2023, this time with some serious pops of colour. So if your ceilings feel too low and cramped, or too high and lofty, then painting them can adjust the vibe.
To bring the ceiling height down, try continuing the paint from the ceiling down onto the walls (to where a picture rail would be), this will help blur the lines between the wall and the ceiling surfaces. It can also provide interest to a space without any architectural details.
There isn't a colour more optimistic or feel-good than yellow. It brings in an instant dose of sunshine and works particularly well on a ceiling as it replicates bright, sunny light in rooms that may lack it.
Justyna Korczynska, senior designer at Crown, advocates using yellow on ceilings, she says -'Try something a little different by using a really bright colour such as Crown's Mustard Jar on the ceiling so the colour visually spills onto plain white walls below. Alternatively, play with tones to suit your palette - a dark turquoise, for example, on the ceiling would partner suitably with mid and paler tones for the walls'.
7. Create a piece of art
Accentuating areas within a room with a strong colour can help create a painted masterpiece, and give a room a one-of-a kind look. For example, choosing to paint an alcove to create a bold statement, or to highlight a fireplace surround in a striking complementary colour, will give a room a truly personal touch.
'Look out for areas which lend themselves to be 'pulled out' to give an instant punch of colour', Emma Bestley, Co-founder & Creative Director of YesColours, explains. 'Colours can be used to manipulate the way your architecture looks and feels. And for homes without these details; colour can also create the appearance of architectural features, even if all you have is a few blank walls and a flat ceiling.'
'Painting using earthy colours like our warming Loving Orange, can completely transform a structural detail into an eye-catching feature. It grounds the scheme which then becomes a more inclusive and inviting space. The same goes for the use of olive green in the skylight reveal, it turns the emptiness of that space, drawing your eye towards the subtle but cheerful detail.'
8. Tri-colour room
There are three parts to consider when painting a room: the wall, the woodwork and the ceiling and this year we're sure to be ditching the safe white skirtings and choosing to highlight them in bright contrasting colours instead. In 2021 Interior designer, Kelly Hoppen, described that painting your skirting boards white, is like wearing white socks below coloured trousers that are too short! So we are definitely going to see braver choices in using colour to highlight woodwork in 2023.
Ruth Mottershead, Creative Director at Little Greene agrees, 'Highlighting stripes or colour blocking are wonderful ways to add personality, colour and design details to a space. For a bold and playful scheme opt for contrasting colours in broad stripes, take across doors, skirting and architectural features for a dynamic contemporary feel.'
'For a more subtle finish, simply add a colour highlight to architectural detailing such as skirting or above a picture rail. The more contrasting the colour combination, the more it will draw the eye and deliver impact. Deep and timeless 'Bronze Red' will work fantastically combined with vibrant ' Deep Space Blue' and a highlight of earthy 'Yellow-Pink'.
9. Reds with pink undertones
In 2023 we will be seeing the usual deep reds staying a popular paint choice, but this time with strong pink undertones. 'Raspberry Blush' announced as Colour of the Year for Benjamin Moore Paint is a vivacious shade of coral tinged with pinks, and The Pantone Colour of the year named as 'Viva Magenta' is a transformative crimson red with hints of raspberry.
We are leaning into these warm colours and using them all over for statement-making rooms, or alternatively in smaller amounts - on a front door, a kitchen island, or even stairways, to create a bold look that conveys excitement and energy.
"Whilst deep Berry reds may feel like a nostalgic trip to the dining rooms of the 1980's, used judiciously they can feel modern & vibrant and add a splash of exuberant warmth', says Patrick O'Donnell, International Brand Ambassador at Farrow & Ball. He then adds, 'This shade is even becoming a consideration for the smallest of spaces, such as a powder room.'
10. Dusky pink
We have been drawn to earthy tones of pink to help bring comfort and warmth to our interiors during the past couple of years and it's something that looks to continue into 2023.
This earthy tone of pink is moving away from baby pinks and soft white pinks and is more a blend of blush and beige mixed to create a grounding shade of pink.
'A pale, soft pink, like Thrift, is a calming, gentle colour with a warming, nostalgic feel. It's an important colour for 2023 as it's incredibly versatile, working in bedrooms, drawing rooms, kitchens and bathrooms. It pairs beautifully with a number of shades, including ochre, blue, grey and green. Most importantly, it's a colour which makes a house feel like a home', says Francesca Wezel, Founder of Francesca's Paints
11. Neutrals to create tranquility
This minimal approach builds on the cocooning concepts of 2021, creating places to retreat, relax and be cosy. These soft neutrals bring warmth and comfort to a room, with a hint of organic green and a contrasting unsaturated black-brown to complete the look.
Neville Knott, Crown Paints Colour Consultant, explains why neutrals remain popular for 2023, 'This Colour Insight wants to wrap you up in a blanket of restorative comfort. Combining muted tones of green, stone and creams, they create an inviting balanced beauty within any space that acts as a sanctuary from the outside world. Curved walls, tactile furniture and three-dimensional forms blend effortlessly to create a balanced, high-end interior where tensions melt away.'
12. Go all out for gloss
We're very used to seeing gloss finishes used in rooms with higher moisture levels, in bathrooms for example, but now we are seeing it being used to add a dramatic and eye-catching flair to different rooms around the house. It's high sheen and reflective tone can make dark or smaller spaces feel much larger too. Here this bang on trend dark olive green is perfect for creating a reflective surface in a small office.
Dominic Myland, CEO at Mylands, explains why this trend is going to be big news in 2023, 'A gloss finish can be used to create a high-impact scheme, and its reflective quality will brighten up the room and make a smaller space feel bigger as the light bounces round. The lustre also intensifies richer colours; this classic Sorrel Green becomes more dramatic with the gloss finish. Combining gloss and matt finishes, such as using matt for the walls and gloss for the skirting and window frames, will create subtle contrast and bring dimension and interest to the space.'
Get the Ideal Home Newsletter
Sign up to our newsletter for style and decor inspiration, house makeovers, project advice and more.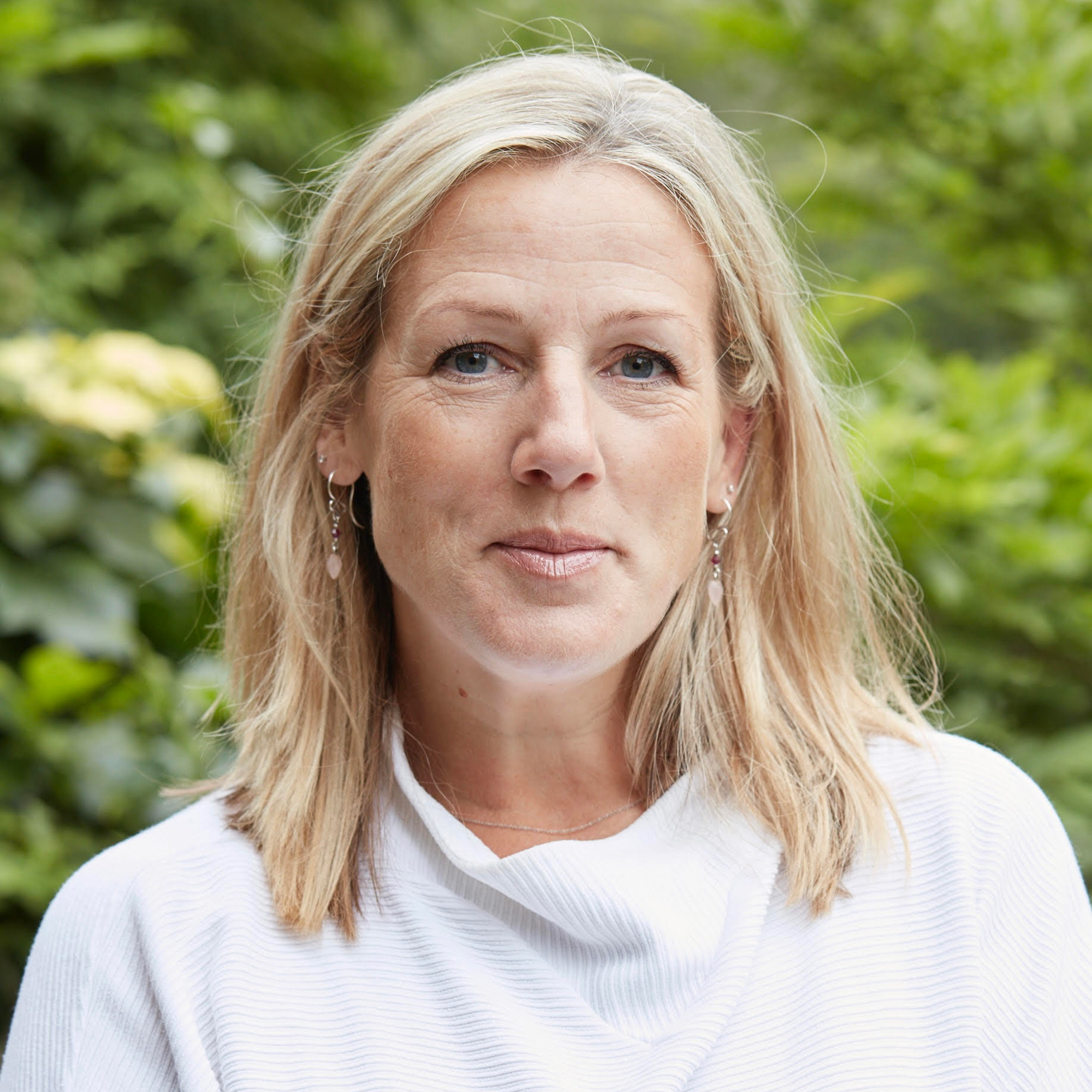 Nicky Phillips was the Style Editor of Ideal Home from 2010-2022. Nicky is an interiors journalist and stylist who has worked for some of the UK's leading interior magazines for over 25 years. A stint as Associate Editor on Ideal Home in 2000 led to her becoming Deputy Editor of Livingetc in 2002, eventually leaving to have her three children and to start her interior design business @Stylingatnumber42, before returning to Ideal Home as Style Editor in 2010. Nicky has styled and art directed over 300 shoots for Ideal Home magazine to date.