The mistakes our team of home design experts always avoid in a small home office
Get your space-deprived home office in working order with our lowdown on the most common design faux pas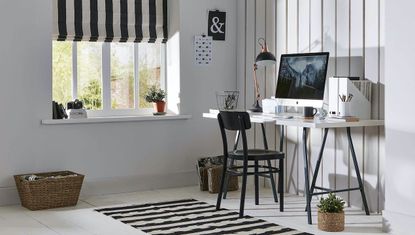 (Image credit: Apollo Blinds)
The very worst mistakes to avoid in a small home office can have a big impact on productivity and comfort, others are more aesthetic but can be equally detrimental to your mood. Whether you are working from home full time, or just need a dedicated space for squaring away life admin, there are a few common home office design mistakes to avoid that are particularly relevant to small home office ideas.
Not making the most of clever storage solutions is one of the worst mistakes you can make when renovating a bijou workspace. 'Clever storage is crucial in small home offices. Consider using your walls to install shelving, use the space beneath your desk to hide some conveniently placed drawers or position personal possessions on your windowsills,' says Juliette Thomas, director of Juliettes Interiors.
Aesthetics are also a top priority, especially when you only have a small space in which to make a big impression. 'While you want a small home office to be functional first and foremost, it's also important to have some personal touches for your own well-being. Choosing a well-positioned table lamp and mirror can also be key to giving the impression of a larger space and help it feel more homely,' adds Juliette.
Mistakes to avoid in a small home office
The rise of remote working has led to increased demand for dedicated office spaces in our homes, ideally shut behind closed doors. Whether that be in a rarely used guest bedroom, box room dumping ground or redundant dining room, with careful spatial planning and some well-chosen fittings, a well-appointed small home office can help you work harder and more effectively, without losing the will to live. Just make sure you take note of these mistakes to avoid in a small home office.
1. Failing to prioritise windows
Even if your small office only has a small window, overlook its benefits at your peril. 'As with any small room, you should try to let in natural light to make your home office feel bigger. It will help to boost concentration and productivity and is not as harsh as artificial light,' says interior design expert Anna Elkington, from Melody Maison.
'In an office, it may be beneficial to have roller blinds to control the amount of light coming in to prevent glare on your screen at certain times of day. Alternatively, position your desk or monitors in front of or to the side of the window as another way of preventing glare and maximising your views of the outside – great for those all-important screen breaks,' adds Anna.
A soft, sheer window dressing like voiles or shutters, which can be angled to deflect strong sunlight, are good options to help diffuse screen glare without having to switch on the lights.
2. Excluding nature
Researchers from Exeter University found house plants can increase productivity by 15% and help you feel more physically, cognitively and emotionally involved in your work. 'Don't exclude nature, plants are a really easy way to bring the outdoors into a small home office,' agrees Yvonne Keal, senior product manager at Hillarys.
'As well as adding colour, they breathe life into a space and have a proven effect on our wellbeing - which is key when you might be indoors for long periods. Add in some other natural materials, like raw wood and bamboo and you'll notice a real uplift in your mood throughout the day,' Yvonne says.
The good news for small home office owners is that it only takes a few green desktop houseplant ideas to reduce mental tension by 40% – try Devil's Ivy, Dracaena and Peace Lily.
3. Not experimenting with paint colours
Plain, boring walls are nothing short of a missed opportunity in a room that demands you stay awake and stimulated! When considering how to add colour to a home office, Anna Hill from Fenwick & Tilbrook recommends seeking out uplifting colours that can have a positive impact on your mood and overall well-being when WFH.
'If you have a small home office space, there are many things you can do to avoid the space being boring from a paint and design perspective,' she adds. 'Accent walls with a bold or contrasting colour are brilliant for introducing personality and visual interest to the space without overwhelming it. Just be sure to choose a wall that won't make the room feel smaller.'
If you're feeling experimental, Anna suggests opting for a two-tone wall or functional colour blocking. 'For example, you could paint the area around your desk in a distinct colour that sets it apart from the rest of the space,' she explains.
4. Insufficient lighting
There's no denying natural daylight is the best way to illuminate a small home office, keeping efficiency levels up and ultimately making you feel more awake during the day.
However, neglecting your home office lighting ideas is a common mistake that can have annoying repercussions, especially in North-facing rooms. 'If your home office is dark, consider a few floor lamps or even a hanging pendant directly over your desk. An extendable wall lamp is very convenient as it will offer flexibility a fixed light simply can't,' says Jo Plant, head of design, Pooky.
Aim to position lighting so that it does create direct glare but you are not working in shadow, and think carefully about access to light switches to ensure there is at least one that's easily within reach without leaving your desk.
'Remember also, that your dependency on light will fluctuate throughout the year so consider the seasons when planning how much and what type of lighting you need.
If you have enough table space available, a desk light will complete your home office and lend focus to your work,' adds Jo.
5. Not installing sufficient sockets
A proper electrical plan is as important in a home office as it is in a kitchen, and if you're newly renovating, now is the perfect opportunity to chase in extra wiring. When space is in short supply, swerving the chaos of extension cables and devices charging on every surface is a smart move.
While many peripherals are now wireless, most wireless gadgets need charging, so try to include a dedicated cupboard, with plenty of charging points inside, to close it all neatly away out of sight. Talking of neat solutions, it's worth investing in good looking sockets so the ones you can see are not a blight on the walls.
'Investing in stylish sockets shows your attention to design detail. Make a statement with brass or smoked gold - as eye-catching as any ornament or picture frame,' agrees Ally Dowsing-Reynolds, co-owner at Dowsing & Reynolds.
Get more bang for your buck by seeking out sockets with USB and USB-C ports to charge multiple devices. Smart sockets with built-in Wi-Fi let you control plugged-in items, like lamps, from your phone. Link to a compatible device such as Alexa or Siri to enable voice control. You can also opt for smart plugs as a retrofit alternative if you're a renter.
6. Choosing small-scale furniture
When fitting out a space-starved home office it can be tempting to opt for slimline furniture in a bid to save precious inches. In reality, there are some furnishings you can afford to scale down, and others that need to be nicely proportioned to be comfortable.
Yes, we're talking about the office chair. 'Design the office around a supportive and comfortable chair and you will inherently enjoy your time more working there,' explains Elaine Penhaul, director of Lemon & Lime Interiors. Look for an office chair that offers height adjustment, swivel and lumbar support as a minimum requirement to reduce the risk of back pain and hip pressure.
'While there's a fine line between cosy and cramped, don't compromise on the functional and wellbeing benefits of larger scale furniture just to make more space for the sake of it,' she continues. 'Make changes in keeping with the evolving homeworking needs. For example, commit to a more sustainable way of working by going paperless, which can reduce the need to store documents on shelves or in binders, creating more room for a decent size desk and ergonomic chair.'
7. Scrimping on storage
Prioritising aesthetics over functionality is an easy mistake to make, especially when lured by the inspirational WFH set-ups on platforms like Pinterest and Instagram, says Kelly Collins, head of creative, Swyft. Although she admits to being very tempted by a charming writing desk for her own home office, Kelly opted for a built-in desk with sufficient storage to host the large fabric books she references daily.
'Design should always harmonise with purpose, particularly when it comes to storage,' she says. 'For example, I advise against using excessive open storage. While it's appealing in images, real-life organisation can be trickier so do consider whether you'll manage to maintain it consistently. Personally, I can't focus in a messy workspace, yet creativity isn't always tidy. I'd recommend assessing items and access frequency to ensure you have enough storage and that every inch is put to good use.'
8. Not maximising every inch
When there's not a lot of space to spare, you can't afford to waste an inch. Small home offices are often squeezed into quirky rooms with challenging architectural features, such as sloped ceilings, uneven walls and tight corners. When standard off-the-peg storage and furniture simply will not fit, it could be time to consider bespoke solutions.
'Overlooking awkward alcoves and corners is a missed opportunity for optimising your home office space. Custom-made furniture can transform these seemingly unusable areas into functional and aesthetically pleasing home office solutions, allowing you to make the most of every inch of the room,' says Molly Chandler, designer, Willis & Stone.
'By tailoring furniture to fit these unique spaces, you not only enhance the functionality of your room but also create a visually harmonious environment that seamlessly integrates with your overall decor.'
9. Over-cluttering
Yes, a few personal touches, family photos and colourful artwork will make a small office feel more inviting and promote a more pleasant working environment, but excess clutter will have the opposite effect.
'A home office is a space where you should feel clear-headed and ready to tackle your day,' agrees Juliette Thomas, director of Juliettes Interiors. 'A few personal items such as photos, trinkets and house plants can boost your mood and provide your home office with character, but it is important to keep the space as minimalist as possible. A cluttered workspace has been scientifically proven to have a negative effect on productivity as it can be easily distracting. Use well-designed storage, such as cabinets, folders and bookcases to keep your items organised and tidied away.'
Even with sufficient storage to hand, the clutter and desk detritus can quickly build so consider scheduling regular clear outs to keep everything under control. A clean desk policy, where you avoid printing paperwork unnecessarily and put stationery and devices away at the end of each working day, can help you start the next day with a fresh, clear mind.
10. Not considering noise
'When planning a home office, it's worth thinking about when you'll use it, and who else is likely to be in the house during those times. For example, a work area on a landing or in the dining room is great if you live alone or as a couple – but not so great if you have young children running past every few minutes,' says designer Karen Nairstone from Studio KIND, who recently styled home offices for the show homes at The Ironworks, Leeds.
'Proximity to noisy areas such as kitchen, lounge or utility should be avoided if possible – along with any areas that could potentially be thoroughfares.'
If you're lucky enough to have a home office behind closed doors, it is still wise to think about potential noise disruption when decorating, especially if your work involves regular Zoom calls and Teams meetings. 'If an office next to the kitchen or playroom is the only option, then there may be scope to have a bookshelf backing onto that room that will absorb the noise, or even a thick cork board can assist with this,' Karen adds.
FAQs
How small is too small for a home office?
If space is lacking, don't despair. A big benefit of the digital age is that we can now work in much smaller spaces. Computers and printers are much smaller, going paperless is celebrated and few of us need to store brochures and reference books when so much information is available online.
An area big enough for a laptop and notepad is sufficient for part-time work, but if you're talking 40+ hours a week, find somewhere that can host a monitor, mouse and keyboard, too.
'To know whether a space is too small for a home office you need to consider what you need to do your job and how you work. For example, do you use a laptop or twin monitors, do you need access to filing or materials?' adds Karen Nairstone from Studio KIND. 'Also, consider how often you will use the space. A small area of a larger room, such as the dining room or spare bedroom, may suit some; whereas a box bedroom that can be closed off may suit others. Good natural light and ventilation are further important factors and can help to decide on the best layout for your space.'
How do I make the most out of my small home office?
A small home office can actually work out to be more effective and ergonomically efficient than a spacious one because it challenges you to make the most of every inch. There's no space for dead wood or unnecessary frippery, resulting in a cleaner, clearer working environment.
There are many ways to think outside the box to improve the feeling of space in a pint-size office. 'Embracing natural light and vertical furnishings can help increase the perception of usable space. Orientate your furniture to where light floods the room to keep you energised throughout the day,' says Elaine Penhaul, director of Lemon & Lime Interiors.
'Vertical storage can be accessible at arm's reach. An adjustable and moveable standing work desk is a worthwhile investment to complement these, giving you lots of flexibility within a limited room to complete tasks in the most efficient way. This is an ergonomic solution to break up the tedium that can otherwise come from the home working environment,' adds Elaine.
Get the Ideal Home Newsletter
Sign up to our newsletter for style and decor inspiration, house makeovers, project advice and more.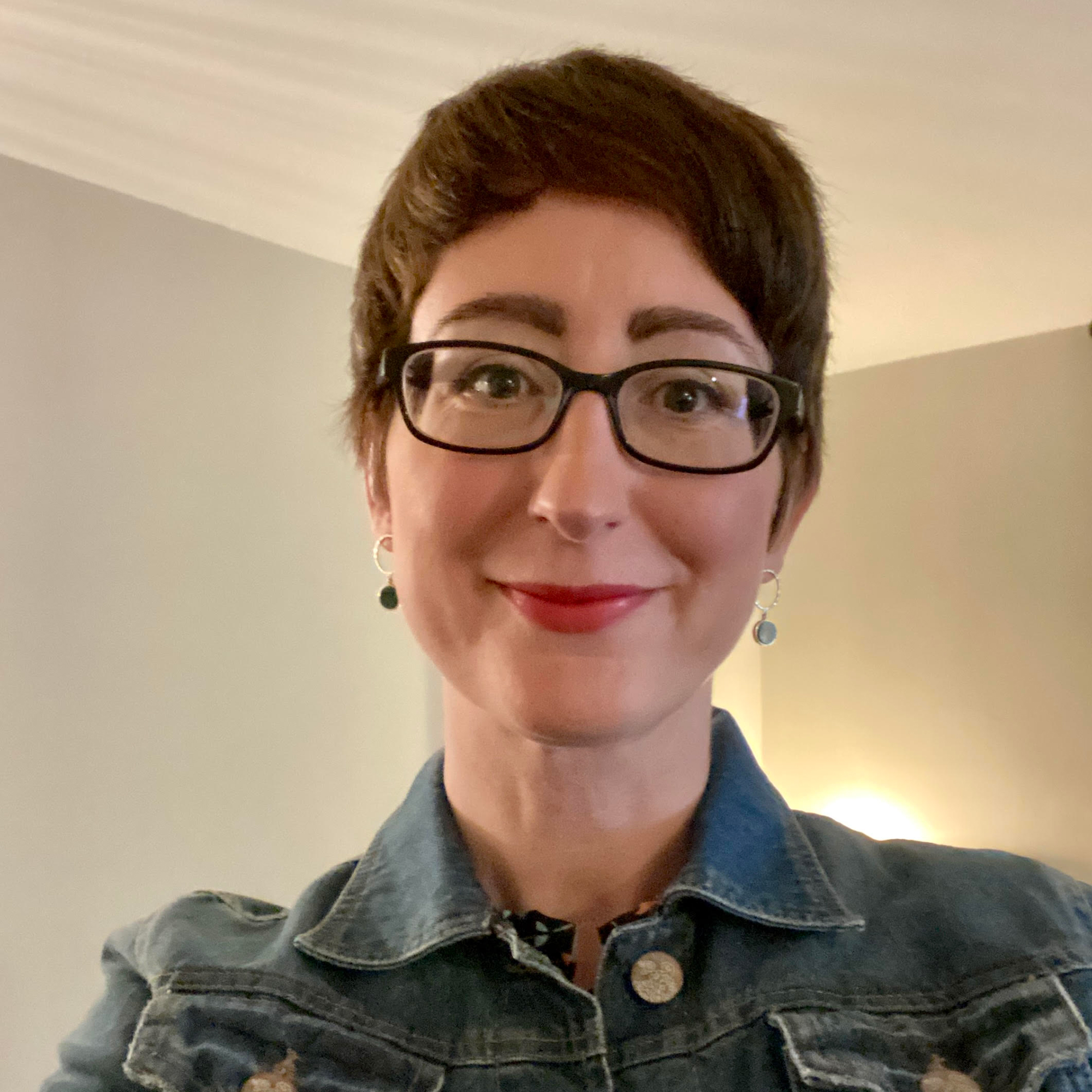 Linda Clayton is a professionally trained journalist, and has specialised in product design, interiors and fitness for more than two decades. Linda has written for a wide range of publications, from the Daily Telegraph and Guardian to Homes & Gardens and Livingetc. She has been freelancing for Ideal Home Magazine since 2008, covering design trends, home makeovers, product reviews and much more.