Small home office ideas to create a practical and beautiful working space
You don't need vast amounts of space to make a small home office work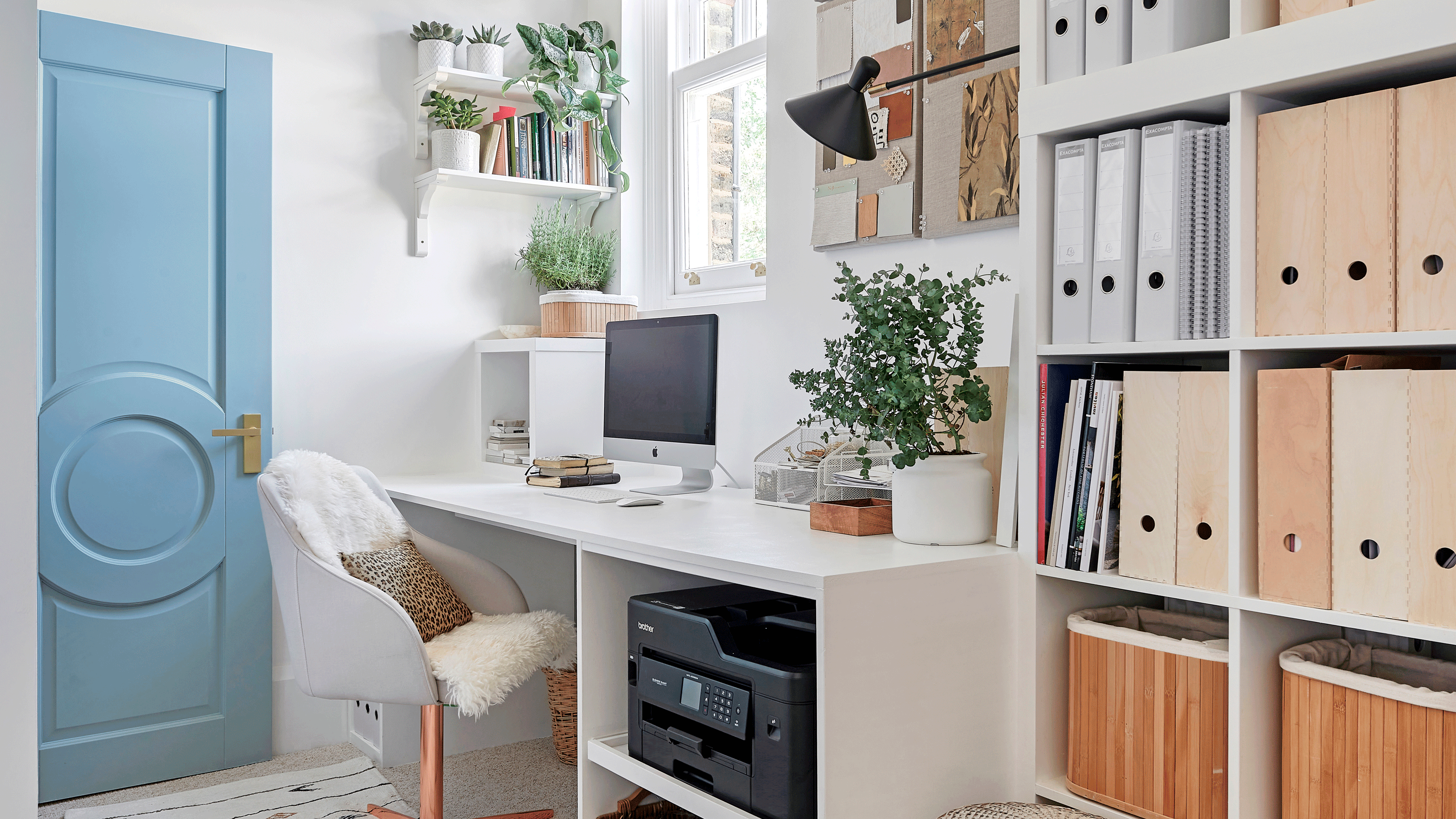 (Image credit: Future PLC / Mark Hardy)
Small home office ideas don't need to be limiting you might not be able to squeeze in a CEO-style desk, but all you really need is a ledge to fit your computer and lots of imagination.
Home office ideas can be reinterpreted to work effectively in smaller settings. You simply need to plan more carefully, with some smart investments and clever furniture choices you can create a stylish desk area to boost productivity.
The first thing to do is, of course, decide which room you're going to turn into a home office, or co-opt space from within another room. Next to consider is lighting. 'Getting your lighting right and giving a once dark and gloomy part of your home a new lease of life can be just as motivating as your first coffee in the morning,' says Natalie Mann, New Product Development Co-ordinator for Iconic Lights.
Finally, storage and furniture can be brought into play. 'Try and purchase furniture which has a double function. Think a desk but with storage underneath that can store paperwork and other items. Even if it's a multi-functional space, make sure you have storage to put everything away that has nothing to do with work. Nobody works at their best when surrounded by laundry!' says Juliette Thomas, Founder & Director, Juliettes Interiors.
Small home office ideas
No matter how petite a space you have, or where it's located, here are our favourite ways to make small home office ideas work for you.
1. Create a tiny fold away office
There are now some brilliant foldaway desks that allow you to create a full-blown home office but tuck it away at the end of the day. 'Multi-functional options are also something to consider - contemporary brand Bisley have just released a swing desk that looks like a console when not in use, which is ideal for those multi-use space,' says interior stylist Emma Palin.
You can make your own with an IKEA hack using the Norberg wall-mount drop leaf. It folds neatly against a wall with a table that flips up. Alternatively, La Redoute's Mattheo Hideaway Cabinet Desk is currently our favourite find for creating a dedicated fold-out workspace.
The best part is that the doors help create that work cocoon feeling, creating the illusion of a room within a room. However, it will fit into the smallest homes as the cabinet itself will almost sit flat against a wall.
Emma Jane Palin is a multi-award winning blogger, writer and interior stylist residing in Ramsgate, UK. Known for eclectic styling, she references 60s and 70s style in her home and wardrobe, championing sustainable brands and vintage finds. Through the addition of colour, pattern and texture, her sense of style is playful, personal and made to last.
2. Adorn walls with cork board
When space is at a premium it's important to make every inch work hard and in a small home office bold home office wall decor ideas are a key way to make a statement without taking up space.
'I love a corkboard wall to bring texture and interest to an office wall,' says interior stylist Emma Jane Palin. 'As well as being eco-friendly and versatile - you can easily paint it if you want it to blend in with the rest of the space - it also provides an area to pin up inspiration and anything you're working on.'
3. Save floor space with a ladder desk
'Make the most of vertical height in a smaller office. Choose a ladder desk that is takes up less horizontal space, or incorporate full height shelving,' suggests Emma Jane Palin.
Ladder desks and ladder shelves are all amazing for taking up a small floor footprint. They can be use to squeeze storage into a tiny cupboard office, or you can carve out a small home office space in a living room with one.
3. Colour drench your office
Forget white ceilings, colour drenching has become one of the best-emerging trends for small spaces. The trend is all about taking your home office colour scheme from the walls, onto the ceiling and even through your furniture. 'If you're decorating, paint your ceiling in the same colour as the walls for an infinity space illusion and add in mirrors or mirrored surfaces to reflect natural light,' explains Emma.
4. Hang full length curtains
You might be designing a home office, but you shouldn't forget any of the classic rule for making a small space look bigger. One of the key ones that Emma reminded us of is being clever with how you use your home office curtain ideas.
'The right window dressing can completely change the feel of a space. Hanging full-length curtains at ceiling height can make the window seem bigger, and the space taller,' she says.
5. Use secondhand buys to hide cables
A small home office needs to house a lot, but clever storage can still be aesthetically pleasing. 'If you're wanting to bring more of a vintage feel, look on Facebook marketplace for retro shop fittings; old upholstery drawers and art racks can make for interesting features and often make for practical use of space,' recommends Emma.
Look for items with small draws for storing nicknacks, or opt for crates that can be turned into cable stores through an easy DIY project.
6. Choose translucent furniture and storage
If you want to preserve the feeling of an airy space, see-through pieces are a great way to go. 'By allowing light to pass through them the vessels don't obscure the flow of a room which helps to maintain an airy-feeling space,' explains a MUJI Interior Advisor.
You can stick to just translucent storage pieces, we love Muji's acrylic drawers for stowing away stationary. Alternatively, you can take the plunge with a see-through desk or chair, it is definitely a bold look that will win you lots of points in the style stakes.
7. Create desk space with wall mounted lights
Home office lighting ideas are an important consideration even in a small space. In addition to overhead lighting, it is important to include task lighting over the desk itself.
Desk lamps are brilliant for this, but if desk space is at a premium consider opting for a wall-mounted spotlight instead. Plug-in wall-mounted lights make these easy to install retrospectively without any re-wiring.
However, if you want to utilise the existing desk lamp you already have Lauren Davenport, associate buyer at Furniture Village suggests being clever with positioning. 'Table and desk lamps are key for creating a comforting ambiance, and can be cleverly positioned behind monitors to reduce surface clutter and or placed upon a nearby shelving unit to cast a glow across the room.'
8. Clear clutter with hanging storage pots
If you're working with a narrow desk space inside a cloffice or corner of another room the wall space is your best friend. The last thing you want is bulky shelves cutting off any headspace, and light to the desk.
Instead consider attaching storage solutions such as pots for stationary and a picture rail for books straight to the wall. IKEA spice racks are a genius IKEA hack for creating slimline shelf space for books that doubles as a decorative feature.
9. Include stress-busting houseplants
Small home office ideas like with any other home office can always benefit from adding in a few houseplants. 'Be sure to style in a selection of houseplants - whether they're faux or the real deal, you'll ream the benefits of having pops of greenery dotted around the space, helping to alleviate work-related anxiety and promote clarity,' explains Lauren at Furniture Village.
To stop them taking over a small desk consider hanging planters. While real houseplants will always look best, if you'll struggle to lift a hanging planter down to water it consider opting for faux plants. They have been proven to deliver similar stress-busting benefits and you don't have to worry about water flooding your desk from above.
10. Think about vertical storage
In a small office every inch of space is precious. That includes the spot just below the ceiling above the desk. Capitalise on this overlooked vertical space by turning it into a storage shelf with clearly labelled boxes.
This won't be the easiest spot to reach without a step ladder, so consider that when organising what you will store on the shelf. It is the perfect spot for tidying away family records and memory boxes, anything you don't need every day but need to be able to lay your hands on easily.
11. Carve out a nook among wardrobes
If you're working a home study space into a bedroom, consider sacrificing some wardrobe storage to carve out a nook. You only need a couple of feet across in order to fit in a small desk. Choose a slimline option so once the chair is pushed in, you're not coming into the room much more than the wardrobe doors.
You can keep the wardrobe sections above head height. Just ensure you leave enough room to have a light at a comfortable and practical distance away from the desk.
12. Create a flexible workstation
When creating a workstation in a living room, consider additions you can make so it is comfy to work at during the day but can be seamlessly packed away in the evening.
An alcove in a living room can be turned into a well sized work space with the addition of a built in computer table that can be pulled out to double the desk size. A folding chair is the ideal seating solution that can be folded up and either hung on the back of a door or tucked underneath a sofa or bed when not in use.
13. Utilise under stair space
Under stair spaces are often wasted space in homes. Instead of allowing it to become a dumping ground for tote bags and trainers, turn it into a stylish home office. Avoid home office design mistakes and go bespoke. This is your best option here as you'll be able to build in cabinetry to make the most of every available inch.
Build in as much storage as you have room for. Not all needs to be for office supplies, you can keep a cupboard for coats, and maybe a pull-out drawer for all the miscellaneous hallway paraphernalia.
14. Zone with paint
Use paint to define your work space in an open-plan area. Cover an area in contrast colours to the main wall, making it roughly the width of your desk and just below ceiling height, so it creates a framed backdrop for your desk.
'This could work very well in modern properties with an open plan living space,' adds Justyna Korczynska, senior designer at Crown. 'And by painting just a smaller section of the room you can go really brave or dark with your chosen colour.'
15. Choose a corner desk
Nobody puts baby in the corner... but maybe they should. A corner desk is an excellent solution for fitting in a workspace and storage without overly encroaching on the rest of the room.
Keep ergonomics in mind and find an option with a pull out keyboard so you can comfortably type while staying at a good distance from your screen.
16. Lean into a light and bright scheme
Whether you're using a small box room or a part of a larger space, colour is key. Light, bright shades and materials will make the space seem larger than it is. Think crisp whites, pale woods and glinting metallics.
Be smart about your desk position to make the most for the natural light in the space. 'Lighting can increate productivity and prevent fatigue,' says Juliette from Juliettes Interiors. 'Make the most of daylight, but have your desk side onto a window so that the light does not shine directly onto your computer screen, and use tall lighting for specific areas, where you need to concentrate on detail.'
17. Make use of alcoves
'When it comes to creating a home office, you ideally want to carve out a space that you can dedicate to it,' advises Emma Deterding, Founder and Creative Director, Kelling Designs. 'However, space is often at a premium in modern homes and apartments, so dedicating a whole room isn't always possible. The last two years has seen the home become more multi-functional than ever, so being creative with your space is key.'
Use every inch of space at your disposal. Find space in an alcove in your living or dining room to act as a smart home office area. As well as fitting in a desk, you can easily add shelving above for all your working day necessities.
18. Use panelling to define the space
To really delineate your home office in an open plan space, consider revamping that section of wall. Add interest while zoning by inserting a panelled area. Enhance the look even further by painting this section in a contrasting colour to the rest of the wall space.
For a chic finish, paint the desk shelf in this same colour. This also makes it multi-purpose, as once you remove your work essentials it could double up as a cool home bar or display area.
19. Put up a single shelf to use as a desk
This has to be one of the smartest ways to make a small space work for a home office. A simple wooden shelf placed under a window creates the perfect perch for work.
You can go as big or as small as you have room for, but try not to go too thick or it can seem out of proportion.
20. Use all available walls wisely
When space is limited it's key to utilise every inch of space to the max. For a small home office desk or craft room ideas the solution the key is in making the walls worker harder.
A wall-mounted storage unit with fold-down compartments provides ample space for a desk and storage without taking up space. You can choose to fold each section flat against the wall when not in use.
21. Transform a dividing wall into a smart desk area
If you have an open-plan kitchen design try transforming a dividing wall into a computer station. Invest in a narrow tall desk with enough space to balance a laptop and plenty of shelves for storing office supplies.
Instead of buying a single purpose desk chair, double up a breakfast bar stool from the kitchen. A pegboard hung above the desk will help free up desk space further.
22. Float a desk to take up minimal floorspace
If you're limited on space, using a bedroom as a home office may be the only solution. Making a desk double up as a dressing table makes it a useable furniture piece with a bedroom purpose too.
A narrow, floating desk won't protrude too much into the room. Pop a mirror on it to transform it into a dressing table. Keep your home office essentials minimal, so you have less to hide away.
23. Welcome wallpaper
Don't be afraid of introducing patterns through a bold home office wallpaper idea into a small space behind a desk, as an interesting wallpaper or mural will cleverly distract from a messy desk and can play with the perception of space.
If wallpaper isn't your thing, you could use a pinboard or wall-mounted clipboards to make an interesting backdrop to your study area.
24. Utilise the wall space beside the bed
Make the most of every inch of valuable wall space with a wall-mounted unit that doubles as a desk. Simply fasten the bottom half away, to hid all trace of a desk element.
With drawers and storage compartments it doubles up a standard bedside unit to place a lamp, book and some fresh flowers. Add a small stool for when you're using it as a desk.
25. Make the most of attic eaves
If your loft space is already boarded out it will be simple enough to convert the space into a small home office idea. a lick of paint and a roll of carpet goes a long way to transform an attic for storage into an attic where you wish to spend time.
Sloping roofs are the perfect example of a space that might otherwise be redundant. It's often tricky to make use of the half height ceiling, due to the awkward measurements, but a desk will slot happily in.
Remember that it's a good idea to position yourself near a window, so you don't feel completely shut off from the world.
26. Soften the look of a functional home office
Don't compromise on interior style, make the small space work harder within your home. Soften the edges of a functional workspace by incorporating decorative home accessories and plenty of plants.
A cluster of houseplants, in varying heights, leaf shapes and pot textures can help to instantly add an informal feel to a home office.
27. Use white as a backdrop
Keep walls white in your home office so you can display photographs and pictures to inspire you. Continue the theme with co-ordinating stand-alone furniture and accessories, such as the desk lamp and shelf unit, for a cohesive feel.
Decorating with soothing white shades not only evokes a calm feel, the blank canvas creates the illusion of greater space.
FAQs
Where is the best place for a small home office?
One of the bonuses of small office ideas is that they can be integrated just about anywhere in the home.
'Finding the right spot for your home office is key to productivity,' advises Joanna Baumard, Co-Founder, Purlfrost. 'You don't necessarily need ample amount of space, but you do need natural light and a space that feels clear of clutter. If you haven't got the luxury of a separate room, the dining room or bedroom can often be the next best spot.'
'The spare room is often an ideal place to work,' recommends Juliette Thomas, Founder & Director, Juliettes Interiors. 'It's usually the quiet space in a home but is so often used as a dumping ground. If space is an issue, consider downsizing to a single pull-out trundle bed or a sofa bed that acts as a daybed or sofa when not in use. Choose a compact desk, console or dressing table that looks great but can be flexible and will allow you to hide work away when guests come to stay. This leaves more room for you to work comfortably and you still have a functioning spare room.'
If you opt to set up your home office in an open plan space, make sure to delineate the area. 'Simply working on the dining table or kitchen island won't help to focus the mind,' says Poppy Peace, Creative Director, Milc Interiors. 'By effectively using rugs, bookshelves and lamps, you can create the perfect working zone, that works with the open-plan interior, yet ensures a dedicated space for work.'
How do you integrate storage into a small home office?
Just because your home office is short on square footage does't mean it has to be lacking in storage.
'Floating shelves or a tall bookshelf that extends to the ceiling will provide ample amounts of storage and a place to showcase decorative items,' says Mariana Ugarte, Co-Founder, Interior Fox. 'The possibilities are endless when you go bespoke. Creating furniture for your room that is designed to fit seamlessly means that every inch of the room is catered for.'
Alternatively, build in storage as you go. 'Why not create a dedicated home office within built-in joinery in the kitchen or living room, that can be shut away when you've finished working,' suggests Emma Deterding, Founder and Creative Director, Kelling Designs. 'It's ideal for creating integrated storage where you need it. By hiding it behind doors will allow the space to function as a kitchen, diner or family living space with ease.'
A small home office should never be an obstacle to packing your space full of stylish and practical ideas.
Get the Ideal Home Newsletter
Sign up to our newsletter for style and decor inspiration, house makeovers, project advice and more.
Tamara was Ideal Home's Digital Editor before joining the Woman & Home team in 2022. She has spent the last 15 years working with the style teams at Country Homes & Interiors and Ideal Home, both now at Future PLC. It's with these award wining interiors teams that she's honed her skills and passion for shopping, styling and writing. Tamara is always ahead of the curve when it comes to interiors trends – and is great at seeking out designer dupes on the high street.