From hospital bed to reality - how this retro caravan was given a stunning makeover
Buying a tired caravan and transforming it with a cheerful retro vibe has opened up new horizons for this happy traveller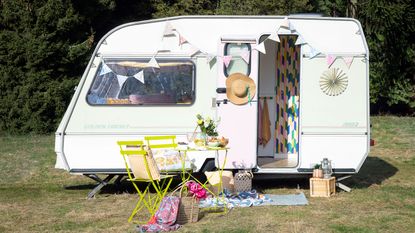 (Image credit: Future PLC / Douglas Gibb)
After buying the once run-down caravan to give her something to do while recovering from an operation, fast forward two years and the completely revamped caravan is now being used for photo shoots as well as a means of travelling around the country.
'It was such a positive focus,' says the owner Jilly Noble. 'It kept me entertained while I was recovering in hospital, as I started looking at how we could decorate the interior on my iPad.'
'From my hospital bed it felt like a fantasy – a bit of fun – but over the course of the following year it slowly became more and more of a reality. I started by tracing the interior from photographs and adding colour and patterned wallpaper ideas digitally.'
Bright outlook
'When we bought it, the caravan was in pretty poor condition. My husband had to completely dismantle the interior to restore it. Luckily we were able to save some key original features, to ensure it had the authentic look we wanted.'
The caravan interior before
'We began by gutting and repairing the caravan on our driveway. We replaced the roof light and repaired all the windows, as well as raising and re-laying the floor to create space for new pipework, and removing all the rust from the wheels.'
The caravan interior afterwards
'We were able to salvage much of the kitchen, such as the original sink, oven, hob, and fridge, which were in surprisingly good condition. I think a lot of caravanners don't necessarily cook that much, they probably eat out if they can and just make salads and sandwiches in the van, so appliances can be found relatively unscathed.'
Comfy bed area
'Next up was the bedroom and creating a new bed frame… the original bed was U-shaped, which you had to set up every night to create a bed to sleep in, but for us it felt much more comfortable to just create a permanent daybed right across the back of the van. We also went for a foldaway table for whenever we needed it.'
Colourful soft furnishings
'Our bespoke bed is perfect day and night, for lounging around and reading on a sunny afternoon, or sleeping on. Sunny gingham checks and pops of colour throughout the caravan ensure that our weekends away are always fun whatever the weather.'
'The brass spotlight is an original feature of the caravan.'
Bijoux bathroom
'We then added a bathroom sink and a portable toilet in the small corner bathroom, but decided against installing a shower – it would have been possible, but we have heard that showers in caravans can make the space damp. Plus it's easy to just have a shower on a campsite.'
Compact seating area
'When it came to the decor, we chose simple stick-on plastic tiles for around the whole compact kitchen area and the bathroom sink, and I added roll-up blinds to the windows in a yellow gingham fabric. Vivid patterned wallpaper and painted details, such as scalloped borders, were other must haves.'
Self-contained kitchen
'Doing everything ourselves helped keep the cost down and we used salvaged wood whenever we could for all the new structures. Our water is heated by an electric heater and we also have a gas heater, although we haven't used it yet – we only want to go caravanning in the summer and the van is warm enough as it is.'
Space-saving set-up
'The whole process took a year in all, with both of us working on it on and off in our spare time. There was no real hurry and it was such a fun project. We love the freedom and spontaneity it has given us – it's a place where we can try and switch off, so we leave our laptops and iPads behind and just enjoy reading, listening to the radio and playing board games while we're away.
'My husband says the retro styling we've chosen makes him feel as if we're time travelling!'
Cheery welcome
'Caravanning fits in nicely with our lifestyles – we're both self-employed so need to schedule breaks to ensure we don't get burnt out. It offers so much flexibility, as you can just take off whenever you want.'
Outdoor seating area
'Adding cushions and an outdoor rug, along with a garden table and chairs means we can relax outside in the sunshine. We both enjoy afternoon tea on a sunny day outside our caravan.'
'Our friends and family all love it, too, and have taken turns using it. I'm a brand designer and photographer and a few of my clients have seen me posting about it on Instagram and have asked if they can use it as a location for their product photoshoots.'
Sunny finishing touches
'The interior scheme was inspired by an enamelware designer I admire, called Enamelhappy, and I bought a few of her pieces as fun finishing touches. When Tracey (the owner of Enamelhappy) saw her products in situ she asked me to photograph them and became a client of mine – so it came full circle!'
'A caravan can easily feel like home, you just have to bring all your favourite things along.'
You can see more of Jilly's amazing transformation on her Instagram @jillyjillystudio and website.
Get the look
Get the Ideal Home Newsletter
Sign up to our newsletter for style and decor inspiration, house makeovers, project advice and more.