Living room wallpaper ideas to refresh your lounge space
Add an abundance of personality to a space with these inspiring living room wallpaper ideas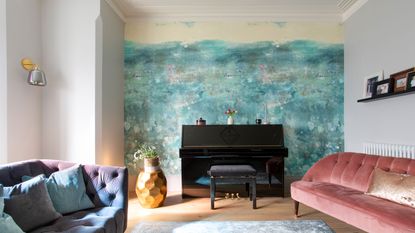 (Image credit: Future PLC/Philip Raymond)
When it comes to adding personality to a space, wallpaper is an easy fix for achieving a colourful interior that looks expertly designed. The right living room wallpaper ideas have the potential to completely change the look and feel of the room, making it a simple update with a huge impact.
With so many styles to choose from, there's something to suit every home, no matter which type of living room ideas you're looking to recreate. So whether you're a minimalist, maximalist, or somewhere in between, there is bound to be a design in the right pattern and colour scheme to suit your ideal look.
And if you find DIY projects daunting, you don't need to worry, wallpapering is no longer the time-consuming, fiddly job it once was and there are even a number of self-adhesive options perfect for renters. More and more brands also supply both wallpaper and paint in complementary shades, so giving your living room a fresh makeover has never been easier.
Living room wallpaper ideas
It's now simpler than ever to transform your living space in just an afternoon using living room wallpaper ideas, so all you have to do is to choose your favourite look.
1. Work with the shape of your room
When choosing where to wallpaper in a living room, consider working with the natural shape of the space. This may dictate which areas of a wall to decorate if you can't decide, and it might make the most sense visually too.
If you have a section of the wall that is recessed or sits further out, consider adding wallpaper to this to lean into the more statement angles.
2. Create a mural
If you want to add a large living room art idea to your space but it isn't quite within budget, then wallpaper is the next best thing. Instead of wallpapering the entire wall, adding framing creates the illusion of a statement art piece or mural.
Not only does this achieve a high-end look, but it also means you can switch it out more frequently if you get tired of the design.
3. Don't be afraid to wallpaper smaller spaces
It can often feel like wallpaper works best in large spaces where you can go all out with pattern and colour, but wallpapering small or narrow living rooms is having a resurgence.
Living rooms are synonymous with relaxation, so a cosy and welcoming environment is often just what you're looking for. Instead of adding a feature wall that might work in larger living spaces, consider wallpapering the entirety of the room. While this may seem daunting, the effect is high-end and inviting.
'The days of the feature wall are over,' announces textile designer, Clarissa Hulse. 'Plus you will be surprised at how it can actually make the room seem less busy! It may be counterintuitive, but often stark plain walls next to one that is highly decorative can actually emphasise the pattern.'
4. Clad a chimney breast in wallpaper
Just like working with the natural structure of a room, a chimney breast offers the perfect positioning for wallpaper. Living room fireplace ideas are a prime spot for accessorising with art, family photographs or your favourite accessories, so adding a playful wallpaper will extend a characterful look.
If you're unsure about opting for an entire feature wall, a chimney breast is a great middle ground. It creates a focal point in the middle of the room but can be sandwiched in a block colour for a more versatile approach.
5. Contrast with another feature wall
When wallpapering a living room, it can be tempting to contrast with painted walls in areas without paper. Instead, opting for another statement wall feature, such as wall panelling, makes for an interesting design packed full of character.
Wood panelling is a great way of achieving this as the warm tones complement many wallpaper colours. You can even double up on wallpaper by opting for a panelled-effect design that achieves the look for less.
'If you have a modern house, using wallpaper with a printed texture is a brilliant way of injecting some character into a room. I recently covered my own newly built MDF bedroom cupboard doors with one of the plain textured wallpapers in my own collection, coupled with interesting door handles, and am delighted with the results,' says Clarissa.
6. Wallpaper above the dado rail
If you've fallen for a patterned paper but don't want it to dominate your space, reconsider where to wallpaper. Stick to covering only above the dado rail, keeping the rail itself and the lower portion painted in a complementary tone.
This is also a great technique for small living room ideas as the pattern won't overwhelm by covering from the floor to the ceiling.
7. Enhance a retro room
Mid-century living rooms are having a serious moment right now - who among us hasn't picked up some retro furniture? Enhance the feel of the era by choosing a vibrantly coloured print for your living room wallpaper ideas. Yellows, especially, echo this time period, and helpfully boost light levels.
8. Use a photorealistic mural
A surprisingly simple living room idea is to opt for adding photorealistic mural wallpaper. You can plump for whatever design appeals to you, but by choosing a design which echoes the nature outside you'll help blur the indoor-outdoor boundaries. This will make the room seem larger, brighter and feel altogether more calming.
These can look expensive, but they don't have to be. Wait for seasonal sales or use home decor discount codes to find bargains year round.
9. Reflect your flooring
Work your wallpaper in tandem with living room flooring ideas for a considered finish. Choose a design which reflects some sense of your flooring, perhaps the colour, pattern or texture. As well as opening up the room, this will add a cool design element to a simple project.
10. Wallpaper the lower half of your walls
Keep your bank account a little happier by looking to budget living room ideas for your wallpaper. Papering only the lower half of the room is a great way to save on costs and you'll need a lot less material to work with. This is also a useful trick if you only have a small amount of a discontinued wallpaper available.
11. Choose a classic floral print
Once seen as fussy and dated, or solely for country living room ideas, florals are back in the lime light and back on our walls.
'Floral living room wallpaper ideas wrap your walls in nature and tend to incorporate a number of colours,' notes Melanie Adams, Global Manager, WallpaperDirect. 'This can be a great way to really imbed your colour palette into the space to make it feel cohesive yet natural.'
12. Pair blues and greens
'The old adage may go 'blue and green should never be seen', but we disagree! Mix just about any blues with green (plus their sophisticated love child, teal) and you've got yourself an effortlessly harmonious blend that's vibrant yet calm and soothing at the same time.
A lot of Arts and Crafts styles of living room wallpaper ideas will have this combo, adding a neat nod to a stylish tradition.
13. Co-ordinate with your paint
Choosing wallpaper doesn't mean that living room paint ideas aren't also an option too. The two can actually work beautifully together, especially if you have any kind of panelling on your walls, but you want to pair your paper with the right shade.
'When pairing a wallpaper with paint it's important to match the paint with a hue used in the wallpaper,' advises Zoe Hopgood, Designer, Graham & Brown.
14. Try a terrazzo print
Terrazzo is going nowhere as a trend, seen on floors and tiles alike. This cool pattern also works really well on wallpaper, giving the illusion of texture and adding just the right amount of pattern.
The design comes in any manner of colourways, so choose for pebbles to be in a tone that's complementary to, without overwhelming, the rest of the space.
15. Match with your window dressings
For a totally cohesive look, why not match your wallpaper with your living room curtain ideas? It's the ideal way to extend your chosen wallpaper design over window dressings and ensure there is no break in the pattern.
Many brands and designers will produce wallpaper, fabrics and accessories in the same print, so it's easy to keep to a matching look. If opting for full length curtains is a little too much pattern for your taste, try going for a couple of cushion covers in a matching print to your wallpaper, so the design is echoed more subtly around the room.
16. Amp up a rustic scheme
Use living room wallpaper ideas to add character to a decor scheme, such as in rustic living room ideas. Use a striking design to enhance the natural elements of your living room, such as woodland scene to add character to a cottage living room with exposed wooden beams and low ceilings.
Choosing a wallpaper design around your existing decor will create a subtle yet stylish approaching to decorating.
17. Invite texture to walls
Where you're looking to add interest to wall surfaces but not wanting fully-on pattern, seek an alternative design that emulates the look of a distressed surface. By doing so your walls will ooze character and interest without overpowering the scheme by layering too much pattern.
18. Team turqoise with teak
If you have a fair amount of wooden furniture in your living room, from sideboards to dressers, coffee tables, side tables and perhaps even a hardwood floor too, it might be in serious need of some colour to lift the scheme. Punchy turquoise living room wallpaper ideas will bring vibrancy and life to your room, without becoming too bright and garish.
18. Zone a larger space
Use living room feature wall ideas to help zone a larger space. Use wallpaper to define areas, such as a reading nook, home office, or bar area. With open-plan spaces so commonly used, this is a useful way to visually break up these larger areas.
19. Make art from wallpaper
Make a statement of a wallpaper by framing it. This creative idea allows you to use a wallpaper in your living space, in a more imaginative way. It's great for not only adding a quirky touch to the decor, it's also great if on a budget. Only one roll will be required to cover a smaller section of wall.
20. Smarten up with pinstripes
Create a tailored, designer look in your living room with pinstripes – they look just as smart on your walls as they do on suits. Choose soft greys or pastels so the scheme doesn't feel overly masculine, however.
21. Welcome in nature
Embrace the great outdoors and cover your wall in botanical beauties. Foliage, birds and florals are all traditional ways of dressing walls and will instantly make a space feel smarter. As classic as this is, it can stick work with modern living room ideas. Simply choose a design with a crisp white or dramatically dark background (rather than old school pastels) , depending on your aesthetic.
22. Proceed with painterly pattern
Introduce brushstroke-style patterns in bold colours. Drawing on the work of French painters Bonnard, Monet and Seurat, painterly wallpaper pays homage to artistic spirit.
Impressionist-style living room wallpaper ideas effortlessly showcase the graduated, ombre-effect that we have all come to know and love.
23. Wallpaper furniture
Who says wallpaper needs to go on your walls? Make a striking statement in your living room by wallpapering a key piece of furniture, such as a sideboard. This is also a fantastic way to upcycle an old item that might otherwise end up at the tip. Go for wood or brick-effect wallpaper for an on-trend trompe l'oeil look.
Where to buy wallpaper
When deciding on a new wallpaper scheme for your home, the first step will be finding where to shop so that you can explore different options.
There are so many shops, both online and bricks and mortar, where you can browse through different patterns and colour palettes. If you're shopping online then we always recommend ordering a sample where possible so you can check out the texture and tones in person.
Here are a few of our top places to shop for wallpaper:
• Wayfair are a firm favourite for hundreds of different wallpaper choices
• Wallpaper Directfeatures some of the top collaborations from designers we love, like Clarissa Hulse
• I Love Wallpaper has a huge range of patterned papers in modern prints
• Dunelm offers great wood-panel effect wallpapers and self-adhesive options
• John Lewis - we love their ANYDAY range for affordable style
• Amazon is the go-to for finding what you need quickly and easily
What type of wallpaper is best for a living room?
It can be tricky to know where to start when choosing a wallpaper for your living room, but choosing a design that you love and excites you is a good place to start. You might also want to consider the size of your room and also its positioning.
'When choosing your living room wallpaper ideas it's important to note whether the room is north or south facing,' advises Zoe from Graham & Brown. 'If the room faces south then it will get a lot of sunlight, allowing the use of the cooler colours in the spectrum, however a north facing room will need warmer colours to make the space feel cosy. Using a patterned wallpaper creates a focal point for the room – try pulling colours from it using accessories to create a cohesive interior style.'
Also think about how you want to feel in when you're in your living room and how it is being used. Is it a place to entertain? To relax? To multi-task as a home office? Once you know how the space will be used, you can start to think about whether you want a more invigorating, colourful design or a calming, muted one.
Where do I put wallpaper in a living room?
Before you start wallpapering away, make sure you consider where a pattern or design will enhance the space and what sort of statement you want the room to make.
'Many living rooms tend to have an existing focal point, such as a fireplace or entertainment system and so it's not always recommended to have a conflicting feature wall,' notes Melanie Adams, Global Manager, WallpaperDirect. 'Consider using living room wallpaper ideas on all four walls that complements the focal point for a more visually relaxing result.'
Whatever wall you choose to cover, be confident in your choice and remember, it can always be repapered or painted if you change your mind.
Get the Ideal Home Newsletter
Sign up to our newsletter for style and decor inspiration, house makeovers, project advice and more.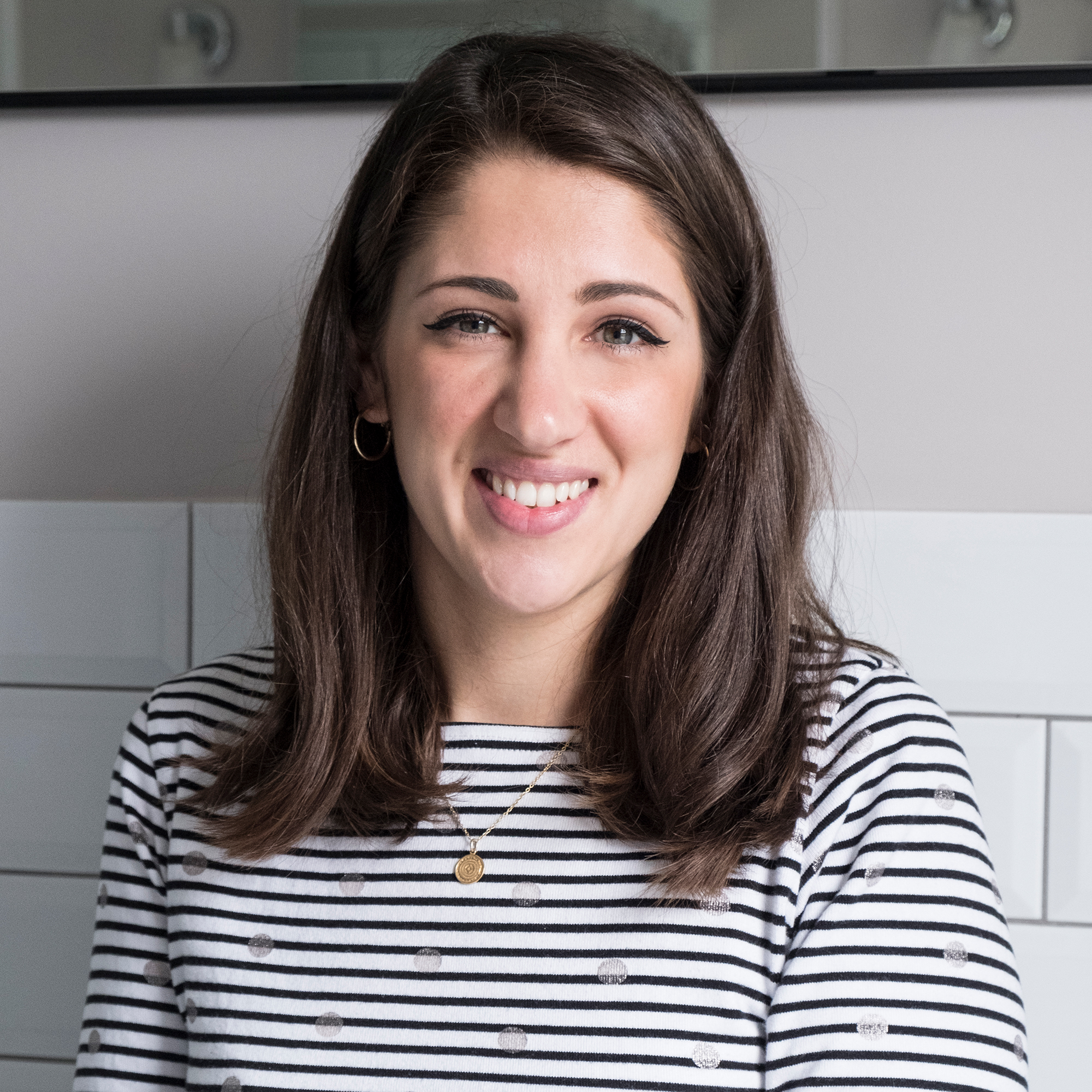 Holly Walsh has been Content Editor at Ideal Home since 2021, but joined the brand back in 2015. With a background of studies in Interior Design, her career in interior journalism was a no-brainer and her passion for decorating homes is still as strong as it ever was. While Holly has written for most of the home titles at Future, including Livingetc, Country Homes & Interiors, Homes and Gardens and Style at Home, Ideal Home has always been her ideal home, and she can be found sharing her expertise and advice across both the printed magazine and the website too.