'The house feels like a welcoming sanctuary now, just as it always was.'
It was a real homecoming for this owner when she and her husband converted her grandparent's former house for their young family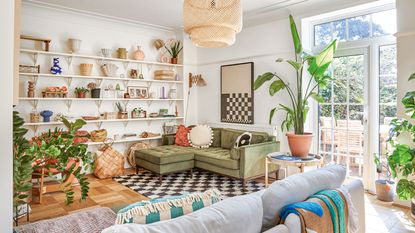 (Image credit: Future PLC / Kasia Fiszer)
A beguiling blend of trailing house plants, tactile ceramics, colourful glassware and natural woven elements, makes the Surrey home feels simultaneously energising and relaxing.

Its welcoming feeling is not new, however. Part of a converted school complex, this home was, in fact, once occupied and deeply cherished by one of the homeowner's grandparents, both of whom treasured the building's communal gardens. The house was eventually sold, but a quirk of fate brought it back into the family.
'We had no intention of buying it, but when I was pregnant with our first child, we decided to look for somewhere a little larger,' the homeowner recalls. 'As soon as I saw it again, it felt right – my husband and I were both excited by the prospect of renewing it.'
Elements such as original parquet flooring in the kitchen and hallway triggered nostalgic memories, but there was much to be done to make this home suitable for a growing family.

'It has a relatively intuitive layout, but it needed opening up somewhat,' she says. 'I don't remember the dining room being used when I was little, so we knew we wanted to knock it through to make a larger, multifunctional space.' The couple also updated the property's two bathrooms and laid new finger parquet flooring where the original could not be restored.
'Opening up the ground floor a little was a game changer for us. We knew we had to be clever with the space, as we don't have a playroom or a utility, so it was a question of being as efficient as possible and creating hard-working zones.'

As a result, the sitting room now features a handy home office area, created using visually lightweight shelving and a folding chair, softened by a vintage bamboo screen. On the other side of the room, display shelves feature an array of plants, books, ceramics, glassware and found treasures.
In the kitchen-diner, a combination of marble-effect and wood flooring zones the space, with open shelving laden with cookware and ceramics creating visual interest in the dining corner.

'We had our son soon after we moved in, followed by our daughter, so I knew we'd be at home a lot more,' the homeowner says.. 'As a result, I wanted to create a dining area that was practical but could also easily be glammed up for date nights.'
The renovation was not without its challenges, and she admits some of their initial ideas needed to be tweaked. 'At first, we added lots of wall-hung cabinetry in the kitchen, but it made the space feel hemmed in,' she says.

'We removed some of it and opted for open storage elsewhere, for a bigger, more bespoke look. This room has to cater for two young children and two dogs, so we thought long and hard about furniture configuration.'
In addition, on the ground floor, the property's pipework is boxed in above the skirting, making it tricky to fit furniture flush against the wall. But the couple turned challenges into opportunities. 'That particular issue meant opting for wall-hung pieces that could sit above the skirting, which ultimately feels visually pleasing. We have very high ceilings, so the eye is easily drawn upwards.'

They also compensated for the lack of a utility room by converting a first-floor storage cupboard into a laundry area.
Describing her style as 'relaxed, boho and cosy', she opted for soft neutrals, off-whites, natural materials and plenty of ceramics and glassware to imbue her home with warmth and tactility.
A surprise addition is a plethora of house plants, which she started gathering during the pandemic. 'I love that plants have maximum impact yet they can also be very forgiving and easy to care for if you choose well,' she says.
Now, foliage is studded throughout this home, from trailing Devil's Ivy, which can be trained round walls, to cacti, peace lilies and cheese plants. They trail from shelves, are dotted throughout in rattan and terracotta planters, or extend their fronds across cane furniture. 'I find them relaxing, as well as air purifying.

'Recently, we hung some Ikea pegboards in the hallway and we've added plants to create a living wall – it's a real talking point,' she adds.
The family is even closer to nature in the garden, where a tiki bar has been added – like the one her grandparents had. 'The house feels like a welcoming sanctuary now, just as it always was,' she says. 'I guess we've come full circle.'
Get the look
Get the Ideal Home Newsletter
Sign up to our newsletter for style and decor inspiration, house makeovers, project advice and more.