Could these front door numbers increase the value of your home?
Experts have mixed opinions on the matter…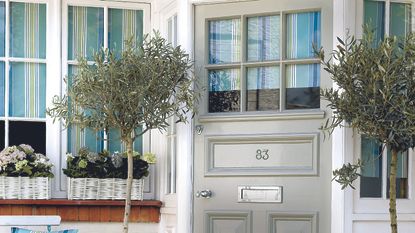 (Image credit: Future PLC)
Great kerb appeal, good schools, great transport links, and a south-facing garden are just some of the things we know will add value to a home – but did you know that your house number could have an unexpected effect, too?
Though it's not exactly something you can control if you're selling your home, a new study, conducted by property buying company Property Rescue, indicates that the number on your door could increase the value of your home by up to 8%.
So which numbers are the luckiest for raking in the cash – and which numbers might indicate that you'll have a trickier time selling?
It's known that certain front door colours can boost the value of your home – so Property Rescue analysed over 60,000 sold properties to work out whether certain door numbers also had the ability to improve a home's value; and came back with some interesting findings.
In fact, their research found that houses with the number 1 on the door generally sold for 8% more than other homes, with house number 2 following in a close second, selling for 5% more than the average, overall.
Director Andrew Landers from Property Rescue says, 'There seems to be a clear preference for single-digit numbers. Of all the door numbers in the study that sold for an above-average price, over half were single-digit numbers.'
In fact, the research found that house numbers 3, 5, 6, 7, 8, 14, 19, 26, 27, 29 and 30 were also fairly popular, with homes that have these front door numbers selling 2- 4% more than other numbers, even on the same street.
There may also be some unluckier numbers, as Property Rescue's study found that the door numbers 23, 24 and 25 sold for 6 – 7% less, on average.
Of course, there's every chance that this is simply luck, and that houses with the numbers 1 or 2 on them just happen to be pricier properties with more to offer buyers anyway. Michelle Niziol, estate agent and founder of IMS Property Group, explained that, while door numbers have never been an issue for her clients, some do appear to be more appealing to certain buyers.
'In my experience, I haven't ever encountered any issues in houses selling due to the door number, and it has never really been a common question that potential buyers ask.'
'However, number 1 is the most attractive door number in the UK, and it is known that odd-number houses usually sell for £30,000 more than even numbers. But really, this can be due to many other factors including location, quality of the house and design and price to begin with.'
Alex Chambers, a Senior Mortgage Broker at Clifton Private Finance explains that there does seem to be an attraction to the house number 1, but that may be because many prestigious addresses are associated with that number.
'As a mortgage adviser with years of experience in the housing market, I can honestly say that the door number is rarely a significant factor in determining a property's price,' he concurs.
'The only exception might be extremely prestigious addresses, such as No. 1 Knightsbridge or No.1 Hyde Park, where the street is already a significant address,' he says. 'In such cases, the door number could carry some symbolic weight and a premium might be added to the price, but it's rare and very difficult to attribute any tangible monetary value to it.'
He also agreed that house buyers are usually not explicitly deterred by certain house numbers.
'You might think that historically unlucky or superstitious numbers like 13 or even 666 could have a negative impact, but in practice, this doesn't seem to be the case. Some even find them quirky or unique, potentially attracting them to the property.'
In fact, Michelle advises that, if you are considering buying a certain home, the door number should be the last thing you think about.
'I would always advise a buyer to not put any emphasis on a door number when it comes to selling or buying a house, as there are definitely other, more important things to focus on,' she says.
So would a certain house number ever put you off, or encourage you, to buy a home?
Get the Ideal Home Newsletter
Sign up to our newsletter for style and decor inspiration, house makeovers, project advice and more.
Amy Hunt is an experienced digital journalist and editor, now working in a freelance capacity specialising in homes and interiors, wellness, travel and careers. She was previously Lifestyle Editor at woman&home, overseeing the homes, books and features sections of the website. Having worked in the industry for over eight years, she has contributed to a range of publications including Ideal Home, Livingetc, T3,Goodto, Woman, Woman's Own, and Red magazine.