Step inside this period farmhouse in the Scottish countryside
The owners of this period farmhouse have given it a new lease of life, creating a chic interior that combines vintage finds and modern touches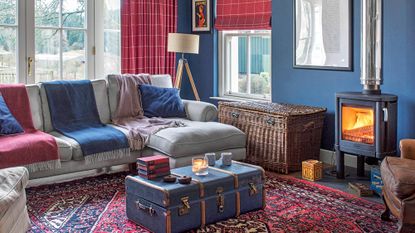 (Image credit: Future PLC/ Polly Eltes)
Ideal Home Newsletter
The Home Of Great Ideas For More Than 100 Years
Thank you for signing up to . You will receive a verification email shortly.
There was a problem. Please refresh the page and try again.
Set in the glorious Scottish countryside this farmhouse, set on a country estate, was originally somewhere the owner and her family loved to visit for holidays. 'The house has been in the family for generations,' explains the owner. 'It had been my husband parents' family home and then it became our holiday home. We were living a city lifestyle at the time and we would come for weekends, but when it got to Sunday night we didn't want to go home. So eight years ago we decided to move in.'
The couple knew the house needed work doing to it, to make it suitable for family life. 'It was a very dark farmhouse with a small kitchen so not very practical. Not long after we moved in, we began a major building project adding half as much space again to the house.' explains the owner. The couple extended the kitchen and added a snug to the side of the house, as well as a laundry room, cellar and boot room. Upstairs, they were able to create an office and an extra bedroom. While the renovation was being done, the family lived in a house nearby, which meant they could easily check on the project. 'We did the work in three months from start to finish, and it all went very smoothly.'
Building the extensions allowed more light into the house, which was a priority. Extra windows were added and they were made to match the ones in the main house so that they would look as though they had always been there. That continuity is followed through with matching door knobs and cornicing so that old and new blend seamlessly together.
Love country houses? Take a tour of a Cotswolds cottage with added Stateside style
Exterior
The house sits at 1,000 feet and is exposed to adverse weather conditions, insulation was therefore very important when renovating. 'We wanted the new-build area of the house to have soundproofing, too, so it felt just as quiet and welcoming as the old stone part.' explains the homeowner.
The renovations enabled the couple to use the latest technology 
to ensure the house is warm and cosy. 'We put in underfloor heating downstairs, as well as having radiators, and we have two hot water systems. The house looks traditional, but is full 
of mod cons.' The heating runs on biomass, using trees from the own land.
Hallway
The hallway creates a warm welcome. Quirky details add personality. The bespoke coast stand was made by a joiner using vintage skis.
Kitchen
The extended kitchen, now doubled in size, has become a family-friendly kitchen-diner complete with seating area. Character is added to the kitchen with pieces such as the vintage butcher's block, tractor stool and 
old wooden cupboard.
The homeowner describes her interior style as 'quite traditional with a modern twist'. 'There are things we've collected over the years and other items we have brought back from holidays. I wanted to create an eclectic look with a hint of French brocante – most of the rooms contain at least one thing from France.'
Get the look
Buy now: Grey Metal Celing Pendant Light, £139, Fusion Living (opens in new tab)
Buy now: Mckinley Complete Tractor Seat, £80.99, Black Country Metalworks (opens in new tab)
Living room
Soft colours and antique furniture combine to create a restful feel in the living room. When it came to decorating, the owner wanted to keep her home as light and bright as possible. 'Old Scottish farmhouses protect you from the elements, but tend to be dark, so we decorated most of the rooms in a pale palette.
'I like matt paint, not shiny, and the whole house was painted with gloss when we moved in – even the walls. It all came off and was replaced with estate emulsion.' She also chose Lewis & Wood and Linwood wallpapers and fabrics. 'I think they are perfect for a country house,' she says. 'I wanted to give each room character with either paint colours or wallpaper.'
Get the look
Buy now: Cambridge Armchair, £925, Laura Ashley (opens in new tab)
Buy now: Similar Beaded Overmantle Mirror, £195, John Lewis (opens in new tab)
The snug
This light-filled room, with its double-vaulted ceiling and large windows, was the one room where the couple felt they could use a dark paint. 'We were keen for it to have an American theme as we spend a lot of time in the States, so we incorporated lots of navy and red.'
Get the look
Buy now: Similar Alberton Leather Chair, £780, Laura Ashley (opens in new tab)
Buy now: Walls painted in Farrow & Ball Cook's Blue, £45 for 2.5L, B&Q (opens in new tab)
Dining room
A traditional farmhouse table sets the scene for informal dining. The console table was bought for £50 at an auction, cut in half and repainted – a great example of upcycling.
Get the look
Buy now: Camargue Solid Oak Dining Chair, £189, Oka (opens in new tab)
Buy now: Walls, painted in Farrow & Ball Parma Gray, £60 for 2.5L, Homebase (opens in new tab)
Main bedroom
Sumptuous fabrics add to the chic hotel feel in the master bedroom.
Get the look
Buy now: Similar Boutique Hotel Velvet Throw, £135, John Lewis
(opens in new tab)Buy now: Rushmere wallpaper, £64 a roll, Colefax & Fowler at Wallpaper Direct (opens in new tab)
Bathroom
Get the look
Buy now: Similar Mayfield Sideboard with Baskets, £494, Cotswold Company (opens in new tab)
The family love their home and surroundings. 
'We wouldn't move – we will be in the house forever. We love 
the privacy, being surrounded by the family's estate. We can 
do everything from home – shoot, fish, canoe in our pond and take beautiful walks. We can even ski on the hills in winter. 
We live outside and make the most of each season.'
This beautiful house was originally features in Country Homes & Interiors, February 2018