How much does a new kitchen cost? The true cost so you know what to budget
Discover where to save and where to spend in creating the dream kitchen for your budget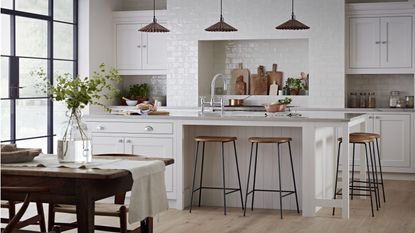 (Image credit: Kitchen Makers)
When thinking about installing a new kitchen, the cost is often the top factor that impacts the kitchen you chose. The increases in the cost of living, plus building materials and labour means that how much does a new kitchen cost is on the top of all of our minds when planning our dream spaces.
However, shiny new kitchen ideas can not only make a positive change to your life and the way you live it, but it can also add thousands to the value of your home.
The final bill for your kitchen can vary massively depending on the size, design and specification of your choice, plus installation costs need to be factored in too.
To help you keep your budget in check and your bank account happy here are the top factors to consider before you take the plunge.
'When shopping the market and gathering quotes, it's best to keep the competitors price to yourself in the first instance. Then once the quote is through, compare the quality and details, such as the type of handy storage units or the finish of the worktops. Never scrimp on quality, a kitchen will last you for years to come,' says Al Bruce, founder of Olive & Barr.
How much does a new kitchen cost?
If you decide not to consult a design professional, it's important to consider what not to do when designing a kitchen.
'Before jumping into quotes and overwhelming yourself with too many options, it's important to put in your own research to determine your preferred style,' says Al Bruce from Olive & Barr.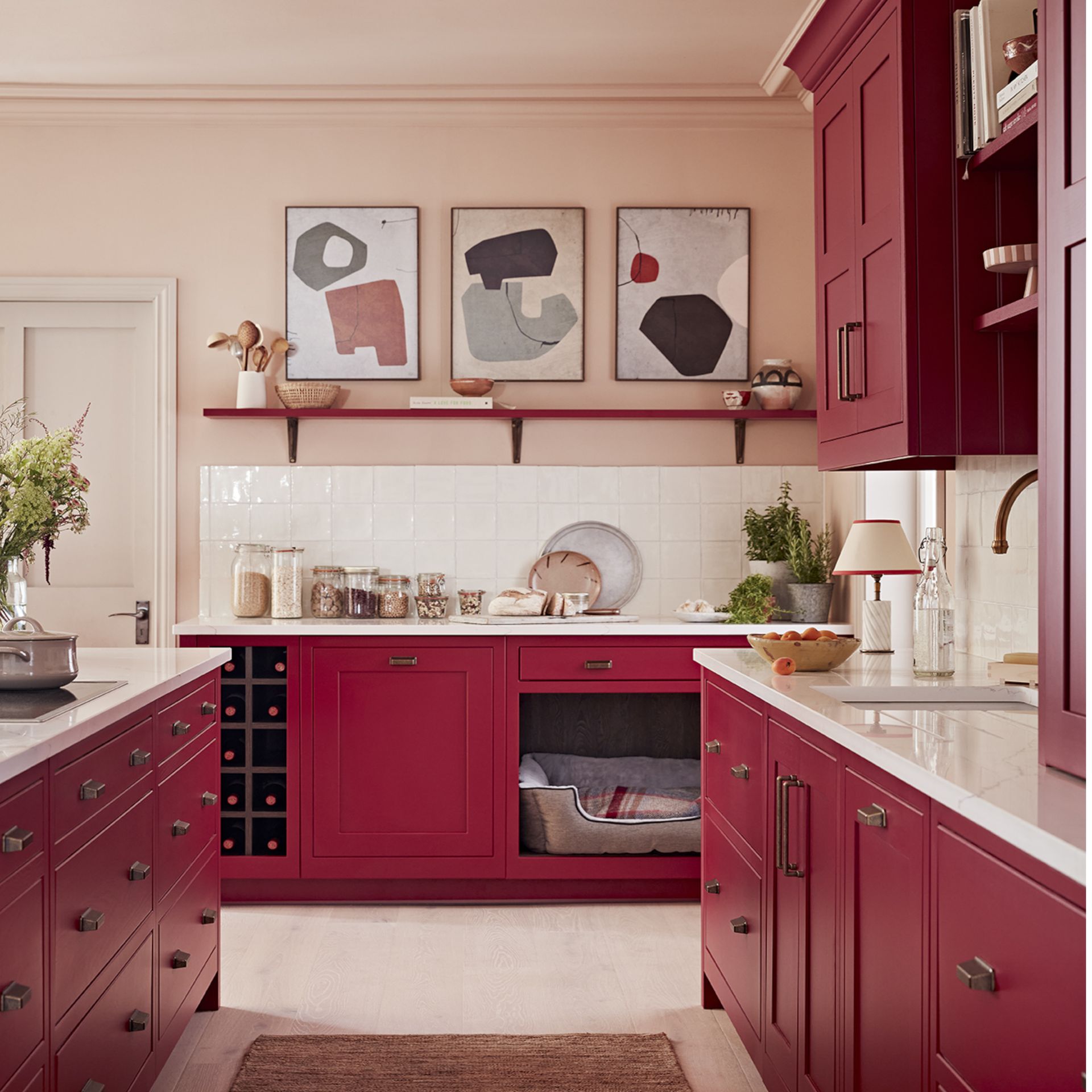 'Pinterest is a great place to source inspiration, and by making a folder you'll soon find your ideal style. From there, search the market for that specific design to see who specialises in that area, for example in-frame shaker kitchens. Pay attention to the finer details; where the units are made, the material used and joinery details.
'Go one step further and check out the reviews to see the customer service. Buying a kitchen is one of the biggest purchases for your home, so you'll want to feel completely satisfied with the entire journey.
'Next, consider how much storage you truly need. Look at your existing kitchen to figure out what items you use regularly and give your kitchen a detox by clearing out those items collecting dust at the back of the cupboard. By keeping units to an essential, it will help to cut costs while giving that designer style that feels open and airy.'
Depending on how much of a transformation you want and how good the bare bones of your kitchen are, you may not need to replace the whole kitchen. If you already like your current kitchen layout, then consider just replacing the most visible and tired parts of the kitchen, which is a great way to cut down on how much does a new kitchen cost.
Bill Miller, managing director at Der Kreis and part of My Kitchen Specialist advises people to expect between £15,000 to £20,000 for a kitchen from an independent kitchen retailer, including furniture, appliances, worktops and installation. Once you have set your budget, allow for a contingency fund of around 20% of your total budget to cover any unexpected costs that may come up.
'For a small kitchen including the fitting, the cost would be around £7,000-9,000,' says Rated People's Asad Choudhry of Glam Kitchens.
How much do kitchen cabinets cost?
This varies on the quality, style, materials and whether they're flatpack, factory-assembled or custom-made. As with how much does a new kitchen cost, things can be as expensive as you can afford, but there are some great budget options on offer when thinking about how to design a kitchen.
It's possible to buy eight units for a small galley kitchen for around £1,000-1,500 at retailers such as IKEA, B&Q, Wren, Magnet or Homebase. These are usually flatpack, so you'll need to add the installation cost. This is where you can save money, if you're able to fit them yourself.
Factory-assembled cabinets in customisable options, for example colours, sizes and textures cost more. Retailers such as Magnet and Wren offer these from around £3,500 for eight cabinets (excluding installation). The prices increase on the ranges with more options.
With a high end kitchen, how much does a new kitchen cost with bespoke cabinetry can be upwards of £10,000 and smart kitchen cabinets can make your kitchen work harder.
'The kitchen cabinetry is the biggest part and biggest investment when designing a bespoke kitchen so it's important to spend time deciding the kitchen layout, and how you want the cabinet to looks - both inside and outside. As the busiest room in the home, the space needs to work for your everyday needs and requirements so this is a vital stage of the design process, says Alex Main, director at The Main Company.
'Kitchen furniture can often be the most costly part of a project, equating to 40-50% of the total amount,' adds Graeme Smith head of retail and commercial design at Life Kitchens.
'However, this depends on the style and finish of the door, the level of smart storage and tailored internals within your cupboards. Also whether your chosen colour is painted to order or bespoke.'
How much do worktops cost?
At the budget end are laminate kitchen worktops. These can be bought from around £100 per metre when made to fit, and for even less if you're able to use a standard size.
Nadine Kimani, marketing manager from Kutchenhaus says, 'When it comes to selecting your worktops, consider how you are planning to use your kitchen and decide if you rather go for a laminate worktop and invest in upgrading your appliances and add a breakfast bar or if you want to set a statement with a more luxury solid stone worksurface. Laminate worktops have evolved over the years and are now available in fantastic stone or wood-effect finishes, giving you fantastic looks for less, and allowing you to upgrade other elements in your kitchen.
'Similar to appliances, the costs of worktops depend on the material and the size of the worktop. Laminate worktops are usually entry-level price range. Quartz would be good entry-level solid surface worktop, whereas Corian is more expensive with the option to create seamless, invisible joints. Top of the range would be surfaces such as Dekton.'
Ryan Smith category manager at B&Q says, 'In the middle are solid timber, bamboo and certain types of quartz and composite materials. These can range from around £150 per metre for oak up to £500 per metre or more for American walnut and stone composites. Although, some quartz composites can cost more than marble and granite. Expect to pay from around £300 per sq m, up to £900 or more.
Alex from The Main Company says, 'Worktops are heavily used everyday so it's important that the material you choose is sturdy, durable and able to keep up with your lifestyle.'
Main recommends using wood or reclaimed wood for your worktops. 'One of the major benefits is the natural beauty that wood provides, with each piece revealing its own unique character and markings. Reclaimed wood worktops create a new lease of life and are the ideal choice if you're considering an environmentally friendly solution in your kitchen that doesn't compromise on style.'
'Work surfaces can be anywhere from 10% of the project cost; dependent on the chosen specification,' adds Graeme from Life Kitchens. 'A good tip for managing how much does a new kitchen cost can be to mix work surface materials, breaking up runs of expensive materials with more cost-effective choices. This mixed material approach can also give unique look in your kitchen.'
How much do kitchen appliances cost?
Once you have chosen the kitchen appliances you want, the cost comes down to the quality and type of the appliances and the brands you want. IKEA's most basic oven starts at £150, going up to £720 for a smarter one with more functions.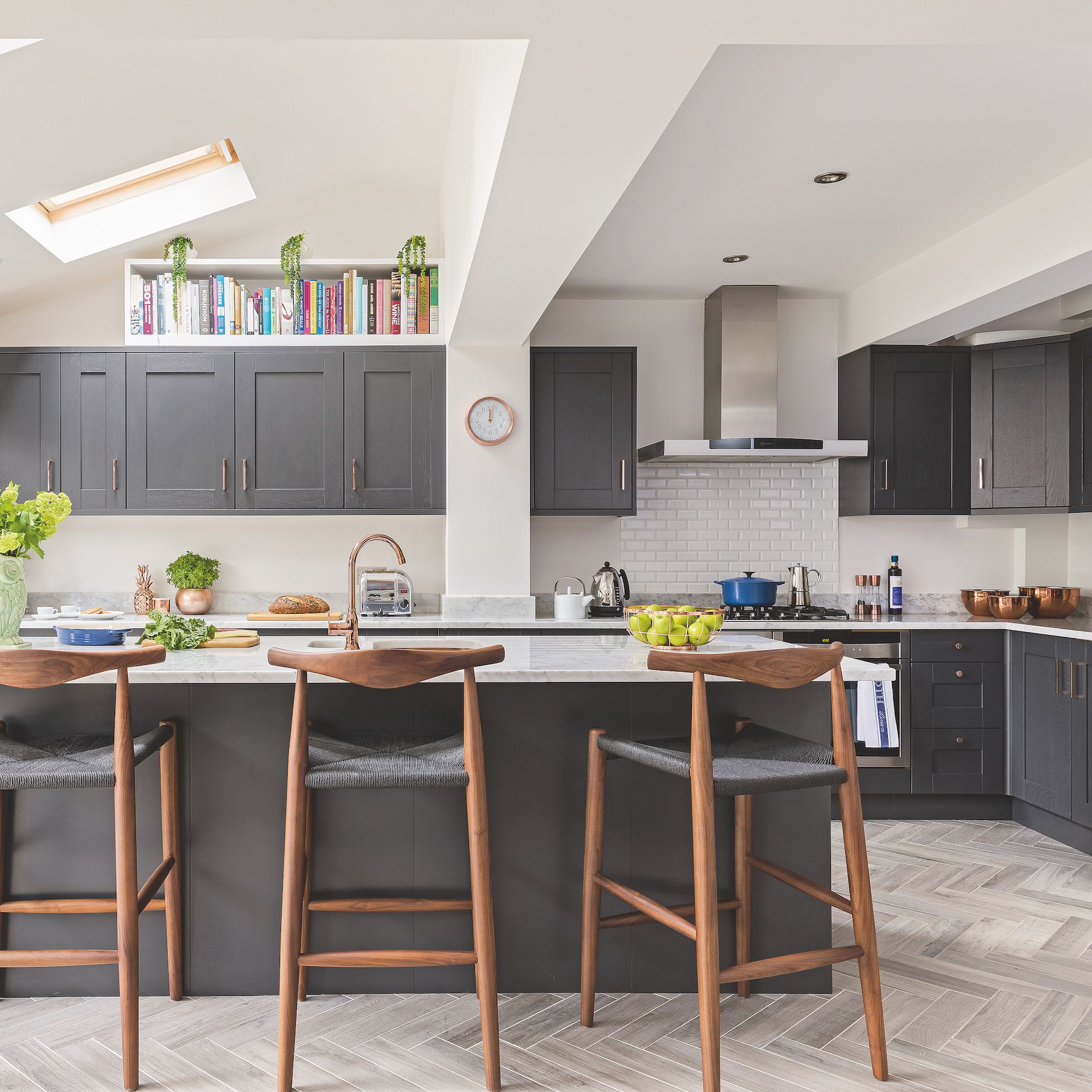 At John Lewis, an American-style fridge-freezer can vary from £899-£7,7249.99 according to the functionality and manufacturer. 'Appliances are a key investment typically equalling anywhere from 25-30% of the total kitchen cost,' says Graeme Smith from Life Kitchens.
'If customers are mindful of their budget, they should ask themselves how serious they are about cooking and if they actually need the high-tech gadgets,' says Lizzie Beasley, head of design at Magnet.
Nadine Kimani from Kutchenhaus says that installation costs need to be taken into consideration when thinking about choosing your appliances. 'Fitting costs very much relate to scale and complexity of the project. A dry fit installation of kitchen units, laminate worktops and final fix of appliances could be anything between £2,000 to £3,000. Schemes that require electrical amends, plumbing work or expert personnel would be a lot more.'
It's also worth thinking about kitchen appliance layout ideas too, so that your kitchen works harmoniously, as well as looking good.
How much does a budget kitchen cost?
If you are on a budget, fear not because you can still revamp your kitchen with budget kitchen ideas and give it a refresh. Start your money saving journey by removing any old kitchen units yourself, depending on their condition you may even be able to resell them. However when it comes to any gas or electric appliances leave it to a professional to deal with.
Another trick to save money is to use a local kitchen fitter when installing your kitchen because they will often cost less than those from large kitchen companies. You may also be able to get discounts on kitchen units and appliances from local kitchen specialists. If the budget is really right and you don't need new worktops or appliances, from under £1000 you can get chipboard or MDF cabinetry, faced with materials such as veneer or laminate. These will be sold flatpack, so will require you to get stuck in to install your kitchen.
'The cost of a project is always going to vary depending on the kitchen size, what the client needs from the space, whether there will be structural changes made and many more factors,' says Dawn Filkins, head of creative at Smile Kitchens.
'As a general guide, based on an 8-unit kitchen, in our Leende range with laminate worktops would be £1,873 excluding appliances. This design is small, but includes all cabinets, door and panelling needed to make a great, compact kitchen.'
'If you are planning a new kitchen and are on a tight budget the question to ask yourself is where you need to invest, rather than where you need to cut back,' advises Ben Burbidge, managing director of Kitchen Makers.
'It's key to ensure that the layout and services are exactly where you need them as you can, if necessary, complete a two stage build and expand on the initial plan. Choosing high quality materials is key for the cabinetry, so be careful not to over-spec elsewhere. You can find highly durable and affordable worktops, tiles and flooring which not only look great but perform brilliantly. Similarly, ask yourself if you really need the top of the range hob or fridge freezer, entry level products are equally as functional.
'Design wise, islands are a highly prized design feature, however if your budget is limited it may be prudent to explore alternative layouts – such as peninsular design – which will provide some of the functionality and use less of your budget. Similarly, you can team your lower cabinets with open shelving which, if you don't need huge amounts of storage, can be a cost-effective design tweak.'
Another way to keep the price down on how much does a new kitchen cost, is to consider second hand kitchens or ex-display kitchens. Looeeze Grossman, founder of The Used Kitchen Company says you can save up to 50-70% off the RRP with used or ex-display kitchens including worktops and appliances starting at just £1750.
Grossman adds, 'If you do decide to buy a new kitchen, a budget kitchen starts at around £5K plus.'
How much does a mid-range kitchen cost?
At Magnet or Wren a small kitchen from one of their premium ranges including appliances, worktops and installation can be bought for around £6,500-9,000. Using a kitchen designer is also an option if you need help working out the best way to transform your kitchen, Kitchen designers can provide functional and stylish ideas and solutions to give your kitchen the wow factor and function properly.
The cost of a kitchen designer depends on the size of your project and the level of detail you need. On average it costs between £770 - £5000 and with the largest projects designers will often take a percentage of the overall project cost, on average 8%.
How much does a bespoke kitchen cost?
Typically for most high-end brands, these start at around £25,000, although a bespoke kitchen on a budget can be done.
Brani Hadzhi, showroom manager at Scavolini by Multiliving says, 'When considering the cost of your kitchen, it's important to frame that cost correctly in your mind. It can be a sizeable sum – but a kitchen is only expensive if it remains unused.'
'If you consider that you'll use this space every day to gather as a family and share countless meals together, it is easy to see how the investment will be quickly repaid. The price of that kitchen will be as much – or as little – as you're willing to spend.'
'For example, we always give a guide price of from £25,000, but this will vary considerably depending on what decisions you make with regards layout, materials, surfaces and appliances.'
'But there are certain elements you should invest in. Buy the best quality you can afford rather than buying cheap and having to replace them quickly, as this isn't good for the wallet or the environment. And, ultimately, it will cost less in the long term to buy once.'
When fitting a bespoke kitchen the actual time it takes to fit is around 10-15 days. However, the overall process could take up to six months, including the design, planning, delivery and installation process.
'Ordering appliances well ahead of your kitchen is an absolute must right now,' says Al from Olive & Barr. 'While kitchen lead times are 12 weeks, appliances can be anywhere up to 20 weeks, which is causing long delays and should be a key consideration when planning your ideal installation date.
How much does it cost to fit a kitchen?
It's not just about how much does a new kitchen cost in parts - the fitting is important to consider, too.
The cost of kitchen fitter is around £120 - £140 a day, but rates are often higher in London and the Southeast. A plumber and electrician will often be needed if you are installing a kitchen from scratch. For companies that have kitchen fitters who can also do electrics and plumbing, their day rates will be higher than the average.
The location, size of space and number of units and appliances will all contribute to the cost of fitting a kitchen. 'The amount a customer will pay for a kitchen installation varies wildly and will be dependent on many factors,' says Damian Walters from BIKBBI.
'Location, availability, preparatory works, product speciality and the property itself are just some of the factors that will affect the installation cost. In most instances, an installation will cost upwards of £2,000, which could increase to tens of 000's depending on all those factors.
'We recommend obtaining multiple quotations for installation. Make sure there's a clear, itemised price for all elements of the install and a schedule of works. This should include preparatory works, fitting of appliances and, in some cases, clarification of materials to be used. There should also be a legally binding contract for service in place. This should specifically cover payment terms and the process required should a dispute arise.
'It's also recommended that some form of payment protection is in place. As an example, those that cover payments made by credit. We would strongly advise consumers not to part with cash, regardless of the incentive as this offers no protection in cases of dispute.'
Can I fit a kitchen myself?
This depends on your DIY skills and how complex the install, and there are plenty of DIY kitchen ideas. Fitting cabinetry is within the scope of someone with decent joinery capabilities. However, gas or electrical appliances have to be installed legally by a registered professional with the relevant certification.
'Someone would need competent skills in carpentry, tiling, plumbing and building work,' says Rated People's Asad Choudhry. 'They'll also need the right equipment. For example tools to cut and install worktops, cut tiles, and carpentry machinery. It's important to note that a good kitchen fitter can make a cheap kitchen look beautiful and expensive. But an expensive kitchen in the wrong hands can have the opposite effect.'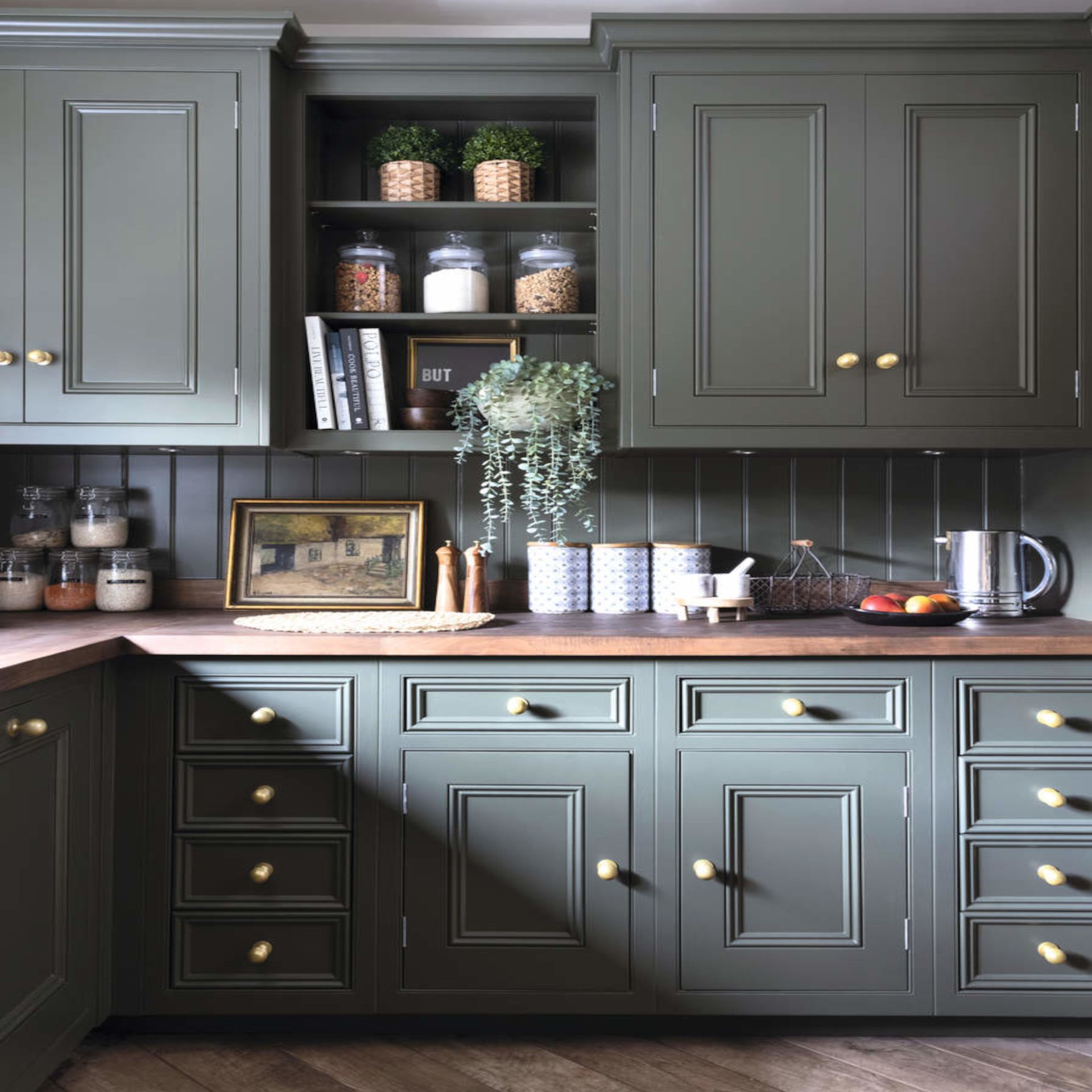 Damian Walters from BIKBBI, highlights, 'Some appliance manufacturers and retailers offer an installation service that includes the removal of old appliances. Otherwise, these will need to be done by a qualified gas engineer (Gas Safe registered) or electrician (NICEIC/other regulatory bodies).'
'Our recommendation would be to appoint a professional installer. They'll have a good understanding practical installations, legislation requirements and, importantly, trouble-shooting experience and expertise. Installation is complex as it covers multiple trades, regulations and competencies.'
Where can I save on new kitchen costs?
'A good way to keep costs down is by not ripping out the whole kitchen,' says Rated People's Asad Choudhry. 'By replacing the doors, pelmets, worktops and tiles you could save thousands and it would look brand new.' Painting old kitchen cabinets is another way to save money.
Richard Turner, national sales manager for the UK and Ireland at Pronorm says a great way of saving money when it comes to how much does a new kitchen cost, is by considering the type of material you use for cabinets and doors. 'Cabinetry and doors represent a big part of the budget when buying a new kitchen, but you can save money by carefully choosing the type of material used.
'Materials used on door frontals vary in price but still give you the freedom to create the look you want. For example, if you want a matt kitchen style, then choosing matt laminate doors will give a similar non-reflective tactile aesthetic to a more expensive matt lacquer option, saving around 25% on your kitchen furniture in the process.'
Turner also recommends thinking about the internals of your cabinetry and simplifying it as a way to save the pennies. 'Having a single drawer or simple shelving behind full height doors will cut out cost compared to more expensive wirework and pull-out mechanisms.
'Kitchen furniture manufacturers offer a range of drawer specifications at different price points. Rather than paying for premium spec and materials choose instead the standard drawer system with side rails – they might not look as sexy but they still do the same job and you'll save money in the process.'
'The key to reducing costs in a new kitchen is to first understand how much each individual item costs,' advises Dawn Filkins from Smile Kitchens.
'Many companies give customers a full breakdown of costs to show exactly what and where you are spending your money on. If, however, you don't have the pleasure of an itemised quote, there are a few ways to easily save money from the get-go.
What areas of a new kitchen should I invest in?
Dawn Filkins from Smile Kitchens says, 'Where you should spend and save in the kitchen is almost always down to the individual and their personal needs. Everyone should consider what areas or items they will use the most, as well as what is most important for them to have in a kitchen space.
'Worktops are a great place to invest in as they are consistently used and can also help give more affordable kitchens a more premium look - quartz and granite are two great durable and long-lasting options. Other areas to invest in are similarly 'high-use' products such as the kitchen sink, taps or even handles.'
Alex Main, from The Main Company advises, 'I'd recommend allocating budget for your kitchen flooring. It needs to be durable and up to the task of handling spills, moisture and heavy foot traffic. If you opt for a cheaper floor, it only means it will need to be replaced later on, so it's worth investing now for longevity.'
Brani Hadzhi from Scavolini by Multiliving adds, 'Think about the quality of the furniture. The cupboard doors and drawers will be opened and closed multiple times a day during their lifetime, so invest in hard-wearing door fronts and premium hinges and handles, which are likely to be more robust.
'Also, don't skimp on the kitchen tap. This will probably be used more than anything else in the kitchen, so ensure it not only looks good on the outside but is well built on the inside too, with components that will last. Consider a combined boiling water and mixer tap, so you can dispense with the clutter of a kettle on the worktop, but – again – invest in a reputable brand.'
'Finally, invest in an experienced kitchen fitter who knows what they're doing. An expensive kitchen will look cheap if it isn't fitted properly and will give you endless problems. A good fitter, however, can make a relatively inexpensive kitchen look incredible and function beautifully.'
Get the Ideal Home Newsletter
Sign up to our newsletter for style and decor inspiration, house makeovers, project advice and more.
Jacky Parker is a freelance interiors & lifestyle journalist, specialising in modern interiors, design and eco living. She has written for Future's interior magazines and websites including Livingetc, Homes & Gardens, Country Homes & Interiors and Ideal Home for over fifteen years, both as a freelance contributor and inhouse, with stints as Acting Digital Editor, Livingetc and Acting Style Content Editor, Country Homes & Interiors. Her work also features in national and international publications including Sunday Times Style, Telegraph Stella, The Guardian, Grand Designs, House Beautiful and more. With years of experience in the industry Jacky is privy to the insider view and the go-to places for interior inspiration and design-savvy décor.