DIY kitchen ideas – 16 savvy ways to refresh your look for under £50
Looking to update your kitchen space on a budget? These clever ideas and tips are worth checking out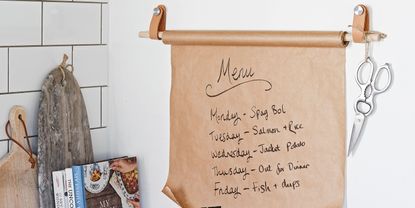 (Image credit: Future Plc/Joanna Henderson)
While we're all feeling the squeeze at the moment, DIY kitchen ideas on a budget are exactly what we need when it comes to giving the hub of our homes a refresh. And keeping those updates to under a reasonable £50 is even better!
A full-on kitchen redo can cost thousands, but with these clever kitchen ideas, a new look can be achieved on a pocket-money budget, plus are quick and easy to achieve.
When you start looking into how much does a new kitchen cost, the prices can be overwhelming, but you'd be surprised how much a space can feel different with just a few tweaks and changes.
DIY kitchen ideas
Whether you want more kitchen storage ideas, an injection of colour and pattern or just need some ideas for how your kitchen can work harder for you, these tips and ideas should inspire you to make the changes. All for under £50!
1. Wallpaper a kitchen island
Hit refresh and try one of our best DIY kitchen ideas - wallpapering one side of a kitchen island to add a touch of pattern to a pared-back scheme.
Measure the surface area of the island so you know how much wallpaper you'll need. You might be able to get away with leftovers from a previous project, or just hunting down a single roll from a charity shop or car boot sale.
Using a strong adhesive, carefully attach your chosen wallpaper, smoothing out any air bubbles or lumps as you go.
Finish by using a clear varnish to seal and protect, or cover it in a sheet of coloured Perspex for a modern, practical feel and a great example of stylish kitchen island ideas.
2. Create kitchen shelves with plate racks
It couldn't be easier to to achieve great kitchen shelving ideas. Mount beech plate holders, like the Nyplockad ones, £3 each, Ikea- to the wall, lining them up next to each other at your desired height and position. Arrange pieces of reclaimed wood on the dowels for shelves, covering them first with a couple of coats of chalk paint for a finished look. The plate rack dowels double as hooks for kitchen utensils too.
3. Make a display of a memo roll
Forget scribbling onto a notepad on the fridge and super-size your groceries list by creating an oversized memo roll.
For this type of DIY kitchen ideas, fix two leather handles, like the Osternas leather handles, £12 for two, Ikea- to the wall and slip in a wooden dowel to make a stylish holder for a roll of kraft paper. Use bulldog clips to weigh it down and keep a pair of scissors handy to cut off you lists and recycle once completed.
4. Paint an ombre shelf display
Bring some colour and interest to your painted kitchen ideas with ombre shelving. Pick up some tester pots of paint from the same family of colours and use them on the wall behind floating shelves for a modern ombre effect.
Either start with the darkest shade at the bottom and work up to the lightest, or the other way around. Display treasured items in similar tones for a feeling of calm and paint shelves the same shades as the wall above them.
5. Paint a band of chalkboard paint
Keep organised and tick the style box at the same time with a half height wall of blackboard paint. We recommend Blackboard Black, £19.49 for 1ltr, Rustins.
Ensure a crisp line by using decorators tape and use it like an oversized notepad for shopping lists, reminders or fun messages for the family.
Attach hooks above for shopping bags and other kitchen bits and bobs.
6. Repaint existing units
If you're wondering how to paint kitchen cabinets, it couldn't be more simple. It's a phenomenon taking over kitchens as homeowners decide to improve rather than move. And as we see more shining example of how effective it is, thanks to social media, we're feeling braver with paint to do it ourselves.
Remember to always use the correct paint type, or ensure the cupboards are primed to make the paint last, as kitchen cupboards are used every day, so it needs to be durable. Ronseal One Coat Cupboard & Melamine Paint is a super-efficient, affordable option for this job, available at Wickes.
7. Fake a splashback
'For a more obvious change, using panels for kitchen splashback ideas is a really great way to add your own sense of style,' explains Becky Martin, interior design leader at IKEA UK & Ireland.
'The Lysekil double sided white marble effect wall panels, £35 from IKEA are a quick way to get the effect of a splashback without needing to have a go at tiling.'
As the wall panels can be fixed with adhesive, they can easily cover an existing splashback for a speedy and painless kitchen update.
8. Change the handles and fittings
Another key element for completely changing the look and style of fitted cabinetry using DIY kitchen ideas is changing the fixtures and fittings. This comes at even less cost than replacing the doors, and is an easy way to achieve modern kitchen ideas in even a slightly dated space.
You can pick up stylish new handles for not a lot. We recommend IKEA where there are over 50 different styles to choose from, with prices ranging between £1 to £15.
'When it comes to updating your kitchen, a quick and affordable way is to change your door handles,' explains Becky Martin, at IKEA. 'For an additional and stylish change, you can also update other hardware, such as your tap, to match the new handles. Little touches like these can make a big difference to your home!'
'To make the change as stress free as possible, try and choose handles where you can re-use the existing screw hole,' Becky advises.
9. Use the wall for storage
Free up extra cupboard space with vertical storage solutions. This frees up space and creates an interesting focal point for the stunning kitchen wallpaper ideas, too. Hanging saucepans and utensils from a rack is an affordable way to add a new design feature. Use S-hooks to stylishly hang up the pans, etc.
Secure each end of these DIY kitchen ideas with sturdy brackets to ensure it supports the weight placed upon it.
10. Switch the blinds
It doesn't have to cost huge sums to change up the window dressings. As a dominant factor, this simple yet effect window treatment can add a splash of fresh colour, pattern and texture to instantly refresh a tired kitchen scheme.
Here, a texture linen fabric helps add a touch of sophisticated rustic chic – perfect to enhance a navy kitchen. You can pick up a small blind very cheaply from most retailers. We'd recommend Dunelm, where the prices start from as little as £8, and go up to £30.
Frame windows with lightweight fabrics to prevent the presence from overpowering, especially in small kitchens. Avoid pattern if you have small windows, for the same reason.
11. Opt for open storage
A great way to revamp our kitchens is to ensure we are using every space possible, as best we can. This trick is especially important in to think about with small kitchen ideas.
'Adding a small section of open shelving lets you show off your favourite pieces whilst keeping clutter neatly stored away,' says Becky Martin at IKEA.
'Modular systems and wall shelves are great options, and can be installed on the wall so you can access your go-to cookbooks or spices easily.' They're also super affordable – you can easily pick up a shelf and brackets for under £10.
Have a cupboard and kitchen overhaul before you think about buying storage solutions. It may be that you can save some room just in the way that you are already using the space. Once more organised you'll be able to see which smart solutions are best suited to your needs.
12. Lay down a rug
Rugs can improve the decor in an instant, and that goes for every room. The kitchen may not be the first place of choice for adding a rug, but it can go a long way to add a decorative element, particularly in more neutral white kitchens.
Rugs can be a great way to add colour and pattern to a kitchen without having to replace or alter the existing flooring. A great way to do this on even more of a budget is switch things up: rather than buy new, simply swap rugs from another room.
As the kitchen floor is often tiles or wood make sure your rug has a backing, to make it non-slip for extra safety.
13. Inject a splash of colour
A new coat of colour is always a brilliant way to instantly transform a room. You can do this on a budget – simply shop around for the best price on paint and opt for a feature wall, to save on the amount you need to buy.
With DIY kitchen ideas, think cleverly about your paint use. Think about just touching up around windows, door frames or storage alcoves to highlight key details, meaning even less paint needed.
Choose an accent colour that ties in the rest of the kitchen decor – from appliances to textiles. A clashing colour will jar and may not have the desired effect of creating a harmonious scheme.
14. Cover up with curtains
A cover up job is a great way to hide a multitude of sins in a kitchen. Don't like the look of the washing machine? Is the front of the open shelving starting to irritate you? Simply cover it over with a chic curtain.
Save on costs and use DIY kitchen ideas by cutting some fabric to fashion your curtain. Tack a hem along the top to thread onto a piece of cord at the top to act as the runner on which to pull it over.
15. Pull in new textiles
Sounds so simple, but trust us when we say it's so effective! From tea towels and oven mitts to aprons and washing up gloves, the everyday textiles and accessories we use in the kitchen are always on show and can help to add decoration.
Simply changing these can have a small but valuable impact on making the space appear refreshed.
Keep all textiles matching to create a cohesive look. Interchange the accessories seasonally to continuously refresh the room.
16. Add sprigs of nature
Plants hold a powerful presence, never felt more than right now in our homes! An element of nature has been welcomed in more rooms than ever recently, with bathroom plants and bedroom plants both hugely on the rise.
Kitchens are a great place to embrace an element of nature as this room is often adjoined to the outdoors, therefore creating a sense of extending the indoor living space to the outside.
Incorporate an element of 'grow-your-own' into your plant selection to be totally on-trend.
It's sometimes the little things that can make the biggest impact. Don't disappear if you're tired of your kitchen decor – all of these factors can go a long way to improve the look and feel for next to nothing.
How can I renovate my kitchen cheaply?
There are plenty of ways to renovate with DIY kitchen ideas, and you don't have to spend thousands to do it - budget kitchen ideas are the way forward. Painting your kitchen cabinets is a great way to give your space a new look, and it can be undertaken in just a weekend too.
Simple swaps like replacing handles and hardware is a great one, even changing out taps or lighting will also go a long way to make your kitchen feel new.
It's also worth keeping an eye on second-hand sites for pre-loved kitchens which you can often snap up for a bargain price.
How do you revamp an old kitchen?
Doing up an existing kitchen is easier, and often much more affordable than if you're starting with how to design a kitchen from scratch.
For example, painting tiles is a much cheaper option that replacing them, which will work for splashbacks or even a tiled floor. Changing cupboard fronts is great for DIY kitchen ideas and a good cost-saving way to revamp an old kitchen. Looking at alternative flooring options will also help.
An oldie but a goodie-simply painted the walls a new colour will give a fresh look to a kitchen, and changing window dressings will also help to keep things contemporary.
Get the Ideal Home Newsletter
Sign up to our newsletter for style and decor inspiration, house makeovers, project advice and more.
Tamara was Ideal Home's Digital Editor before joining the Woman & Home team in 2022. She has spent the last 15 years working with the style teams at Country Homes & Interiors and Ideal Home, both now at Future PLC. It's with these award wining interiors teams that she's honed her skills and passion for shopping, styling and writing. Tamara is always ahead of the curve when it comes to interiors trends – and is great at seeking out designer dupes on the high street.