Before and after: Light and airy coastal-inspired kitchen makeover
Knocking through to a bedroom gave the owner the perfect space for a relaxed kitchen-diner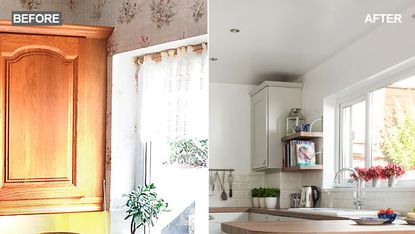 (Image credit: Future PLC/Colin Poole)
Ideal Home Newsletter
The Home Of Great Ideas For More Than 100 Years
Thank you for signing up to . You will receive a verification email shortly.
There was a problem. Please refresh the page and try again.
The owner had been thinking about revamping the kitchen ever since she moved in, but with working and writing a book, life was so busy that she kept putting it off. 'When I took a break from work, I realised I'd have time to enjoy the renovation process, and I decided to project-manage it myself.'
She was determined to turn her dark, dated kitchen into a fresh, airy space, so a coastal look was the perfect choice. 'I searched online for kitchen and dining room images and soon pinned down the main elements – crisp, pale colours, rustic wood, painted pieces and a few nautical-style touches. I picked up extra pointers close to home, too, like the style of the table and chairs, the tongue-and-groove panelling and the fisherman's lantern, all of which I noticed in my local beach cafe.'
Buy now: Symphony Longford Shaker cabinets, from £206 for a 600mm base unit; Colorado 1.5L bowl sink; Caple Shaftesbury sink mixer, £250, all Jewsons (opens in new tab)
Buy now: Novilon Nova flooring, £15sq m, Trago Mills (opens in new tab)
'I started with a hand-drawn scale plan of the whole room. The dividing wall was still there, so it was hard to imagine the empty space, but with the help of a family member, I came up with a practical layout.' The new kitchen units are more or less where the old ones where, as the position works well and the plumbing was already in place. The peninsula made a bridge from the kitchen to the dining area, without closing off the space.
'Moving the back door from one end to the centre, where it would open into the garden, felt like a natural step. To further maximise light, I added a second window next to it. It's the same size and shape as the existing one, so the whole look feels balanced.'
'Too boost my budget, I shopped around for absolutely every item. I researched local kitchen suppliers, and used the free planing services on offer to finalise my layout, ready for costing. My builder suggested the Symphony kitchen units and I thought the quality and prices were impressive, and the Shaker-style cabinets were just what I was after. I spent ages tracking down worktops that looked like a single piece of timber with a driftwood effect rather than wood-block, and finally found what I wanted online.'
Buy now: Mackerel mugs, £10 each, Cream Cornwall (opens in new tab)
'My unique dining table was a brilliant Gumtree bargain, but my best buy was the metal wall lights above it. I was struggling to get anything affordable, and although they're actually exterior lights from a builder's merchant, my electrician confirmed they work fine inside, too. Taking the wall down was nerve-wracking, as my builder couldn't guarantee it wasn't load-bearing until he'd removed a few bricks from the top. I was relieved when he said he was fine, as putting in a steel support beam would have meant extra work and expense. It was exciting to see the whole space for the first time, and with the new window and door, I knew the natural light was going to be amazing.'
Buy now: Ingolf dining chairs, £45 each, Ikea (opens in new tab)
'I managed with a temporary kitchen in my home office for about six weeks, and staying on site was useful, as I could make decisions quickly and minimise any delays. The dust was horrendous to live with, though, and I was happy when the disruption was finally over. The kitchen units and flooring are quite neutral, so I've layered on details like brushed chrome touches and blue-and-white accents to achieve my coastal theme. The lights and mirrors make such an impact and the panelling gives the dining area its own chilled mood. It's a fabulous space to cook and entertain, and everyone who comes in loves it. I'm really proud of what I've achieved in here.'