22 Kitchen shelving ideas for a stylish display that doesn't compromise storage
Banish clutter and boost your storage with these nifty kitchen shelving ideas for a streamlined kitchen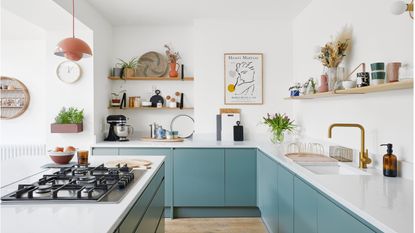 (Image credit: Future PLC)
The kitchen is the room in the house where people gather to socialise, cook and eat. So making it look beautiful but neat and tidy is essential to create a space you want to spend time in. Kitchen shelving ideas can be traditional base and wall cupboards or more modern open shelving. Getting the right balance between your shelves being practical and looking good can be tricky, but there are plenty of clever ideas that will take your kitchen storage ideas to the next level.
'By being both practical and decorative, kitchen shelves can make a huge difference to the look and feel of your cooking space,' says Yvonne Keal, senior product manager at Hillarys. 'Great for a neat and tidy kitchen, you can place your crockery - like bowls, mugs and cups, - on shelves above your work surfaces and display them proudly. To make sure your day-to-day items are within easy reach, place your kitchen shelves just above eye level.'
However, if you do opt for open shelving and want to show off your new crockery set or glass collection. It requires you to keep the shelves looking smart and organised at all times, which is no mean feat.
Kitchen shelving ideas
When styling your kitchen shelves think about how it fits with the rest of your kitchen ideas and how you use your kitchen on a daily basis.
'Stylish and practical, open shelving is the latest trend in kitchen design,' says Ben Burbidge, managing director at Kitchen Makers. 'Combining easy access to your kitchenware with the opportunity to curate a stylish selection of ceramics, glass wear and personal items, it is the perfect place to add a little personality to your kitchen.
'Although open shelving allows you to display items; opting for a selection of storage accessories, such as baskets, jars and containers, will keep individual items that you might not want on show hidden. Mix and match shapes, textures and materials to create an interesting look that isn't too uniform.'
Be inspired to create shelves you love with these kitchen shelving ideas.
1. Create symmetry with your shelves
Symmetrical shelving works perfectly for your small kitchen ideas because symmetry gives the illusion of a larger space. By being symmetrical your shelves automatically look more organised and cohesive and create a sense of balance. Placing the same shelving on either side of your cooker is an easy way to achieve this instantly.
What you place on your shelves doesn't have to be the same you could use the shelves to zone your items. One side could be for your crockery and glassware and the other side for food products. This type of shelving is versatile and can be made from recycled wood for a rustic look, or stainless steel for a modern style.
2. Make your own drinks bar
If you want to indulge in your favourite tipple and stay in the comfort of your home, a home bar idea doesn't have to be elaborate and can just be a kitchen shelf, which is perfect if you are limited on floor space.
Arrange your kitchen shelving so one shelf is for the booze and another shelf is for your wine glasses, coupes and cocktail glasses. Make sure to keep the shelf with the alcohol high enough so that any curious children can't reach it. Make it fun with a neon sign, or even a chalkboard showcasing the drinks on offer that night.
'Adding a home bar to your design will create a feature that is not only a great discussion point but also keeps all of a party's essentials in one easy-to-find location! A common misconception is that you need a lot of space for a home bar, but by using clever storage solutions, you can add a touch of fun to your design without losing precious floor space. Mirrored shelving and a small amount of worktop space are often all you need,' says Ruth Lavender, design expert at Benchmarx Kitchens.
3. Show off your favourite items
'Open shelving has the potential to become cluttered, so try to think of this predominantly as a space to showcase your favourite items,' says Mark Mills, managing director at Mereway Kitchens.
Your kitchen should be a reflection of your personality and your kitchen shelves are no exception. Your kitchen shelves are a prominent feature in your kitchen so is the ideal place to show off your favourite items.
'Create an eclectic storage gallery with pieces that bring you joy, such as decorative ornaments and artwork, displayed alongside glassware, well-thumbed cookbooks and larger serving dishes. This approach gives your practical items room to breathe and will encourage you to keep the collection curated instead of messy.'
However be careful about displaying expensive items like your grandmother's favourite china set, because they could become a victim to dust or children's hands.
4. Show off your shelves with lighting
'Lighting for open shelving in a kitchen really helps to lift the design to the next level,' says Mara Rypacek Miller, managing director at Industville.
Having multiple forms of kitchen lighting is important and should be layered to add ambience and depth. Kitchen shelving lighting is a form of accent lighting which will illuminate the shelves and contribute to mood lighting.
'There are an array of options available from LED strip lights and miniature spotlights, to larger wall lighting. Consider the space you have available and whether you would like the lighting at the back, front, under or above the shelving to find the best option for your project. Wall lights can add a stylish addition to the overall look of the space and installing a dimmer switch will also allow you to vary the light depending on the mood you wish to create.'
If your shelves are above a glossy or light-coloured countertop, under-shelf lighting does not need to be as bright because the countertop will bounce and reflect the light. However, if your countertop is dark or matte it will absorb the light so your under-shelf lighting will need to be brighter.
5. Fit shelves into an alcove
If you have a recess in a kitchen, make use of the often neglected space and use shelves as part of your alcove ideas to add extra space. Keep your shelving interesting by mixing the textures of your items, from ribbed, to metal to wood, this will draw the eye to an often tight space.
Olivia Boardman, interior designer at My Bespoke Room says, 'Consider painting the wall behind in a contrasting colour to add depth. Add closed storage at the base for extra hidden storage and depending on ceiling height of the room, shelves should be spaced equally.'
Create a feature out of floating shelves in an alcove by creating an ombre effect. Using colours from the same family, paint the darkest hue at the bottom before taking it lighter as you go up.
Will Lyne, lead designer and co-owner at Christopher Peters Kitchens and Interiors says, 'Plan the layout of your shelves, considering how you want to use the space. Consider factors like the height of items you want to store and how much space you need for each item. Wooden shelving evokes a warm, rustic feel, while glass or metal look sleek and contemporary. Choose a material that fits with your design scheme and withstands the weight of the items you want to store.'
6. Keep it simple with one shelf
For a paired-back minimalist look, a single shelf can be enough to hold frequently used items without being a focal point in the kitchen. If you only have a single shelf don't feel that it needs to be used just for storage. Take it as an opportunity to focus on decorative items like artwork, plants or a vase.
Have fun with it and use it to reflect your personality and put your stamp on the kitchen. Recycle old wine bottles to hold single-stem flowers, or get crafty and make your own clay plant pot.
7. Create a bespoke design with copper piping
'If you need extra shelf space in your home but don't have the budget for it, create your own shelving using tube and clamps,' says Leigh Start, operations director at The Metal Store.
When thinking about how to design a kitchen, getting stuck in and creating your kitchen shelves allows you to put your stamp on the space. Metal tubing and clamps can be found at places like The Metal Store and provide an industrial twist to your kitchen. Once you've got out your hammer and indulged in your DIY fantasies, soft touches like plants, flowers and decorative vases stop the shelves from looking too cold and clinical.
'This idea can create cost-effective shelf storage, whether it's something robust for your pots and pans or a unit for your living space to hold your favourite family photographs, it can be adapted for any area of the home.'
8. Keep dried goods out in the open
If you're a keen baker or chef and love nothing more than whipping up a showstopper for family and friends, then opt to keep your cooking and baking ingredients in glass jars and canisters. Displayed these on open shelving creates a stylish kitchen pantry idea.
Not only do they look much more pleasing than when in their packaging, it means they are all easily at hand for when you need them, plus you can keep on top of what you might be running low on, so you're never caught short mid bake.
9. Add mirrored panels to boost the sense of space
These glass shelves have been hung over a mirrored panel backing, which makes the kitchen space seem huge. Using just a simple baton of wood to support each shelf gives a fuss-free look and allows the items on each shelf to really do the talking.
Displaying mostly glassware is a clever trick too as more natural light is able to pass through them adding to the light and airy feel of the kitchen. The coastal feel is enhanced with the use of aqua blue accessories and seaside signs.
10. Make it monochrome
Keeping to a cohesive colour palette such as a monochrome kitchen is one way to ensure your kitchen stays stylish and doesn't look too chaotic. With simple grey walls, black wire shelving for cookbooks and cookery magazines and white shelving with black brackets, this homeowner has then chosen all her crockery and storage tins in the same monochrome palette too.
The patterned tiles add interest but don't become too overbearing as they are still within the same two colours and allow the herb pot to really pop against them.
11. Work in some Japandi style
Combining both Japanese and Scandinavian styles, the Japandi trend is one that is still big on the interiors scene. With its simple lines and shapes, plus strong use of black, opting for a smaller sized kitchen shelf, makes for a more considered display of your most treasured or most-used items.
Making the most of the wall height rather than width is also a savvy idea if you're short on space in your own kitchen, and ribbed glass storage jars play perfectly to the Japandi style.
12. Use shelving to trim a splashback
Butting up a wooden shelf against the top of this marble splashback idea has created a clean divide along the wall of the minimally dressed kitchen. The long floating-style shelf perfectly trims the hard marble and creates a place to display artwork, plants and neatly stacked dinnerware.
Although there is space for another shelf above it, the homeowner has decided to keep things simple and let the simplicity of the design become a feature. It has also meant a wall light can be hung which will create a cosy glow above the worktop come evening.
13. Team with your worktops
If you've chosen a beautiful timber for your kitchen worktop ideas (and wall tiles that complement them), use the same timber for your shelves as it will create a balanced look.
Chocolate brown and duck egg blue is always a winning combo. If you're opting for coloured tiles, think about what you'll want to put on the shelves. Here the crockery and other items have been carefully selected to echo the tones of the timber and tiles.
14. Ditch the doors
Rather than open shelves, an open wall cabinet has a smarter appeal, as the joinery will be in the same style as the rest of your kitchen, but it still allows you to have your finest mugs, teapot or whatever else you use most to hand.
'You don't want too many doors and cabinets. There is no need, everything on the shelves is used almost every day. And you want everything within reach. Hooks, hanger racks, and rods are a really good way to keep utensils and pans at the ready,' says Bo Hellberg, CMO at String Furniture.
15. Use every nook and cranny
Be imaginative with small spaces. A shallow wall or narrow gap is an opportunity for some clever storage. It may mean a bespoke option rather than an 'off-the-shelf' number but any carpenter or handy-person worth their salt should be able to make shelves to fit.
Richard Davonport, managing director at Davonport says, 'While there isn't much room on shelves, consider starting with items you'll place at the back of the shelves and look for items that you can use that will add height and frame whatever is in front of them.'
16. Consider the island for storage
Shelving isn't just for walls. Filling one side of your kitchen island ideas with open shelves in the same material as wall cabinets is a great way to bring colour and interest to your kitchen scheme. Fill it with items you use regularly such as plates and bowls which won't get dusty because they get washed frequently.
17. Use reclaimed wood
For a country-style kitchen, modern shelving may look out of place. Why not have a shelf built from reclaimed wood to add instant character and provide the perfect ledge for your rustic bowls and utensils? This country kitchen idea suits both rural and urban settings.
18. Blend with your cabinetry
Shelves in the same shade as your cabinets have a uniformity that will appeal to those who like things to look smart and ship shape. The subtle grey backdrop shown here offers endless opportunities for arranging shelfies (if that's how you like to spend your time - no judgement).
19. Create a display
Add a high shelf above a splashback to display artwork, as well as attractive tins, jars, and food packaging. Shelf space doesn't have to be purely practical; here kitchen-themed framed prints add personality to the room. Re-use pretty tins as utensil holders, and old glass bottles as bud vases.
20. Make the most of an unused corner
Corners in kitchens should never be ignored. They provide a sneaky space for storage and are a great place to display cookbooks, enamel crockery and copper accents, as seen here. Make use of even the slimmest spaces by installing shelves that fit snug between two walls, which allows you to connect areas together as one.
21. Have it made to measure
Make use of the width of a whole wall with bespoke shelves like this design, which mixes display shelves with cubbies, so you can show off decorative items and hide away everyday mess, too. Plus, with a bespoke design, it's easy to coordinate it to the style of the room with small details such as wood coving or trims, or help it blend into the wall by using a uniform colour.
22. Factor in standalone shelving
A bookcase or storage unit can now come in an assortment of sizes, materials and colours or even be customised to fit with your own decoration. It is an invaluable piece of furniture and it can be used in any room of the house.
To create a little more interest on your wall look for asymmetrical designs and for trickier spaces there are many narrower options available, perfect for popping between two windows. Don't feel compelled to just use them for books, they make the perfect display cabinet too.
How do you make open kitchen shelves look good?
If you go for open shelving it needs to be carefully curated so it continues to look good. Now is the time to suppress any hoarder tendencies and only display the most beautiful, functional and commonly used items. Unlike your kitchen cabinet ideas, open shelves collect more dust quickly so need to be wiped down regularly to keep them looking fresh.
Yvonne Keal from Hillarys says, 'Visually, the shelf will look more attractive if it's slightly above eye level, as it's not too high up the wall that it looks odd and out of place. Decorate your kitchen shelves with indoor plants to embrace the 'outside in' look.'
Jen Nash, design excellence manager at Magnet says, 'Open shelving can double up as both decoration and storage if you fill them with ornate jars, beautiful crockery and your best kitchenware while putting your less aesthetically pleasing items in closed cupboards.
'To make your shelves look sleek and stylish you can streamline the contents of your cupboards by decanting products into glass canisters or containers. This is a great way to reduce the amount of packaging you're storing, especially on things like cereals, which usually come in bulky boxes. To add some more colour to your shelves make sure to add a few plants for greenery and texture.'
Will Lyne from Christopher Peters Kitchens and Interiors recommends, 'To help your kitchen space look and feel brighter all year round, mix darker features with neutral, fresh colour palettes to lift the whole room. If you have darker shelving units, lighten these with prints or books in paler tones. Play around with dimension by blending darker paint shades or brighter features for your shelving with lighter worktops to make your space feel fresh and luxurious.'
Open shelves are where we display the items we care about the most, like the dog-eared cookbooks with our favourite recipes or a cherished casserole dish passed down from a grandparent. They give a glimpse into our lives, so it's worth giving some thought to what we keep out and what we put away.
Get the Ideal Home Newsletter
Sign up to our newsletter for style and decor inspiration, house makeovers, project advice and more.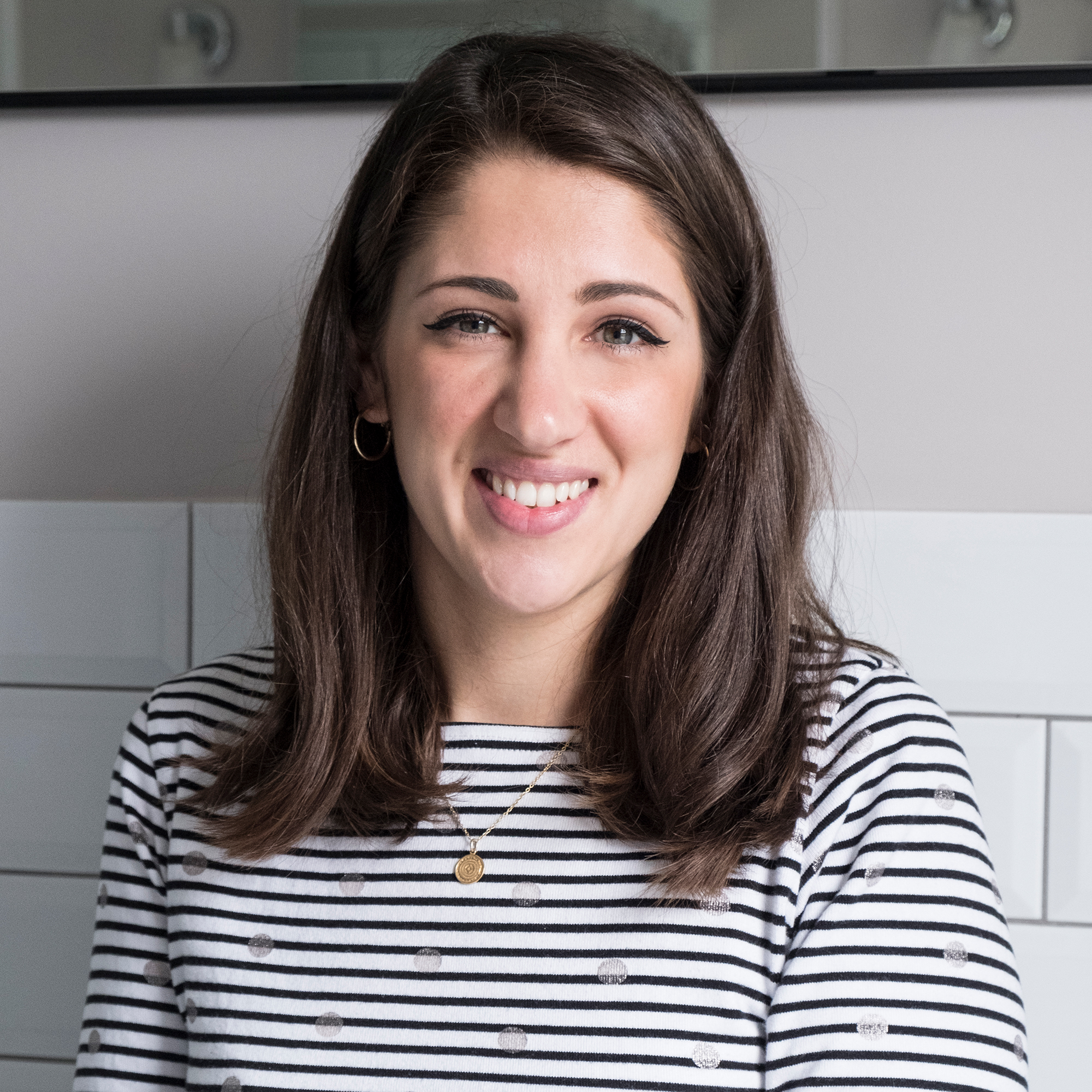 Holly Walsh has been Content Editor at Ideal Home since 2021, but joined the brand back in 2015. With a background of studies in Interior Design, her career in interior journalism was a no-brainer and her passion for decorating homes is still as strong as it ever was. While Holly has written for most of the home titles at Future, including Livingetc, Country Homes & Interiors, Homes and Gardens and Style at Home, Ideal Home has always been her ideal home, and she can be found sharing her expertise and advice across both the printed magazine and the website too.