35 smart kitchen lighting ideas that will make your kitchen shine
These kitchen lighting ideas will brighten up your space for anything from cooking, to eating and socialising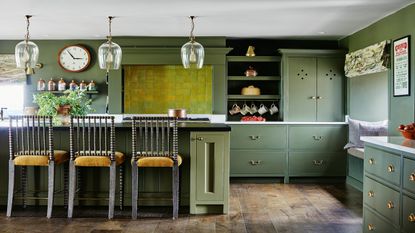 (Image credit: Future PLC/ Brent Darby)
There's a lot to consider in designing the heart of the home, and kitchen lighting ideas have the power to totally transform the space. This means that as fun an experience choosing them can be, they do require some planning.
After all, in terms of kitchen ideas, light can impact the feel and atmosphere of the space and emphasise certain features. So whether you have vast, tall ceilings or you're exploring kitchen lighting ideas for low ceilings, the right choice can make all the difference.
'Use kitchen lighting ideas to coordinate with your kitchen aesthetic, and choose designs that are as functional as they are beautiful,' advises Mary Buchanan, creative director of Laura Ashley Lighting and Mirrors. 'Glass or crystal-infused chandeliers will add elegance and a sense of luxury and will allow light to dance across the space and brighten unwanted dark spots.'
Kitchen lighting ideas
When it comes to designing a kitchen, lighting can often feel like an afterthought but it needs, however, should be considered at the same time as your plumbing.
'These days kitchens are multi-functional rooms where you can prepare your food, eat in, entertain guests and even work, so having the right kitchen lighting ideas for the area will allow the room to flow and create flexible spaces,' says Michael Meiser, lighting expert from Lumilum.
However, we're never ones to forget the aesthetics. 'Have fun with lighting trends,' agrees Kris Manalo, senior category manager at Atkin & Thyme. 'So long as you have sufficient task lighting in work areas such as the cooker, oven and hob, work surfaces and sink, there are no hard and fast rules.'
1. Divide your lighting into three
Michael from Lumilium emphasises the importance of the three types you will need to consider for how to plan kitchen lighting: task lighting, ambient lighting and accent lighting.
'The first thing you need to plan and install is task lighting, which is used to illuminate functional areas. LED lighting or spotlights are ideal for bright overhead lighting in a kitchen.'
'Next, look at how much natural light your kitchen has and the type of atmosphere you want to create with ambient lighting - used to create the general mood of the room. You can create a nice mix of light by using pendant lights, flush or semi-flush mounts in a combination of cool and warm tone lightbulbs.'
'Finish with accent lighting to highlight any visually appealing areas of your kitchen. Accentuate the features by placing the light at the back of a shelf, under countertops or around a kitchen island for softer, low-level light.'
2. Perfect your positioning
Getting the right positioning is vital – especially when installing lights over a kitchen island.
'For standard ceilings, pendants should hang around 30 to 36 inches above the worksurface, while the total width of the pendants should be about two-thirds to three-quarters of the island's width,' says Mara Rypacek Miller, managing director, Industville.
This is even more important when considering kitchen lighting ideas for low ceilings to ensure you're not overwhelming the room with too large or low a pendant.
3. Use wall lights to highlight features
Not just practical, lighting should also draw the eye, adding depth and highlighting decorative elements in the room. Here, an adjustable wall light – Jim Lawrence's Howard design in antiqued brass – illuminates the unit, emphasising the colours and textures that it brings to the wider scheme.
4. Broaden illumination with spotlights
Spotlights reduce visual clutter while still offering ample illumination. One of the best kitchen ceiling light ideas, they are especially well suited to small kitchens and, of course, a perfect example of simple kitchen lighting ideas for low ceilings.
'Just ensure you don't layer too many spots together as this can leave the room feeling cold,' advises Sara Ripamonti, co-founder of Aflux Designs, who created this space.
5. Choose a plug-in for added versatility
Wiring is often one of the earliest steps in a renovation, but it is impossible to foresee every scenario.
'Kitchens are ever-evolving, so we designed the Petite Giselle plug-in pendant, to let you install a light wherever it's needed – just sling over a hook or rail,' says David Lam, Lam Lighting founder.
6. Relax with fabric shades
If your kitchen is also home to your dining table, then consider softer kitchen lighting ideas in this area.
While fabric shades are inadvisable in the working parts of the kitchen they can add welcome texture and pattern to kitchen-diners, as seen in this space designed by All & Nxthing Interiors. Pair with a dimmer switch to set the tone for an evening meal.
7. Get flexible with rise and fall lights
Rise and fall lights really come into their own in the kitchen. Offering adjustable illumination, they can be pulled down to focus light on intricate tasks or lifted to provide wider ambient lighting.
The glass shade of Original BTC's conical prismatic rise and fall design is also a great small kitchen lighting idea, as it improves light throw and is less visually obstructive than solid designs.
These are great for any size of kitchen, and an especially handy example of kitchen lighting ideas for low ceilings as you can move the shade away when you need to use the space without direct light.
8. Choose boxed-in chandeliers
Kitchen chandelier ideas are the perfect way to make a statement, but the classic teardrop design – with many crystals – is a challenge to keep clean. Instead, opt for a more stripped-back design that still packs a punch, such as Pooky's Hunza chandelier in prismatic glass and brass.
Featuring fourteen faces of prismatic glass in shallow pyramids, set in a solid brass frame, it will reflect light beautifully around the room and create a central point above an island.
9. Go for an industrial vibe
Originally designed to illuminate factories, the Coolicon's kitchen lighting ideas is a favourite of industrial-inspired schemes and is loved for its wide range of colours and simple enamel shade.
However, its appearance is superseded by its practicality. Unlike traditional pendants, Coolicon lights feature a vented top – designed to extend the life of the bulb – which also projects light to the wider room as well as directing it below, for both task and accent lighting.
10. Go reclaimed for rustic charm
There is a richness of character that comes from incorporating reclaimed items into the home, and kitchen lighting ideas are no exception. When purchasing reclaimed fittings, it is essential that you seek out a supplier that has restored the pieces to comply with modern electrics.
Skinflint is one such company that salvages from industrial sites in Hungary. However, this means that the stock is ever-changing. Alternatively, there are many companies that sell replicas with greater availability.
11. Compliment your lighting to the era of your home
Complimenting your lights to the era of your home is a great way to provide a seamless finish to your kitchen lighting ideas and can be an opportunity to experiment with DIY kitchen ideas.
Zoe Newson, interior designer and consultant at pre-owned marketplace Vinterior recommends, 'For Georgian kitchens, the opportunity to light them authentically to the time period presents itself perfectly. Play around with different lighting features to create depth, like under cabinet task lighting or a vintage overhead chandelier that will perfectly complement the space.'
'Edwardian homes tend to have intricate details which make them visually interesting before you even start decorating. Unlike a Georgian home, their large proportions don't make them appear bare. Therefore, simple lighting is most effective to compliment its surrounding features. Create an interesting detail by adding ceiling roses around a pendant.'
'If you have a 70s Terrace home, avoid having lighting fixtures or accents right in the centre of a spacious, open-plan room, as this doesn't allow for the separation that really benefits the space. Instead, focus on creating zones within the space, such as low level pendants over a table, or floor or table lamps near dining seating.'
12. Highlight your dining table
Placing your dining room table in your kitchen is a common feature of budget kitchen ideas and helps make your kitchen a more sociable space.
'If your kitchen is part of an open-plan space, you will probably have a dining table, which should always be the starting point for ambient kitchen lighting ideas – your primary source of light,' says Hanna Walter, creative manager at Heathfield & Co.
'If you have a particularly long, rectangular table, spread the light with either a linear chandelier or multiple light sources (odd numbers work better than even numbers). If your table is round or square, a single statement chandelier or a dramatic cluster pendant can't fail to create a stunning centrepiece. Look for lights made from materials that offset the cool materials that can dominate a contemporary kitchen – namely warming metals and woods, textured ceramics and coloured glass.'
13. Choose LED lighting
For modern kitchen ideas LED lighting are a perfect choice and can be used in a wide range of applications which makes them easy to place in areas where they are needed most.
Sean Liddle from Benchmarx Kitchens says, 'Cabinet and spot kitchen lighting ideas have been the popular go-to for some time and can be used to great effect to highlight areas both under and in cabinets. For a dramatic look, the latest LED back panel lighting kits are ideal for use with glass-fronted units.'
Their low heat emission makes them extremely energy efficient, helping you to save energy at home. They're also ideal for areas that require little maintenance or are awkward to replace such as recessed ceiling lights or floor uplighters.
14. Mix and match your lights
When it comes to your kitchen lighting ideas feel free to experiment with different styles in different areas of you kitchen to help zone your space. For example if you chose to go for country kitchen ideas you can choose lighting within that theme or choose something contrasting.
'Key to the success of a good kitchen is its lighting. Using a mix of styles and finishes can bring excitement and personality into the space,' says Julian Page head of design at BHS. 'When mixing lights, always consider scale, and ensure the sizing is balanced within the room. If you're using a large statement over the island, consider more paired-back pieces for the rest of the space.'
'Similar to home accessories, mixing various textures and styles can create dimension, warmth and depth. Whether you choose different finishes or styles, find something that will tie each of the fittings together to create a cohesive look.'
15. Hang a trio of vintage pendants
Hanging three small, delicate pendants in a dark tone anchors a light, bright and modern kitchen scheme. Illuminating the breakfast bar, the lights also create a focal point and area guests will naturally gravitate towards.
The vintage design and dark colour of the glass pendants contrast nicely with the contemporary feel of the rest of the space. When it comes to kitchen lighting think outside the box and use this as an opportunity to express your personality.
'Pendant lighting is a great touch to add more focused illumination, while at the same time introducing an added design feature,' says Sean from Benchmarx Kitchens.
'Whether opting for contemporary clear glass and chrome, antique brass, or even industrial matt black and copper designs, pendants are the perfect way of bringing your chosen interior scheme to life.'
Hang pendants low over the table for a feeling of intimacy. Or position them high over kitchen islands. This not only provides a great source of light, but it also adds interest, breaking up the harsh lines of cabinets.
16. Add a touch of texture
'Don't be afraid to use 'living room' lighting in the kitchen: a floor lamp in a corner or a table lamp at the end of a worktop,' says Niki Wright, co-founder of lights&lamps. 'Kitchens obviously need to work hard and so does the lighting, but consider the space when it's not being functional. Family and friends often congregate around an island so consider low-level or pendant lighting here.'
A wicker lampshade brings in some texture, and sure, you'd need some other task lighting going on so you can see what you're doing, but the more relaxed light fitting is great if things start looking a bit clinical.
Here, the woven material brings a warm, country farmhouse look, offset by the glossy coloured tiles arranged in a striped pattern. It would be a great addition to a farmhouse kitchen, where natural textures and materials combine to bring a laid-back and welcoming look.
17. Display a feature light
Once you've worked out how many spotlights you need for your kitchen, why not add something more architectural?
Mid-century swing arm wall kitchen lighting ideas add visual interest. Some have rotatable arms and adjustable shades so you can get the light where you want it. It's one of the rather nifty kitchen lighting ideas for low ceilings, too.
This extra, eye-catching light will provide useful task lighting for chopping onions as well as casting a cosy glow in the evening with the other lights turned off.
18. Zone with different styles
'Open-plan kitchen diners can be sectioned into "zones" with the use of distinctive lighting,' says Mary from Laura Ashley. 'This can be accomplished by the use of directional down-lights or spot task with swivel joints within the prep and cooking areas and oversized statement pendants with dimmers over the table or island to add drama and atmosphere.'
In this open-plan space, the 70s-inspired sputnik light shouts 'dinner time' while the spherical glass pendants bring elegance and poise to the kitchen. A black table lamp illuminates a console table, adding another little zone and a soft layer of light, and ceiling spotlights are there in the background for when a dinner guest loses an earring. Switch up different styles to create zones and pockets of light to make your space feel considered and contained.
19. Arrange multiple statement pieces
Make a talking point with a striking arrangement of statement ceiling lights. These warm-toned exposed glass bulbs certainly bring the 'ooh!' factor, and we think they look a little like oversized raindrops.
They add a fun and quirky feature thanks to their large size and organic shapes, while also lighting up the kitchen work surfaces. Note how the kitchen cabinets are minimalist and handleless, letting the decorative pieces and lights do all the talking.
20. Seek out nautical styles
Hunt down vintage pieces to bring something different to your space. Kitchen lighting ideas offer a great chance to add character to any room, and these industrial, nautical-style caged bulbs contribute to this kitchen's traditional and artistic look.
These types of lights would also look great incorporated into your kitchen walls idea and make an eye-catching focal point which the rest of your kitchen can be built around.
21. Work your high ceilings
If you have high ceilings, a pair of feature pendants will draw the eye and are a great idea for how to make a small kitchen look bigger. Kitchen lighting ideas with reflective metallic shades will bounce daylight around the room, too.
'Keep the pendants an equal distance apart from each other to promote a sense of symmetry,' advises Tom Howley, design director from Tom Howley Kitchens. 'Also, keep each end pendant about 6 inches inside the edge of the island. You don't want pendant lighting to hang too low. You need to ensure adequate clearance above taps, or for clearance purposes if you use your island for dining. It's also important to make sure it's at a practical height so that you can use the space efficiently.'
22. Use subtle wall lights
Kitchen lighting ideas for an extension should be considered before you start construction. After all, the last thing you want is to realise you need extra lighting but have no wiring or sockets where you need them. While side returns of course add a lot of light during the day, you do need to think about the appearance of the space come evening.
A good solution is to integrate wall lights which will blend in when not switched on. Choose a rounded bulb for overall light or a directional one for more focused lighting.
23. Make a style statement
Kitchen lighting ideas aren't purely practical – they're also a chance to have some fun. Hanging a pendant for a dramatic focal point is like finishing off an outfit with some statement jewellery.
If possible, position it directly above your island or kitchen table so it can aid in task lighting, too. This isn't just for large kitchens, either. Small kitchen ideas can equally benefit from statement lighting moments and can add character to a space and create a warm glow in the centre of the kitchen.
These dramatic statement pendants can sometimes come with an equally dramatic price tag, so it's worth your time to see what home decor discount codes are currently active.
24. Adjust sight lines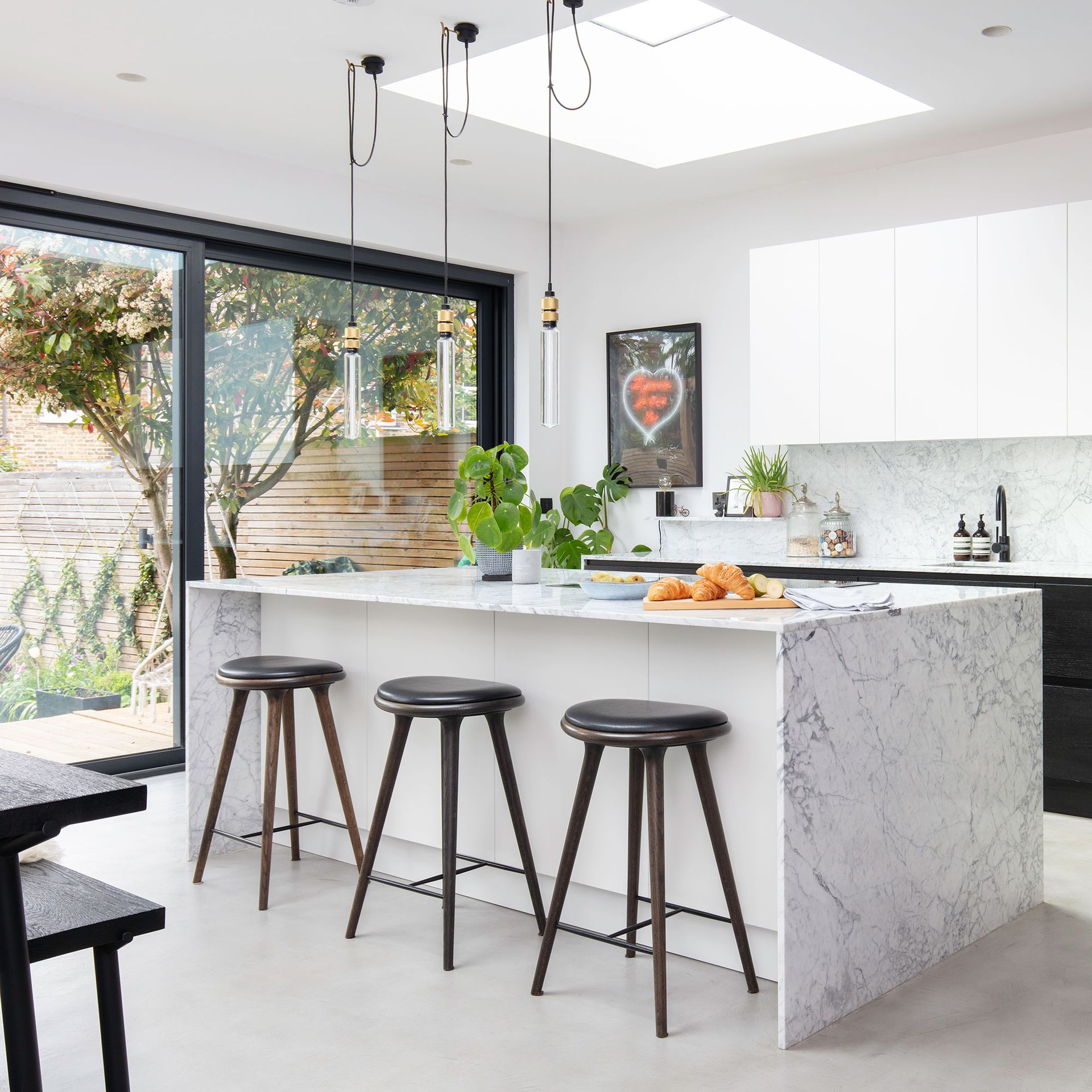 Your needs for kitchen lighting ideas will change frequently. Make life that bit easier by choosing an adjustable lighting system. For example, pick pendants which can be easily raised or lowered depending on the level of brightness you want, and to allow you to adjust the sight lines.
'If you have a stunning view from a window or enjoy social gatherings in your kitchen, make sure pendant lighting doesn't hang so low that it blocks any views – you don't want to spend your dinner party talking to an attractive lampshade,' notes Tom Howley from Tom Howley Kitchens.
25. Measure vertically
There are a few rules of thumb which can take your pendant lighting to the next level. 'Pendants should hang 12-20 inches below an 8-foot ceiling,' advises Tom Howley from Tom Howley Kitchens. 'For each additional foot of ceiling height, add 3 inches. For example, for a 9-foot ceiling, the pendant should hang 15-23 inches below.
'Sets of three work really well together and ensure that the full length of the island can be illuminated.'
The perfect height depends on two factors: the height of the people living in the house and the height of the ceilings, so make sure to measure up carefully when exploring kitchen lighting ideas for low ceilings. Wall lights work well in a small kitchen, especially ones with little natural light. Give a modern kitchen an industrial twist with a stainless steel or brass light fixture.
26. Get down with dimmers
With so many different light sources at your disposal and with different functions to cater for, it is wise to consider a flexible control system rather than a simple on/off switch. If possible, make sure your kitchen lighting ideas are controlled separately so you can create different moods at the flick of a switch. Don't forget to put lights on a dimmer switch, too.
'It is recommended to incorporate pendant lights that are easily dimmable,' says David Amos, CEO at Amos Lighting + Home. 'This is so you can reduce the brightness down when you have completed a task, allowing for a relaxed environment to socialise in.'
27. Illuminate under cabinets
'Getting the right kitchen lighting ideas can mean it can easily switch from home office to cooking haven and, on occasion, a dancefloor,' explains Chris Webb, kitchen category manager at B&Q.
'One design feature that has proved popular with our customers is integrated cabinet lighting These lights replace the base of the wall cabinets and provide light inside and below the cabinet and use motion control to switch on and off. This means there are no messy wires or unhygienic switches.'
28. Embrace alternative designs
While pendant lights remain the more popular style choice for kitchens, there's a growing trend for incorporating more statement kitchen lighting ideas. Think those which you're more likely to find in living rooms. As open-plan kitchen ideas become more popular, this fusion between decor styles opens up a world of possibility to have fun with statement chandeliers and Sputnik-style globe lights.
Use the more statement style to act as a central light source, over dining areas and islands. Then add more directional task lighting via spotlights and downlighters over countertops and cooking areas.
29. Mix your materials
Choose lighting that will contrast with the other materials and styles within your kitchen to stop the scheme from falling flat. 'You need to take the style of your room into consideration when considering kitchen lighting ideas,' advises Richard Moore, design director at Martin Moore.
'A room with glazed cupboards, large windows, glass splashbacks and so on, is the perfect setting for a traditional or contemporary chandelier to add real sparkle. At the other end of the spectrum, calm minimalist spaces require bold architectural lighting.'
30. Work from the ground up
Think about the whole room when considering kitchen lighting ideas, floor to ceiling. Adding profile lighting to the bottom of kitchen cabinets or an island can serve purely to add ambience.
'If you want to really make a statement with your kitchen island, perhaps the boldest form of accent lighting is LED profile lighting,' advises Hayley Simmons director of commercial range at Magnet. 'Sitting below the worksurface, profile lighting brings bags of ambience to a contemporary kitchen and is perfect for those that love to host and entertain.'
31. Take on task lighting
Under-cupboard spots fitted directly above the sink, can be incorporated into your kitchen sink ideas and will ensure bright, focused task lighting. Make sure you position them as close to the front edge of the cupboard as possible, otherwise you'll illuminate the back of the worktop only.
The best options are small, compact fluorescents or LED under-cupboard downlighters that are slim enough to be recessed into the bottom of overhead units. Flexible LED strip lighting mounted on the underside of cupboards is another option.
32. Work with your layout
Working in a kitchen with only a central light fitting means that you are standing with your back to the light and in your own shadow wherever you are in the room. A matt white ceiling and light-coloured upper walls make any lighting system more effective by reflecting the light and spreading it more evenly, which also creates an illusion of space. Here, lights have been angled strategically to highlight different areas to avoid parts of the room ending up in the shadows.
'In a kitchen blessed with natural light, you can focus more on letting the light pour in and less about how to tone it down to create some afterhours ambience. So, when designing your lighting scheme, be sure to think about low-level lighting as much as the sort you need for chopping and cooking,' says Helena Davies, head of buying at Barker and Stonehouse.
33. Keep it consistent
Create a cohesive style with your kitchen lighting ideas by keeping the design of your pendant and wall lights uniform. Seek a style of lighting that offers focal overhead pendants with matching wall lights.
This will enhance the flow of the layout, where no one zone will stand out from the other. For total unison, opt for dimmable switches or set up a smart control to have the option to sync the brightness. Another way to keep cohesion to your space is to chose lights that are of similar shapes, thicknesses and complimenting finishes.
34. Highlight features
Use overhead kitchen lighting ideas to set the scene for display areas within your kitchen. Simple LED spotlights will work best, as they are more energy efficient and will last longer. This simple kitchen lighting idea is perfect for recess spaces that lend themselves naturally to displaying decorative objects.
Float glass shelves within the space to benefit more kitchen storage space – while allowing the light to cascade down through the glass to each level.
35. Use your favourite colour