How to design a kitchen – a step-by-step guide to planning your dream kitchen
Here's everything you need to know about designing a kitchen, from researching and planning to buying and fitting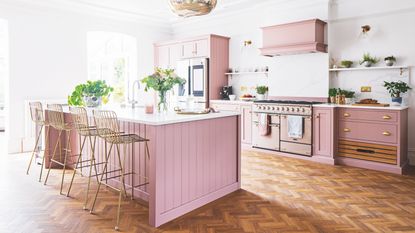 (Image credit: Future PLC)
A new kitchen is one of the most exciting home renovation projects, but it can also be one of the most difficult. Learning how to design a kitchen will ensure that you use your money and time wisely, and end up with the culinary space of your dreams.
There's a lot that goes into kitchen design, and details both big and small will have a huge impact on the final result. From working with the right kitchen layout to picking the most pleasing finish on the worktops, there's a lot of planning involved to create a kitchen that is both functional and beautiful.
That's why a clear step by step process on how to design a kitchen is a lifesaver. Working through the project methodically will help you grow the early seeds of your kitchen ideas and bring them to life.
'Designing a kitchen can be a complex task, but with careful planning and attention to detail, you can create a beautiful and functional space that meets all of your needs,' says Fiona Davies, Research Director, Kosy Co Living.
With that in mind, we've created this step-by-step guide on how to design a kitchen. Packed full of expert advice, we get into the nitty-gritty and cover every step of the design process, so that you can get stuck into the project without missing any of the important stuff.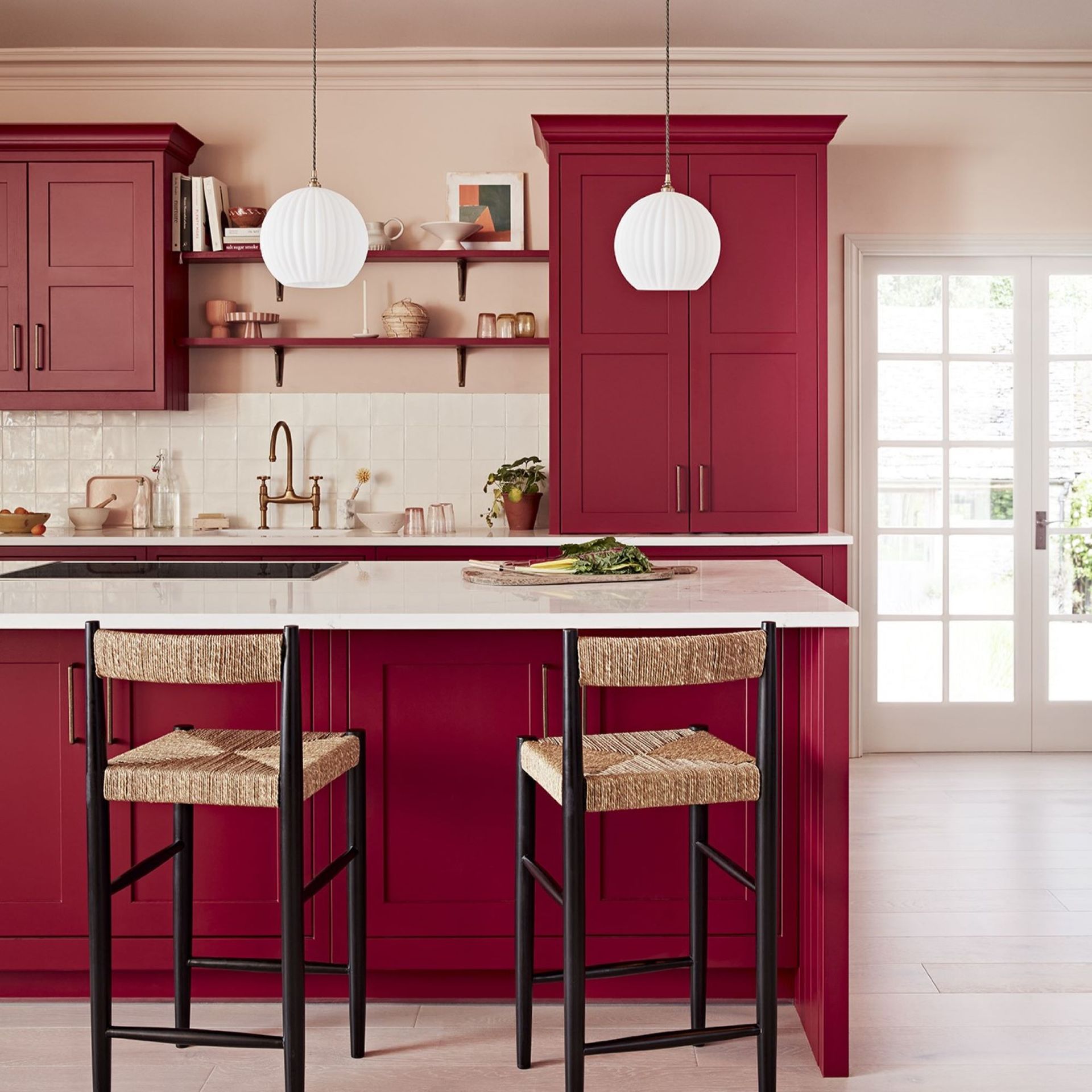 How to design a kitchen: step-by-step
The first step in how to design a kitchen is simply to have a good clear-out. This means you won't factor in items you haven't used for years. Then take a look around your existing kitchen and make a list of all the things you like and dislike.
This could be anything from how much storage there is – and where it is – to the types of appliances and colour of the cabinetry. This will help you focus on retaining or improving particular aspects. And avoid all the things not to do when designing a kitchen.
1. Assess all your needs
'The first consideration when designing your kitchen is that it needs to meet the needs of the people using it, so think about the number of people in your household and their ages, and whether it will simply be a space for cooking or if it needs to offer social space as well', says Helen Lord, Founder, Used Kitchen Exchange.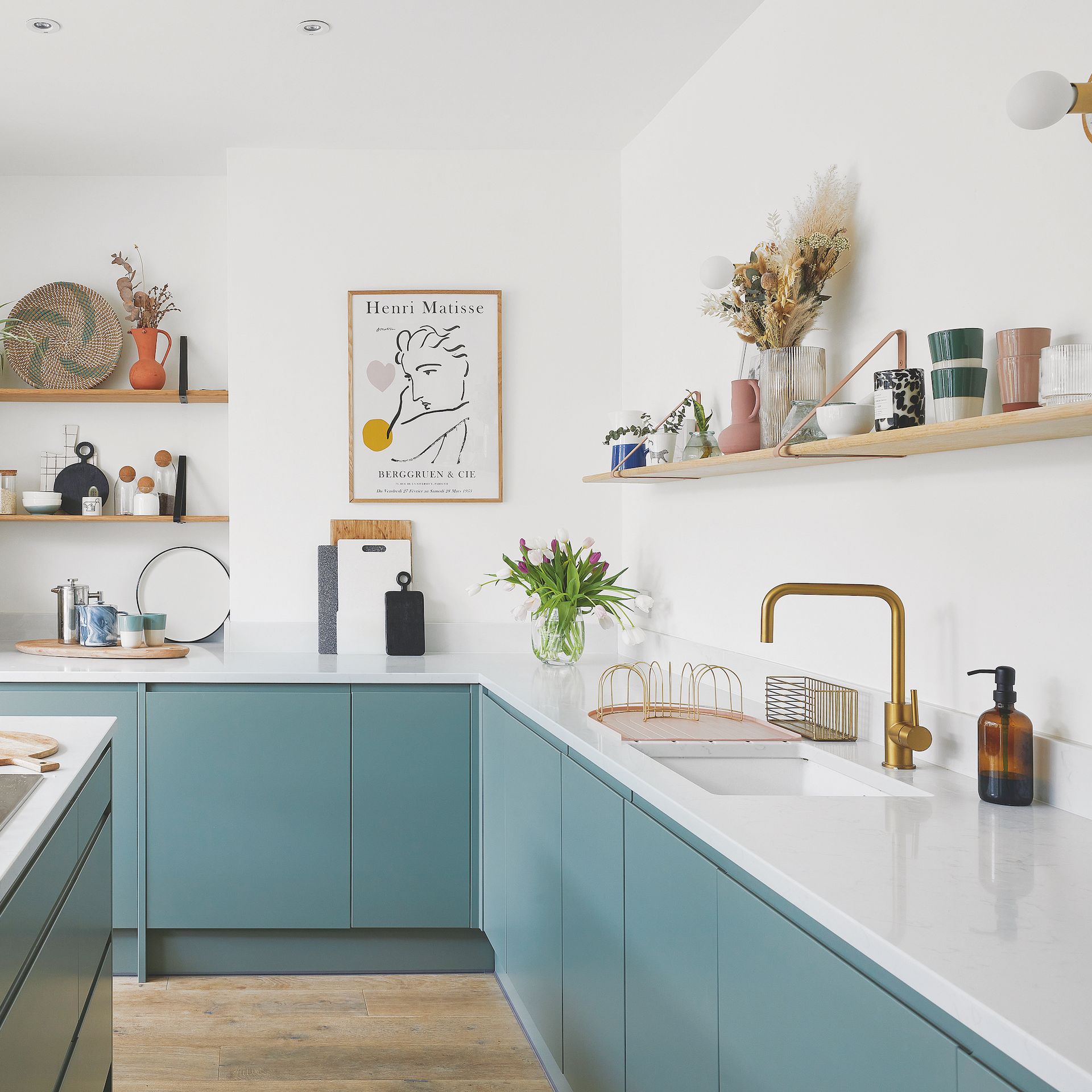 Addressing what the kitchen is going to be used for sounds obvious, but to decide how to design a kitchen you need to think about who will be primarily using the space. What sort of meals will they be cooking? How often will you want to entertain? And do you need separate areas for laundry and dining?
Everybody likes to work in their own particular way and each person has a different list of priorities when it comes to the kitchen. Once you have a good idea of what you need, as well as what you want, you're on your way.
Think about whether the existing space and layout work or if it would benefit from a kitchen extension. The most common building work involves knocking down a wall between the kitchen and dining room. This creates a more open-plan kitchen design idea if you have the chance.
'Consider things that your current kitchen is restricting you from doing and try to build in features that enhance your experience,' advises Paul Gibbs, Kitchens Buying Manager, B&Q.
If you're planning a larger refit or build, make sure you talk to your local council about Planning Permission or Building Regulations approval. Visit the Planning Portal (planningportal.gov.uk) for further information.
Consider your kitchen must-haves. Do you long for sleek worktops for modern kitchen ideas, a statement island or lots of cupboards for storage? Or are there some specific appliances that you think will make your life in the kitchen much easier?
Everybody likes to work in their own particular way and each person has a different list of priorities. So, it's important to write yours down at the beginning to ensure your kitchen is tailored to your family's specific needs. This will also save a lot of time and trouble when it comes to discussing your project with a kitchen specialist.
2. Calculate a budget
Before you start selecting the finest granite worktops and the latest electrical gadgets, it's important to know how much a new kitchen costs and set yourself a budget with an upper limit. This way, you have an amount in your head that you know you cannot go over.
Remember, when it comes to how to design a kitchen - plan for the unexpected! Once you have ripped out the old kitchen, you never know what might lie beneath. There could be costly problems to fix before you go any further.
Make a list of all the elements you'll need to allow for – cabinets, worktops and kitchen splashback ideas, sink, tap and appliances.
If you want to create wow factor, there are plenty of ways to do so with LED lighting, electric doors and smart storage solutions. But these will cost extra, so be prepared to compromise if your budget is tight.
Open shelving is less expensive than closed cupboards, for example. While capacious low-level, pull-out storage may mean you need fewer wall units, which saves on cost.
Then there are the installation costs and any preparation work. This includes plastering and painting, heating and flooring, as well as plumbing, gas and electrical work.
Don't forget to include all plumbing, electrics and builder's quotes in your overall budget. They are quite easy to leave out in the heat of the moment. It's good to make sure your budget includes a 10 per cent contingency fund to cover any unexpected extra costs.
3. Consider plumbing and heating
Will you be using existing plumbing for sinks and appliances or will you require additional pipe work?
If you're planning to include a sink or other appliances as part of your kitchen island ideas, ensure that plumbing and electricity supplies are in place before flooring is laid. Work out where appliances, both big and small, are going to be and check you have plug points where you need them.
Consider the best kitchen appliance layout for your space. 'Wherever you decide to locate your sink, it's a good idea to install your washing machine and dishwasher nearby,' says Paul from B&Q. 'It'll help keep plumbing simple.'
Underfloor heating is a popular choice for kitchens as radiators can take up valuable space. If you're opting for underfloor heating, installing it prior to laying the kitchen floor is essential.
4. Look for lighting options
Next, consider how to plan kitchen lighting. The amount of light in the room will make or break the space, so don't be tempted to skip over this step in your haste to get to other decor elements.
'As part of your layout, consider lighting and how natural light will also flow into the space,' says Richard Davonport, Managing Director, Davonport Kitchens. 'These are areas that are hard to rectify later on in the process, once the kitchen has been built and installed.'
When planning kitchen lighting ideas, it's good to make the system quite flexible. This will allow you to regulate areas of the room independently. Secondary lighting, such as spots above cooking and preparation areas, is also useful.
It's a good idea to have some form of overhead lighting so that the kitchen is fully workable during non-daylight hours. If you're planning on having a kitchen island, pendant lights will emphasise the unit as the natural focal point of the room.
5. Make a moodboard
How you want your kitchen to look is, of course, a very personal choice. It really helps to collect images and magazine tear sheets to create a mood board or kitchen file with all the things you'd like to include in your design.
'Mood boards act as a tool to build clear design stories and help manifest and express your vision, even if you can't fully visualise the end result,' says Design Director, Tom Howley. 'Introduce images and ideas that thread from one image to the next, telling a story of the space you want to create.'
This is your wish-list so just throw in everything at this point. But do give it some order as your budget will probably require you to choose between certain items at some point.
Try to be realistic about how to design a kitchen, too. You might really want a steam oven, coffee machine and warming drawers but you need to have a big kitchen to take lots of extras on top of the standard kitchen appliance list. Finally, talk to family and friends who have been through the kitchen buying process to get as much advice and inspiration as you can.
Even something as simple as a pretty plate, tile, piece of furniture or a scrap of fabric can be a great starting point for choosing a theme or colours. Maybe you've always loved cream kitchen ideas, or want to go for something bold and bright.
Don't worry too much about the cost of a new kitchen at this point. Just focus on things that inspire you and soon you'll be able to identify your favourite styles.
6. Consult a kitchen designer
When it comes to designing your kitchen, it is always best to use the services of a kitchen designer as they will have a wealth of experience in making sure your kitchen functions as you need it to and looks how you'd like it to', says Richard Davenport. 'However, this should always be done hand-in-hand with you and while they are there to advise and present their ideas to you, the ultimate decision is yours to make.'
To get the absolute maximum from your space, input from a professional kitchen designer is invaluable in how to design a kitchen. Their experience and expertise will offer you plenty of simple, as well as innovative, ideas that you might not have even considered.
Kitchen designers will also have up-to-the-minute knowledge of products, fixtures and fittings, and can source everything on your behalf. Ultimately, they'll help ensure your new kitchen works as efficiently as possible.
Only agree on a quote for the design and installation of a kitchen once the designer has looked at the space. Once the design has been completed, make sure you have a full quotation for the cabinetry and installation. Always check what is included in the cost, including whether the company oversees the project from start to finish or not.
Never pay a deposit of more than 25 per cent of the total contract value, ensuring you have a written schedule for further payments. Don't pay in full until you have received delivery of your goods.
7. Call in the professionals
So, you've found your kitchen designer, chosen your layout and style and you've paid your deposit. What happens next? You need to find a team to install it.
It's important to remember that the way your kitchen is installed can make all the difference. A bad fitter can make any kitchen look terrible, but a good one will ensure even inexpensive units look amazing. Ask friends and family for recommendations, or source a skilled person through a registered trade association, such as the FMB (Federation of Master Builders).
It may be a simple refresh so you'll only have the kitchen supplier and fitter to co-ordinator. However, if it's a big project, even with small kitchen ideas, then there might be builders, electricians and plumbers to consider, too. It's important at this stage to get some form of project manager in hand, whether that's yourself, your kitchen company or an architect.
Everyone needs to be clear about what needs to be done when, as delays and mistakes in how to design a kitchen planning can be costly.
Often your budget will dictate how much project management is needed. If you're buying off the shelf from a DIY store for budget kitchen ideas you'd still expect to have to employ and co-ordinate a variety of craftsmen including builders, plumbers and electricians.
A number of mid-price kitchen companies provide fitting services. But often you'll have to get them to liaise with other trades for work outside their fitting remit. Always check with your kitchen company at the start of your how to design a kitchen process about which services they can and can't provide.
Even many bespoke companies will not undertake first-fit electrics or plumbing so you will have to co-ordinate these elements yourself. Some of the high-end bespoke companies do offer 'turn key' services, where they will co-ordinate all building, plumbing and electrical work. But prepare to pay a premium for this service.
There are so many things to think about when considering how to plan a kitchen. Sometimes we forget to ask some very basic questions, such as how long it's going to take from order to delivery. If any mistakes are made with the order, how quickly will it be rectified?
What about guarantees? For both products and installation, is the kitchen company doing it or sub-contracting it out? Find out if the cabinets have solid tops and backs and what they are made from. You'll also need to know if they arrive flat-pack or pre-constructed, as you'll need somewhere to store them prior to installation.
8. Prepare for cabinet and worktop fittings
Depending on what kind of kitchen you've bought, your units may arrive flat-packed for you to put together yourself. Or they'll arrive with rigid carcasses the kitchen fitter just places together and adds the doors too.
Most kitchen fitters will then install your chosen appliances and connect them to the services created by the plumber and electrician. Many painted kitchens receive their final coats on site. So, be prepared to not be able to use the kitchen until the paint is dry.
The final element in how to design a kitchen is usually the work surfaces. There's an array of finishes to choose from, so have a play around with different materials but keep in mind your budget. Wood or laminate are relatively cheap and can easily be fitted by a competent DIYer, but quartz, marble and granite will be more costly.
'Engineered stone surfaces have overtaken natural stone as the number one, most desirable worktop material on the market due to the vast array of designs available, along with the inherent durability of high-quality surfaces', says Jon Stanley, VP marketing, Caesarstone UK. 'Quartz and Porcelain surfaces are non-porous, heat-resistant, scratch-resistant, stain-resistant, and easy to keep hygienically clean, allowing you to achieve the beauty of natural materials without compromising on quality.'
If you choose composites, stone kitchen worktops or anything else that needs tempting (cutting out holes for hobs, sinks etc), then be prepared to have to wait up to 10 days between the measuring up by the worktop supplier and final fitting.
It's likely that you will be offered a temporary surface to work on by many of the mid and high-end kitchen companies while you wait for the tempting to be done.
9. Choose your finishing touches
'Finally, add those all-important finishing touches', says Fiona, Kosy Co Living. 'This includes cabinet hardware and decorative accents to help make your kitchen functional and stylish.'
You can make your kitchen feel more coherent by subtly linking finishes. Pair a timber breakfast bar with wooden stools, for instance. Or upholster the seats with fabric that ties in with your splashback. Little details, such as cabinetry handles, can make a big difference and transform a simple white kitchen into a visually interesting space.
'When choosing the style, it's important to consider the long term. When deciding how to design a kitchen, consider what's in and what will quickly go out of fashion,' advises Adrian Stoneham, MD, Stoneham Kitchens.
Rather than buying everything from the same supplier, source furnishings and accessories from a variety of places. Mix things up to create an unique look, and be creative - these finishing touches will give your new kitchen character.
How do you start to design a kitchen?
Learning how to design a kitchen may inevitably feel overwhelming at the start, so it helps to follow a step by step process so you can make sure you're not missing anything important. First up, make a wish list of the things you'd like your new kitchen to have.
'Creating your wish list is one of the most exciting and fun parts to your kitchen renovation', says Richard Davenport. 'Magazines, websites and social media are awash with plenty of striking examples of kitchen design. Create mood boards, draw up lists, add pins, choose whichever method you'd prefer to save items that have caught your eye.'
Think about how your kitchen will be used. Will it just be a space for cooking and eating? Or will it be a social space, or somewhere for the children to do their homework? Establishing the flow of traffic early on will help determine how to best use your kitchen's current layout.
Setting a budget is also key. 'The most important thing you do before you start designing your kitchen is deciding on your budget,' says Lee Trethewey, Interiors Expert, Sustainable Furniture. 'This will help you determine what you can and can't do, before you spend any money and make any irreversible changes or decisions.'
Once you've got a good idea of the things you want your new kitchen to have and a realistic budget set, start to play around with online kitchen design tools. There are plenty of free ones that will allow you to visualise the space, and plan finer details like plug sockets and light switches.
Do all this before you meet with a kitchen designer so that you already have a solid idea of what you want - the professional will then help make it happen.
What are the rules when designing a kitchen?
According to kitchen specialist Richard Davonport, there are some rules to follow with how to design a kitchen that will help ensure a functional result.
Distance between units - allow a minimum of 1200mm clearance between runs of units. Your typical dishwasher door is around 600mm so this gives you enough room for someone to pass while it is being stacked. 15000mm will allow two people to pass each other.
Have at least 800mm width worktop next to the sink area for food prep and a work area.
Allow a minimum of 300mm either side of the hob to ensure suitable work space either side of the cooking area.
Working triangle - between your fridge, cooker and sink, try to keep a distance of 7 metres or less as this allows for comfort when using your kitchen.
Sticking to these rules will help you get the functional elements of your new kitchen into place. You can then focus on creative design choices and decor ideas.
What are the six types of kitchen layouts?
If you're starting from scratch and wondering how to plan a kitchen layout, there are six primary layouts you can choose from:
Galley - one row of single units
Double galley - two walls of units running parallel to each other
Island - an island unit sits in the centre of the room
L-shaped - two runs of cabinets along adjacent walls meet at a right angle
U-shaped - units run around three walls to form a U shape
Peninsula - a counter juts out from a wall or cabinet
Your kitchen design will have to work with the natural layout of your kitchen, unless you're planning a full-scale kitchen renovation. Each layout has its benefits and potential drawbacks, depending on how many people use the kitchen and what you want to use it for.
'An island kitchen means you will have an extra space in the middle of the room for food preparation; parallel and L-shaped kitchens won't provide as much preparation room, so make sure to keep everything off the surfaces to make the most of space,' says Amanda Telford, Marketing Manager, CTD Tiles. 'Straight, open, U-shaped, and gallery kitchen layouts are less popular but still provide a lovely amount of room which can made the most out of if designed right.'
Get the Ideal Home Newsletter
Sign up to our newsletter for style and decor inspiration, house makeovers, project advice and more.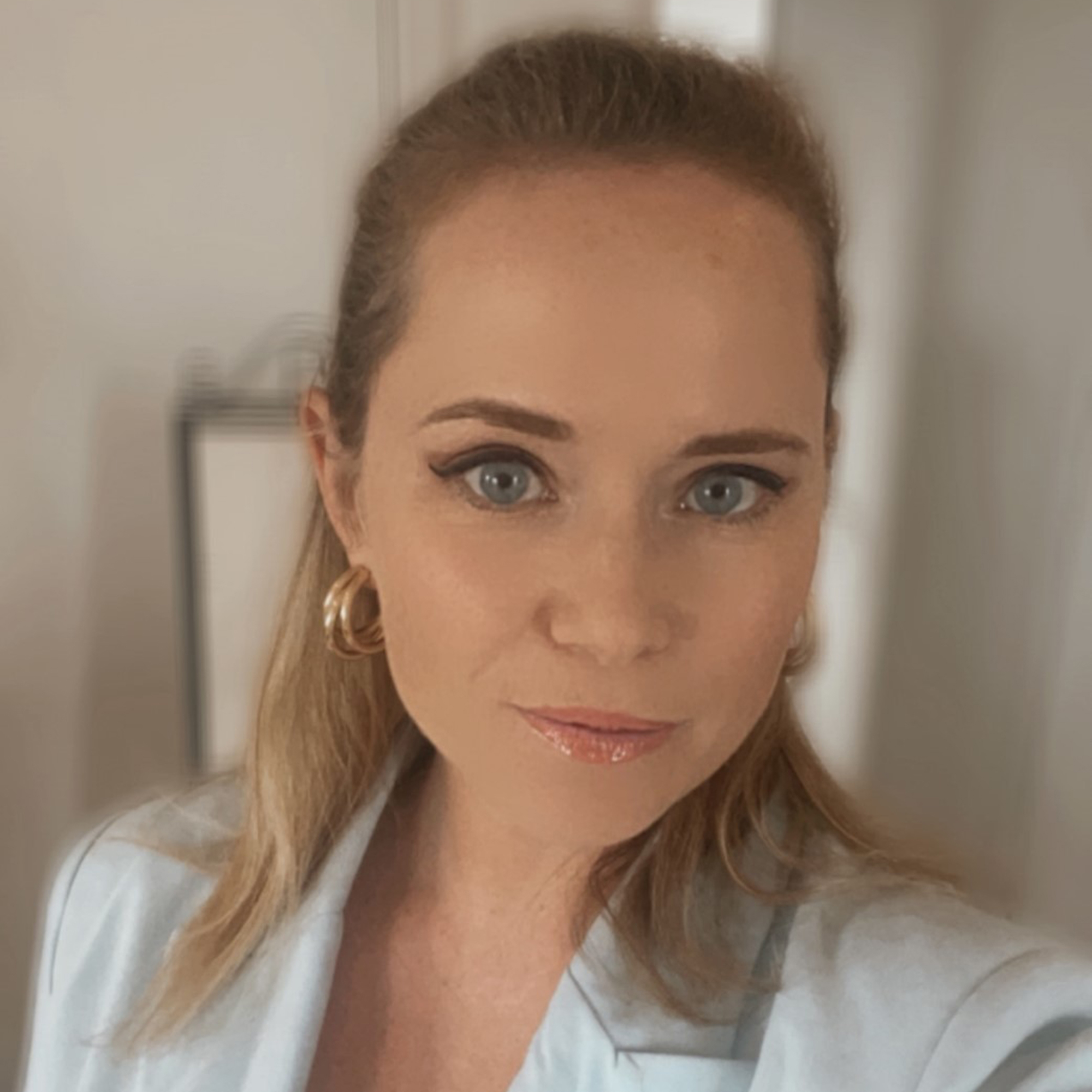 Thea Babington-Stitt is the Assistant Editor for Ideal Home. Thea has been working across some of the UK's leading interiors titles for nearly 10 years.
She started working on these magazines and websites after graduating from City University London with a Masters in Magazine Journalism. Before moving to Ideal Home, Thea was News and Features Editor at Homes & Gardens, LivingEtc and Country Homes & Interiors.