Kitchen island ideas – top tips to make a stylish and functional island
Discover how to create a stylish and practical focal point for your space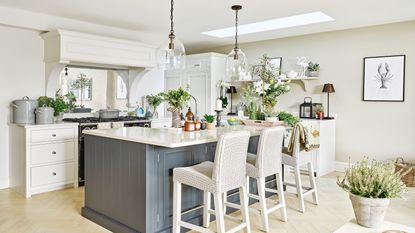 (Image credit: Future PLC/Nick Smith)
Many people dream about being able to put their kitchen island ideas into practise. After all, a kitchen needs to have multiple uses as a socialising, eating and prep space, and an island can add valuable space and functionality.
Islands come in all shapes and sizes so can be designed to suit your home and personality. But you will need to first think about what you'll use it for. Will it be a spot for extra prep? Or do you plan to turn it into the informal dining hub of your kitchen?
'Kitchen islands are the perfect combination of aesthetic beauty and functionality. A clever kitchen island design will increase worktop space, improve storage capacity with innovative storage options and even potentially add a dining option by way of a breakfast bar,' says Jonathan Stanley, VP of marketing at Caesarstone.
Kitchen island ideas
When designing and thinking about your kitchen layout ideas, your kitchen island ideas can make or break a space. You can play around with the colour, material, size and placement of your kitchen island to transform your space and suit your needs.
'Visual appeal will always be key within any room. Yes, we want functional kitchens but we also want kitchens that look the part,' notes Alex Main, director of The Main Company. 'When designing a kitchen island, you need to think about what material to use on the counter – do you want to maintain a level of cohesion, selecting a material that will match the rest of the kitchen run? Or do you want to make a statement with a reclaimed wood raised bar or statement marble?'
'In addition to valuable countertop space, an island provides ample storage. Large cupboards or pan drawers within a central island are extremely useful for storing bulky items or those used most frequently. Islands also provide a great base for open shelving, whether this is just on one side or spread across the whole island, allowing for the display of cookbooks and other decorative pieces.'
1. Be clever with how you incorporate seating
A kitchen island is a great way to add extra seating to your kitchen and provide a more casual dining area. Kitchen island seating is a great way to create a sociable space and encourages people to sit and spend time gathered at the island.
'There are several options when it comes to kitchen seating, whether it's dining seat height or bar stool height, depending on your needs,' says Nikki Stewart, designer at Tom Howley. 'I prefer to place the seating arrangement closest to the entrance so that guests and family will gravitate towards the seating area, not where cooking or baking is happening!
'I do not believe that the dining room is a redundant space, but the kitchen is becoming a dual-functional space for cooking as well as eating, meaning open-plan living with seating has to be second nature.'
'There is a time and a place for formal dining, but the modern kitchen has to be able to accommodate an impromptu pasta with friends, or an unforeseen stir fry with the family. Not only this, but the kitchen is also a homework base, a relaxed office space and a home bar. A wide island counter or baker's table will provide a generous and welcoming gathering place, especially when lined with textural barstools.'
2. Experiment with a waterfall edge
To add an eye catching element to your kitchen island ideas, try adding a waterfall edge for a standout focal point. A waterfall edge not only looks good but is practical too, it can help protect any cabinets underneath, is simple to clean and prevents any sharp edges, making it ideal if you have little ones running around or even clumsy adults.
'Waterfall edges really speak of high design, and they can help create that sleek and minimal look that people want in a contemporary kitchen space,' notes Jonathan from Caesarstone. 'They can be used to add a stunning visual element whilst hiding cabinetry and appliances. Waterfall features can be added to one or both sides of the island, or even the front or back, offering multiple design options depending on how you wish to use the space.'
3. Leave enough walkway space
When thinking about how to design a kitchen, consider how you will move through the kitchen and if you have enough space to walk around your island. You also need to consider when your cupboards or drawers are open, can you still walk around your island without bumping into anything.
'Kitchens need to be as functional as they are beautiful, and sacrificing floor space to fit an island will just give an awkward, uncomfortable look,' says kitchen deisgner Tom Howley. 'The importance of walkway space should be a key consideration. When designing your layout, always leave a metre of walkway space on either one or two sides of your worktop, island, or peninsula counter. This is a functionally and aesthetically effective dimension to keep in mind.'
4. Fake the island effect with a peninsula counter
If you love the look of a kitchen island but don't have enough space for a free floating unit, a peninsula kitchen idea could be the next best thing. Jutting out from a worktop they offer the opportunity to create the storage, seating area and display zone achieved by a kitchen island.
They can be styled with bar stools, or if you are using it to divide an open plan living space you can build in banquette seating next to one as an add option not available with a traditional large kitchen island
5. Match your worktop to your furniture
Matt Phillips, head of UK operations at Rotpunkt recommends matching your kitchen island worktop to your furniture for a seamless and durable finish.
'High-pressure laminate finishes are becoming the preferred choice for furniture and worktop design that needs to work in tandem. As a result, kitchen worktops are now looking to the furniture for inspiration, seeing laminate solutions become the go-to for synchronising the kitchen doors and work surfaces in the same material and finish.'
6. Think about the finer details
Not thinking about the finer details is one of the kitchen island design mistakes that many people make. Take time to think about the details that will make your life easier and make using your kitchen a smoother and more enjoyable experience. 'We find tremendous value in the finer details which are often hidden from view,' says Matt Phillips from Rotpunkt.
'Fully extendable drawer systems for smooth linear movement, soft-close hinges for a high degree of usability and exclusive handleless profile options with a variety of different chamfered edge detailing are just some of the examples where extra care and attention to specific design features can make all the difference.'
7. Take your lighting into the future
Take your kitchen island lighting ideas further with future-proofed options which can add an extra wow factor to your traditional pendant lighting or spotlights.
'Lighting is also being integrated as standard now, with voice-activated solutions via digital assistants like Alexa and Siri being used to convene the end user,' notes Matt from Rotpunkt. 'Giving full lighting control like adjusting the colour temperature or switching the lights on and off, these types of reactive solutions are ideal if user-access/control is impaired or you wish to make a feature of a central island unit.'
8. Take advantage of technology
Making use of technology can make your kitchen island ideas work harder for you. Technology now allows you to have the sleek kitchen of your dreams, from boiling water taps, to a built-in charging drawer and pop up extractor fan. 'Technology has advanced hugely in both the use of materials and appliances,' says Stuart Ross, sales designer at Kitchens International.
'For example, far more common now is to use a downdraft extractor or one that sucks the smells out incorporated into the island rather than overhead extraction. In terms of materials this has changed hugely with a combination of materials being chosen commonly on an island. Glass, timber and engineered stone will be married together with clever intersections to accommodate different uses or thicker and thinner surfaces.'
9. Try a T shaped island
This unique shape is a great option when you need extra space for eating or working. This shape works best in a larger kitchen and is a great way to maximise the space and avoid the classic mistake of going too small with your island when you have a large kitchen. You can either opt for an island and dining table at the same height, if so, stools with high backs will work best. Or choose to go for the conventional dining room table height and use normal chairs.
Think about how you plan to use the space, will it mainly be used for cooking and prep, or sitting around and socialising? Depending on what you decide you can go for a larger countertop for a bigger workspace and a narrow table or a smaller countertop combined with a large table.
10. Use an L shaped island
You may have seen some L shaped kitchen ideas, but an L shaped kitchen island is also a great option. An L shaped breakfast bar incorporated into your kitchen island can create extra seating for socialising, while not compromising on the overall size of the island. The L shape makes it easier to create the triangle between the hob, fridge and sink, which is the recommended configuration for kitchens.
11. Choose continuous surfaces for a sleek look
Let a luxurious work surface take centre stage, with a continuous countertop that covers the top and sides of an island. Called a 'waterfall' worktop as it flows to the floor, much like a waterfall, it makes a luxe way of finishing off an island and will protect the sides of cabinets from damage too.
'To introduce a high-end feel to your space, add a waterfall design to your kitchen island. This creates a continuous look, as the counter pattern extends down the side of the unit for a flowing effect,' says Tori Summers, director of design, product & innovation, Howdens. 'This idea works best with square-edged work surfaces, which have clean lines that ensure all joins meet neatly for a clean and professional finish.'
12. Include ample space for seating
Lack of leg room can be an issue with kitchen island seating and breakfast bar ideas, so rather than relying on an overhang area at one end, create a dedicated niche where you can slot in a row of bar stools.
Allow at least 60-70cm of space, per person, along an island so there is plenty of space for knees and enough elbow room for guests to sit comfortably. This could need adjustment depending on the style of bar stools you choose, such as bulky or thickly upholstered bar stools, while swivel stools will need extra space too.
13. Zone an open-plan space with a longline island
Open-plan living layouts offer ample space for everything but without some division they can feel overly large and vacuous. Break up the space by using furniture to divide one large living area into smaller, more manageable zones.
A longline island creates a natural divide between kitchen and dining/living spaces. With cooking and prep surfaces on one side of the island, consider kitting out the reverse side with practical open shelving. Filled with books and display pieces, it makes a more decorative feature facing outwards as you enter the area.
14. Mix materials to create a multifunctional island
Although marble worktops throughout look luxurious, marble isn't always terribly practical. Marble is porous, so worktops are susceptible to staining and pitting from dark or acidic liquids, as well as scratches and nicks from sharp knives.
Make a marble topped island more practical by incorporating a wooden butcher's block into the design. A multi-layered island creates visual interest and raising the block just above the worktop keeps everything contained.
15. Extend an island to incorporate a dining table
'Adding a kitchen island doesn't just create additional counter space and storage, but immediately creates a great dining area for friends and family,' says Lizzie Beesley, head of design at Magnet. 'Kitchen islands with seating options have become an ever-increasing trend, with many different styles to choose from.'
'Smaller kitchens can incorporate seating into their island design, perhaps with a worktop overhang and bar stools. Other options include long islands with integrated low level, table seating at one end which makes a comfortable set up for family meals and entertaining.'
16. Squeeze in a moveable island if space is tight
If you don't have the luxury of a large and spacious kitchen, it doesn't mean you have to forsake a kitchen island if prep surfaces are lacking. A portable kitchen island idea will give an extra work surface and seating space, plus the added benefit that it can be easily moved to a different position if needed.
A fixed island will often require plumbing and electrics so causes more upheaval, while a portable island is freestanding and moveable, so less limiting in terms of layout. Opt for one with a combination of storage plus stowing space for stools to maximise its footprint.
17. Refresh a tired kitchen with a splash of colour
A central island is the optimum place for adding a pop of colour as part of your kitchen colour scheme to a neutral kitchen or dated decor. Painting the island a cheery, contrast shade allows a quick and easy refresh that can work wonders on a tired kitchen, without committing to a full room redo.
In practical spaces like kitchens, always go for a hardwearing, water-resistant paint finish that can handle regular wipe-downs of splashes and splatters. To save prep time if re-painting a wooden island, opt for purpose-made Cupboard paint - try Rust-oleum or Ronseal - it's easy to apply to furniture and won't need primer or top coat.
A kitchen island is the perfect place to welcome a brave colour choice in a kitchen colour scheme. While the colour is permanent it is not as daring as choosing a whole kitchen with coloured cabinets. You could always repaint the island at some point down the line, should you have a change of heart with the bold hue.
18. Pick a practical stainless steel worktop
Choosing the best countertop for your kitchen island will depend on what you're going to be using it for. An extra work surface for prepping food will need to be hardwearing and easy-clean. If you want to incorporate a sink or hob, you'll need a sleek integratable surface. Or if it's more of a bar area where you'll be socialising, think more in terms of looks and luxury.
Stainless steel counters are a practical option for kitchen prep spaces. Not only do they look the part, stainless steel is hygienic and easy-clean, as well as being heat and corrosive-resistant. Stainless steel is often the worktop of choice in professional kitchens and while it can scratch and dent, this all adds to its character and charm.
19. Plan a practical layout that flows
In an open-plan kitchen-diner, position the island unit so that it steers traffic away from kitchen hotspots, such as the hob and oven, and towards seating areas instead. Go for a storage-heavy design with plenty of drawers or cubbies as cluttered surfaces will ruin the look of a sleek, open-plan space.
Also consider how kitchen island lighting ideas plays a key role in creating a cohesive scheme. A triple row of pendants positioned above an island creates a focal point and helps to zone the space further. Contrast flooring gives the area a change of pace too, with an island as a neat dividing mechanism.
20. Incorporate extra storage at one end
Maximise every inch of a kitchen island with well thought-out storage ideas. Instead of standard end panels, put this wasted space to better use by incorporating a set of slimline shelves. At less than 10cm deep, a narrow gap like this works perfectly as a spice rack or a spot for stashing condiments and oils.
Alternatively, just add a couple of steel rungs and the slimline space is ideal for displaying cookery books, with covers facing outwards so they're easier to identify. Here would be the perfect time to use a few kitchen organisers to tidy this space and maximise storage at the same time.
21. Boost light levels with glossy surfaces and glass doors
In large kitchens with lots of cabinetry, pale worktops with light-reflective finishes can help break up solid blocks of colour and add visual interest to a space.
For a central kitchen island with outward-facing cabinets, opt for glass door fronts in place of a solid bank of doors. Glass reflects light too, bouncing it across a room to further enhance the feeling of spaciousness.
22. Slot in a slimline island
Even the tiniest of kitchen spaces can welcome an island, so your small kitchen ideas needn't be compromised. Ensure the design is compact enough to fit but sizeable enough to fulfil its purpose.
So if you don't have stacks of floor space to play with, a kitchen island needn't be out of the question. Scale down its footprint by opting for an extra-narrow design made up of shallow depth kitchen cupboards. Just ensure you have enough area to accommodate space between any hot kitchen apparatus and guests enjoying the breakfast bar.
Adding a small overhang on one side will give room for a row of high stools to sit at. Keep to a calm, subdued colour palette with glossy light-reflective work surfaces. And choose pale-coloured flooring with a large-scale pattern to aid the feeling of spaciousness.
23. Drop in a low dining table
Design a kitchen island that feels inviting for dining by dropping a lower height worktop, meaning you can use standard dining chair rather than high bar stools. It's great idea for family kitchens, where you might not want little ones clambering precariously onto bar stools.
Use the same colour cabinetry for the dining portion of the kitchen island but drop the height by just enough to make it useable as a dining table. Using an a contrasting worktop to the remainder of the island helps to make its purpose standout even further.
24. Incorporate stylish storage
Look to use one side of a large island as kitchen storage idea, with enough concealed drawers to hide the majority for kitchen accessories. Then leave a sideboard-style surface to stack cookbooks and display colourful chinaware. This is an especially effective open-plan kitchen idea, where you are directly looking at one side of the kitchen island. The broken design helps to make the block kitchen unit feel less imposing on the rest of the space.
'Large cupboards or pan drawers within a central island are extremely useful for storing bulky items or those used most frequently,' says Alex from The Main Company. 'Islands also provide a great base for open shelving, whether this is just on one side or spread across the whole island, allowing for the display of cookbooks and other decorative pieces.'
25. Use wood as a worktop
This thoughtfully designed kitchen island offers a dining table and island hybrid. More than a breakfast bar, this design extends the wooden worktop down onto a fully-fitted dining table. The wooden worktop is ideal for use on an island where the purpose is primarily entertaining thanks to the softer qualities.
'A wooden worktop is a soft material which can become scratched or scorched during wood preparation. Confine the use of wood to soft-use areas such as breakfast bars for eating or entertaining', advises Melissa Klink, creative director at Harvey Jones. 'Use a harder surface which is easy to clean, such as granite or quartz composite, for food prep areas.'
26. Use each half of the island differently
Where you have the space, as is the case in this open-plan kitchen extension idea, use a kitchen island to bridge the gap between functional kitchen space and social dining elements.
Do this by 'dividing' the island in half in terms of usage, with purposeful kitchen elements such as integrated fridges and induction hobs one side and a breakfast bar with stools on the other. A multifunctional design helps to unify the different uses within the space, while still clearly zoning each purpose.
27. Get the scale right
Choosing the right size to scale is key when it comes to planning a kitchen island, because while you want it to be the focal point you don't want it to be overbearing on the layout as a whole. So how much space should you have between a counter and island?
'The most important element has to be the walkways around the island,' explains Melissa from Harvey Jones. 'As a rule of thumb they need to be 1000mm wide in order to be safe and practical in a kitchen.'
'Many seem to think the bigger the better. Wide islands are sure to make an impact, however they're not the most practical solution because you have to be able to reach the middle when cooking. Try to keep it no deeper than 1400mm front to back.'
28. Position appliances away from your entertaining space
If you're putting an island into an open-plan kitchen you're most likely looking to create an engaging and inviting space for entertaining. Kitchen appliance layout ideas are therefore important.
It might not make sense to position cooking appliances on the outside facing walls of the space, as you'd have your back to guests for the majority of the time while you cook. Incorporating the oven and hob into the island facing towards to the social space will help create a more engaging environment while hosting.
29. Make sure your island is well lit
As far as kitchen lighting ideas go, the island is one of the most important focal points – some would say the star of the show. While you want the entire kitchen to be lit for your needs it's imperative to make sure the island fits perfectly within the lighting plan.
As it often serves as the main food prep station and the hub of entertaining it needs to be well-lit, most likely by multiple lighting options. Whether that's overhead spotlights or lanterns, which you can dim for intimacy or brighten for practical task lighting, ensure the main focus for good lighting is the centre of the island.
30. Contrast with your wall cabinets
Kitchen colour schemes are another thing to think about. Lots of people like to use their island to inject a warming splash of on-trend colour to uplift an otherwise neutral colour scheme.
If you like this idea, but are worried you may tire of your choice, ensure your cabinet is lade of wood or a high-quality wood veneer that can be easily repainted down the line.
31. Balance the layout
Whether large or small, the key to getting a kitchen island scheme right is balance. This sophisticated grey kitchen idea demonstrates how to do the job perfectly, with a harmonious balance of grey cabinetry throughout with white walls and worktops to soften the look.
There's a symmetry with the seating along the island breakfast bar which adds further balance, making one end entirely dedicated to entertaining.
32. Blend in a breakfast bar
Multifunctional is all-important when it comes to kitchen design, to make the space as efficient as possible – large or small.
An ideal multifunctional kitchen island is one that functions as a food prep space with a sink, a storage space and a social space with a breakfast bar.
33. Get the height right
'As the heart of the home, plenty more goes on in a kitchen space than simply cooking and eating,' explains Andy Briggs, interior designer for Optiplan Kitchens.
'A kitchen island enables you to perhaps work or have children close by whilst preparing meals. It also offers a popular "standing workspace" for those working from home or doing hobbies – this is meant to be better for your posture than continuously sitting.'
'The height of an island is also ideal for families with small children, as a high chair can be pulled up and little ones can enjoy meal times at the same level as their family.'
34. Add an alternative worktop
Create a hybrid of styles within your kitchen scheme by combining kitchen worktop ideas on your kitchen island. Use a different material to indicate a change of function for that portion of the kitchen island.
In this stylish kitchen space a hearty wooden worktop is extended out – over the granite worktop covering the remainder of the island – to form a dedicated dining area. Simple placement with bar stools helps to enhance the signals for its dining function.
35. Power up your island
It's vital you include ample plug sockets on your island. They're not only useful for powering small appliances like stand mixers and food processors, they'll also be handy for charging phones and laptops – as working from home continues to be a way of life. The timber stools have bags of character, and work beautifully with the pale blue island, giving the overall scheme a subtle coastal feel.
More than just ensuring the island is connected to the power supply – think about the right kind of power. 'If you need power points in an island cabling will need to laid before screed is put down,' advises Melissa from Harvey Jones. 'Sockets can then be fitted before the worktops are installed. I would personally urge every customer to go with sockets that have USB slots in them these days, as most of our tech uses these to charge.'
36. Drop in a kitchen sink
A large sink in a kitchen island might be a little controversial, but is a great solution if you're struggling for space.
In this kitchen, the space that the sink would have taken up against a wall worktop has been transformed into much needed storage leaving the sink in the easily accessible island.
37. Position an island opposite a window wall