How much does it cost to paint a kitchen? We break it down for you
If you're looking to update your kitchen with a fresh lick of paint, here's how much you should budget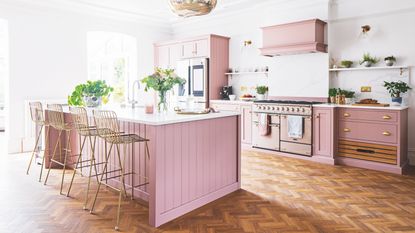 (Image credit: Future PLC)
If you're looking to refresh your culinary space, repainting the kitchen is one of the more affordable routes to go down. But there's a lot of factors that will influence how budget-friendly this job is, which is why it's important to know exactly how much does it cost to paint a kitchen.
Mixing up your kitchen colour scheme with a fresh lick of paint can transform any kitchen from drab to dazzling. But the answer to how much does it cost to paint a kitchen can vary a lot from house to house; things like your kitchen size, the type of paint you want, and of course whether you decide to DIY or hire a professional will see the cost go up or down dramatically.
'If you don't have the funds to replace your kitchen, it's a good idea to have it painted,' says Penelope Jacobs, Kitchen Expert, MyJobQuote. 'As a result, your kitchen will immediately acquire a brand-new, updated look, and it won't break the bank.'
So now that we've established that updating your kitchen colour scheme is an easy way to make your kitchen look expensive on a budget, it's time to break down exactly how much does it cost to paint a kitchen. Our guide will look at the overall cost and explore where that money is going.
How much does it cost to paint a kitchen?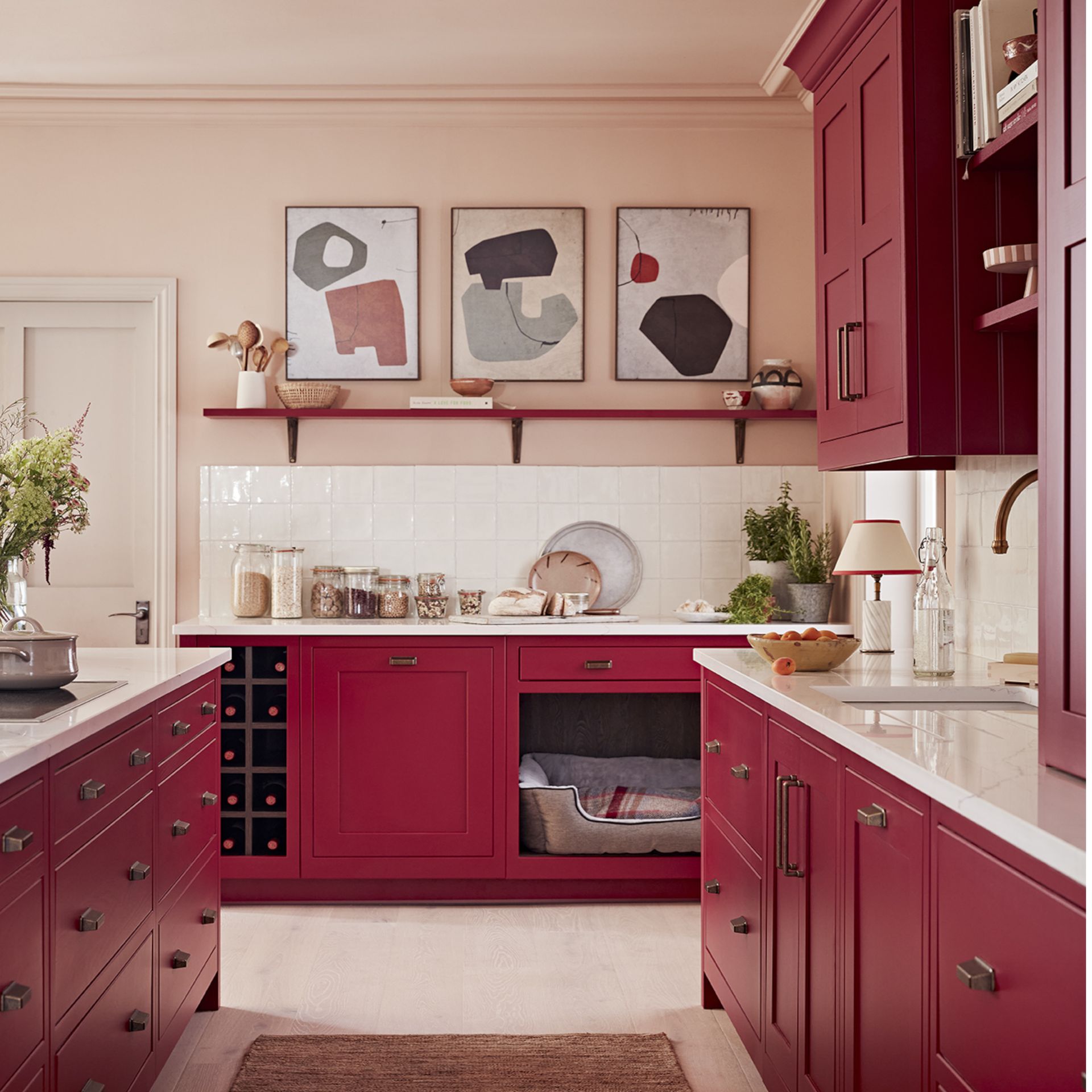 'On average, the cost of painting a kitchen DIY might range from anywhere between £150 - £700,' says Fiona Davies, Research Director, Kosy Co Living. 'But you should expect to pay out more if you're hiring a professional or painting additional features such as acrylic kitchen cabinets.'
The range in final prices is wide, which is why it's helpful to break down the cost of the project into separate components. We'll take a look at all the factors influencing how much does it cost to paint a kitchen so you can make an informed decision about what to budget for this project.
Size of the kitchen
'Put simply - the more kitchen there is to paint, the more you're going to spend', says Fiona. 'A small kitchen might set you back between £100 - £200 to paint by yourself, while a larger one might run you up to around £500 or more.'
If you're working with small kitchen ideas, fewer materials are required and the project won't take as long, meaning it will be considerably cheaper. To get a good idea of how much does it cost to paint a kitchen, measure your walls so you know exactly how much paint will be needed to cover them.
Penelope from MyJobQuote, gives the following rough guidelines for cost of paint per square metre:
A 10m2 surface area would cost roughly £180 to £190 to paint
A 15m2 area would cost about £260 to £270
A 30m2 wall would cost about £520 to £530
Painting a huge surface area of 60m2 would cost between £1000 and £1020
Depending on the size, painting a single wall could cost between £65 and £265
The size of the kitchen has a big impact on the overall cost of the project, but there are other factors to consider too.
Paint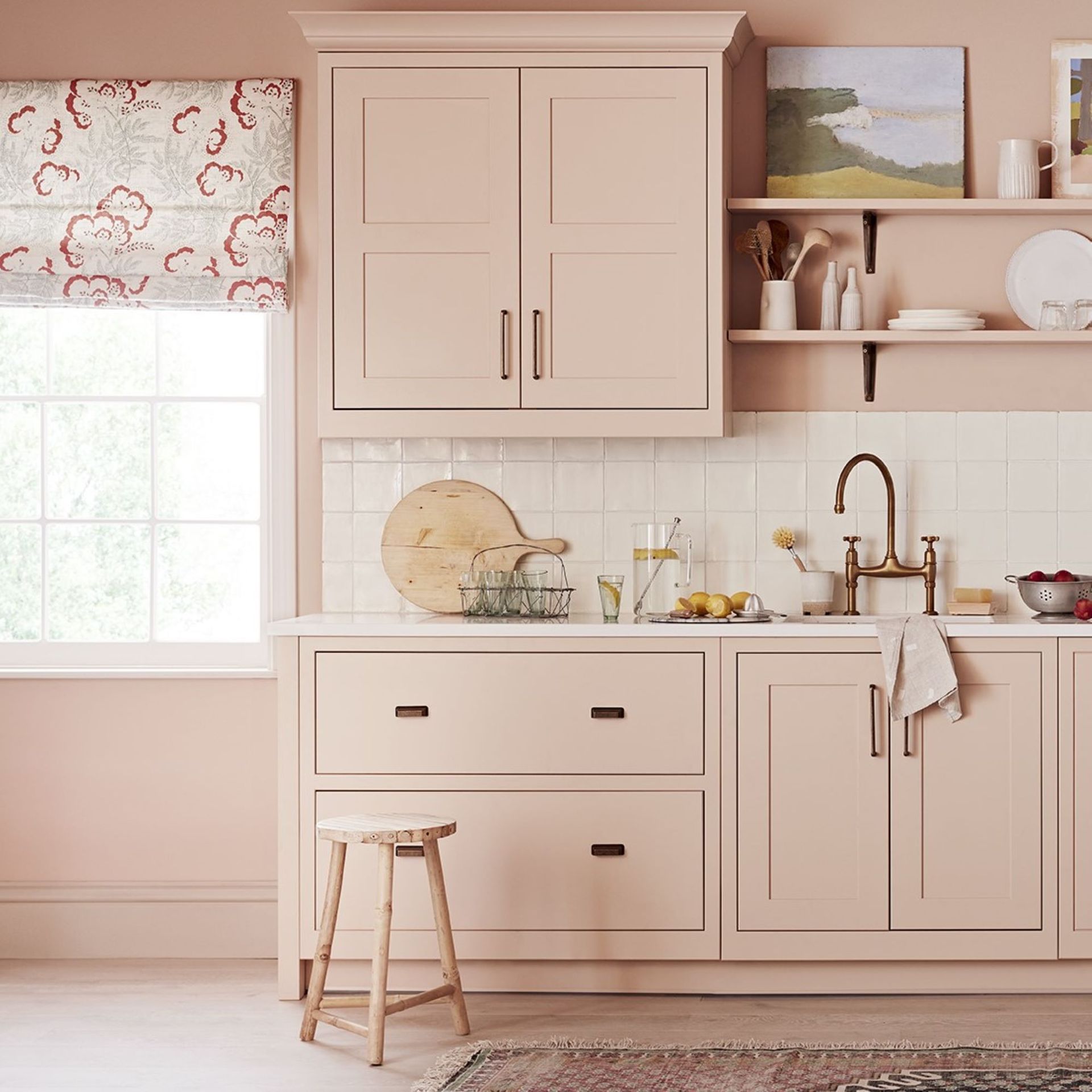 The next thing to factor in to how much does it cost to paint a kitchen is the paint itself. How much you spend on paint will vary depending on the brand, quality, and finish you choose.
'For wet areas like kitchens, I'd recommend using a more durable oil-based paint - which is going to run the price up a little more', says Fiona. 'You might be looking at anywhere between £15-£30 per litre.'
How much paint you will need to buy will depend on the size of your kitchen, so make sure you know exact measurements like we discussed above. The colours you choose will also influence how much paint you need. Are you mixing colours, or going for a two tone scheme?
'If you have a dark base colour and want to go lighter then you will need a minimum of two coats, maybe even three, so do consider the colour you choose if you're being budget conscious', says Kunal Trehan, Design Director, Touched Interiors.
Other materials
'It's not just a case of buying a bucket of paint and getting to work - there are several different materials you'll need to get the job done to a good standard which could set you back by around £100-150 or more,' Fiona says.
You may understandably want to keep the cost of painting the kitchen down, but cutting corners won't serve you well in the long run. To paint the kitchen to a good standard that will last for years to come, the experts recommend having the following supplies:
Painting tools - good brushes and rollers will range in price from £5 - £25, Amazon
Paint trays - from £3 - £10, Amazon
Painter's tape - anywhere between £2 - £10 per roll. Our favourite is Frog Tape, £6,99, Amazon
Drop cloth to protect your floor and furniture - £5 - £10
Tray liners if you're using multiple colours - £5 - £10, Amazon
Primer - if your walls are in poor condition, it's wise to use a separate primer before painting. Primer costs around £15 - £25 per litre
Sandpaper - to smooth down rough spots if there are any. £1 - £5 per sheet
Hire or DIY?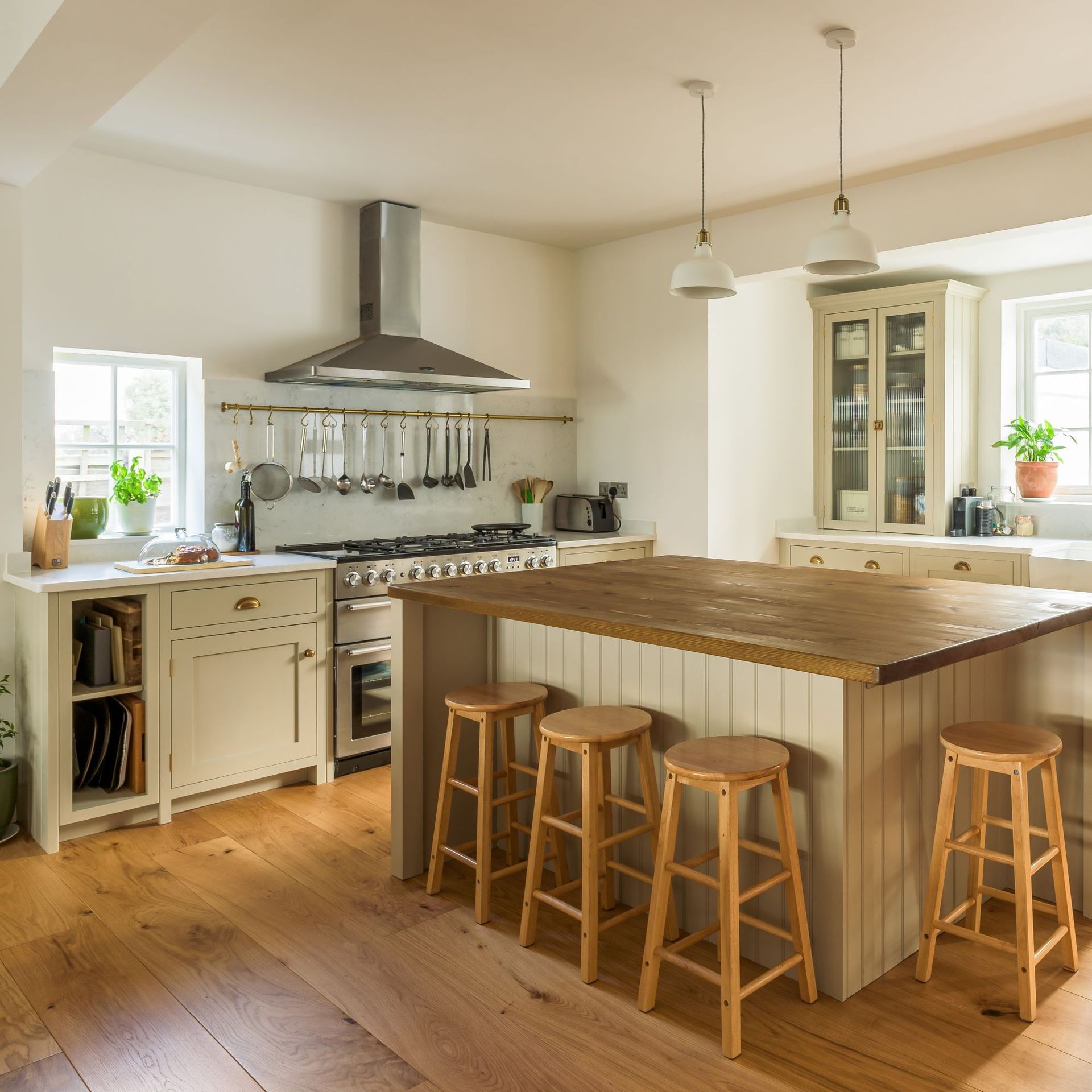 'If you're working on painting a relatively small kitchen area with fewer corners, cabinets, and other features, you can probably get the job done yourself on a budget of £150-£250,' says Fiona. 'If you're looking at a more complex job, a larger kitchen with several different features, or rundown walls that require some prep work, hiring a professional may be your best bet - although this will of course increase your costs significantly.'
If you're incorporating interesting design elements into your kitchen wall ideas or working with any awkward alcoves, hiring a professional painter might be wise. They'll have the specialist tools and equipment needed to do a perfect job. Simple kitchen layouts will be fine to DIY, but we recommend investing in the materials listed above to ensure a long-lasting job.
How much does it cost to paint a kitchen with a professional?
If you do hire a professional to paint your kitchen, you may be charged anywhere between £200 - £800 for the job. The level of preparation needed, the complexity of the job, and where you are in the country will influence the cost.
Level of preparation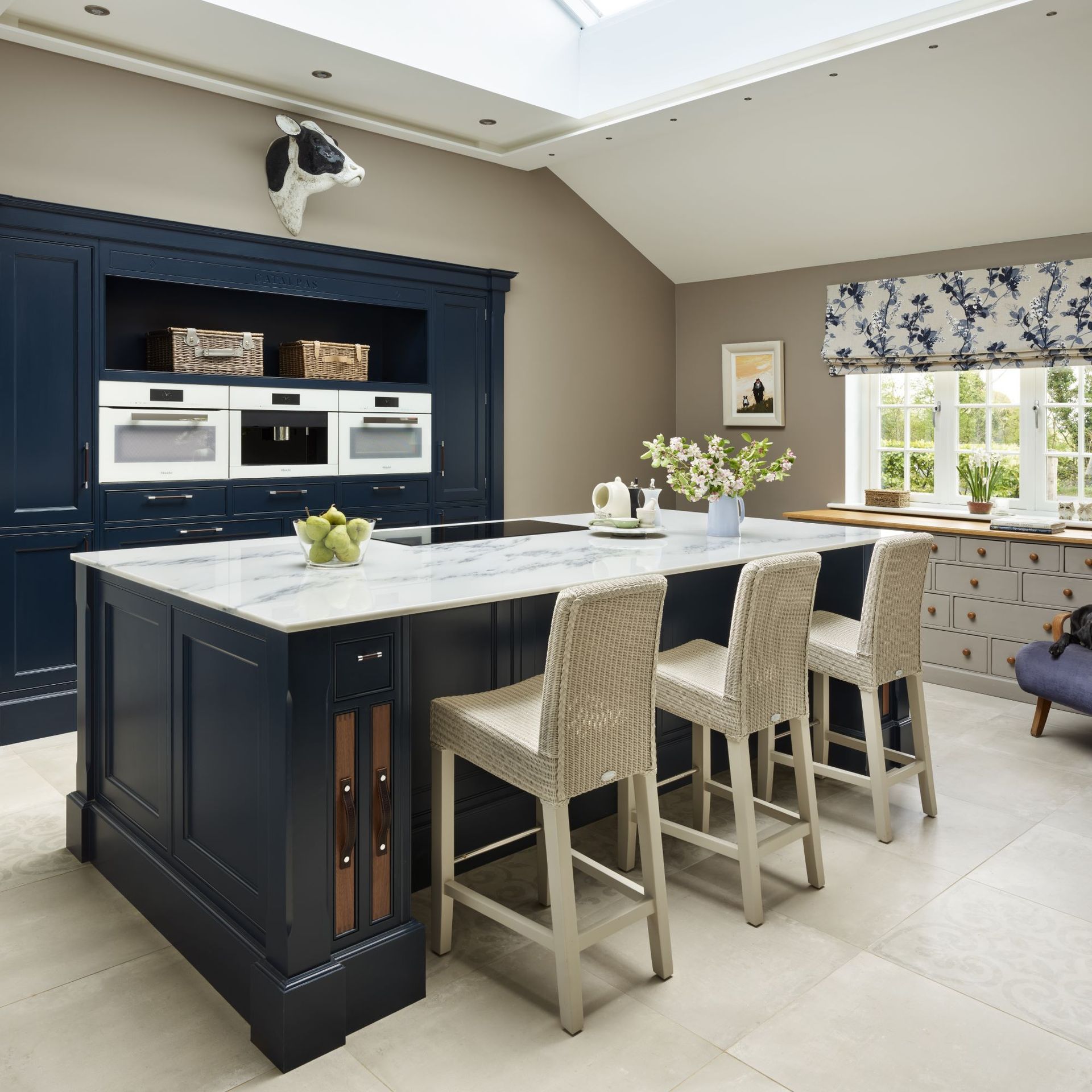 If your kitchen walls need some TLC before painting, the labour costs will go up. They may need to be sanded and primed if there are dark spots or damaged areas, which could add an extra £100 - or more - on the overall quote.
Complexity of the job
'If your kitchen has intricate features, such as cabinets, crown moulding, or a backsplash, this can increase the cost due to the extra time and care required to paint around these feature,' says kitchen expert Penelope.
Interesting design elements like kitchen splashback ideas will require different tools and maybe even different kinds of paint, so it's worth accounting for this in your budget if you don't think painting your kitchen will be a straightforward job.
Location
Like with any home renovation project, labour costs will vary depending on where you are located. You can expect to pay a lot more in London than in other areas for example, but quotes may still be high elsewhere if you're looking at hiring a qualified and experienced specialist.
'If you live in a town where tradespeople are in high demand, it's a good idea to assess the advantages and disadvantages of employing those just starting out, compared to tradespeople who have been doing it for a while,' says Penelope.
'Moreover, you will need to get a parking permit for traders if your property lacks a driveway or another place to park their cars. Your project's overall costs may go up as a result of this.'
How much does it cost to have a small kitchen painted?
If your kitchen is on the small side and doesn't have many intricate features, you should be able to stick to a smaller budget. You won't need as much paint for one, but you should also be able to DIY rather than hire a professional.
According to decorating and DIY specialist Leyland SDM, you can paint a small kitchen for less than £200. On your shopping list of supplies are:
Cleaning supplies - sugar soap (£4.79), bucket (£2.99), rubber globes (£2), sponge (£2.99)
Protection for the rest of the room - masking tape (£13.58), plastic dustsheet (£6.79), tape measure (£2.49)
Paint - varying prices, but as an example of a good quality paint, Dulux Trade Vinyl Silk Emulsion costs £49.50 for five litres (this will cover up to 80 square metres)
Paint tools - paint brushes (£22 for 6), roller set (£6.49), J cloth (£3.99), primer if painting over drywall (£24 for 2.5 litres)
If you're painting kitchen cabinets, skirting boards or window frames, you'll need to buy specialist wood paint (£28 per litre)
Following this supplies list, the answer to how much does it cost to paint a kitchen is just £199 (if no primer is required). The biggest factor influencing the cost if you're painting yourself is the type of paint you buy.
'Paint is available from non-reflective matte to very reflective high gloss, with finishes such as eggshell, satin and silk falling in between,' says Gary Roberts, Store Manager at Leyland SDM's Streatham store.
'We recommend a mid-gloss finish for kitchens, such as satin or silk, as these are easier to clean and wipe down on a regular basis. Unpainted drywall will need a coat of primer first.'
How much does labour cost to paint kitchen cabinets?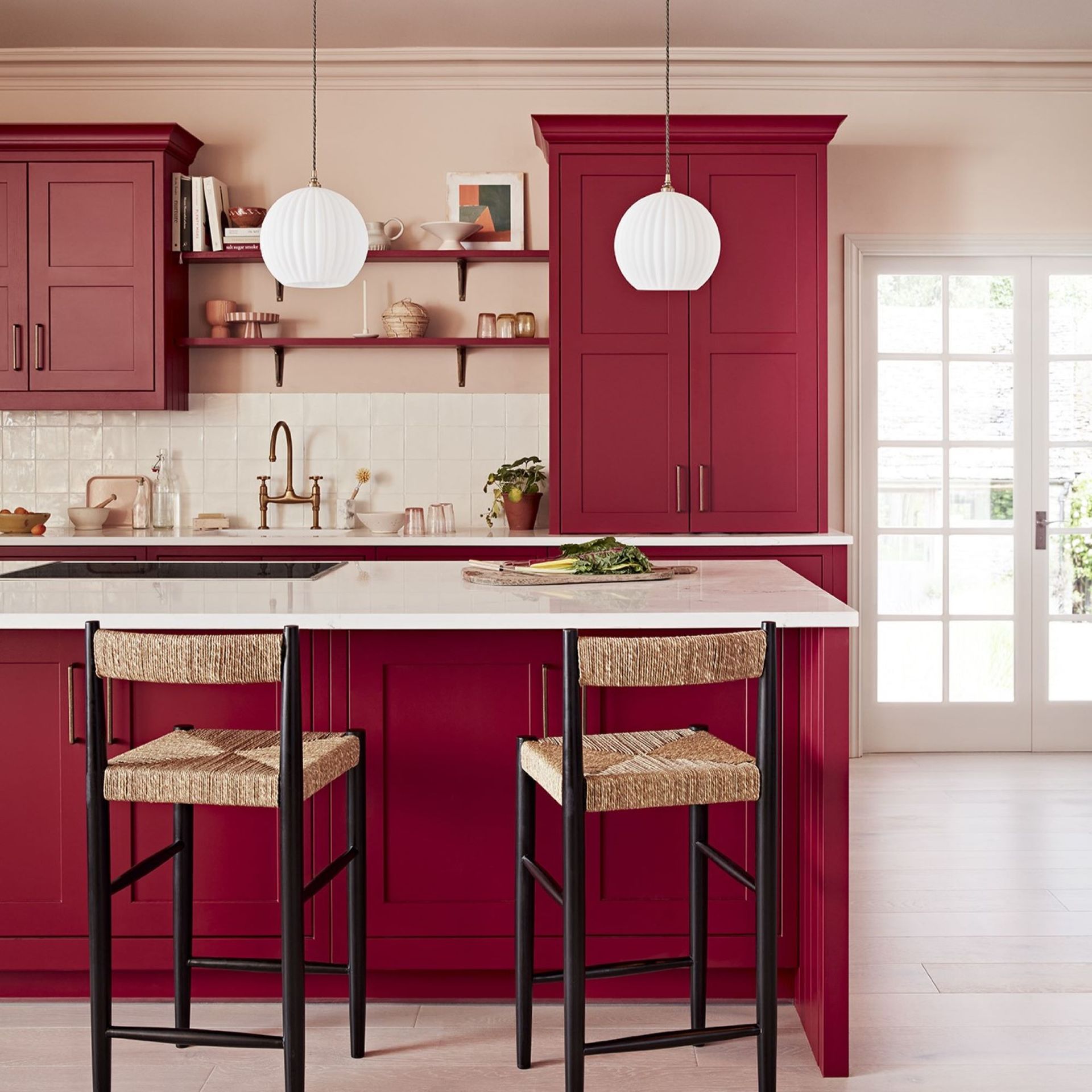 Though you can learn how to paint kitchen cabinets yourself, hiring a professional will ensure a perfect final result. You could source a painter to do your kitchen cabinets for you, but do the walls yourself to lower the overall cost.
'The exact cost will depend on the specific painter or decorator's rates as well as the number of cabinets, the type of paint, as well as the complexity of the job, taking into account whether the cabinets will need to be sanded and primed, need multiple coats of paint, or special finishes,' Fiona from Kosy Co Living explains.
'In general, the average cost of this job ranges between £200 to £600 and usually takes between 1 – 3 days, but always check with your chosen labourer as this will depend on what you want.'
So the answer to how much does kitchen cabinet repainting cost varies, but it's a good idea to get quotes from several different tradespeople and companies. Some painters will specialise in cabinet spraying to ensure a smooth, long-lasting finish.
Get the Ideal Home Newsletter
Sign up to our newsletter for style and decor inspiration, house makeovers, project advice and more.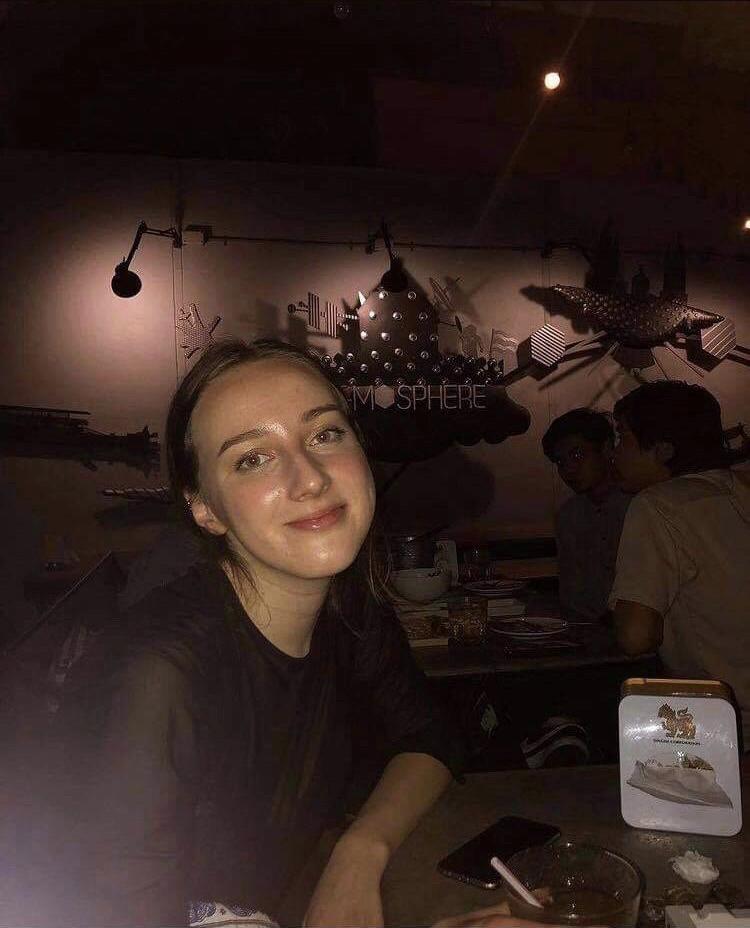 Katie Sims has been writing for Ideal Homes since spring 2022. She qualified from her Master's in Media and Journalism in 2021 and has been writing freelance since. She has worked on Ideal Home's ecommerce team where she researched the best home products on the market, and on the news team, researching the latest trends for feature pieces.