Where to spend and save on a kitchen to ensure you stick to your budget
Whether building a new kitchen or renovating your existing one, know what things are worth spending on and where to save with our handy guide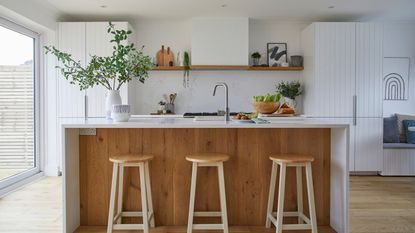 (Image credit: Future PLC/Katie Jane Watson)
If you're thinking about looking at a kitchen renovation, whether a whole overhaul or a small update, you've probably been wondering where to spend and where to save – and which projects can be done more affordably.
When it comes to renovating your kitchen, there's no denying the fact that it can be a costly endeavour. However, if you've chosen to upgrade yours, you'll want it to be durable and long-lasting and something that you won't feel the urge to update again in a few years time. And thankfully there are ways to keep costs down in certain areas.
It's also worth thinking about which areas in your kitchen are most important for you. What may be a priority for some may not be a priority for you and vice versa.
'For example, whilst an avid baker might need a durable worktop and a range of storage options, a regular party host might want to save that extra budget and spend on a kitchen island for entertaining guests,' says Ryan Smith, Kitchen Buyer at B&Q.
Where to spend and save on a kitchen
So if you can't get the words kitchen spend save out of your head recently, you've come to the right place. There are plenty of fantastic budget kitchen ideas to choose from, but which areas are worthy paying a bit more for? Top experts reveal all.
Where to spend – Plumbing, electrical and installation work
Why spend on plumbing, electrical and installation work? First and foremost, you don't want to scrimp on any of the professional work. Not only do you want to ensure that everything is up to code but making sure that your kitchen is safely installed – from lighting to plumbing and electrical – is worth spending on instead of attempting as a DIY project.
'Scrimping on plumbing materials or hiring inexperienced plumbers may lead to frequent leaks, clogs, or other plumbing issues that can disrupt your kitchen activities and cause inconvenience and even make household bills more expensive,' says John Lawless at BestHeating.
You may feel like you're saving to begin with, by doing the plumbing, electrical or installation work yourself but it can lead to expensive repairs and refits in the future.
Where to spend – Worktops
Why spend on worktops? 'While it may be tempting to opt for a cheaper material for your kitchen worktops, such as laminate or wood, these materials can quickly show wear and tear and may need to be replaced sooner than expected,' according to Toni Lleo, General Manager at Laminam UK.
Opting for a worktop that is non-absorbent, stain-proof and resistant to scratches, heat and moisture is key.
'Choosing a worktop made of a premium and sustainable material, such as porcelain, may require you to allocate more of your budget,' says Toni. 'But the investment will pay off in the long run and you'll be able to enjoy the worktop for many years to come.'
Where to spend – Storage
Why spend on storage? If there's one thing in our homes that we could always use more of, it's storage. And how we store everything from produce to cookware and appliances can have a big impact on the overall look of a kitchen.
Think about the types of kitchen storage that you may need and what will be used most to truly maximise your storage space, while simultaneously giving your kitchen that bespoke feel.
Pull out baskets, waste bins and shelving units, as well as lazy susan-style turntables are all worth investing in. We've also seen American-style pantries become increasingly popular here in the UK. So, if you have the space, creating a pantry section or even floor-to-ceiling cabinetry that will house pantry storage, can add a lot more function to your kitchen.
Where to spend – Taps
Why spend on taps? For some, investing in a boiling water tap may make a lot of sense. When you think about how often we use our kitchen taps, it's worth spending that bit extra on one with a few nifty but beneficial features.
Above and beyond providing instant boiling water, they also have additional perks such as being able to instantly dispense chilled filtered water and even sparkling water, straight from your tap.
Using a boiling water tap could also save you time, energy and water in the long run, as you can dispense the exact amount of water for a cup of tea or pot of pasta.
Where to save – Cabinets
Why save on cabinets? Nowadays readymade or flatpack cabinet units are a great cost-effective way of creating the kitchen of your dreams without having to shell out on custom cabinetry. In most cases the interiors of a cabinet are the same layout, regardless of the price, so this can be somewhere to save.
One thing you will want to consider, though, is the colour of your kitchen cabinets. Will the shade or finish that you pick today still be something that you love months, years or even decades down the line.
'When it comes to longevity, I'd advise more neutral tones and bringing wood materials into the mix because of the warmth they bring while maintaining a neutral palette,' says Julie Gokce, Senior Designer at More Kitchens. 'I would only go wild with the things that can be easily changed, like metal finishes or single walls that you're wanting to add a splash of colour to.'
Where to save – Tiles and splashback
Why save on tiles and splashback? You can save hundreds of pounds without having to sacrifice the overall look of your splashback. One of the most budget-friendly tiling options to go for is a simple white tile, as it truly will never go out of style. Playing around with different tiling layouts and patterns, such as herringbone or running bond can also make affordable tiles look much more luxe and impactful.
Even if you have your heart set on a certain style of tile, it is worth shopping around as there are lots of great budget-friendly alternatives to more high-end materials like marble or porcelain.
You can also keep costs low by limiting the area that you choose to tile. 'You can get away with just three or four rows of tiles above your worktop to catch splashes and simply paint the rest of the wall in a coordinating colour of wipeable emulsion,' Gregory Smith at PriceYourJob.co.uk proposes.
Where to save – Lighting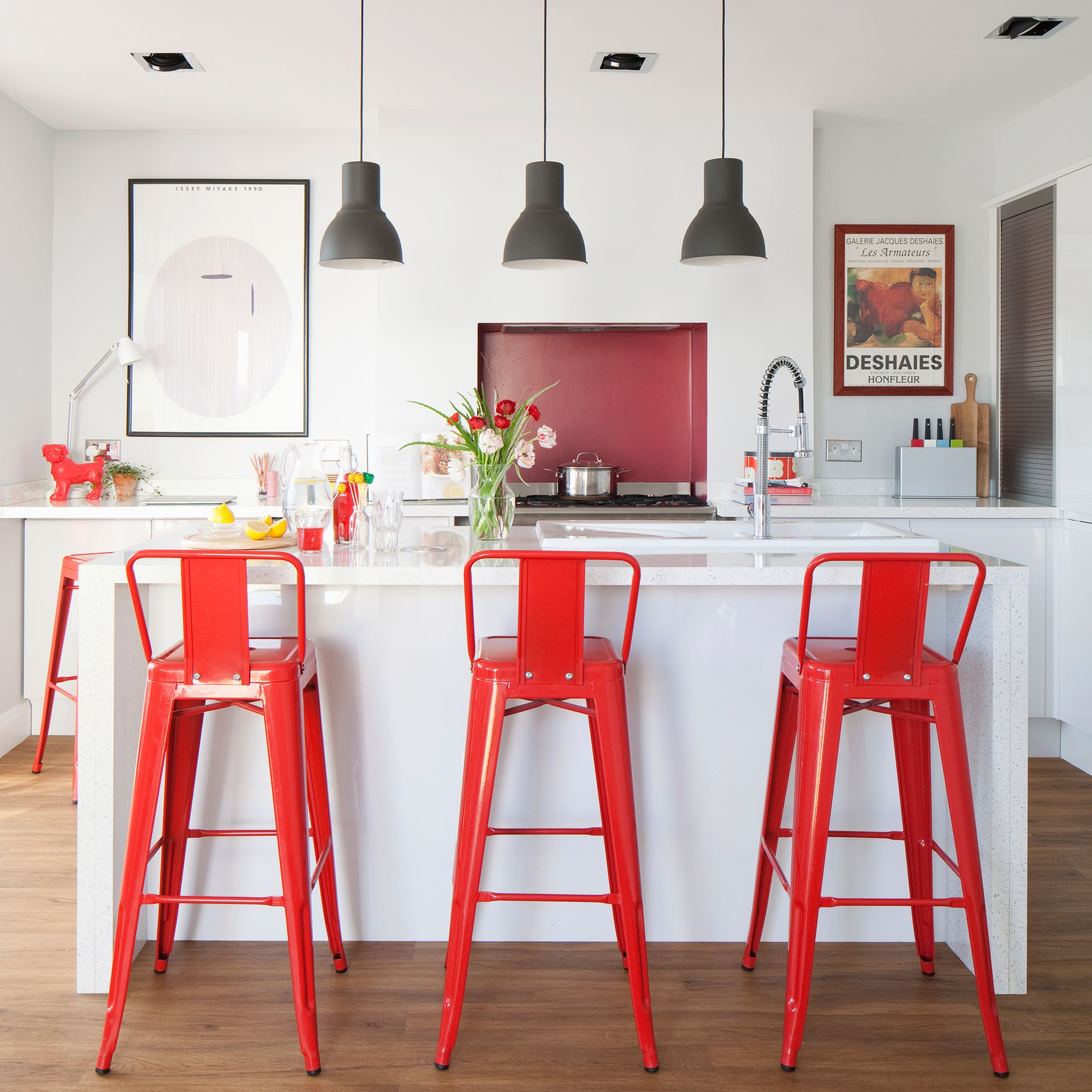 Why save on lighting? You don't need to spend much to add sufficient brightness and ambience to your kitchen, particularly if you use a variety of different types of lighting.
When it comes to kitchen lighting, as well as traditional ceiling lights, pendant lighting can work brilliantly over an island or peninsula. 'LED strip lights are a popular choice for kitchen cabinets, as they provide light directly over the space you're working in,' adds Signify's Consumer Commercial Leader, Giuliano Ghidini. 'Adding strip lights under your kitchen cabinets gives you focused, bright light for cooking, food preparation, and washing dishes.'
Where to save - Sink
Why save on a sink? The only things that you'll really need to worry about when it comes to the type of kitchen sink that you install, is what material it is made out of – something that doesn't stain is paramount – and that it fits a decent number of pots, pans and dinnerware.
'Both stainless steel and modern composite materials are extremely durable which is essential when shopping for such a high traffic household item,' confirms Ronke Ugbaja, Leader in Product Management at LIXIL EMENA & GROHE UK.
How can I save money on my kitchen renovation?
If you're on a particularly strict budget, there are some cost-cutting tips and tricks to save big.
Keep an eye out for ex-display units, as these are usually heavily discounted – despite the fact that they've never been used. Kitchen showrooms, like most retailers, routinely change their displays, which means that they often sell off items for a fraction of the original price.
Buying a secondhand kitchen is another budget-friendly option, without you having to compromise on quality. Often you'll even be able to afford higher-end pieces because they are preloved.
What if you're looking at it as an investment?
If you're going into a kitchen renovation by looking at it as an investment opportunity, it is worth keeping in mind that, you can spend a lot more on a kitchen than what value it will add back.
It may not make financial sense to do a complete kitchen refit, if you plan on selling your home sometime soon. 'If you're going to do a kitchen up, you're unlikely to make your money back,' says Julie Gokce. 'It will increase the valuation of the property slightly, but not enough that you'd see an overall profit.'
We all have our own tastes, particularly when it comes to rooms such as kitchens and bathrooms, so what works for you may not appeal to future buyers. Because of this, if you're looking to renovate your kitchen to then sell on, opting for a neutral design or colourway may be best.
Get the Ideal Home Newsletter
Sign up to our newsletter for style and decor inspiration, house makeovers, project advice and more.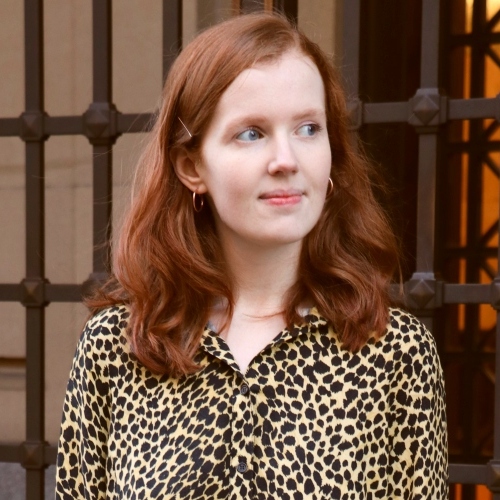 Ellis Cochrane has been a Freelance Contributor for Ideal Home since 2023. She graduated with a Joint Honours degree in Politics and English from the University of Strathclyde and between her exams and graduation, started a lifestyle blog where she would share what she was buying, reading and doing. In doing so, she created opportunities to work with some of her dream brands and discovered the possibility of freelance writing, after always dreaming of writing for magazines when she was growing up.
Since then, she has contributed to a variety of online and print publications, covering everything from celebrity news and beauty reviews to her real passion; homes and interiors. She started writing about all things homes, gardens and interiors after joining Decor & Design Scotland as a Freelance Journalist and Social Media Account Manager in 2021. She then started freelancing at House Beautiful, Country Living and in Stylist's Home team. Ellis is currently saving to buy her first home in Glasgow with far too many Pinterest boards dedicated to her many design ideas and inspirations.