Styling experts share their insider tricks for arranging sofa cushions perfectly every time
Perfectly plump cushions, guaranteed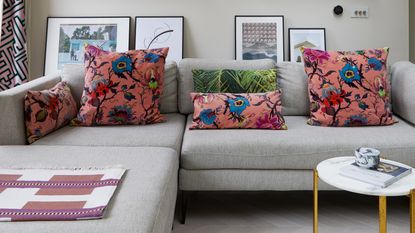 (Image credit: Future PLC)
Cushions are the perfect finishing touch to a living room sofa idea, offering a decorative touch and also ample comfort. But whether you have two or a dozen, you'll want to know how to arrange cushions to ensure your living room looks as stylish as possible.
However, there is an art to arranging cushions depending on the shape and size of the best sofa you choose. Depending on whether you have a large l-shaped sofa, a cosy armchair or a window seat designed for curling up with a book, opting for the right cushion set-up will determine how comfy your living room seating is.
How to arrange sofa cushions
The best living room seating ideas combine both style and practicality. You want your sofa and cushions to match your overall aesthetic and look on-trend, but you also need the right arrangement to offer support and comfort.
These sofa cushion ideas will give you the guidance to create an expertly-curated set-up that looks symmetrical, well-styled and perfectly plump.
1. Armchairs
Whether you have a smaller living room or you want to create dynamic seating that can be moved around, living room accent chair ideas will create a cosy spot perfect for curling up with a book. And due to their more compact size, they're much easier to style up with a singular cushion.
'If you're settling down on an armchair, you don't need too many cushions to get cosy; one large cushion will suffice just fine,' adds James Rotheram, visual merchandiser at M&S Home. 'For an armchair, mimic and match the colours and patterns of your sofa cushions to pull in the overall balance of the room.'
2. Window seats
Whether located in a living room, kitchen or even bedroom, a window seat is designed for stretching out and lounging around.
'Window seats make the perfect hideaway for getting lost in a captivating novel. Want to escape into your favourite piece of fiction without compromising on comfort? The solution is simple,' says James.
'For a window seat, I suggest opting for two small cushions, as well as one cosy textured pom pom cushion, as they should provide sufficient comfort without blocking the light and view from the window itself.'
3. 3 or 4-seater sofas
3 and 4-seater sofas are some of the most common seating arrangements as they're versatile to fit in all room sizes while still providing enough room for a couple of people. So whether you're lounging on the sofa solo or squeezing in multiple people when socialising, you want it to be comfy and look good.
'Using too many cushions on a sofa can be impractical and sometimes overkill, whereas using too few can leave the furniture looking a little wanting and sparse resulting in some aching backs and sore bottoms,' advises visual merchandiser James.
'For a classic look on an average four-seater sofa, it's best to go for a combination of two large square cushions in a plain colour positioned at the back. You'll then have the opportunity to play with patterns and colours by layering on two smaller square cushions in a vibrant design.'
'Go for a more a-symmetric design for a casual look on your four-seater sofa by using an odd amount of cushions, like three or five, in unified prints from the same cushion family to reinforce a relaxed aesthetic.'
4. L-shaped sofas
L-shaped are one of the most popular living room seating ideas, largely due to the space they provide for the whole family to lounge on. They're also easy to fit into most living rooms, allowing you to slot them into the corner of a room.
'Unlike the symmetry of a standard four-seater sofa, a four-seater corner sofa offers ample room to play with design and take advantage of the rule of three,' recommends James from M&S Home. 'Using asymmetry, you can offset the design by using nine cushions in total; each of different sizes, colours and textures.'
'Place the three large square cushions by both arms of the sofa or one towards the chaise depending on your sofa design. You can then add a smaller patterned cushion to accompany both of the larger cushions.'
'To continue this layered look in the corner of the sofa, you can then add a bright and bold square cushion in both the nook of the sofa and at one of the ends. On the remaining side, add a long bolster cushion or rectangular-shaped one to complete the asymmetrical effect.'
How to choose sofa cushions
Selecting cushions for your sofa can be a tricky task. With square, rectangular, round and even bolster cushions to choose from, where do you begin? And that's not to mention the plethora of colours, patterns and materials on the market.
'For many lounges, a neutral sofa is a great investment and can be kept up to date with scatter cushions in a variety of colours, patterns and textures,' advises Jemma Jaques, visual design lead at The Lounge Co.. 'We'd recommend looking through your favourite interiors magazine or online for inspiration and to keep the look coherent, choose a theme that will work throughout your room.'
'For a luxurious look that doesn't need to shout, combine a palette of neutral shades such as cream, tan and grey – mix and match fabrics, add subtle patterns such as fine stripes or herringbone and try on-trend textures like bouclé or fringing.'
'If you want to add some decadence to your living room, jewel tones are big this season,' continues Jemma. 'Combine shades that are rich and opulent - emerald green, sapphire blue and golden amber work beautifully together. You'll find mineral prints all over the high street now, and adding metallic touches will give the look an Art Deco vibe.'
Get the Ideal Home Newsletter
Sign up to our newsletter for style and decor inspiration, house makeovers, project advice and more.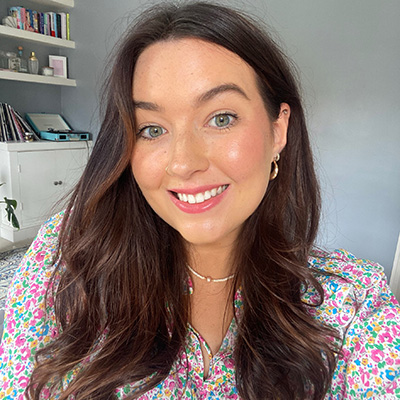 After starting out her journey at Future as a Features Editor on Top Ten Reviews, Holly is now a Content Editor at Ideal Home, writing about the best interior ideas and news. At Top Ten Reviews, she focussed on TikTok viral cleaning hacks as well as how to take care of investment purchases such as lawn mowers, washing machines and vacuum cleaners. Prior to this, Holly was apart of the editorial team at Howdens which sparked her interest in interior design, and more specifically, kitchens (Shaker is her favourite!).