Small grey living room ideas - 10 beautiful ways to use this neutral in a petite space
Choose the right tones and accent shades for year round comfort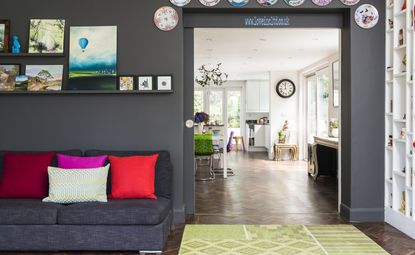 (Image credit: Future / Colin Poole)
Small grey living room ideas are will always be a popular easygoing choice for a home that looks eternally chic. It's an easy and elegant neutral to live with and comes with a raft of choices. So how best to choose what grey living room idea is right if your room lacks space?
'Cooler tones often lend themselves to a more modern, minimalist aesthetic,' says Ben White, interior design manager at Swyft. 'If you're looking for a more European, stripped-back look-and-feel, then opt for tones of pearl, cloud or fog.
'These can often help smaller rooms feel larger as the light bounces around, creating the illusion of space. You can accent these rooms with pastel tones to inject colour in a way that doesn't steal focus and overwhelm.'
Small grey living room ideas
Not all grey paints are created the same so you will need to think carefully about the best grey for a living room.
'Warmer shades of grey help to create a cosy and inviting feeling in your interior,' adds Ben. 'This is particularly important in north-facing rooms, where natural light is sought after. In these kinds of rooms, I would opt for greys that have subtle undertones of reds and yellow to inject that warmth the room needs.'
1. Mix with monochrome
As grey is fundamentally a mix of black and white (with some subtle base note colours added), it works well in a room scheme with these two achromatic extremes, or grey and white living room ideas.
When it comes to accessorising, black and white accessories such as picture frames, mirrors and berber style rugs add a crisp style to a grey living room. Be aware, however, that a room with only these shades can look a little cold and austere. So be sure to include natural tones and textures such as timber too.
2. Add plenty of texture
Neutral rooms don't need lots of colour to look interesting. Interest can be added through the use of different textures, ideally natural ones such as linen, wool, rattan, ceramic and metal.
'The trick is to not use fifty shades of grey,' says Ben White at Swyft. 'A couple of shades can add depth, but it's more about using a variety of textures across a considered colour palette.
'This approach will show people you know how to use colour and style your interior like a professional. Personally, I would recommend using grey as your base, so this could be a beautiful, linen sofa. Many linens have several tones of thread running through them, so pick out another tone and use this in a rug or the wall paint.'
3. Combine cool tones with blue
When it comes to choosing accent colours for a living room scheme, consider the base tone of your chosen grey shade. Cooler greys often have a touch of blue mixed in them. Wallpaper, cushions, rugs and other accessories are a good way to introduce an accent shade or two.
'To maximise the size of your space, opt for the cooler dual tones as the layered effect will make your space look infinitely bigger through the depth perception,' says Ben White at Swyft. 'A navy or a duck egg blue is the perfect choice to complement these tones.'
4. Make grey cosy with burnt orange
'If you're looking for a deep, all-embracing feel when you walk into your lounge, then go for rich mustards and burnt oranges,' says Ben White at Swyft. 'The contrasting colours add a vibrancy to a room and draw the eye to the smaller details.'
Orange is a great colour that goes with grey, it offers a beautiful balance that will see you through all seasons. Simply add some knitted throws or heavier drapes in the winter months for added warmth.
5. Accent just with accessories
Rather than introducing an accent shade through your wallpaper or carpet, using it just on accessories gives you greater flexibility. If your walls, flooring and large pieces of furniture are grey, it's easier to switch accent colours or add new ones.
'Grey creates the perfect base on the canvas of your interior, allowing artwork, statement furniture or soft furnishings to take centre stage,' says Ben White. 'This is especially key if you are someone who is trend-driven - you can invest in a timeless grey sofa and customise it with different cushions, throws and rugs seasonally.' If buying multiples in different shades seems out of your budget, it's worth checking out what home decor discount codes are currently active.
6. Freshen the feel with yellow
If combining grey with orange looks cosy, mixing it with yellow looks fresh and zingy. Citrus shades can cut through drab tones, just as they do with cloying flavours. So they will lift a grey scheme, if that's what it needs.
Many grey paints have yellow as a base tone, so choose one that does, if you want to freshen your living room with yellow accents.
7. Balance with beige and timber tones
Consider beige, brown and even yellow and grey living room ideas to add warmth to small grey living room ideas. 'Blue-toned greys work well when combined with soft creams and beiges, as opposed to pure brilliant white, whose contrast may look too stark,' says Justyna Korczynska, senior designer at Crown.
'As it's a colour inspired by a heritage palette, bluey grey looks really elegant and sophisticated paired with wooden furniture – mid-tone wood would be preferable but dark shades can also enhance its moody look.'
8. Enhance the greyness
If you have a small living room that you like to use as a snug for movie nights, or it's a room that generally sees more action in the winter, dark stormy greys are a great option for the walls, as this will evoke a cosy mood.
Echo this mood with a cloudy-sky landscape painting - and add warmth when it's needed with a log burner and plenty of throws to snuggle under when the temperature dips. If you'd like to add a splash of colour blue and grey living room ideas will help do that, without detracting from the moody hues.
9. Go dark up to the dado
Love charcoal, slate or storm grey but worried it could make a small living room look gloomy? Just paint up to a dado rail - or where one would be - with your chosen dark shade and surround it with lashings of white paint above, on the ceiling and the woodwork.
Keep the flooring a light shade too and introduce some bold colours across your soft furnishings and accessories. This will ensure the look is dramatic rather than drab.
10. Contrast architectural features
If you've chosen pale grey as your base colour for your walls, consider painting the ceiling in the same shade too. This looks particularly elegant if your home is blessed with period features that can be contrasted and highlighted as they have been in the pink and grey living room idea.
Painted white, plasterwork cornicing, detailed fire surrounds or skirting will stand out beautifully against a soft grey background.
Is grey good for a living room?
Grey is brilliant for a living room, it's a versatile neutral that ranges from the palest stone tones through to stormy slate. These work well with white, black and natural tones such as timber and rattan.
In addition, grey can be teamed and lifted with citrus shades like orange or yellow, bold brights including blues and greens or ice cream pastels.
How do you add warmth to a grey living room?
It's easy to add warmth to a grey living room. Choose furniture such as a coffee table or sideboard with a rich timber surface or use accent colours like burnt orange or rose pink on accessories.
Accent colours work best when repeated a minimum of two or three times. So if you've opted for curtains or blinds with flecks of amber or rose, repeat them on cushions, rugs or lampshades.
Get the Ideal Home Newsletter
Sign up to our newsletter for style and decor inspiration, house makeovers, project advice and more.
Jacky Parker is a freelance interiors & lifestyle journalist, specialising in modern interiors, design and eco living. She has written for Future's interior magazines and websites including Livingetc, Homes & Gardens, Country Homes & Interiors and Ideal Home for over fifteen years, both as a freelance contributor and inhouse, with stints as Acting Digital Editor, Livingetc and Acting Style Content Editor, Country Homes & Interiors. Her work also features in national and international publications including Sunday Times Style, Telegraph Stella, The Guardian, Grand Designs, House Beautiful and more. With years of experience in the industry Jacky is privy to the insider view and the go-to places for interior inspiration and design-savvy décor.