Pink and grey living room ideas - 11 ways to work this popular duo
From soft and subtle to bold and beautiful - see pink and grey in a new light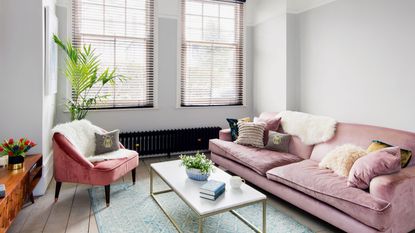 (Image credit: Future PLC/David Giles)
From the palest pastels to the darkest slate plus pops of rose, fuschia and other horticultural hues, it's possible to create any mood with a palette of grey and pink.
Those considering pink and grey living room ideas (rather than basic grey living room ideas) have myriad ways to introduce these tones. 'For an uplifting and joyful look, choose paler petal shades like Pretty Pink or Spring Rose, or for something a little gentler that will make you smile, try Blush Pink, Powder Colour or Potters Pink,' says Marianne Shillingford, creative director, Dulux.
'Pink can be described as visually 'sweet' and we know that sweet things we eat often need a bit of salt to make them taste even better. It's the same with colours and so the pairing of pink and salty greys is an unexpected match made in heaven, especially in a living room.'
Pink and grey living room ideas
Of course, paint is just one way to introduce pink and grey to your living room. But there's also fabric, furniture, flooring and wallpaper too so you've got plenty of options. Need some inspiration? Read on to see which style will best suit you and your home.
1. Warm up cool grey with subtle hints of pink
Bear in mind when mixing colours in a scheme, it isn't necessary to use them in equal amounts. So when looking for colours that go with grey, you aren't limiting yourself. A soft grey scheme can be lifted by the slightest hint of pink, whether it's a detail in your wallpaper or on an artwork or cushion print.
Just be sure to repeat your pink accent colour somewhere, so it isn't sat in isolation, as this will create balance.
2. Have fun with the flooring
Another way to introduce pink and grey to your living room is from the ground up. However, if you're choosing colour and pattern for your flooring, make sure it is something you can live with long term. It's far easier and less expensive to repaint your walls than it is to replace carpet.
Choose a classic style like this geometric pattern, inspired by legendary designer, David Hicks Hexagon House design. That'll turn your living room flooring idea into a real statement feature.
3. Accent pale grey with rose accessories
Rose pink accessories such as a pretty blind, rug, pouffe and cushions, add instant warmth to a cool grey backdrop.
'Consider the light conditions in the room,' says Marianne at Dulux. 'Pink is perfect for warming up north facing rooms where soft pale shades with just a hint of apricot look amazing but cooler blush pinks can look a bit chilly. If you have plenty of good natural or warm LED artificial light, all pinks will work beautifully.'
4. Choose a grey with hints of blue
Add depth to the grey in your living room scheme by choosing a shade with blue undertones. This provides an interesting contrast to warm pink and adds intensity to the space. The pink adds a pop of fun colour, which is a great alternative to blue and grey living room ideas.
A super-popular shade is Farrow & Ball's Downpipe, which is a dark lead grey with distinctive blue undertones.
5. Set the tone with wallpaper
Wallpaper is a wonderful way to bring a pink and grey palette into your living space. It's an easier way to get a room to work too, as the mix of tones are already set in the print for you.
All you need to do is pick out one or two pink tones to use as an accent colour across fabrics and furnishings.
6. Ground a pretty scheme with a grey trim
If you like the idea of soft powdery tones of pastel pink for your walls, ground them with an off-white or greyish trim around window frames and a grey striped rug on the floor.
'A mid toned, muted rose evokes a warm, comforting feel to any space, it's an incredibly soft shade that is easy to live with,' says Justyna Korczynska, Senior designer at Crown Paints. 'It will look richer and more vibrant in low level artificial light.
'However, it's particularly great for North facing rooms to create the illusion of warmth. For a soft tonal contrast, pair with Quiet Space, Clay Like or Soft Scribbles.' Bear this in mind when you're considering which living room colour schemes will work best in your space.
7. Add a flash of fuschia to a slate grey backdrop
It's tempting to only see pink and grey as soft and soothing, yet it can be bold and energy-boosting too. 'Greys are hugely versatile – from cool off-white shades, through warmer neutral mid-tones to the very deep and mysterious,' says Justyna at Crown Paints.
'Greys have more colour and texture within them than straight black living room ideas – a monochrome scheme of black and white is less forgiving than one with shades of slate and pink, which will change subtly with the light throughout the day, giving the room personality and character.'
8. Pretty things up with pattern
Choosing neutral grey walls gives you a base to build from with fabrics and furnishings. Select patterns with colours that complement or contrast with your walls and floors. Grey sofa living room ideas are also good to build your scheme around.
'Once you've chosen your colour palette, stick to this and layer it throughout the room to create balance,' says Ann Marie Cousins, founder, AMC Design.
'Use different tones of the same colour and pair this with a variety of textures or patterns in the same colour. This way, your scheme will look fluid but you will have statement pieces which will stand out.'
9. Mix plaster pink with charcoal for a timeless combo
Different tones of pink and grey can summon up different moods. Choose charcoal grey and dusky plaster pink for easy elegance.
'Warm pinks and soft greys are a perfect pairing,' say Jen & Mar, co-founders of Interior Fox. 'The soothing tones within plaster pink complement the sophisticated appearance of grey, overall creating a timeless combination. To elevate the look further, incorporate deeper tones of grey through soft furnishing or artwork.
10. Add interest with plush pops of pink
Pink doesn't have to look sugary and sweet, it can look smart and sophisticated too, especially when introduced sparingly through plush fabrics such as velvet upholstery. This makes it a winning combo for modern living room ideas if you prefer a contemporary look.
'If you like your living room grown up, rich and inviting, add more or less of each colour to define the mood,' says Marianne at Dulux. 'More grey for a sophisticated look and more pink for a warm cosy atmosphere. Soft petal pink shades work so well with lush green foliage too.'
11. Paint the ceiling pink
Instead of painting your ceiling a bog standard white, paint it in the same pink as your walls instead. Do your homework on how to paint a ceiling first, and then you're good to go!
'Pink is a surprisingly versatile shade and can work well as an alternative to traditional neutral colours,' says Jen & Mar, co-founders, Interior Fox 'Before selecting your palette, it is important to choose the correct pink for your scheme.
'Mid-tone pinks can be tricky to get right, as there's a risk of it feeling overly twee. To avoid this, opt for warm and dusty tones that look similar to dried plaster. We would also avoid saturated pinks as these can date quickly and feel jarring.'

Do pink and grey go together?
'I really like the balance of seeing pinks with tones of grey,' says Justyna Korczynska, Senior designer at Crown Paints. 'When combined with tones of grey, pink adds depth and interest to the interior scheme. 'Consider pairing pale pinks with charcoal greys, or stronger tones of pink with a paler grey.'
Is pink and grey good for a living room?
'The colour combination of grey and pink can pair well together in a living room but the tones need to be carefully selected,' says Tash Bradley, Lick's Director of Interior Design and Colour Psychologist.
'A grey that has a pink or lilac warm undertones will complement the pink shade and give you a sophisticated finish.
'When looking at fabrics, dark grey can take a rich heavy fabric like velvet or brushed cotton. If choosing a light, soft and dusty pink - then linen grey would be great with this shade.'
Get the Ideal Home Newsletter
Sign up to our newsletter for style and decor inspiration, house makeovers, project advice and more.
Jacky Parker is a freelance interiors & lifestyle journalist, specialising in modern interiors, design and eco living. She has written for Future's interior magazines and websites including Livingetc, Homes & Gardens, Country Homes & Interiors and Ideal Home for over fifteen years, both as a freelance contributor and inhouse, with stints as Acting Digital Editor, Livingetc and Acting Style Content Editor, Country Homes & Interiors. Her work also features in national and international publications including Sunday Times Style, Telegraph Stella, The Guardian, Grand Designs, House Beautiful and more. With years of experience in the industry Jacky is privy to the insider view and the go-to places for interior inspiration and design-savvy décor.