Ikea launches new Jassa range of homeware, inspired by south-east Asian design
Take a trip to warmer climates with Ikea's stunning limited-edition range of sustainable textiles, ceramics and furniture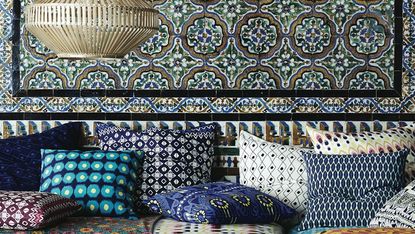 (Image credit: Ikea)
Ideal Home Newsletter
The Home Of Great Ideas For More Than 100 Years
Thank you for signing up to . You will receive a verification email shortly.
There was a problem. Please refresh the page and try again.
Ikeas (opens in new tab) new limited-edition Jassa collection is not to be missed! Inspired by Indonesia and south-East Asia, Jassa's eclecti'c mix of furniture, textiles and accessories is packed with pieces that will bring a feel of sunnier climes to your home.
Created by Dutch designer Piet Hein Eek in collaboration with Ikea's design team, the collection centres around sustainable production values, earthy materials and vibrant colours and patterns.
'The design process was very playful,' Hein Eek says. 'We worked together on the factory floor, learning how to handle unfamiliar raw materials. There was an atmosphere of open experimentation.'
Every piece is made from rattan, bamboo, water hyacinth, sea-grass or cotton and all the natural fibres are entirely handmade, which results in unique characteristics in each piece. 'The beauty of a handmade collection like this is that you get a bit of variation in the end products,' says design team member Iina Vuorivirta. We couldn't agree more.
Ikea's Jassa collection will be available exclusively in stores from March 2017, and will be available only while stocks last. Sustainably made, vibrant and beautiful - we're making a note in our diaries now!
Here's a little preview of just some of the fabulous pieces available:
Jassa sofa, £79
Jassa pendant lampshades, from £15 each
Jassa room divider, £45
Jassa plates, from £3
Jassa floor cushions
Jassa table
Jassa cushion covers, from £4 each
Jassa easy chair, £49
Jassa bags, £8 each
Jassa decoration vases, £16 each