The magical world of Marcel Wanders – the Dutch designer who defies convention
Hip hotel? Check. Daring design? You got it. Livingetc explores the wonderful world of Marcel Wanders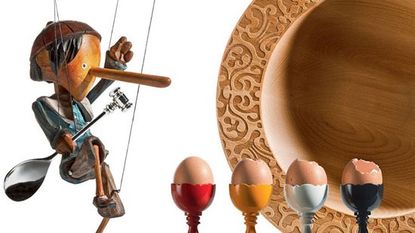 (Image credit: TBC)
Ideal Home Newsletter
The Home Of Great Ideas For More Than 100 Years
Thank you for signing up to . You will receive a verification email shortly.
There was a problem. Please refresh the page and try again.
Marcel Wanders is much more than a designer - he's also a storyteller and businessman, battling throwaway culture with fantastical products and interiors. He's collaborated with everyone from Alessi to M&S, launched innovative brand Moooi and furnished (and co-owns) a unique hotel on one of Amsterdam's swankiest canals. So, while the crowds in the Dutch capital checked out the Vermeers and Van Goghs, Livingetc got the lowdown on what makes Wanders tick.
Are you a rebel with a cause? You could say that, yes. I think culture is moving in a new direction, but design is still moving backwards towards modernism and I don't think that serves us well. So perhaps that make me a rebel, but a rebel in a good way.
Which way should design be heading in? I want it to be more human and romantic. Nothing grows faster than the new, which results in a throwaway culture. I think we have to make things that are new, but still feel old.
The Marcel Mona Dressing Table, Mirror and Stool set for M&S (opens in new tab)
Why did you feel the need to co-found your design company Moooi? I was finding it difficult to get my ideas produced and I really wanted to make products that would reach the hearts of people. I knew I wasn't the only one, so I set up a company to make it possible.
What's with the three 'o's? I wanted a name that could also work as a logo and, because I love Audi's logo, I wanted to have some superfluous 'o's. In Dutch, mooi means beautiful, so we added an extra 'o' to make Moooi.
Moooi (opens in new tab)'s London showroom on Bankside
Your designs incorporate elements of storytelling, such as the Monster Chair, which represents a battle between opposite forces. Why is this important? The world is full of very different people: some understand it by seeing, others by thinking and others feel it through their emotions. So I look for ways to incorporate all these elements, in order to give objects more value.
Wanders' Monster Chair (opens in new tab) for Moooi
Is there a secret to creating a Moooi-style space? The key is to decorate with a variety of patterns and colours - I like to think of it as brightening up daily life with a touch of the unexpected. It's important to make an environment both beautiful and unique by mixing cultures and experiences.
A set of Monster Chairs, above, in the Wanders-designed Andaz Amsterdam Prinsengracht (opens in new tab) hotel and one of the hotel's eclectically styled bedrooms, below.
What's your advice for home renovations? The first thing to do is give away anything meaningless - people clutter their homes with unimportant objects and it doesn't make their life better. Then go with your family or whoever you live with and choose a paint colour together - one you all think is super-cool. Decide where it goes and paint it the same day. Be daring!
Part of the Dressed collection of tableware and accessories by Marcel Wanders for Alessi (opens in new tab)
Finally, why does design matter? Our surroundings are a mirror of who we are and who we want to become - we feel happy when we see ourselves in them. So it's important that we create designs that are moving in the direction we want to go in. While we're doing all these things in our day-to-day life, we define who we are and what we will be tomorrow.
The Happy Hour Chandelier (opens in new tab) by Marcel Wanders and Dutch choreographer Nanine Linning. Parties can book the chandelier for 20 minutes, during which a Dancing Angel hangs upside down from the pendant and offers flutes of
champagne to the crowd below. Just the thing for Livingetc's Christmas do…
Tamara was Ideal Home's Digital Editor before joining the Woman & Home team in 2022. She has spent the last 15 years working with the style teams at Country Homes & Interiors and Ideal Home, both now at Future PLC. It's with these award wining interiors teams that she's honed her skills and passion for shopping, styling and writing. Tamara is always ahead of the curve when it comes to interiors trends – and is great at seeking out designer dupes on the high street.