Boho nursery ideas to bring natural, earthy vibes to your little one's space
Create a bohemian vibe and make your baby's first room the ultimate cosy haven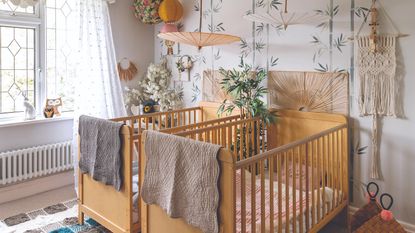 (Image credit: Future PLC)
Boho nursery ideas will create a space that is warm, cosy and inviting, for both you and your baby. The boho aesthetic has been big news in grown-up rooms this year, however, this trend is a match made in heaven for baby rooms.
Nursery ideas with a boho touch can be gender neutral, or easily adapted to suit your baby's gender should you wish. You can have fun by injecting your own personal touch into boho nursery ideas, and choose decor pieces that you find sweet and endearing.
'Bohemian-style nurseries are increasingly popular with new parents because they can create such a calm and relaxing vibe for new babies', says Katherine Lemin, Category Lead for Nursery at John Lewis.
A boho aesthetic doesn't have to be complicated either and can be easily achieved with warm colours, minimalist furniture and welcoming textures perfect whether you're looking for girl nursery ideas or boy nursery ideas. 'If you're into the boho vibe, I always recommend combining both new and vintage pieces to achieve an eclectic, lived-in atmosphere', says Sam Baldry, Head of Design at Swoon.
Boho nursery ideas
From warm wooden furniture to earthy tones and cosy textures, our boho nursery ideas will bring the ultimate homely vibes to your baby's first room. There are many ways you can add a charming whimsical touch to the nursery without it costing the earth, and if you really love the boho vibe, maybe you want to look at boho bedroom ideas for yourself too.
1. Add warm wooden furniture
To create a boho vibe in your nursery, select wooden furniture pieces with warm tones. This will build an earthy, natural mood in the nursery and make the space feel relaxing and peaceful. The neutral shade makes it perfect for gender-neutral nursery ideas, especially if you're hoping to reuse the set for a second (third or fourth) child.
You can buy a matching cot, changing unit and wardrobe so that they all tie the nursery's look together. Having these larger items in neutral wood also means you can bring in colours of your choice through furnishings and decor.
2. Introduce textured wall decor pieces
Adding texture to a room is a failsafe way to bring the boho vibe, and an endearing way to do this in a nursery is through cute and fluffy wall decor pieces.
Think wall garlands, tufted tapestries and pom poms, in whatever design or colour you think is the sweetest. Clouds and stars with adorable smiley faces are popular, as are safari animals. Drape these from shelves or pin to a free wall to make the nursery look and feel cosier than ever.
3. Choose warm neutrals
Though there are no set bohemian colours, interiors with this trend usually stick to warm earthy tones, which are perfect for the nursery where you want to create a calm and soothing atmosphere.
'Neutral earthy colours work alongside wooden furniture and accessories in rattan', says John Lewis's nursery expert Katherine Lemin. If the largest aspects of the nursery - walls, ceiling and floor - are in neutral shades like creamy white or soft beige, you then have the opportunity to layer in other colours on top if you wish.
4. Add a bohemian style armchair
A cosy armchair is an essential in a nursery to allow you to sit and rest with your little one. Tie one in with the cosy boho aesthetic by choosing one made in a textured fabric, or swapping out old cushions with ones in a boucle or Berber-style fabric for a cosy finish.
'To help you stay as comfortable and cosy as possible whilst caring for your baby, a bohemian style armchair is ideal for nursing, tummy time, and catching a cheeky snooze wherever you can', says Sam from Swoon. 'Think wooden frames, velvet fabrics, and earthy tones. Dreamy.'
5. Mix in soft pastels
Muted pastel shades would be a beautiful addition to a boho-style nursery, and will add extra warmth to the space if you have gone for a neutral colour palette.
When selecting your accent colours, you can stick to traditional pastel pink or blues. However, soft yellow and sage green nursery ideas have recently been taking off as more gender-neutral shades that look gorgeous in a nursery. Add these accents in splashes via the artwork, blankets and the occasional soft toy on a shelf, you want the effect to be subtle and soothing.
6. Create a focal point with a canopy
A crib canopy brings ultimate cosy vibes to a nursery, and will turn the little one's sleeping space into a natural focal point of the room.
Enveloping the cot in a long canopy draped from the ceiling is a simple way to bring more texture into the nursery. There are plenty of designs to choose from, so whether you go for a plain or patterned canopy is up to you.
Just be careful to place the canopy out of reach of the little one though; you want them to be able to gaze up at it in wonder but not be able to pull it with their hands. The best part about a canopy is it can easily be something your child takes with them as they grow out of there nursery.
7.Include stylish curated shelving
Trinkets, books, and cuddly toys bring that lived-in, welcoming atmosphere a boho nursery is all about. Use shelves to hold a mixture of accessories, and place your items so that they look varied and interesting, you don't want this look to be too symmetrical or neat.
Modular shelving units are ideal for the nursery because they can contain a mixture of open and hidden storage, so you can display your favourite items and hide the less aesthetic essentials. However, think carefully about the items you leave out on display, stick to soft toys and anything you wouldn't mind your little one getting their hands on on the bottom shelves.
8. Add soft textures wherever you can
For pulling off the boho vibe, texture is key. 'Merino woollen rugs and chunky knitted throws are great textures to introduce into your baby's room', says Katherine from John Lewis. 'The natural fibres are gentle on skin and have an added sensory experience that will be fun during playtime and cuddles.'
Introducing just one or two larger items with soft materials will transform the overall look of the nursery, and help both you and baby to feel instantly cosy when you step into the room.
9. Turn an awkward alcove into a storage bench
Clutter may seem somewhat unavoidable in a nursery, but having some form of hidden storage - drawers, baskets, a wardrobe - will help to keep the nursery looking tidy. If you can an awkward alcove, instead of opting for an armchair consider turning it into a storage bench.
How to build a bench is surprisingly easy, or you can invest in a purpose-built in. However, we'd recommend sticking to a natural material for the storage boxes such as rattan. It is a great option for maintaining the warm tones and organic textures of the boho vibe.
'To ensure your nursery remains stress and clutter-free, a rattan-style sideboard is a perfect place to stash supplies, whilst still radiating a boho aesthetic', says Sam from Swoon.
10. Add cosy lighting for the evening
To create a cosy and inviting ambience for bedtime stories and late night feeds, introduce different forms of lighting like fairy lights, lamps and night lights.
These will help to create a warm and soft atmosphere which an overhead light would struggle to do. Fairy lights draped around the bars of the cot look sweet, or a rattan lamp on a side table would blend with the boho vibe.
How do you bring a natural vibe to a nursery?
Bringing a natural, boho vibe to a nursery comes from incorporating neutral colours, cosy textures and organic materials. You'll want to avoid anything that feels overly loud or garish.
'Whenever you are choosing furniture, for a bohemian or natural aesthetic, opt for organic woods, rattan or woven textures, and an organic colour palette', says design expert Sam.
Incorporate soft textures wherever you can through blankets, rugs and felted accessories. 'Wall hangings are a great way to add to the boho aesthetic in a nursery, and you can choose designs with fun animal motifs to bring an added element of nature', says Katherine from John Lewis.
A jungle or safari theme looks great against natural materials like wood and rattan, which you can bring in through cute wall art pieces and cuddly toys.
What are boho baby colours?
Boho baby colours typically have warm, earthy and neutral tones, like creams, browns and terracottas.
You can layer in other colours on top of these to warm the atmosphere up, but stick to muted pastels like dusky pink, faded yellow and sage green. Colours that have associations with nature are good.
Remember that creating a boho vibe comes from lighting, textures and accessories as well as colour. 'The most important factor in bohemian design is creating a cosy and inviting ambiance, so collating a set of warm, personal accessories in your baby's first ever bedroom is a wonderful way to introduce them into boho', says interior expert Sam.
Get the Ideal Home Newsletter
Sign up to our newsletter for style and decor inspiration, house makeovers, project advice and more.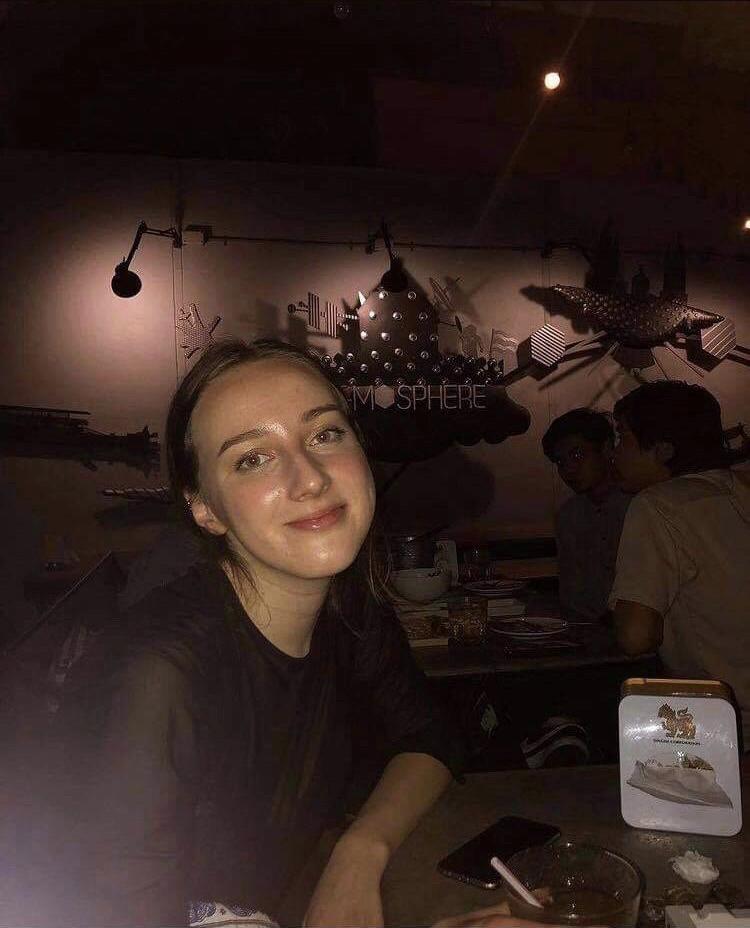 Katie Sims has been writing for Ideal Homes since spring 2022. She qualified from her Master's in Media and Journalism in 2021 and has been writing freelance since. She has worked on Ideal Home's ecommerce team where she researched the best home products on the market, and on the news team, researching the latest trends for feature pieces.