Girl nursery ideas – nursery schemes for baby girls that are not just pink
Create a delightful baby girl's nursery that your little one will love spending time in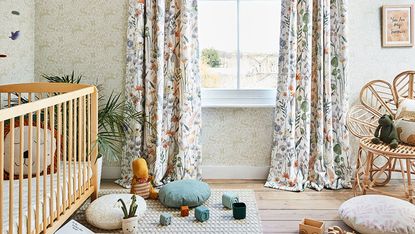 (Image credit: Scion)
Whether you're putting together baby girl nursery ideas for a newborn daughter or decorating a little girl's first bedroom, things have moved on from the days of 'pink for girl nursery ideas and blue for a boy.'
From calm neutrals, bold brights, rustic naturals or muted pastels, when it comes to colour, these days there are no rules for nursery ideas for baby girls.
'It's important to consider using calming colours within a child's bedroom to encourage them to wind down in the evening, as well as designing an inspiring space for play in the daytime,' says Justyna Korczynska, Senior designer at Crown. 'Paler colours work well in a child's room as they tend to be more relaxing and soothing – both for the child and parents. A background of soft blues or greens and warm pinky greys can be a good basis from which to add more colour.'
Baby girl nursery ideas
Colour aside, creating a relaxed space that feels calm, comfortable and engaging is key for any children's room idea. Little ones love to look around their space and be visually stimulated, so a room with colourful art work, creative focal points and things to catch baby's attention are a must.
Nursery ideas for baby girls are where you can afford to be ultra creative and have fun with the scheme to create a more engaging space for sleep and play.
1. Stay neutral for a timeless look
The key to longevity in babies' nurseries or children's bedrooms is to choose a colour scheme with staying power. Neutral tones are the perfect choice, creating a calm backdrop and timeless style that won't date or lose its appeal.
For a softer alternative to sugary pinks in a baby girl nursery idea, opt for soft blush tones or muted apricots and peach that will add warmth and subtle colour to a nursery without overpowering it. Painted panelling makes a practical backdrop for children's rooms, able to withstand scuffs and scrapes and easily re-painted when a colour change is needed. Adding a row of pegs and a shelf trim on top will also give extra hanging space and storage for a display of baby's favourite things.
2. Create calm with cloudy greys
Soothing greys and soft whites are a great choice for children's bedrooms helping to create calm and a tranquil mood that will send little ones soundly off to sleep. Gender-neutral grey nursery ideas will also work for both girl's and boy's nurseries, should the room be needed for an addition to the family later down the line.
'Start with a pale base colour and the fun can then begin,' says Justyna at Crown. 'Use features, stencils and personalised designs to embody children's characters and colours. This is the perfect opportunity to get creative or express a child's personality.'
'In children's bedrooms almost anything goes,' says Justyna. 'Bright colours, patterns, murals. And you don't need to be an artist to be able to create great mural feature walls for your kids. There are many easy ways to do it. Work out a design on paper then scale up for the walls, using good masking tape to create crisp lines.'
3. Make one wall the focal point
As a parent, you're likely to be spending plenty of time in the nursery tending to baby in the early months, so a soothing scheme that's pleasing to the eye for mum and dad too is a must. While baby brights are fun, opting for a more grown-up scheme in calmer shades can work well too.
Why not try a combination of pale blue and soft pink that will suit both boys and girls, meaning that the nursery scheme won't need updating if another baby comes along at a future date.
Give a plain room a decorative focal point by covering one wall in a livelier feature wallpaper. It will make a contrast backdrop for baby's cot or crib and give a visual point of interest to take in when seated in nursery chairs feeding the little one or reading a bedtime book.
4. Add a pop of colour for a playful look
Wall-to-wall bright colours can be quite overpowering for young babies or in a small space, so when it comes to baby girl nursery ideas, why not compromise and go for just a small area of colour instead.
Painting a corner of the nursery or bedroom is an easy way of introducing a bolder shade without it dominating the scheme. A colourful corner also provides a bright background area for placing baby's cot and can be jollied up with cute artwork or a shelf-full of children's books added to provide a cheery touch.
'Although pink, blue and of course grey continue to be popular paint choices amongst expecting parents, over the past few years there has been a surge in yellow nurseries,' says Justyna. 'Now the most popular choice, gender-neutral yellow is considered a stimulating and happy colour that will encourage a restful atmosphere.'
'Yellow hues are great for creating a focal point in a room. Highlight interesting architectural features, paint a mural, or add colour to furniture and accessories to create an engaging space.'
5. Keep things simple with a stylish Scandi vibe
Children grow up quickly and what was a firm favourite one month, can easily go out of favour the next. When it comes to nurseries or small kids' room ideas with longevity, classic white never goes out of style and can provide a blank canvas for more colourful bedding, artwork, toys and furniture.
Bring in natural wood nursery furniture, bright textiles and bold nursery prints and posters to give a child's bedroom a fun Scandi-style twist. A clean, white background is key to Scandinavian decor to keep the mood fresh and bright, but it also gives the perfect opportunity to bring in more playful touches and colour-happy decor that will visually stimulate a child.
6. Use pattern as your backdrop
Classic grey and white nursery ideas are an elegant and gender-neutral colour option that create a soft and soothing environment for both baby and parents. Grey and white will also work well with pretty much any accent colour, so gives plenty of scope for adding in brighter colours as baby gets older.
An all-over print can be a lovely way of adding visual interest to a baby's nursery or bedroom, with a cute motif or character that little ones can pick out and focus on when in the cot or at play. Instead of opting for a busy multicoloured design that could over-stimulate, opt for a one-colour wallpaper that will feel calmer and not as overpowering.
7. Look to the ceiling to add colour
Little ones spend a lot of time in their cots on their backs and looking skywards, so adding a visual element to the ceiling is a great way of keeping them entertained and their minds stimulated.
Painting the ceiling a bolder shade than walls is an easy way of adding colour to a small bedroom that will grab a baby's attention. Or try adding a canopy of stars, either as stickers or stencilled on, so that baby can stargaze while they're in the cot at bedtime.
Capture baby's imagination by wallpapering the ceiling with a boldly patterned wallpaper. A small nursery should only require one or two rolls, so the costs shouldn't be too high, and there's no danger of the wallpaper being marked by sticky fingers or scuffs.
8. Sooth with calming lilac
A more elegant alternative to sugary pink, but softer and more feminine than cool grey, lilac makes the perfect colour compromise in a baby girl's bedroom.
Soft shades of lilac and lavender will create a serene and tranquil mood and have a soothing effect in a bedroom or nursery that can help calm a fretful baby. Avoid going to the dark end of the purple spectrum, which can be too heavy and oppressive, and opt for lighter tones on the colour chart instead.
Introduce soft whites and creams to help break up large areas of plain colour and give the eye somewhere to rest. Then bring in tactile bedding and fleecy rugs with plush throws and cushions to warm up the space and make it feel super cosy and comfortable.
9. Revamp nursery furniture
Don't stop at the walls when it comes to decorating children's bedrooms. Revamping plain furniture is a cheap and cheerful way of introducing extra colour into a scheme and is a great trick for tying the decor together if you have lots of individual or mismatched items.
Give a plain chest of drawers or an Ikea basic a new look by upcycling it using colourful paint and washi tape. Sand the whole thing down first, prime and then paint the drawers in multiple colours. Decorate the fronts by painting patterns on freehand or use tape to mask off different shapes before painting.
'Kids' rooms have a licence to be fun. Therefore, why not add a bit of playfulness by painting furniture to match or contrast with the walls,' says Justyna at Crown. 'Like children's imaginations, the possibilities and themes are endless, so don't be afraid to create a stimulating and fun space using colour.'
10. Have fun with cute wall art
Keeping the colour palette broadly neutral ensures neutral nursery ideas that are widely unisex, and also makes for a more seamless transition from baby's nursery to toddler's room or child's bedroom. A neutral scheme also offers greater freedom when decorating, as pretty much any accent colours will work with neutrals, so you won't be restricted when choosing bedding, carpet, soft furnishing or furniture.
An easy way of personalising a neutral bedroom and adding extra colour is to add a gallery of artwork. Whether you opt for nursery prints, cartoons, favourite literary characters or a collage of family photos, wall art is easily changeable, so if you fancy a change of decor later down the line, then a quick swap-around isn't a problem.
11. Try a relaxed, rustic scheme
Move away from bold brights and go for a warmer, autumnal colour palette. Rustic woodland-themed wallpaper, bedding and furnishings will delight little ones and gives a lovely excuse to bring in lots of cute animal toys and cuddly critters.
Give a patterned bedroom wallpaper idea a decorative finish by adding a scalloped border around the room just below ceiling height. Create the scalloped effect by using a round plate as a template, filling in with a darker paint colour to create the border.
12. Perk up a white nursery with pops of colour
Classic white never goes out of style and is a versatile option if you want to get the nursery ready early ahead of baby's arrival. Adding bright bedding, a bold rug and cheerful accessories is an easy way of bringing in extra colour - babies are stimulated by bold shades so they'll love them too.
Bring in a few favourite characters or choose a theme as baby gets older and you get to know their personality and likes and dislikes. The same decorating theory applies with a timeless grey nursery idea too.
13. Paint a cheery room scape
Create a playful backdrop for a girl's nursery with a fun brights-on-white scheme. Use masking tape to create a simple mountain range effect on a plain white wall (with triangles in a range of heights), then simply fill in with your chosen paint colour.
Try running a simple shelf just below your mountain scape to create a fun display area for toys and keepsakes. And for a decorative finishing touch, add a few butterfly wall stickers to flutter away up the wall.
14. Go for practical wall panelling
Think ahead when putting a nursery scheme together. As little ones get older, walls can come in for a bit of a bashing, so a hard-wearing wall treatment is a wise choice. Timber wall panelling ideas can cope with scuffs and scrapes and a painted finish can be wiped clean of grubby finger marks.
Pick a classic colour for paintwork as a starting point - soft sage green or subtle grey will create a soothing scheme for little ones and will complement pretty florals or bolder brights. Paint in a bolder colour option as children get older.
15. Create a cute gallery wall
Make a pint-sized picture gallery wall idea to pretty-up a girl's bedroom and provide visual stimulation. Pick a theme so that pictures sit well together, such as nursery rhyme characters or stills from a favourite picture book. Choose prints in a variety of sizes with frames and mounts in co-ordinating pastel shades - then arrange on the wall at eye level for little ones to enjoy.
16. Give little ones a worldly view
Go global with a world map mural as the backdrop for a nursery scheme. With cute animal illustrations from every continent to spark the imagination, it comes on a pink, blue or grey background, and looks striking teamed with simple white furniture and a pared-back decor.
A paste-the-wall design and pre-printed cut lines make it super-easy to hang and remove as and when they grow out of the design.
17. Create a relaxed reading corner
Set aside a quiet corner where mum and baby can enjoy story time together. Include an easy chair and footstool for mum to sit and relax and install a set of bookshelves on the wall within easy reach.
When it comes to children's room or playroom storage slimline shelves are ideal. Here picture books can be slotted in with covers facing outwards - so pre-readers are able to help themselves to their favourites later on.
18. Paint walls half-and-half with colour
Try a two-tone treatment to brighten up an all-white bedroom. Lighter walls at the top will make a small room feel bigger, great for small kids rooms box bedrooms, while painting walls a darker colour at the bottom will help create a cocooning effect around a cot or bed so little ones feel snuggly.
Accessorise with pint-sized furniture and a picture blind in a cute co-ordinating print to enhance the look.
19. Paint the door for a colourful focal point
Give a plain white bedroom an easy colour update by painting the door a sunny shade. An easy option if you don't want to commit to an all-over colour scheme, keep skirting and trim plain white to match walls and use an eggshell paint for a low-sheen, wipe-clean finish.
And if you fancy a new look in a year or two's time, just re-paint the door in a bright new colour. This use of an accent colour is ideal for a gender neutral nursery idea.
20. Match furniture to your colour scheme
Create a bespoke piece for your child'e nursery by using an old chest of drawers or plain cabinet picked up from a junk shop. Decide on a colour theme first and start by painting the carcase and drawers in a mix of complementary shades. To decorate, try covering a couple of the drawer fronts in pretty decoupage papers (Decopatch papers, from £4 Hobbycraft), sealing with protective varnish to finish.
This stylish upcycled furniture idea is a grey way to keep costs down, at a time when spending is already high!
21. Have fun with easy-up wall stickers
Personalise a plain nursery by adding a wall of colourful stickers. Designs range from simple polka dots and rainbows, to hot air balloons and unicorns. Or why not spell out baby's name in cute lettering? Stickers are made of self-adhesive fabric and are re-positionable, so you can play around with the arrangement until completely happy with how it looks.
Keeping to soft white, off-white or relaxed natural tones will create a calm and non-distracting backdrop that's perfect if you're after a unisex or neutral nursery decor.
One of the benefits of a neutral decor is that it won't date as quickly as bright colours or themed nurseries often do. Children can be notoriously picky, with likes and dislikes changing frequently. If you've opted for a bold look, it can involve a complete colour change or redecoration if the look goes out of favour, whereas a neutral scheme can be easily tweaked or re-worked with different colours brought in or out.
How should I decorate a baby girl's nursery?
How do I set up a small nursery?
Aside from a cot and baby-changing surface, start with a few basics first. While bright, light-filled nurseries look amazing, make sure you have curtains or black-out blinds. ThIS will make the room dark enough for baby to get to sleep during the day or early evening. Make sure you have a comfortable chair too, where you can sit upright to feed baby. It'll come in handy for a reading chair as baby gets older. And a night light is a must, so you can see what you're doing when the room is dark, without disturbing baby.
When should I decorate my baby's nursery?
Having the nursery decorated and prepared before baby's homecoming will be one less thing to worry about, as your due date draws near. Try to have all painting, wallpapering and re-carpeting done at least six weeks before baby arrives. Leave windows open when you can, so that the room can be fully ventilated.
How do I make my nursery gender neutral?
Whatever gender your baby, future proofing the decor is key. Whether it's a nursery or first bedroom, creating a room that can evolve with your little one is a must if you don't want to be constantly re-decorating. Invest in key items that will stay as a constant, such as neutral carpets and flooring. Choose plain or low-key patterns for blinds and curtains and full-sized items of furniture (such as wardrobes and chest of drawers) rather than nursery pieces if you can.
Get the Ideal Home Newsletter
Sign up to our newsletter for style and decor inspiration, house makeovers, project advice and more.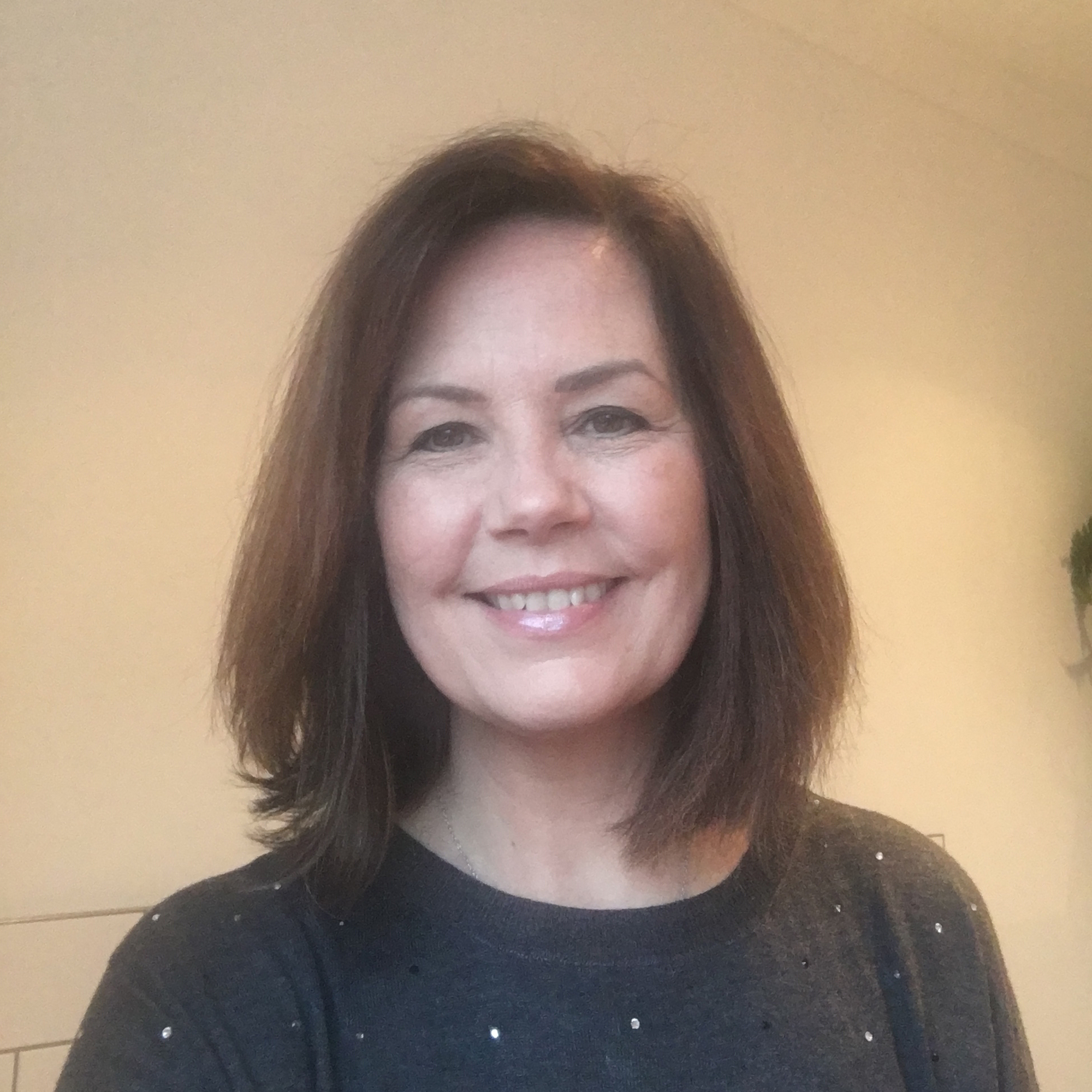 Lisa is Deputy Editor of Style at Home magazine and regularly contributes to sister title Ideal Home. She has written about interiors for more than 25 years and about pretty much every area of the home, from shopping and decorating, crafts and DIY to real home transformations and kitchen and bathroom makeovers. Homes and interiors have always been a passion and she never tires of nosying around gorgeous homes, whether on TV, online, in print or in person.