Baby boy nursery ideas – decorating inspiration that goes beyond blue
Nursery ideas for baby boys that are a little more imaginative than stereotypical blue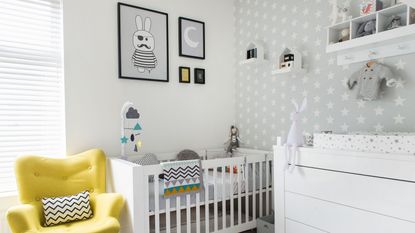 (Image credit: Future PLC/Colin Poole)
Create a nursery scheme your little one will love, from their early days to toddler years and beyond. Baby boy nursery ideas are no longer constricted by notions of traditional blue colour schemes only.
We live in a day and age when any colour and pattern goes – meaning there's even more choice, which can make settling on nursery ideas all the harder to choose.
We have looked for imaginative ways to decorate nursery ideas for baby boys, to inspire your decorating journey.
Baby boy nursery ideas
Colour is a key design aspect when preparing a nursery for your new arrival. Different colours can have differing effects on the feel of the space, and therefore can affect how content baby feels in the surroundings.
'When designing a child's bedroom, keep things simple' advises Arlene McIntyre MD at Ventura Design 'Go for timeless colours – blues, greys or neutrals – which will enable you to be more playful with soft furnishings and artwork, whilst ensuring the room won't have to be repainted as the child grows.'
1. Captivate with a bold wall mural
'Wall murals are a clever way of bringing the room to life' enthuses Arlene McIntyre MD at Ventura Design. 'One-wall murals create a welcome focal point to the space. Capturing the child's imagination or celebrating their passions. '
A statement nursery wall mural idea, whether you opt for a papered design or feel brave enough to do a DIY job, is a brilliant way of injecting fun into the decor, firing up young imaginations. Theme the rest of the room around your chosen design, so in this case the safari vibes are enhanced by the menagerie of stuffed toy animals.
2. Turn to wall stickers
If a hand painted wall mural in your nursery is a tad too pricey, or wallpapering one is beyond your DIY skills, turn to colourful wall stickers instead.
Choose stickers that will suit the size and scale of the room. Too small and they'll look lost. Too big and they'll dominate the space. So measure up first so you can work out where to stick them to create a charming scene full of colourful characters.
3. Have fun with animal antics
It's entirely possible to create a nursery scheme that will suit a tiny tot and appeal to you, the parents.
Against the plain white walls, the mustard yellow on the ceiling, fireplace and curtains in this baby boy's nursery look smart and sophisticated, while the running zebra wall decoration adds a fun touch.
The running zebra wall hanging is a pricey piece but it's possible to find similar cheaper animal decorations.
4. Choose timeless timber tones
Timber furniture tends to be timeless, so pieces like a wooden chest and wooden cot can be used again as each child comes along, or passed through the family. It's a far more sustainable way to live and is a lovely partner to trendy boho nursery ideas. Timber also gives you the freedom to decorate in a variety of colour palettes.
These grey nursery walls have been enlivened with a charming tree wall mural and colourful rug and curtains.
5. Add a play corner canopy
Create a soft play area with a lovely cotton canopy and wool rug, so your tot can have somewhere comfortable to crawl around or play.
Choose a canopy with light-blocking properties, and add an extra hook to hang it from above where they sleep. Then you can also use it around the cot or bed to help them go off to sleep during the day or on light evenings.
However, do take any safety concerns into account when hanging it, you don't want to be within grabbing distance of your little one if it could come down easily.
6. Introduce a gallery wall
Gallery walls aren't just for grown ups. Choose a set of prints that will inspire and amuse your little one.
'Plan your gallery wall by laying your works out on the floor first,' says Helen Armon-Jones, Founder, The Art Buyer. 'Once you've found a grouping that works well together, measure up your wall and use decorators tape to plot your arrangement out on the wall before you start making holes.
'This will also allow you to make any tweaks necessary and ensure you create a gallery wall that is balanced and works well.'
7. Combine seating and storage
If you've gone for a gorgeous wall mural you'll want to be able to see it, without cluttering the nursery with too much furniture. So opt for clever toy storage ideas and other storage solutions, such as a seating and storage unit that's combined.
A sturdy piece, like the one above, gives you somewhere to sit and nurse your baby, with space to store blankets, and other bits you need in drawers or shelves below.
8. Choose a charming theme
Choosing a theme, whether animal, stars or clouds will give your nursery design a starting point.
'Focus on one item and build your nursery theme around this – this could be a piece of furniture, a toy or the window aspect,' says interiors stylist Aaron Markwell at COAT Paints. 'Having this central 'hook' will ensure the room doesn't become too fussy and the colour palette you choose is kept simple.
'When choosing a colour you want to ensure the space is fun but not over stimulating. In our colour consultations we see more and more parents-to-be opting for neutrals rather than the stereotype of pink and blue.'
9. Go for glorious green
Colour influences our mood and there is research to suggest it may affect a baby's mood too. So choose a soothing shade, such as sage green nursery ideas.
'Green has a powerful calming effect, and it signifies growth,' says interiors stylist Aaron Markwell at COAT Paints. 'The obvious link with the outdoors and nature connection brings balance to the feel of a nursery.'
10. Whitewash floors and walls
White walls and floors never fail to have a calming effect, so it makes a good choice for a nursery.
To soften the space, wallpaper a wall with a cute print in a delicate tone and hang a fabric blind. Prevent the room from looking cold by introducing timber and textured furniture, along with warm toned neutrals and pastel accessories.
11. Make a nursery colourful and characterful
Decorate a little one's room with a riot of colour to enliven their senses and make the small room feel uplifted and vibrant. Add a feature wall of accent colour, one which is echoed throughout your chosen wallpaper design. Here the punchy turquoise wall reflects the bold colours in the playful zoo print wallpaper on the opposite wall.
Choosing a wallpaper with characters is both educational and fun, surrounding them with familiar faces.
12. Create a timeless appeal with white and grey
A neutral colour scheme will always be a winning choice, for boys or girls, because it won't date quickly. This colour combo is super easy to live with and easy to add accents of colour to, if and when the mood takes you.
A white and grey nursery idea is best executed with white walls and furniture choices to act as the more dominate colour, with grey being picked up through the carpet and soft furnishings.
13. Give baby a view by wallpapering the ceiling
Look to decorate the ceiling to give your little one a view as they lay on their back in a cot or on the changing mat. The ceiling, also known as the fifth wall, is so often forgotten when it comes to decorating – given a simple splash of white paint and that's it.
But as this fine example shows, it's a great way to have fun with a bedroom wallpaper idea. it's especially great for a nursery idea because babies spend so much time on their backs, with only the ceiling as a view.
Use a decorative wallpaper to create a real point of interest, for their eyes to focus on as they develop. As they grow you can evolve the decor by changing the colour on the walls, keeping the ceiling paper.
14. Add wooden touches for warmth
If you're looking to add subtle tones to a white nursery idea without having to add an accent colour look to wooden furniture to do the job. Natural wooden finishes help to add warmth to the look without the need for adding colour.
This fine example shows how a wooden cot and wall shelving made in wood can instantly inject interest to an all white room. This beautifully styled scheme is ideal for a gender neutral nursery idea.
15. Pair a sophisticated colour combination
Create a more grown up scheme for your little one by picking warm neutrals form a more sophisticated colour palette. This light taupe colour on the walls and the built-in furniture creates a timeless appeal, one that feels familiar to a more formal neutral living room idea.
To enhance the decor choose richer shades for furniture choices, such as mahogany and walnut to echo a more classic scheme. Adopt this darker wooden tone for floors to create a cohesive look that doesn't jar.
As this is a nursery, albeit a grown up one inject a fun and fabulous wallpaper such as this Fox design by Scion. The ground colour on the wallpaper design matches the scheme perfectly, to make it feel well polished.
16. Mix and match pattern and colour
Break up a safe white base with an injection of pattern on one wall and through soft furnishings. Add hints of colour with painted furniture to add another dimension to the overall colour scheme. Keeping the main baby furniture pieces in white, such as the cot means it's easier to sell on once you need to upgrade to a toddler baby.
17. Make more of a monochrome scheme
Stick to a minimal colour palette to make a subtle yet stylish statement, using it well to make the most of the space. Here a monochrome colour scheme is jazzed up by the introduction of a light grey and textural neutrals.
Because the look is muted and simple it doesn't feel too far removed from a monochrome palette, but the grey goes a long way to make it feel less stark than brilliant white – perfect to soften the look for a baby's room.
Texture is key to making a monochrome room feel cosy so look for materials such as jute and boucle to add an extra dimension to the space.
18. Zone the room
Give your little one a clear indication on how to use the room, once they are big enough to navigate for themselves. Paint a feature wall at half height to draw attention to the bed to create a sleep zone, keeping the paint line at their level makes it more beneficial for them to feel inclusive within the room.
Place toy storage ideas in one area and create a study/learning area with a small desk and bookshelves to create zones for learning, resting and playing.
19. Create a simple mountainscape
'You don't need to be an artist to be able to create great mural feature walls for your kids,' says Justyna Korczynska, senior graphic designer at Crown Paints. 'One of the simplest ideas is a mountain-scape.
'All you need is two paint colours and some masking tape. Create simple triangular mountain shapes for the bottom half of the wall and paint it in a contrasting shade. To add some more layers just paint more triangle shapes in another colour.
'The mountain-scape could then be kept simple as a main wall feature or as a background for some more painted details or stencils.'
20. Create a blank canvas with all-white
From the best white paint on the walls and simple white furniture to all-white bedding, create a gender neutral look with this timeless colour scheme. The blank canvas needn't feel clinical, add touches of black to punctuate the blank white canvas to give the look a monochrome edge.
Keep the flooring light to match the paired-back scheme, but avoid anything too unpractical. A white-washed grey is perfect to strike the right balance of practical but pretty.
21. Stick to blue
Don't shy away from using blue for your little boy's room if you love the colour. Mix different shades of blue to add depth to the tonal look. Use a punchier shade for a feature wall, adding lighter tones throughout – adding a patterned wallpaper to have fun with the colour. Stick to punch white furniture choices to make the blue stand out.
22. Seek plentiful storage
Ensure their room has enough storage, to make the most of the space – which more often than not is a smaller room. 'With any kids room, plentiful storage is paramount' Alice explains.
'To give as much room for running around and being creative, opt for built-in shelving, under-bed baskets or classic toy boxes to allow for all toys, books and other objects to be played with and stored with ease.'
What is the best colour for a baby boy room?
When it comes to choosing a colour for a baby boy's nursery you can do so much more than simply opting for blue. While there is nothing wrong with painting the nursery blue, in fact a light sky blue will look beautiful and soothing in both a boy and girl nursery, there are a huge range of colours to choose from for a fresh nursery look.
If you prefer to keep things neutral, grey looks lovely in a nursery as long as it is softened with plenty of texture. Alternatively, sage green or a sunny yellow are excellent options.
While the world is your oyster with the colours you choose since the nursery is intended to be soothing, peaceful space we'd suggest steering clear of vibrant and bright colours that stimulate rather than calm.
Get the Ideal Home Newsletter
Sign up to our newsletter for style and decor inspiration, house makeovers, project advice and more.
Tamara was Ideal Home's Digital Editor before joining the Woman & Home team in 2022. She has spent the last 15 years working with the style teams at Country Homes & Interiors and Ideal Home, both now at Future PLC. It's with these award wining interiors teams that she's honed her skills and passion for shopping, styling and writing. Tamara is always ahead of the curve when it comes to interiors trends – and is great at seeking out designer dupes on the high street.