Small nursery ideas to create a hardworking space
Prepare for your new arrival with these smart, space-saving nursery ideas for a petite room
Having a small space or box room doesn't mean you can't have an adorable and practical nursery. What it does mean is that you need clever small nursery ideas to get the most out of your space. It's time to get creative and make the most of every inch.
When it comes to achieving the most from your nursery ideas, the first job is to measure up - around radiators, alcoves and windowsills there is often dead space which you might be able to fill with some clever nursery decor or storage solutions.
Next, prioritise which items have to go in there and if any could go in another room. The cot and essentials will need to be in the nursery, but think outside the box for the rest. Could toys be stored in the living room and towels and bedding in the bathroom?
And lastly, storage is the most important consideration when it comes to planning a small nursery. Keeping things organised and close to hand when you're sleep-deprived and exhausted is essential for a well-functioning room.
Small nursery ideas
With these simple small nursery ideas, you can set up a functional nursery, even if you're tight on space.
1. Keep everything close to hand with open shelving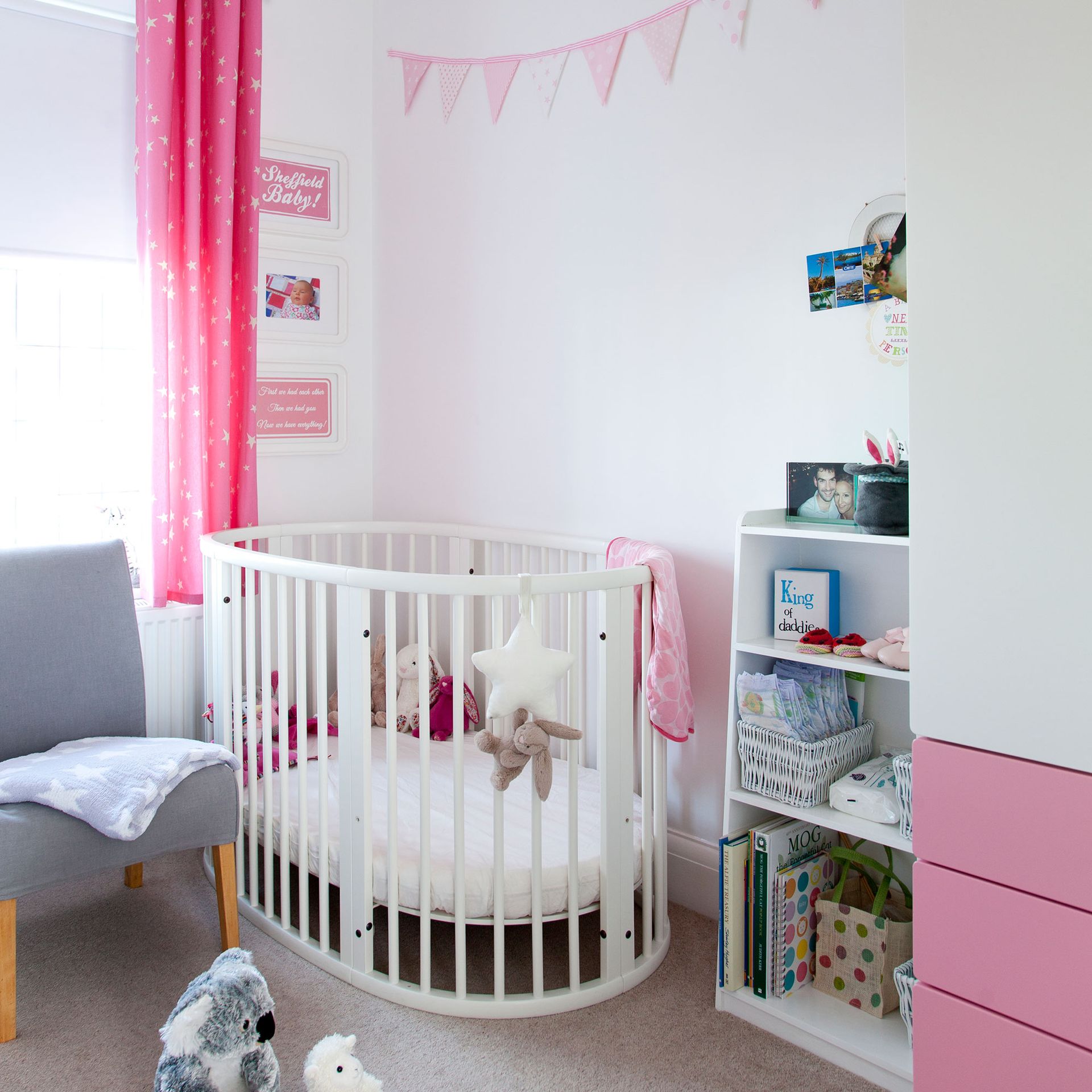 Babies usually come with a lot of stuff, from nappies to baby wipes. Keep everything in its place with designated storage in your new nursery. Cubby holes or shelving is perfect for this and a great solution is to do away with doors on furniture - they just take up valuable floor space. In this girls nursery idea, pink accents have been used to add a pop of colour to the white room, which are easy to update as your child gets older.
2. Make the most of wall space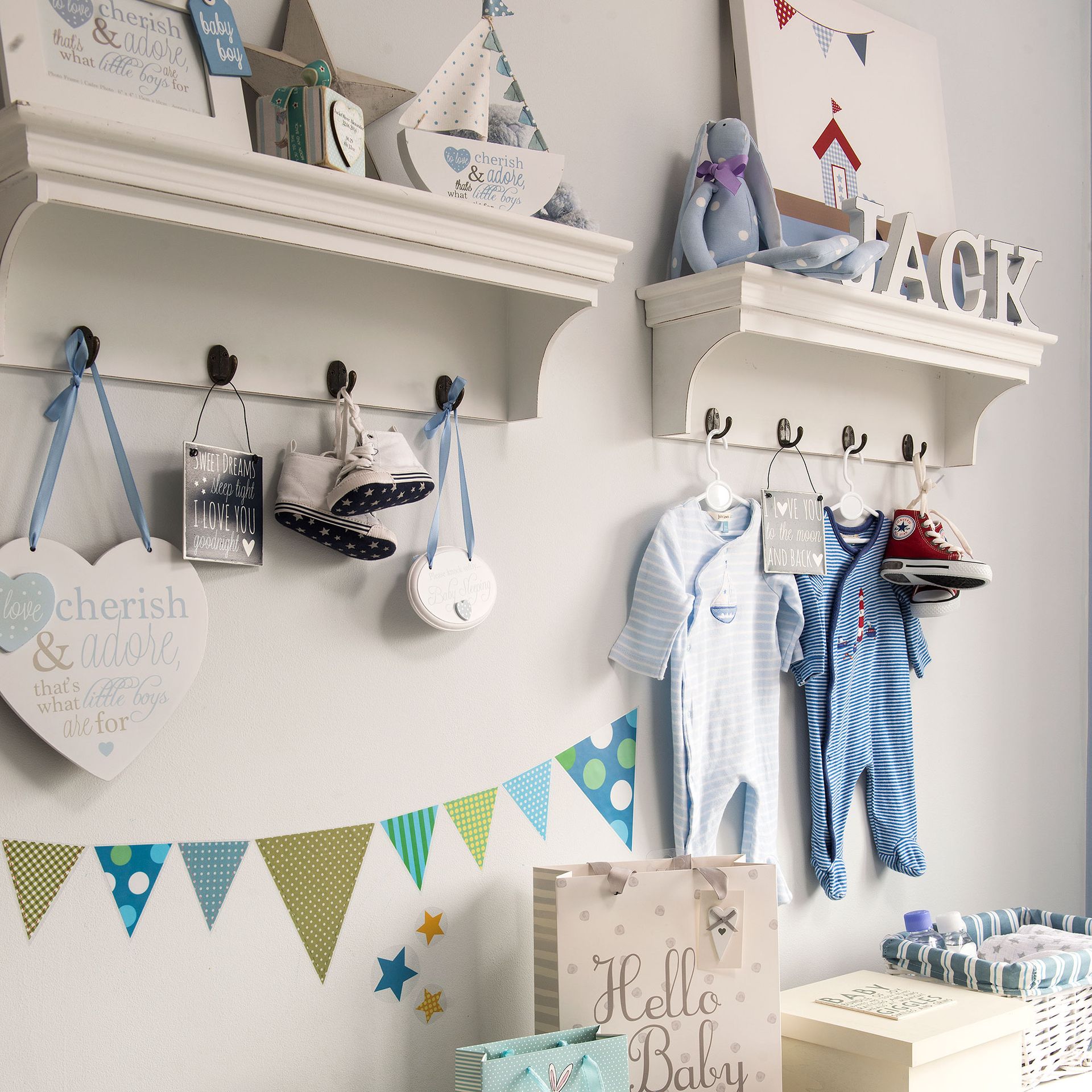 Storage that doubles as a display is a winning small nursery idea. Installing shelves, picture rails or hooks on walls is not only visually appealing, but means you have all the essentials on hand when it's time to get baby ready. 'A clothes organiser is ideal to display cute newborn clothing - it's not only functional but stylish too,' says Kris Tolofson, Director and Co-Founder of Nöa & Nani. 'Hang clothes together in 'outfits' so that these can be easily accessed and put back if needed without too much effort or force'.
Doubling up on your shelving ideas is a great idea for a twin nursery idea – show off special items for each child on each shelf.
3. Choose furniture with a dual purpose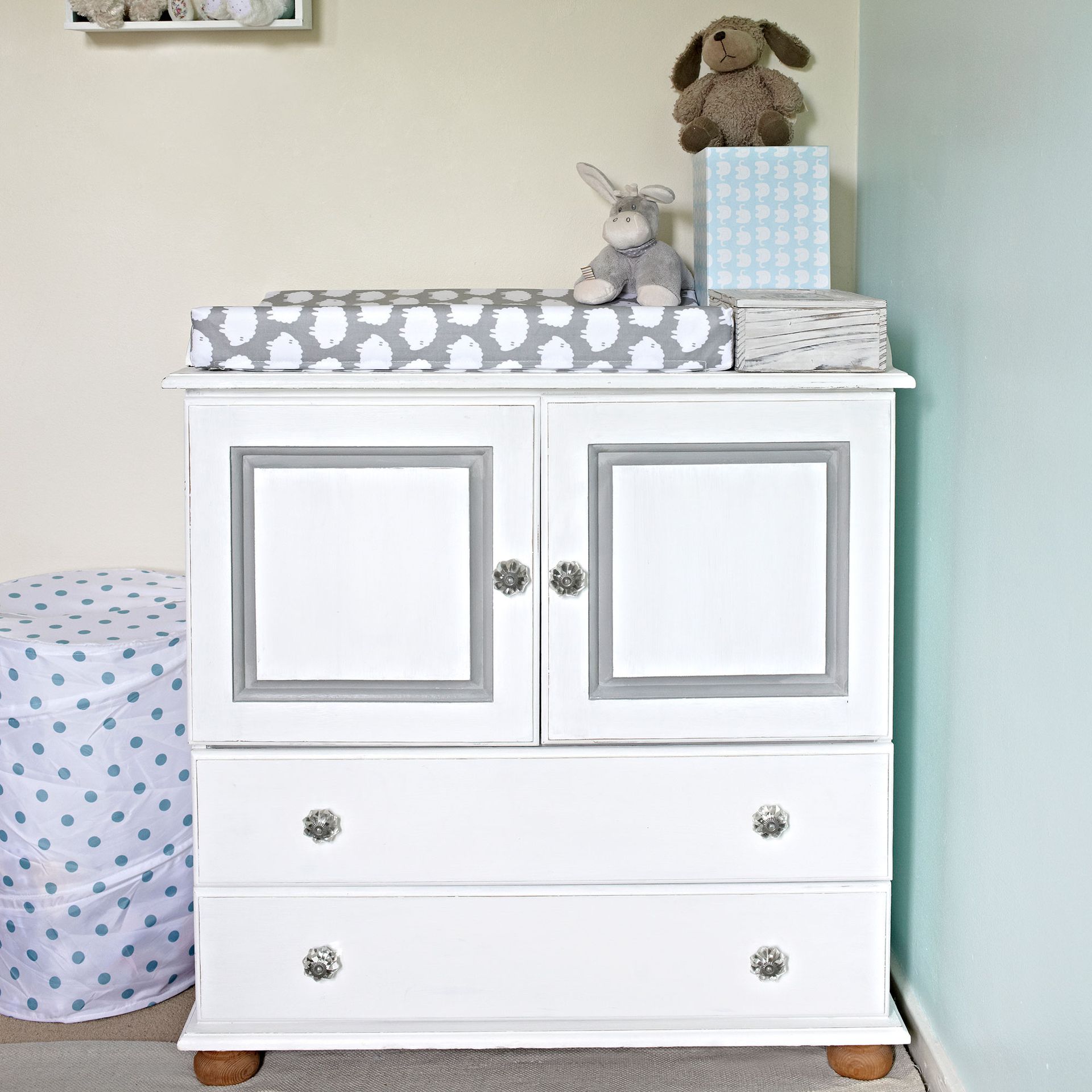 When there's not much space in a nursery, each piece of furniture needs to be as functional as possible - look for smart options that can do double duty without cluttering it up. "I would suggest using a chest of drawers with a changing mat on top, instead of a changing table,' says celebrity Mummy Concierge Tiffany Norris, www.themummyconcierge.com. 'This means the drawers below can be used for nappies, wipes and creams and then once your baby doesn't need a changing table anymore it can double up as somewhere for their clothes".
4. Try a monochrome colour palette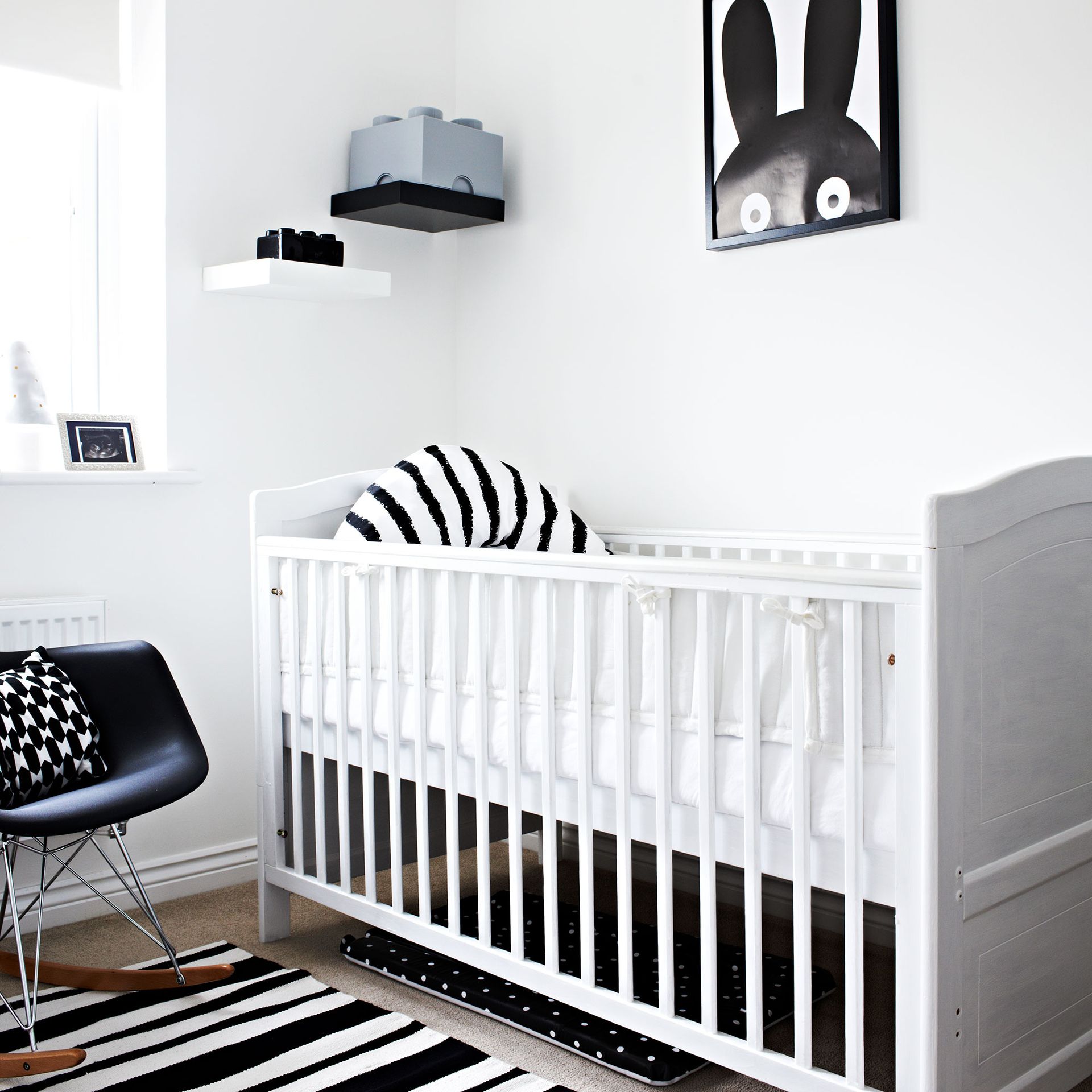 All-white walls will make a small room feel bigger, and adding modern monochrome prints and patterns allows you to give definition and interest to the small space, without overwhelming with colour. It makes the perfect gender neutral nursery idea. Finish with a striped rug to make the floor space appear wider.
5. Look out for clever furniture
When it comes to nursery ideas for a small room, super smart furniture has to be top of your shopping list. This flap down changing table folds away to the size of a small bookcase and provides stacks of storage - perfect for a box room or your own bedroom in the early newborn days.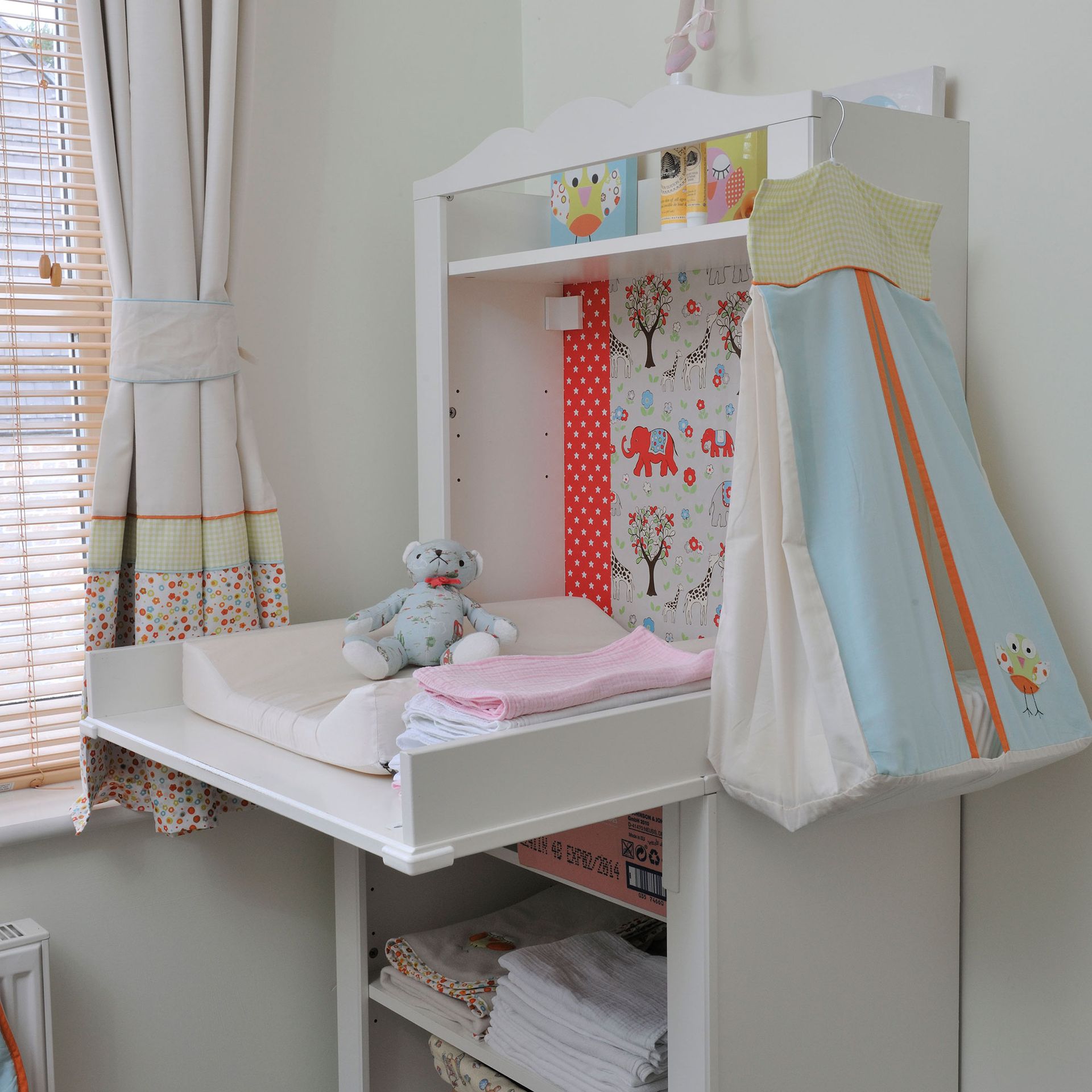 6. Zone your room for an eye catching result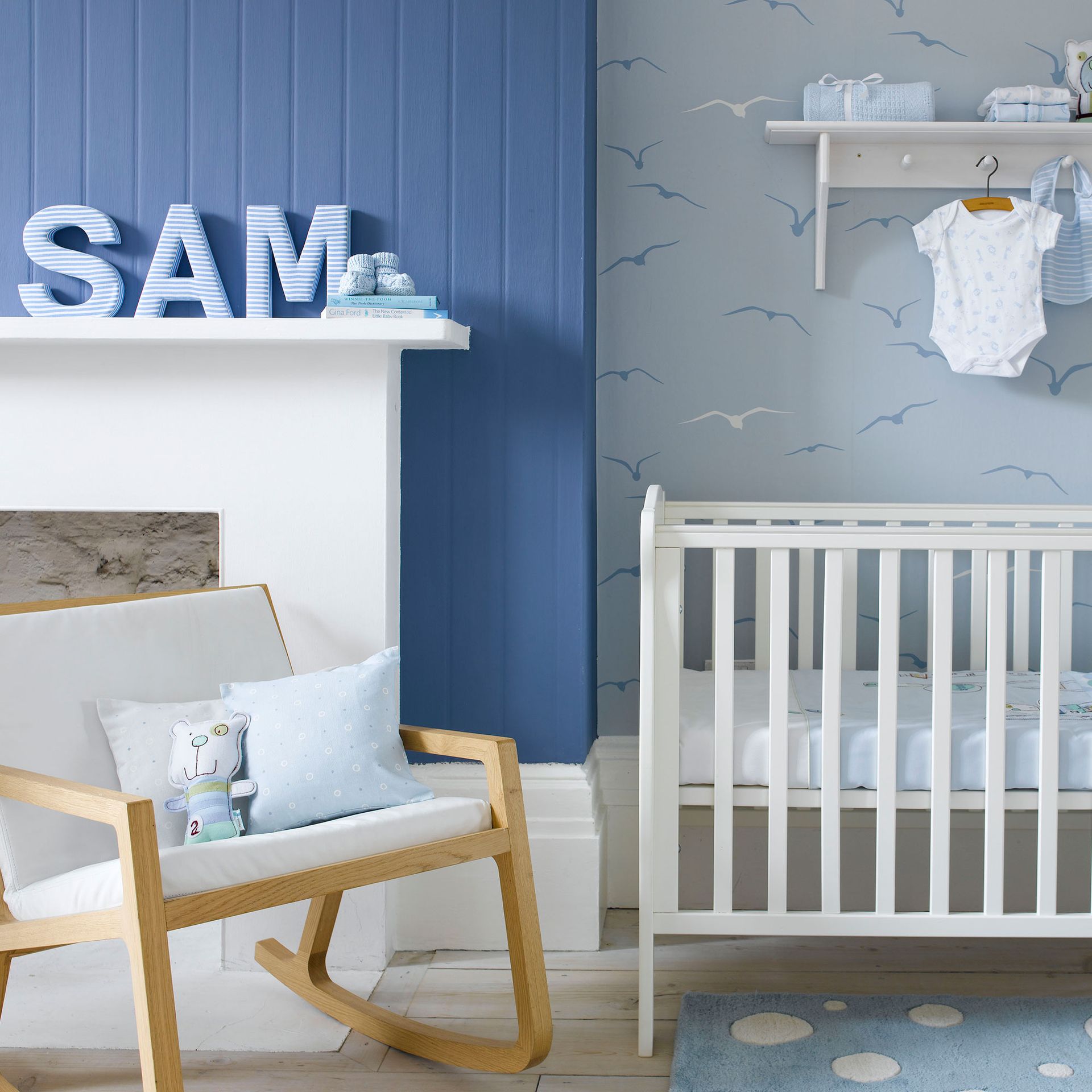 Clever small nursery ideas aren't just limited to furniture choices. Use a pattern or colour to create a feature wall that zones the space. In this tonal blue scheme, a patterned wallpaper acts as a backdrop for the cot, to clearly define the sleeping area of the nursery without overwhelming the space.
7. Choose a roller blind
A fuss-free window dressing is a must when it comes to small nursery ideas. They come in a wide array of designs, so it's easy to create a focal point in even the smallest of spaces. Plus, being able to turn daylight into darkness for naps will encourage a great sleep schedule.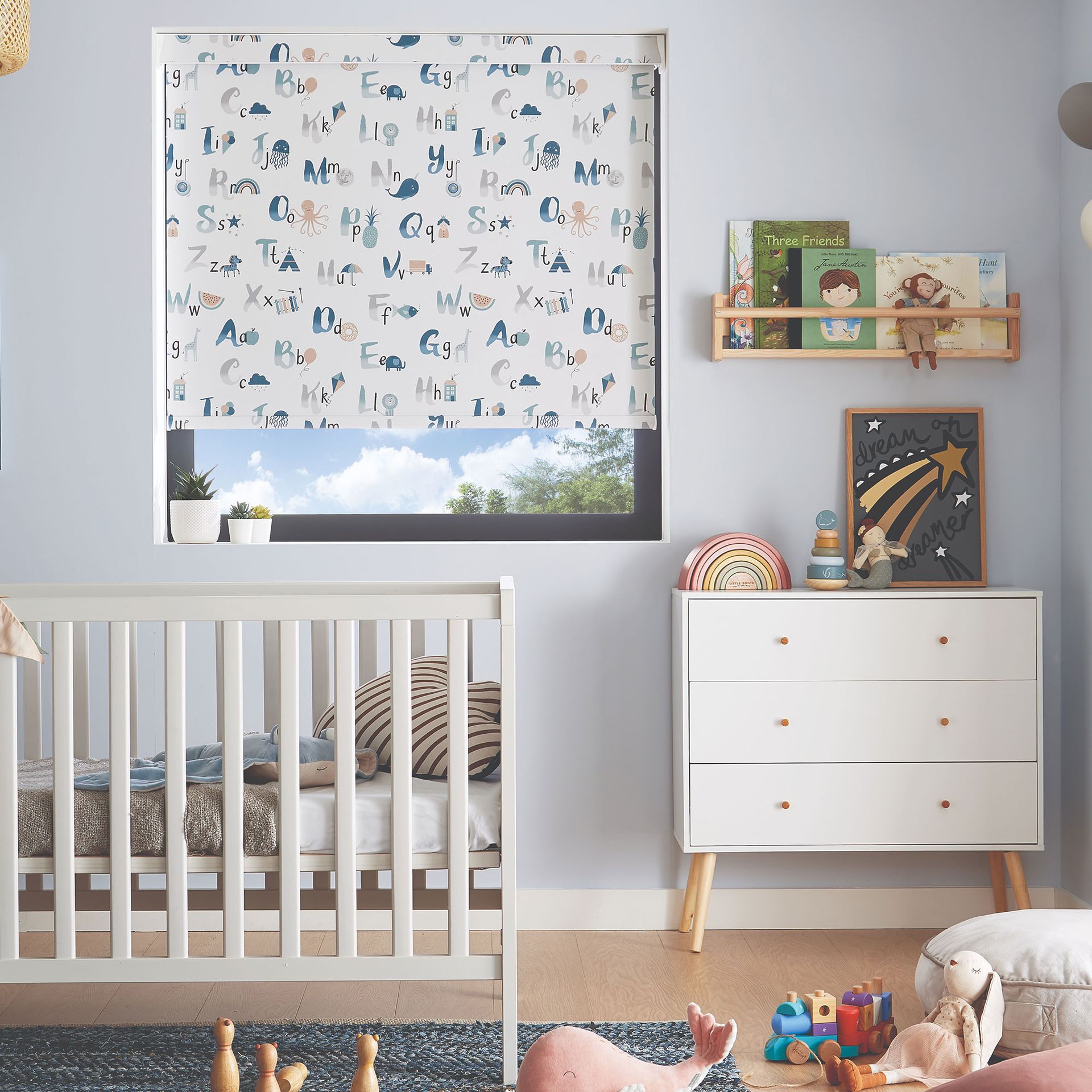 8. Opt for simple Scandi shapes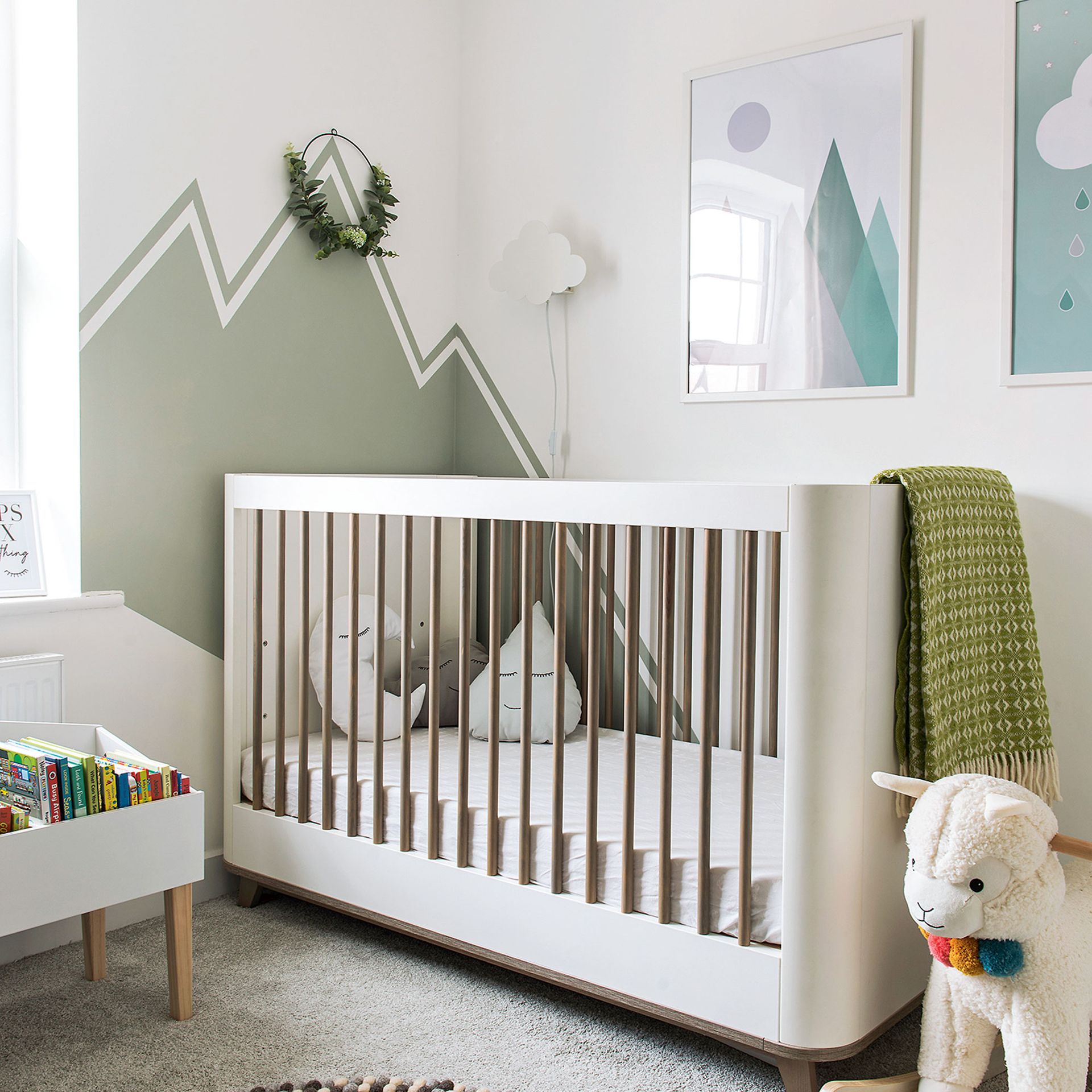 Choose a pared-back colour palette and simple, Scandinavian-inspired furniture with slim legs and a modern profile for a streamlined result in a small nursery. Add geometric art work or a wall mural to complete the look.
A mural is a great way to introduce colour if you love green but don't want to go wall-to-wall with sage green nursery ideas.
9. Employ a clever decorating trick (or two!)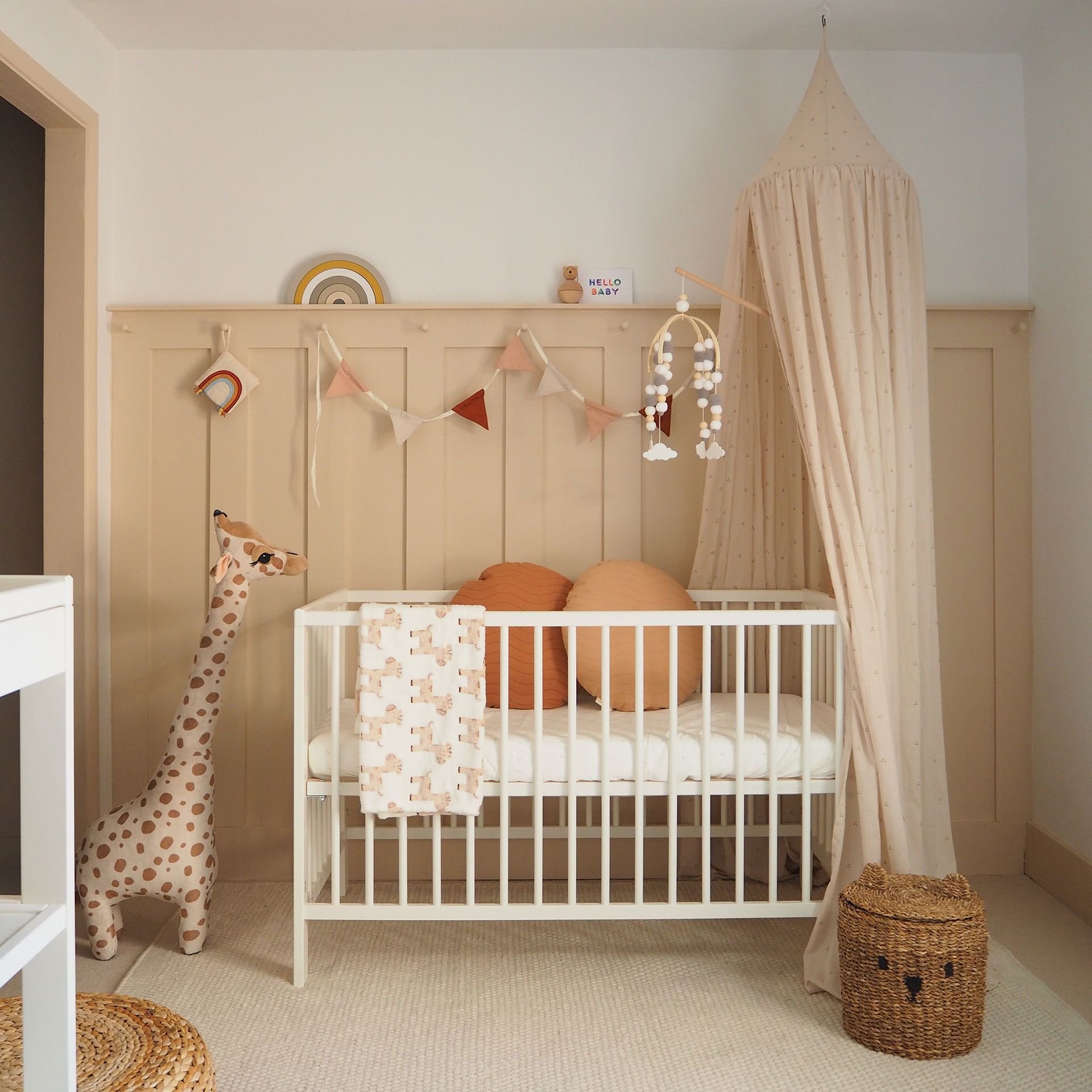 Think ahead when putting your nursery ideas for a small room together. As little ones get older, walls can easily be marked, so a hard-wearing wall treatment is a smart investment. Wooden wall panelling will cope with scuffs and can be wiped clean in a flash.
Paint above the wall in white to maximise the feeling of space, whilst a warm, neutral tone at the bottom will create a cosy result around a cot. 'Using neutral paint colours will make small rooms look bigger' says celebrity Mummy Concierge Tiffany Norris.
10. Divide up storage spaces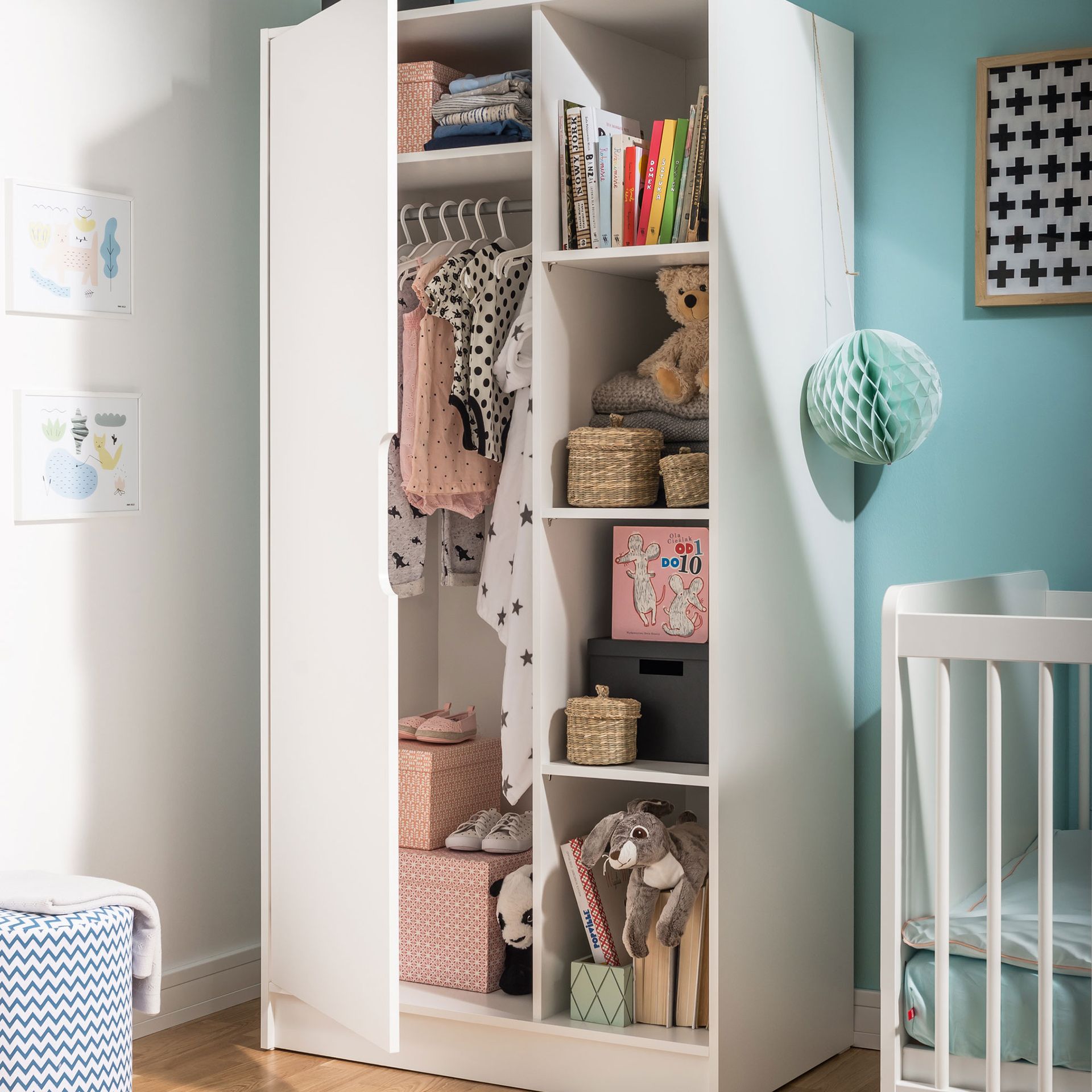 Rather than one hanging rail in a large wardrobe, a much smarter small nursery idea is to have a combination of shelves, rail and storage boxes. Labelling areas or containers help to make sure everything has its place and stays tidy.
This will mean you have space when you're deciding how to organise baby clothes, as well as a spot to store all the other stuff that comes with a growing baby!
What furniture should be in a nursery?
Nursery furniture is typically made up from a cot, changing table and a small wardrobe. 'I would always suggest getting a cot that can converts into a toddler bed as your child gets bigger,' advises celebrity Mummy Concierge Tiffany Norris. 'Toddler beds are much smaller than your average single bed so can save a lot of space in a small nursery.'
'A comfy chair with a small chest of drawers is all that is needed,' says Rachel FitzD, baby and parenting expert and author of "Your Baby Skin To Skin". 'Because baby can be changed on your lap whilst you sit down for a well-earned rest and you have clean nappies and cotton wool in the chest.'
How do you organise a small nursery?
'Keep it clutter-free and don't overfill the space,' says Kris Tolofson, Director and Co-Founder of Nöa & Nani. 'A drawer at the bottom of main kids' wardrobes is also useful for storing jumpers, as this is ground level it can be easily be accessed by smaller children.'
'A fold-up changing table, a hanging organiser and a collapsible deck chair would make even the teeniest room usable.' says Rachel FitzD.
How can I make my small nursery look bigger?
'Keep it as bright and airy as possible -no bold colours or patterns' advises celebrity Mummy Concierge Tiffany Norris. 'You can also add mirrors to one wall to make the proportions of the room look much larger.'
'Lighter coloured walls and blinds instead of curtains, and wood floors rather than carpets can also increase the sense of space' says Rachel FitzD, baby and parenting expert and author of "Your Baby Skin To Skin".
Get the Ideal Home Newsletter
Sign up to our newsletter for style and decor inspiration, house makeovers, project advice and more.