10 fabulous dining room paint ideas to create an atmospheric dining room
Check out our creative paint ideas to transform your dining room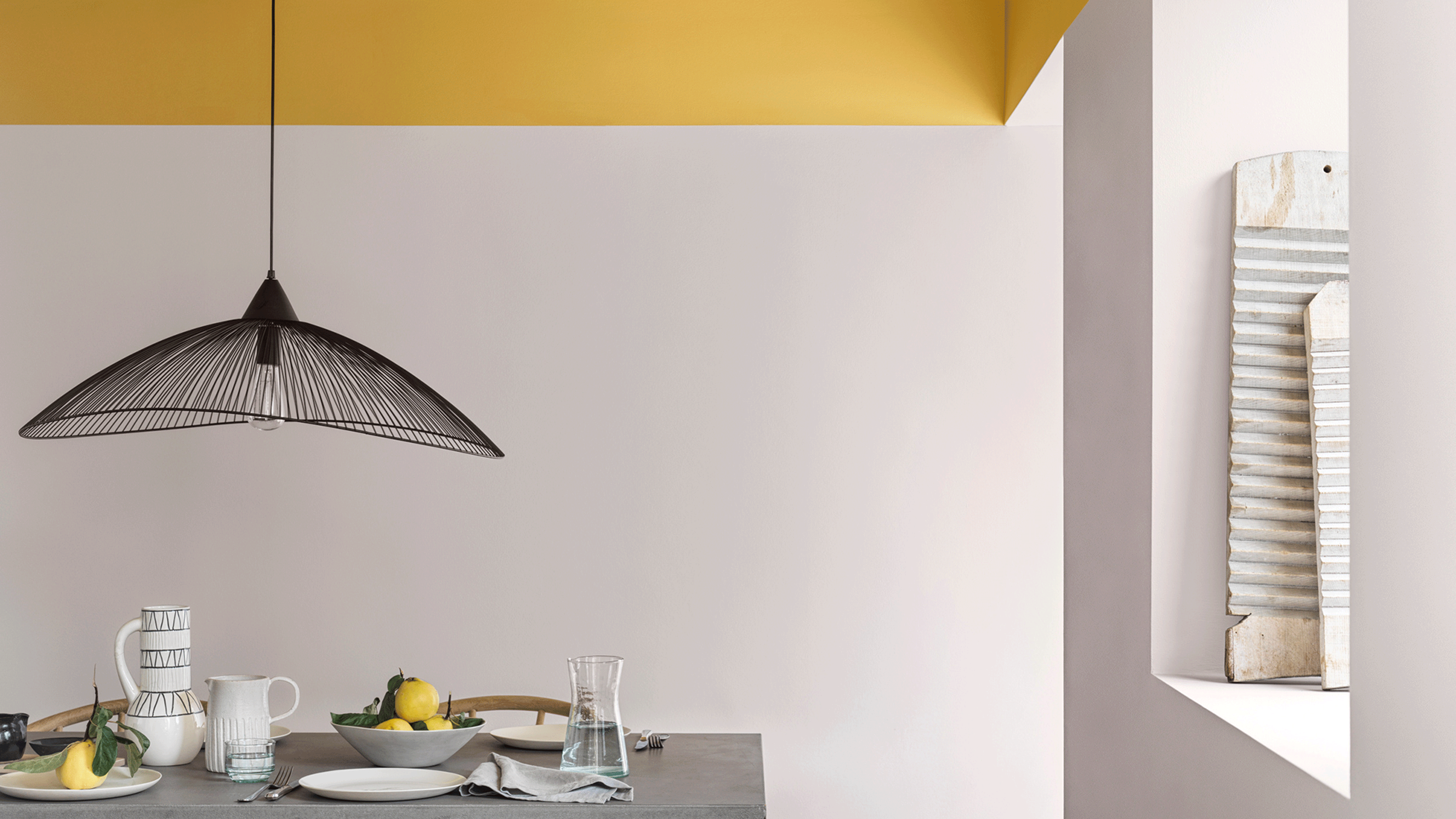 (Image credit: Crown)
The dining room really comes into its own in Autumn when it's cold outside and we want to spend more time indoors with the ones we love. One of the easiest ways to give this space a revamp is with dining room paint ideas.
We all know staying in is the new going out. With this popular trend for home entertaining, powered by the need to save money and still socialise, there's an increasing desire to transform our dining room ideas and make them a focal point in our homes.
Now is the time to think about the look you want to achieve in your dining room and how you use the space. Do you have a dining room that you only use on special occasions? You could try a more dramatic dining room colour scheme, adding extra wow factor to gatherings. You might have an open-plan dining area and therefore looking for a clever, simple way to give the space more purpose.
Whatever you choose with all the latest on-trend colours, not to mention the different paint effects you can try, one of the easiest ways of getting a new look is with dining room paint ideas.
Dining room paint ideas
1. Go for dramatic look with a dark colour
In a room with good proportions, a deep blue shade is a lovely dining room paint idea. A large room can take a dark colour, especially if there is plenty of natural light coming in. It also helps if the ceiling, above the dado rail, and the skirting board is painted white to add freshness and prevent the room from looking gloomy during the day. It is at night that a dark blue room comes into its own, with candlelight creating a wonderfully atmospheric feel for entertaining.
'If your dining room has to multitask during the day, say as a home office, think of colours with versatility that will play equally well as a study to focus the mind but double up as a wonderful space of conviviality.' Says Patrick O'Donnell, Brand Ambassador for Farrow and Ball.
'The go-to here would be a strong dark blue, such as Hague Blue with its petrol blue notes or Wine Dark with the softest of purple notes giving it oodles of character and depth, the latter will pair beautifully with the crisp but nuanced Great White with it's blackened lavender notes.'
2. Create a striped design for instant impact
Painting stripes on the wall looks fantastic, it's also surprisingly easy to do. You just need masking tape, good brushes and a steady hand.
Decide on the width of the stripes, bearing in mind wider ones will be quicker to do, and mark with a pencil and ruler, then place masking tape over the pencil marks to get a nice straight line before painting.
In this room, the wall panelling has also been painted in a complementary colour to create a striking look for a contemporary dining room.
3. Team paint with wallpaper for an individual look
This is a great wallpaper idea if you have found a wallpaper you love but it's a bit beyond your budget. You only need a small amount of wallpaper to create a feature wall, on a chimney breast for example, then paint the alcoves on either side in a colour picked out of the wallpaper, like these cerise flowers.
'When designing a dining room, it is important to create a space that is most of all inviting, so colour choice is crucial to achieve it,' says Justyna Korczynska, Senior Designer for Crown Paints. 'For a room to be appealing to different people, it's good to avoid very strong, bright colours as they can be overpowering, go for something calming and neutral. Also, think about painting woodwork to match the walls to give a strong, unbroken look.'
4. Choose an all-over colour
White might seem a bit unadventurous for a dining room, but it can look so elegant, and it's a classic look that won't date. It always looks clean and fresh, so would be great in a dark room with little natural light.
An all-over colour is a great dining room paint idea and works well with small dining room ideas too. Keep the white theme running with a white table and chairs, white china and accessories.
The wall here is panelled but has had shelving added, all painted in the same colour, to create a mini-gallery. It's the perfect way of displaying favourite finds and personal pieces that fit into the all-white look, there is just a hint of natural colour in shells, coral and glassware. Complete the look with white seat cushions and white flowers on the table.
5. Add interest in a small dining room with a stencil
Indulge your artistic side with a hand-painted stencil to create an individual look. There are plenty of designs to choose from, this grass or fern shape is quite simple but adds a natural look to the room that is calming.
Stencilling is easy to do and it's a fun dining room paint idea, you just need to be precise about the spacing of the design. if you aren't sure of your abilities, choose a cream or pale-coloured paint on a light wall as it won't show up mistakes so easily, and if you aren't happy with it, you can always paint over it and try again.
6. Make artwork stand out with this clever paint trick
Draw attention to a favourite piece of art by painting a square of paint in a contrasting colour on a plain wall and hanging the picture inside it. Here the square has been painted above a fireplace and uses a brick shade in a room painted in an all-over, warm natural shade. It's such a simple idea but it works well.
You could also paint a bigger rectangle and place a series of pictures inside it, spaced evenly. To tie the scheme together, the rug has a similar brick colour in the pattern and the vessels on the mantelpiece are in similar shades.
7. Highlight an architectural feature using paint
If your dining room is part of an extension with an angled wall, then make a feature of it instead of disguising it, by painting the angled wall in a different colour. It gives a graphic, architectural look and creates interest in an otherwise plain room.
Here they have added shelves painted in a strong aqua shade on the wall which are stepped to echo the angle of the ceiling and have painted the dining chairs in the same colour and added cushions to complete the look. A custom-made bench seat has been built-in to make the best use of a small space.
8. Graduate paint colour to create a design feature
This stunning paint effect is called ombre and means 'a shading of colour from dark to light' and it's a lovely dining room paint idea that works well in a large room.
It's usual to start with the darker shade at the bottom of the wall and graduate upwards to the light. If you are going to try this idea yourself, practice beforehand to get the right amount of colour and uniform brush strokes. It gives a wonderful, hand-painted effect and would be perfect in a large room for impact, or conversely, in a room with a low ceiling, it gives the impression of height.
9. Don't forget about the fifth wall – the ceiling
Painting the ceiling and the top part of the wall is a lovely dining room paint idea and in this sunny yellow, perfect for a breakfast room. Yellow is the colour of happiness, so it will energise first thing in the morning, getting you ready for the day.
Adding colour here draws the eye up and creates the illusion of a taller ceiling height so it's a good idea in a room with a low ceiling or just to add a design feature.
10. Deepen your skirting with this clever paint trick
Draw attention to decorative woodwork by picking it out in an unexpected colour (not white!) and carrying the colour further up the wall to give the illusion of depth. Don't stop there with this ding room paint idea. Pick an eye-catching, contrasting shade to add pops of colour around the room by painting a chair or a lamp base.
Break up a solid expanse of painted walls with baskets, plates or artwork to finish the look.
11. Add a pop of pastel above a picture rail
Keep the light boosting properties of a white wall to make a small dining room look bigger, but still enjoy a shot of colour by painting a band of soft green around the room.
Paint above a picture rail or at picture rail height if your room doesn't have any. Adding black accents in furniture and accessories will prevent the pastel scheme looking too wishy washy.
12. Paint a lookalike rug on floors
If you can't find the perfect rug, in the right colours or specific design you desire, why not try painting one instead? If you have wooden floorboards the decorating world is your oyster. Use specialist floor paint to create a trompe l'oeil rug effect, adding a unique decorative touch to your dining space. Here we see a geometric chevron design skilfully painted in an array of bright blues and corals with a pale grey border, just like that of a real rug.
To create this effect we suggest planning your design first, measuring the space and mark it out with tape ready to paint. Paint as many coats as necessary, be mindful not to make it too heavy as this is more likely to get scratched. Ensure you allow the colour to dry thoroughly before you place furniture back – lifting, not dragging to avoid scratching the surface.
13. Add ceiling height with a painted border
Adding an accent colour, especially a bright one (which can include white), as a border at the top of a wall can help to draw the eye up and therefore create the illusion of a higher ceiling height. This is an effective way to add to interest to walls if your home doesn't have any cornicing. We love this joyful combination of sunshine yellow with an earthy taupe shade.
Our top tip for creating the perfect line between colours, without any paint bleeding is to paint the base cover over the tape BEFORE you paint the accent colour.
For instance here the background is taupe, you paint over the edge with the taupe first, which forms a seal when dry. Then when you put the accent colour on top, it won't bleed under the tape.
14. Protect walls by painting half and half
This dining room paint idea uses a two-tone technique with practical purpose. If you love neutrals but suspect they won't stay that way for long, the half-and-half paint effect could be a great solution – plus you get to inject a more vibrant colour palette into your home.
Using stronger colours on the bottom half of a wall is a great idea to hide wear and tear in busy, high traffic rooms. Especially handy in a dining rooms where you may have little mucky fingers tempted to touch the walls – or if accidents and spills happen. A darker colour will still mark, but it will appear far less noticeable.
15. Paint in a uniform shade
Dramatic dark painted walls have become increasingly popular in recent years, and for good reason as this image demonstrates. Dark brooding paint colours can give rooms power and definition. The black painted background in this dining room helps to create a sense of drama, key for ambience. Painting the shelving in the same shade helps to keep the look uniformed.
The dark wall in this room is complimented by co-ordinating painted furniture pieces. Enhanced by a contrasting light wood floors, table legs and the table top. White accessories help to add an element of monochrome.
Think dark is only for big spaces? It's not always about the size of the room, it's the light quality. As long as there is plenty of light dark walls will work their magic.
16. Add architectural detail with clever paint finishes
If the dream is to own a home with period features, but you live in a modern space – simple think outside the box when it comes to decorating. For instance, if you don't have picture rails, dado rails or cornicing adding interest to walls consider other ways to add decorative details. While you can add these features, with the aid of a good carpenter or DIY pro, it may not prove cheap.
Our budget but brilliant suggestion is faking it with simple paint tricks. As seen above we've created the illusion of a dado rail by simply using two contrasting paint colours – a striking green underneath a warm white. The effect creates a more characterful finish to an otherwise plain wall.
We recommend FrogTape to help achieve the perfect clean line between the two colours.
17. Reclaim all four walls with soothing shades
With the trend for feature walls we quite often forego the idea of painting all four walls with a statement colour.
Statement colours don't have to be shocking, we simply mean a colour with an element of saturation. Green paint shades are an ideal example. Green can make a mellow, gentle statement in any space, especially a sociable space such as a dining room. It can also work well as a calming backdrop to shabby chic decorating ideas, like in the scheme above.
In all its gloriously fresh shades green is the hue associated with creating a restful and invigorating, refreshing and comforting decor.
18. Use warm white as a blank canvas
There's a misconception that white always feels too stark. While that it can be true, if that's the gallery kind of vibe you wish to create – Brilliant White was made for this look! But there's a whole world of warm white paint shades out there ideal to create a blank canvas.
We see here how white painted walls lend the perfect backdrop to a rustic country dining room, without looking out of place. Rich earthy tones from the wooden furniture and the table accessories help to add further warmth.
19. Break up confident colours with wall art
Perhaps you've been inspired by all the colour you see elsewhere to finally take the plunge in your own home. But if you are still unsure about the colour apperaing too block, artwork and wall accessories such as clocks are a great way to break up the colour.
Grey continues to be the new neutral. While it's a safe shade, not scary like a primary colour, you can still push your daring side by choosing darker shades.
20. Give personality to furniture with accent colours
Give personality to dining chairs with a coat of imaginative paint. Update old existing chairs with a splash of furniture paint to make them feel brand new. Go for a uniform colour, such as a neutral grey, that suits your dining or kitchen dining space.
To add a quirky decorative touch dip the legs with an accent colour. You can get creative by using a different shade for each one, keeping the overall look more eclectic. Measure an equal height up fom the tip that suits how much colour you want to paint. Next simply section off by using a strip of FrogTape and paint the accent colour over the existing paint colur.
Add further pops of colour and pattern with decorative seat cushions.
21. Paint a chalkboard
Use the space creatively. If your dining room is more of an informal living space, such as an open-plan kitchen area, you can afford to be more experimental. Painting a blackboard on the wall can make the space feel instantly more inviting.
Mark out a simple rectangle to the same length of your dining table, to create a feature that's part memo board and part wall art. Paint the rectangle onto the wall using specialist blackboard paint.
For a further styling tip fix pegs to the wall within the painted area to hang plants and storage baskets.Pretty and practical, just how we like our decor.
22. Frame features with contrasting colours
Use contrasting paint shades to frame architectural features, such as door frames, skirting boards and cornicing. Even more effective if your doors are also painted, you could match the colour and use this framing technique to create the illusion of doors or windows being larger than they are.
Which colour is best for a dining room?
This really is down to personal choice and how you want to room to look. 'There is no right or wrong answer when it comes to picking a colour scheme,' says Amanda Huber, Owner of Dining Chair Co. 'However, if you are having beige, grey or natural walls and flooring, you can introduce accessories in warm and earthy neutrals such as sand, terracotta, browns and tans, or soft greens and blues. It's a look that is effortless and ties into a laidback aesthetic bringing a harmonious and relaxed feel to a dining room.'
What colour should I paint my small dining room
To make your dining room look larger, experts suggest neutral tans, light greys, classic white or cream. Light tones will reflect the light and make the space feel bigger. It's also a good idea to use paint with a slight sheen which will bounce light around, also making the space feel larger than it really is.
'However, light colours are not the only option in a small dining room' says Ruth Mottershead, Creative Director of Little Greene. 'Dark shades create drama, and intense colours such as 'Chocolate Colour' or 'Obsiidian Green' will create a cocooning effect and make a real design statement.'
What dining room colours are in this year?
Bringing nature in is still a huge home decor trend at the moment, so you can't go wrong with green in a dining room, and there are so many different shades from palest eau-de-nil to deep forest, and everything in between. Warm and earthy tones work well and grey and navy are also popular, proving that people are making bolder choices and embracing rich and bright shades.
Get the Ideal Home Newsletter
Sign up to our newsletter for style and decor inspiration, house makeovers, project advice and more.
Tamara was Ideal Home's Digital Editor before joining the Woman & Home team in 2022. She has spent the last 15 years working with the style teams at Country Homes & Interiors and Ideal Home, both now at Future PLC. It's with these award wining interiors teams that she's honed her skills and passion for shopping, styling and writing. Tamara is always ahead of the curve when it comes to interiors trends – and is great at seeking out designer dupes on the high street.