30 wallpaper ideas - clever ways to add colour and pattern to your home
Looking to add pattern to your home? These stylish wallpaper ideas are guaranteed to inspire your next DIY project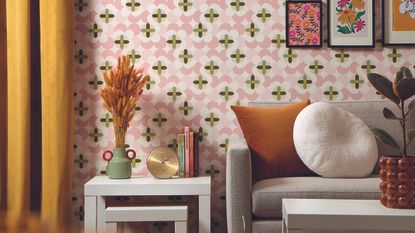 (Image credit: Lust Home)
When it comes to sprucing up your home with colour, pattern and even texture, wallpaper ideas are the go-to solution. Whether it's the living room, bedroom, home office or hallway, there's a wallpaper trend to suit every single space, taste, and budget. From bold geo design to pretty florals, you can find a pattern that speaks to your vision.
And you don't need to wallpaper a whole room to enjoy the pop of personality wallpaper offers. Of course, walls are the obvious place for wallpaper, but you could also use it to upcycle a dresser, paper a panel to sit behind a sofa or bed, or even add a hint of pattern to your kitchen island.
So when you're planning your next easy DIY project, make sure to give wallpaper the focus it deserves. Be inspired by these imaginative ways to add wallpaper to any room of the house for an easy interiors pick-me-up.
Wallpaper ideas
Wallpaper went through a few bleak years, but in 2023 it is back with a serious bang according to wallpaper and interior design experts. 'The past few years have dramatically changed people's approach to their interiors and we are seeing consumers really finding their own sense of colour confidence in their homes,' says Ruth Mottershead, creative director, Little Greene.
We've sourced our favourite wallpaper ideas to inspire you to add more colour and pattern to your home.
1. Add whimsy to a bedroom scheme
If a traditional bedroom design is what you're looking to achieve, then it's hard to go wrong with a floral wallpaper idea. Small-scale, hand-painted bedroom wallpapers will add to a classic aesthetic and will make a space feel warm, inviting and full of whimsy.
'If you're decorating a smaller room, using large scale patterns and light and bright colours within a space can draw attention to the style of the room as opposed to the size,' advises Chelsea Clark, head of brand at Lust Home. Instead, focusing on an intricate pattern will make it feel purposefully cosy.
2. Use it as a decorative splashback
If you're looking for a statement kitchen design that is easy to remove if your taste changes, then a kitchen wallpaper idea is the way forward. You may be thinking we've gone mad suggesting you use wallpaper as a kitchen splashback idea, but, there are two options – you can use wallpaper and cover it with glass, or use one of the new revolutionary wallpapers that are designed specifically for kitchens and are both water and heat resistant.
Flower & Marble by Limelace is a pvc wallpaper that will create a decorative splashback or use it as an accent wall on a kitchen wall instead.
3. Match your wallpaper and woodwork
Before painting interior windows, make sure you settle on your wallpaper choice first to match the two. 'As wallpaper is one of the easiest ways to update a room and covers the majority of the surface area, it is a good idea to use wallpaper as your starting point,' says James Watson, managing director, 1838 Wallcoverings.
'Take the lead from the colour palette within the design, introducing 2-3 of the colours and including these across the other elements of the room to tie the overall space together.'
'Also, don't feel limited to white woodwork, in fact choosing tonal colours that work with the shades in the wallpaper design will not only bring a unique, contemporary finish to the space, but will be less of a clash with white, which can be quite stark in contrast,'
This is especially chic as a hallway wallpaper idea to make an arguably hard to decorate space more stylish. A pictorial wallpaper will help create added interest to a scheme, choose one like 1838 Wallcovering's Peacock Topiary in Fern which has plenty of colours to match the paint to.
James Watson is the Managing director of 1838 Wallcoverings, a luxury brand based in Lancashire, led by James and his sister Abigail Watson, whose family has over 4 generations of wallpaper printing experience. Each collection encompasses timeless classic patterns reimagined from archive prints, to contemporary digitally printed designs.
4. Fake the look of wall panelling
Wall panelling is a trend that we've seen pop up in various rooms around the home, all over our Instagram feeds. And it's no surprise that it's so popular - ait's a simple way to create a high-end look, and you can DIY it yourself.
However, if you're looking to avoid any larger DIY projects, then you can fake the look with a panelled-effect wallpaper. To the naked eye it will give your wall a 3D-effect, but without the faff. We'd recommend using this as a living room wallpaper idea to make your sofa-space look more expensive.
5. Put wallpaper in the frame
When looking to inject pattern to walls but you can't decide on which wallpaper design to favour, this idea is perfect! Create a gallery wall idea by framing samples of your favourite designs instead.
Frame samples or offcuts in identical frames, using a white mount for a more formal effect, using different patterns in a similar colour palette to unify the look. Choose simple frames so the patterns on these dining room wallpaper ideas remain the point of focus.
6. Love pattern? Choose the same colour for walls and floors
Cohesion is what makes a scheme work and it can be in small or large amounts depending on what kind of look you want to achieve.
'When you are planning your design, it's important to think about the unification of colour,' says Punam Chada, carpet buyer, Carpetright.
'Opt for flooring that shares a similar tone with your wallpaper as this will help to create a coherent look and feel. This works especially well when, for instance, both prints feature on white backgrounds so you can continue using the same tone on your ceiling.
'You don't necessarily need to use matching motifs. If you opt for pattern clash, run your wallpaper from floor to ceiling as this will help to make the scheme feel cohesive.'
This is a gorgeous way to make small home office ideas or any small room punch above its weight in the style stakes.
7. Consider wallpaper instead of tiles
Bathroom wallpaper ideas are no longer a soggy no-no, in fact they can be a smart way to cut costs and mimic the look of tiles.
'Renovating a bathroom is often time-consuming, costly and can cause a great deal of disturbance; however, shoppers can mimic the look of high-end tiling with artfully-designed wallpaper,' advises Dayna Isom Johnson, trend expert, Etsy.
'With the average UK bathroom renovation costing £6,500, this is a great way to save pennies while still making a visual impact. And for the commitment-phobe, tile-inspired wallpaper is a great – and temporary – way to test out colours and shapes in a space without fully committing.'
Removable wallpaper is ideal for this and quick to use, check out this Moroccan tile removable wallpaper by Wonderw4llsBoutique.
8. Pick a design that mimics fabric
There are some wonderful wallpaper ideas to consider and this is one of our favourites, particularly for a bedroom.
'Choose a wallpaper that resembles a vintage fabric, such as the 'Lucia' design, which is loosely based on seventeenth century crewelwork embroidery,' suggests Richard Smith, founder, Madeaux.
'This distressed floral wallpaper is created using various ageing processes so that the historical context of this design is softened to create something entirely new, which sits equally well with a paisley or a modern geometric print, bringing a timeless feel by incorporating a mix of contemporary and traditional styles.'
9. Mix prints with plains in a cloakroom
Interior design works best when there's a visual balance and more often than not we tend to pick plains in a cloakroom but you can use both successfully.
'Combining bold patterns in a downstairs cloakroom is a great way to add interest in what can be a dull room. Don't be afraid to use dark colours to create drama and have fun with quirky wallpapers. This jungle-themed wallpaper looks great here when combined with the luxurious marble-effect porcelain slab tiles,' says Jo Oliver-Singh, director, The Stone & Ceramic Warehouse.
10. Make micro-stripes the focus
If you want to extend how spacious a room feels, while adding interest to a wall space, then micro-stripes will be a handy wallpaper idea. Not just reserved for seaside-inspired outdoor accessories, micro-stripes are making an impact on interiors too, most specifically in wallpaper and cushions.
Thin stripes that run vertically will make a space feel larger and make a statement all the same. Plus, they're easy to accessorise with block colours or other prints.
11. Contrast with statement flooring
If you're looking for a wallpaper idea that wows, then why not go all out by mixing two statement patterns?
'When pulling everything together, don't be afraid to use a mixture of patterns and textures that complement each other. Decide on the room's feel and take a cue from the natural light, adding bolder colours in a room with ample light and reflective colours in those that are naturally darker,' adds Chelsea.
It shouldn't feel like it works, but contrasting patterns through a wallpaper and bold flooring option is a simple way to make your home look more design-led. All it takes is the encouragement to go for it.
12. Find a trendy look in red and pink
Focusing on a specific colour combination for your space will make it easy to find a wallpaper scheme that just works. Pink and red is an on-trend palette that looks unique, but is actually quite easy to style - so don't be put off by the bright appearance.
By opting for two shades in a similar tonal palette, you can paint or decorate the rest of the space in a lighter shade variation so that the whole look is cohesive.
13. Wallpaper can take a back seat
Wallpaper doesn't need to be the focal point of your scheme, in fact, it can be a subtle 'background' instead.
'This wallpaper collection was designed using the same prints as the fabrics, but the colours chosen for the walls were purposefully muted tones/pastels. This was to allow the wallpaper to work in any interior setting, having enough detail to stand out, but be subtle enough to introduce muted colour and pattern to the walls without overbearing the space,' says Emma Deterding, founder, Kelling Designs.
'The Hearts & Minds design has been laid out in a way that from a distance, it almost looks like subtle stripes.'
Recently named among the Top 100 Interior Designers in the World, Emma's ability to offer a well-thought-out scheme for private clients has been honed over 25+ years in the market. Her reputation for not shying away from colour and pattern sets her apart in the market, working on numerous projects across the length and breadth of the country and abroad, from France to India. She enthusiastically embraces colour and uses it to maximum effect, while always careful to be guided by her clients.
14. Colour drench with wallpaper
You might have heard of colour drenching with paint, but you can do it with wallpaper too. A big home decor trend that started last year and one that shows no sign of disappearing.
'There is a move away from white woodwork and skirting in favour of contrasting or coordinating colours on woodwork, and the continuation of the Colour Drenching trend, which takes a single, or closely related colour across all aspects of a space, from skirting and walls to ceilings and doors. This can be seen in the use of wallpapers too, with tonal designs being paired with coordinating colours to create cohesive immersive interiors,' says Ruth Mottershead, creative director, Little Greene.
Little Greene's Hoja wallpaper in Air Force Blue is great for colour drenching as it has a subtle pattern.
Ruth is responsible for creating concepts and ideas for upcoming paint and wallpaper collections, choosing colours for new cards and browsing archives at the National Trust for new wallpaper collections. She writes content for the company's marketing material, manages photoshoots and communicates with Little Greene and Paint & Paper Library's customers.
15. Upcycle a chest with a pretty pattern
Make a cheap basic look expensive or revive a dated design with just a single roll of wallpaper. If you love a design but feel it may be too much to wallpaper the whole room in, this is a great way to add drama to your room without overpowering it. Or if you find a design that you love but it's just a little too pricey, then covering a small piece of furniture could be just the solution.
It is a smart way to upcycle furniture or to upgrade a piece you've picked up for a song using home decor discount codes. Just remember to seal the wallpaper with clear matt varnish to prevent peeling.
16. Create a feature wall with wallpapered panelling
For an instant glam upgrade apply a beautiful mural for a living room wallpaper idea. Cut an illustrated scene to fit between your wall panelling ideas. It becomes like a view through a window. Choose a mural that depicts a view or a scene, rather than an all-over print for a truly magical feel.
17. Cover a magnet board in a hero paper
Easy DIY wallpaper ideas are always a winner. Swap a scruffy looking pinboard for one covered in a graphic print. All you have to do is trim an off-cut of wallpaper to size and spray glue it to a magnet board. Choose an impactful print for a great way to add interest to a neutral wall or relieve an expanse of deep, block colour.
18. Upgrade a basic bunk bed with jungle print wallpaper
Use wallpaper paste to cover front bed panels with wallpaper for a brilliant kids' bedroom idea. Give the paper a coat of transparent varnish to help prevent knocks and scratches. Pick out a paint colour from the wallpaper and use it to paint the bottom half of a neutral bedroom wall, finishing with a fun scalloped detail.
For a super cool bed transformation make the bottom bunk into a cool hideaway. Remove the duvet and pillow and fill the space with cushions and blankets, books and plenty of fairy lights, for the perfect reading den.
19. Wallpaper the back of a kitchen island
Add a touch of pattern to a pared back scheme by wallpapering the back or a kitchen island. This eye-catching kitchen wallpaper idea is a great way to update an island (or kitchen dresser!). Use a hardwearing clear varnish to seal and protect it or get a made to measure sheet of perspex to layer over it. Black accents for accessories and flooring give this bespoke kitchen island uber-cool vibes.
20. Add pattern to the back of a display cabinet
Select a contrasting colour in a similar design, or go for a similar colour but with a very different pattern scale. This ensures that the cabinet wallpaper will stand out from the wallpaper ideas on the adjacent walls.
First, remove all shelving from the unit and wallpaper the back of the cupboard using wallpaper paste. Place the shelves back in and displaying co-ordinating kitchenware.
21. Revive a bland basic with textured wallpaper
Wallpaper is not just for walls. Use the design of your choice, to compliment the decor in any room where you wish to use this idea. Simply hang the lengths of wallpaper directly to the front of the doors. In in order for this to work best the doors need to be smooth, meaning no decorative beading or framing.
22. Welcome nature in with bold terrarium-inspired designs
Select leafy motifs on wallpaper, from tropical foliage to vintage sketchbook designs, to make a great style statement. It could be a lot for a living room, but great fun for the smallest rooms of the house, like in this dark bathroom idea. Stop the pattern from becoming overpowering by panelling the lower part of the room and painting in a deep green, pick the paint colour by matching it to a colour found in the wallpaper.
23. Create a piece of art
Fashion a feature wall idea with a difference by framing a section of wallpaper. Either paper directly to the wall and frame, or back the paper. onto a large sheet of MDF to make it a moveable piece – more authentic as a piece of artwork. Paint the frame to match the wall for a more subtle effect. This trick creates a focal point and can be cheaper than artwork. It works best behind a sofa, bed or sideboard to zone or highlight an area.
24. Welcome wallpaper on stairs
Wallpaper ideas in the hallway needn't be confined to purely walls. We love this idea of introducing pattern and colour on the stair risers. Pieces of this Orla Kiely orange patterned wallpaper have been cut to fit the stair risers, pasted on and varnished to make the paper hardwearing – important in a high traffic area such as the stairs.
Thinking about how to wallpaper stairs is a winning hallway wallpaper idea but also worth considering in a newly converted loft space.
25. Get creative with recess spaces
Use wallpaper creatively to fill void spaces. This beautiful bedroom demonstrates how striking wallpaper ideas can act in place of artwork – used above a bed in the space between built-in wardrobes. This space would otherwise feel redundant, but instead it now anchors the whole scheme of the decor, thanks to the matching blue and green tones on the bedding and light fittings below.
It also helps to create the impression of a DIY headboard idea, and add a focal point to the room.
26. Cheat a dreamy headboard panel with wallpaper
This brilliant bedroom wallpaper idea fashions a feature wall-cum-headboard using wallpaper! Make your own boutique-hotel-style design feature by hanging a couple of drops of a striking wallpaper behind the bed.
To really add a design wow factor create neat raised edges with wooden battens covered in matching fabric – but this finish is optional if you want less work.
27. Contrast colour with a feature wall
If choosing to decorate with a powerful paint colour, such as this olive green bedroom idea, a patterned wallpaper can be just the tonic to create a contrasting feature wall.
Where colour would normally play the star role on the feature wall, instead add a characterful wallpaper design to complete the look. This paper features a design with illustrated house in soft grey and white, to compliment a white ceiling and white painted floorboards.
28. Divide a wall with pattern
Avoid overpowering a room by using your wallpaper only up to a point. Taking it up to the level of a traditional picture rail – rather than all the way to the ceiling – and keeping a clapboard finish above the rail height helps to keep the pattern in check without reducing its impact.
29. Hang stripes horizontally to widen a space
Just because a room is small doesn't mean it has to be filled with neutral tones. If used correctly, a bold pattern can help to make a small space feel more impactful.
Stripes hung horizontally is a savvy decorating tactic to trick the eye into thinking the room is wider than it really is. This super stylish black and white bedroom idea sports effortlessly sports a black and white stripped design on the far wall, leaving the remaining walls in a forgiving soft shade of grey.
30. Include the ceiling in the scheme
Why leave the ceiling out? For many years now the powers that be in the interiors world have been telling us how fashionable wallpapering