How to weatherproof garden furniture - wooden, rattan and metal
Protect your garden furniture from the elements so it can stay in ship shape year round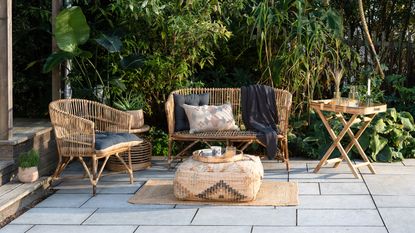 (Image credit: Nkuku)
Once it's warm enough to relax in the garden and enjoy alfresco dining again, our garden furniture needs to be ready and waiting, and in good condition too. Thanks to the harsh reality of the British weather, this isn't always an easy feat, which is why it's a good idea to learn how to weatherproof garden furniture.
Garden furniture is often the natural focal point in our outdoor spaces. Aside from looking great, we need our table, chairs, and other garden seating ideas to enjoy spending time in our garden, and host summer soirees for family and friends.
But if the furniture is looking cracked, weathered, and generally a bit worse for wear, our garden ideas look instantly less beautiful. Damaged outdoor furniture also won't last as long and has the potential to break completely. Learning how to weatherproof garden furniture is an easy way to avoid this, and will ensure you can enjoy your outdoor furniture for years to come.
How to weatherproof garden furniture
So you can be prepared for the warm season ahead, we've asked the experts how to weatherproof garden furniture and compiled their top tips into this guide. Different furniture requires slightly different maintenance, so we've broken it down into separate sections for weatherproofing wooden, rattan, and metal furniture sets.
How to weatherproof wooden garden furniture
1. Remove dirt and debris
If your wooden garden furniture hasn't been used over the winter months, start by taking a stiff brush to remove any dirt and debris that has found a home there. Cobwebs, dust, and moss need to be cleared away before the furniture can be weatherproofed.
2. Sand the surface
'With some sandpaper, or an orbital sander to save time, remove any rough edges on your wooden garden furniture set', says Samuel Platt, Creative Design, Homebase. 'Make sure to wear some safety goggles and a dust mask while you do this, to protect yourself from any fragments of wood.'
Sanding the wooden furniture down will help you get a nice, even surface before you apply any protective treatments.
3. Give the furniture a good clean
After sanding, use a sponge and warm soapy water to clean the furniture. You can also use a specialist wooden furniture cleaning product, which will help keep dirt at bay. Avoid using a pressure washer as this risks stripping some of the timber.
4. Apply a protective treatment
To weatherproof garden furniture, especially wooden furniture, we recommend investing in a protective treatment, and applying this once you've followed the steps above. 'Protector and shield products will ensure your wood retains its colour and becomes water resistant', explains Patrick Bridge, Chief Operations Officer, Harbour Lifestyle.
'Note that if your wooden furniture is brand-new, you should leave it outdoors for around two weeks to ensure all of the natural oils have been removed before applying any protective products. This will ensure the best, longest lasting results possible.'
Once you've applied the protective treatment as per the manufacturer instructions, your wooden furniture will be much better protected against the elements.
Buy now: Cuprinol Hardwood Garden Furniture Protector, £18 at Homebase
How to weatherproof rattan garden furniture
'If you are in the market for new garden furniture, hand-woven synthetic rattan is one of the best weatherproof materials to look out for,' says Samuel from Homebase. 'It is completely waterproof and can therefore be left outside with no weather damage – plus, it is easy to clean and maintain.'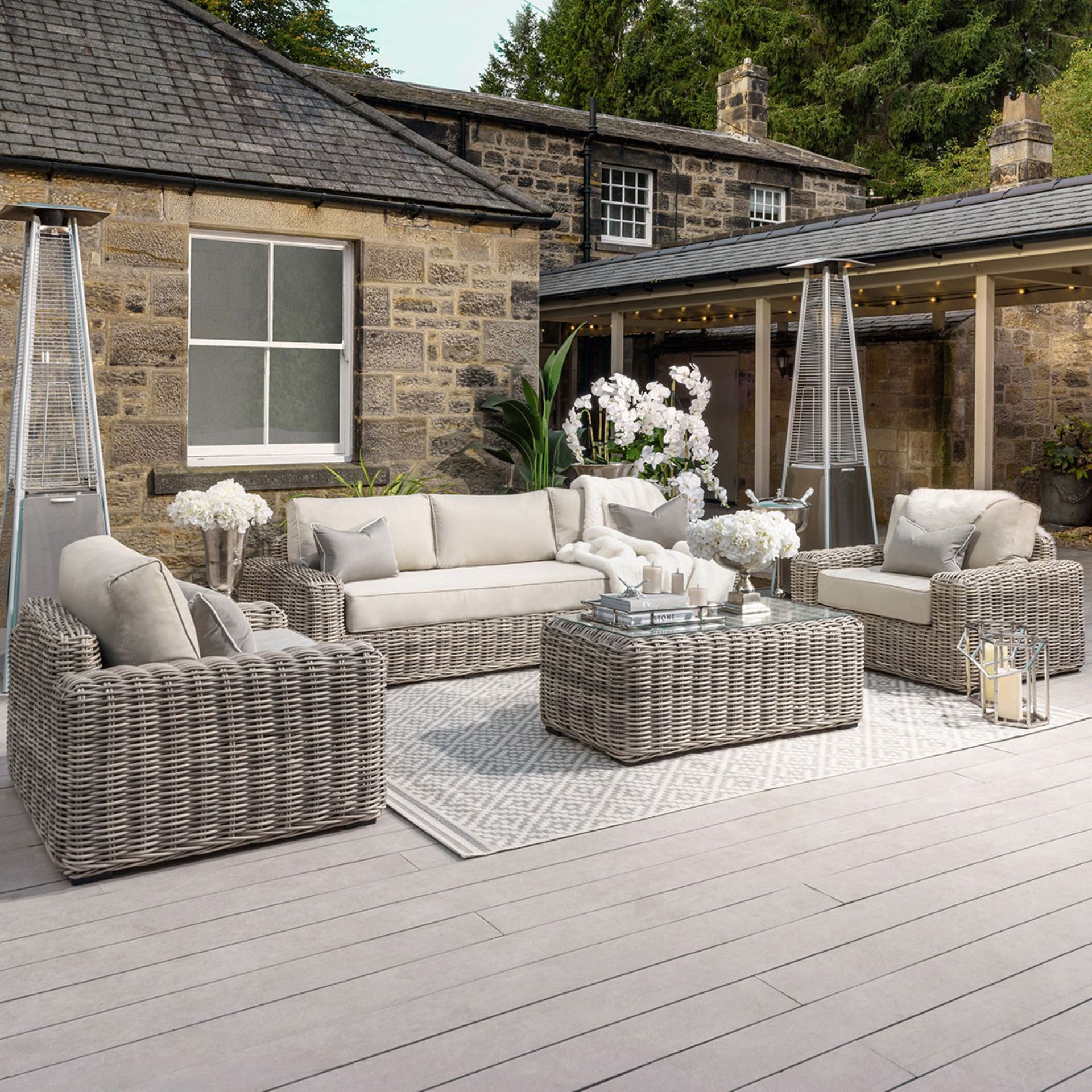 1. Keep it clean
To keep your rattan garden furniture in tip-top condition, clean it regularly to prevent dirt and grime from building up. A hand held vacuum is ideal for removing loose dirt, then go in with a sponge and warm soapy water. If there's any stubborn soil clinging in between the crevices, dip an old toothbrush into the water and use this to clean it out.
2. Store any fabrics
The major element to weatherproofing rattan furniture is to look after any fabric elements like garden cushions. Dirt and grime will cling to the fabric and then transfer to the rattan, making it harder to keep the furniture in good condition.
Utilise garden storage ideas so you can keep cushions away from the elements - anywhere that is convenient to access, otherwise you might be tempted to leave them outside overnight.
3. Clean fabrics if needed
If the seat cushions are showing signs of mildew, clean them as soon as possible to prevent this transferring to the rattan and staying around for good.
'Brush away the excess dirt from the fabric and put them in your washing machine with cold water and a cup of chlorine bleach', says Samuel. 'Let it soak overnight and in the morning, drain the water and spin. Allow the covers to dry completely before re-assembling onto your garden furniture.'
How to weatherproof metal garden furniture
Metal garden furniture is another good option if you're going to keep your furniture outside all year round, as it's naturally more weather-resistant than wood. 'Aluminium or stainless steel garden furniture is a great option if you're keeping it outside during the wetter months - they're more durable than most other materials and are easy to maintain,' says Paul McFadyen, Chief Executive and Metals Specialist, metals4U.
1. Clean the furniture
It comes as no surprise that the first step to weatherproofing metal furniture is to give it a good clean. You can use a hose, pressure washer, or a trusty sponge to remove any dirt and debris.
2. Protect with oil or grease
To stop your metal furniture from rusting in the great outdoors, use a lubricant as a protective barrier. Oil and grease will keep oxidation at bay and protect the furniture from corrosion and rust.
3. Finish off with a layer of car wax
Yes, you read that correct - experts have recommend that car wax is one of the best ways to weatherproof garden furniture made from metal.
'An easy way to extend the life of your metal garden furniture is to polish it with car wax after you've finished cleaning it,' says Samuel, Homebase. 'This will make it more water resistant and keep it looking good as new for longer!'
Buy now: Turtle Wax Car Wax, £4.45 at Homebase
FAQs
How do you weatherproof garden furniture?
To weatherproof garden furniture of any sort, the first step is to learn how to clean garden furniture properly. 'If you have a pressure washer, use this on a low to medium setting to remove surface dirt from wooden, rattan, plastic or metal furniture', says Laura Rich, Furniturebox. 'This will restore the furniture to its original colour and condition ready for the first sunny weekend.'
Rust on metal furniture can be rubbed away with wire wool, but go gently. After cleaning all types of outdoor furniture, make sure you dry it thoroughly afterwards.
'For wooden furniture, apply a specialised treatment gently with an old rag, while following the grain of the wood', says Samuel. 'Feel free to add more than one coat but wait for the first layer to dry beforehand.'
For other types of furniture, like rattan and metal, consider investing in outdoor furniture covers. Garden4less.co.uk sells a wide range of PVC-backed polyester covers which will keep your furniture protected from the elements, and even have UV-filters built in to prevent sun bleaching, which can be a common issue with wooden furniture. Don't forget, you can buy covers for your barbecue too - well worth the investment, as they often rust.
How do you keep garden furniture from rotting?
To stop wooden garden furniture from rotting, you need to apply a protective varnish. 'Most modern products are quick and easy to apply, and Ronseal's range will keep wood in tip top condition for years to come,' says Jimmy Englezos, Senior Product Manager, Ronseal. 'Ronseal Fence Life Plus can work for furniture, it can be brushed or sprayed on to rough or smooth wood - it's showerproof in an hour and offers two years of protection.'
Ideally, wooden furniture should be stored away when it's not being used for prolonged periods of time, like in winter. This will keep it safe and dry and away from the wind, rain and snow, all of which can cause wooden furniture to warp and age.
If you don't have enough space to store the furniture in a shed or outbuilding, cover it up overnight instead. 'If your sofa is high-quality, you don't actually need to protect it in mild weather such as light rain, but during periods of more severe downpours, it is a good idea to ensure it is sheltered,' says Patrick, Harbour Lifestyle. 'So, to store your outdoor sofa safely during the winter, you're going to want to source a pair of breathable, water-resistant covers.'
Get the Ideal Home Newsletter
Sign up to our newsletter for style and decor inspiration, house makeovers, project advice and more.