How to weatherproof garden furniture
Follow our top tips to ensure your garden furniture survives the winter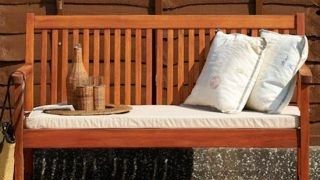 (Image credit: TBC)
Ideal Home Newsletter
The Home Of Great Ideas For More Than 100 Years
Thank you for signing up to . You will receive a verification email shortly.
There was a problem. Please refresh the page and try again.
How to weatherproof your garden furniture for the winter months
Give it a thorough clean
Before you start, give your garden furniture a thorough clean. The easiest way is with a simple sponge and soap and warm water, which should get rid of most dirt.
Wicker furniture can be sprayed down with a hose, or using the low setting of a pressure cleaner. Rust on metal furniture can be rubbed away with wire wool, but go gently. After cleaning all types of outdoor furniture, make sure you dry it thoroughly afterwards.
Find space to store it inside
If you're fortunate enough to have space in a garage or outbuilding, the best way to extend the life of your outdoor furniture over the colder months is to store it inside, where it will be kept safe and dry and away from the wind, rain and snow, all of which can cause wooden furniture to warp and age.
Bear in mind too, that sunshine can bleach the colour from woods and plastics, so if your outbuilding has windows, make sure the furniture is covered with dust sheets or similar.
Cover it up
If you don't have anywhere to store your furniture inside, consider investing in outdoor furniture covers. Garden4less.co.uk (opens in new tab) sells a wide range of PVC-backed polyester covers which will keep your furniture protected from the elements, and even have UV-filters built in to prevent sun bleaching. Don't forget, you can buy covers for your barbecue too - well worth the investment, as they often rust.
Treat it with a protective product
Finally, consider treating your furniture with a specialist protecting varnish. Cuprinol's Hardwood Garden Furniture Protector, £11.99 for 750ml, provides long-lasting weather protection and comes in clear and three natural wood colours.
Dr Simon Aldersley, The Cuprinol Wood Preservation Society (opens in new tab) Woodcare Expert, says: 'Garden furniture gets a pretty raw deal; we use it incessantly when the sun shines then ignore it for months. Cuprinol Hardwood Garden Furniture Protector builds a water-repellent film on top of the wood to protect the wood against moisture damage and greying.'