Garden mirror ideas – 21 genius ways to create an illusion of space outside
Get creative with our garden mirror ideas that will give your space an instant upgrade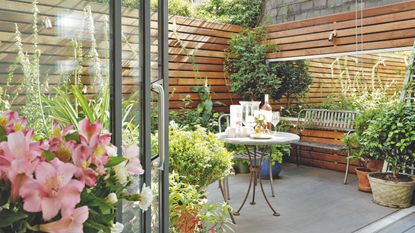 (Image credit: Future PLC)
Mirrors have always been an interior designers secret weapon for their simple, space-boosting abilities. But they don't need to be reserved for indoor use only, as these garden mirror ideas prove.
Mirrors are a great addition to any small garden ideas, with the power to totally transform the space. Garden mirror ideas are especially useful in small courtyard gardens, on roof terraces and on limited balconies to add an extra dimension. A great budget garden idea, mirrors are another accessory like cushions and rugs that are readily available for outside use, creating the perfect outdoor living room space.
Adding a new dimension to gardens by increasing a sense of space and reflecting light into more shady spots, it's important to ensure you hang your mirror at the correct height and in the best position.
As the trend for taking interior style outdoors continues to grow, garden mirrors are becoming more and more popular, so check out our garden decor ideas to see if one could work for your outdoor space.
Garden mirror ideas to transform your space
Our garden mirror ideas will give your garden a new look, whether it's on a tiny balcony, enclosed patio or decking area.
'Having a mirror in the garden can be a fantastic way to add depth and dimension to your outdoor space. Not only can it create the illusion of a larger garden, but it can also reflect the natural beauty of your surroundings,' says Francesca Morris, senior buyer, Garden Trading.
1. Small yet perfectly formed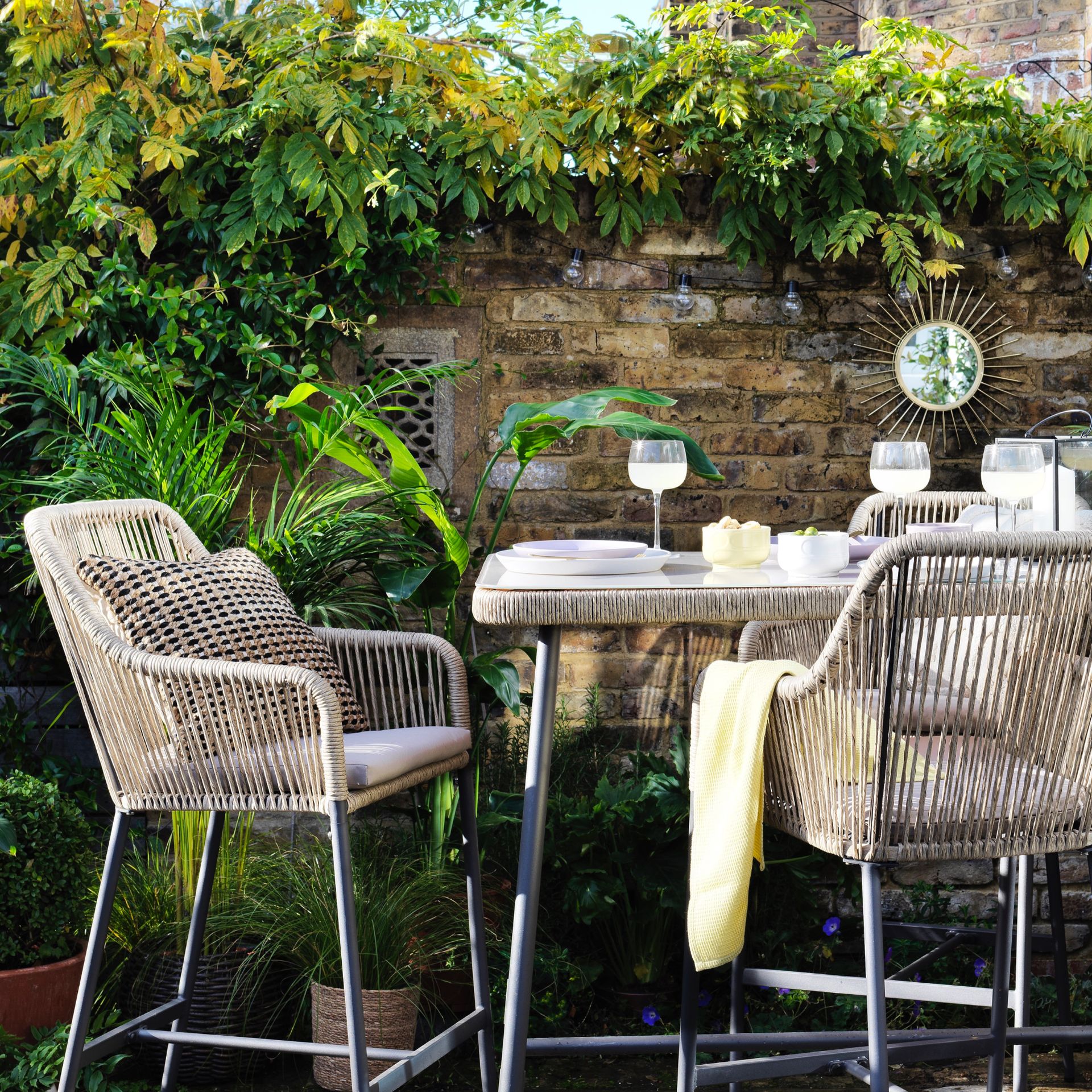 If your garden is tight on size and you don't want the walls filled with mirrors, a small sunburst style mirror will still have an effect.
Its unique design will add a decorative aspect and consider an unusual design or have a theme going, or example, Art Deco style pieces and mimic the design in other areas as well like gold cutlery and 1920 style elements.
2. Choose a mirror that complements your furniture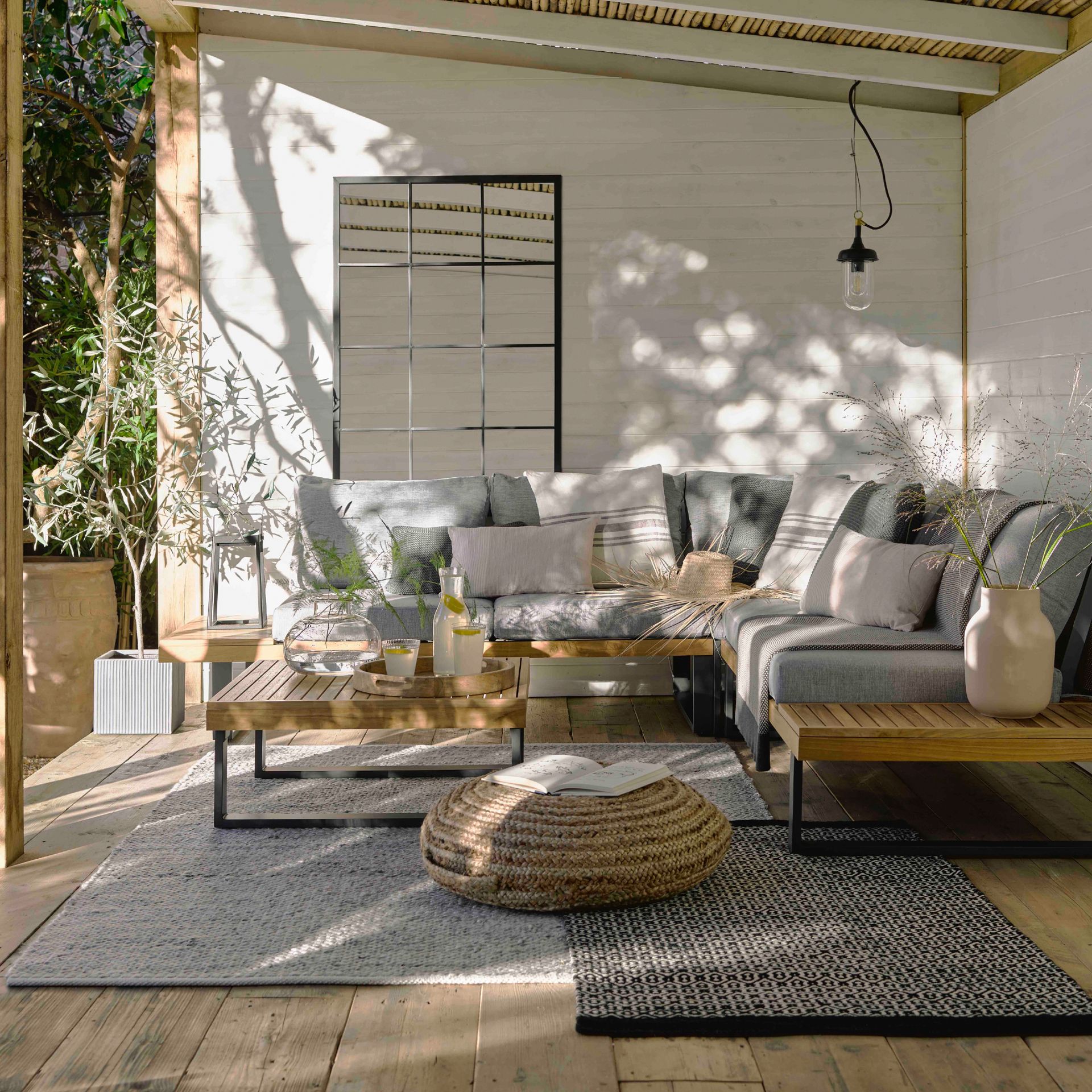 Team similar materials together, like your metal framed garden mirror with the best garden furniture in wood and metal.
'To ensure a stylish and cohesive look, opt for a mirror frame that complements the finishings on your garden furniture. This will tie the individual pieces together and create a seamless design that's sure to impress,' says Francesca Morris, senior buyer, Garden Trading.
Garden Trading's Fulbrook mirror is made from powder-coated steel and can be used inside too.
3. Pick a theme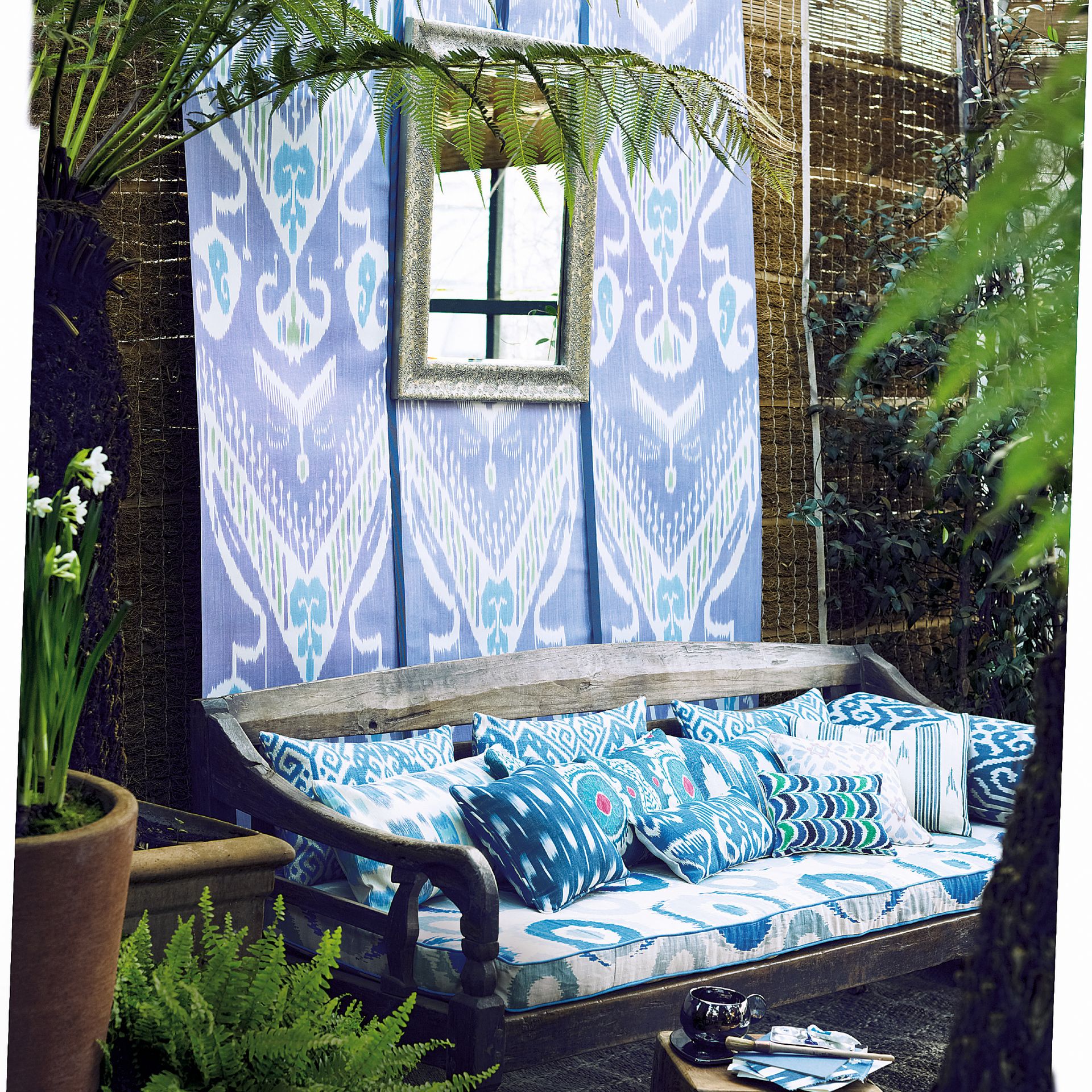 If you love a garden theme then make sure you pick a mirror that fits into it. An outdoor sofa or bench full of print and pattern in the form of cushions and upholstered seating will look wonderful with a garden mirror that has a decorative aspect.
Metallic finishes work well with most colour schemes – hang it high above the seating so it has pride of place.
4. Look out for clever designs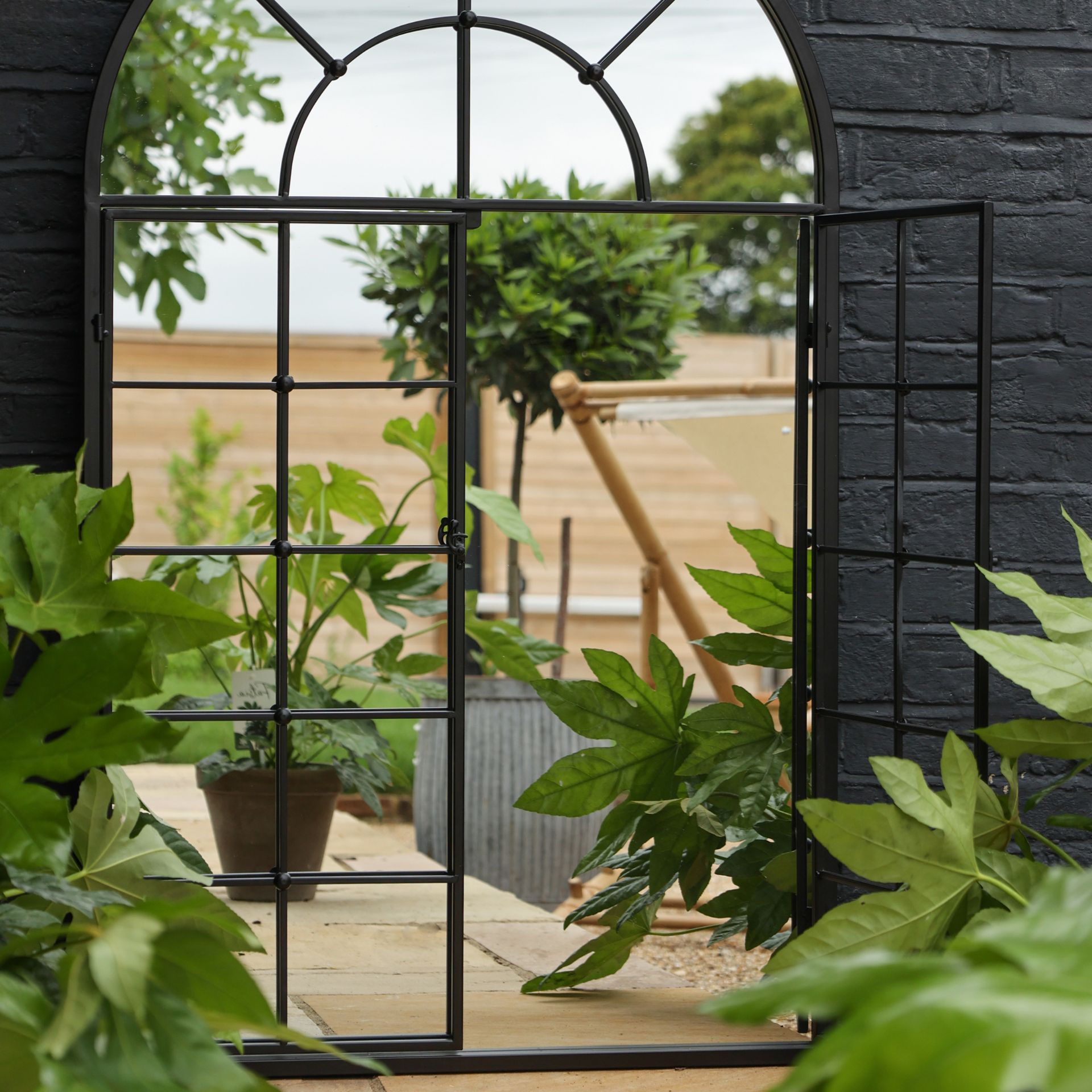 Look for garden mirror ideas that have an innovative touch – some have frames that can be opened that really trick the eye into thinking you could step through the reflection.
'Vintage and Crittall-style mirrors are a personal favourite for me. These beautiful designs add structure and character to blend in beautifully amongst the textures of the garden. Nestle amongst foliage or display against a rustic brick wall. A fabulous mirror helps to create your very own secret garden for enjoying the lazy days of summer,' says Jane Rockett, co-founder, Rockett St George.
Make sure you place containers and pots so they can be seen in the mirror, they will create a lush look in an instance.
Check out Rockett St George's black metal arch window pane mirror with opening doors for something a little different.
Jane Rockett is the Co-founder and Director of British interiors brand, Rockett St George. Self-acknowledged design junkies and best friends, Jane Rockett & Lucy St George launched Rockett St George in 2007 with an aim to break free from chain store offerings by sourcing unique and authentic pieces that help bring personality into the home.
5. Embrace texture with raw wood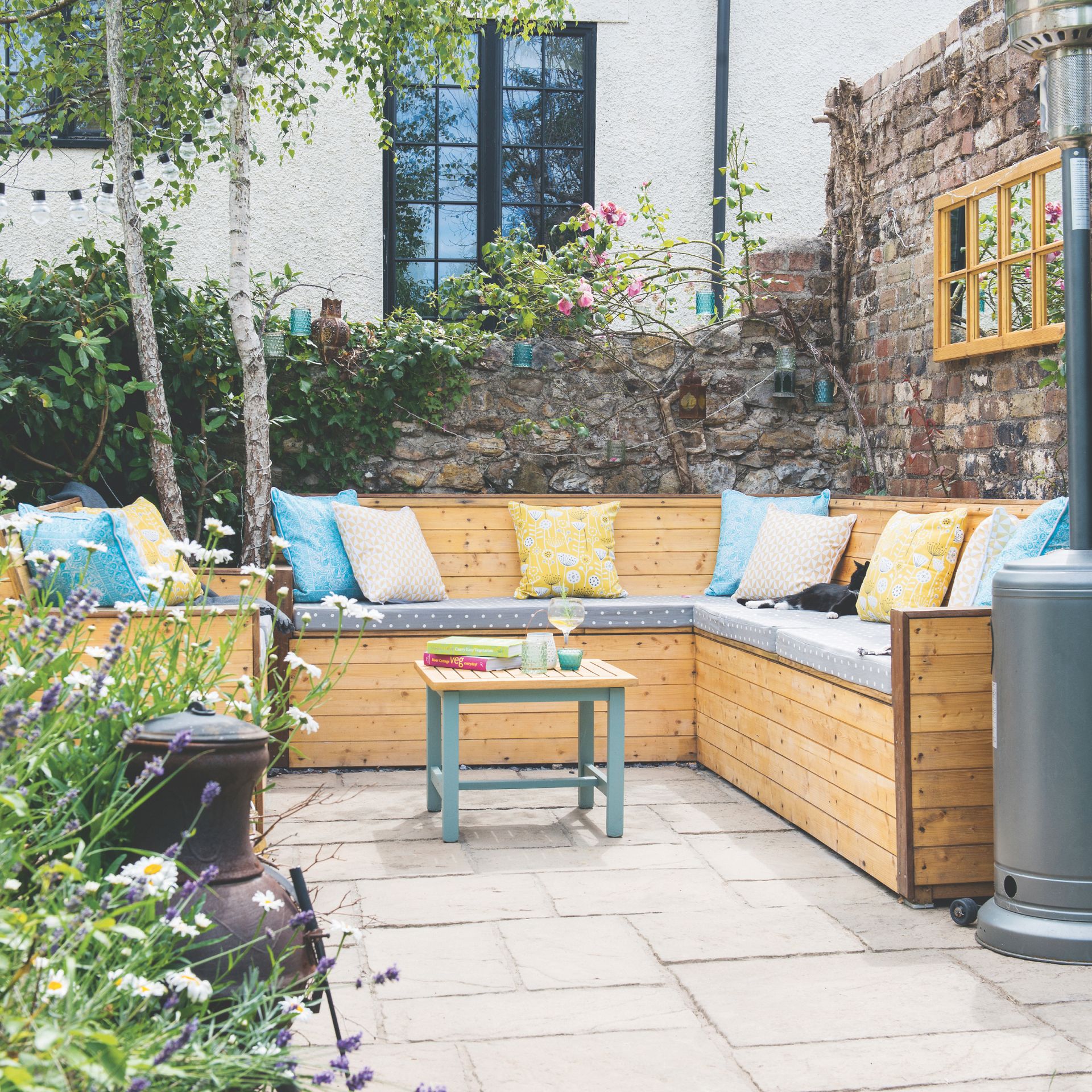 If you love a bit of DIY and have already made some of your garden furniture then consider making your own garden mirror too.
Pallet style furniture is a big trend and so versatile, frame a mirror using similar raw wood and if you feel brave add a 'window pane' style look to create extra interest.
6. Consider a 'pond' mirror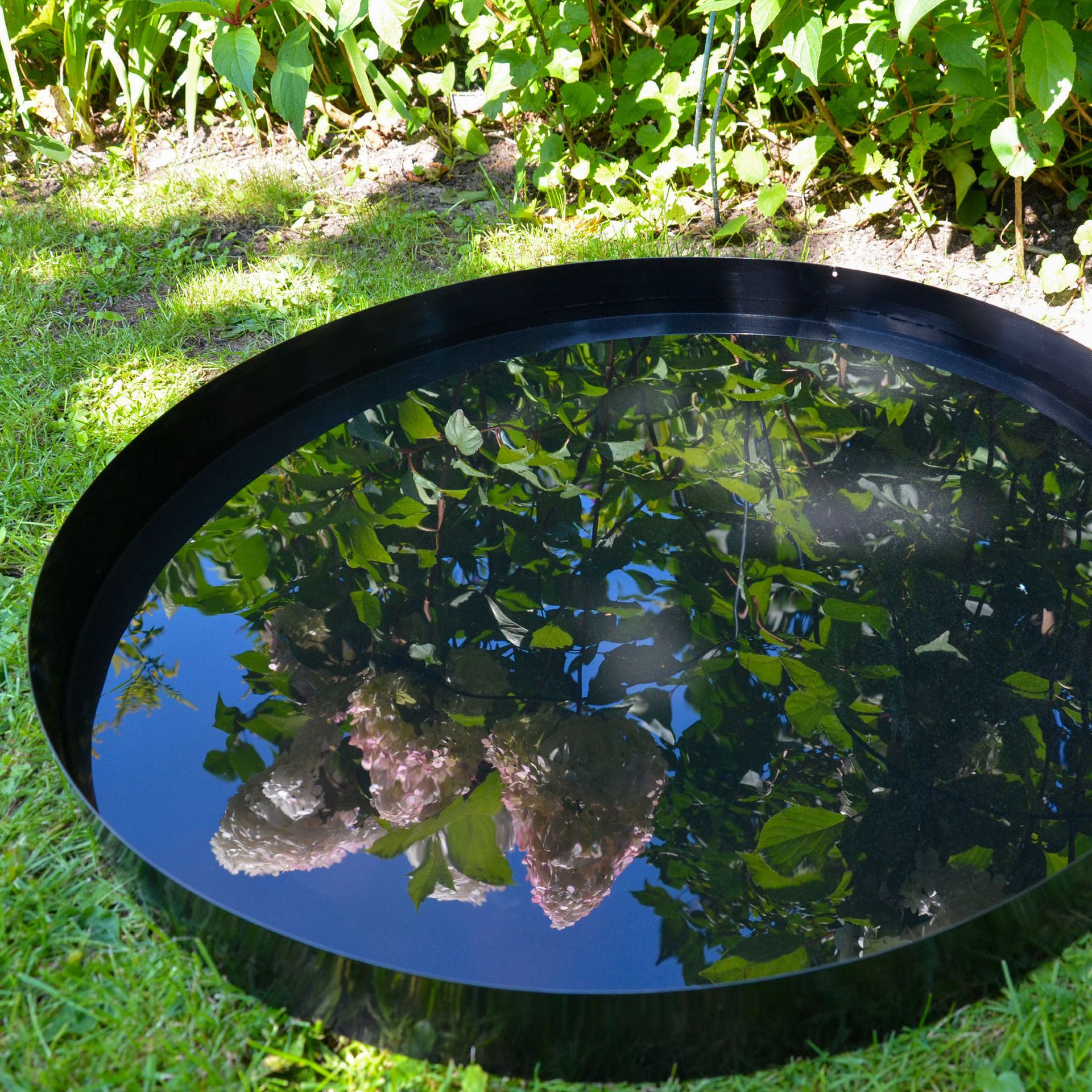 Look out for clever ideas that use mirrors in different ways – it's not just your outdoor wall ideas than can utilise a mirror.
'Mirrors can be a gorgeous feature for any garden. Use a mirror that you can sink into the lawn or simply rest on top and fill it with water. It creates an amazing effect with real depth, reflecting the surrounding plants, flowers, buildings, sky and so on. Magical! Use several next to each other for a striking garden feature, and they're also great for attracting birds and wildlife,' says Simon Glanville, managing director, A Place For Everything.
The garden water mirror is from A Place For Everything if you fancy trying out this innovative idea.
Simon Glanville is founder and Managing Director of storage & organisational retailer 'A Place for Everything', which grew out of his Chester-based bricks & mortar shop 'STORE' in 2003. Living and breathing storage for over 20 years, Simon's APfE retail brand now has one of the largest selections of stylish storage solutions in UK.
7. Rattan is a hardwearing option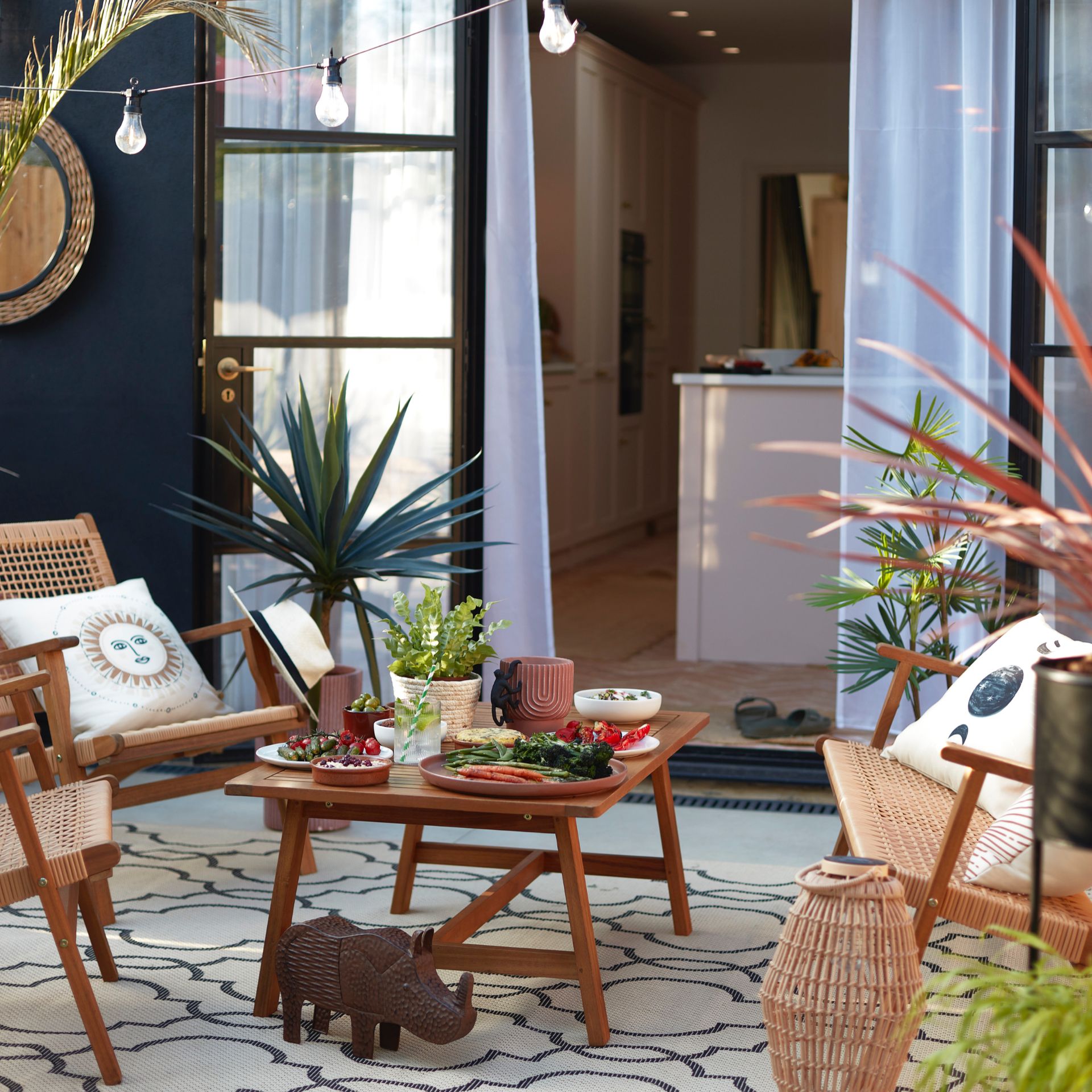 Consider which materials will work best for your outdoor mirror. Rattan is an ideal option as it's already used successfully for garden furniture and is hard-wearing yet stylish.
Matching accessories creates cohesion and using a mixture of textures will create a stylish look so your mirror will fit in perfectly.
Dunelm's indoor/outdoor Artisan mirror is made from sturdy iron with plastic rattan detailing.
8. Harness your garden's era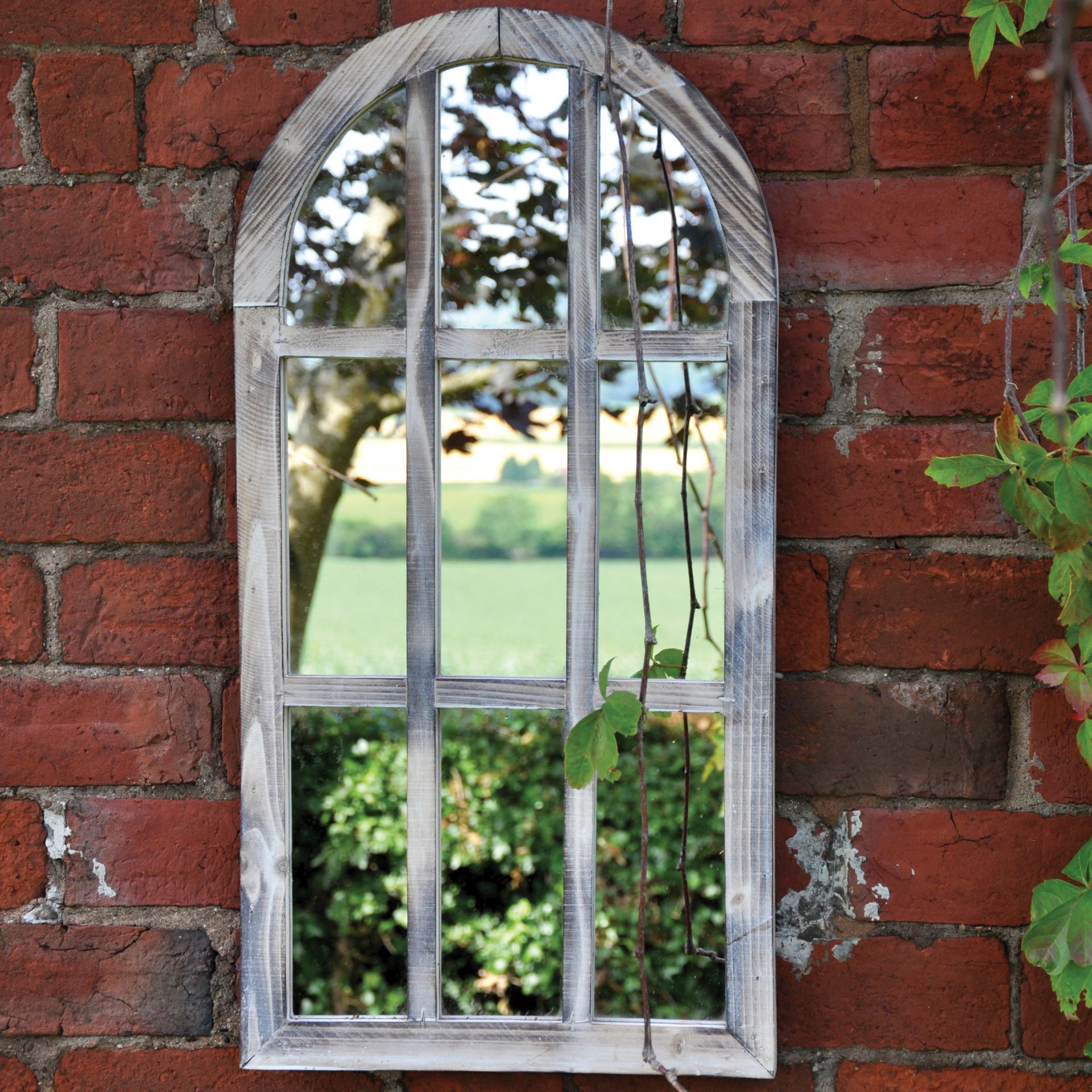 A contemporary garden mirror won't work well on a centuries old garden wall, but a design with a distressed wooden frame will look fabulous.
It's about picking the right finish and style for the garden you have, get it right and your garden mirror will look like it's been there for years.
Gardenesque's St Simon large window garden mirror has been weathered for outdoor use.
9. Go large in an enclosed garden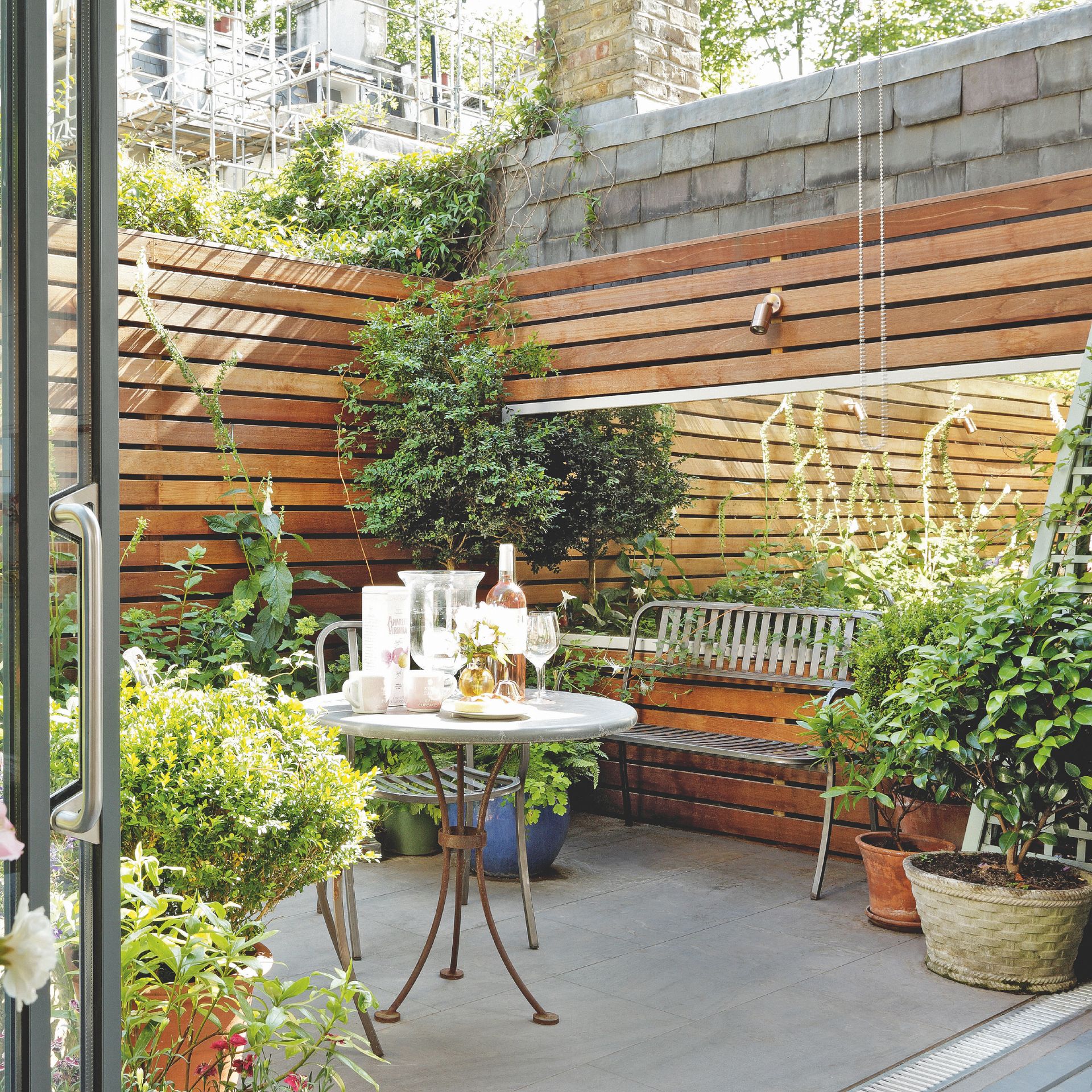 As with inside, placing a large rectangular mirror horizontally on your wall will instantly make a small garden look bigger. Use the same idea in a small garden and it will transform the look and feel whilst doubling the size.
Place it behind a bench and pop a few containers full of flowers and plants around too that can be reflected.
10. Choose a thin frame for a contemporary space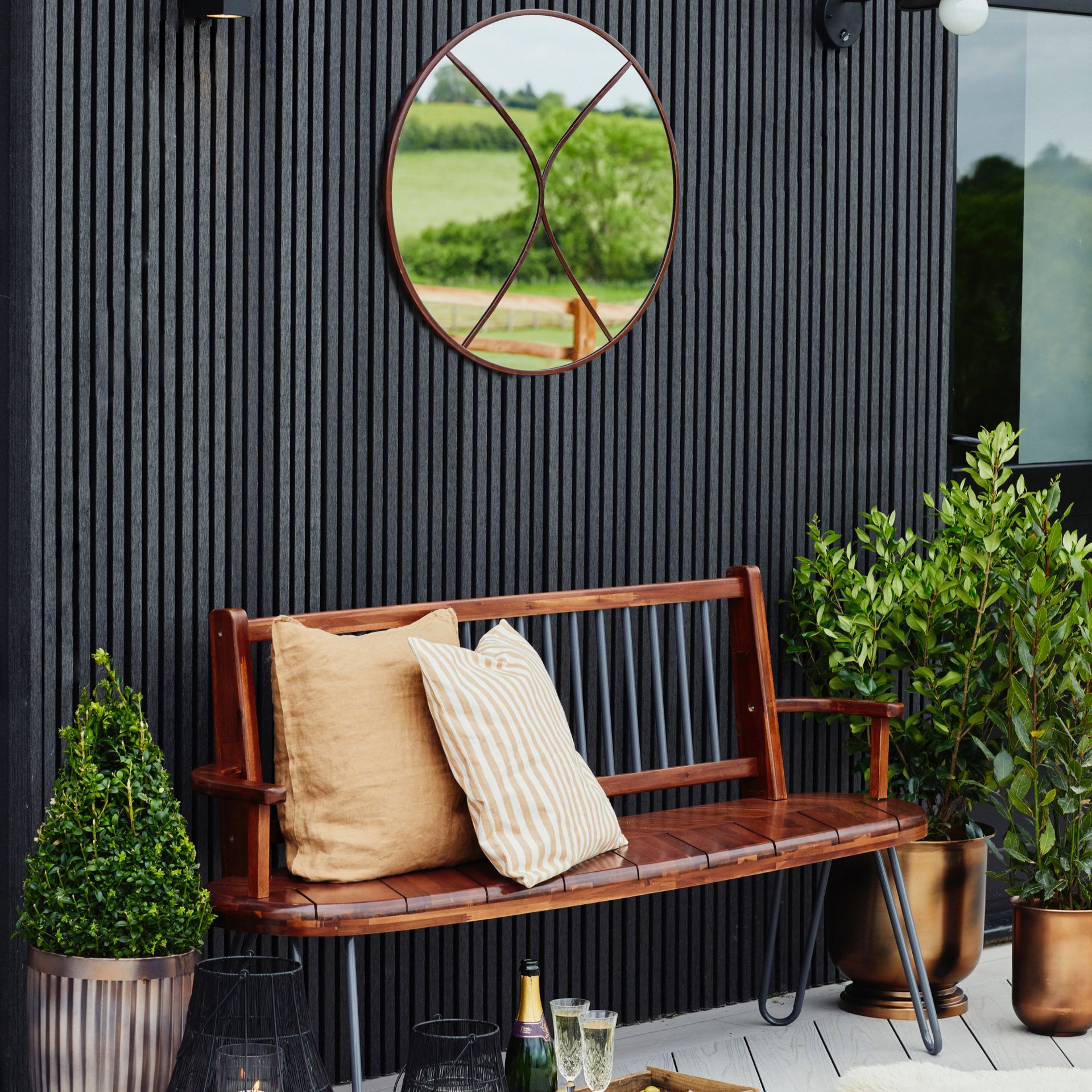 Choose a frame that reflects your garden's style – thin frames work best in contemporary gardens whereas more traditional gardens look great with chunkier designs and shapes like arches and window pane styles.
Circular garden mirrors help the eye to flow visually so they have a different feel to a more angular square or rectangular shape. Both have their uses in gardens.
Ivyline's circular outdoor mirror in natural rust will last for years.
11. Stage a secret garden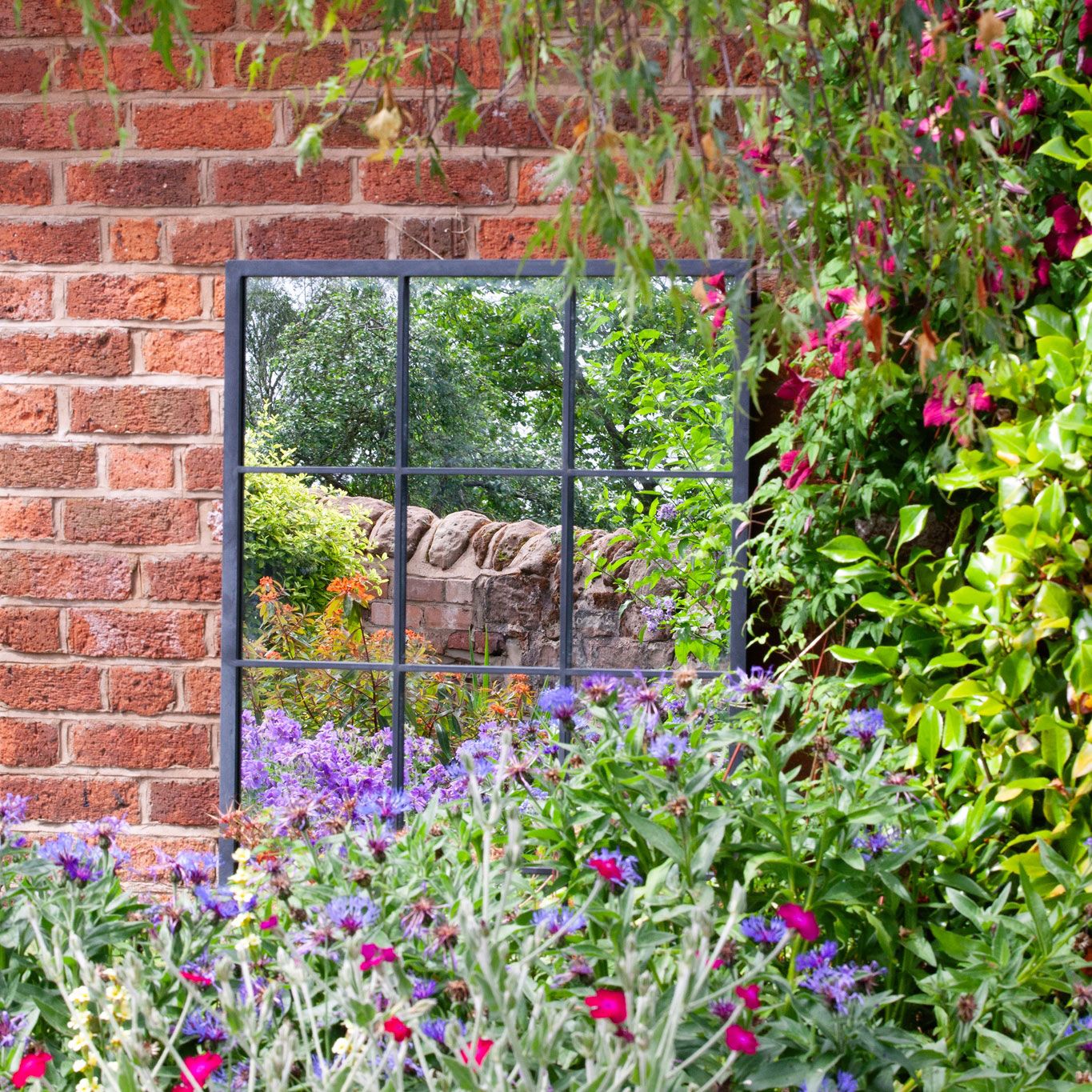 Use a window mirror, hung on a wall and nestled among the foliage, to create the illusion of a secret garden hiding just behind the wall. Position the mirror so it reflects parts of the garden not easily seen to trick the viewer into thinking there is more garden to come! To delight little ones, why not hang a smaller window mirror lower down the wall to act as a window into the 'fairy garden' beyond.
Charleston's Gardenia inside/outside window mirror has generously sized panes and comes in 3 sizes.
12. Get a lean on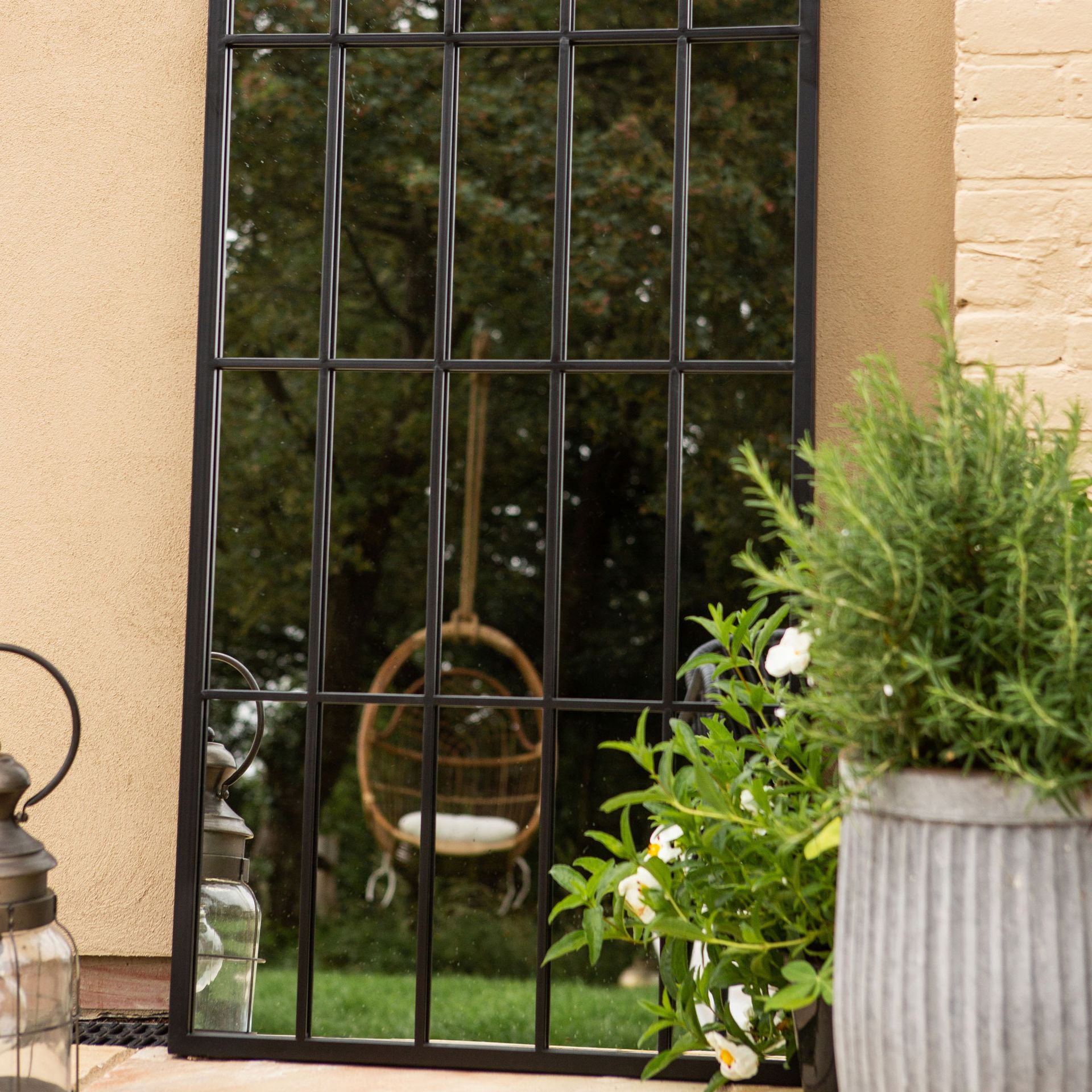 For a relaxed feel, position your garden mirror leaning against an outside wall. This way you can easily change the angle to reflect the sky if there's an incredible sunset, or get the perfect selfie with visiting friends. You'll need to make sure your mirror is safely secured though, especially if you have young children on pets, so look to attaching it to the wall with a long chain so it won't fall.
Invest in Rockett St George's black metal window pane mirror for your garden.
13. Open up the corner of a courtyard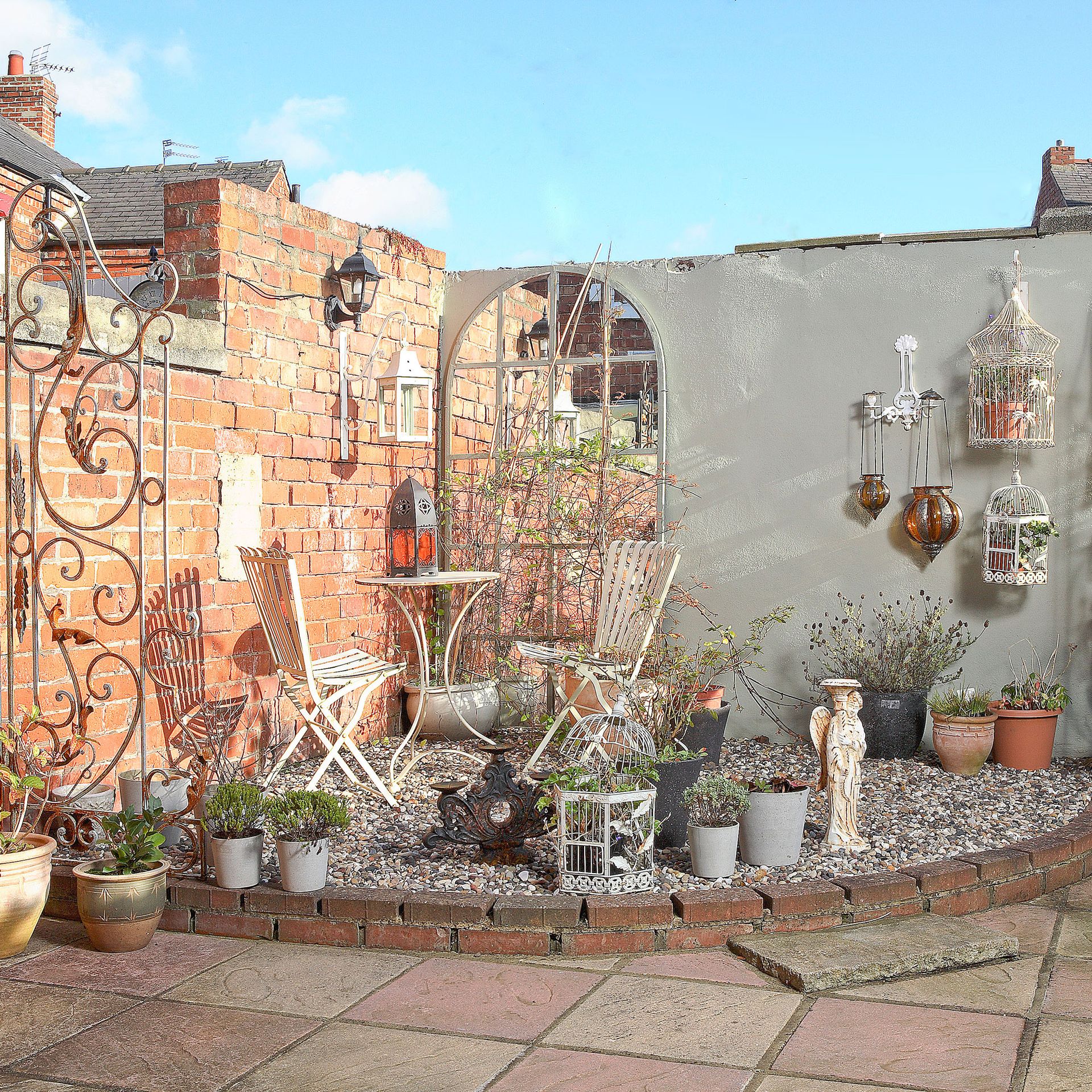 An arch-shaped mirror is a great way to add some elegant style to a courtyard garden idea, and really open up a typically wee space. Take inspiration from stylish restaurants and hang a mirror behind a dining set-up. This will allow diners to see more of what's going on in the rest of the room (or garden) and make them feel less enclosed or cramped.
14. Paint the frame to match the fence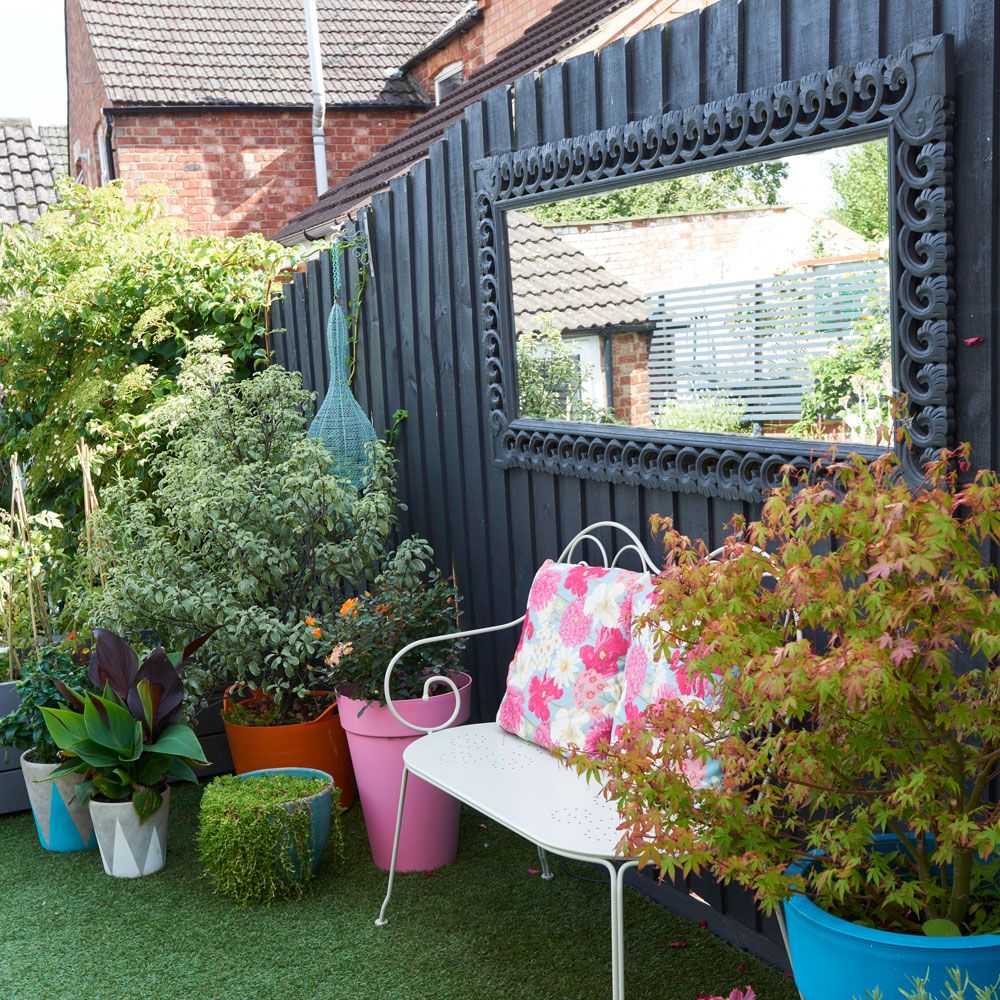 Make your garden mirror feel like part of the decor by painting the frame in the same shade as the fence. Matching the colours allows the mirror itself to be the focal point, rather than the frame. This idea is perfect for creating a cohesive, well-styled garden scheme.
On-trend colours such as the black stain, seen above, is a striking colour choice for garden fences and mirrors to enhance the surrounding greenery. Add pops of contrasting colour by painting flower pots bright and using vibrant accent cushions.
15. Hang at the right height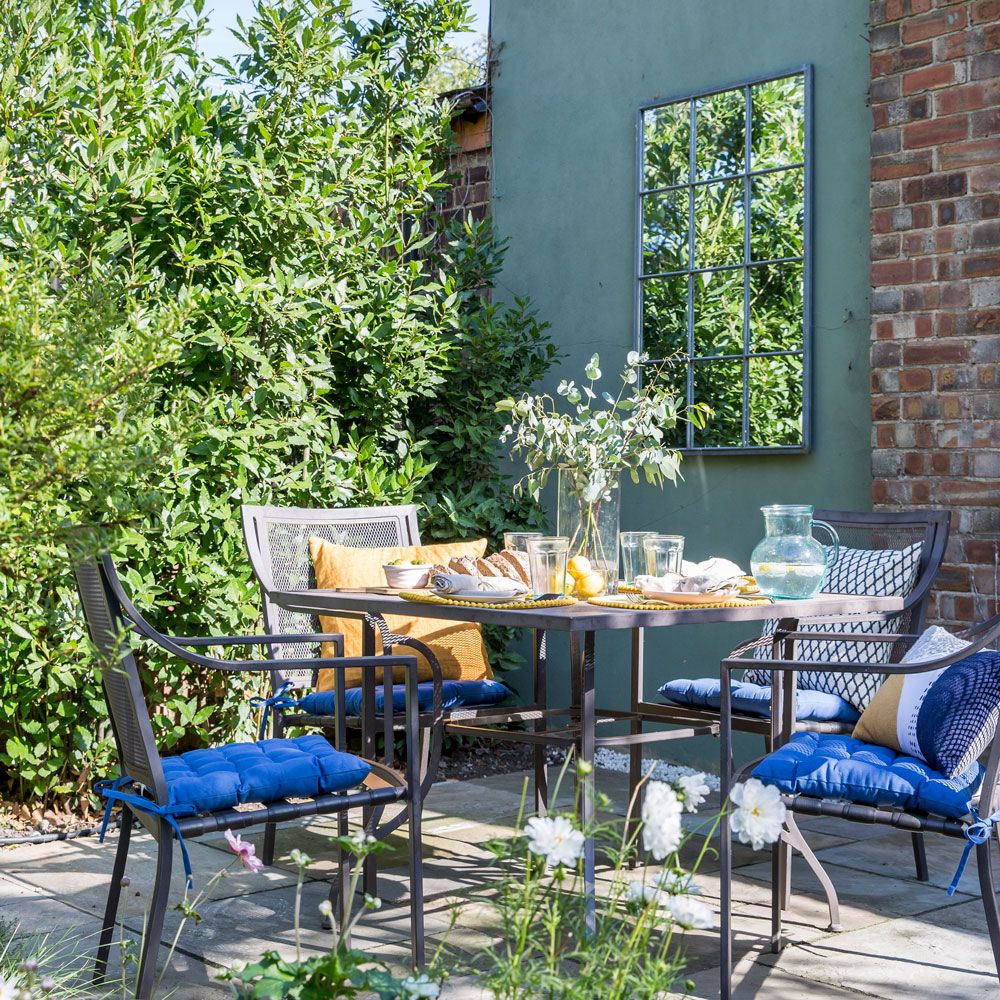 A strategically placed mirror gives the garden an added sense of depth. To take this outdoor interiors trend one step further you could hang an overmantel mirror halfway up the wall to recreate the illusion of a mantelpiece. A familiar interior layout used in the garden helps create an outdoor living room idea.
16. Add ambiance to a dining area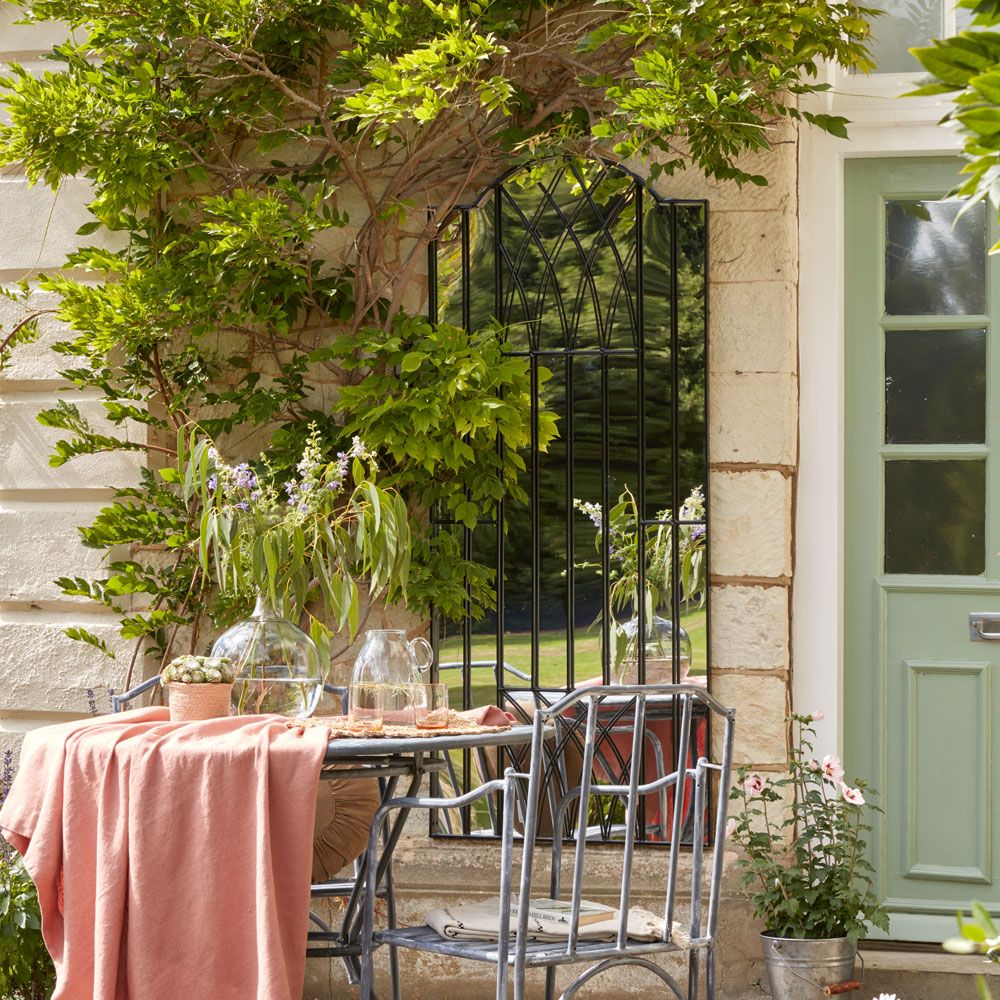 Add interest and atmosphere to an area of the garden where entertaining takes place, beside a dining area or quirky garden bar idea. The reflection adds another dimension to proceedings, while of course reflecting back any lighting and elements of decoration used to dress the space.
In this stylish garden an arched shaped mirror is placed perfectly within the arch of a climbing plant to accentuate the curved lines to soften the look.
17. Place to enhance plants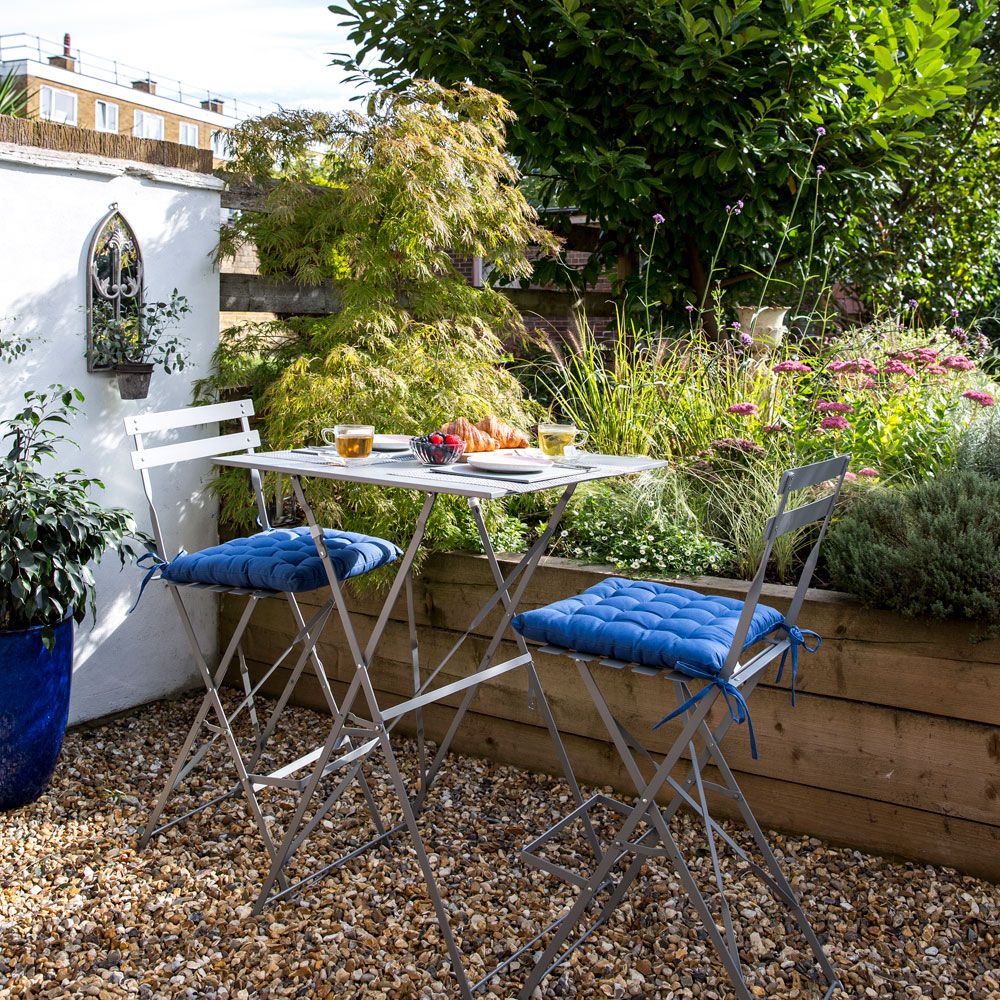 Making an impression with vertical planting, then elevate the look even further by placing mirrors behind to make more of a feature of your pots and plants. In this city garden a white walls is enhanced with the addition of a gothic-style window mirror which sits behind an evergreen plant – shining a light onto the greenery.
18. Create the illusion of extra space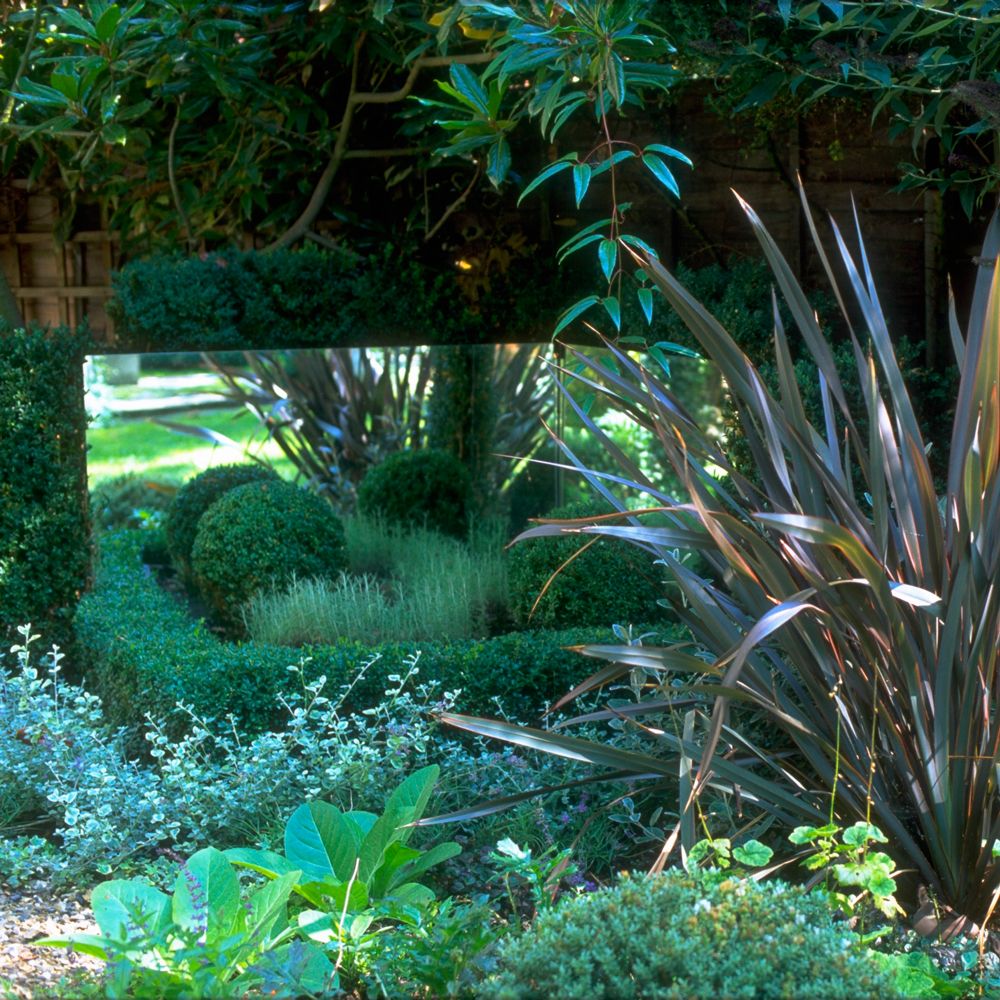 Have you ever thought a small room was twice the size? Only to realise upon closer inspection that it is in fact an illusion, created by a well-placed mirror. When you can't see the edges or a defined shape of a mirror it blends in seamlessly to a space.
In a garden space this works brilliantly to give depth to a flower bed and soften corners. It also helps to reflect light, ideal in a small shady corner of the garden.
19. Double the planting by positioning mirrors low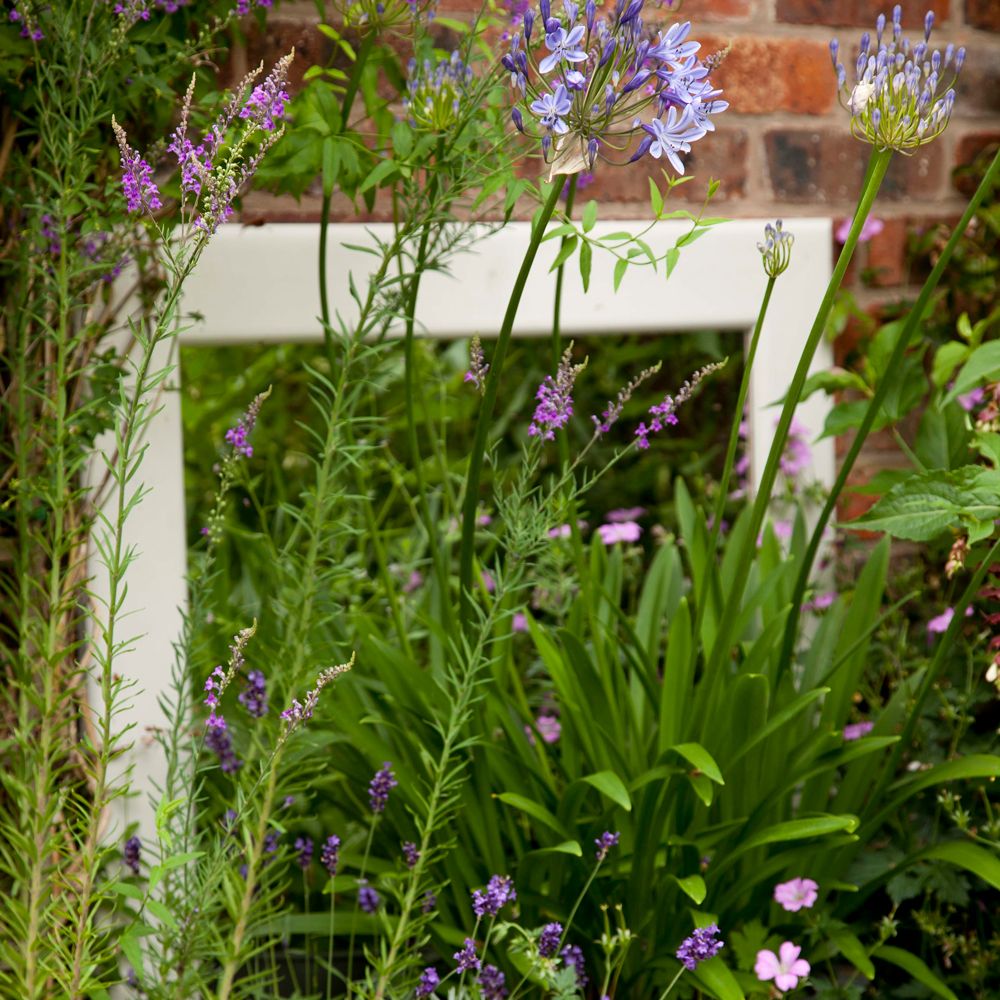 A mirror placed against a wall at a low level can beautifully accentuate flowers perfectly. When you'd put the hard work in to get the plants looking their best, you'll want to show them off to their full potential. A mirror can cleverly cover all angles, giving you more of an overall effect.
This is a clever small garden budget idea to make your planting efforts go a little further too. Perhaps you don't have enough budget to go for extra plants? A strategically placed mirror can double the amount of plants – without having to double the garden budget.
20. Extend your interiors style to an outdoor space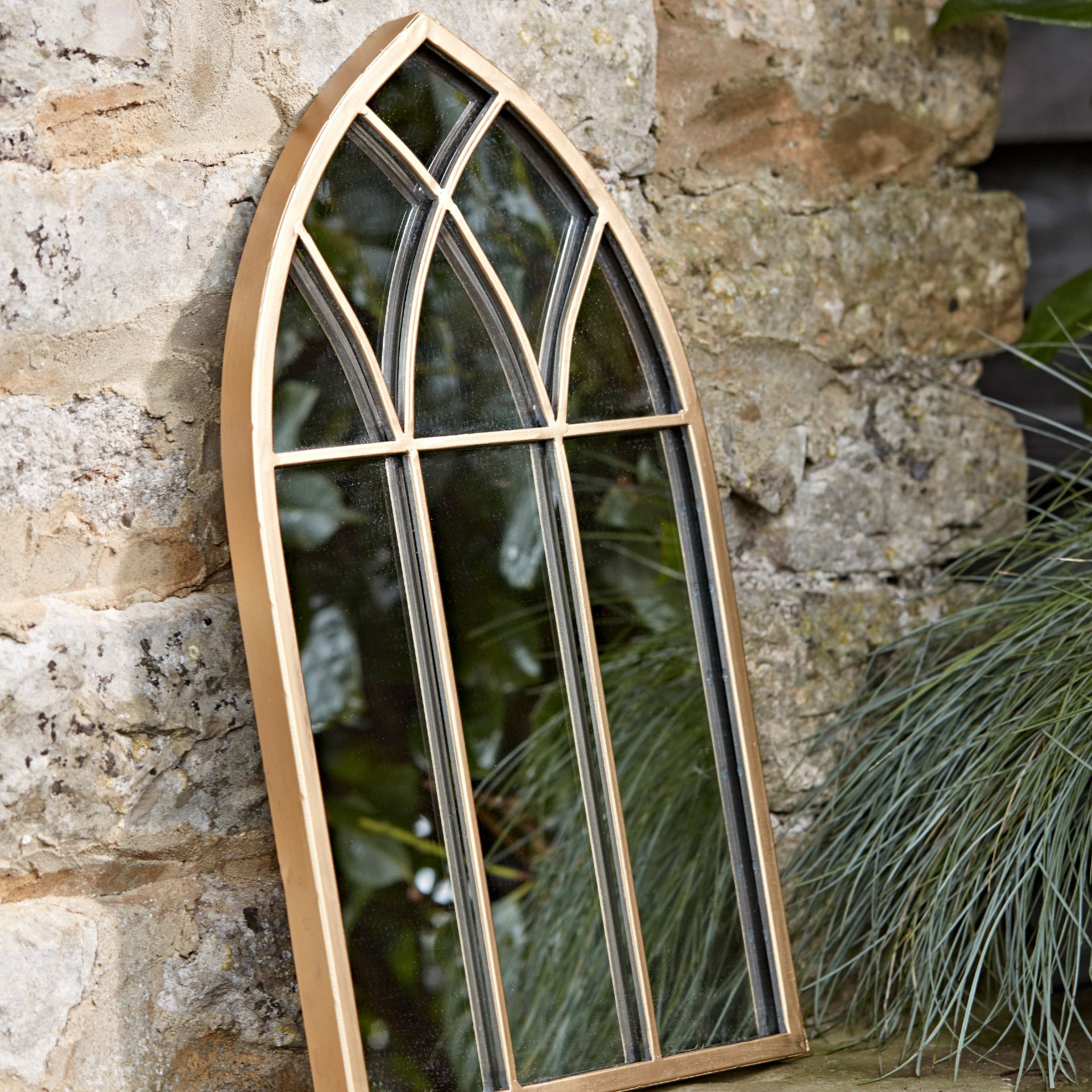 Replicate a living room idea by including traditional-style furniture in the garden. Add some wow factor to your garden walls with an outsized mirror. This generous garden mirror creates a very convincing illusion to a garden beyond.
If you have flora and fauna that is worth showing off, then double-up the effect with an oversized mirror.
Give your garden a lift with Cox & Cox's small gold Gothic mirror.
21. Use alternative shapes to add interest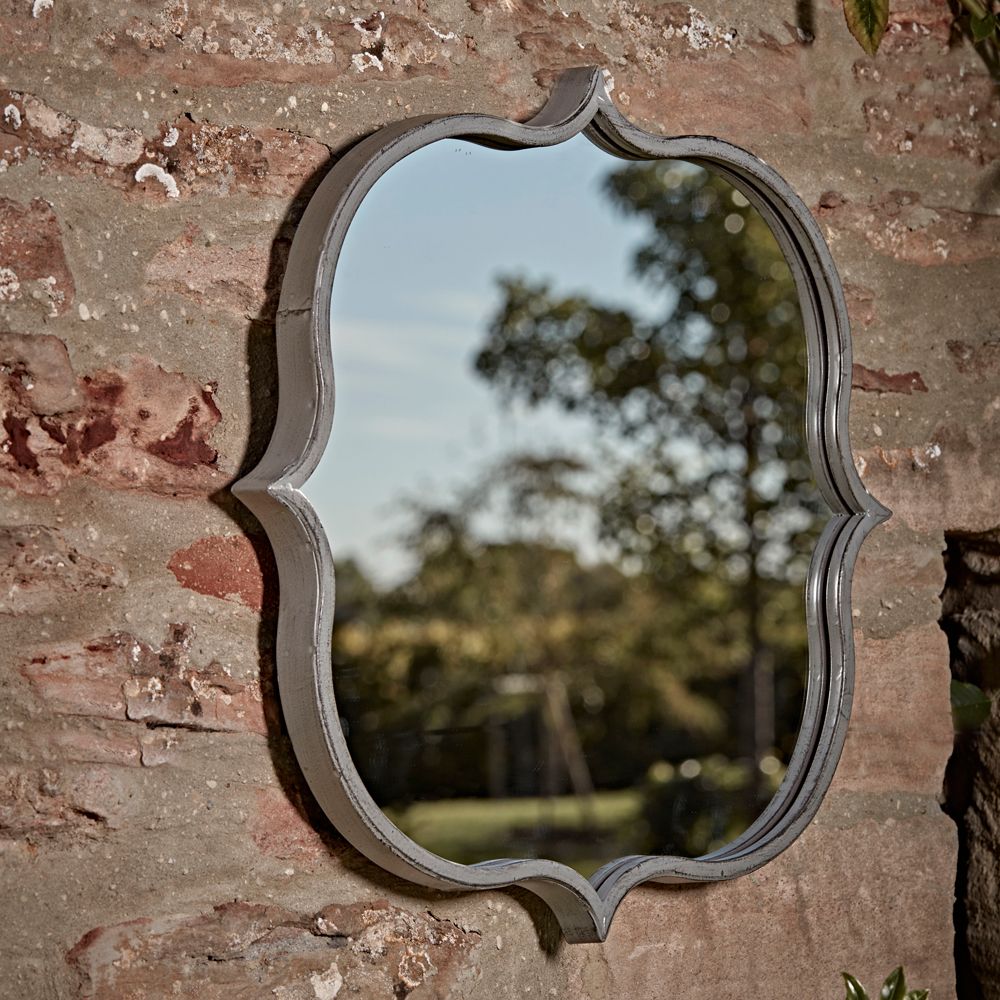 Use quirky shaped mirrors to add decorative interest. This charmingly shaped mirror creates a window-like portal into another world. Proving mirrors don't have to be large to work wonders, this petite distressed mirror adds character to an otherwise plain brick wall.
Add your own portal with the Maroq outdoor mirror from Cox & Cox.
How do you weatherproof a mirror outside?
If you've got a few hours spare you can easily weatherproof a mirror for use outside.
Firstly, you need to seal the glass, this will prevent damp and condensation from creeping behind the back of the mirror. Try Gunther edge sealer for this important job.
For the frame we recommend investing in a wood or metal paint – depending on what your mirror's made from – give it a coat of sealant after you've treated the mirror. Leave to dry and your mirror will be good to go!
Are garden mirrors a good idea?
Absolutely, they are a great tool for reflecting sunlight and if positioned cleverly, can help to make your a small garden look bigger.
'Mirrors are a brilliant design trick that we can introduce into the garden. In the same way as the home, outdoor mirrors are great for creating additional space,' advises Jane Rockett, co-founder, Rockett St George.
'Perfect for smaller courtyards and patios, mirrors reflect natural sunlight back into the garden. Introducing a mirror to your garden is also a wonderful way to embrace the beauty of nature. Through the reflection of your outdoor mirror, you can essentially double up your plants.'
An illusion mirror can create dramatic effects such as appearing to be a garden gate in a wall or hedge, or even a window. Whichever design you choose, an outdoor mirror is a transformative accessory not to be overlooked. But there are a few things to consider. Firstly, what will it be reflecting? Don't place your mirror opposite a wall with drain pipes or air ducts, but reflect the leafy interest in your garden instead. Using full-length mirrors will help to create the illusion of a garden beyond.
Consider using a hardy-framed indoor mirror outdoors. Often especially designed garden mirrors are made of plastic or polished metal and won't achieve the right look (you don't want your garden to look like a child's soft play area!)
Where is the best place to put a mirror in the garden?
The best place to position a garden mirror is against a wall, fence or shed that faces back in towards your garden.
Don't place mirrors too high up or anywhere they are likely to impact bird flight and don't position mirrors in the path of direct sunlight, where they are likely to become a fire hazard.
Traditional outdoor mirrors can be heavy and must be secured to the wall with the correct fixings. Modern acrylic mirrors are lighter and come in a variety of styles which are easier to hang.
Can I use a normal mirror in the garden?
The great thing about this simple garden idea is that it needn't be at great expense. You might have an existing mirror indoors that you can upcycle and give a new home outdoors. If doing this make sure you use the right paint or sealant to ensure your garden mirror looks the part and is weatherproof.
Failing this, you could use a normal mirror outside, but be prepared for it to stain and have a weathered patina. Almost like an antiqued or mercury finish mirror, little spots and marks will appear on the surface over time, and the change in temperature could cause small cracks. If you're happy for this to be the case, then yes absolutely you can use a normal mirror outside!
Get the Ideal Home Newsletter
Sign up to our newsletter for style and decor inspiration, house makeovers, project advice and more.
Tamara was Ideal Home's Digital Editor before joining the Woman & Home team in 2022. She has spent the last 15 years working with the style teams at Country Homes & Interiors and Ideal Home, both now at Future PLC. It's with these award wining interiors teams that she's honed her skills and passion for shopping, styling and writing. Tamara is always ahead of the curve when it comes to interiors trends – and is great at seeking out designer dupes on the high street.