Sensory garden ideas – create a gorgeous garden that appeals to all the senses
Putting together a sensory garden should be an absolute pleasure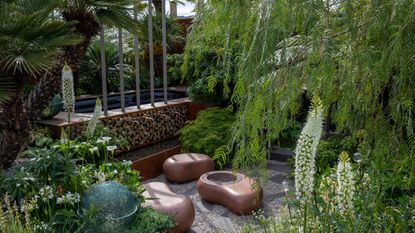 (Image credit: RHS / Sarah Cuttle)
All gardens are rich in sights, sounds, scents, textures and tastes, but a sensory garden amplifies each one of these vital elements and wraps everyone who steps through the gate in a cocoon of wellbeing and pleasure.
Planning sensory garden ideas does require a certain amount of thought and extra care, but if you put the five senses – sight, scent, sound, touch and taste - to the forefront you will be able to fill a space with some very special garden ideas.
'Often people say to me, 'surely all gardens are sensory?'' says garden designer and sensory garden expert Lee Burkhill, owner of Garden Ninja, 'I say, you're right, all gardens have sensory aspects, but a 'sensory garden' exaggerates these and jumps out to every one of the senses.'
Sensory garden ideas
'The more senses we engage, the richer the experience and the more we remember of our experience in a garden,' adds. Claire Francis, spokesperson for Sensory Trust. 'With imaginative sensory design and sensitive attention to detail, a garden becomes a sensory feast.'
If you're considering how to plan a garden with sensory elements, let your imagination run wild to create a bespoke space that will stimulate and support you and your friends and family.
1. Bring in light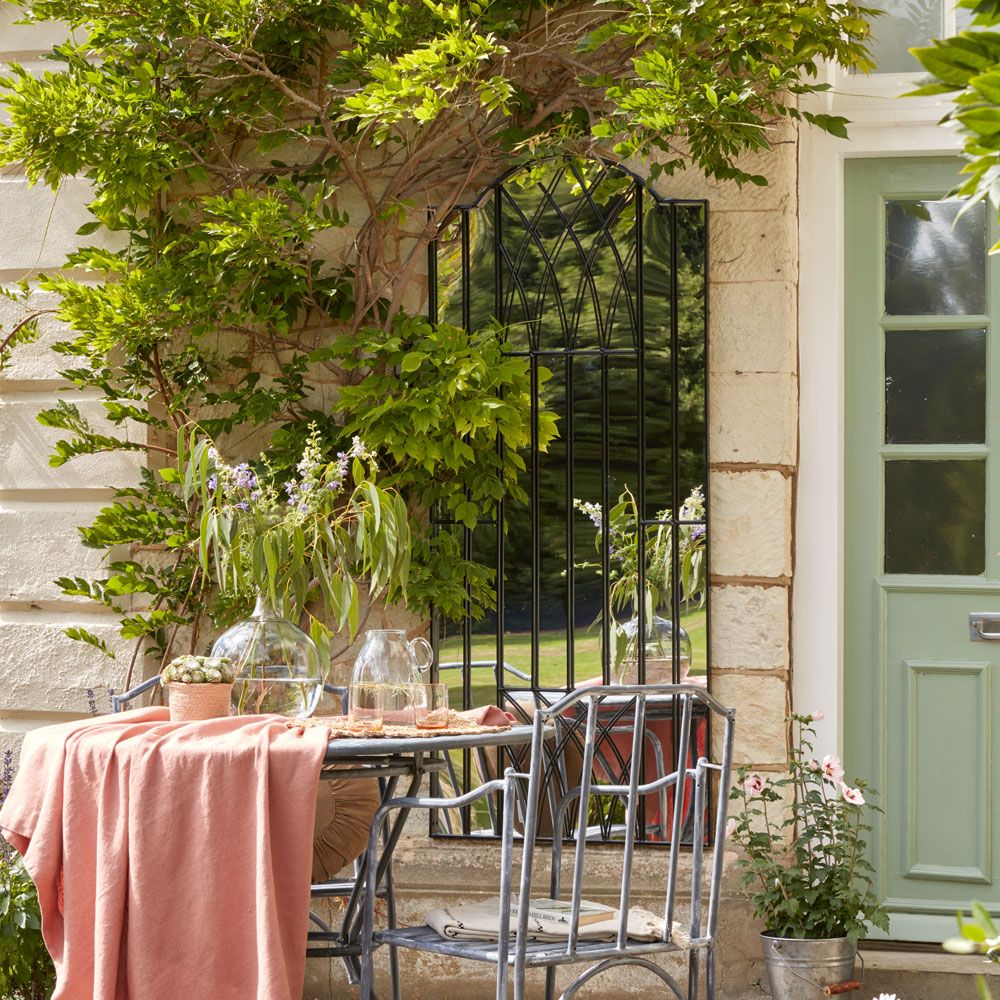 In a sensory garden, you will want to create areas of light and shade, but especially if you're looking for north-facing garden ideas you will really want to maximise natural light where it's needed.
Natural light lifts the spirits and makes even the most compact outdoor space feel airier. Fixing up a garden mirror will perform the trick of effectively doubling the available light. Always take care never to place reflective surfaces in hot sun (due to fire risk), or where birds can fly into them and become injured.
2. Put scent front and centre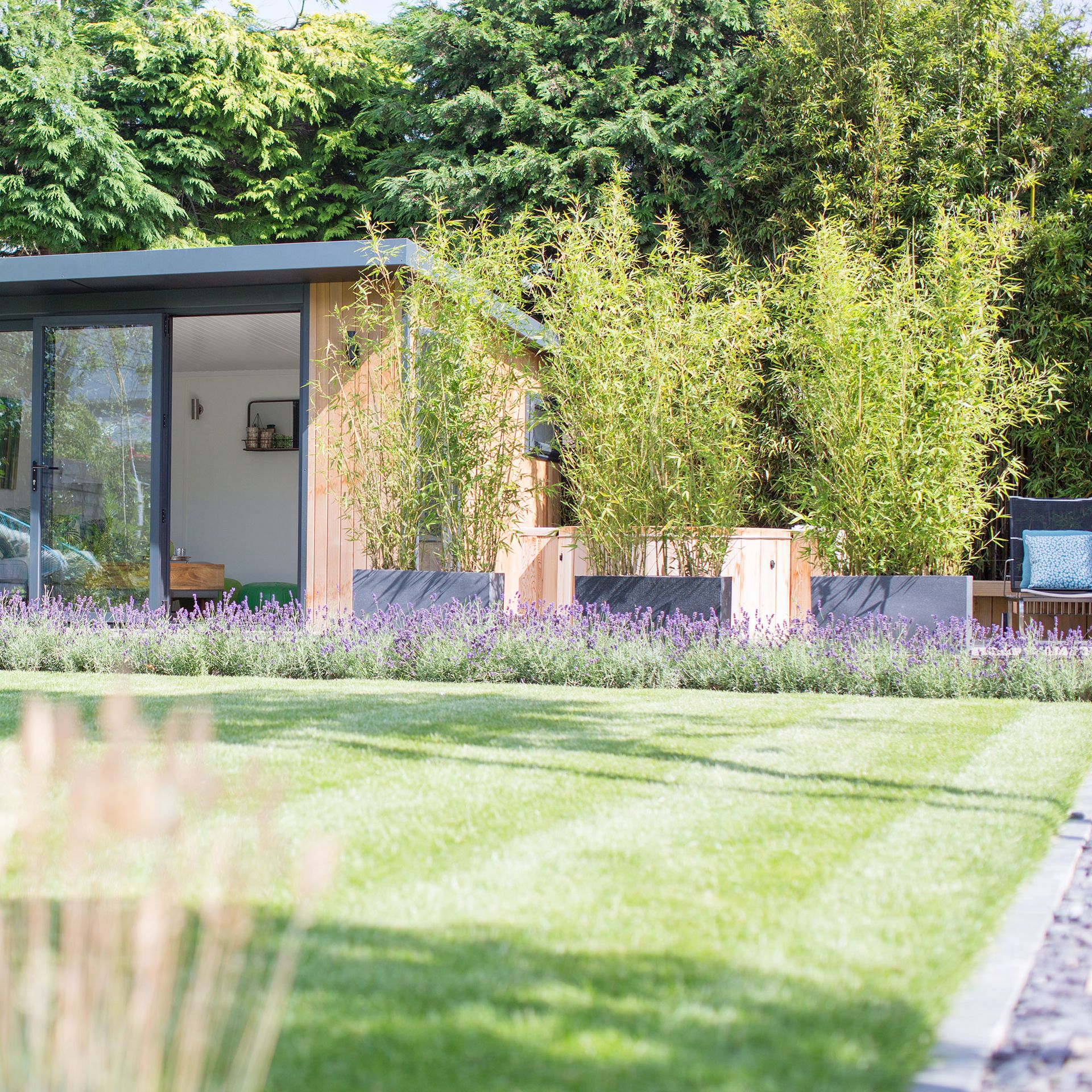 Flowers in sensory gardens should do double duty; colour and shape, plus fragrance, says Rob Grayson, head of purchasing at Hillier garden centres: 'With careful plant selection any garden can be a treat for all the senses. There is a great pleasure to be had from a beautifully-scented garden; whether that is the fragrant waft as you run your hands through lavender, or the sweet scent of hamamelis brightening the winter garden. There are a large number of scented plants to select from all year around.'
Rob recommends placing scented plants along a path, in pots near doors, or as part of creating a perfumed border. You should also consider scented varieties when looking at easy climbing plant ideas which will wrap around your sensory garden beautifully.
3. Enjoy those natural sounds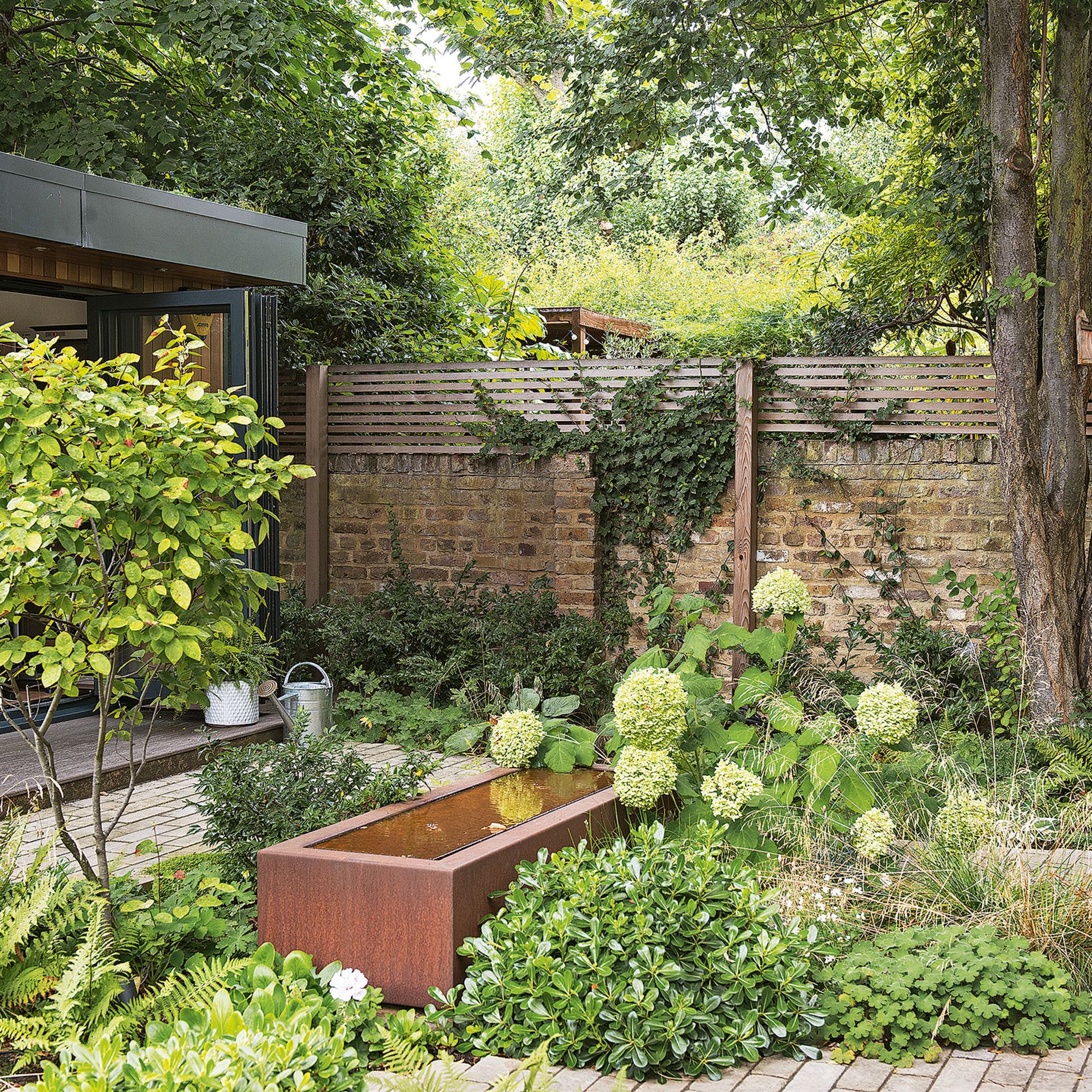 Whether it's the gentle tinkle of a water feature – a simple solar-powered model will do the trick – grasses waving in the gentle breeze, delicate wind chimes, cheerful birdsong or a busily buzzing pollinator going about its business, natural sound is crucial in a sensory garden. Include plants that make quietly rustling noises when the wind passes through them, such as bamboo stems and seedpods.
And to create a living dimension to those sensory garden sounds, encourage busy wildlife by planting attractive plants creatures can nibble on and hanging bird feeders, insect houses and bee hotels.
4. Add a touch of comfort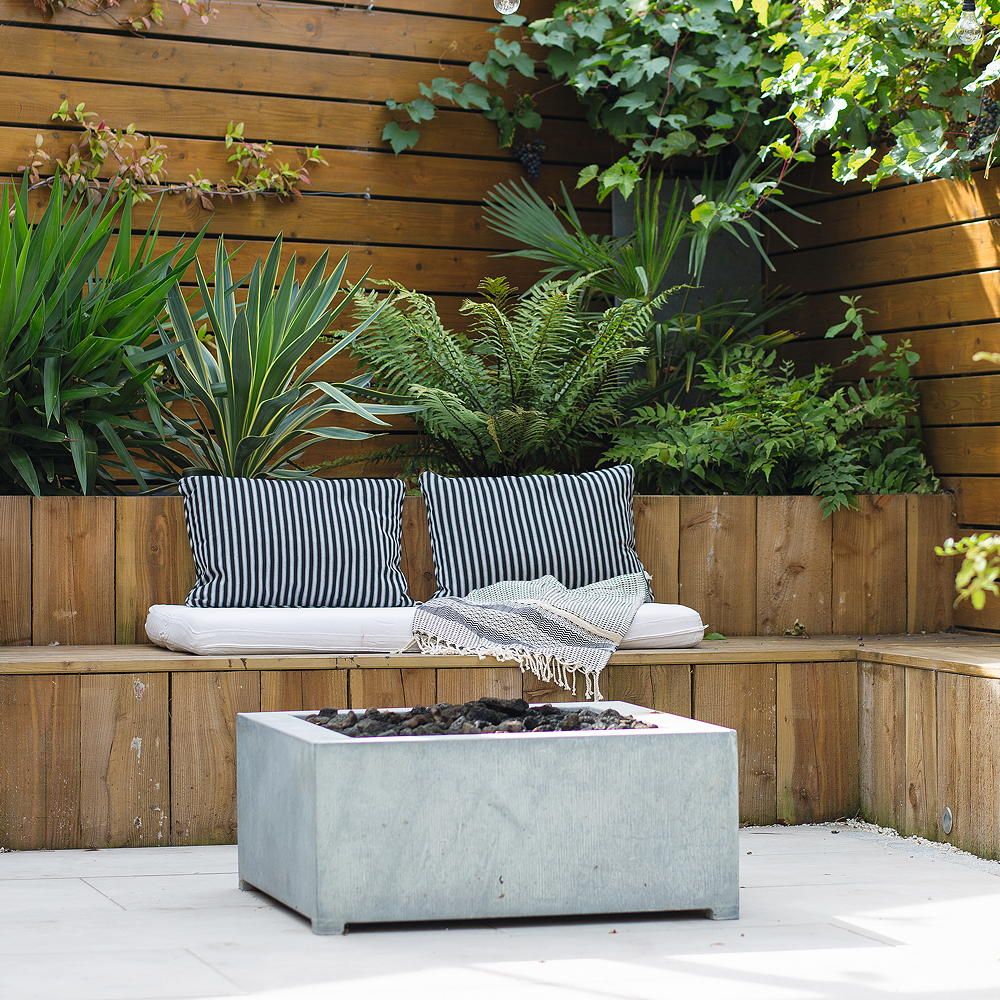 When you're relaxing in your sensory garden you'll want to feel comforted and cossetted. Bring in natural fibre or vintage textiles when you're thinking about dressing your best garden furniture, which should also be as comfortable and organic as possible.
Focusing on natural or reclaimed pieces will help to create an authentic, grounded space. Favour soft, underplayed shades such as pale green, terracotta and delicate mustard rather than dramatic monotones or harsh contrasts.
5. Taste your homegrown herbs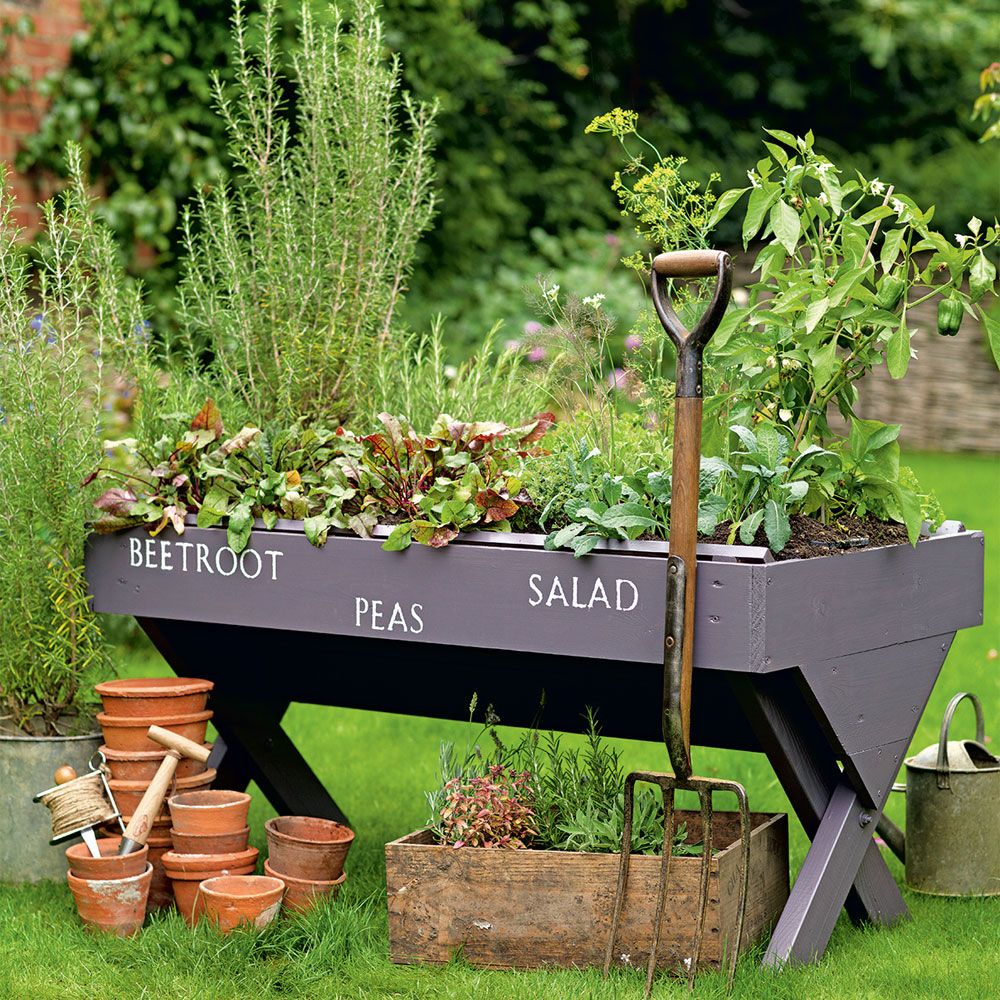 Being able to reach out and pick a handful of fresh homegrown herbs – basil, rosemary, oregano and the curry plant (Helichrysum italicum) all have amazing aromas – is the most simple and cost-effective way to feel a tangible connection with your garden.
You might also like to plant easy-to-raise vegetables and fruits in pots; tomatoes, mini-courgettes and soft fruits such as raspberries and strawberries are all good to grow.
6. Find a place to focus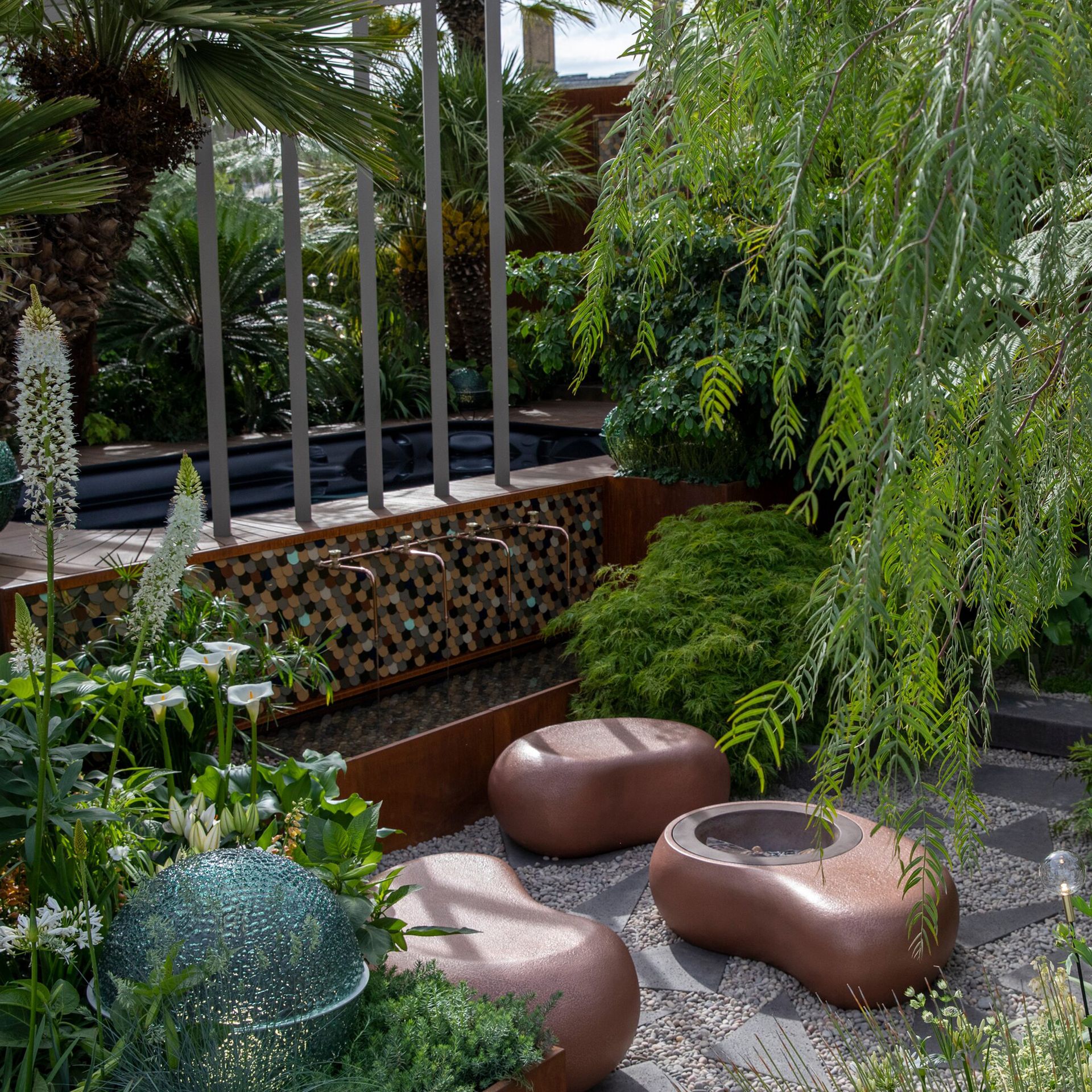 Garden designer Kate Gould's 'Out of the Shadows' Sanctuary garden at RHS Chelsea this year was dedicated to promoting peace, calm and wellbeing. As well as a lush mix of tropical and native planting, it also included a series of garden decking ideas offering lots of inspiration for how we can all devise discrete spaces in our own gardens for contemplation.
She opted to include pebble-shaped seating with a brushed copper finish. However, if you are short on space, why not carve out space for a natural bench or hanging chair in a peaceful corner screened off from the buzz of the rest of the garden.
7. Zone out your space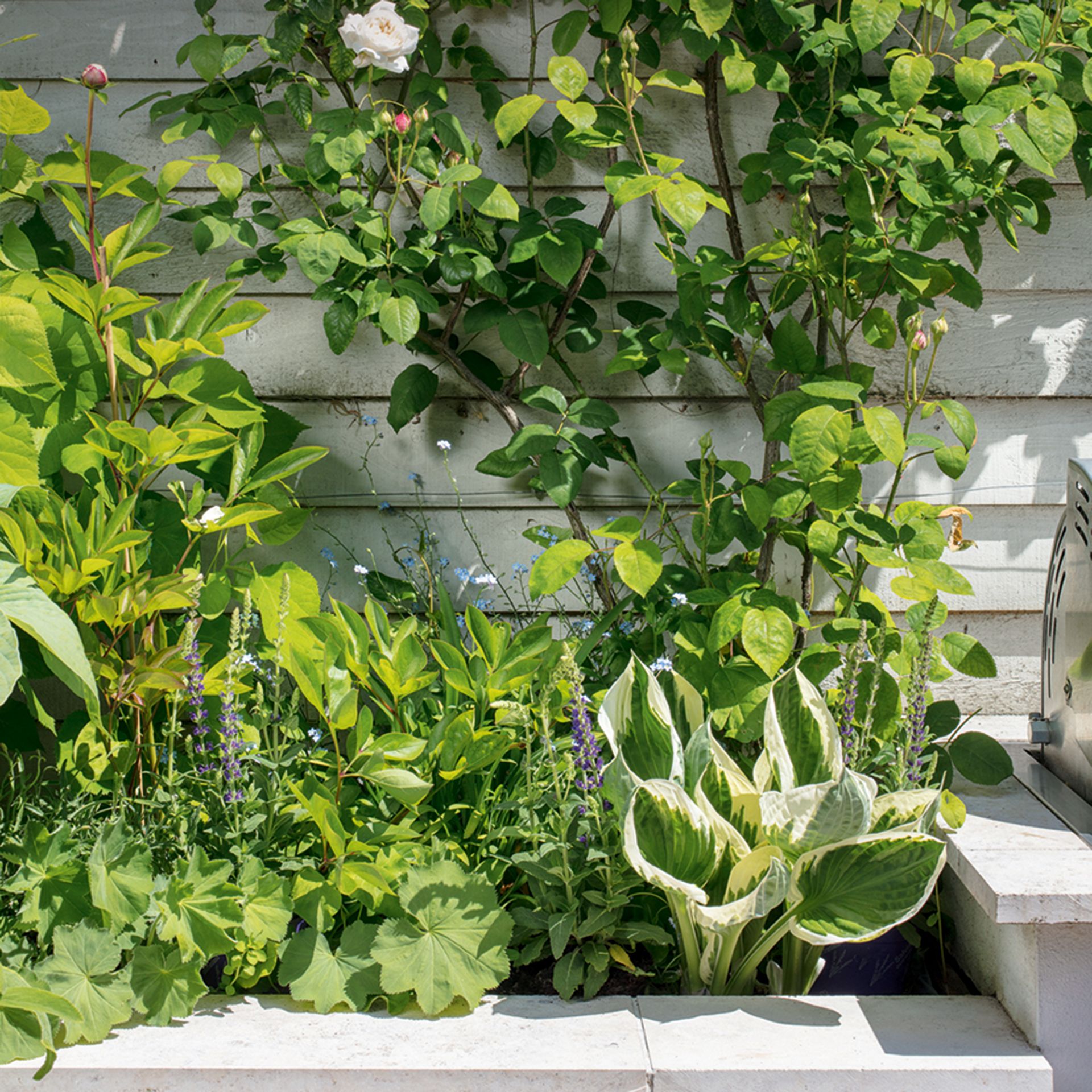 A sensory garden may feel abundant with flowers, scents, light, shade (don't forget, you will need garden shade ideas to guard against hot sunshine and the odd drop of rain) and relaxing elements, but it should also feel organised.
When considering garden layout ideas for a sensory garden, think about zoning, says garden designer Lee Burkhill. 'Zoning is useful because it helps you to make sense of all the different senses you're appealing to,' he explains.
'You might have an 'excitement' zone in a sunny spot, with flowers in hot, vibrant colours such as oranges and reds, for example. Or a 'touch zone' with plants that are evergreen or have glossy or textured leaves.'
8. Always work with nature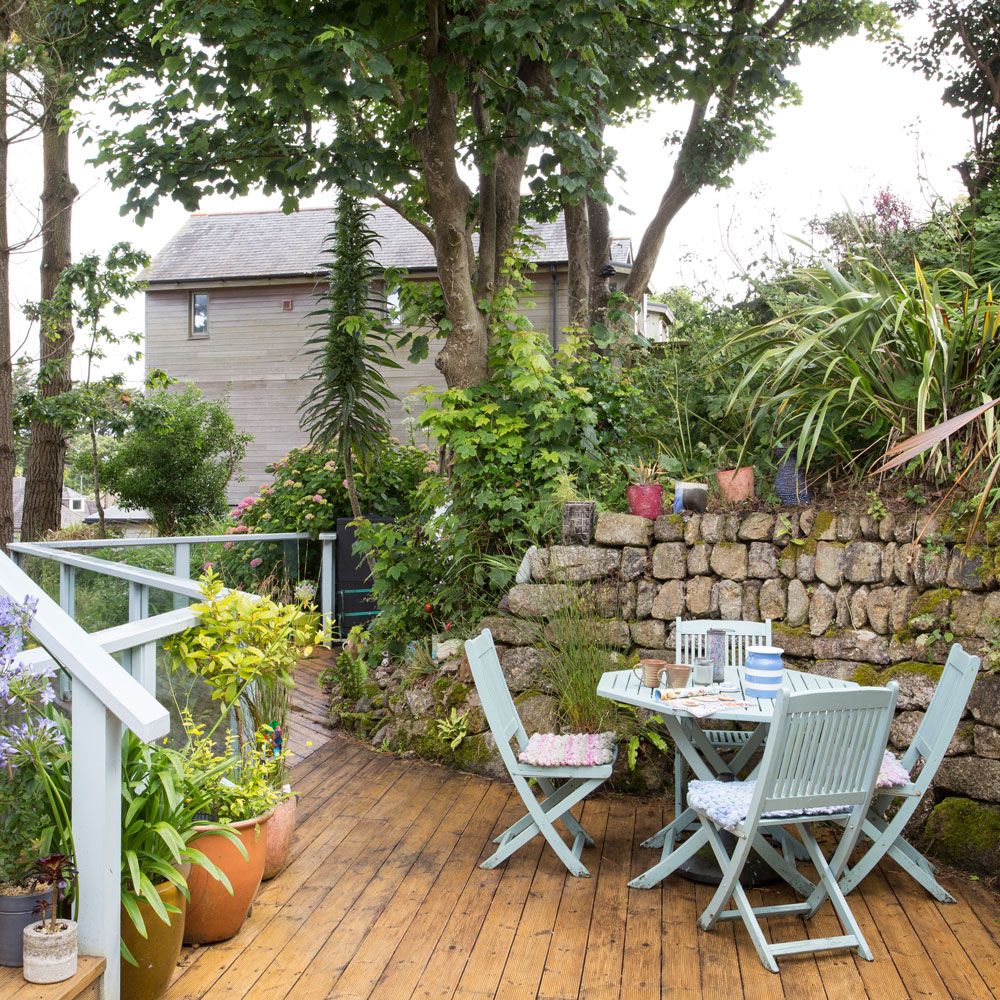 Whether you have an urban backyard or a country plot, it's highly likely that beyond your own boundary there will be something beyond to provide a natural context for your garden fence ideas.
So when you're planning your sensory garden, position crucial elements such as water features, seating and contemplation areas to take advantage of attractive trees, shrubs and views in the background. A hammock slung on a stand beneath the shade of a neighbour's horse chestnut tree, even a row of conifers, can help you feel connected to nature.
9. Enjoy the night garden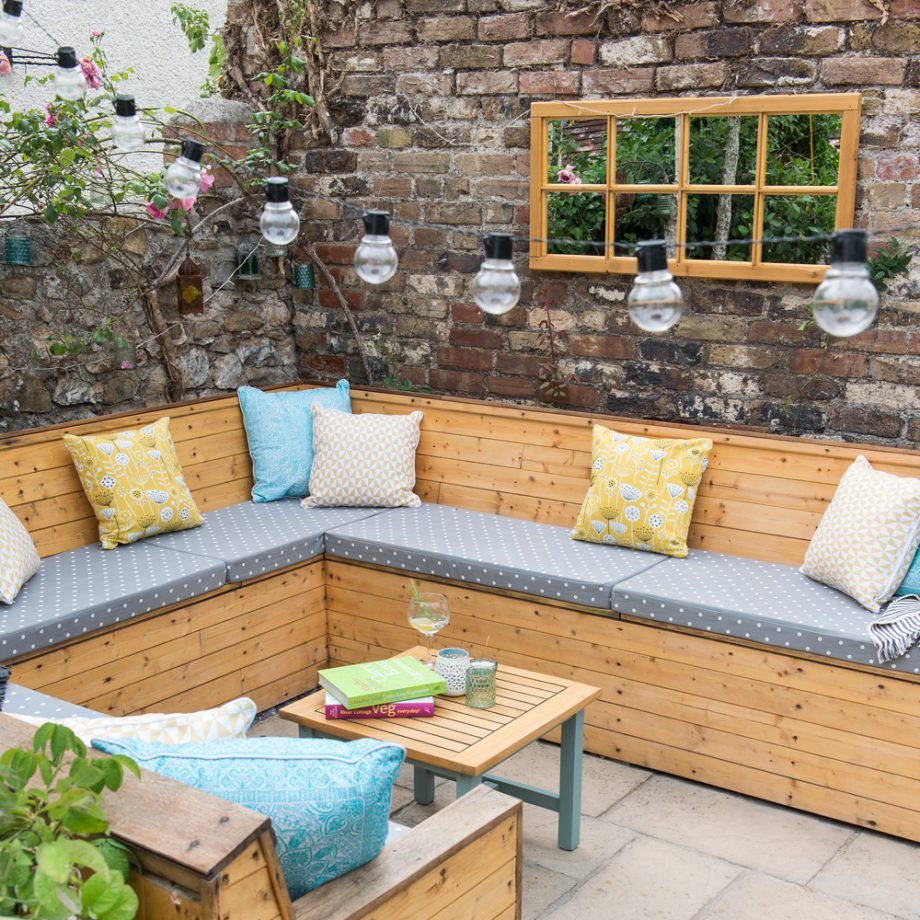 As the sun slips down and twilight begins to fall, the sensory garden can become even more nurturing. Bring in relaxing elements such as soft garden lighting, a canopy, sail or pergola, and look at garden trellis ideas to add scented climbing plants such as jasmine and honeysuckle – scent is always stronger in the evening. For maximum clouds of enveloping perfume, add generous pots of night-scented stock and nicotiana (tobacco flower).
10. Stimulate all the senses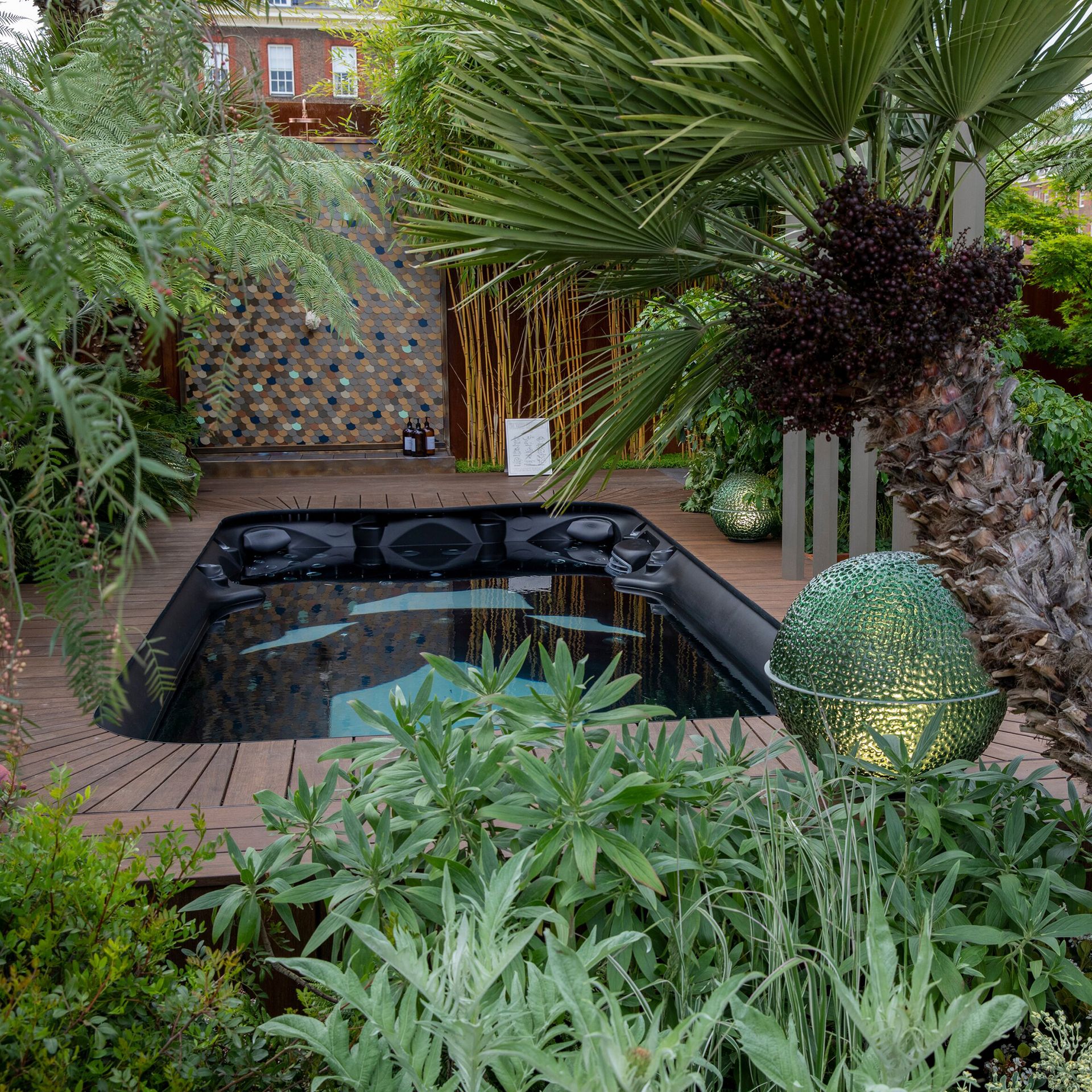 When you're planning your sensory garden look for easy garden ideas that will help everything hang together. Whilst it's good to have specific elements dedicated to stimulating and enhancing each sense, consider too the overall palette of the garden. It should, ideally, be calm and soothing.
In Kate Gould's RHS Chelsea garden, 'Out of the Shadows' for example, she worked off a palette of natural deep browns, for the decking around the swim spa and silvery grey for the gravel and paving hard landscaping.
With a larger garden, you might like to take professional advice on this and find out how much does a garden designer cost to bring your vision to life.
What should a sensory garden include?
'The prime purpose of a sensory garden is to elicit feelings,' says garden designer Kate Gould. 'Ideally you want to create a sense of safety and seclusion since those feelings are the ones that will make you want to linger.'
Most sensory gardens are designed to be as relaxing and healing as possible, with lots of fragrance, gentle sounds and calming vibes, but not all. Some sensory gardens are made especially to stimulate children. These will have interesting play aspects such as mud kitchens and safe 'mirror ponds', which are very shallow bowls of water sunk into the ground, or raised ponds on wooden legs, to reflect the sky and nature all around.
Other kinds of sensory gardens are created to support and stimulate older and vulnerable people; these sensory gardens may have generous pots of bright marigolds and striped petunias to appeal to those with limited vision, or raised vegetable beds with easy access for the mobility-impaired.
What do you hear in a sensory garden?
Silence, if that's the quality you would like most of all. However, most sensory gardens will feature a carefully-chosen auditory element – and often, that is water.
'Water creates both visual and audible appeal and combined with plants that rustle can help create a great atmosphere, especially in towns and cities where it can help baffle out the sounds of close neighbours, car horns and so on,' says Kate Gould. 'Plants and water attract wildlife, so birdsong is another element that adds to a sensory factor in a garden.'
Why are sensory gardens beneficial?
Sensory gardens are beneficial because they connect us closely with nature by focusing on our senses - so they are designed carefully to attune themselves to how we experience everything we see, hear, smell, touch and feel in the garden.
'This is more important than ever in a post-Covid world,' says garden designer Kate Gould. 'We are all appreciating our outside spaces and those that make us feel happy and safe mean that our mental health is catered for.'
And the way to unlock the key to good mental health is through our senses; put simply, this is how a sensory garden works.
Get the Ideal Home Newsletter
Sign up to our newsletter for style and decor inspiration, house makeovers, project advice and more.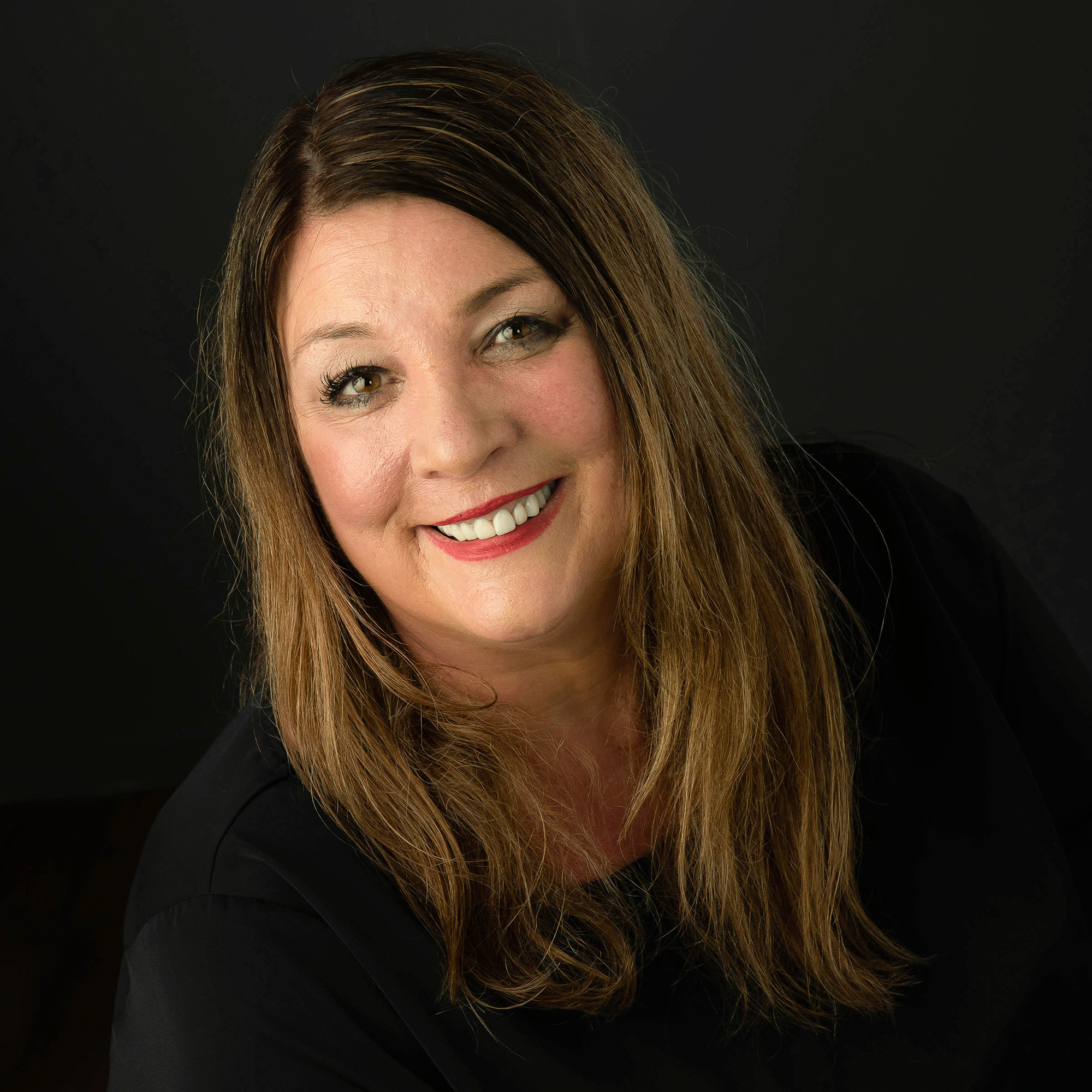 Jayne Dowle is an award-winning freelance gardening, homes and property writer who writes about everything from swimming ponds to skyscraper apartments, for publications including Sunday Times Home, Times Bricks & Mortar, Grand Designs, House Beautiful and The Spectator. Awarded the Garden Journalist of the Year accolade at the Property Press Awards in 2021, she has a degree in English Language and Literature from the University of Oxford and a lifelong love of homes, interiors and gardens.