Greenhouse ideas – 16 inspiring and unusual ways to use your garden glass house
Who says greenhouses are just for growing? These greenhouse ideas see this practical area transformed into the heart of alfresco living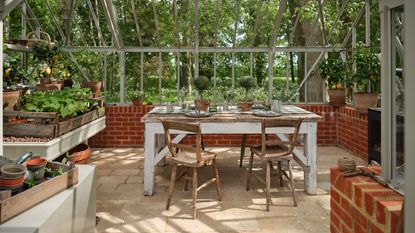 (Image credit: Ca'Pietra/Lydia Millen)
With so many greenhouse ideas on offer, this humble workhorse presents an under-explored opportunity in the garden. For the most part, the greenhouse serves as the perfect place to expand your horticultural efforts, however, its potential doesn't stop there.
Far from just a place to grow plants, a greenhouse can be a dual-purpose space that can be used both for growing your own food and also as a garden room where you can relax amongst the foliage and enjoy some 'me time'. However, when choosing a greenhouse, it is important to have this dual focus in mind.
To help you make the right choice, we've rounded up our favourite greenhouse ideas to inspire you.
Greenhouse ideas
When exploring new greenhouse ideas, take great care over the design you choose. 'It's important to consider how the structure will fit into your wider garden landscaping,' advises Tom Barry, CEO at Hartley Botanic. 'Regardless of its use, your greenhouse needs to find a natural place within your existing garden, rather than dominate it.'
This advice stands, regardless of how you are utilising your greenhouse, and irrespective of whether you are trying your hand at DIY Greenhouse ideas or are purchasing a ready-made design.
1. Go traditional and grow vegetables
In today's climate, we are much more aware of sustainability and the provenance of our food. The ever-popular trend for learning how to grow your own vegetables means that greenhouses are still playing such a huge importance in our gardens for growing produce.
Research carried out by Hartley Botanic says that 95 per cent of their customers still use their greenhouses solely to grow their own produce – most of them citing that they do so because they want to eat better.
Growing your own ensures the knowledge that your food is totally organic, and many say that the taste of homegrown produce is 'superior to supermarket equivalents'. Furthermore, after the initial outlay, growing your own can be a much more affordable way of getting high-quality food on the table.
If you've never tried growing your own before, then learning how to grow tomatoes in pots is a great starting point and can be incorporated into lots of different greenhouse ideas.
2. Make the most of the height with shelving
The size of your greenhouse will be limited by the footprint available, however, there are many greenhouse ideas that will enable you to maximise the room inside. One of the best ways is to add shelving to make the most of the height.
Opt for trailing fruit and vegetables that will grow downwards – these plants also grow well in hanging baskets that can be hung from the ceiling. If you've never grown anything vertically before then learn how to plant a hanging basket to give your plants the best start in life.
3. Add electricity for light and heating
Run an electrical supply into your greenhouse structure to make your life easier and your greenhouse more efficient.
While it's not essential to have a power supply, it does serve to aid the growing process and also extend the time you can spend in your greenhouse by improving visibility during the darker months – furthering your gardening potential for all seasons and at all times of day or night.
Once you've set up electric outlets in your greenhouse, you can add one of the best patio heaters to warm up the space – helping to delay the effects of frost by several weeks.
4. Or embrace sustainable solar lights
For something a little bit different, think about garden lighting ideas. If you don't want the expense and hassle of running power to your greenhouse consider alternative lighting options instead.
During dull weather, add lanterns to create a cosy ambience to counteract the grey or take inspiration from patio lighting and dress your greenhouse ideas with pretty solar-powered festoon lighting – like this Lezonic design from Amazon.
5. Create shade with decorative window film
Everyone knows that garden shade ideas are a key part of designing an outdoor space, but did you know that they are also a vital part of greenhouse ideas?
Shade is essential in a greenhouse – helping to prevent the space from overheating. Often fleece or binbags are used to create shade, however, they aren't the most aesthetic choice.
Instead, why not opt for window film like this Flutterby Design from PurlFrost. Creating the appearance of stained glass, it brings beautiful colour and texture to both inside and out, while also providing valuable shade.
6. Create an idyllic dining area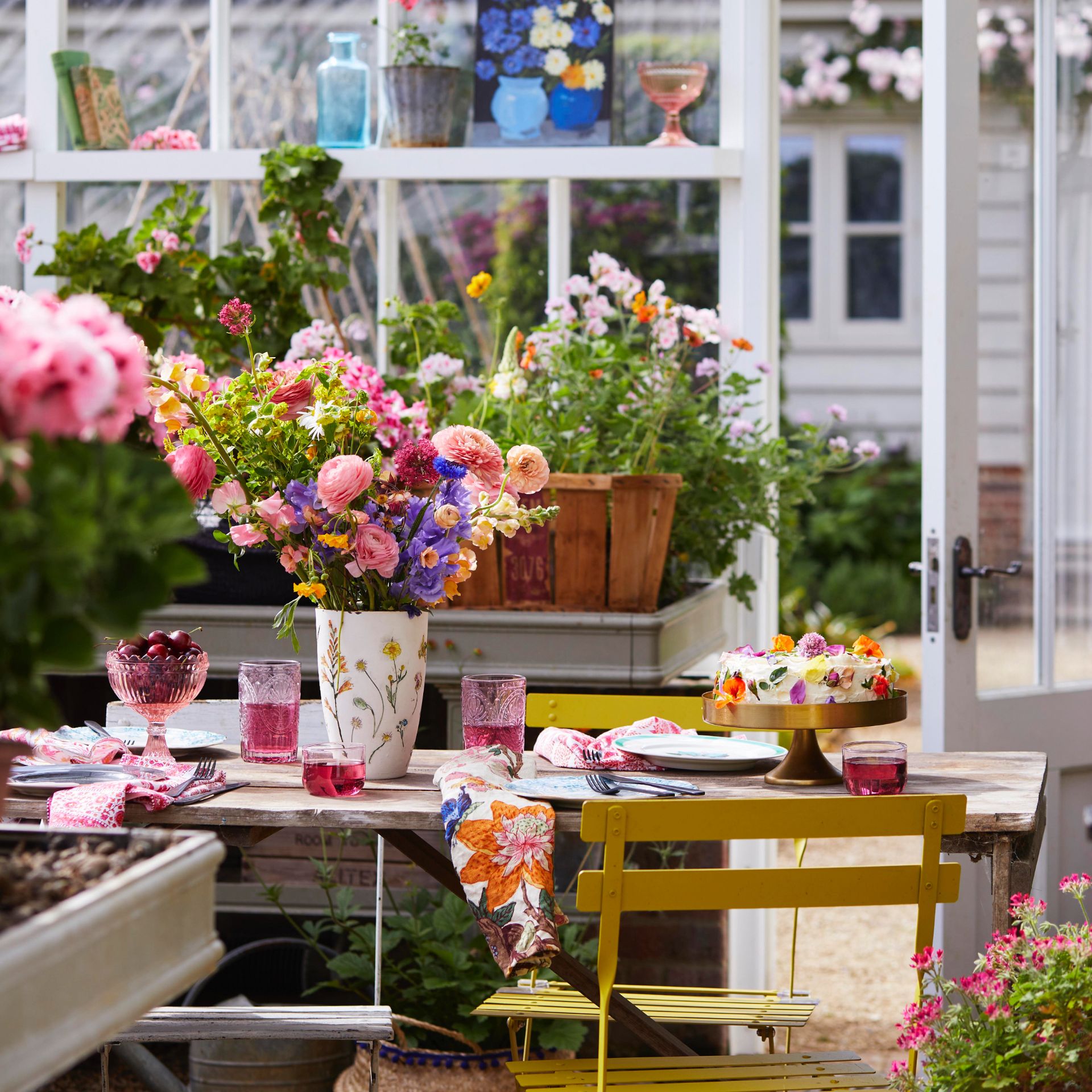 We all love alfresco dining, but you just can't rely on the Great British weather. In recent years there has been a growing trend in transforming your greenhouse ideas into a relaxed dining room that is able to provide that 'outside' feel while offering protection from downpours.
Not only do they offer shelter, but greenhouses are also notoriously warm, making them ideal spots once the sun has set and the mercury has dropped. A well-dressed space, complete with lots of lighting, can extend the length of time spent outdoors, meaning external factors will no longer put a dampener on summer soirees.
It's not just for summer either, with a dining area in your greenhouse there is the potential to use your garden for entertaining almost all year round.
7. Create houseplant heaven
If you're anything like us, your houseplant obsession will have covered nearly every surface in your home. Instead of having to curb your houseplant ideas, why not create a botanic oasis in your garden by transforming your greenhouse ideas into a houseplant haven?
Providing perfect growing conditions, your botanical babies will be able to thrive and you'll no longer have to confine their growth based on your available space – giant cacti, anyone?
Simply add a chair and it'll be the perfect place to wind down after a busy day.
8. Refresh a wooden greenhouse with a lick of paint
If your wooden greenhouse is looking a little worse for wear, don't give up on it just yet. Sometimes a lick of paint is all it needs to help revive it, and the good news is it's very similar to the method for how to paint a shed.
'Preparation is key when it comes to the perfect finish, so before you consider painting, sand off any rough patches or loose old coatings that will show or affect the finish,' advises Caroline Thornborough, creative director at Thorndown.
'Apply a knotting agent or stain-blocking primer to prevent possible tannin staining of the paint coating. However, if you're a fan of all things natural, don't worry about it and let nature take its course.'
A fairly straightforward project, painting an old greenhouse is a great way to refresh your garden for spring.
9. Organise your workspace
Organisation is essential if you want your greenhouse to feel relaxed. Whether you are using it solely for growing or are using your greenhouse ideas as a multifunctional space – garden tool storage and a potting area are a must.
A design with a fitted soil tray will help keep the floor soil-free while pot storage will keep the greenhouse feeling relaxing.
Combine pretty with practical by storing colourful seed packets on an open stand and keeping beautiful vintage gardening books on show.
10. Create a pretty living space
A greenhouse provides the perfect place to enjoy the fruits of your labour – simply add garden seating ideas and sit back and relax. The 'indoors out' garden trend is one that shows no sign of fading anytime soon.
'Approach your greenhouse ideas as you would a home extension,' suggests stylist Selina Lake, who designed this space for Alitex. 'Add a bench covered with a picnic mattress and a pile of cushions to use as a daybed. It's somewhere to relax, read and dream.'
'Adding textiles will instantly soften the space and make it feel welcoming, just be aware textiles will fade in the sun. For a makeshift side table use a sturdy unturned crate.'
Creating an outdoor living space in your greenhouse is particularly beneficial if you have a north-facing garden, which is often colder and less well-suited to alfresco relaxation.
11. Choose a pretty yet practical flooring
Flooring is a key consideration in any part of the home, but if you're hoping to give your greenhouse a lifestyle edge, then your choice of flooring can make a huge difference.
'While a greenhouse might be covered, it's essential that you see this space as an extension of your outdoor area. This means picking a patio paving that is suited to the great outdoors. While you might love a stone or tile, check the suitability because you don't want to choose something that isn't suitable for the damp or frost (particularly in England),' explains Grazzie Wilson, Head of Creative at Ca'Pietra.
'Once you've made your decision on the material, make sure you consider the maintenance, if it's a natural stone that you're going for, you will need to seal it. This will ensure that it can take muddy footprints from wellies and excess water caused by watering your plants and won't damage the material.'
12. Use your greenhouse to dry flowers
The greenhouse provides the perfect place to dry all manner of herbs and flowers. Forget hanging them in the airing cupboard or in the kitchen, the greenhouse is the ideal warm space.
Air drying flowers is surprisingly easy. Remove any excess foliage and tie stems together, then hang them upside down from the rafters of your greenhouse. Leave for up to three weeks to completely dry out.
13. Create decorative displays
Treat your greenhouse as you would an interior space – opt for storage solutions that are beautiful as well as practical and display blooms in vases and vessels to bring colour and character. Secondhand purchases are a really affordable way to create a space brimming with personality.
14. Transform your greenhouse in a yoga studio
We all know that both yoga and nature are great for our mental health, so why not combine the two by creating an idyllic yoga studio in your greenhouse? This beautiful design by Hartley Botanic has been paired with pale wooden flooring and delicate drapes to create a zen environment.
'There is something really special about practising yoga outside and dedicating a space to your practice, away from your everyday interior environment and habitual tasks,' explains Juliet Murrell, yoga expert and founder of the House of VOGA. 'I regularly use my garden as a space to practice yoga in the summer – however, a yoga studio in your greenhouse would let you maximise that feeling of freedom you experience from outdoor practice without the constraints of the weather.'
While this design is a stunning example, all you need to do to transform your greenhouse ideas into a zen, yoga studio is to leave the centre of the room clear for a yoga mat. The surrounding plants will add further tranquil and soothing vibes, ideal for a calmer meditation space.
15. Create an inspiring garden art studio
Filled with flowers and life, the greenhouse is the perfect place to house your easel and paints. While the humid atmosphere may prove challenging throughout the height of summer, for most of the year your greenhouse can more than double as a cute artists studio.
Not only can you draw on the beauty of the natural world but since it's away from the main house, it doesn't matter as much if you get the odd bit of paint on the floor.
16. Opt for a freestanding greenhouse if you're short of space
You don't need a big garden to experience the perks of these greenhouse ideas. With the right greenhouse design, you can embrace all the benefits as part of your small garden ideas too. For a tiny plot consider investing in a smaller version like the one above. The three shelves offer plenty of space to nurture seedlings or smaller products such as cherry tomatoes or salad leaves.
Opting for a small greenhouse cabinet on wheels is a good idea. That way you can move your plants around to make sure they get the maximum sunlight to help them thrive.
FAQs
What can I put in a greenhouse?
If you dream of being more sustainable and growing your own food, having a greenhouse in your garden can make this an everyday reality.
'You can grow a wide range of fruits and vegetables, which can be split into cold and warm season crops,' says Richard Baggaley, director at The Greenhouse People. 'Cold season crops like lettuce, broccoli, peas and carrots can be grown earlier and later in the season than possible outside. Warm season crops like tomatoes, peppers, chillies and cucumbers will thrive in a greenhouse during the unpredictable British summers.'
Don't forget your ornamental plants, too. 'Geraniums, chrysanthemums and petunias, though able to grow outdoors in Britain, will flourish in a greenhouse, giving you an endless supply of fresh flowers for your vases,' says Richard.
In the peak of the summer, you will also be able to grow tropical plants like orchids, cacti and Venus flytraps.
Can you use a greenhouse as a room?
Yes, you can use a greenhouse as a room. Rather than dressing it as a practical space designed for growing plants, instead design the area with a more lifestyle edge. Dress the floor with an outdoors rug to zone the space, then opt for a cosy armchair and side table to create a space to relax, or install a dining table and seating for a beautiful and atmospheric alfresco area.
Can you use a greenhouse as a sitting area?
Yes, you can use a greenhouse as a sitting area. Embrace the warmth and shelter of the greenhouse by adding a cosy bench and chairs to create a welcoming sitting area.
Get the Ideal Home Newsletter
Sign up to our newsletter for style and decor inspiration, house makeovers, project advice and more.
Tamara was Ideal Home's Digital Editor before joining the Woman & Home team in 2022. She has spent the last 15 years working with the style teams at Country Homes & Interiors and Ideal Home, both now at Future PLC. It's with these award wining interiors teams that she's honed her skills and passion for shopping, styling and writing. Tamara is always ahead of the curve when it comes to interiors trends – and is great at seeking out designer dupes on the high street.