14 street party ideas to celebrate the Coronation next weekend in style
From bunting to bake offs, it's time to get patriotic and throw a Coronation party to remember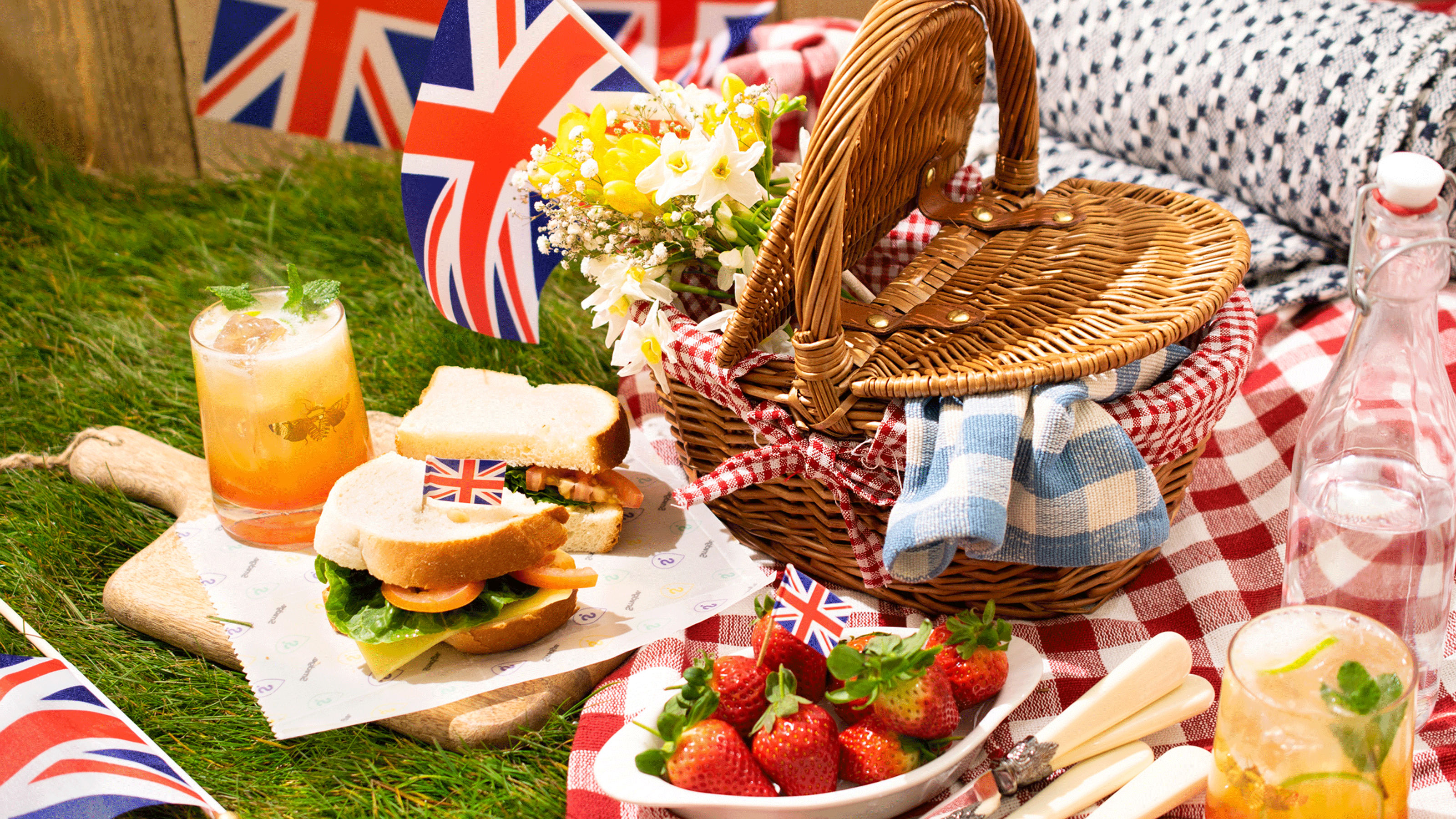 (Image credit: Wayfair)
If you held a roaringly successful street party over the Platinum Jubilee weekend last year, you may have been itching to plan your next one ever since the date for the King's Coronation was announced. And with just over a week to go before the big day, now is the time to freshen up on your street party ideas so you can have a celebration to remember.
A street party is the best way to honour any patriotic occasion, as they provide a somewhat rare opportunity for all the neighbours to get together, share a drink, and have a laugh. Just like garden party ideas, the best street party ideas will make sure everyone is having a good time.
'Just because you are hosting your party outside, doesn't mean you need to scrimp on the party decorations,' says Jess Martin, Party Planning and Decoration Expert, Ginger Ray. 'With a few simple adaptations, you can create a street party with a wow-factor without spending a fortune.'
So that you can mark this special occasion in style, we've rounded up the best street party ideas for the ultimate Coronation celebration. Good planning and plenty of prep is the key to hosting a great party, but it's also going to mean you can relax on the day and enjoy the party yourself.
Street party ideas for the King's Coronation
So get ready to celebrate all things British and honour His Majesty the King the best way you can. Our guide has 14 brilliant street party ideas you can emulate on the bank holiday weekend, but first, there's a couple of admin bits to take care of. After that you can get cracking with the ultimate Coronation street party!
Get prepped for your street party
Hopefully by now, you've already got permission from your local council for your Coronation street party. This should be done 4-12 weeks ahead of the event, as the council need to give the go ahead before you close down any roads. You can find out more at YouGov.
'If you're going all out with your street party, you may need a licence from your local authority relating to food and alcohol, music and any raffles and tombolas you would like to host,' say insurance experts Protectivity. They also advise considering insurance if you're planning a big event.
If you have missed the council deadline, live on a busy road or want to hold a smaller event, there's also the option to keep your road open and have a 'Street Meet', on a driveway, front garden or at the end of a cul-de-sac. Check out Street Party for more information.
Get an idea of numbers
Before you get started with planning your street party ideas, you'll need at the very least a rough idea of numbers. Post paper invites through letterboxes, or better yet, start knocking on doors and tell your neighbours in person. Don't be afraid to ask everyone to chip in as well; in a recent survey by Ocado, a huge 83% of Brits said they'd be willing to chip into the cost of a street party, with the average contribution coming in at £9.20 per person. That will certainly take the pressure of your wallet!
'Share the workload with all your neighbours, so that it's a community effort and the stress levels get reduced,' suggest the experts at thortful.
1. Organise a table plan
Plenty of tables and garden seating ideas are a must-have for coronation street party ideas. Get together with neighbours to organise who might have tables available, perhaps garden tables that can be brought out front with folding chairs that won't take too much effort to set up. Find out if there are any long trestle-style tables available that could be borrowed, perhaps from a local school or community hall.
Organise table cloths and linens to brighten up tables and add some celebratory colour. Opt for plain red, white or blue cloths as a simple cover-up, which can then be jazzed up with fancier tableware and party decorations. Or consider disposable paper tablecloths which are inexpensive and make cleaning up afterwards easier.
Coronation Mega Party Bundle
This Mega Party Bundle from Ryman has everything you need for your coronation street party. Adorn the tables with paper cups, bowls, plates, flags, cupcake cases, straws and balloons, all in the Union Jack colours. There's even face paint to keep the kids entertained.
King Charles III Table Cover
This King's Coronation Tablecloth is both classic and patriotic, and will layer well underneath Union Jack accessories. The dimensions are 180L x 137W centimetres, and it's made from PVC for a hassle-free clean up afterwards.
2. Put on a good spread
When it comes to food and drink, easy-to-prepare dishes are best, with a few classics thrown in to add a patriotic flavour, such as Coronation chicken sandwiches, scones and strawberry jam or Victoria sponge cakes.
'Asking people on your street to bring a dish not only shares the responsibility, so less pressure, it also means you'll have a variety of tasty treats to try,' say the experts at Talking Tables. 'Plus, it's a surefire way to make sure everyone has something they like to eat. A nice idea is to ask everyone to attach a label to their dish stating the ingredients, so those with food intolerances know what they can/can't consume.'
For street party ideas with large numbers of people, it can be helpful to have some quick and easy food options on hand as well. You don't want to be sat there with rumbling tummies if all the guests fail to turn up with anything! Check out the party food at supermarkets, such as Iceland's bespoke coronation range, where you can get 3 for £5 mix and match on party food.
Stoneware Fluted Quiche Dish
A quiche is the perfect royal addition to your street party if you fancy trying out the coronation quiche recipe. And why not serve yours in this beautiful fluted quiche dish from CookServeEnjoy, with a blue rim that will tie in perfectly with your coronation party colour scheme.
Decorations and Serveware Pack
To serve your food in, why not stick to the red white and blue colour scheme with this matching serveware set, including an afternoon tea stand, plate, platter, and some bunting to boot. The platter and plate are plastic, so need to worry about them breaking, but unlike paper option they're reusable.
3. Make your own bunting
No street party is complete without lashings of bunting. Whether red, white and blue or Union Jack style banners, hang lengths of bunting between houses or running diagonally across the street strung from lamp posts to add patriotic colour.
And go all-out when it comes to decorating your house and front garden for the celebrations. Deck out window boxes and planters with cheery blooms in red, white and blue (or opt for purple at a push), hang flags at windows and on gates and consider decking out your front door with a garland of greenery or brightly-coloured blooms. Add some King Charles III Coronation Emblem Stickers, £12 at Snow Windows, to your windows for a simple touch.
If you've plenty of time pre-party, why not make your own inexpensive fabric or paper bunting to deck the street. From tassel bunting to Union Jacks, follow a how to make bunting guide to show you exactly what to do and what supplies you'll need.
Do It Yourself Bunting Kit
This Do It Yourself Bunting Kit allows you to create a fun piece of bunting for your coronation street party. It's super affordable, and also easy to do, so you won't be embarrassed to hang up the finished result and tell all your neighbours you made it yourself!
These bunting flags from Baker Ross provide a blank canvas for you to creative. Paint the Union Jack over some then mix with the England flag on others for a bit of visual variety. If you're feeling extra creative, why not paint some iconic British features on there, like the red bus or maybe even the King himself?
Blue, Red and White Paints
Royal Blue, Bright Red & White Classic, these paint pots are perfect for creating your own bunting for your Coronation street party. They can be used on flags and faces, so when you've finished making your bunting, save them for the party so the kids - and adults - can have the flag on their faces too.
4. Have a bake-off
Get in the party spirit by organising a street bake-off competition. Neighbours can take part and bake a celebratory cake or classic dish, with residents then voting on the winner. It will make a fun way of finishing off the proceedings and then the bakes can be enjoyed with a cup of tea at the end of the day. A mini bake-off for children is another option that makes a fun idea for younger residents.
Go the extra mile and use British grown ingredients in your baking, like the Ginger & Juice Raspberry and Rose Jam, £4.80 at Ginger & Juice, which would be a lovely addition to a Victoria Sponge cake. If you're making cupcakes, finish with some Union Jake Cake toppers to tie in with the Coronation theme.
If baking really isn't your thing, you can still put out a showstopper with some coronation-themed goods. Why not display some melt-in-your-mouth Krispy Kreme Coronation Doughnuts, which include King's Trifle, Berry Bakewell, and Lemon Shortbread flavours? These mouth-watering delicacies will be difficult to resist.
Coronation Cupcake Toppers
To make your baking simple but special, you can just make some cupcakes and decorate them with these edible wafer toppers, so that they're appropriate for your coronation street party. They'll instantly elevate the look of your cakes, and bring a touch of royalty to the table.
Hayman's Limited Edition Gin
Gin can be used for more than just a tipple - this alcoholic drink is many bakers' favourite ingredient to add to cakes for an extra zing! Why not add a splash of some Hayman's of London Dry Gin to your baking? Available to buy at Waitrose, if you shop in store you'll be able to purchase it in a gorgeous Limited Edition design especially for the Coronation.
Present your cupcakes in style with these Union Jack cupcake cases. Using these means you can keep the buns simple, and you won't need to bother with other Coronation related decorating. The cupcake cases will provide all the patriotism for you, and they'll look great on the table.
5. Prepare for guests
'While it's not uncommon to advise party guests to bring their own alcohol, a good host should still have some food and drink available,' say the experts at Pink Boutique. 'In advance of the big day, hit up your local supermarket for some beers, wine, soft drinks, BBQ food, and a few 'picky bits'.'
If space allows, put a trestle-style table out dedicated just for nibbles, from sausage rolls and pork pies, to cupcakes and sweets. Try to include some vegan-friendly alternatives, like the PLAYIn CHOC Vegan Chocolate, £5.42 at Amazon. Throw some crisps into bowls so everyone has something to graze on; Tyrrell's Coronation Chicken Flavour English Crisps, £2.50 at Tesco, are definitely fitting.
Then turn your attention to your garden bar idea to get it stocked and ready to go for the festivities. Celebrate in style with a bottle of Luc Belaire Luxe Sparkling Wine, £24.98 at Amazon, or opt for pre-made cocktail cons, like Shake Baby Shake's Strawberry Daquiri, 12 for £24 at Amazon. Keep it simple for the kids with bottle of pops and cordial, served in paper cups.
Belvoir Farm Sparkling Elderflower
A nice non-alcoholic drink option is a must-have for any street party, and this limited edition sparkling elderflower drink from Belvoir Farm almost looks like it should be part of the decor. With bunting, the crown, soldiers, and even 'happy & glorious' written across the neck, it's as patriotic a drink as you can find.
Coronation Party Starter Pack
Premium tonic and mixers brand Double Dutch have launched a Coronation Party Starter Pack ahead of the special weekend, including 1 case Cucumber & Watermelon mixer and 1 case Double Dutch Pomegranate & Basil mixer. The bottles look beautiful, and there's a matching cushion and bottle opener.
Sandford Orchards Coronation Cider
This Limited Edition Coronation Devon Red Cider is a fabulous cider created from apples grown and pressed in Devon by Sandford Orchards. It's a celebration of all things British and its bold union jack branding make it a fun addition to any Coronation celebrations.
6. Unite with bunting
'Embrace the party vibe and decorate with union jack flags and hang bunting between the houses or crisscrossed over the road to unite the street and bring colour to the party,' say the experts at thortful.
Nothing says street party ideas like bunting, especially flags in Union Jack colours. Hanging bunting between the houses on your street will create sense of solidarity and patriotism, and really get you in the mood for the Coronation. In many parts of the country, the bunting is already in place to make the streets feel alive with colour.
Union Jack Fabric Bunting
Who doesn't love overly patriotic street party ideas? These Union Jack bunting flags from Ryman are affordable, and can easily be hung across the street. They'll let everyone know that the street party is happening and encourage them to join in!
Coronation Hand Waving Flags
These hand waving flags are a great alternative if hanging bunting on the street feels like a hassle. Put them on the tables and allocate one to each place, then all the neighbours can use them to grab each other's attention and wave from the other side of the gathering.