This renter discovered a genius hack to give her home a bold, but reversible makeover
Tired of bland walls and boring fittings, this tenant got creative with colourful, easily reversible makeovers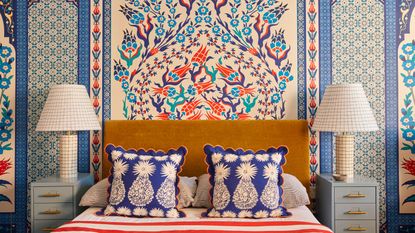 (Image credit: Future PLC / Kasia Fiszer)
Just because you are renting a house, it doesn't mean that you can't let your imagination fly when it comes to making it feel like home.
Though you may be faced with the blank walls, basic light fittings and boring bathrooms that come as standard in a rental, there are ways that you can put your own stamp it – and still be able to return it back to how it originally looked when it comes time to move out.
The tenant of this four-bedroom detached in Windsor, who lives here with her husband and three children, has worked creative wonders with removable wallpaper and clever, inexpensive decorating hacks that be quickly undone. The results are unique and vibrantly coloured spaces that pop with personality – and didn't cost a fortune to do.
Thanks to her husband's former job as a pilot, it meant the family moved around a lot, living in various rented homes for the past 20 years. 'I've always been cautious about making changes,' she admits. 'But our current landlord knew we were taking good care of this property and was comfortable with us making cosmetic updates.'
She earned her design and decorating stripes in the downstairs cloakroom, where she painted the walls and used removable wall stickers to change the look. 'It's the smallest room in the house, but it made a big difference to me,' she explains. 'We've lived in characterless, rented accommodation for so long, it felt good to finally start brightening our home.'
A few months later, as the pandemic hit, the family's living space was to become even more important. 'Like everyone else, we were stuck at home and I couldn't bear the magnolia walls any longer,' she recalls. Inspired by an image she'd seen on Pinterest, she created a striking mural in the family bathroom – all done on a sheet of removable self-adhesive blackboard vinyl that covered the original beige tiles.
Knowing she could personalise the house without permanently making her mark on it, she was ready to take on some of the larger spaces. 'I couldn't wait to bring more colour and pattern into our lives.'
She discovered an ingenious decorating hack along the way: 'I wanted to use wallpaper but you can't as a renter, so I used clear self-adhesive plastic – the sort you cover books with – as a barrier to protect the wall. You apply the plastic to the wall first, smoothing it out. Then, using the right paste for your wallpaper, apply the wall covering on top. I did a patch test first, leaving it for a few weeks to make sure it was OK and could be removed without damage – which is important when you're renting.

'When it's time to move on, you simply use a warm hair dryer on the wallpapered surface and the glue in the sticky back plastic softens and peels away from the wall, along with its top layer of wallpaper.'
The bright ideas for temporary makeovers didn't stop there. Her teenage son's room doubles as a guest room, so the look had to be right for both uses. 'I always start a scheme with one statement piece,' she says. 'Either making it myself, like the headboard, or saving up to buy something special to bring the room to life.'
By the time she'd settled on a theme for the main bedroom, she had a host of creative and reversible techniques at her fingertips. Her East-meets-West fusion style features Eastern-inspired wallpaper (over plastic film), a workspace with a fun masking tape pattern, and a gallery wall of lightweight frames fixed with no-damage sticky strips.
Lightweight frames are also used for the living room galleries, which have evolved with the family and include quirky finds and personal mementoes.
For all her inspired transformations, there are two parts of the home that have her temporarily stuck. 'The dining area niggles a bit,' she admits. 'I love the statement light, but I'm looking for the perfect table to create a better balance in the room. I've got my eye on charity shops and Ebay – I just have to be patient.'
The kitchen is another stumbling block. 'We all love to cook, so it's well used,' she says. 'I'm still weighing up how best to give it a renter-friendly facelift.'
Whatever decision she reaches, it's bound to be colourful, ingenious, and reversible.
Get the Ideal Home Newsletter
Sign up to our newsletter for style and decor inspiration, house makeovers, project advice and more.