How to organise a cleaning cupboard - 10 space-savvy tricks to keep supplies in order
Wave goodbye to cleaning cupboard chaos with our top tips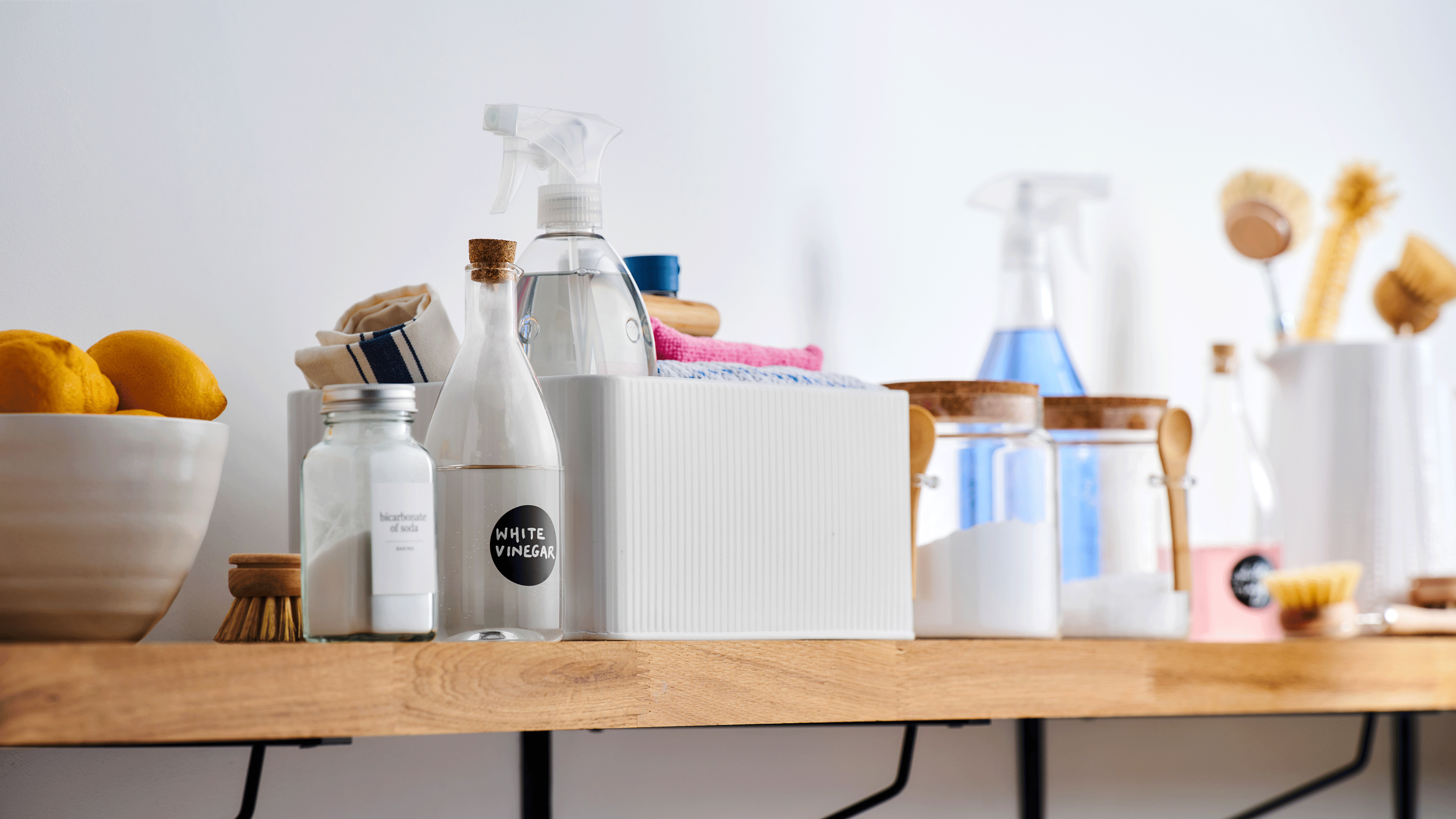 (Image credit: Future PLC / Phil Barker)
If your cleaning cupboard is currently a messy disarray of products that spill onto the floor every time you venture in there, you're not alone. Fortunately, you can transform the clutter into calm by learning how to organise a cleaning cupboard.
Whether it's under the sink, or you've made space for a dedicated supply cupboard in your utility room ideas, it's still easy to neglect our cleaning cupboard and throw our supplies in there at random after each use. However, this sort of chaos doesn't help our chores run smoothly and risks us forgetting about products and replacing them unnecessarily. But with a good declutter and some space-savvy storage solutions, it's easy to learn how to organise a cleaning cupboard.
'Humans have a tendency to find the easiest path to follow, so if there are more than two stages to a process, that can be a big enough deterrent to even starting the task in hand,' says Katherine Blackler, Professional Organizer, SortMySpace Ltd. 'So if, like many of us, you're not an avid cleaning fan or it feels like a tedious chore, it's worth spending a bit of time organising your supplies.'
So that your cleaning jobs can run that bit easier, we've asked the experts to share their top tricks and tips on how to organise a cleaning cupboard. Our guide has 10 space-savvy solutions that will banish the chaos and let calm reign.
How to organise a cleaning cupboard
Like learning how to organise under sink, taking the time to sort through your cleaning cabinet is something you'll thank yourself for next time you go in there. Here are all the ways you can learn how to organise a cleaning cupboard.
1. Declutter expired products
A good declutter is the first step to learning how to organise a cleaning cupboard. You're not alone if you're guilty of hoarding the best cleaning products, and if your cupboard is currently stacked full to the brim, you need to pull everything out and get rid of products that have reached their expiry.
Bottles that were opened years ago will no longer be any good, and it's worth checking the expiry date on unused bottles too. As frustrating as throwing away full bottles of products is, it can be a lesson for your future self to only buy a new bottle when your current one is nearly empty.
2. Use a caddy for your most-used items
'Have a cleaning caddy (with a handle) to easily store the cleaning products you need to take around the house on a regular basis', says Katherine. 'This then just slots back in under the sink when chores are done.'
Keeping your regularly used items in a cleaning caddy will mean you aren't rummaging around your cupboard every time you need to wipe down the surfaces. You'll also be able to keep track of your most reached for items, which will stop you filling your cleaning cupboard with heaps of unnecessary products. Keep your cleaning caddy at the front of your cupboard, and other supplies towards the back.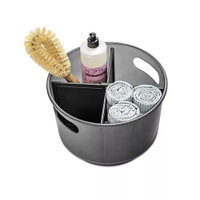 Madesmart Soft Grip Divided Tote - £24.99 at Lakeland
This space-savvy storage basket from Lakeland is divided into four sections, so you can keep your cleaning supplies organised and see what it's in there at a glance. The dividers are removable if you want to use the caddy for bigger items, and the two handles make it easy for you to carry around while cleaning.
3. Keep larger items at the back
Like knowing how to organise a junk drawer, organising your cleaning cupboard means creating a system where you can easily see all the contents inside. Placing larger items at the back, and smaller items at the front means you won't have to move things to the side when you're looking for something specific.
Group smaller items like spare cloths and bin bags together in storage baskets, like these 4L Storage Baskets, 4 for £11 at Amazon. This will stop items rolling around and cascading into chaos.
4. Create makeshift drawers
'If you can, use long boxes and place from front to back so they become makeshift drawers, allowing you to easily reach the bottles at the back of the cupboard,' Katherine suggests.
Reaching to the back of the cupboard for larger items can be a pain, and we may be tempted to put the products back in at the front after we've used them. Stacking products into long boxes means you can easily access the items at the back of the cupboard when you need to.
Opt for long, thin storage boxes with handles so you can pull them out like you would a drawer, or use drawer dividers if using wider containers, to stop items falling around.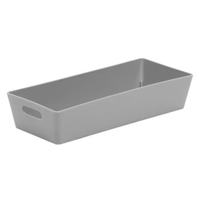 Wham Studio Plastic Storage Basket 2.01, £2 at Dunelm
These budget-friendly storage trays from Dunelm are ideal for storing your cleaning products, because you can pull the tray out using the handle to easily access bottles at the back. Choose from grey, pink or white, and add a couple to your cleaning cupboard to tidy up all your supplies.
5. Switch to transparent storage
If you want a cleaning cupboard that is not only functional and efficient, but also aesthetically pleasing enough to show off on your Instagram, transfer all your cleaning products and supplies into transparent storage. Clear glass jars, like this Home Made Glass Preserving Jar, £4.29 at CookServeEnjoy, are perfect for storing dishwasher tablets, laundry boosters, and fabric conditioner. You could also invest in reusable spray bottles - black glass is a popular choice - and transfer your disinfectants into these.
Using transparent storage for your cleaning products creates a more cohesive look for your cupboard than branded packaging ever could. Opening your cupboard door and being met with a chaotic array of different types of bottles and boxes can feel overwhelming, which is a key thing to avoid when learning how to organise a cleaning cupboard.
6. Fix a tension rod under the sink
If you're working with small kitchen storage ideas, investing in a tension rod for your cleaning cupboard will make use of every inch of space. Tension rods are ideal for under sink cupboards as they allow you to fill the awkward gaps either side of the sink, utilising otherwise wasted space. Fix the rod below the sink and hang your cleaning bottles on it so you can easily grab them as and when you need.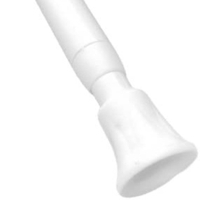 White Spring Loaded Tension Rod 40-60cm, £7.39 at Amazon
Perfect for under sink cleaning cupboards, this affordable tension rod from Amazon is ideal for hanging your bottled cleaning products. Twist and fit for easy installation, and you can purchase in chrome or brass if you prefer.
7. Store like with like
'Organise all of your cleaning products by putting them into groups based on their use, for example, kitchen cleaners, bathroom cleaners, upholstery stain removers, furniture polishes,' suggests Sarah Dempsey, Cleaning Expert, MyJobQuote. 'This will make everything much easier to find when you need it.'
Organise your cleaning cupboard in a way that makes doing the household chores easier. It doesn't make sense to separate different laundry supplies, or to find your oven cleaner in a completely different place to your scourer when you come to cleaning the oven. When you're finding a new place for everything, organise your items according to their shared purposes - you'll thank yourself later.
8. Make use of the cupboard door
Similar to organising kitchen cupboards, the door of your cleaning cupboard should be seen as extra storage space or it's an opportunity wasted. You can add holders for things like bin bags or carrier bags from the supermarket, an even throw in a hook or two for hanging cleaning supplies on.
'Add some stick on self-adhesive hooks to the inside of the cupboard,' cleaning expert Sarah says. 'Then, loop some string around the handles of your cleaning brushes and other items with handles. These items can then be hung on the door so they'll take up less space in the cupboard.'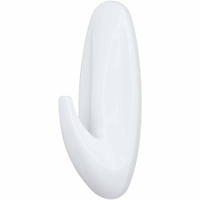 3M Command Designer Medium White Hook, Pack of 2, £3.98 at B&Q
A budget-friendly option for optimising storage space, Command hooks are self adhesive, but sturdy enough to hold your cleaning supplies. Buy a pack of two and stick them to the inside of your cupboard door, then use to hand your dustpan and brush, or spare washing up brushes.
9. Separate used and unused cloths
Cleaning cloths, sponges and scourers can mostly be used several times before they need to be binned, but it's important to keep used cloths away from clean ones. Store fresh sponges towards the back of the cupboard, ready to be used when you need them.
Any cloths that are currently being used need to be readily available, so keep them in your essential cleaning caddy. Remember, most dish cloths are machine washable at 40°C, so always put them through a wash cycle before you get rid of them.
10. Add adjustable shelving
'Adjustable shelving can fit in the gaps often found in a cleaning cupboard,' says professional organiser Katherine. 'Adding some in will allow a row of baskets or containers on the bottom shelf and some storage in the alcoves between pipework.'
Incorporating shelving ideas into your cleaning cupboard is a gamechanger, and will allow you to double up on storage space. If you hate rummaging for products that have got lost at the back of the cupboard, add in a two tier shelf unit so that you can keep all your supplies within easy reach at the front.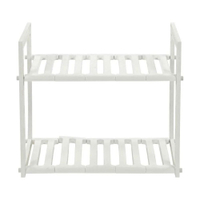 Two Tier Adjustable Shelf Rack, £19.99 at Wayfair
This under sink shelf unit is fully adjustable, so you can remove parts to allow sink pipes to fit in. You can double up on storage space in your cleaning cupboard and keep your essentials towards the front, instead of having to line everything up right to the back.
FAQs
How do I organise my cleaning cupboards?
Before you learn how to organise a cleaning cupboard, remove all the contents and give the inside of the cupboard a good clean. The finished result will look a lot better, and will encourage to create an orderly system that you stick to. Don't put back any products that you don't use - if they're still usable, give them to friends and family who might get more use from them.
'Next, group similar items together e.g. surface cleaners and wipes, as this will make it easier to find what you need when you need it,' says Paul Jacobs, CEO, Clever Closet. 'Consider using drawer dividers or pull-out shelves to keep small items organized and easy to access. And if you have limited space, consider using vertical space with stacking shelves or hanging storage.'
It makes sense to group similar items together, and you'll be able to keep track of where everything lives in your cleaning cupboard. It's important to store your most-used items together where you can easily access them, so you aren't constantly rummaging around the things you need.
'A portable caddy with a handle is a great investment when it comes to organising your cleaning cupboard,' says Sarah from MyJobQuote. 'Place the items you use regularly in your portable caddy. That way, you can easily take your products with you to each room.'
What should I have in my cleaning cupboard?
To keep your cleaning cupboard organised, try and keep the contents streamlined. Think about the items you actually use, or you can see yourself genuinely using at some point in the future. Anything else is taking up valuable space.
Cleaning expert Sarah provides the following list of items of what an ideal cleaning cupboard should have:
Dishwasher tablets / rinse aid / dishwasher salt
Antibacterial spray
Multipurpose cleaning spray
Bleach
Kitchen cleaner
Furniture polish
Window cleaner
Laundry detergent
Fabric softener
Stain remover
Bathroom cleaner
Dusters
Microfibre cloths
Rags
Dustpan and brush
Specialist cleaning products
Feather duster
Rubber gloves
Scouring sponges
Paper kitchen towels
Bin bags
Washing up liquid
White vinegar
This is a fairly extensive list, and covers pretty much all of your cleaning supplies. Once you've got your inventory in order, you can get cracking with how to organise a cleaning cupboard using the tips in our guide.
Get the Ideal Home Newsletter
Sign up to our newsletter for style and decor inspiration, house makeovers, project advice and more.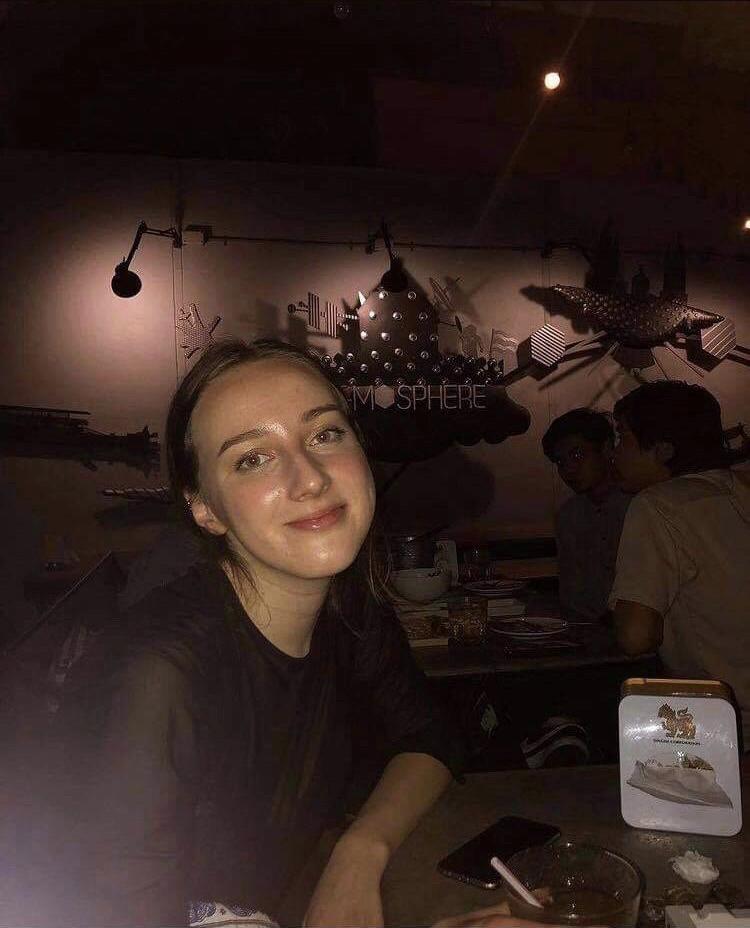 Katie Sims has been writing for Ideal Homes since spring 2022. She qualified from her Master's in Media and Journalism in 2021 and has been writing freelance since. She has worked on Ideal Home's ecommerce team where she researched the best home products on the market, and on the news team, researching the latest trends for feature pieces.