The small kitchen storage ideas to revamp your kitchen
These hard working small kitchen storage ideas will turn your space from cluttered to immaculate in no time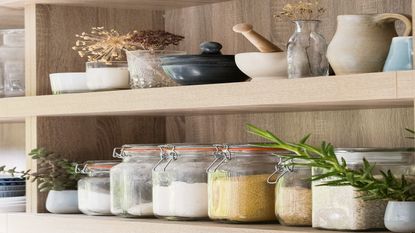 (Image credit: Future PLC)
Keeping your kitchen tidy can be a struggle at the best of times, but it's especially hard when you have a small space. These small kitchen storage ideas will transform and open up your kitchen with plenty of tips and tricks for how to make the room seem larger than it is.
This space is the heart of the home so keeping it ordered will allow you and your friends and family to enjoy it to its fullest and make your small kitchen ideas shine.
Small kitchen storage ideas
When you have a limited space, small kitchen problems can continuously affect your enjoyment of the space.
Siân Pelleschi, president of Association of Professional Declutterers and Organisers and founder of Sorted! recommends the following tips to perfect your small kitchen storage ideas.
Declutter items you don't use/haven't used/don't want to use first.
Try to keep duplicates to a minimum except where needed, for example crockery, cutlery and baking tools
Be true to your requirements - you don't need a full set of crockery items for a family of 4 plus guests if there's only 2 of you in the house.
Good storage is essential when working in a small space but it's important to make sure you have only what you need.
Consider the layout of the kitchen - is it easy to make a cup of tea, cook your dinner, have your breakfast. Where do the utensils need to be to make it easy and then what additional storage solutions might you need - hooks on walls or in cupboards, freestanding internal shelving to make better use of internal cupboard space.
Have the items more commonly used closer to hand and items less commonly used further away.
1. Lean on ladder shelves
If you dream of having your own pantry but don't yet have the kitchen with the space to do so, then a ladder shelf is the way forward. A ladder shelf is one of the small kitchen storage ideas that can help you if you're struggling to know how to organise a small kitchen. Choose a ladder with see through shelving to open up your space and make it appear larger. There are plenty of ladder options available so it can be matched to your kitchen style, whether that's modern, shaker, traditional, or industrial.
Shelley Cochrane, accessories buyer at Furniture Village says, 'Lean on a narrow, leaning ladder shelf and make use of its many rungs for pantry-like storage. Think glass Kilner jars of kitchen staples like pulses and pasta and your most-used bottles of olive oil and balsamic. You might even have a few spots free for a handsome cast iron saucepan or cast-iron casserole pot – items that you use daily but are also a joy to have on display. Even better if there's a drawer at the bottom – that's perfect for napkins and placemats.'
2. Divide your cutlery
The cutlery drawer can feel like a dumping ground for both your regular utensils and miscellaneous items that appear out of nowhere, making it harder to find what you want. An easy way to organise your cutlery and ensure every item has its place so you know where to find it, is by using a cutlery divider a great option for a drawer organiser.
This will tidy up your cutlery drawer, saving you time and frustration and allow you to streamline your utensils and only keep the cutlery you need. Depending on the aesthetic you want and how much you want to split up your cutlery, there are a range of options available. From metal, to wood, to plastic, all with a different number of different sections, it is easy to choose a divider that both looks good and suits your lifestyle.
3. Clean up your freezer
Keeping your freezer ordered and tidy is a great way to keep you kitchen in tip top shape. Hugo Prado, UK senior marketing manager at Liebherr says, 'Efficient freezer organisation is essential for ensuring you are maximising your space and minimising food waste.
'Whether you are storing frozen goods or transitioning food from the fridge to storing leftovers. If you have multiple freezer compartments, group your food into categories that work well for you and your household. One of the most efficient ways to organise this is by food groups; we'd recommend fruit with vegetables, meat with fish and fruit with ice cream in their own compartments.
'Utilise containers or freezer bags, ensuring you are labelling them with the contents and date the produce was frozen. Divide items into usable portions and ensure you are selecting the right container for the job.'
'By opting for a container as close to the size of what you want to freeze, you are preventing air circulating around frozen food, which can lead to freezer burn (food damaged by dehydration). If you are using reusable bags to store products, make sure you press out as much air as possible before freezing.'
4. Stack your storage
When space is limited, stackable storage is one of the best kitchen space savers because they make the most of whatever space you have. Take your stacked storage to the next level by making it transparent so you know exactly what you have and how much, this will make sure you buy the right amount of what you need that will perfectly fit your storage space.
'Transparent stackable storage which can fit in a drawer works or on shelves work well for small items like packets of spice blends and herbs or small tins like anchovies or sardines. The beauty of transparent storage is you can see at a glance what you have – and what might be running low!' says Craig Sammells, country manager UK & Ireland at Orthex Group.
You can also stack your cookware as one of your small kitchen storage ideas to keep your kitchen looking organised. By stacking your cookware together it allows you to keep your pots and pans together in one place instead of spreading them out across the kitchen, which can lead to clutter and difficulty finding what you need.
5. Get hooked
If you're interested in budget kitchen ideas which will give you space but are kind to the purse strings and simple to do, hooks are a great addition to your small kitchen storage ideas.
You can opt for over the door hooks or wall hooks, but make sure you don't overload the hooks especially if they are stuck on and not nailed on. They come in a range of styles and colours so can be matched to your kitchen decor and can be used to hang cookware or more decorative items. Hooks can also be placed on the backs of cabinet doors for items that you don't want on show.
6. Make your storage a stylish display
Open shelving not only creates the illusion of more space, it's also an opportunity to add a few stylised touches to your kitchen which can be a luxury when you're limited on space.
You can get pretty creative with cooking-themed shelfie displays, attractive crockery, cookbooks, chopping boards, potted herb – they all look good on show. This way, you can maximise the small kitchen storage ideas inside cupboards for the less pretty kitchen essentials.
Use under-shelf baskets, stacking shelf inserts or racks for pans, lids and well-loved Tupperware. For extra creative flair give your shelving a splash of a key small kitchen paint colours to give your display a colourful backdrop.
7. Maximise kitchen corners
There's nothing more frustrating than rummaging around in the dark depths of an unorganised corner cupboard. The angle can make it hard to organise your items and prevent things from being in easy reach.
'They can be notoriously difficult to access and store items in, but there are solutions available', says Graeme Smith from Life Kitchens. 'Racks that slide along and out of the unit when you open the door make use of all available space in a user-friendly way.'
8. Leave no space unused
You'd be amazed at what can be done with even the tiniest of nooks in your kitchen. Make the most of narrow spaces between cabinets with a pull-out rack or consider installing a tilt-down drawer at your sink for storing sponges and scrubbing brushes that would otherwise end up as countertop clutter.
Also look to the tops of your cabinets and even your fridge as part of your small kitchen storage ideas. If you don't want the space to look untidy, pop your items in stylish baskets first before placing them on top. The space could also be used to store items that aren't needed every day such as cookbooks or some nice plants.
9. Invest in new wheels
Flexibility is your best friend when it comes to small kitchen storage ideas. A staple of freestanding kitchens, rolling drinks trollies, butchers blocks or small kitchen island ideas with wheels offer up extra counter and storage space and can be easily moved out of the way to create more floor space as and when you need. If arranged artfully, they can make for a lovely feature. Or just tuck them away out of sight – messy cooks, we're looking at you!
10. Utilise the edge of cabinets
Squeeze every inch of storage space out of your small kitchen layout by utilising the sides of your kitchen cupboards. A simple wooden rail for hanging tea towels is great, or you could opt for a more contemporary metal design and add hooks for hanging spoons, spatulas, sieves – any cooking equipment, really. Just make sure they're out of reach if you have pets or little ones in the household.
Ceiling racks are another great hidden small kitchen storage ideas opportunity – they can be used to hang pans and utensils. You could also save on cabinet space by leaving your prettiest cookware out on the stovetop. Assuming its washed up, of course!
11. Use vertical wall space
Let's face it, large chopping and serving boards are a pain to store, particularly when you're limited on space anyway. But with their gorgeous grain textures and warm wooden tones, they ooze natural beauty and character, so why try your best to hide them away?
Instead, hang them up for a stylish wall display. They're in easy reach for when you need them, just remember to give them a quick wipe down before you hang them back up again.
'Use the walls of your kitchen to their utmost advantage. Mount wire baskets of varying shapes and sizes on them. Depending on how deep they are, you can put spices, utensils, cleaning implements and other items in them. Whatever doesn't fit elsewhere can go into these bins on the wall,' says Lily Cameron, cleaning supervisor at Fantastic services.
12. Get things out in the open
No pantry? No problem. Store your most-used ingredients or food items (think cereal, nuts, flour, herbs, spices etc) in design-friendly jars and arrange them neatly on shelving, a windowsill or directly on the countertop.
Not only does it free up room in cupboards, it also makes it easier to grab what you need quickly. Plus it looks great, too.
13. Think outside the kitchen
No room left in your kitchen area? Small kitchen storage ideas don't have to be in the cooking zone. Steal space from other rooms instead. Yes, we know they're traditionally used to store table linens or dinnerware, but who says a sideboard can't stock other kitchen staples?
Even pantry items too – stack a few baskets or bins inside to keep things organised.
How do I organise my kitchen with little space?
Small kitchen layouts need to work extra hard to be both a cooking, eating and socialising space, so small kitchen storage ideas will allow you to make the most of every inch.
If you have a small kitchen then cabinet space may be limited and adding more cupboards will make your kitchen feel even smaller and more closed in. Kitchen shelving ideas can offer you more storage space but still feel open and prevent the feeling of being cramped. 'Whether a studio flat or a compact galley kitchen, one of the greatest space-saving storage heroes has to be shelving,' says Helena Davies, head of buying at Barker and Stonehouse.
'Go for wall shelving if floorspace really is limited and use it to house anything from glassware, crockery stacks or even a mixture of cookbooks and trailing greenery to give your kitchen a more lived-in feel.'
'Or why not use wall shelving to create a statement mini bar? A feature that's not just the reserve of bar trolleys, you can display intriguing bottles, vintage glassware and a metallic cocktail shaker, it's proof that even small kitchens can still be the life and soul of the party. Ultimately, the golden rule for storage in a small kitchen is about giving each aspect of a clear purpose and a petite wall shelf is perfect for taking on whichever storage task you need most.'
How should pots and pans be stored in a small kitchen?
Looeeze Grossmann, the founder and owner of The Used Kitchen Company recommends taking advantage of your cabinet doors.
'The inside of your cabinet is not the only place where you can store your kitchen equipment. Try installing hooks on the cabinet doors for items such as lids, chopping boards, knives or even food scales. This will not only make more efficient use of the space but also make it more convenient to get hold of all your daily appliances.'
By placing your pots and pans inside the cabinet and the lids on the doors of the cabinet, you can store more items and make it easy to match the right pot or pan to the right lid.
'Install pot racks,' advises Lily from Fantastic Services says. 'Some types hold only pots and pans, while others are designed to be shelves as well. You can hang your pans below and use the shelf for things like cookbooks. Whichever you choose, they'll allow you to use the vertical space efficiently'
How do you declutter kitchen countertops?
Keeping your countertops as clear as possible is the best practical and aesthetic option. So although you may want to put your gadgets on show they are taking up valuable counter space. Only leave out the gadgets you use daily and stow the rest out of sight in your small kitchen storage ideas.
If you're limited on kitchen cupboard space, consider using the tops of cabinets or storage spaces in other rooms. If you are still struggling to find enough counterspace, consider creating more placing a thick butcher's block or cutting board over an unused hob or across the sink.
Get the Ideal Home Newsletter
Sign up to our newsletter for style and decor inspiration, house makeovers, project advice and more.