10 Stunning glass kitchen cabinet ideas - The timeless trend that's going nowhere
Whether filled with colourful crockery, artisanal dried foods or fancy champagne flutes, glass kitchen cabinets will showcase yours in style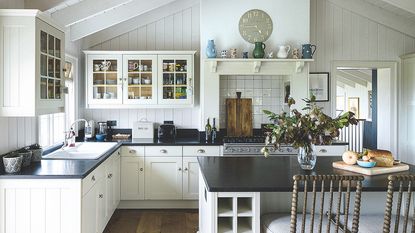 (Image credit: Future)
Breaking up the monotony of fitted kitchen cabinet ideas by switching solid doors for glass kitchen cabinet ideas isn't a new concept. But the effect never fails to lift a cooking space, making it feel lighter, brighter and more welcoming.
Admittedly only the uber-tidy should consider going all-out on the glass kitchen cabinet ideas – every kitchen needs somewhere to hide the less aesthetically appealing, like cake tins and drain cleaner! And there's only so much decanting dried foods into fancy jars a busy chef can handle.
Happily, it can take just one or two glass cabinets to make a big impact. 'Introducing glass cabinet doors can maximise the flow of light into darker corners, creating the illusion of depth and increasing the perception of square footage, which is especially beneficial in smaller kitchens,' enthuses Tom Howley, design director of Tom Howley.
Glass kitchen cabinet ideas
Whether you are seeking a less fitted look, somewhere to display treasures or a dust-free zone for recipe books, some of the most coveted kitchen trends include glass kitchen cabinets. Our inspiring line-up of glass kitchen cabinet ideas includes solutions for all the above scenarios, and more.
1. Choose frosted glass
After years languishing in style Siberia, frosted glass is firmly back in trend – we're talking plain opaline frosting, not the type with twirly, swirly patterns. They can stay in the '80s!
There are lots of benefits to choosing frosted glass over transparent, when planning how to design a kitchen, not least from a maintenance point. Fingerprints and smudges simply don't show up in the same way. Frosted glass also scores on privacy; giving you somewhere to stash those less desirable kitchen essentials.
Kia Stanford, director of Kia Designs, shows how it is done in this striking nature-inspired kitchen. 'The frosted glass cabinets were used to help break up the textures at the back of this kitchen,' says Kia. 'With windows to the left and right, we wanted to explore the idea of using panels of glass like the windows.'
2. Add a glazed dresser
'If you'd like to add warmth and character to your kitchen without making major investments, buying a standalone dresser or display unit with glass doors is a great option. A standalone cabinet can add extra storage space without you having to make dramatic changes to your kitchen, such as adding worktops or paying for installation,' says Looeeze Grossman, founder of The Used Kitchen Company.
'It's not only a great way to showcase your favourite plates and homeware but also can prevent precious items from becoming chipped and damaged. Rather than buying new, look for pre-owned or ex-display cabinets to save money and be more eco-friendly,' add Looeeze.
3. Go for on-trend countertop cabinets
As a fresh alternative for those seeking to avoid the standard look of wall cabinets, without sacrificing storage, countertop cabinets are big news. Designs featuring glass doors take on the relaxed look of a freestanding glass dresser and can be squeezed into small kitchen ideas, and will brighten up the darkest corner
'As they utilise the space at splashback level, glazed countertop cabinets provide more storage than your average wall cupboard and are great for storing crockery and glassware that you want to keep close to hand and on display, without the dusting requirements of open shelving,' adds Charlie Smallbone, founder, Ledbury Studio.
4. Invest time in a curated display
Transparent glass cabinet ideas require a more considered approach when it comes to stashing kitchen paraphernalia. Benji Lewis, founder of Benji Lewis Design, has the drop on styling cupboard interiors like a pro.
'Curation is key when it comes to what you showcase behind the glass doors of your glazed wall units – start by putting anything that's going to look ungainly away in a drawer or cupboard,' says Benji. 'If it's a sleek look you're after, displaying collections of all white (for example) crockery in a variety of shapes can be very effective.
'Alternatively, if you're someone who enjoys a more homely vibe, gather an assortment of pieces in various colours and designs, but still bear in mind how they'll look in a group behind the glass doors,' Benji continues. 'A neatly stacked pile of folded linen can also look great behind glazed doors but be sure to have ironed it before you put it in place.'
Consider the visual weight of items, versus where they are positioned, too. Here, the 'heavier' items are kept below eye level, with 'lighter' glassware above. If the scenario was switched, the balance would be off, and it would feel less stylish and serene overall.
5. Take it to the top
There's no disputing that taller-than-average kitchen cabinets will maximise the room's full vertical storage potential and draw attention to impressive ceiling heights and/or cornicing. However, it's important not to allow tall units to overpower and oppress. This is where glazing top cupboards is a smart kitchen storage idea.
'Glass cabinets can help break up the solidity of out-sized units, preventing them from dominating. Reserve the top cupboards for items you use infrequently, like formal tableware for example, and store the stuff you use daily closer to hand,' says interior designer Ciara Ephson, of Fentiman Design.
As you're not looking directly into high-level glass cabinets, keeping them perfectly tidy is less important but do push anything unappealing to the back. A small stepladder clipped on the back of a cupboard door will ensure nothing is impossible to reach.
6. Fall for fluted glass
Far from a flash in the pan, fluted glass cabinet ideas are here to stay, and Danish brand Vipp is convinced its many benefits will secure ever-lasting appeal. 'Fluted or reeded glass cabinet doors are forever useful for both aesthetic and practical purposes,' enthuses CEO, Kasper Egelund.
'Fluted glass cabinets are one of those additions that instantly elevates, bringing a sense of real refinement. For darker kitchens, fluted glass doors also lend a sense of airiness. And let's not forget, the ribbed texture allows for a semi-transparent look into what hides inside the cabinet – perfect for less tidy chefs!'
7. Embrace glass on islands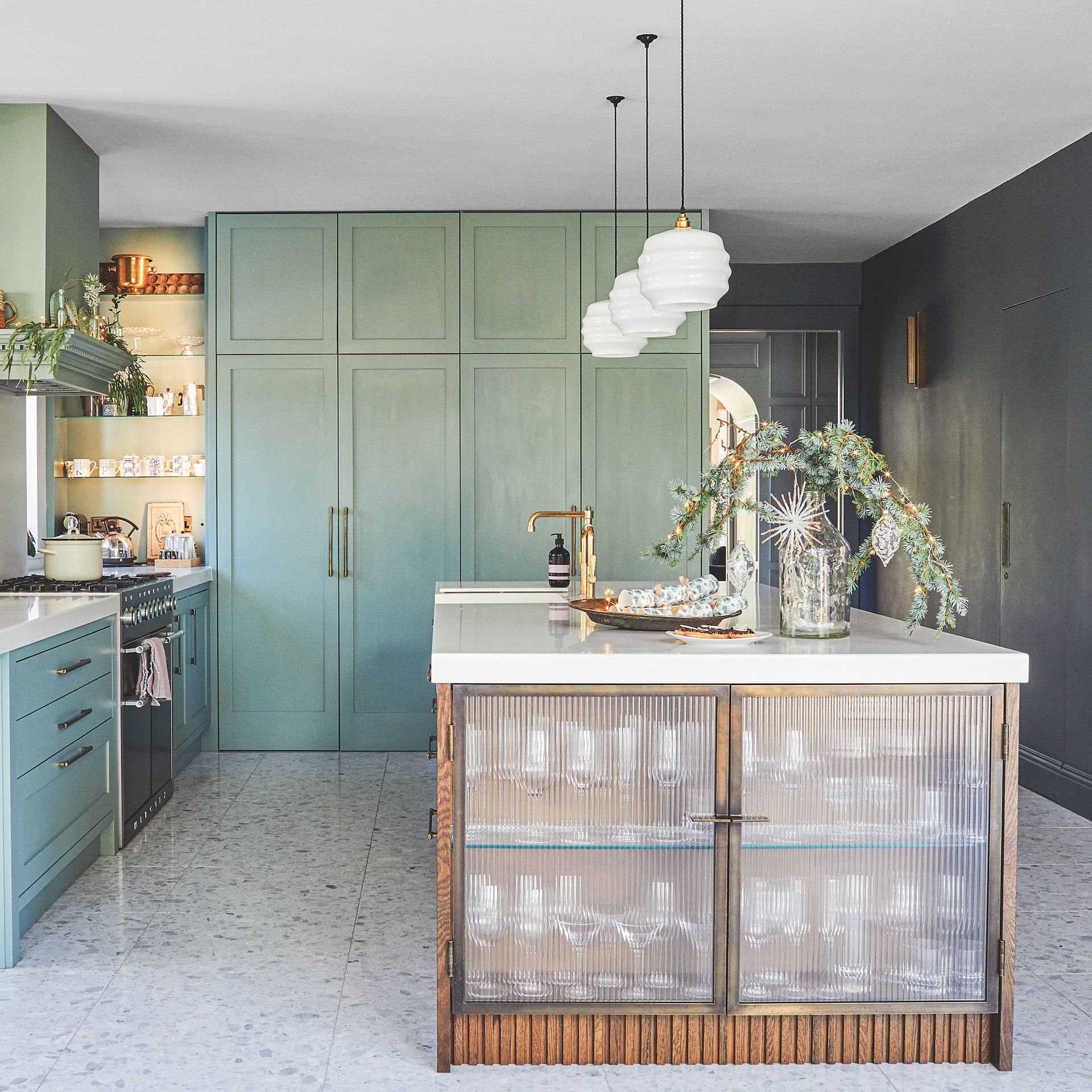 Glass-fronted kitchen island ideas can provide a stunning design feature in a range of kitchens, from modern to traditional rustic designs.
'Not only do they create a sense of openness and transparency, but they also allow for beautiful displays of dishes, glassware, and cookbooks without having to worry about dusting in the way you would with open shelving,' agrees Dawn Filkins, head of creative, Smile Kitchens. 'Glass doors are also especially useful for creating a visually striking focal point in the kitchen and adding a touch of sophistication to the space.'
However, make sure to consider the practical aspects, too. 'Choosing high-quality, durable safety glass is key and it is also important to make sure that any glass cabinet doors are positioned away from seating to avoid potential damage caused by a rogue kick or tucking in chairs,' adds Dawn.
8. Use glass shelving inside
Don't stop at using glass on the exterior alone, glass shelving on the inside of cabinets will yield similar lightening and brightening results. 'Opting for glass shelving inside cabinetry can be a beautiful addition to any kitchen, evoking feelings of lightness and minimalism while also showcasing your favourite crockery and glassware in style,' says Sinead Trainor, kitchen category manager at LochAnna Kitchens.
'Additionally, glass shelving allows for more light to pass through, illuminating the typically dark spaces among shelving.'
Glass shelving should be made from tempered glass of a decent thickness – 8mm-10mm is good – for safety and robustness. Tempered glass is four times stronger than standard glass and can handle reasonable loads. If you plan to store heavier items on glass shelves, for example, an impressive gin collection, it's important to make sure there are plenty of supporting brackets in place.
9. Wire for lights
'Installing concealed lighting inside glazed cabinets will make it easier to spot what you need and also adds a welcoming ambiance in the evenings and when entertaining,' recommends Peter Humphrey, design director, Humphrey Munson.
The glazed wall cabinets in this bespoke kitchen have timber-framed glass shelves that allow the spread of light down through the unit, while appearing like solid shelves face-on. Extra lights underneath provide vital task lighting for prepping foods. Humphrey Munson suggests installing the lighting for glazed cabinets on a separate circuit to the main kitchen lighting for flexible, layered illumination.
10. Make a colourful splash
If you're trying to suss out ways to add colour to an all-white kitchen, painting the inside of glazed wall cabinets in bold shades is one of the most eye-catching methods. 'You could also wallpaper or even tile inside glazed wall cabinets to add a splash of pattern,' says Jayne Everett, creative director, Naked Kitchens.
Use reeded or opaque glass for a subtler design feature if you're going for a calmer look or are simply not colour-confident. If you are seeking to make the colour really sing, install internal lighting and stick to clear glassware inside, which will let the vibrancy shine through.
Do glass cabinets make kitchens look bigger?
According to Brani Hadzhi, co-founder and showroom manager, Scavolini by Multiliving, the answer to the query 'do glass cabinets make kitchens look bigger' is a resounding "yes, it can". There is no doubt in Brani's mind that glass is the way forward if you are challenged with trying to make a small kitchen look bigger.
'Glass is transparent, allowing light to pass through it, which creates a sense of spaciousness. Glass also reflects light, bouncing It back into the kitchen, which again, gives the impression that there is more space than there actually is,' she explains. 'The added advantage of this is that reflecting light also brightens a space making it look more welcoming and feel more comfortable.'
Are kitchen cabinets with glass in style?
Again, the answer is affirmative. Glass is an excellent finish for kitchens and it never goes out of fashion, so says Tom Howley, design director of Tom Howley. 'Not only do glazed cabinets break up the monotony of repetitive, solid fronted doors, but they maximise the flow of light into darker corners,' he explains.
'If you have beautiful crystal, or you're proud of your dishware, why hide it away in the dark? Having glass-fronted cabinets allows you to display your prized pieces. They also help you access everyday essentials easier, allowing you to see what you have and where exactly you've put things.'
Get the Ideal Home Newsletter
Sign up to our newsletter for style and decor inspiration, house makeovers, project advice and more.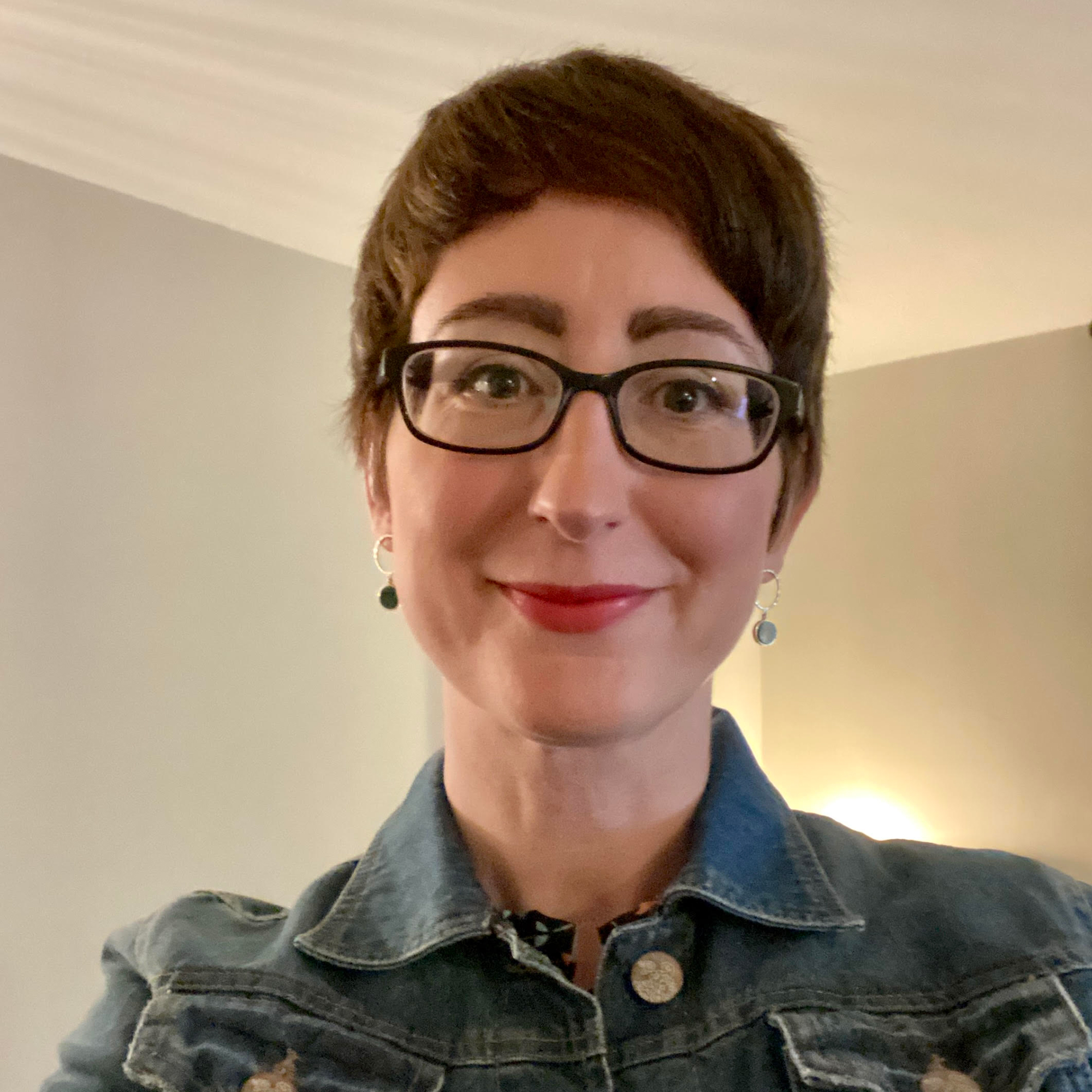 Linda Clayton is a professionally trained journalist, and has specialised in product design, interiors and fitness for more than two decades. Linda has written for a wide range of publications, from the Daily Telegraph and Guardian to Homes & Gardens and Livingetc. She has been freelancing for Ideal Home Magazine since 2008, covering design trends, home makeovers, product reviews and much more.