Kitchen trends 2023 – a round-up of the latest looks in kitchens for the year ahead
If you're looking to update the hub of your home, be sure to check out all the latest kitchen designs and trends right here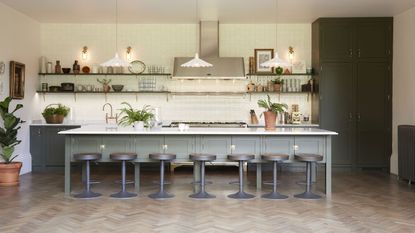 (Image credit: Olive & Barr)
If you're looking to give your kitchen a refresh for the new year, checking out the latest kitchen trends is a great place to start. A room that calls out to be both functional but beautiful, these days the breadth of choice available is almost endless, ensuring that there's something to suit everyone.
While not always the cheapest room to update, with the right kitchen ideas and budget in mind, you can achieve a fresh, contemporary space that reflects the latest designs and style ideas, all of which we have collated here for you.
What are the kitchen trends in 2023?
If you're setting out to find out how to plan a kitchen, there are so many design elements that need to be addressed. From choosing the right layout to work for your needs to researching the best appliances, splashbacks and worktops to create a space that you love.
It's useful to keep kitchen trends in mind, especially when it comes to adding value for resale. It's a bit of a false economy to spend a fortune on an unusual kitchen that may not appeal to others, especially if you plan to sell up in a few years time. Choosing a look that has universal appeal and - dare we say it - bang on trend will attract rather than repel potential buyers.
We've asked the experts at leading retailers to share their thoughts and insights on the biggest kitchen trends 2023. And for good measure, we've added a few hot trends of our own that we love and swear by.
'Kitchen design can be so much fun and really satisfying when you take the time to design… rather than just filling a space,' notes Rod Gaskell, Owner, Kütchehaus.
So whether you know exactly what you want or if you're still undecided and need some inspiration, read on to discover all you need to help you create a kitchen that's on-trend and right for you for many years to come.
1. Open shelving
It seems for kitchen trends in 2023, we are shying away from wall cabinets and embracing open kitchen shelving more and more. But it's about what works for you and your space, as Rebecca Nokes, Head of Design & Brand Creative, John Lewis of Hungerford explains.
'Trend-wise, we're seeing people really do what they want to do! For example we have a London client but they want a really country-style kitchen. We're seeing a mix of both contemporary and classic kitchens and with both having open shelves and a pantry rather than lots of wall cabinets. Islands will not go away and are still very popular and will continue to be as they're great for practical reasons but also provide the perfect place to socialise.'
2. Rugs (yes really)
Rugs in a kitchen may instil the fear in the some, but they are the perfect addition to not only soften the space, but zone it too.
Alan Russell, sales director UK, Louis de Poortere says, 'Kitchens are functional first and foremost and purposeful hard finishes reflect that, but with open plan dominating modern living they're increasingly spaces that need flexibility and adaptability while also feeling cosy enough for activities outside of domestic duties. The layering of textures is a great way to achieve both – helping to zone areas and create an added layer of tactility.'
'Even in the most modern kitchens, and minimalistic of high-spec open plan kitchens, layering up on the floor to create pockets of activity can be a great way to bring order and comfort in equal measure. A well positioned rug beneath a dining table adds cosiness for family meals and entertaining, while dressing a reading corner or chill-out area with one makes the area's intent clear and gives a feeling of warmth that you only truly achieve with textiles.'
'They're also beautifully versatile. If you ever want to change the layout of your room, or simply fancy a refresh they can moved, swapped and playfully laid on top of each other for even more layers of cosiness.'
3. Reeded glass
One of the easiest kitchen trends to embrace for 2023, even in a small kitchen, is reeded glass. As we move away from frosted or mottled, reeded glass can even be achieved with window film to save having to completely replace panels.
Al Bruce, Founder of Olive & Barr says, 'Reeded glass is having a full revival and makes a great addition to either glass cabinets, worktop dressers or within bakers tables. This stylish upgrade gives the kitchen a contemporary twist and is perfect for disguising everyday tableware which isn't always display worthy.'
4. Aluminium hardware
While brass and stainless steel are still popular choices for hardware, Aluminium will take centre stage for 2023. Changing up your hardware is a great way to make your kitchen look expensive on a budget, and with a low environmental impact, the material is growing in popularity as people become more and concerned with carbon footprints in the interiors and design worlds.
Tom Revill, Co-Founder Plank Hardware says, 'Aluminium is an infinitely recyclable material, making it one of the most sustainable choices a homeowner can make when choosing hardware. As of this year, we make all of our black products from anodized aluminium, as opposed to electroplating brass (which we did in the past).'
'Not only is aluminium more hardy than brass and super lightweight to handle, it can also be shipped more easily meaning the carbon impact of our products is reduced further. I foresee aluminium to be a trending finish in 2023 interiors, not only in black but also in its raw, mottled grey tone.'
5. Calming qualities
We all want our homes to feel calm not chaotic, but often we except that in the kitchen this might not always be possible. However choosing the right colours and materials can go a long way to creating a serene space, even in the busiest of homes, and Scandi kitchen ideas are increasingly popular when trying to achieve this.
Paul Bangs, Category Director Wickes, Kitchens, Bathrooms, Flooring & Tiles says, '2023 continues to show a growing trend for calmness in the kitchen as consumers look to bring the outdoors in with natural textures and materials. Blues and green remain popular while neutral shades are increasing in popularity as households seek a serene environment. '
'Zoning techniques such as islands and dining spaces are key for homeowners as they seek open plan designs that reflect the multi-use nature of our homes. Now used for working and hosting in addition to cooking, there has been increased interest in open shelving as customers look for ways to display their prized possessions.'
6. Baker tables
There's no doubt that kitchen island ideas are now an integral part of any modern-day kitchen, but new for 2023 comes a slightly different take on the stylish staple.
Al Bruce, Founder of Olive & Barr says, 'While fitted kitchens are unlikely to ever go out of style, the request for freestanding pieces is on the rise. Rather than kitchen islands, we're seeing an uptake in bakers tables - similar to a kitchen island, but on legs. This freestanding piece makes the island feel like a piece of furniture while still having all of the benefits of a usual island with deep drawers and a place to perch.'
7. Stylish splashbacks
While kitchen splashback ideas might not immediately fill you with excitement, they are actually a great way to bring colour, pattern or texture into your kitchen and the trend for 2023 is to make more of a feature of them.
Melissa Klink, Creative Director at Harvey Jones says, 'In recent years we have seen the worktop material carried right up the wall up to the underside of cabinets or shelving. Now we are cutting off the edge of the splashback and making more of a feature out from it. Adding careful curves and delicate finishes really elevates the sophistication in a kitchen and amplifies the beauty of the stone when you can see it from various angles.'
8. Wood flooring
For kitchen flooring ideas for 2023 - wood, whether real or porcelain/vinyl, remains hugely popular.
Orla Kerr, marketing manager UK & Ireland, Quick-Step, explains, 'The comforting and relaxing feel of natural materials has never been more relevant in these difficult times, when homes are becoming something of a sanctuary and escape from the realities of the outside world. Wood continues to be a constant in design themes and our close connection to it is almost instinctive and undoubtedly instils a sense of calm.
'In the kitchen, its ability to stay timeless and balance artificial high gloss surfaces and stainless steel appliances shouldn't be underestimated. The right tone also softens high-shine, hard natural surfaces such as marble and quartz. However, it's always been difficult to find a natural wood floor that's also truly up for the challenge of kitchen duty.'
'We've developed our Cascada wood floor collection to be easy to live with and water-repellent, without compromising the tactility and appearance that makes wood so appealing. The collection uses our Wood for Life technology that helps to prevent mud, spilled foods and other dirt from getting stuck in the joints and texture of the wood. Wood for Life keeps Cascada looking as good as new, even in a busy kitchen."
Continuing trends from 2022...
9. Colourful cabinetry
Handle-less or classic Shaker remain the most popular kitchen trends, but it seems we are embracing more colour in our modern kitchen ideas. 'People want practical, with matt doors in an anti-fingerprint finish highly desirable,' says Rod from Kütchehaus. 'But the introduction of bolder colour is something that we're beginning to see lots more of lately.'
In line with other interior trends, blues and greens are hugely popular with the richer hues becoming the quickest growing trend. 'We've added a blue and green to our range for 2022,' adds Rod.
'Many of our clients are keen to introduce bolder and darker shades through their cabinetry, such as teal blue, forest green and anthracite grey,' agrees Natalie Holden, Director, Natalie Holden Interiors.
10. Smart storage
In a time when we strive to declutter for our overall wellbeing, storage is of the utmost importance in current kitchen trends. Especially in kitchens where we need so many 'things', from the ingredients to the cooking equipment. Well-placed, concealed kitchen storage ideas are a saviour for the aesthetic of our kitchens.
When planning any successful layout factoring in ample space to keep clutter out of sight is always key to making the space work harder for you. 'Storage seems to be focusing on the practical rather than clever gizmos,' says Rod from Kütchehaus. 'Customers want large easy-access storage, such as pan drawers in islands and big-opening larder units.'
'We're being asked to maximise storage,' continues Natalie Holden. 'One project recently had a compact floor space, but really high ceilings, so we designed one tall wall of storage, with integrated fridge-freezer, butler's pantry and pull-out larder.'
11. Practical yet stylish worksurfaces
As for kitchen worktop ideas, Natalie says her clients tend to specify quartz. 'It's extremely durable and easy to clean and maintain. Our suppliers have an amazing selection of colours, some which look like real marble,' she explains. 'Many clients enjoy cooking and want to ensure a worksurface doesn't stain easily,' she adds.
Of course, it depends on budget. 'Discussing contrast is a great starting point, when planning a kitchen,' says Rod from Kütchehaus, 'Such as light doors with a dark worksurface or vice versa. But worksurface choice is always about how hardwearing, heatproof and stain resistant it is. Those on a budget can look at combining a wood-effect laminate for the main kitchen with a stone for an island, although it's best not to introduce too many colours.'
Mike Turley, Technical Director at Mereway Kitchens likes to see cabinetry, doors and worktops matching; 'It gives a streamlined look,' he explains.
Natalie says there are more sustainable options for kitchen trends 2022, too. 'One of our suppliers makes worktops from recycled brick rubble and concrete, while another, Cosentino, uses a new technology called HybriQ, which combines recycled glass content, 100% renewable energy and 98% recycled water in its factory.
12. Contemporary handles
It seems we are paying lots of attention to handles, too. 'The Shaker door with a contemporary knurled black or brass handle is always popular,' explains Rod from Kütchehaus, 'But we've recently designed a few kitchens with a slab door and contrasting gold or brass recessed profile detail, which gives a much more contemporary look.'
These warmer metallics are great for teaming with blue or green units, but stone-effect doors are also sought, as Rod explains, 'For kitchen trends we might see more new sandstone or earthier finishes coming through, reflecting our concentration on nature and the environment.'
Design-led handles are also perfect for adding to small kitchen ideas as a way to add style without taking up space.
13. Squeeze in a utility room or pantry
The utility room is arguably one of the most desired kitchen trends. 'Utility rooms are a sign that today's kitchen has become much more of a living space,' say Mike from Mereway.
Wherever possible, it's always advisable to eke out a little space for either a utility room as you can store all of your laundry out of sight making your kitchen a much more liveable space.
'Most of our projects have a utility room,' says Natalie Holden, 'especially open-plan kitchens. A utility space provides somewhere you can shut things away, such as washing and coats.'
Don't have a space for a utility room? A pantry is the next on the top trend hit list. 'Kitchen pantry ideas are also a lovely addition, especially if you have the space for open shelving floor-to-ceiling,' says Rod from Kütchehaus. 'They allow you to make great use of multi-buy deals on non-perishables.' Mike agrees; 'If space allows, go for a modern take on the pantries of post-war years.'
14. Supersize your sink
'When it comes to kitchen sink ideas, large bowls are high on people's lists,' says Rod from Kütchehaus. 'We're so used to dishwashers being part of our daily routines now, but we still need to wash up those larger items. For colour and finish, granite and steel sinks are in demand – even copper and gold-effects.'
'We're often asked how a sink will wear – customers will always look for scratch-resistant and easy-clean sinks, especially where limescale is an annoyance. That's why ceramic sinks are always in the mix, with undermounted sinks helping to keep things tidy.'
'Brass taps seem to be all the rage,' says Natalie Holden, 'Yet other appliances and fittings haven't quite caught up with these kitchen trends, so it can be a challenge to source matching fittings throughout a scheme.'
'While black taps are a favourite, and gold a contender, we find they are always chosen to match other items that are decided upon first, like handles,' agrees Rod.
15. Sleek marble surfaces
'Marble is such a versatile material,' explains Natalie Holden. 'It suits both traditional and contemporary kitchens. Due to it being natural, every slab will have a unique veining, so hand-select from a stonemason if you can. You'll be surprised how much pattern and colour can vary between each piece.'
'It's expensive, but you can get the look with composites that also have the benefit of being non-porous. Think about using a lower-priced worksurface in your utility room or area, leaving more budget to splash out on marble in the main kitchen.'
'To really work a marble look take it from the worksurface and use up the walls as a splashback, or go down to the floor on the sides of an island.'
16. Broken plan vs open plan
'Open-plan spaces are still desired in larger properties,' says Natalie, 'however in smaller homes, we are seeing more broken-plan solutions, where each space can function for a variety of different purposes throughout the day. Think of two or three rooms that have the option to be opened up with sliding doors when you want to entertain but exist as a kitchen or a separate workspace when needed.'
Rod from Kütchehaus thinks bigger is better. 'I think the kitchen is becoming larger than ever before,' he says. 'We're seeing double island units allowing ease of movement around the kitchen, with different-height worktop levels and seating areas introduced to keep all the family and visitors happy.'
17. Clever lighting plans
Understandably, a well-thought-through kitchen lighting plan that incorporates plenty of task lighting is essential, but that doesn't mean it has to be dull. Natalie's seeing more organic shapes and sculptural pendant designs for the kitchen trends 2022; 'I love layering up wall lights, recessed strip lighting and statement pendants into a space to add drama and a cosy atmosphere.'
Rod says it's all about increased connectivity, too. 'A connected home, such as mood-controlled lighting like Philips Hue smart lighting, will soon be everywhere, not just the kitchen.'
Lighting has more freedom within the modern kitchen, with statement pendants being used to dress the aesthetic more and more. While the use of spotlights or down-lights are still key, there's a trend for making the kitchen feel more like our living rooms – smart kitchen lighting ideas play a key role in this.
18. Integrated appliances
The desire for streamlined, clutter-free spaces sees kitchen trends leaning towards integrated, concealed appliances remaining a firm favourite. While there has been an abundance of tech and new gadgets for our kitchens, we don't want to necessarily see them, which is why kitchen appliance layout is key.
'The appetite for discreet storage is expected to grow,' says Ben Burbidge, MD, Kitchen Makers. 'Homeowners are scrutinising the aesthetic of the appliances they are integrating into their kitchens. And so concealment solutions, that create a streamlined finish without impacting the style, are a key consideration.'
So how can we have the latest appliances without them taking over our kitchens?
Ben advises, 'Concealing these appliances can take the form of simple cabinetry to hide a fridge or dishwasher. Or a storage design that minimises small counter top appliances. A hidden station, which keeps the kettle and toaster from cluttering the worktop. And helps to create a dedicated area to sit and enjoy breakfast will be popular.'
19. Clever compact design
Whether narrow, square or broken plan, where space is at a premium compact kitchens come to the rescue. More and more, kitchen design looks to benefit from minimal clutter and maximum efficiency. This is especially important if you have a small kitchen.
'When presented with a smaller space it is essential that the kitchen layout ideas are carefully considered to make sure every inch of the kitchen is utilised,' says Ben from Kitchen Makers.
'Creating a bank of cabinetry along one wall is a great way of streamlining and opening up the space. Tall wall units are particularly suited to narrow spaces. This is because using this space ensures the area feels less cramped than if filled with larder style dressers.'
'Don't be afraid to include an island or breakfast bar. But try not to make the overall dimensions too big, as it may restrict movement around the kitchen. Opting for an open or floating island will keep all areas accessible and provide additional seating opportunities. The area under the island's worktop can offer ample space for kitchen storage.'
20. Boiling water on demand
We've become so accustomed to everything in an instant that even boiling the kettle is a wait we would rather do without. It's presumably no surprise that boiling taps are firmly on the kitchen trends list.
Sales of the best boiling water taps increased hugely over the course of this year, spurred by more of us working from home and therefore wanting hot water on demand for making tea and coffee in between Zoom calls etc.'
21. Downdraft extractors
Extractor fans are being reimagined. 'The kitchen trends are showing a shift towards downdraft extraction systems which remove odours and vapours at their source, i.e. directly from the hob. And draw them downwards before they have a chance to permeate the air,' explains Willi Bruckbauer, founder, BORA.
'This is particularly important in open-plan kitchens and living spaces. This is because a head-height extractor hood above an island can create a visual barrier and conflict with the open-plan ambience. A downdraft extractor integrated into the hob gives greater creativity of design and taps into the trend for minimal, professional styling.'
22. Structured simplicity
The trend for streamline kitchens is set to reach new heights of popularity. This less-is-more minimalist approach creates a calming space with clean sweeping lines.
This contemporary look is easy to achieve, with practicality being key. 'It's all about choosing high-quality materials and items that put strong lines and functionality at the forefront,' explains Darren Watts, Wren Kitchens. 'It's essential to have integrated appliances and hidden storage to ensure the smooth look isn't disrupted.'
You can update your existing kitchen with clever storage solutions to clear worktops.
23. Two-toned kitchens
Kitchens are set to become more and more blended in this new decade. 'The kitchen trends for combining two colours throughout kitchen cabinetry is soaring,' says Andy Briggs, Designer, Optiplan Kitchens.
'It's a great approach to adding an interesting twist to your aesthetic and it can change the whole feel of the room. Opt for deep, dark units and contrast with brighter shades elsewhere in order to add depth and character to the space.'
The trend extends beyond just a contrasting paint colour on the walls. From the cabinets to the worktops, it gives you the freedom to explore different painted kitchen ideas and design elements. Andy goes on to say, 'You can play around with rich textures, such as wood grains, matte finishes or sleek laminate'.
Using them together creates a juxtaposition of instant interest.
24. Industrial style
In kitchen design the use of raw materials, which are rich in tones and texture, will definitely continue to rise in popularity beyond 2021. Metal finishing alongside concrete offer a unique aesthetic that will continue to prove exceptionally popular for an on-trend industrial look.
'Metal framing is growing in popularity for kitchen trends,' say Life Kitchens. 'An eye-catching design element, framing can be a great option for open shelving. With the metal finish carried through to features such as taps, and spindle island or table legs'.
What colour kitchens will be popular for 2023?
'Colour wise for 2023, green will remain very popular from dark greens to subtler shades such as sages will be very popular as we take inspiration from nature and being outside. We're also seeing a really shift towards warm greys, puttys and barley colours too. The creams and beiges are very popular rather than the colder blues and greys,' says Rebecca Nokes, Head of Design & Brand Creative, John Lewis of Hungerford.
'Painted kitchens are still going strong and it's no surprise to see that green remains a popular choice, but pink is making a comeback. From hot to blush pink, the demand for painted pink kitchens is on the up,' says Al Bruce, Founder of Olive & Barr.
What colour kitchen cabinets never go out of style?
When considering colours for more permanent kitchen items, such as cabinets, worktops and wall paint, opt for neutral shades. Natural colour palettes never date because they are so versatile and timeless. This is also a great option for potential buyers if you ever sell your house in the future.
If you fancy a pop of colour using kitchen trends, but you don't fancy a permanent feature wall or bright pink set of cabinets, neutral walls, cupboards and work surfaces can acts as a blank canvas. Try adding bright accessories and artwork which can be removed or replaced when fashions or your mood changes. Alternatively, you may like a simple neutral palette left as it is.
Investing in any element of the kitchen can prove invaluable, for both while you live in your home but also when it comes to adding value for resale. Be inspired to make the right style choices for your home with a look at the latest kitchen ideas and designs.
What kitchen trends are popular for 2023?
There are plenty of kitchen trends that will be popular for 2023 and wood flooring is definitely one to get on board with.
'Wood-effect porcelain tiles laid in a herringbone pattern is great for open-plan kitchens extensions that have lots of natural light streaming in,' says Natalie Holden. 'They bring a sense of warmth and texture to the space, yet don't fade in the sunlight and are very easy to clean.'
But don't forget, flooring trends are not always visible. Sustainable options are also a big consideration with today's consumers with eco-friendly flooring like FSC certified wood, cork and lino, becoming more widely available. If presented with two similar choices, people tend to always choose the one that has less impact on the environment.
Another trend we expect to be popular are larders. Al Bruce, Founder of Olive & Barr says, 'Freestanding larder units that encompass it all; from storing your dry food, harbouring electrical goods, to the full tea station with a hot tap, it's no surprise it has become the must-have of any kitchen. These freestanding elements allow you to swap and change the look and feel of the kitchen, while giving you the freedom to move pieces as you move homes, which is particularly great for renters.'
Get the Ideal Home Newsletter
Sign up to our newsletter for style and decor inspiration, house makeovers, project advice and more.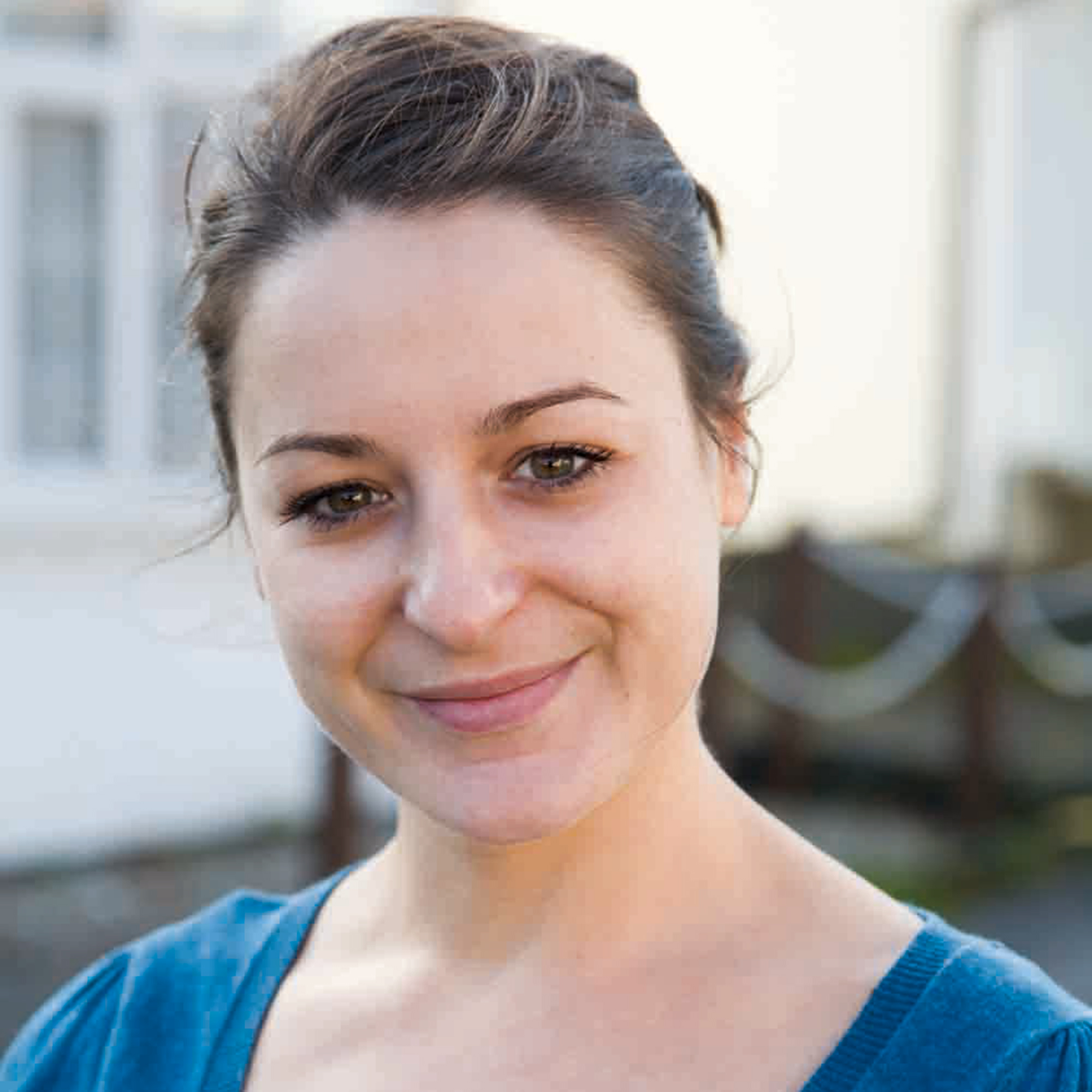 Ginevra Benedetti has been the Deputy Editor of Ideal Home magazine since 2021. With a career in magazines spanning nearly twenty years, she has worked for the majority of the UK's interiors magazines, both as staff and as a freelancer. She first joined the Ideal Home team in 2011, initially as the Deputy Decorating Editor and has never left! She currently oversees the publication of the brand's magazine each month, from planning through to publication, editing, writing or commissioning the majority of the content.