27 Green kitchen ideas – the colour of the moment that will stand the test of time
These beautiful green kitchen ideas will show you how to incorporate this invigorating, on-trend shade into the heart of your home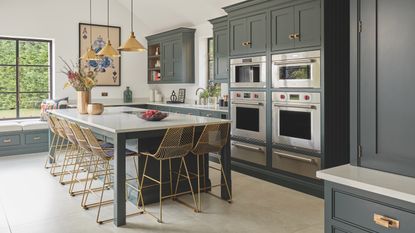 (Image credit: Tom Howley)
Glorious green kitchen ideas are on trend but they are also a kitchen idea that will stand the test of time, thanks to the variety of different shades to suit all styles. Green is a colour we associate most with nature and, if used correctly, it can be an ideal kitchen colour scheme to breathe life into a kitchen design.
'Green kitchen cabinetry is a key style,' says Hayley Simmons, Head of Merchandising for Magnet. 'Green can be equally dramatic and luxurious when used in the kitchen.'
Two of the most popular shades of green for kitchens right now are forest and sage green. They each offer a totally different look, demonstrating the potential and power of using this invigorating colour in your kitchen. Choosing the right shade of green can make or break your desired design.
Green kitchen ideas
Our pick of the best green kitchen ideas and more will help you plan the perfect kitchen scheme to suit your style and budget.
1. Choose a green to match your space (and favourite celeb look)
'If you're thinking about investing in a green-themed kitchen, the good news is this colour pick is set to stay on trend for a long time yet. Celebrities including Drew Barrymore, Kendall Jenner, Vanessa Hudgens and Dakota Johnson have all shown off their swoon-worthy green kitchens. However, with such a wide range of green shades to choose from, you'll need to think hard about which tone will best suit your home to avoid an expensive mistake,' says Anne Haimes, Design Director and Founder of Anne Haimes Interiors.
'Dark kitchen shades such as forest or bottle green have been all the rage in recent years and work well for those that want to create a moodier atmosphere. However, opting for all dark green cabinets will inevitably enclose your kitchen, making it feel smaller and darker. This makes dark green cabinetry an excellent choice for extra-large kitchens with tall ceilings and plenty of natural light.
'If you're lacking space or have limited access to natural light, you might want to consider a lighter, brighter shade. Mandy Moore's pale sage green kitchen is a prime example of how green can work as the perfect neutral without being overwhelming. Small kitchens can replicate the airy style by keeping colour schemes minimal and light with a focus on mixing matt and glossy textures.
'Alternatively, take inspiration from Dakota Johnson's pea-green cabinets that will bring warmth and striking eclectic design to kitchens. Be sure to pair earthier, warmer tones of green with plenty of natural materials. Wood countertops and furniture pieces will help make your kitchen feel cosy and homey.'
Anne established her Oxfordshire-based interior design business in 2001. She is a member of the prestigious British Institute of Interior Design and specialises in luxury refurbishment and project management from her beautiful design studio in Henley-on-Thames.
2. Mix metallics with green
Deep green cabinetry is a natural foil to burnished brass, luxe gold or gleaming stainless steel fittings and appliances – or all of the above. Because with this forgiving hue, it's possible to mix metallic finishes and still keep your scheme looking cohesive.
'We've never had an issue with mixing metallics in kitchens – gold and silver have been paired together for centuries by many prestige jewellery brands as they sit very nicely side-by-side,' says Tom Howley, design director of his self-named kitchen brand.
'Green cabinetry has become so popular recently and it pairs beautifully with gold as a contrast.'
In 2004, Tom Howley set up his eponymous company which designs, manufactures and installs luxury kitchens. The kitchens are all made in England and the brand prides itself on its quality and craftsmanship.
3. Pair green with wood panelling
For a modern farmhouse kitchen look, pair painted cabinet ideas in a mid-tone green with natural raw wood panels. You could even clad the ceiling with timber for a contemporary cabin core vibe.
'We painted this kitchen in an olive green that blends nicely with the Cotswold countryside visible from the window, bringing the outside in,' explains Louise Wicksteed, design director of interior design company, Sims Hilditch. 'This, paired with the timber-panelled ceiling brings textures of nature to the design, making for an inviting country kitchen in keeping with the building's surroundings.'
Louise has a wealth of design experience having worked at internationally renowned studios for more than 15 years before joining Sims Hilditch as Design Director in 2020. Now Creative Director, Louise weaves skilled craftsmanship, natural materials and contemporary, elegant lines into grounded, welcoming and harmonious schemes.
4. Add a maximalist touch with textured tiles
The maximalism trend is all about layering on texture, colour, pattern and contrast to create a rich, embellished scheme – so if that's what you love, don't let your kitchen miss out. In this kitchen, green-painted cabinets are elevated with a decorative fabric blind – but it's the embellished, checked kitchen tile ideas that are the star.
'Green florals belong in the kitchen in 2023,' say the makers of Craven Dunnill Jackfield tiles, which has collaborated with House of Hackney on a new collection including two green shades, Sage and Verde. 'These decorative Victorian-style tiles bring romance and visual interest to the kitchen, and celebrate nature.'
5. Be clever with green in a small kitchen
You don't have to give up your go-to green if you're working with small kitchen ideas, just use the colour wisely.
'Keep dark green shades for floor units and choose a paler, neutral shade for wall cabinets,' suggests interior designer Anne Haimes. 'Or say no to overhead cabinets completely and opt for open shelving to create the illusion of more space and taller ceilings. Alternatively, isolate your greenery to your contrasting kitchen island for the ultimate wow factor against a neutral kitchen.'
6. Lighten the look with open shelving
A deep green kitchen can look a little oppressive when it's lined with wall and floor cabinets. But switching up the style with glazed and open units can help brighten the space, without sacrificing valuable kitchen storage ideas.
'The great thing about dark green kitchens is that they can take a lot when it comes to pops of colour, which you can add by styling up your kitchen shelving ideas,' explains William Durrant, owner Herringbone Kitchens.
'With closed units, the surprise is hidden behind the doors, but an open display gives you the opportunity to add personality and colour to your space. Add your favourite cookbooks, vases or art to the shelves and you won't regret it. Colour can be added or taken away whenever you're ready for a change, so it's a fun and easy way to play around with interiors and add lighter colours to your dark kitchen.'
7. Break the red and green colour rule
Red and green should definitely be seen, according to the design pros. 'One surprising colour combination that has been gaining popularity is adding pops of red to green kitchens,' agrees interior designer Anne Haimes. 'At opposite ends of the colour wheel, you'll need to be careful when mixing red and green as too much contrast can quickly turn gaudy, or even risk looking too festive.
'The trick is to add small pops of red subtly and consistently throughout your kitchen. Kendall Jenner's dark green kitchen is a masterclass in how to achieve the look – from the red knobs on her cooker to the red patterned vase on her windowsill and even her thoughtful selection of pink and red flowers dotted around her kitchen.
'If red isn't your thing, look to bursts of other warm colours such as yellow, pink and purple, taking care to steer your green kitchen away from cooler shades for a more welcoming space.'
8. Contrast dark green with white
Bold green kitchen cabinets contrast brilliantly against white walls, as seen above, to soften the look. Using the contrasting look opens up the possibility for using a darker green in a smaller kitchen, because it helps to balance the light and dark. Enhance the light further in this otherwise dark kitchen colour scheme by choosing white worktops and tiles.
9. Welcome a playful approach to colour
This kitchen is a fine example of how to have fun with colour, with jade green cabinets and colourful fragments within the island worktop. Another design highlight is the unusual fan-shaped kitchen tile idea on the wall. 'We had a vision for the kitchen,' explains this homeowner, a design consultant @futureicons_ nonetheless.
'Dark green is a favourite and terracotta tiles suit the age of our house. We knew we wanted a kitchen island, but not high-level units. The island top has green marble in it – a traditional material, but used in a contemporary way.'
10. Style with sage
Sage is the shade of green to be seen in kitchens for 2021. Add a fresh, organic feel to your kitchen by teaming a muted sage green with an off-white hue that is reminiscent of nature.
The white walls and worktops in this beautiful U-shaped kitchen idea help to keep the overall look fresh and clean. Ideal if you prefer a toned-down look, to offer an air of sophisticated Scandinavian design.
11. Shine a spotlight on green
'Deep forest greens can be balanced out with latte shades, smoky glass and soft metallics to bring opulence to the kitchen. The addition of white marble and brass through design aspects like lighting and worktops, or even accessories, help to bounce the light around the space and offset the heavier hues,' advises Hayley Simmons, Head of Merchandising for Magnet.
12. Ensure elegance with a matte finish
Let the striking colour stand out rather than shout. The easiest way to play down the impact of a strong colour is to choose a matte finish for kitchen cabinetry.
In this Shaker-style kitchen, an elegant, rich shade of green-grey instantly warms up the space, creating a cosy, cocoon-like feel.
Teaming subtle grey kitchen ideas, such as the tiled splashback, adds a hint of sophistication and complements the green perfectly.
13. Make an impact with matching walls
Create a stronger statement with a striking shade of forest green by using it liberally throughout the kitchen space. If you're looking for smart painted kitchen ideas, match the same green hue on cabinets, low and wall-mounted, to the wall colour, as shown above.
When it comes to styling with furniture and accessories, introducing soft pastels and metallics can help to add a softness and beautiful contrast.
14. Introduce pattern
The kitchen area in this kitchen-diner is easily identified by the stylish patterned tiles from Topps Tiles. Choose a pattern that has colours or tones from both your cabinets and your worktops so that nothing jars. Think about the shapes too.
In this modern kitchen, the geometric style of the table legs fits well with the geometric pattern on the tiles.
15. Choose contrasting colours
Dark emerald green is vying with cashmere kitchens to be the hottest colour of the moment. Subtle pink kitchen ideas, such as the pink-painted walls shown above, give a fresh, pretty and modern contrast to the deep green, traditional-style Shaker cabinets.
Make the most of your chosen green colour scheme by looking out for smart kitchen lighting ideas that can enhance the look, like these ornate set of three pendant lights.
16. Create contrast with worktops
Take the look from light to dark with the addition of black worktops. Continue the dark choices throughout with black door handles and stylish sockets to match, giving a contemporary edge to a classic shade of country apple green.
17. Dare to clash colours
Who says blue and green should never be seen together? This colour combination is daringly decadent, and completely throws the rule book out of the window. The clashing colours work well to help define the space and separate the cooking and dining area.
18. Complete a country kitchen with green
Use green to inject colour into a classic country kitchen idea. Choose a pale apple or sage green to keep the look fresh and light, rather than overwhelming. For true traditional style, pair with rustic wooden worktops and neutral flagstone floor tiles.
Keep the walls bright in white, so not to distract from the look. Use open shelving to display farmhouse-style crockery, cake stands and classic Kilner jars filled with ingredients, it with elevate pieces whether you've burst the budget on them or picked them up for a bargain with home decor discount codes.
19. Balance bold with safer furniture choices
Working with bold, dark colours like this sumptuous forest green is all about balance. Mix in neutral and pale tones through furniture, accessories or other paints, to lighten the space. If you're painting walls deep green, do the ceiling in a crisp white.
20. Mix things up
If the thought of a bold colour in the kitchen fills you with fear, there's no need to go the whole hog. Try the effect shown here in this kitchen from Blakes London, by having painted wall units only. The rough hewn timber on the base cabinets creates a relaxed, rustic feel that works well with the soft green.
21. Invite the outdoors in with subtle green
Painted wood panelling on a breakfast bar matching the built-in kitchen cabinets helps to ensure this kitchen is immersed in this latest colour trend. The soft shade of apple green is subtle but effective enough to inject a touch of nature into this otherwise white kitchen. The use of house plants helps to add further greenery, welcoming a real touch of the outdoors inside.
22. Go for warm tones
We may not automatically think of green as a warm colour, but there are many shades that have a cosiness about them, especially when teamed with creamy neutrals or warm metallics, like those in this country-style kitchen.
23. Go retro with mint green
The refined pastel shade of the mineral jadeite is perfect for introducing a calm yet refreshing feel to a busy kitchen. Use it on base units and walls below the dado rail. This works well when paired with bright white kitchen flooring ideas, such as the one above, along with worktops and upper walls to add balance.
The shade has a Fifties vibe, so it will look great teamed in a retro kitchen teamed with wooden mid-century-style furniture, pale green crockery, and vintage-look appliances to create a casual but chic heart of the home.
24. Work in wooden accessories
We like this subdued shade of olive here. Restful and sophisticated, it's an easy-going colour without being bland. Soft green hues and wood work wonderfully when paired together. The combination will give you a space that oozes warmth and comfort.
You could be bold and use it on the walls or play it safe by using olive for the accessories and a rich neutral for the walls. We recommend ramping up the country feel with plenty of rustic accessories and shabby chic decorating ideas.
What colour goes with green in a kitchen?
This will depend on the shade in question. Deep and opulent shades are best matched with gold and brass accents and marble worktops for a modern and luxurious look. Soothing lighter shades of green are perfectly suited to rich shades of wood and warming neutrals, such as cream and linen, all enhancing the subtle warm undertones of green.
How do you decorate a green kitchen?
How you choose to decorate a green kitchen will be decided by the style choice; traditional or modern, country or contemporary. To fully immerse your space choose green painted cabinets and add a splash of paint on the walls.
For a softer approach choose green cabinets but decorate the room with a neutral wall colour. To dip your toe into decorating your kitchen with green, leave the cabinets in a neutral shade and paint the walls green instead.
A general rule when using a bold colour in the kitchen is to strike a balance. Therefore the darker the tone of green on the cabinets the lighter the colour should be on the floors to create a sense of balance. And vice versa with light green shades.
For those looking to introduce calming green tones into their kitchen design try lighter shades of sage green and eau-de-nil-coloured cabinetry and furniture.
The subtly stylish shades will incorporate a pop of pastel into your home, bringing a light, fresh feel to the kitchen. To decorate a traditional setting, pair these soothing shades with natural wood worktops and stone flooring. To make the lighter shades feel more contemporary, pair with touches of black marble and black ironwork.
A great tip for picking the right shade is to be inspired by the shades of green found in the natural world and in the kitchen, too! Think of a lime, an asparagus spear, a slice of cucumber, the skin of a cooking apple, or a fragrant bunch of sage.
Will you be working a green colour scheme in your kitchen with these green kitchen ideas?
Get the Ideal Home Newsletter
Sign up to our newsletter for style and decor inspiration, house makeovers, project advice and more.
Tamara was Ideal Home's Digital Editor before joining the Woman & Home team in 2022. She has spent the last 15 years working with the style teams at Country Homes & Interiors and Ideal Home, both now at Future PLC. It's with these award wining interiors teams that she's honed her skills and passion for shopping, styling and writing. Tamara is always ahead of the curve when it comes to interiors trends – and is great at seeking out designer dupes on the high street.