Catwalk to couch: Steal Cheryl Cole's racy lacy Cannes Festival style for your home... 'cos you're worth it!
Each fortnight we show you how to bring the hottest catwalk trends into your own home - this week we're loving Cheryl Cole's red lace frock as she dazzles at the Cannes Film Festival.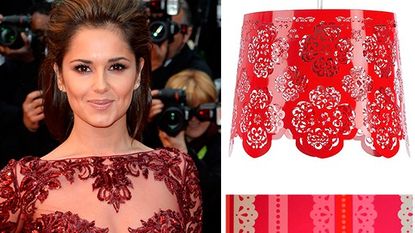 (Image credit: David Fisher/Rex Features)
Ideal Home Newsletter
The Home Of Great Ideas For More Than 100 Years
Thank you for signing up to . You will receive a verification email shortly.
There was a problem. Please refresh the page and try again.
Love her or not, Cheryl Cole sure knows how to make an entrance. This racy, lacy number caught the paparazzi's attention at the Cannes Film Festival this weekend ensuring popping flashbulbs and guaranteeing column inches. Look away now Ashley.
As Cheryl twinkled away on the red carpet, we took inspiration from the elaborate lace work and fiery red colour of her frock to bring you this week's Catwalk to Couch.
******
1. Who would have thought we could compare a couture red carpet frock to a lampshade? Our ingenuity knows no bounds!
We think you'll agree this unusual pendant is a dead ringer for our Cheryl's dress, with its bold red hue and cheeky cut-out design.
Metal shade hanging lamp, £239, Out There Interiors (opens in new tab)
2. If you'd like to paper your walls as an homage to Cheryl may we suggest this red lace fretwork design? The pink and white colour palette complements the cherry red tones and we guarantee it will be a talking point in your home.
Raya Encaja wallpaper, £45 a roll, Tangletree Interiors (opens in new tab)
3. Only girls allowed. If you prefer a more girly take on the lace trend, how about this pink lace cushion from Zara Home? At only £15.99 why not buy a few and scatter them freely around your boudoir?
Floral lace cushion, £15.99, Zara Home (opens in new tab)
4. And to complete our homage to Miss Cole we bring you this zingy red and pink lace effect bath towel. If you happen to be in Cannes for the festival, this would also make an excellent beach towel - the bright red colour acting as an alert for any paparazzi that might be loitering nearby. Strike that pose.
Lace cerise bath towel, £28, Wallpaper Direct (opens in new tab) (yes, they do do towels...)
Want some more lacy inspiration? Check out our moodboard tribute to Cheryl's style or watch our quick video to find out how to make a jam-jar lantern, with just a glass jar, a piece of lace and a pretty ribbon.
Loved this? See more great shopping ideas in our dedicated shopping channel. And for more decorating inspiration, don't forget to follow us on Twitter (opens in new tab) and find us on Facebook. (opens in new tab)