Trying to sell your house? Estate agents reveal how long it'll take you – and it's not looking good
Here's what you need to know about the current state of the housing market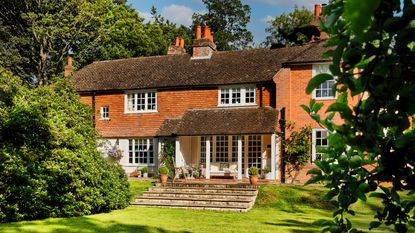 (Image credit: Future PLC/Darren Chung)
According to new research, the average time for a house to sell is now twice as long to sell as it was this time last year as the effect of rising rates continues to affect the housing market to this day.
There's no denying that trying to buy a house or sell a house currently stands as quite a challenging feat, and admittedly, it's only continuing to get harder as a result of rising mortgage rates. This isn't just affecting first-time buyers, but also those who have long been tango-ing with the property ladder.
As property prices decline and mortgage rates increase, it can be difficult to navigate whether is now a good time to buy a house or not. Here's what you need to know.
According to home experts, Hamptons, houses are taking twice as long to sell today as they did a year ago due to the rising mortgage rates affecting buyers. It took sellers 49 days on average to find a buyer in May, an increase from 26 days in 2022, marking the longest wait in any May since 2013.
The data shows that four-bedroom houses were the slowest to sell, taking 60 days on average to agree on a sale in May, which rings in more than double the 27-day average wait in May 2022.
This is the latest impact that the housing market has felt from rising mortgage rates, as nearly 10% of mortgages have been taken off the market due to concerns about increasing interest rates, according to data from Moneyfacts.
Following Nationwide Building Society's announcement that mortgage rates would increase by up to 0.45 per cent in response to higher-than-expected inflation figures, data has indicated that approximately 800 residential and buy-to-let deals have been withdrawn, and average rates on two and five-year fixed deals have also risen.
Given how inflation affects mortgage rates, it comes as no surprise, however, does continue to call into question how buyers can continue to work towards securing the best mortgage rates with rising prices everywhere you turn.
In the background, a UK house price crash has been continuously trickling as the Nationwide Building Society reported that house prices fell at their fastest annual pace for nearly 14 years in May 2023. Nationwide revealed that prices in the year to May 2023 fell by 3.4 per cent, the biggest fall since July 2009, as the average property price now stands at £260,736.
David Hannah, chairman at Cornerstone Group International says, 'The latest house data from Hamptons showing that houses are taking twice as long to sell today as they did a year ago highlights the issues which the housing market is currently facing. A rise in mortgage rates due to inflation figures being stronger than expected is unwelcome news for homeowners and affects both buyers and sellers alike.'
'Even though the average price of a property has predominantly fallen over the past few months, the increase in mortgage rates and the decrease in the availability of mortgages are significant problems. We all know the challenges the UK's property market is currently navigating – inflation and rising interest rates are causing a whole raft of issues, even though we witnessed a fall in inflation last month.'
'We've seen a surge in building costs and building materials which is slowing down construction and worsening the issue of supply and demand. However, recent data from Rightmove shows that the average estate agent currently has 35 homes for sale compared to 20 last year, showing signs that supply is increasing,' adds David Hannah at Cornerstone Group International.
'Despite rising interest rates, I still see the main obstacle for first-time buyers being the ability to save enough money for a deposit and covering all of the added costs involved in purchasing a property as our data shows.'
Get the Ideal Home Newsletter
Sign up to our newsletter for style and decor inspiration, house makeovers, project advice and more.